Which Scenic Drive will you start exploring this fall?

Scenic drives are all about hitting the open road with the freedom to stop and explore something new or just enjoy New Brunswick's picture-perfect scenery and crisp air. So, this fall, jump in the car, hit the road, and take in the beauty of New Brunswick at your own pace.
The five signature scenic drives each have colour-coordinated road signs to make navigation simple. Explore the Fundy Coastal Drive, Acadian Coastal Drive, River Valley Scenic Drive, Miramichi River Route, or the Appalachian Range Route. Each has their own interesting villages, vibrant cities, and breathtaking landscapes. Even if you turn off the beaten path for your own adventure, you're sure to find a charming and unique piece of New Brunswick.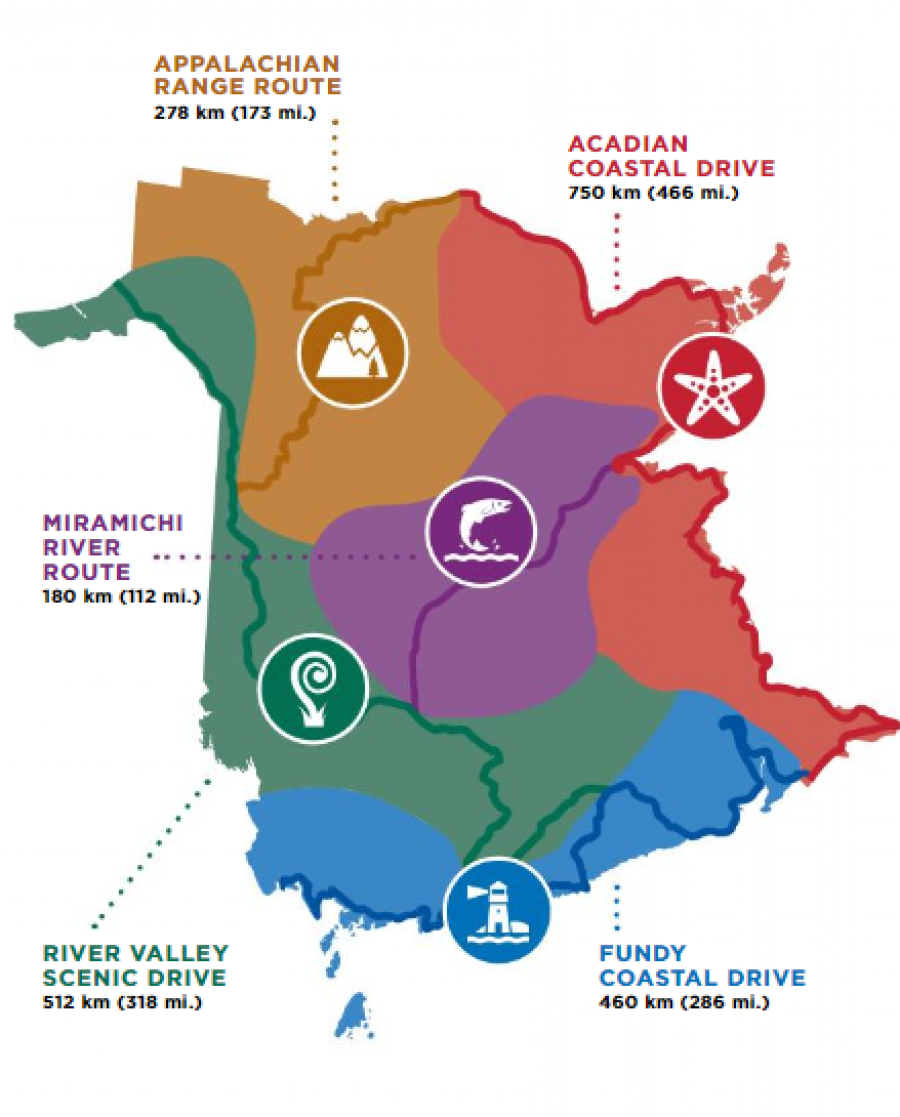 Home to the world's highest tides, you'll be treated to all the wonders of Fundy. Watch for whales breaching off the coast, experience the beautiful fall colours, discover fossil-filled mudflats and play on coastal islands. No matter how you approach this world-recognized natural treasure, the experience will fill you with awe. 460 km (286 mi.)

Go with the flow of the Miramichi River. Take in the crisp autumn air along this route and explore the communities that have been carved by the currents. The Miramichi River is one of the world's premier salmon fishing rivers, and it comes with a pristine backdrop of glorious fall colour. New friends, and the great outdoors are waiting for you around every turn. 180 km (112 mi.)

Take a road trip along the Acadian Coast this fall. One of the most striking autumn landscapes in New Brunswick is found at Miscou Island, where the lighthouse is surrounded by a red carpet of peat bogs. To celebrate the harvest, venture to Belliveau Orchards for apple-picking, wagon rides, and more. If you're looking for fall fun, you belong on the Acadian Coast. 750 km (466 mi.)

The Saint John River offers one of the most scenic leaf peeping routes in the region. This route twists and turns from Edmundston to the city of Saint John as a declared Heritage Corridor, and it's easy to see why. Points of history, commemoratives, and heritage sites line the banks no matter where you travel. 512 km (318 mi.)

Get a spectacular fall experience with 400-million-year-old mountains that are blanketed with plenty of colourful trees. Adventure beckons as you journey along world-class waterways and through magnificent parks. Stop for a canoe ride, a hike, a bike ride or a stay. Unspoiled vistas will meet you every step of the way. 278 km (172 mi.)