It's all here. For a winter playground on the Bay of Fundy, Albert County is the place to be.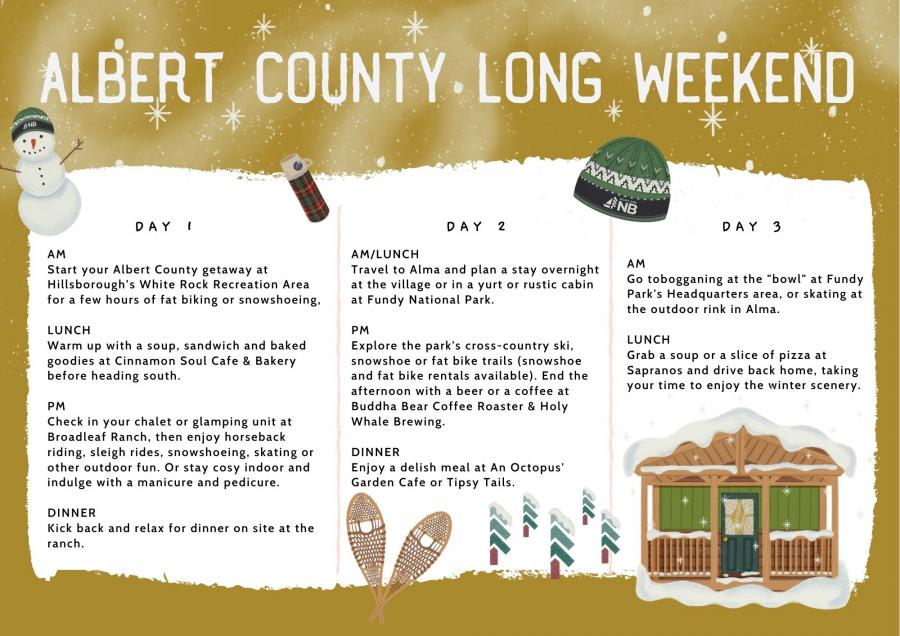 When we do winter outside and in, Albert County is a first-rate destination. But plan to stay for a while to enjoy all of it.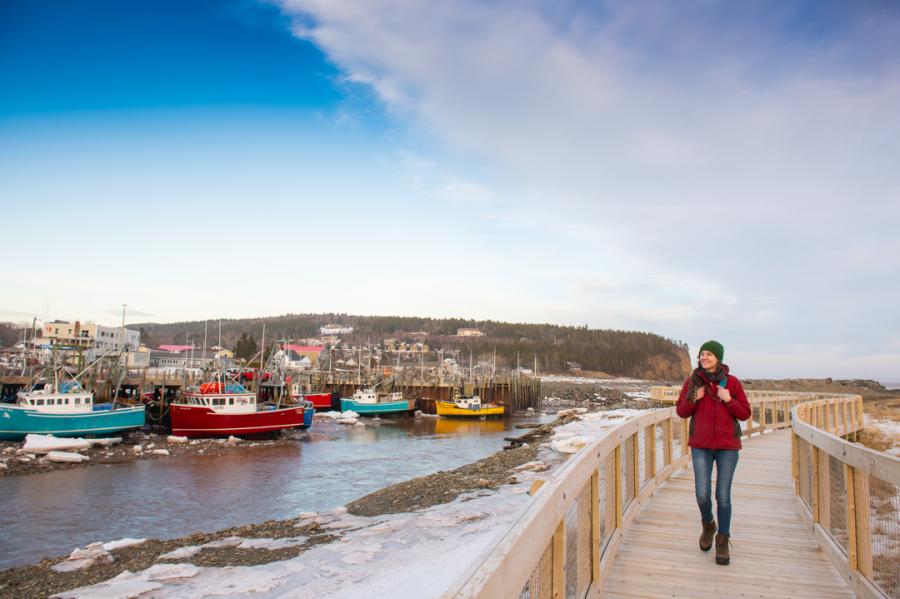 Albert County hosts many premier winter fun spots, but Fundy National Park is special. From the gateway at the Village of Alma into the park itself we offer indoor and outdoor winter enjoyment. Boots for hiking, or sleds, skates, snowshoes, and cross-country skis, plus fat bikes for fun rides – this is the place. Or, if winter on the warm side is your thing, Alma has toasty hotel accommodations, cabins, winter campsites, and yurts with food, pubs, and shops just steps away.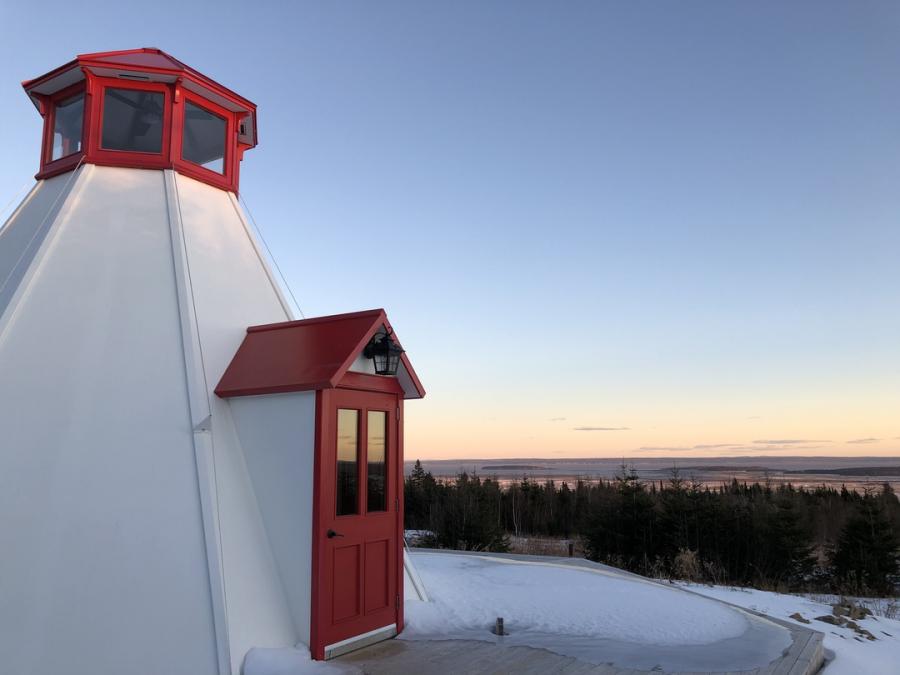 A few days at Broadleaf Ranch at Hopewell Hill near Riverside-Albert makes for a picture-perfect winter experience set in the Albert County woodland and Shepody marsh. Horseback riding and sleigh rides are specialities we love, along with all the usual outdoor winter energizers. But there's rock climbing inside, too. The Mountain Chalet can host groups, while the winterized glamping units make for comfy days and nights of relaxation.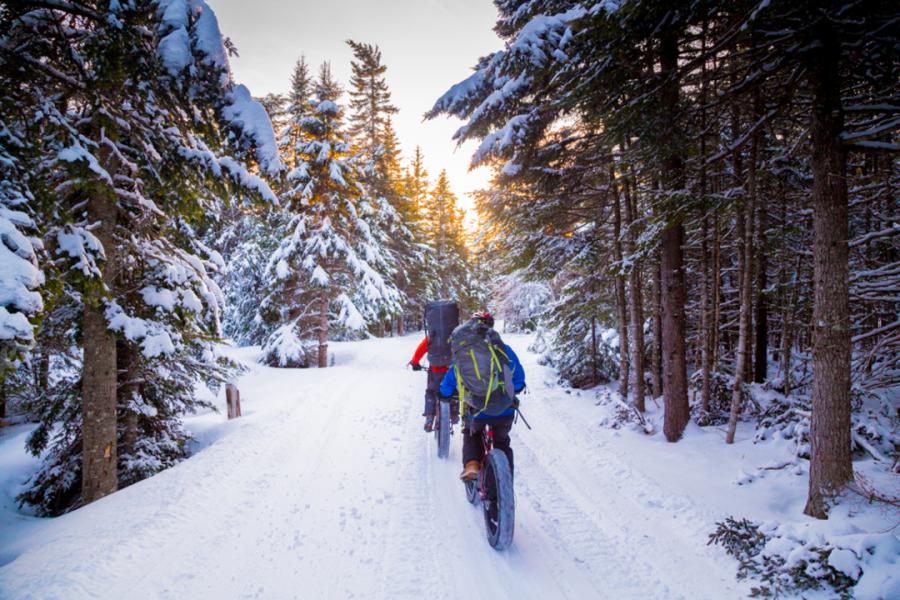 Hillsborough's White Rock Recreational Area is one of New Brunswick's best mixed-use outdoor spots any time of the year. But in winter we look forward to snowshoeing, fat biking, cross-country skiing, and ATV or snowmobile adventures. And, of course, the Village maintains a scenic walking trail all winter long.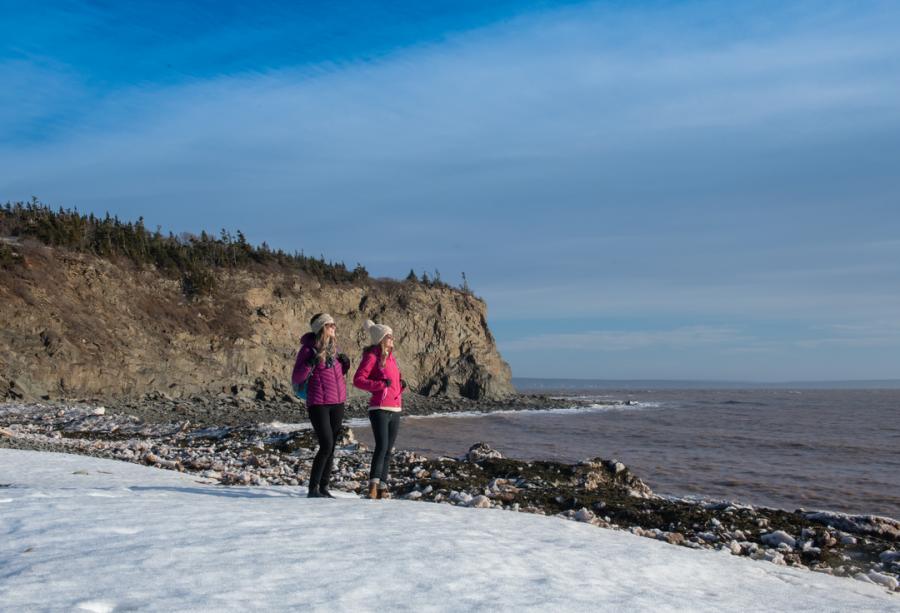 Riverview is the anchor town for trekkers whose trip takes them to Mill Creek Nature Park & Dobson Trail. The park and 58 km of trails showcase the Acadian forests where hikers, skiers, and snowshoers can fan out. There's even picnic or camping spaces in designated spots. It's a family-perfect choice with Riverview amenities close by.
In Elgin, the Mapleton Acadian Forest Trail is another option we like to check out. It's open year-round and maintained by the friendly folk in nearby Elgin Village.
Snowmobiling lovers are not left out in Albert County and we really know how to roll out the welcome mat. 1000 km of trail stretches from Moncton to Fundy National Park for some of the best rides of the season, winding through the protected area of the Caledonia Gorge, to the windmills sites and to some of the most beautiful views of the area.  Covered bridges and the old railway bridge in Salisbury connect with rest of the NB trail system. 
The South Eastern New Brunswick Snowmobile Association (SENBSA) operates a clubhouse and restaurant on Caledonia Mountain. They offer organized activities and help guide sledders to fuel and rest stops in the area.
Plus, our accommodations are tailor-made for snowmobile vacations with Broadleaf Guest Ranch, Farm Life Studio B&B, Adairs Wilderness Lodge, and the Fundy Rocks Motel all featuring trail accessible stop-over accommodations.
Winter is almost too short to fit in all the fun that's coming up so it might be best to plan more than one getaway in Albert County. 
QUICK LINKS  
Events
Light Up Riverview
Riverview Winter Carnival
Maple Syrup Festival
Fundy Studio Tour
Maple Syrup Tour
Fundy Farms Local Harvest
Hillsborough's White Rock Recreational Area
Outdoor activities
Fundy National Park
Broadleaf Ranch
White Rock Recreational Area
Mill Creek Nature Park
Dobson Trail
Mapleton Acadian Forest Trail
Accommodations
Fundy Rocks Motel
Adairs Wilderness Lodge
Cliffside Suites
New Horton Lake Vacation Rentals
Farm Life Studio B&B
The Artisan Suites Bed and Breakfast
Peck Colonial House
Falcon Ridge Inn B&B
South Eastern New Brunswick Snowmobile Association (SENBSA)
Vacation Packages
Get the most out of your travels in New Brunswick with vacation packages from the following operators:
AB Connect
Farm Life R&R
The unique location and hospitality will make your trip one to cherish.
BOOK NOW
AB Connect
Fundy Explorer Package for Two
Embrace nature and your wild side with a choice of adventure…
BOOK NOW
AB Connect
Fundy Adventure Package for Two
Try out your skills FatBiking at Fundy National Park.
BOOK NOW
AB Connect
Bay of Fundy Adventure Combo
Rest assured that you are getting to experience the thrill of the Bay of Fundy in a unique way.
BOOK NOW
AB Connect
Glamping Wilderness - 2 nights
Located in the most scenic spot on the family-owned 800 acre farm
BOOK NOW
AB Connect
Glamping Getaway for Two - 2 nights
Includes two nights at the unique glamping units of Broadleaf Guest Ranch with breakfast included both days.
BOOK NOW
AB Connect
Fundy Family Fun
Your day will include a family entrance to Resurgo Transportation Discovery Centre, a fresh lunch for four, exploration…
BOOK NOW
AB Connect
A Chilled Escape - 2 days
This two-day self-drive itinerary allows you to capture the best of the city of Moncton and the Bay of Fundy at your own pace.
BOOK NOW
AB Connect
Fundy Spa Day for Two
Take a breath and relax as you enter the USVA Spa Thermal Experience.
BOOK NOW