The magical landscapes of Chaleur are just waiting to be discovered and sizzles even in the coldest times.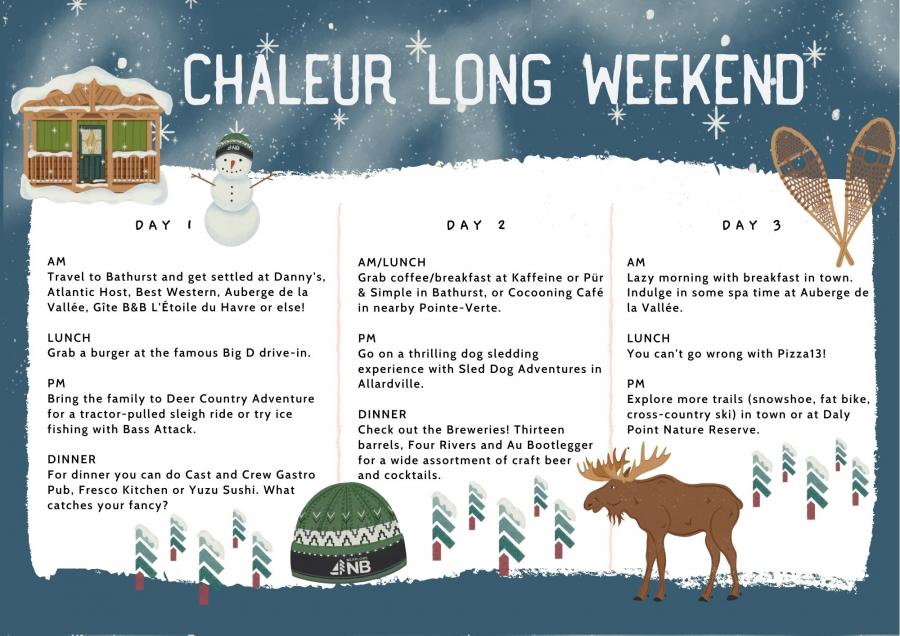 Whether the plan is a family adventure, a chance to discover fabulous trails, or just a place to relax away from the everyday, the Chaleur region really knows how to warm up the winter fun. Discover what the many amazing Chaleur vacation packages have in store for you, whether it's exploring with an outdoor adventure or relaxing by the fire in a cozy accommodation.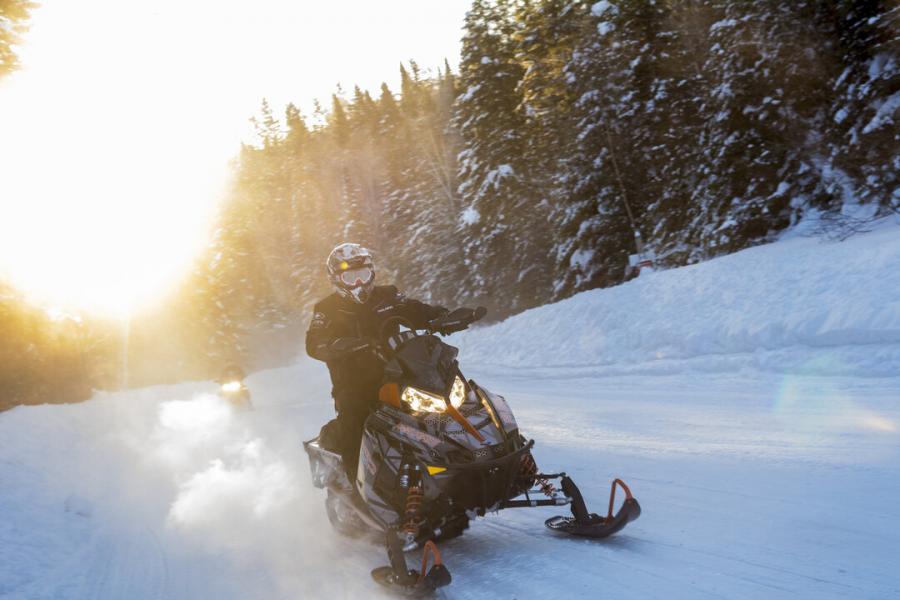 This is a region where snowmobiling is king, and it plays host to the eastern half of the Northern Odyssey loop. There are three clubs working the trails here, including Super Village Trail Blazers, Chaleur Snowmobile Club, and Nepisiguit Snowmobile Club.
There are also three hotels to choose from with direct access to the snowmobile trails. Quality Inn is a new addition this year, while Atlantic Host Hotel and Danny's Inn also offer garage access and on-site restaurants.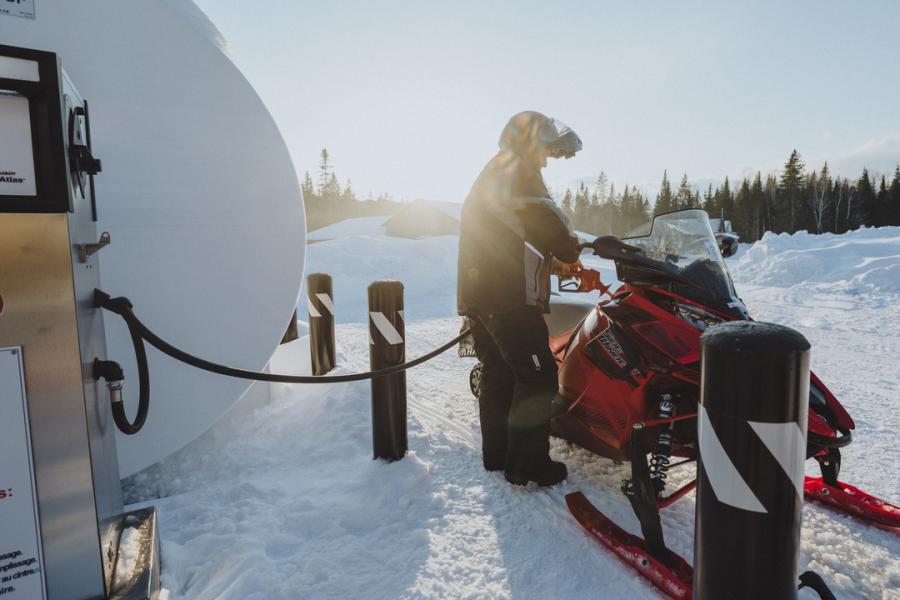 Snowmobilers can rely on perfectly groomed trails with beautiful scenery and fuel available along the way. There are many itineraries going through the Chaleur region to choose from.
If four-wheeling is more your style, you'll want to know that the region has the largest ATV club in Atlantic Canada. Their winter trail rides are second to none.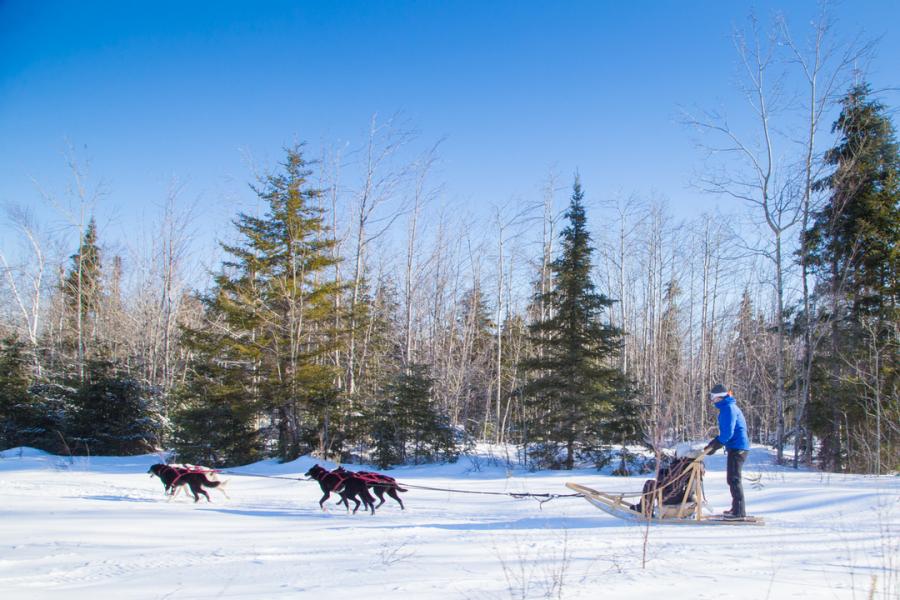 The Chaleur area also hosts a range of other winter activities to be enjoyed in style.
For a truly unique experience, Chien Aventures/Sled Dog Adventures, in Allardville, offers a not-to-be missed ride on an authentic travel sled behind a team of adorable, hard-working dogs. This is an exhilarating adventure as well as a spectacular journey through our majestic winter landscape. Packages range from a few hours to a few days so get busy and design your own adventure.
For good old-fashioned fun with the family, Deer Country Adventures will take you on a tractor-pulled sleigh ride through deer habitat, either in the daytime or in the evening.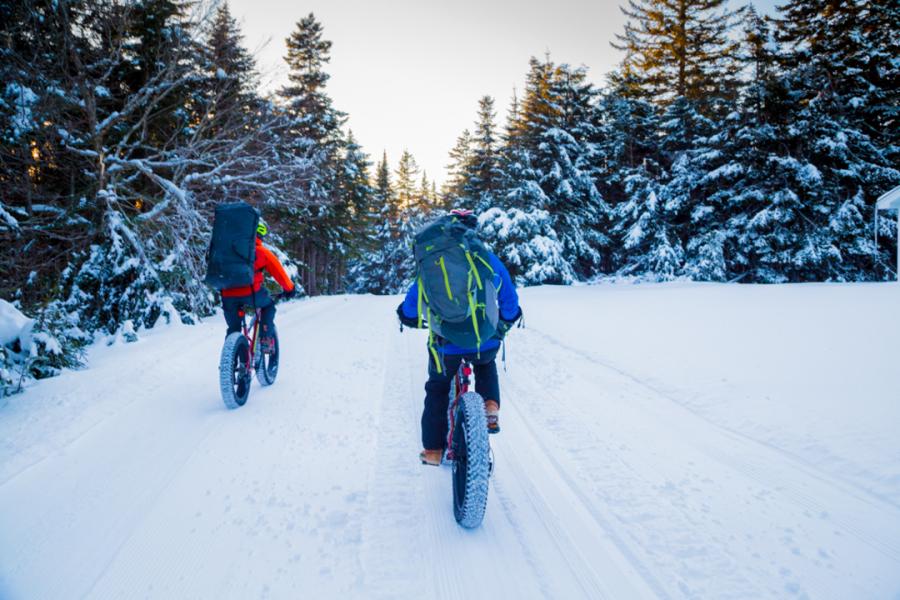 The City of Bathurst has introduced fat bike rentals for local trails to add to their winter fun package. The trailhead at Squire Green Golf Club is a great place to get started on a day's adventure.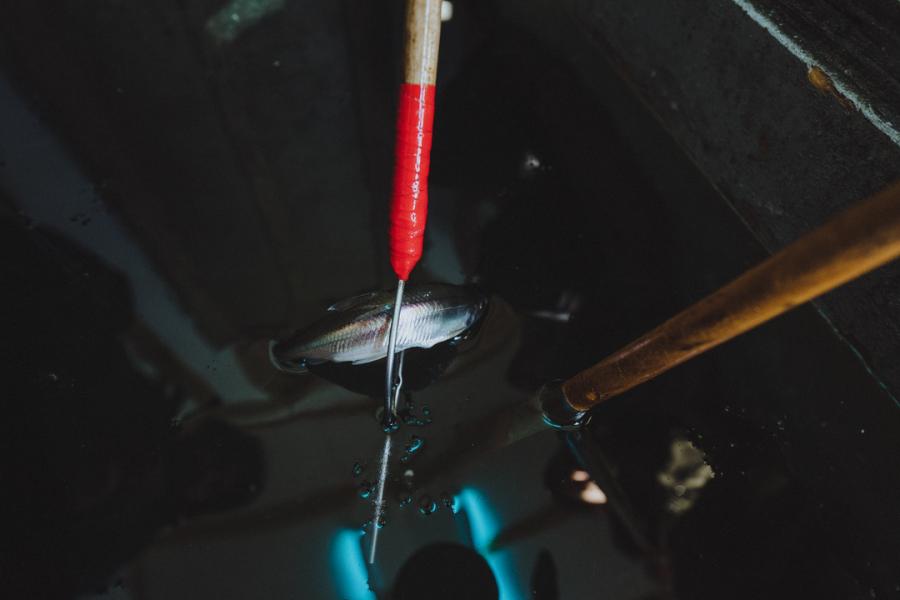 If you've never tried ice fishing, now's the time to get to know this North Shore tradition. Bass Attack Fishing is offering guided ice fishing experiences at Youghall Beach near the city. Find out how to drill the hole in the ice, what kinds of hooks to use as well as little tips to attract fish. Makes for a good time with close friends or family.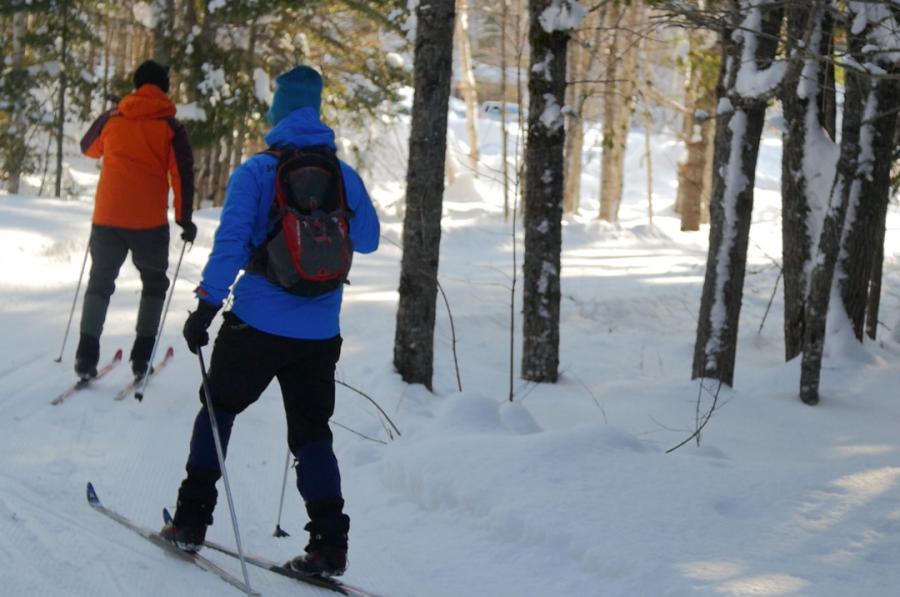 Cross-country ski and snowshoe fans will also find trails behind Nepisiguit River Company, an outdoor sports shop where you can rent equipment if you don't have your own. The Bathurst Cross Country Ski Club has the most up-to-date information on ski conditions or the trails in general. There are also snowshoe and winter hiking trails at Daly Point Nature Reserve.
To see all the trails options available in the region, Chaleur Green Trails has a great trail finder.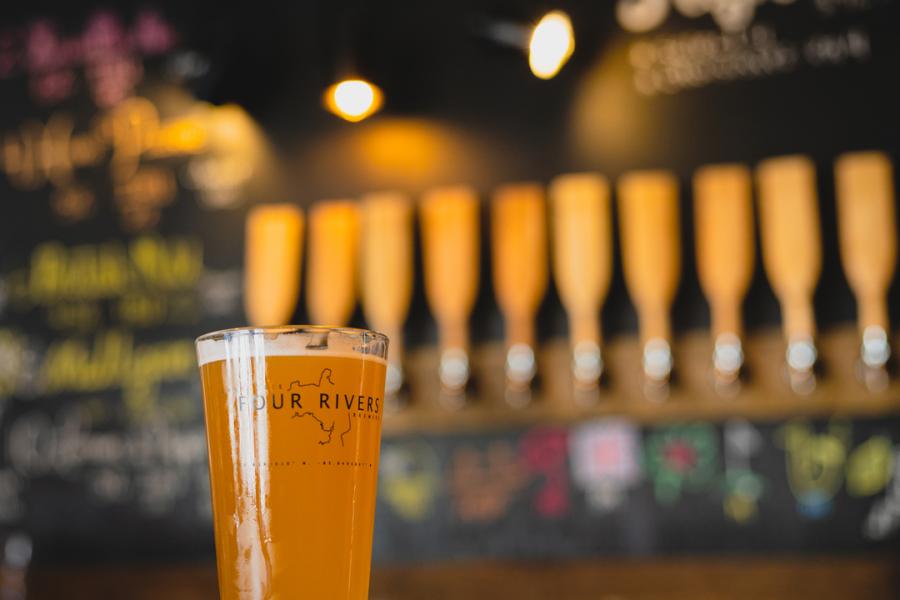 We've also got lots to appeal to the indoor winter enthusiast. A relaxing getaway might start with a spa day at Auberge de la Vallée and then a tasting tour of local microbreweries or coffee houses such as Four Rivers Brewing, 13 Barrels Brewing, Auberge D'Anjou - Cocooning Café, or Kaffeine Espresso Bar.
Stop by Andrea Confectionary candy store for some sweet treats. And of course, a great meal is always a winter treat. Fresco Kitchen or Cast & Crew are just a couple of delicious options of fantastic places to eat in the region.
No matter what your winter preference is, Chaleur has got it all. This place knows how to do winter.
QUICK LINKS
Accommodations
Atlantic Host Hotel
Danny's Inn
Quality Inn
Auberge de la Vallée
Outdoor Adventures
The Northern Odyssey
New Brunswick's snowmobile paradise
Three must-ride snowmobile loops in Northern NB
Chaleur Snowmobile Trails
Chien Aventures/Sled Dog Adventures
Deer Country Adventures
Bass Attack Fishing
Mountain Biking Chaleur
Fat Biking and Brews Below Zero
Cross-country skiing and cozy coffees
Nepisiguit River Company
Chaleur Green Trails
Bathurst cross-country ski club
Winter Adventures
Snowmobile Clubs
Super Village Trail Blazers
Chaleur Snowmobile Club
Nepisiguit Snowmobile Club 
Food & Drink
Four Rivers Brewing
13 Barrels Brewing
Auberge D'Anjou - Cocooning Café
Kaffeine Espresso Bar
Fresco Kitchen
Confiserie Andréa
Vacation Packages
Get the most out of your travels in New Brunswick with vacation packages from the following operators:
TOURISM CHALEUR
Package Offerings
With many great packages to choose from, there is something for the whole family.
LEARN MORE