Where the snow meets the sea, you'll find all the best winter charms for your next retreat.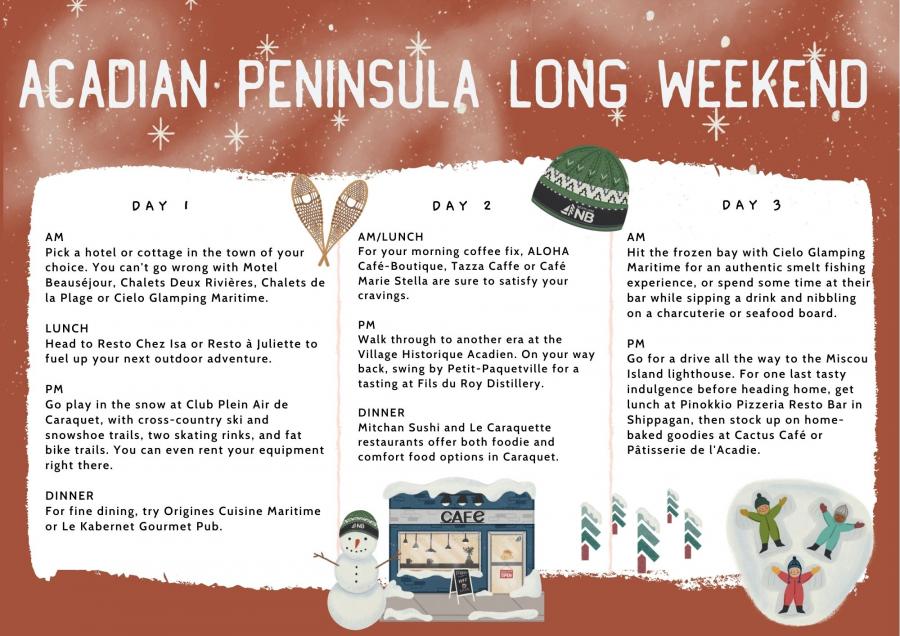 We can do an outdoor adventure, or a tasty vacation of fine coffees, flavourful dinners, and sweet pastry treats in equal good measure. Now is the time to discover the Acadian Peninsula, from Grande-Anse to Neguac, all the way out to Miscou Island, in its true winter spirit.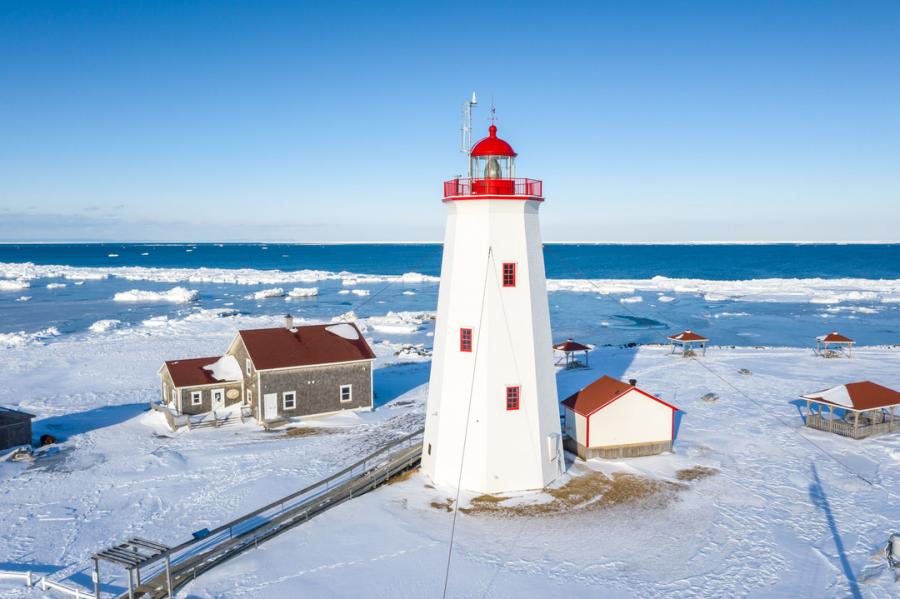 Looking to play in the snow? Club Plein Air de Caraquet provides more fresh air fun than one day will hold. There are cross-country ski and snowshoe trails, two skating rinks, and fat bike routes for the whole family to try. You can even rent fat bikes, snowshoes, skis and skates.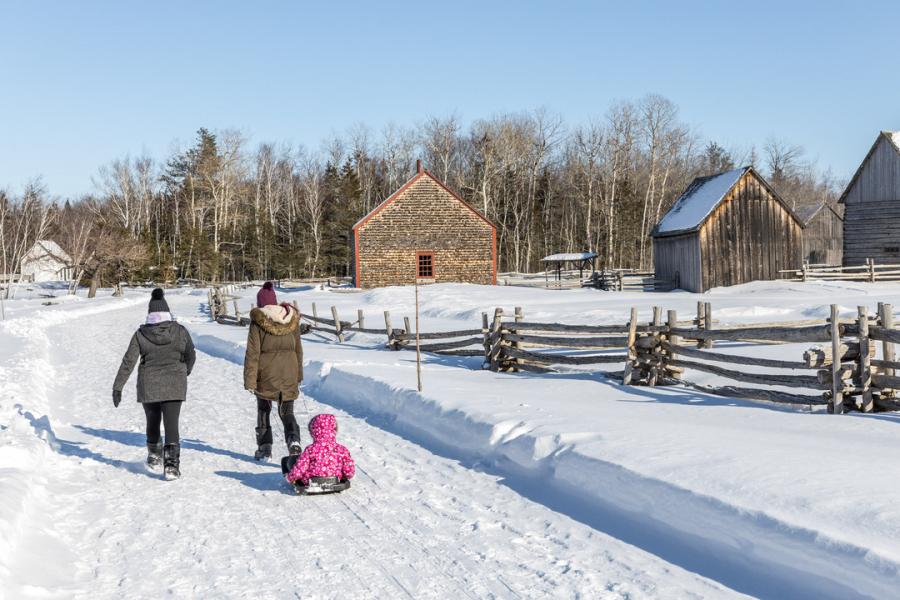 We also highly recommend a walk through the Village Historique Acadien. The historic village is open during the winter months, and you can stroll along the quiet streets lined with period buildings in a landscape that speaks to another era.
If you like skating, there are rinks in almost every town, and the Village of Neguac has a spectacular skating trail.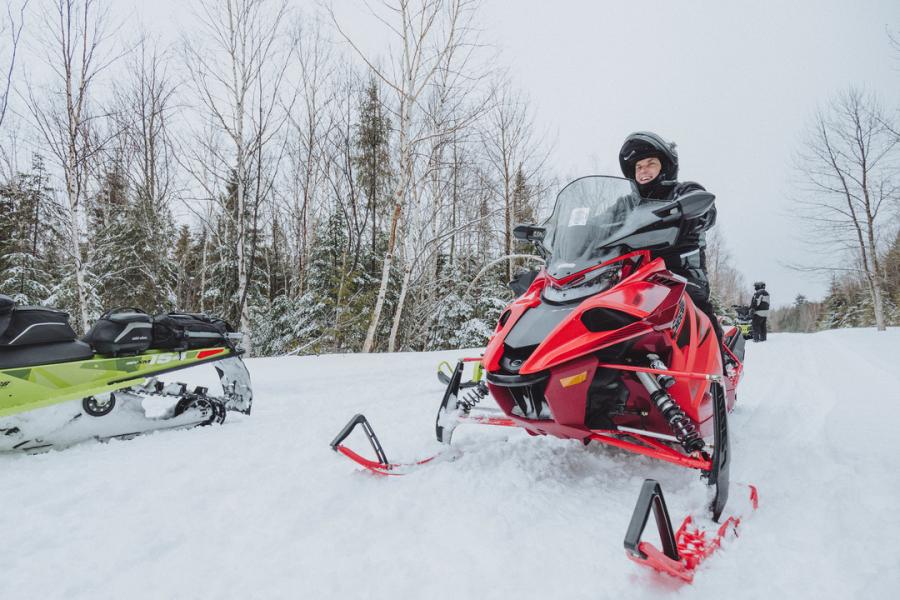 Snowmobilers and ATVers can follow several hundred kilometres of snowy trails reaching far and wide across the Peninsula. We've got camps along the way and great options to accommodate overnight stops for snowmobilers, including Motel Beauséjour, Chalets Deux Rivières, and Chalets de la Plage.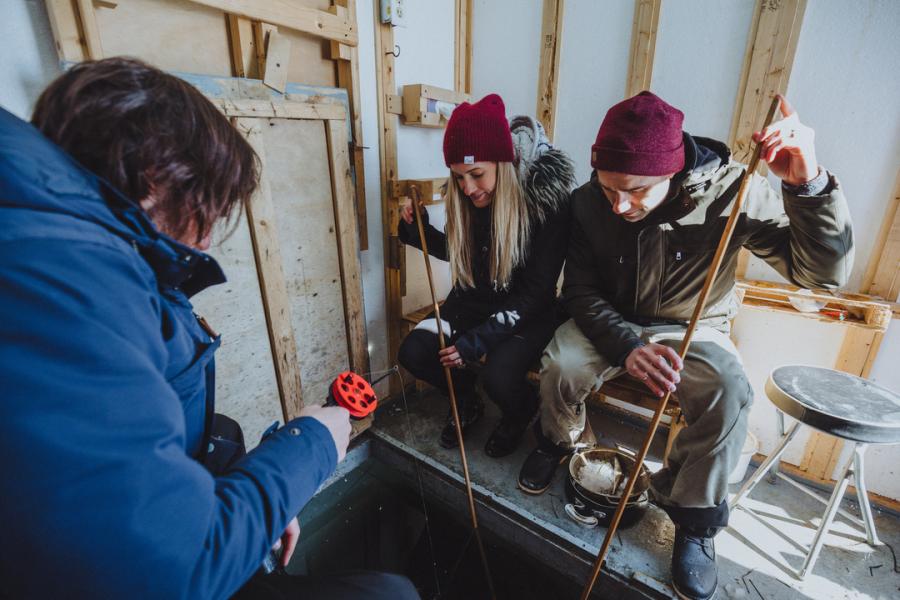 When we shift to the icy side of winter, Shippagan celebrates with its annual Ice Carnival (February 11-15). You can also hit the frozen bay with Cielo Glamping Maritime for an authentic smelt fishing experience when conditions allow.
And of course, how could we do winter without the best game you can name. February 17-20 is the Tracadie Pond Hockey Tournament.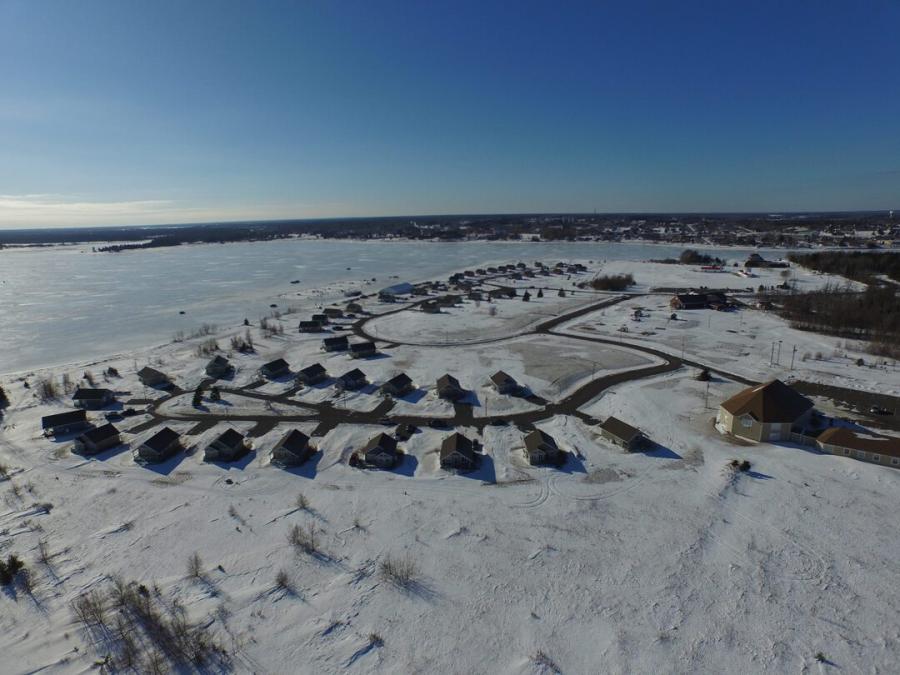 A great way to enjoy the Acadian Peninsula is to book one of the packages available from Les Chalets de la Plage in Bas-Caraquet or Villégiature Deux Rivières Resort in Tracadie. Snowbirds looking for something different closer to home will find choices for outdoor adventure or indoor relaxation with all the amenities.
Packages – Chalets de la plage
Packages – Deux Rivières Resort
When you're ready to grab a bite, you just have to figure out what you're craving. If you're in the mood for a hot beverage and delicious pastries, head to Café Maris Stella in Bas-Caraquet, Aloha Café-Boutique in Lamèque or Tazza Café in Tracadie or Shippagan. Choose your favourite java or pick a hot chocolate for a real wintry treat. For a hearty or sophisticated meal, try Resto Chez Isa or Origines Cuisine Maritime in Caraquet, Kabernet Gourmet Pub in Lamèque or Pinokkio Pizzeria-Resto-Bar in Shippagan – to name a few!
Our joie-de-vivre is just as vibrant on the Peninsula in the winter. We know how to do winter, Acadian style. 
QUICK LINKS
Outdoor activities
Club Plein Air de Caraquet
Winter walk at Village Historique Acadien
The New Brunswick Federation of Snowmobile Clubs
Quad NB
Accommodations
Motel Beauséjour
Super 8 Caraquet
Chalets Deux Rivières
Chalets de la Plage
Chez Cielo Glamping Maritime
Food & Drink
Resto Chez Isa
Resto à Juliette
Origines Cuisine Maritime
Kabernet Gourmet Pub
Restaurant Le Caraquette
Café Maris Stella
Café Grains de Folie de Caraquet
Fils du Roy Distillery
Nouvo Caveau
Pinokkio pizzeria-resto-bar
Maison de la Fondue
Chez Raymond
Brasseux d'la Côte craft brewery
Events and more
Shippagan Ice Carnival
Tracadie Pond Hockey Tournament