For sparkling moments in the city this winter, look no further. In Moncton, we've got your next getaway set and ready to go.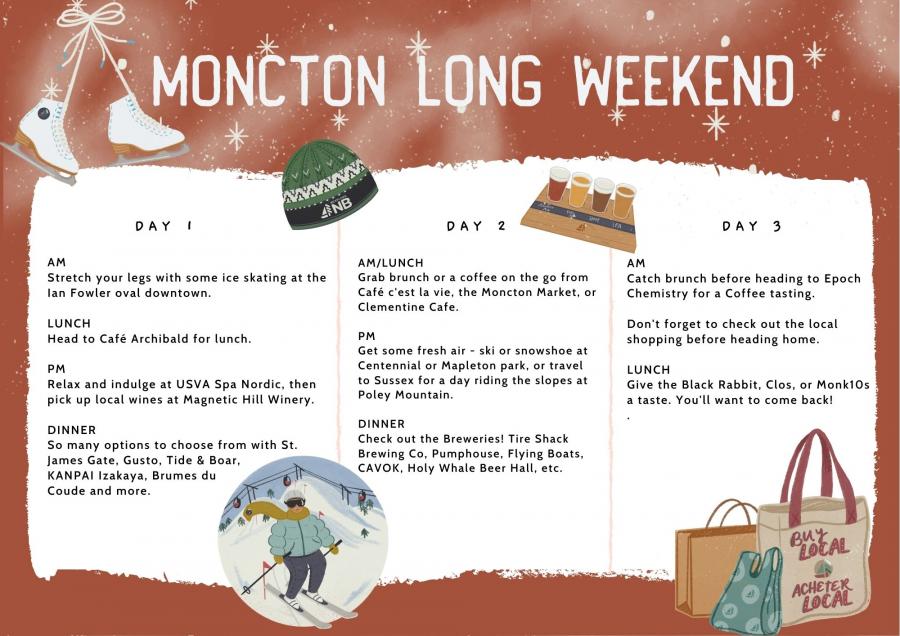 We truly have the urban experiences covered in Moncton, with outings and events to give you a lift during the winter season.
Here are some of the key things to add to your winter must-do list!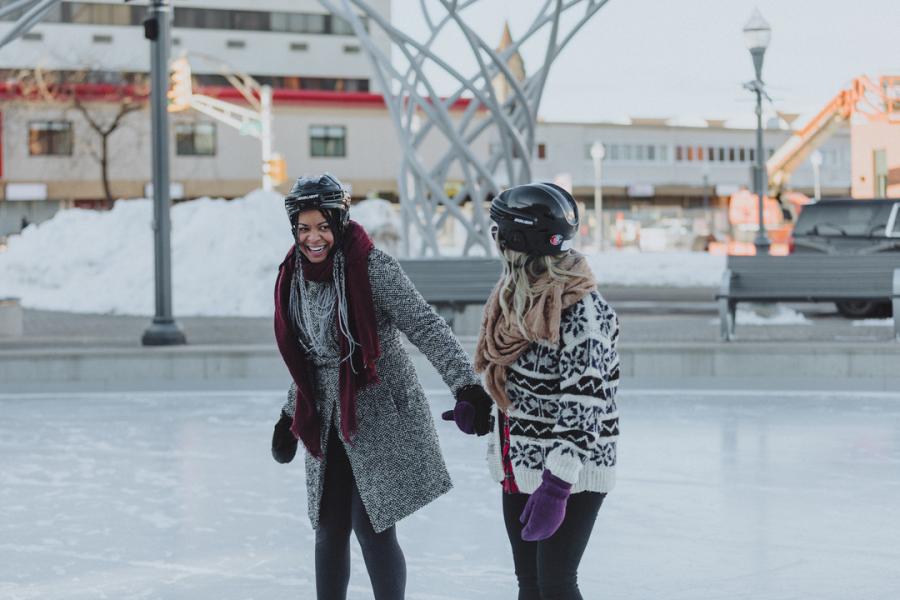 Skating in the centre of downtown is extra special and the Ian Fowler Oval, right next Avenir Centre, is open daily from 10am to 10pm. Maintained regularly, the pristine ice surface is a gem, and this year BeaverTails is on site on the weekends so you can warm up with a treat and a hot chocolate.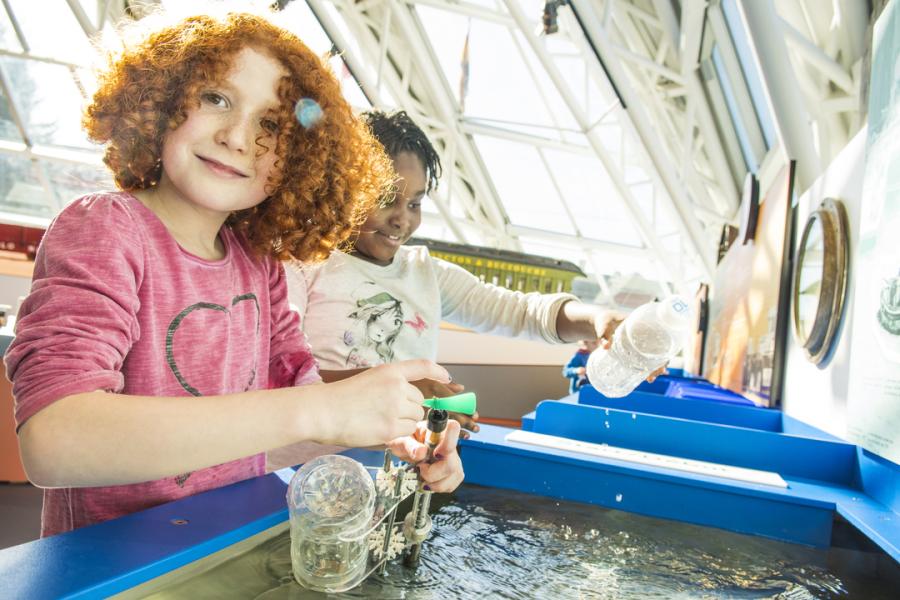 At Resurgo Place, the displays keep everyone in the family occupied and Sundays now feature two-hour time blocks for exclusive use by a single bubble group for safe, hands-on fun with interactive exhibits.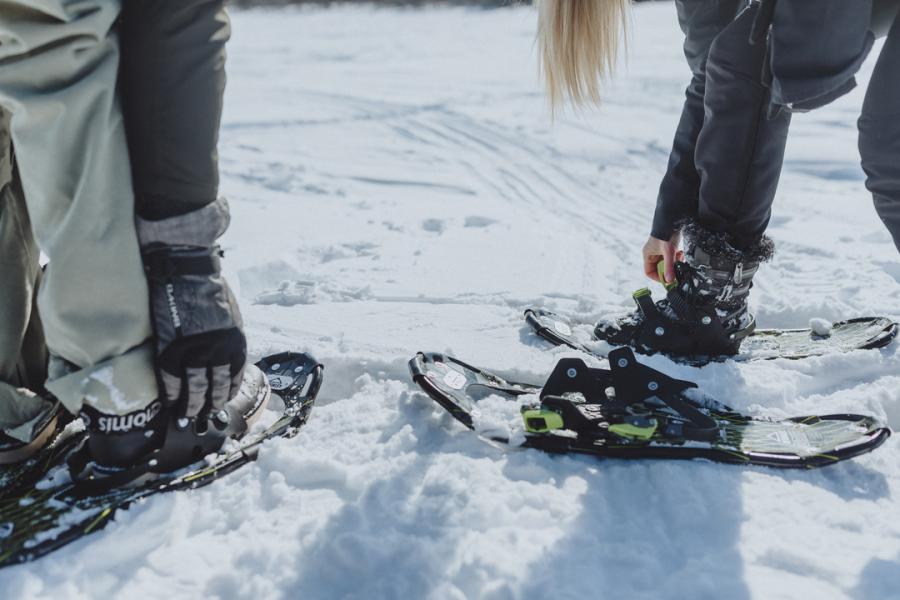 For outdoor breaks, Moncton's urban trails and parks feature forested walks, snowshoeing and cross-country skiing. Irishtown Nature Park is a 4-season beauty. With 890 hectares to explore, it's easy to understand why this is a popular spot for locals! At Mapleton Park, snowshoe rentals start as of January 1. In Centennial Park, both snowshoes and cross-country skis can be rented to take advantage of one of the finest urban trail systems anywhere. When renting your equipment at one of these parks, be sure to ask if they have any special deals going on this winter.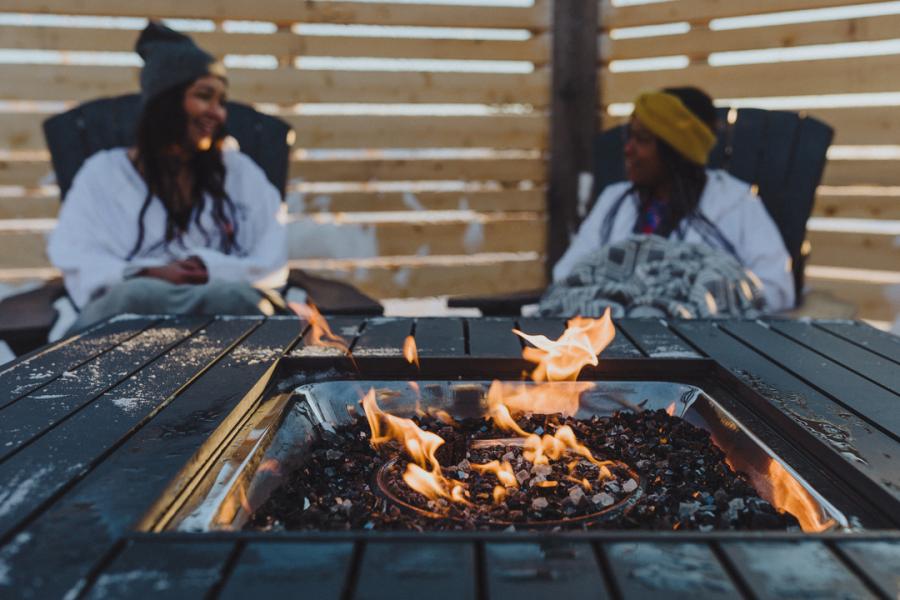 Another completely delicious winter respite can be found at USVA Spa Nordik. Open snow or shine, this is one of our most unique experiences, immersing guests in a world of pure relaxation. Inspired by a Nordic ritual dating back more than 2000 years, this combination of heat, cold, and rest is an escape that's just 10 minutes from downtown.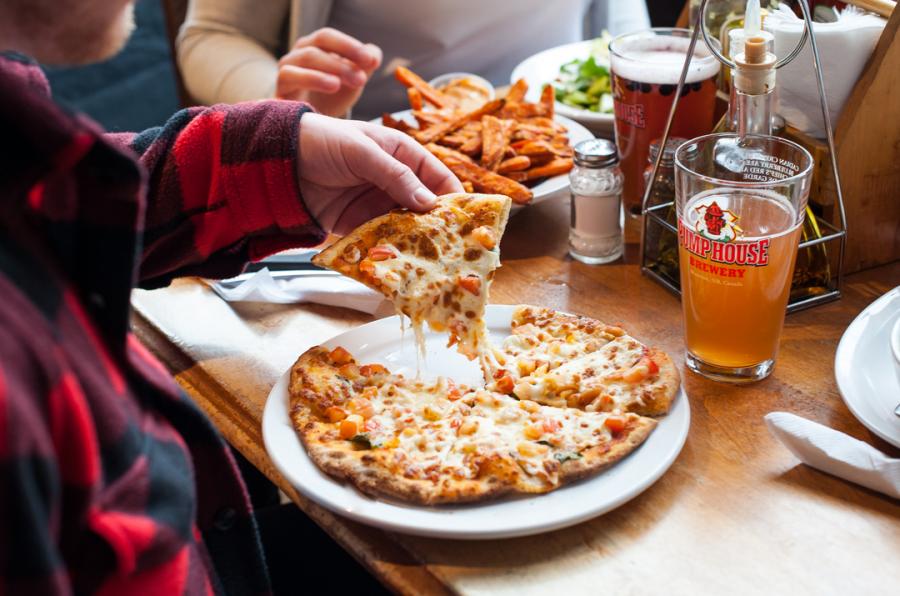 A relax and recharge break should include a visit to USVA Spa Nordik, but don't miss the shopping, eating, and brewing hot spots that have the welcome mat out all year round. Check out the downtown shopping options on Main Street or at The Arches of St. George for unique finds. Enjoy excellent dining at one of many downtown dining spots, including Gusto Italian Grill and Bar, Calactus, Les Brumes du Coude, Clos, Black Rabbit, Carrabba's Moncton, Monk10 Taproom & Fine Eatery, St. James' Gate & Taj Mahal just to name a few! And for local brew choices try Tire Shack Brewing Co., Tide & Boar, Gahan House, Monk10 Taproom & Fine Eatery, PumpHouse Brewery, CAVOK, and Celtic Knot Brewing.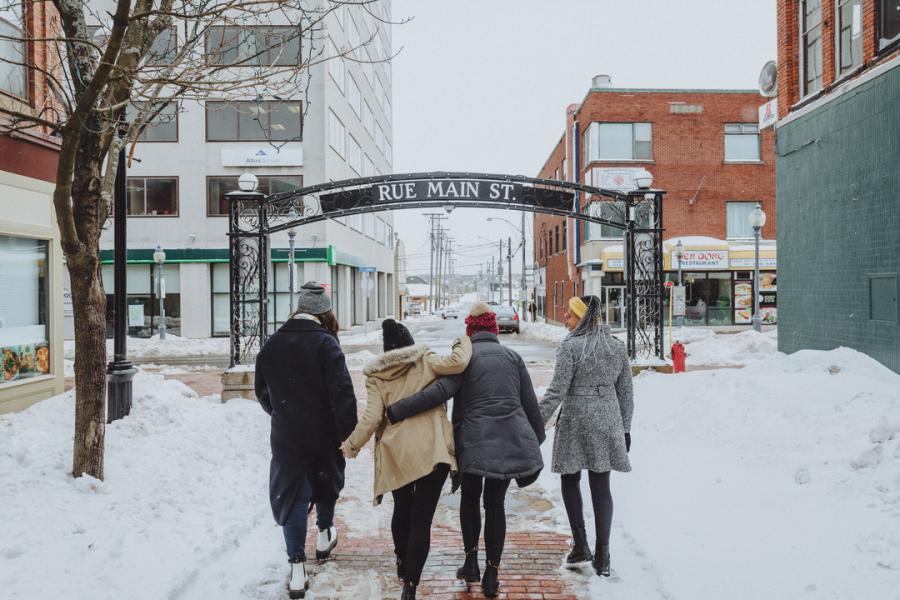 Outdoor lovers can get an early start by basing all the getaway fun right in the heart of downtown. The hotel options here are sure to welcome you for every occasion. For a romantic escape, try the St. James Gate Boutique Hotel (the room service here will not disappoint!). For a practical and spacious stay, look towards the Residence Inn for apartment-style suites equipped with full a full kitchen. For family fun, the Moncton Delta Beauséjour is a top choice for the pool and waterslide (and did we mention there is a spa located in the same building?)
We have so much to choose from in Moncton, that it's hard to fit in all the great ways to do winter in the city. From outdoor escapes that are only minutes from downtown, to events, spas, shopping and delicious food. This city is definitely worth coming back to.
Winter Events in Moncton
Flip Burger Fest 
January 14-30, 2021 
FLIP Burger Fest is back this year, and it promises to deliver insanely good burgers, with more than 30 restaurants letting their chefs get creative.
HubCap Comedy Festival
February 3-6
Our HubCap Comedy Festival brings the ultimate hybrid comedy experience! Covid-induced capacity restrictions at the Capitol Theatre means there are a limited number of seats available. However, an unlimited number of virtual tickets are offered to comedy fans across New Brunswick, throughout Atlantic Canada, and around the world! You have the option to watch shows in person at the Capitol Theatre or from the comfort of your home by purchasing an online ticket. NEW THIS YEAR:  Laugh with your bubble while enjoying a comedy show… fireside! Campfires will be set up in Centennial Park, with TWO shows to choose from (afternoon: French, evening: English). The show is FREE, but pre-registration is required. Seating will be assigned by bubbles.
Moncton Craft Beer Week
February 22-27
Enjoy the FIRST annual Moncton Craft Beer Week, with events and craft beer activities that you don't want to miss out on! Home brew competition? Yoga and beer? Mac and Cheese and Beer Crawl? There is something for everyone during this celebration of Greater Moncton Craft Breweries.
 
QUICK LINKS
Activities
USVA Spa Nordik
Downtown Skating at the Ian Fowler Oval
Resurgo Place
Moncton's Urban Trails
Centennial Park
Moncton Wildcats (season currently on hold)
Moncton Market
HubCap Comedy Festival
Food & Drink
Flip Burger Fest
Tire Shack Brewing
Pump House
Tide & Boar
Gahan House
Monk10 Taproom & Fine Eatery
CAVOK
Celtic Knot Brewing
Gusto Italian Bar & Grill
Calactus
Les Brumes du Coude
Clos
Black Rabbit
Carrabba's Moncton
St. James Gate
Taj Mahal
Vacation Packages
Get the most out of your travels in New Brunswick with vacation packages from the following operators:
AB Connect
Fundy Family Fun
Your day will include a family entrance to Resurgo Transportation Discovery Centre, a fresh lunch for four, exploration…
BOOK NOW
AB Connect
A Chilled Escape - 2 days
This two-day self-drive itinerary allows you to capture the best of the city of Moncton and the Bay of Fundy at your own pace.
BOOK NOW
AB Connect
Fundy Spa Day for Two
Take a breath and relax as you enter the USVA Spa Thermal Experience.
BOOK NOW
KEFI Travel
WINTER IN MONCTON, NEW BRUNSWICK - 2 nights
Relaxation will be yours after a nordic spa Thermal Experience. Then explore the abundant outdoor spaces and join lady luck at the Casino.
BOOK NOW