Here at the top of New Brunswick we might just take the crown for outdoor winter fun. But our accommodations and indoor delights are just as appealing. People of the great New Brunswick North know how to put on a winter show to impress.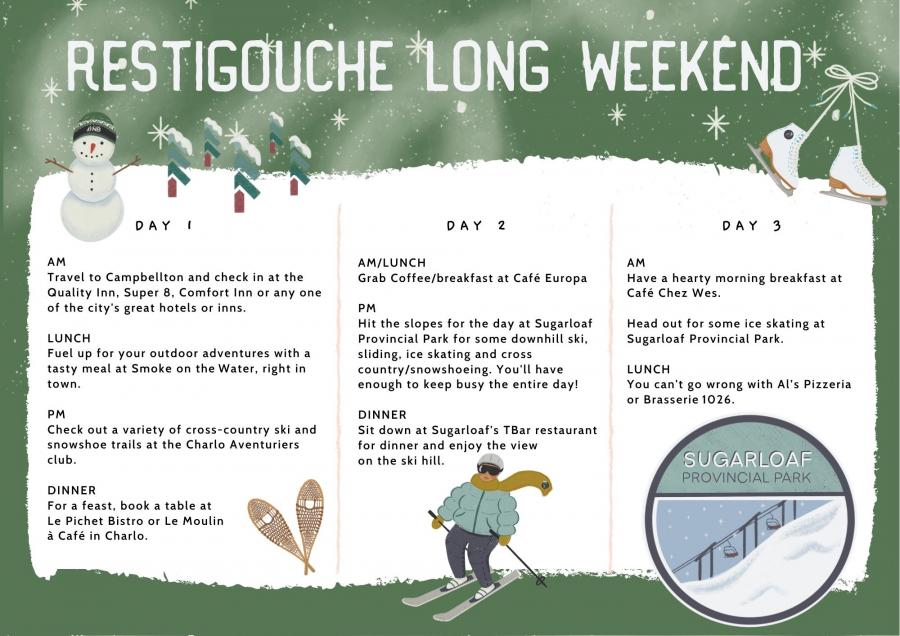 What's up this winter in Restigouche? From Sugarloaf Provincial Park to Campbellton and Saint-Quentin, the Restigouche region really has it all. This wintry oasis offers up cold-weather outings bookended by cosy indoor activities and events that will refresh and relax you.
Feeling outdoorsy and active? In the Restigouche, opportunities abound for skiing, snowshoeing, skating, sliding, hockey, winter ATV, and of course snowmobiling, including the Northern Odyssey. Take your pick!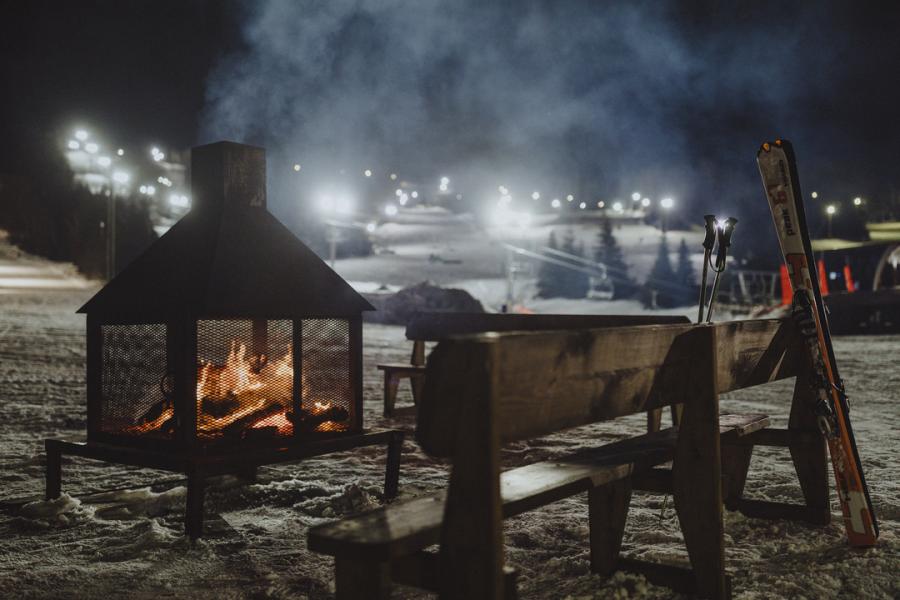 Sugarloaf Provincial Park is the northern star of the region. It has superb downhill skiing with a terrain park, a sliding hill, ice skating, and many trails that are ideal for cross-country skiing, snowshoeing, fat biking, winter hiking and snowmobiling. There really is something for everyone here, and you can end your day with a hearty meal at the T-Bar, the lodge's restaurant.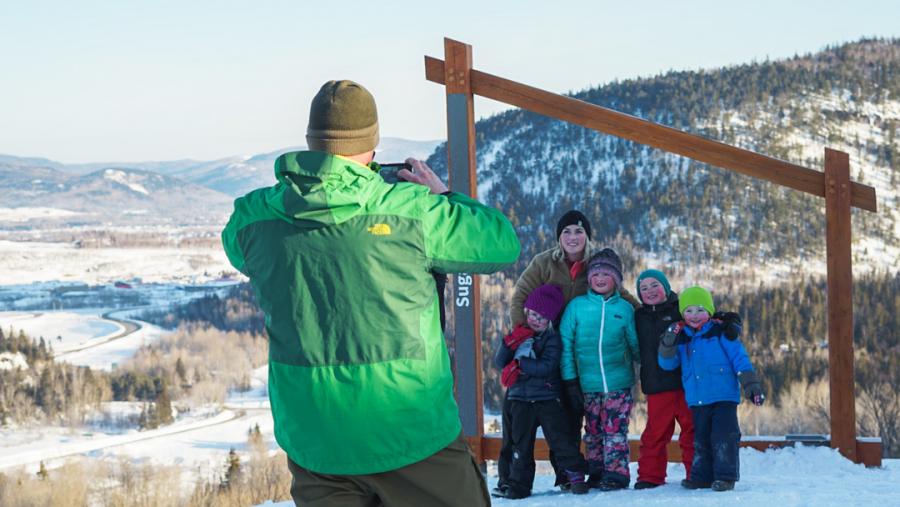 When planning your winter getaway, there are great options to choose from in every part of the region.
In Restigouche East, stay at Heron's Nest Cottages and dive into a list of tempting places to eat and drink including Atelier Gourmand, Le Pichet, and Moulin à Café. There's also East Wind Boutique and the Restigouche Farmers Market to explore for the region's artistic best and local flavours.
If you want to stretch your legs, head to Club des Aventuriers in Charlo, a year-round outdoor centre offering cross-country skiing, snowshoeing, and biathlon preparation in winter.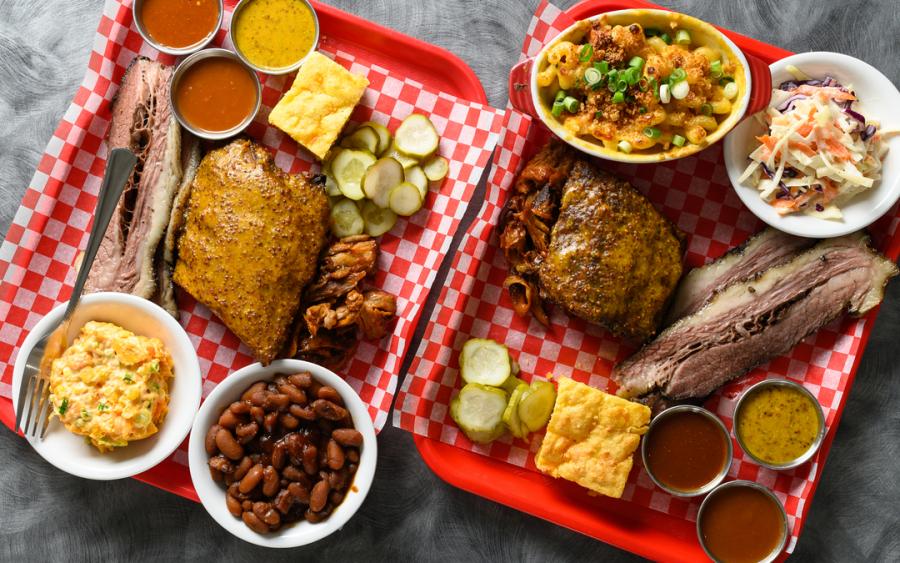 In the heart of the Restigouche, the City of Campbellton is action central. Stay at the Quality Inn, Super 8 or Comfort Inn - all are close by to Sugarloaf and other Campbellton attractions. While you're there you'll find great food is easy to find at Smoke on the Water, Café Europa, Al's Pizzeria, Brasserie 1026, and Café Chez Wes. And for an afternoon excursion, check out something unique such as DIY stencil art from Francoeur Primitive.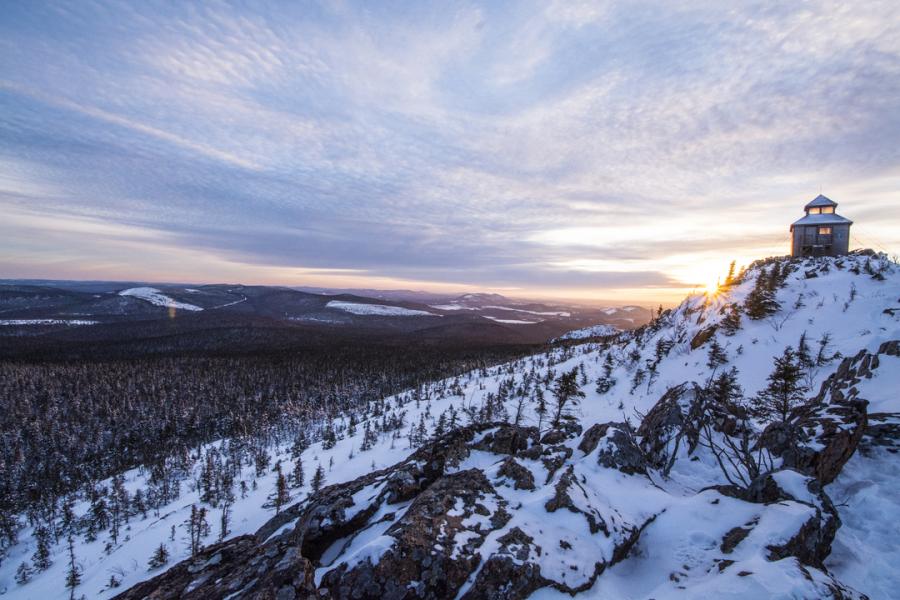 Over on the western side of Restigouche, near Mount Carleton, Saint-Quentin and Kedgwick are a hub for snowmobilers as well as outdoor lovers, with restaurants and services geared to the winter visitors. This is maple syrup country, and comes late winter you can indulge your sweet tooth at the many sugar camps.
In Kedgwick, the rustic log cabins at Chalets Restigouche are the perfect home base to enjoy the region's great outdoors. Grab groceries in town before settling in your cottage, or a hearty, home-style meal at O P'tit Café or O'Régal restaurant.
In Saint-Quentin, home to the Husky Cross-Country Ski Club, you can stay at Auberge Évasion de rêves or Gîte Du Repos. Fuel your adventures with a flavourful dish at Resto pub sportif.
Mount Carleton Provincial Park is the perfect wilderness destination to embrace winter. It has a new lodge, groomed cross-country ski and snowshoe trails, and a few mountains to climb if you're up to it! You can also go ice fishing on Big Nictau Lake (bring your angling license and your equipment). If you're a snowmobiler, ride up to our park on our groomed trails that connect with the Christmas Mountains. Park gates are open during daylight hours from January 1 until March 31.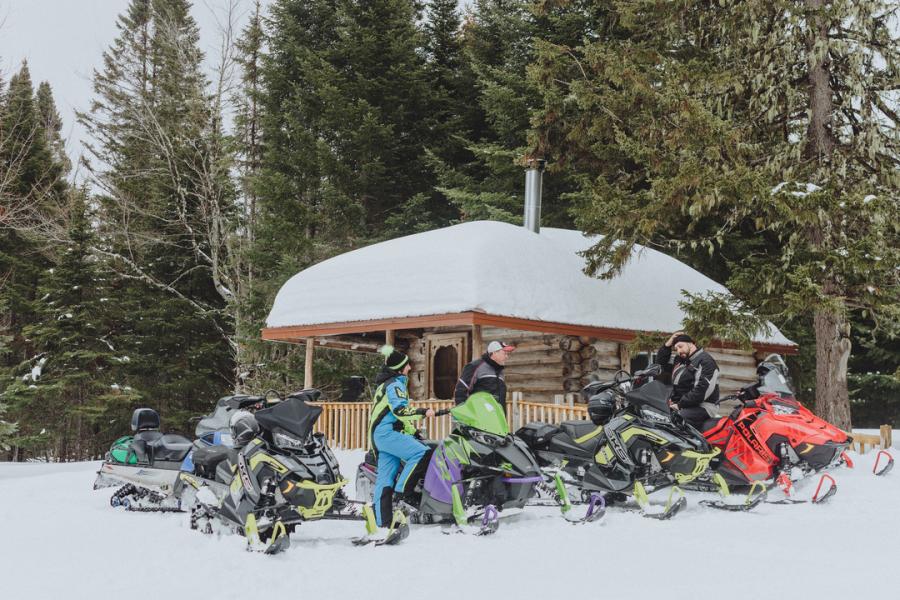 Snowmobiling adventures
We've also got snowmobiling well covered in Restigouche. The Restigouche Snowmobile Club is the premiere centre for the sport in this area. Maintained trails are found in many different locations: Campbellton waterfront, Sugarloaf Provincial Park, Squaw Cap Mountain, Dalhousie Island Lake Club, Savoie Brewhouse, and Moose Valley Sporting Lodge between Saint-Quentin and Edmundston. And, of course, the Restigouche is the heart of the 1,500 km Northern Odyssey loop.
We wouldn't have a reputation for snowmobiling excellence if not for friendly places to stay with the sleds across the region, as well as great spots for food like the Relais Saint-Maure in Balmoral.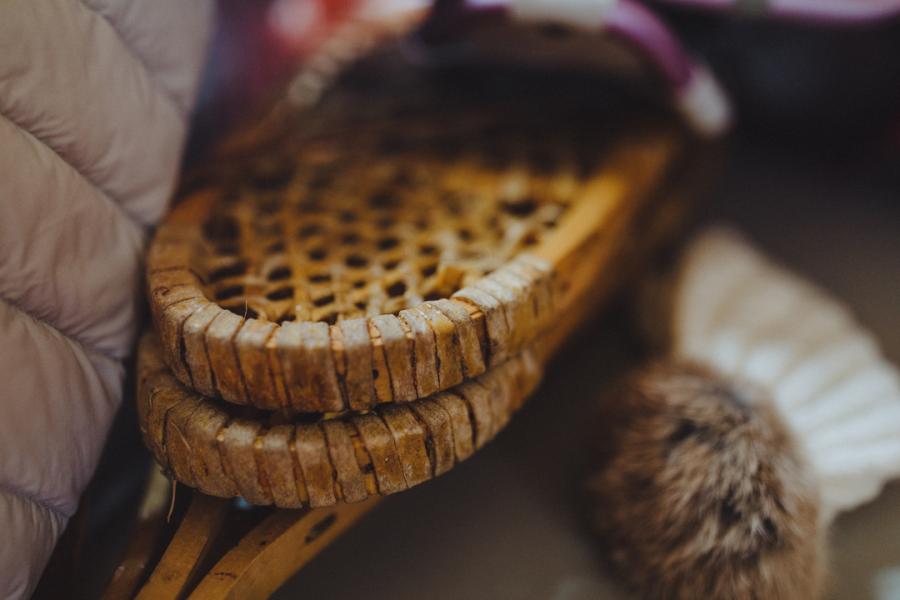 When thinking of a fantastic winter vacation, Restigouche must be on the list. It's a provincial gem and a place where it's clear we know how to do winter.
Winter events in the Restigouche area
Winter Wellness Day – A flurry of free activities at Sugarloaf Provincial Park. (January)
Appalachian Carnival - Celebrate winter in Campbellton, Atholville, Tide Head and Sugarloaf Provincial Park with outdoor, cultural and social activities. (Between end of January and February)
Sno-Fest is Campbellton's own exciting winter festival! Includes sleigh rides, ice-skating, family games, and more to make the most of a wintry weekend. (Feb. 11-15)
Saint-Quentin Winter Carnival – This yearly event brimming with good wholesome family fun usually features an ATV rallye, parties on ice and activities for all ages. (February)
Family Day – A fun-filled day at Sugarloaf Provincial Park with many activities. (Feb. 15)
East Restigouche Winter Festival – Next door to Campbellton, the communities of Dalhousie, Charlo, Balmoral, Eel River Bar and Eel River Dundee plan a whole lot of winter fun for all. (Between end of February and early March)
QUICK LINKS
Activities
Husky Cross-Country Ski Club
Sugarloaf Provincial Park
Club des Aventuriers
Restigouche Snowmobile Club
Mount Carleton Provincial Park
Northern Odyssey
Squaw Cap Mountain
Moose Valley Sporting Lounge
Dalhousie Island Lake Club
Accommodations
Heron's Nest Cottages
Dalhousie Island Lake Club 
Chalets Restigouche
Gîte Durepos
Quality Inn Hotel
Super 8
Comfort Inn
Auberge Évasion de rêves
Food & Drink
Atelier Gourmand
Le Pichet
Dalhousie Island Lake Club
Moulin à Café
Savoie's Brewhouse
Relais de Saint-Maure
Restigouche Farmers' Market
Smoke On The Water Smokehouse
Café Europa Bistro
1026 Bar & Grill
Café Chez Wes Restaurant
O'Régal
Al's Pizzeria