We may be known for our beaches, but winter on the Southeast coast is just as much fun.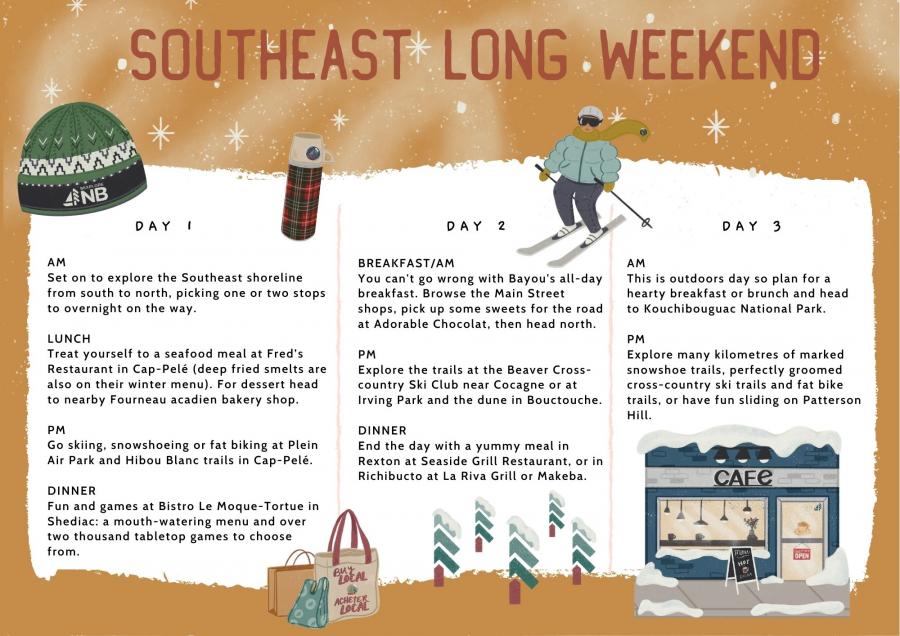 Up and down the Southeast shoreline, we've got the ingredients for a great winter vacation clustered in a short, convenient driving distance. From Kouchibouguac, down through Shediac and onward to Sackville, this region is especially great for fresh air adventures, and enjoying the simple things in life (like amazing food, sweet treats, and cosy sleeps). All it takes to do winter on the coast is to book a few days and start making plans.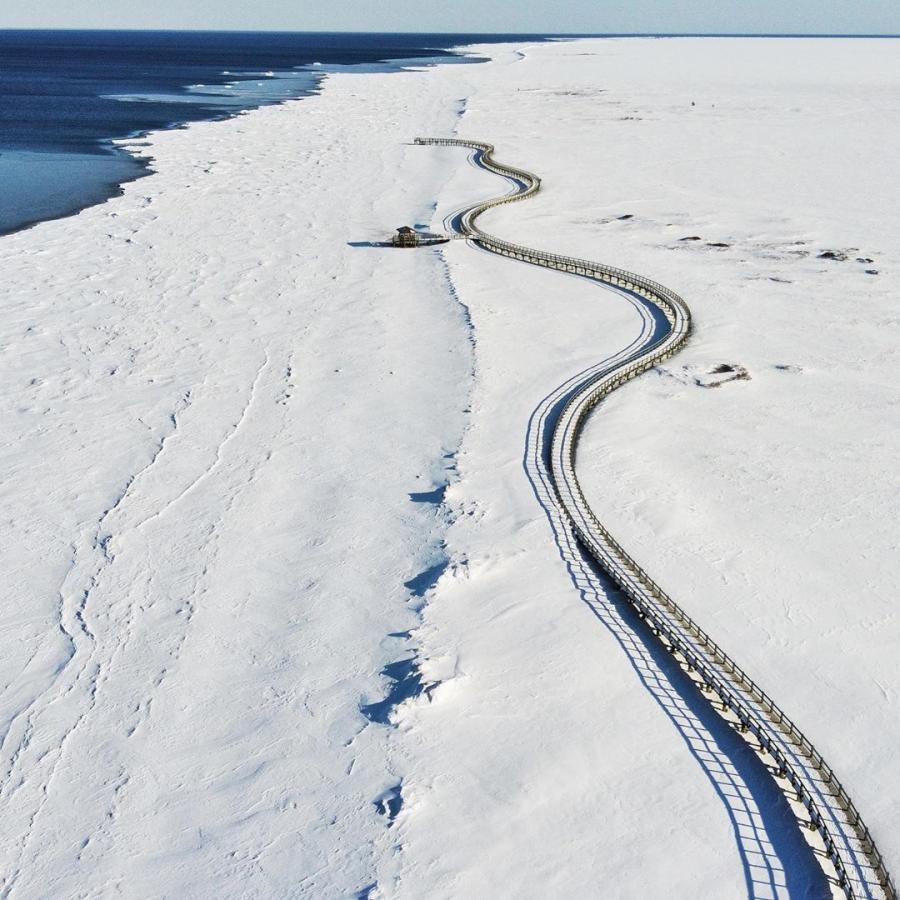 For an inspiring stop, how about a wintertime walk to the Dune de Bouctouche for picturesque views and a breath of fresh coastal air. For a more sheltered walk, check out Irving Park Arboretum trails for an easy loop through the park grounds. If you've built up your hunger, a visit in Bouctouche is never complete without a meal at Restaurant La Sagouine.
When Kouchibouguac is your destination, a great spot base for your weekend activities is L'Ancrage B&B Cottages. Located right next to Kouchibouguac National Park, you'll be winter-ready for all the fresh air adventures.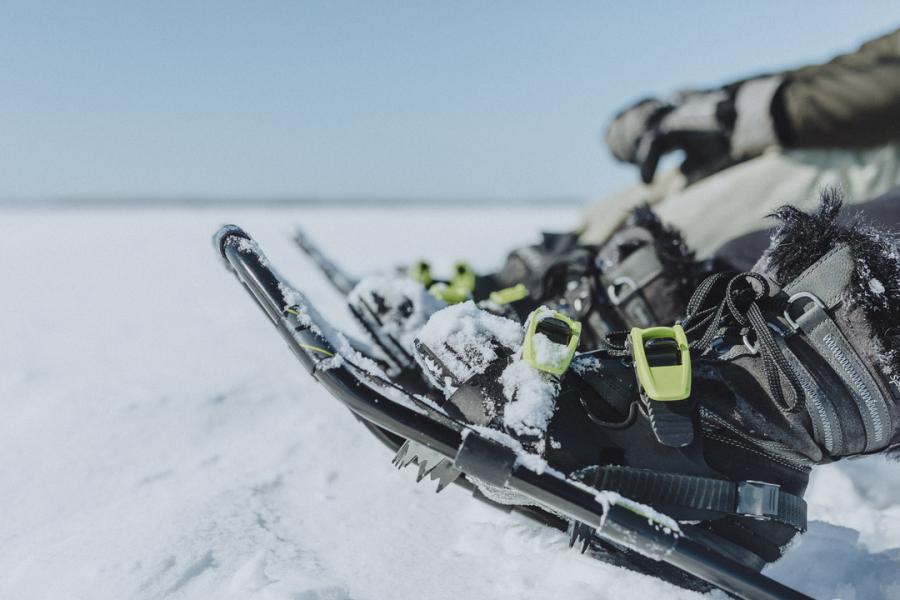 It's hard to beat this park for its stand-out snowshoeing, with over 30 km of marked trails, it's an easy activity to enjoy the best of winter (all while social distancing). If you're looking for a little more adventure, the park encourages people to go off the beaten path and snowshoe wherever you wish... Time to go exploring!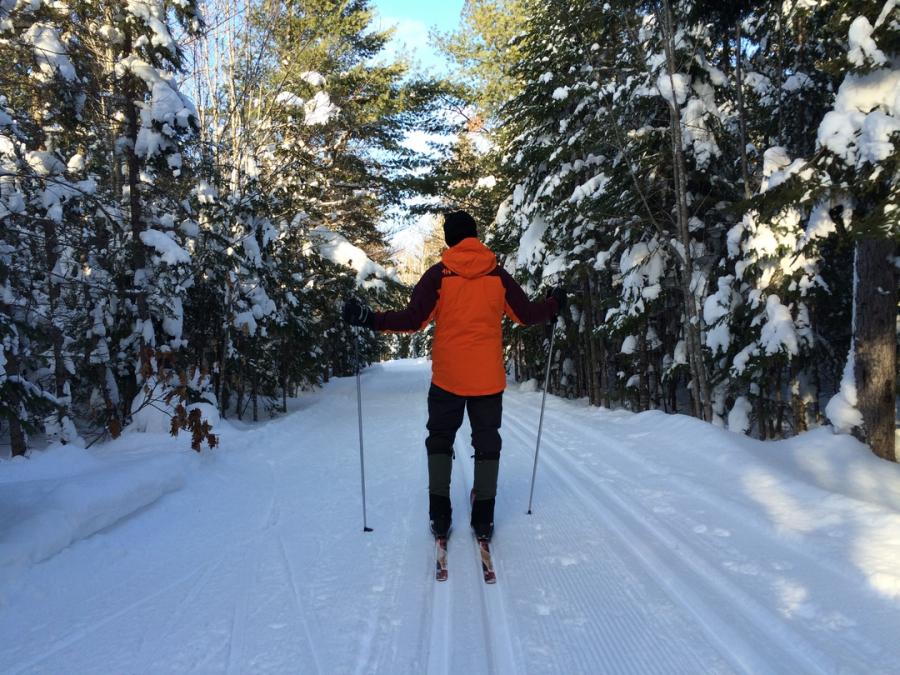 For those who would rather glide, the park is best known for cross-country skiing, with 15 km of groomed trails for both classic and ski skating techniques. Three warm-up shelters are located along the trails, where you'll find wood stoves and firewood waiting for you - perfect to grab a quick snack and warm up with your ski buddies. And if you're looking to try something new this year, you'll also be able to rent fat bikes at the park. Please bring your own helmet as an added COVID-19 protection layer, but helmets will be available if needed.
After a day spent playing in the snow, reward yourself with a comforting meal at the Seaside Grill Restaurant, best known for its generous servings of classic seafood dishes we grew up to love.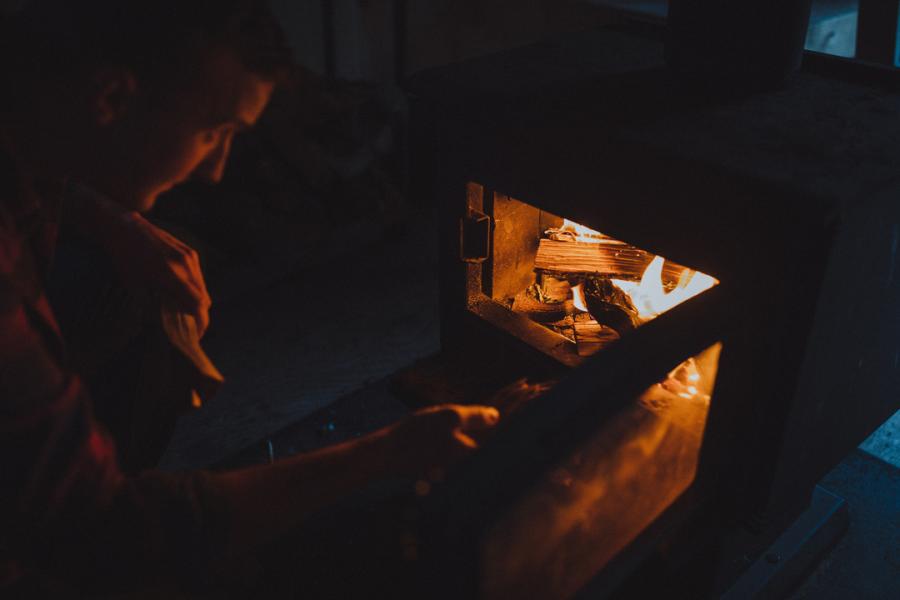 If you're in the Cocagne area and are looking for a fantastic cross-country skiing or snowshoeing day in the sun, check out the Beaver Cross-country Ski Club where you will find 15 km of classic gentle trails and a snowshoe trail suitable for all ages and levels.
For accommodations with flair, Creekside RnR in Cocagne has glamping domes set in wintry woodlands along the water. There you will find a local guide who offers ice fishing excursions and plentiful trails that welcome snowshoers and cross-country skiers. And the highlight of it all, is a do-it-yourself mulled cider kit for you to enjoy while you wind down after a great day outdoors.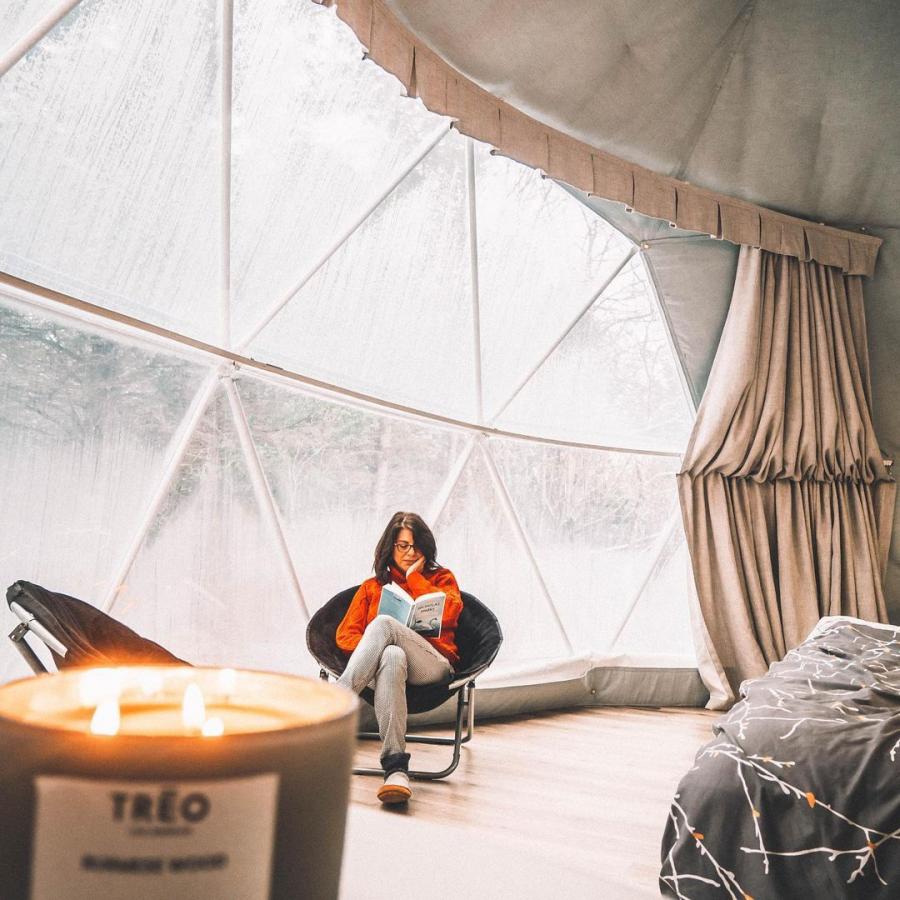 If you're looking to spend a little more time indoors, head towards Shediac to experience its cosy side during winter. Stay at Le Griffon B&B. It's just steps away from Restaurant Le Moque-Tortue and Adorable Chocolat, making it easy to round off a great stay with a great meal and scrumptious chocolate treats. Le Moque-Tortue has a stand-out menu and an even more impressive cocktail list that you'll surely remember. Why not sip on the 'Electric Lemonade' or 'King of Beachcombing' to warm up from the cold? Plus, they have Atlantic Canada's largest accessible collection of board games!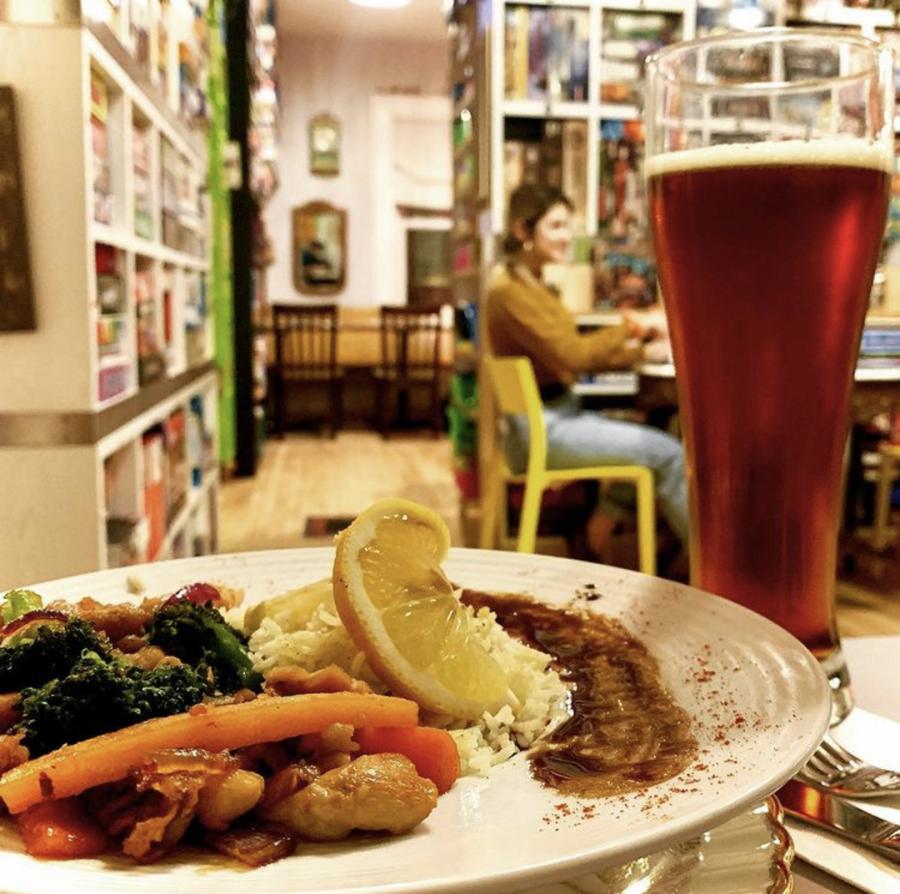 Shediac also has excellent fat biking and snowshoeing trails in the area. To see all that there is to offer, check out the Shediac Outdoors Association for trail information.
To experience more outdoor adventures, head to Parc Plein Air Park and Hibou Blanc trails in Cap-Pelé. Grab your skis or snowshoes and take on 5.5 km of trails. Dogs on leash are allowed on all the trails. The park also offers 3 km of groomed fat biking trails and a giant sliding hill with three slides, divided and protected by hay bales.
For some truly amazing meals go to Fred's Restaurant, where they offer up a plate of delicious deep fried smelts during the winter months. Or for a bowl of classic chicken fricot and pets de sœur to go, check out Fourneau acadien.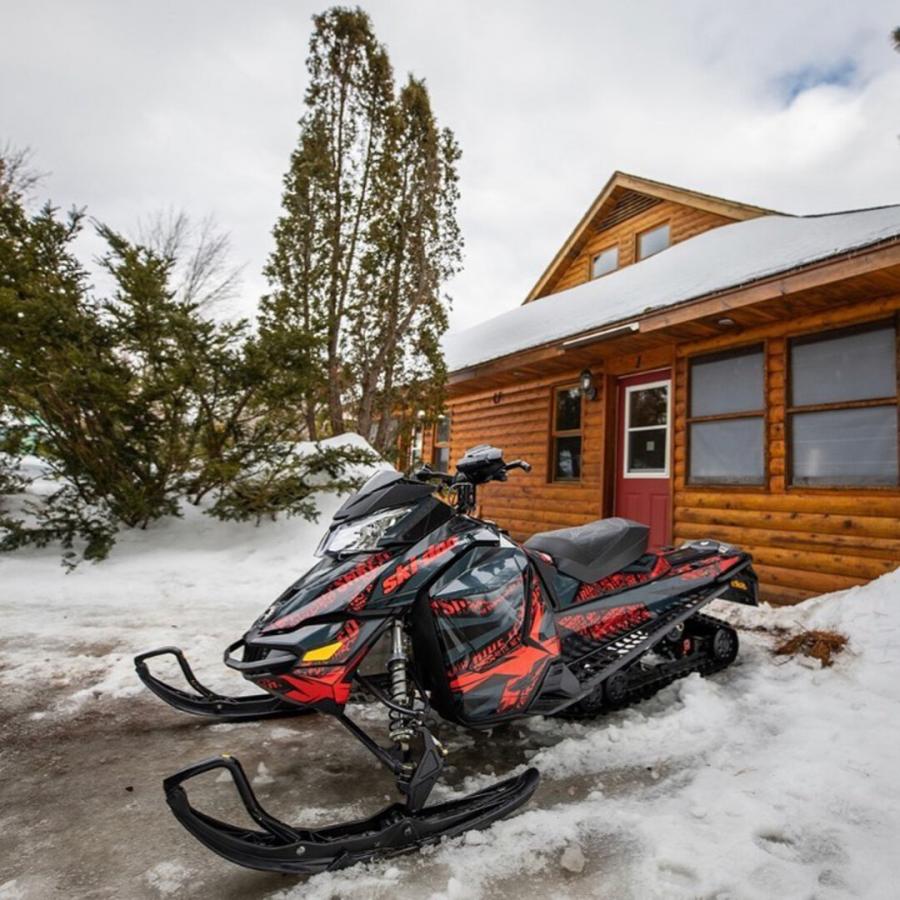 If you're longing for an epic snowmobiling trip, the Southeast region features breathtaking trails in Bouctouche, Saint-Marie, Saint-Antoine, Sackville and many other spots. And we've got snowmobiling-friendly overnight choices, too, at Kouchibouguac Resort and L'Ancrage B&B.
For an entertaining evening in the Southeast, be sure to get your tickets to see the upcoming performances at the historic Monument-Lefebvre in Memramcook.
We know how to do winter on the southeast shore of New Brunswick. Start planning your southeast winter staycation.
QUICK LINKS
Accommodations
Creekside RnR
Le Moque-Tortue
Le Griffon B&B
L'Ancrage BnB & Cottages
Séjour Kouchibouguac resort
Richibucto River Resort
La Maison Mer B&B
Hôtel Shediac
Tait House Shediac & Two Nine Three Whiskey and Cocktail Bar
Outdoor Activities
Kouchibouguac Park
Verger Belliveau Orchard
Hibou Blanc Trails at Parc Plein Air Park
Beaver Cross Country Ski Club
Shediac Outdoors Associatio
Food & Drink
La Sagouine
Adorable Chocolat
Seaside Grill Restaurant
Domaine Latitude 46 Estate Winery
La Coast
La Gare
Chez Ange Bistro
Bayou Pub and Restaurant
Lenny's
Petit Paris
Chez Linda
The Fisherman Restaurant
Fred's Restaurant
Fourneau Acadien
Le Pelican Resto-Bar
Shops and activities
Olivier Soapery
On Sports
Monument-Lefebvre
 
Vacation Packages
Get the most out of your travels in New Brunswick with vacation packages from the following operators:
AB Connect
Skiing & Glamping - 2 nights
Let yourself be pampered all while you get fully immersed in nature. You will have an access pass to the Beaver Ski Club and cross country skis for two as you take in winter's serene and untouched beauty through an entire network of trails.
BOOK NOW
AB Connect
Ice Fishing & Glamping Experience - 2 nights
Let yourself be pampered all while you satisfy your adventurous side. This getaway has the best of both worlds - wilderness and comfort.
BOOK NOW
AB Connect
Anchored in Nature - 2 days
Discover Kouchibouguac National Park on New Brunswick's Acadian Coast in a whole new way - on Fat Bikes or with sturdy snowshoes attached to your feet.
BOOK NOW
AB Connect
Treats & Delights Family Getaway
Le Bistro le Moque-Tortue offers an inviting wonderland-themed bistro that serves up great seafood, fresh pastas, beautiful soups, & fantastic desserts.
BOOK NOW