Reel in more stories than you can imagine

How often do we silence our phone, retreat to nature, and spend a little quality time with ourselves, or with family and friends? If you fish, you know well that part of the sport's allure is just that—peaceful moments in the wild, and thoughtful moments with yourself. Even if you have company. New Brunswick's fishing—freshwater and saltwater—is a world-class experience for a reason. Because you'll catch something incredible, sure. But also because our tranquil streams, picturesque lakes, and the Bay of Fundy itself, are ideal settings to unwind, and to create meaningful memories.
Atlantic salmon is the king of the game fish. People come to New Brunswick from around the world in search of this prize catch and the fly-fishing experience of their lifetime on famous rivers like the Miramichi (featured on FishPal, a convenient online booking tool) and the Restigouche. But don't let that fool you – Smallmouth Bass, Striped Bass, Shad, Brook Trout, Chain Pickerel, Landlocked Salmon, White Perch, Yellow Perch, Muskie and more can all be found in our waters. Our outfitters are salmon fishing experts and can help arrange all of the necessary permits, provide boats or canoes, improve your fly-fishing skills, and help make sure you land the prized catch. And many all-season outfitting lodges and camps are also a great destination for a family vacation—whether you all fish or not.
Welcome to the incredible Bay of Fundy—a beautiful, grand, and exciting destination for catching Striped Bass, Mackerel, Cod, Pollock, Flounder, Ocean Perch, and other bottom fish. It's also an ideal place to spot whales, porpoises, seals, and seabirds. You can get outfitted with rods, bait, and gear from the Saint Andrews-based outfitter that you'll depart from. Up for something totally unique? You can even book a shark excursion—catch, tag, release—and go home with a story that'll blow them away. If you find yourself in the Chaleur Bay and Northumberland Strait regions, sign yourself up for some mackerel "jigging". You can even arrange to be outfitted to fish from your kayak!
In New Brunswick, fishing fans aren't left out in the cold just because it's winter. Well, in the cold sure, but also in a cozy hut in a shack village! Winter fishing is a part of the culture here, and we welcome you to enjoy the thrill of hauling a lake trout, a chain pickerel, yellow perch, or smelts through the ice. Smelt fry dinners are popular along our coasts—look them up in community calendars to find one. If you don't have any equipment, check out The Shacks ice fishing experiences on the Kennebecasis River in Rothesay.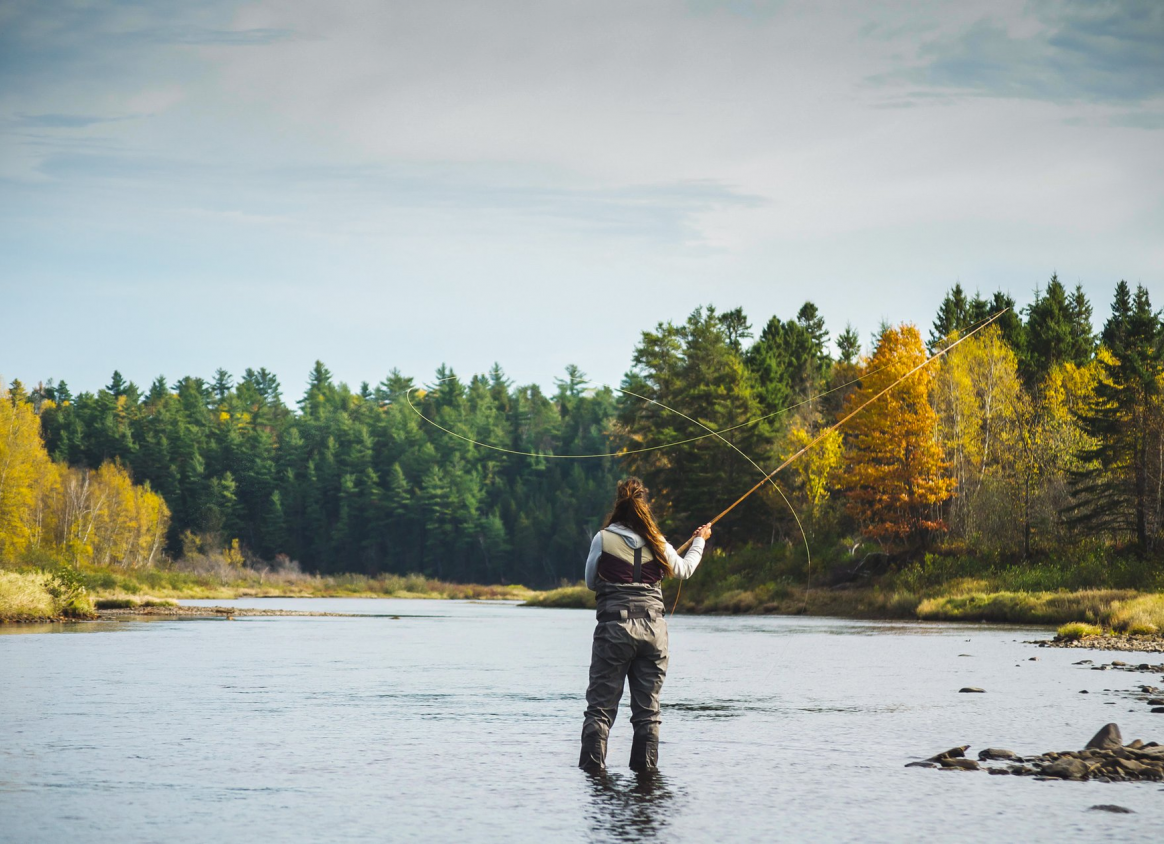 More information about fishing in New Brunswick
Our seasons, who can fish, tackle shops, we got you covered