Home to the world's highest tides, spectacular coastline, and notoriously charming communities – the Fundy Coast is a road tripper's dream.
7-10 Days, 330 km (205 mi.)
Here, your capacity for wonder isn't just filled. It overflows. This is an adventure for those yearning to connect with nature in its grandest setting. The myriad sights, sounds and smells of the bay carry you along rugged coastline and through communities shaped by the sea. You'll experience outdoor adventures, island hopping, impressive Atlantic wildlife, and likely a lobster roll (or two). Let's get going, shall we?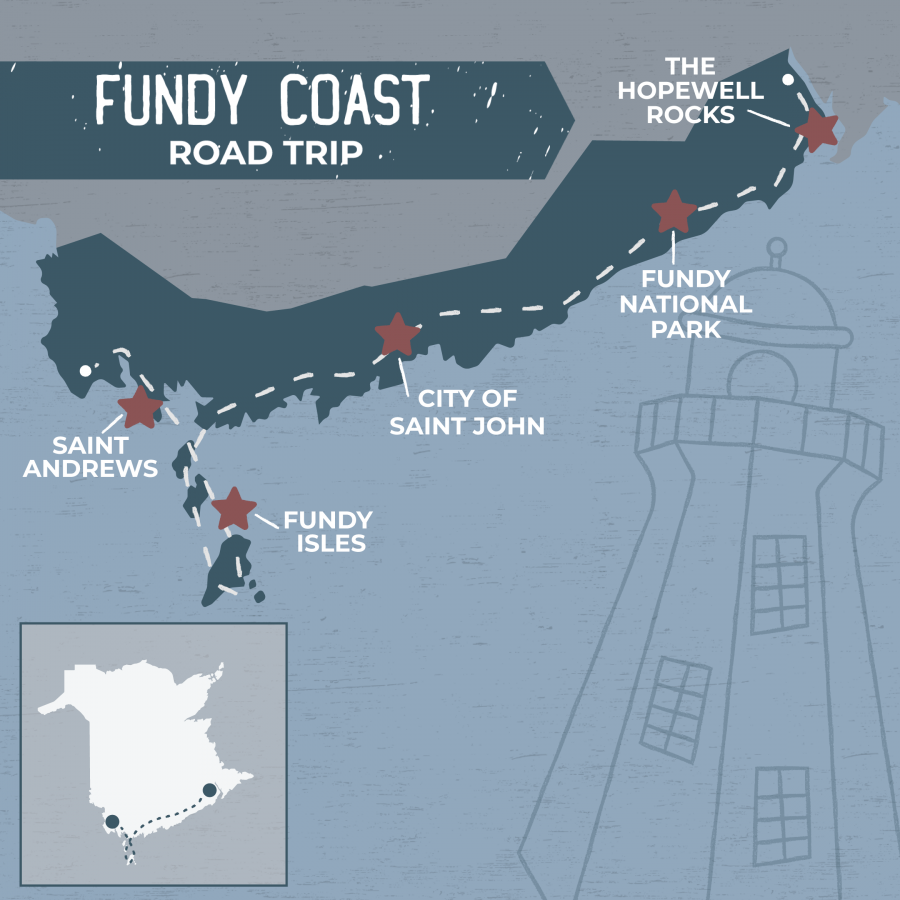 Days 1 - 3:
Albert County, The Hopewell Rocks & Fundy National Park
~100 km (62 mi.)
This road trip can be started from either end, but if you're kicking things off here you're likely coming from Moncton and the Hub City Road Trip. Stock up on road trip snacks and head for the coast via NB-114 S. Within about 20 minutes you'll start to see the landscape and local architecture change. You're now in Albert County, home to New Brunswick's most iconic landmark: The Hopewell Rocks! But before you get ready to walk on the ocean floor, explore the lovely village of Hillsborough (notably Steeves House Museum, NB Railway Museum and, for serious mountain bike enthusiasts, White Rock Recreational Area) or make a visit to Albert County Museum in Hopewell Cape.
Now it's time to check the tide table because you're about to explore The Hopewell Rocks and you'll want to experience it at both high and low tides. A whopping 160-billion tonnes of seawater rushes in and out of the Bay of Fundy twice daily, and 'The Rocks' are the best place to experience this phenomenon. Rising and falling the height of a 4-story building each day, you can walk around giant sea stack monoliths at low tide then watch the tide rise up around them. Come high tide, you can weave a kayak around the very rocks you were gazing up at.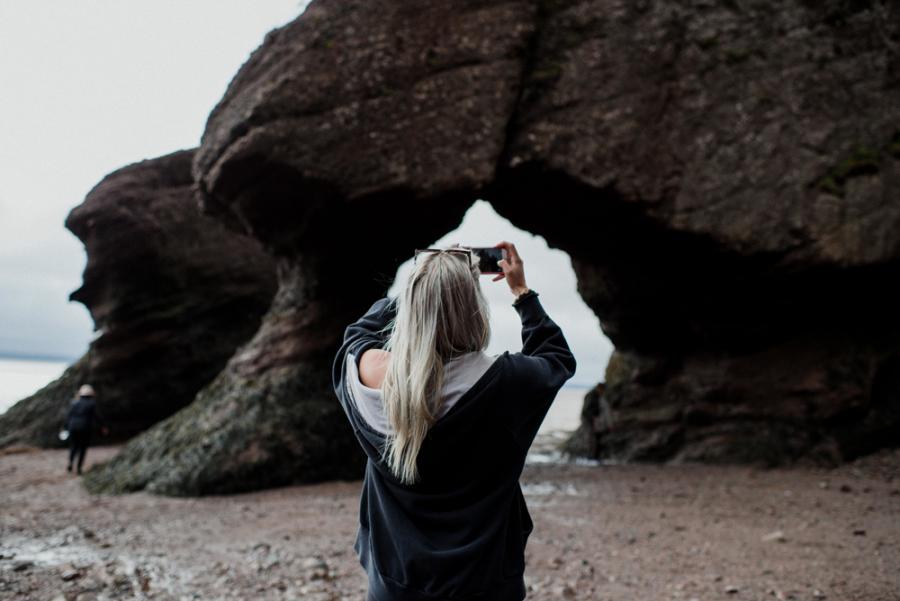 Heading a bit further down the coast, make a quick rest stop in Hopewell Hill to walk across the historic Sawmill Creek Covered Bridge, overlooking the vast Shepody Marshes. You'll then come up on the village of Riverside-Albert as you make way to Cape Enrage. Birding enthusiasts will not want to miss Mary's Point - one of the Amazing Places of the UNESCO-designated Fundy Biosphere Reserve. Now on to the incredible viewpoint at Cape Enrage, aptly named for its rocky headland jutting into the bay. Here you can zipline past a lighthouse, rappel down cliffs to a fossil-strewn beach, and have a delicious locally inspired lunch. Cover your ears - the foghorn is still active!
For your east Albert County adventures, Broadleaf Guest Ranch is a great spot for overnighting with many options for accommodations plus horseback riding tours. Rest up, there's plenty more adventure coming your way.
Continuing west, it's now time to experience the charm of Alma. Nestled at the entrance to Fundy National Park, there's something about this tiny fishing community that calls people back time and again. Stop for a beer at Holy Whale taproom, grab fresh seafood at Collins Lobster Shop and stock up on famous sticky buns at Kelly's Bake Shop. Cosy up in a local inn, or head into the wilds of Fundy National Park - a coastal wonderland filled with pristine Acadian forest, an excellent trail system, biking and paddling rentals, and plenty of options for camping and glamping. Here, you'll connect with nature, the ocean and the wide-open sky.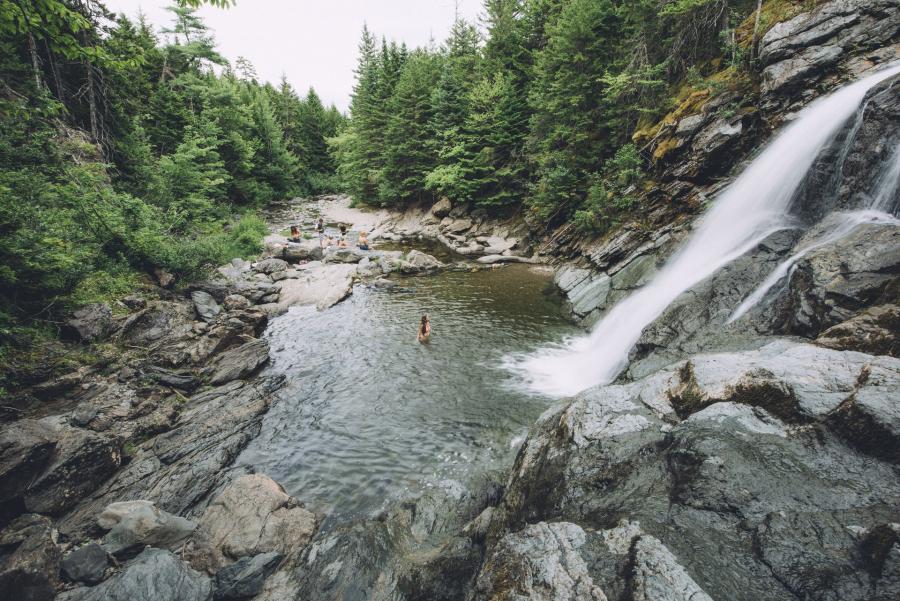 It's now time to make way to the west side of the Fundy Coast Road Trip, travelling through Sussex to the rest of this world-class coastal experience.
Road Trip Eats
PLAN YOUR ROUTE: Exiting Fundy National Park at the northwest entrance, you can take the connector road to the Fundy Trail Parkway (open mid-May to mid-October), or keep driving to the town of Sussex. After enjoying the things to see and do in Sussex, follow signs to the Fundy Trail Parkway to continue on the same road trip (about an hour south). Or, head inland to the Saint John River Valley via the Ferries & Farms Road Trip.
Days 4 - 6:
Fundy Trail Parkway, Village of St. Martins & City of Saint John
~150 km (93 mi.)
One of the last stretches of coastal wilderness along North America's Eastern Seaboard, the Fundy Trail Parkway is a 30-km (19-mi.) drive hugging the coast surrounded by a 6320-acre (2,500-hectare) park. With stunning views in every direction, you can hike, bike, or drive it. Stop and explore the many trails, waterfalls, beaches, and observation decks.
For the most extreme of adventurers, take on the four-to-five-day hiking trek that is the Fundy Footpath. Stretching from the Fundy Trail Parkway interpretive centre to Fundy National Park (or vice versa), the incomparable beauty makes the vigorous hike so worth it.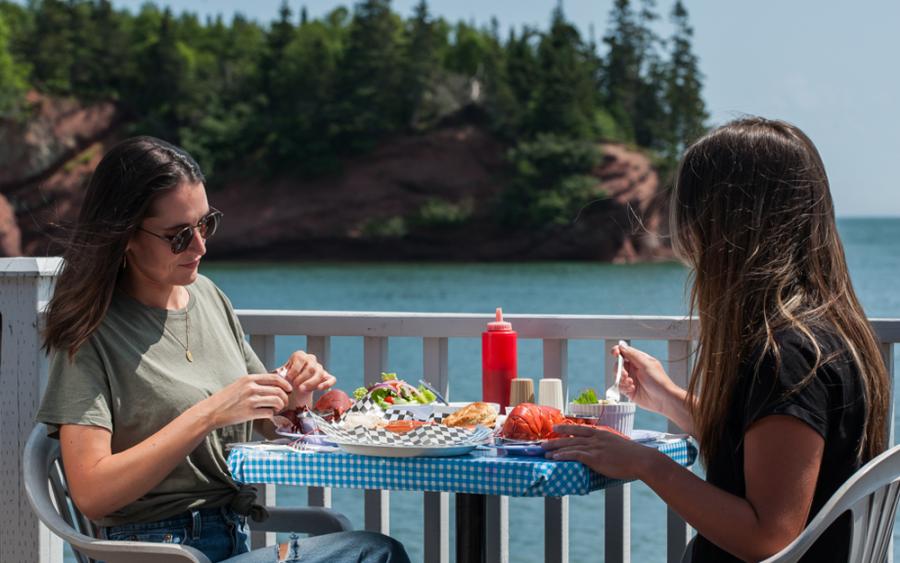 Once you exit Fundy Trail Parkway you'll be on your way to the village St. Martins, famous for its quaint coastal charm, its two covered bridges, and red sandstone sea caves. If you're feeling adventurous at low tide, explore the beaches surrounding the caves carved out by the force of the Bay of Fundy over 250-million years. Come high tide, the knowledgeable guides at Bay of Fundy Adventures will immerse you in this unique marine ecosystem via kayak tour or Zodiac adventure.
Up next: You're headed to Saint John! The only city on the Bay of Fundy, this port city has personality in spades. About 45 minutes from St. Martins, it's a striking contrast to the fishing villages that dot the coastline. If you're looking for top dining and nightlife, this is where you want to be when the sun goes down. Its streets, lined with well-preserved 19th-century architecture, house a melange of excellent restaurants, breweries, galleries, and local shops. Follow a self-guided historic walking tour or the Art in Public Places Walking Tour to discover many uptown treasures, or take a tasting tour with Uncorked and check out their tasting bar at the city market.
For a true port city experience, visit the 60-some shipping containers of the Area 506 Container Village, a diverse collection of retail shops, a performance space, a lounge, food trucks, public art and pop-up activities.
While in the city, be sure to visit the historic Saint John City Market, see the power of the tides at Reversing Falls Rapids, get the adrenaline pumping at TimberTop Adventures in Dominion Park and get a breath of fresh air at Irving Nature Park or Rockwood Park, one of the largest urban parks in Canada.
Festival watchlist: If you're planning on visiting Saint John in the summer, take a peek at the Area 506 Festival schedule, featuring live music performances during the New Brunswick Day long weekend. Or plan to attend Third Shift Public Contemporary Artworks festival, Fundy Fringe Festival, or Moonlight Bazaar, all happening in August. Check out the full list of what's happening in Saint John!
It's time to head on to the final stretch of your Fundy Coast Road Trip, with New River Beach Provincial Park as your first stop about a half hour outside the city. This is the perfect place to camp and explore, with gorgeous stretches of sandy beaches, sweeping cliffs, and natural history. If you're a park lover, factor in a few nights at least. While you're there, make the small detour to visit Lepreau Falls. If you're lucky on the way there or back you might find a vendor selling locally caught clams. Bring back some to your campsite for a beach cookout.
Road Trip Eats
Days 7 - 10:
Charlotte Coastal Region, incl. Fundy Isles & Saint Andrews 
~90 km (56 mi.)
Rounding out the western portion of New Brunswick's Bay of Fundy is the Charlotte Coastal Region. Compared to the more rugged coastline in other parts of the bay, this area is perfect for those looking for a more relaxed getaway or an island escape.
First up, you're off to the Fundy Isles -- a world apart from the mainland yet just a ferry ride away. Grand Manan Island is a 90-minute ride to rugged cliffs and shorelines guarded by lighthouses and teeming with birds and marine life. Campobello Island is perfect for whale-watching excursions, a stay at Herring Cove Provincial Park, and a visit to the heritage cottage and grounds of Roosevelt Campobello International Park. For more beautiful coastal vistas, artisan and art studios, and excellent sea kayaking, head to Deer Island, a short 20-minute ferry ride from Letete, near St. George.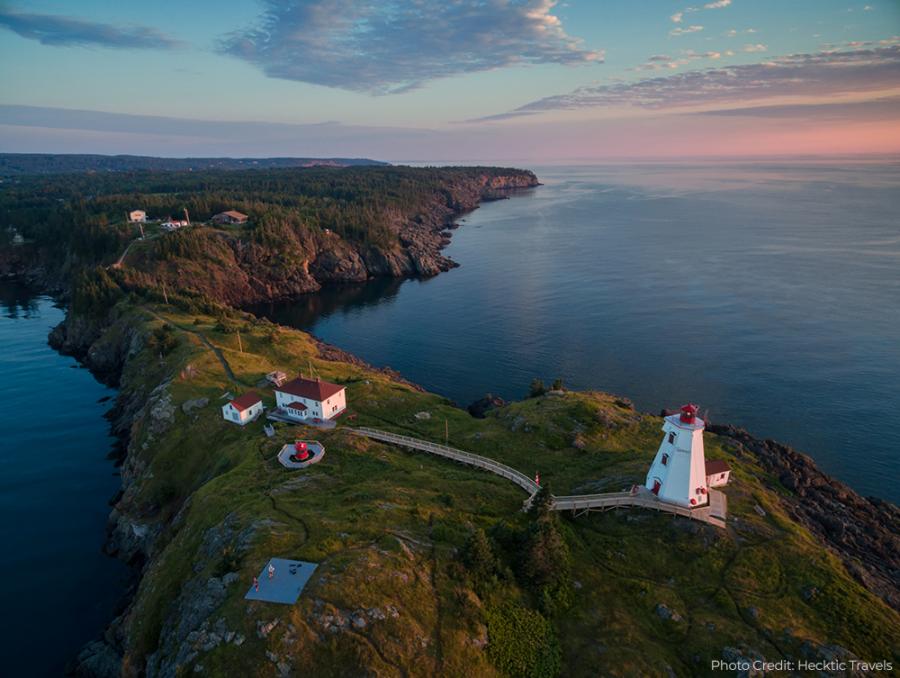 Back on the mainland, the beloved town of Saint Andrews anchors the region, with its pedestrian-friendly downtown filled with colourful shops and a lively wharf. Treat yourself to a luxurious stay at the Algonquin Resort, famous for being one of Canada's historic Grand Railway Hotels. Surround yourself with beauty at the wonderful Kingsbrae Garden. Explore extensive plant collections, many themed gardens, a cedar maze, sculptures and ponds; greet the resident alpacas, peacocks and pigmy goats, and have a delicious meal at the restaurant. Take a trip across the ocean floor - in your car! - on the way to Ministers Island, the former home of Canadian Pacific Railway baron Willian Van Horne. And no trip to this area is complete without a whale-watching excursion in the bay, where you'll have a chance to get close to the sea's greatest creatures. For even more railway history, make a detour to the famous McAdam Railway Station.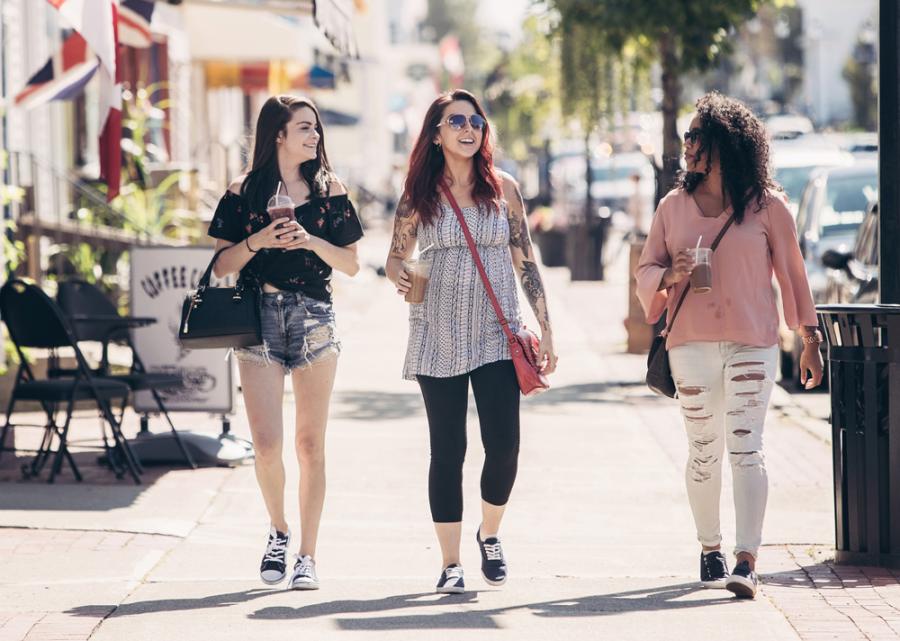 The final stop on your Fundy adventure (or the starting point for our American friends) is St. Stephen, opposite Calais, Maine in the USA. Here you'll find a border town defined by a sweet history—it's home to Ganong, Canada's oldest candy company, and its Chocolate Museum.
Just a bit outside the town is Ganong Nature Park, filled with hiking trails and a sandy beach. With magnificent views of Saint Croix Island, Passamaquoddy Bay and the United States in the distance, it's a delightful location to finish your Fundy adventure.
 
Road Trip Eats
Plan Your Route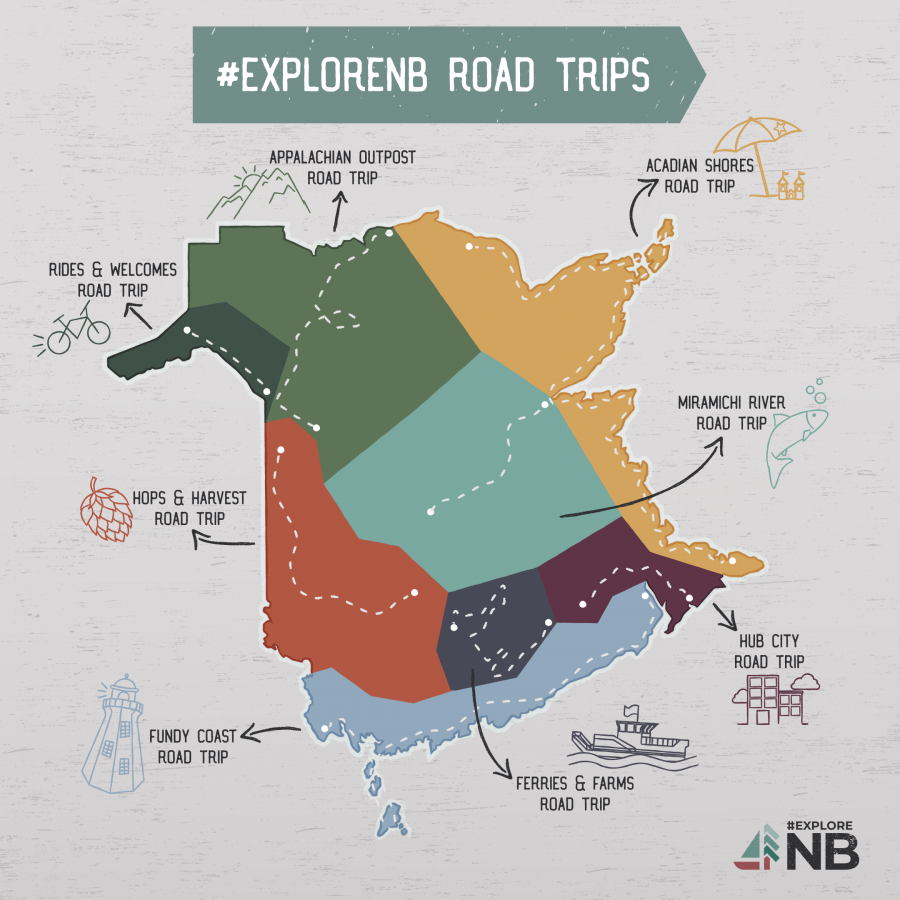 Acadian Shores • Appalachian Outpost • Ferries & Farms • Fundy Coast • Hops & Harvest • Hub City • Miramichi River • Rides & Welcomes