Here's an adventure for those whose perfect vacation days involve fishing, friends, and rollicking good times.
5-6 days, 274 km (170 mi.)
There's something truly special about the mighty Miramichi River. Perhaps it's the deep-rooted connections the region's residents have to its ebb and flow, or maybe it's the chill vibes as you hit the road with some good tunes and town-hop from its namesake city all the way to Boiestown. It must be a Miramichi thing.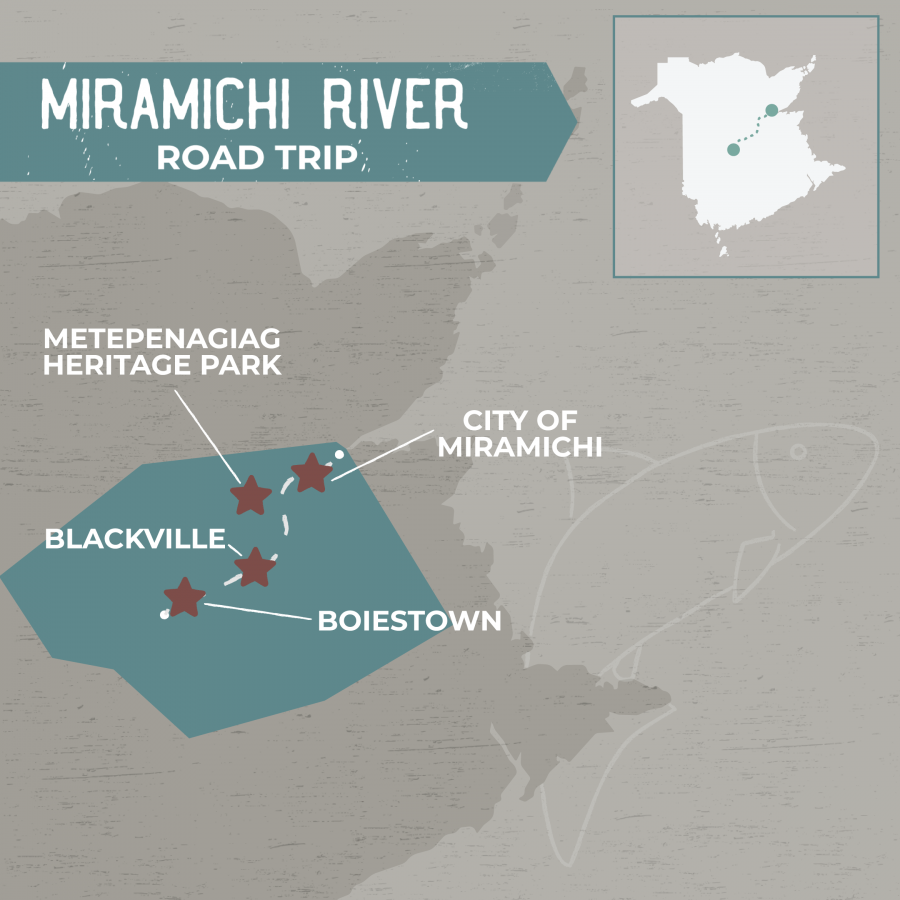 Days 1 - 2:
City of Miramichi & Metepenagiag
~51 km (32 mi.)
This region is known as Atlantic Canada's Great Outdoors, and for good reason. Here, it's all about slowing down and taking it all in - the lush landscape, the cosy wood cabins, the "live and let live" ethos of its locals. Learn to fly-fish, go 4-wheeling, try inner-tubing, or enjoy some peaceful river time at a quiet cottage. Get to know the Mi'gmaq culture of Metepenagiag, and grab a pint at a local Irish pub. The Miramichi River is yours to explore.
If you're coming from the Acadian Shores or Hub City road trips, you'll begin in the city of Miramichi. Defined by its shipbuilding roots, fishing culture, and strong Irish heritage, the locals here are friendly as it gets - and have crafted some exceptional pubs and breweries for you to discover. Those on the hunt for craft beverages can sip their way to New Maritime Beer, Carroll's Distillery, Timber Ship Brewing or Three Dog Distilling Company.
If you're craving some seriously great food, head to their local Irish pub, O'Donaghue's, where you'll get to savour local favourites like the O'Don's Famous Fish & Chips, along with a perfectly poured pint of Guinness, of course. For handcrafted cocktails, local craft & draught beer and a variety of wine, try cozy and sophisticated Apéro Lounge.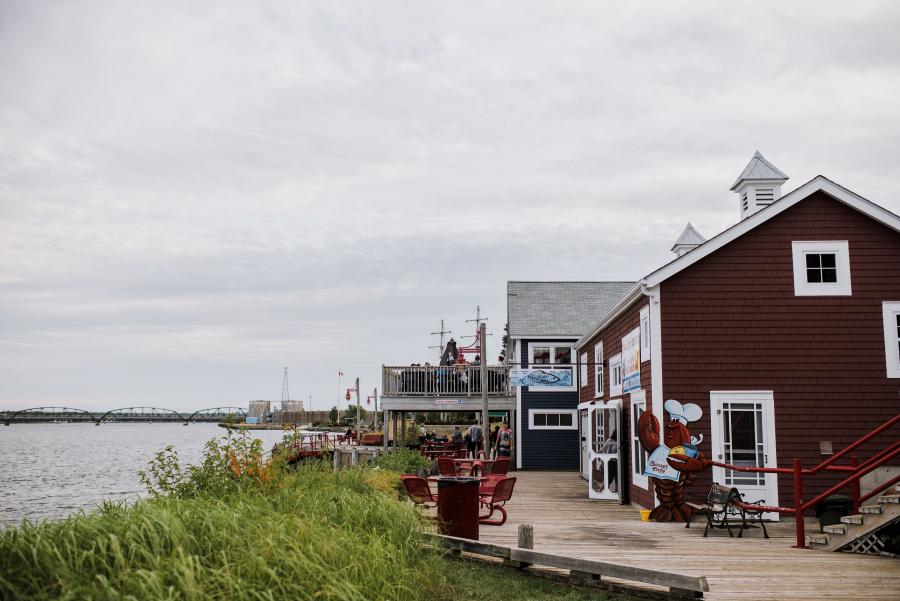 Settle in for the night at the lovely Rodd Miramichi River, and kick things off the next morning with a delicious breakfast and what we like to call "love at first sip": Cali.co Café. Here, you'll find brightly coloured Italian sodas, refreshing flavoured lemonades, and an impressive collection of cold (and hot) coffee creations.
Spend the day experiencing the history and culture of the area at Beaubear's Island National Historic Site, Wilson's Point Historic Site, Middle Island Irish Historical Park, and Ritchie Wharf Park, where you can head out for a river boat tour with the charismatic Captain Azade aboard the Max Aitken.
For a bit of outdoor fun, spend some time at French Fort Cove Nature Park, where you can enjoy a peaceful walk or a picnic, cycle the mountain bike trails or experience the thrill of the Maritimes' Longest Zipline.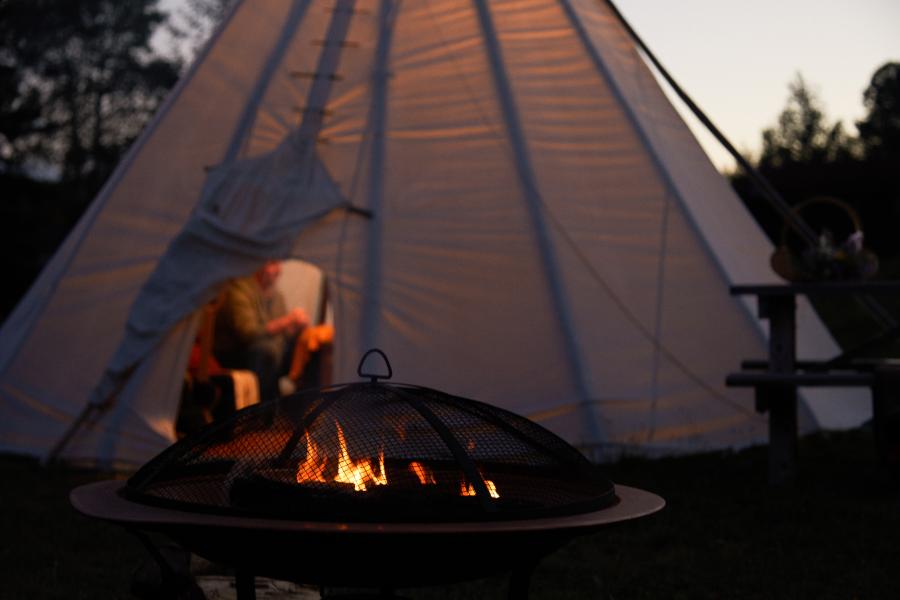 Head west about 30 minutes outside the city to Metepenagiag Heritage Park for a tour of the exhibits and grounds. The Mi'gmaq people of Metepenagiag have lived on these lands for over 3,000 years and, as you explore the national historic site - home to the Augustine Mound - you'll get a sense for their ancient culture. To complement this cultural experience, you can get a Taste of Metepenagiag or do an overnight Tipi Retreat.
Festival watchlist: Miramichi has a rep for knowing how to have a good time, which will come as no surprise if you attend the Miramichi Striper Cup in May, the Irish Festival (July 20-23), the Rock N' Roll Festival (July 29-31), the Folksong Festival (August 4-7) and many more!
 
Days 3 - 4:
Salmon Fishing Lodge
~89 km (55 mi.)
World-famous for its Atlantic salmon fishing, it only makes sense that you'd follow up your time in the city with a stay at one of the scenic fishing lodges that dot the riverbanks. Located in and around the communities clustered along the river - Sunny Corner, Blackville, Doaktown, Boiestown to name a few - they feature all-inclusive guided fishing packages for anglers of any level.
Let Debbie and Dale be your guides at Upper Oxbow Adventures, get the full all-inclusive treatment at Country Haven Lodge, get your own waterfront cottage at Wilson's Sporting Camps, combine fishing with gourmet dining at Ledges Inn, or angle for striped bass at Miramichi Sport Fishing.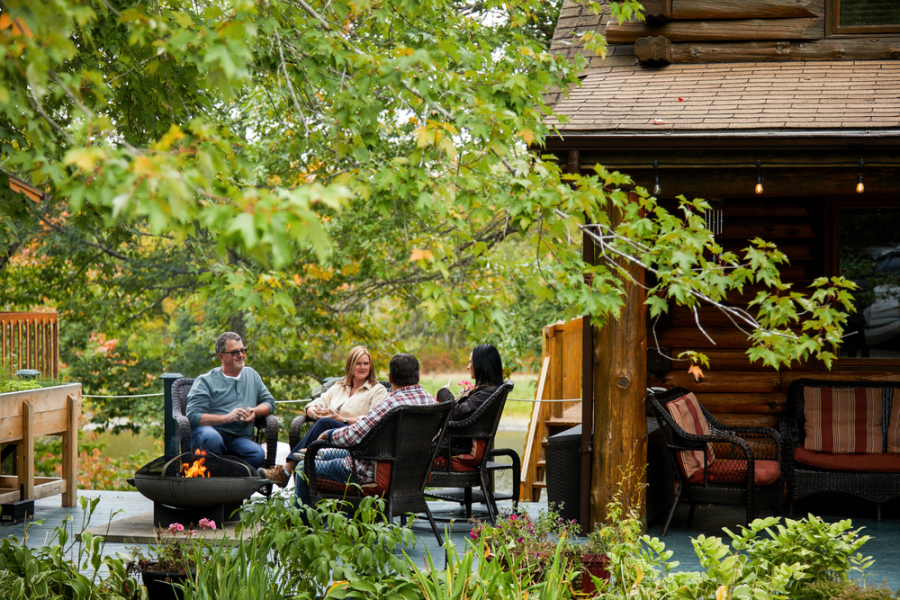 No matter which you choose, you'll be in the perfect place to slow down and set the pace for your journey. Spend the day fly fishing, break for lunch, then get back on the water. Evenings are enjoyed over some seriously good food and countless tall tales.
Fishing packages vary and can often be customized, but typically last for about 3 days, or the length of a non-resident fishing license. If you don't fancy yourself an angler, it's equally as enjoyable to spend a few days at these riverside getaways without a rod in hand. You'll often find other outdoor activities on offer such as guided ATV rides and watercraft rentals. Or, an Adirondack chair and a book might be just what the doctor ordered.
 
Days 5 - 6:
Upper Miramichi Adventure
~134 km (83 mi.)
Each little community holds its own hidden gems, but a not-so-secret fact about the Miramichi River is that the conditions are simply perfect for days spent soaking in the sun as you slowly float downstream in a tube. Grab a cooler full of cold drinks and head off to one of the many local tubing outfitters.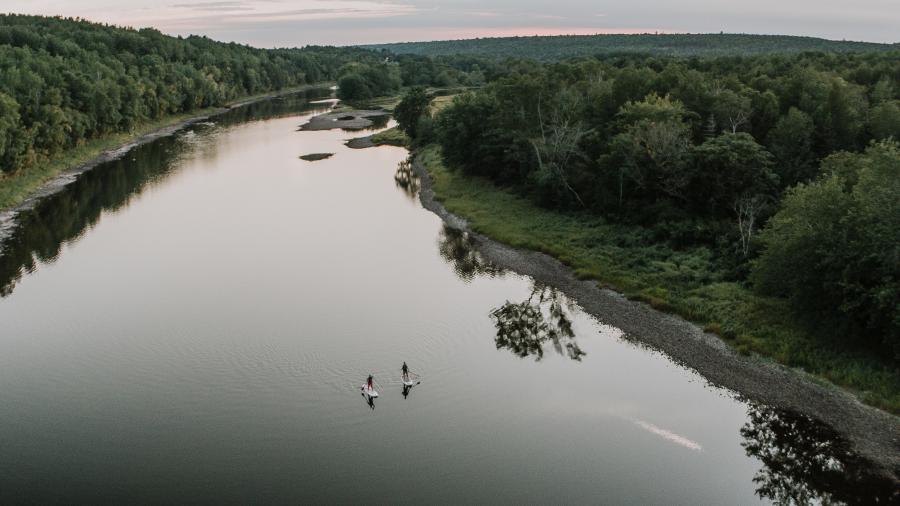 Gallan's Miramichi River Tubing offers both rapid runs and tidal runs on a beautiful stretch of the Miramichi River. Vickers River Tubing in Blackville offers scenic runs on a different portion of the river and has some of the most comfortable tubes around. Storeytown Cottages has paddleboards, kayaks, and canoes in addition to tubes.
Whichever you choose, plan for a good 3 to 5 hours. If you count drying off, lunch, and the hard-to-resist urge of doing a second run, this one is a full-day adventure.
Between all your adventures in the upper Miramichi region, be sure to make a quick stop at the McNamee/Priceville Footbridge! At 200 metres, this makes it the longest suspension footbridge in New Brunswick.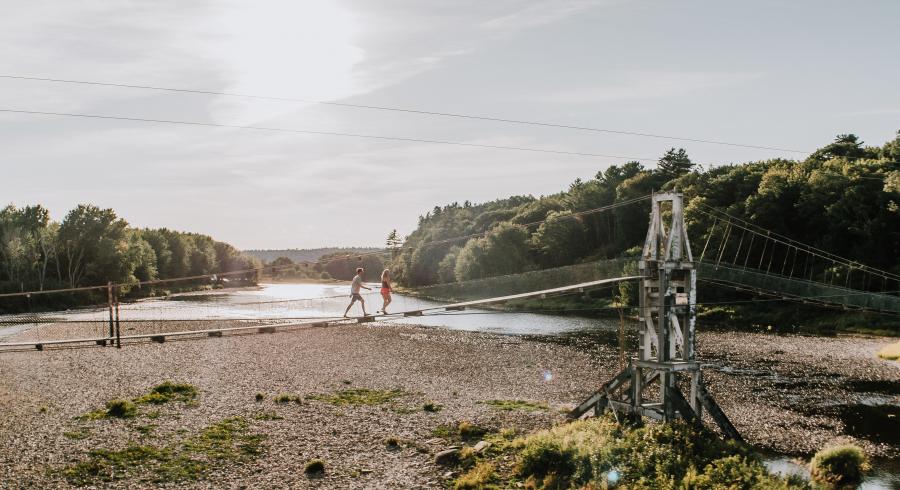 While in Doaktown, stop at the Atlantic Salmon Museum to learn all about salmon fishing on the Miramichi. While traveling on the main road (Route 8), stop to visit Doak Provincial Heritage site to travel back in time and discover the rich history of Doaktown and see what life was like when farms ruled the area. Explore the countryside to find the Mill Brook No. 0.5 Covered Bridge (Nelson Hollow), tucked away on a quiet country road. It's the oldest covered bridge in New Brunswick, and one of only two in the province that has a 'hip', or cottage roof (with four sides).
Love to spend a time on a golf course? Head to Old Mill Pond Golf Club, named after the Old Mill Pond 'Grist Mill" that was operated by the Doak family in the 1800s. Watch for the golf ball stealing fox!
Don't miss the Woodmen's Museum in Boiestown, the last community before you meet up with the Hops & Harvest Road Trip. Here live the lumbering legends and folklore of the "Canadian" lumberjacks, with tales as old as the trees in the forest.
Road Trip Eats
KEEP EXPLORING: Looking to continue your adventure? Follow NB-8 S towards Fredericton and the start of the Hops & Harvest Road Trip in the capital city region. Or, if you ended your Miramichi River Road Trip where the river empties into the ocean, connect with the Acadian Shores Road Trip for relaxed coastal settings and Canada's warmest saltwater beaches.
Plan Your Route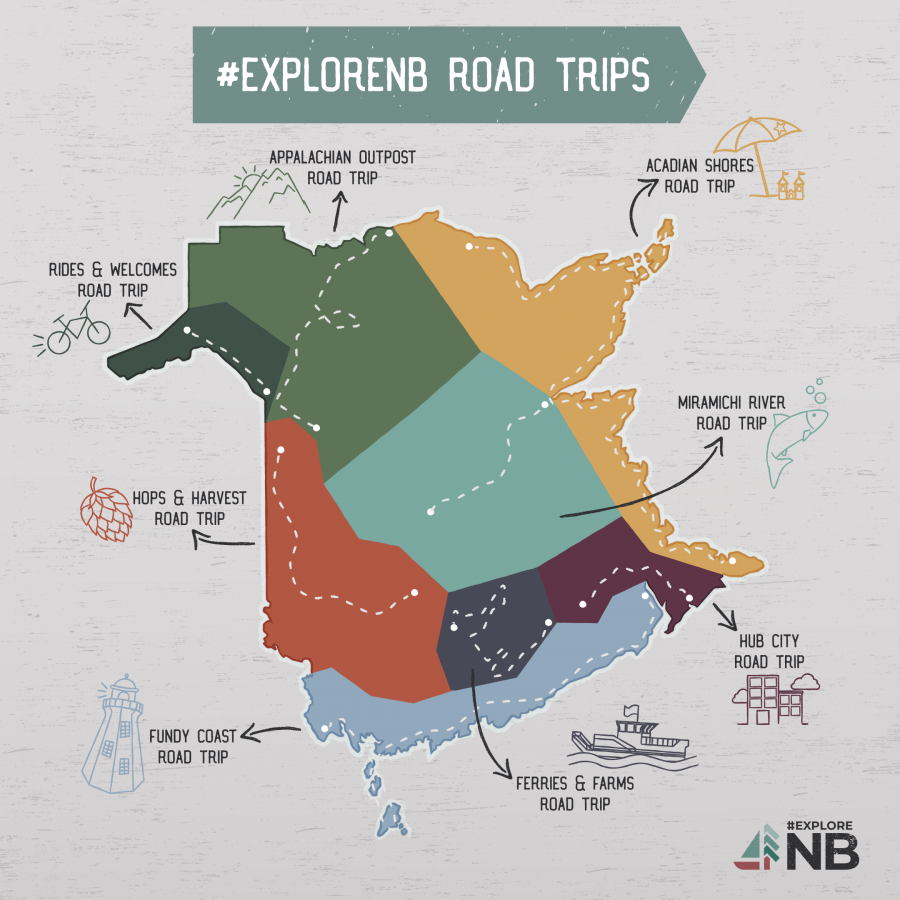 Acadian Shores • Appalachian Outpost • Ferries & Farms • Fundy Coast • Hops & Harvest • Hub City • Miramichi River • Rides & Welcomes