Here's an adventure for those looking to sleep under the stars, go off-grid, and revel in pristine nature.
5-6 days, 167 km (104 mi.)
Sometimes, outdoor quality time is all about fresh air, gliding canoes, hiking trails and raising a cup by the campfire to end the day. If that sounds like the adventure you've been dreaming of, keep reading, pack your bags and head on out to the wilds of New Brunswick's Appalachian Mountains.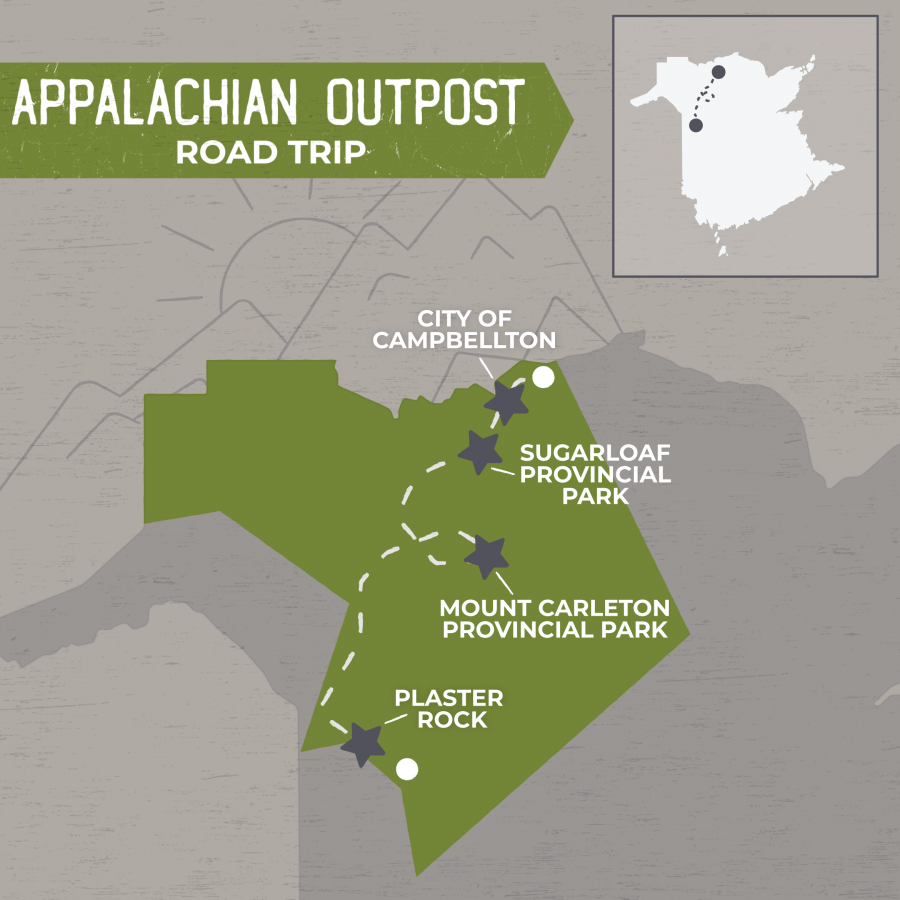 Days 1 - 3:
Campbellton and Sugarloaf Provincial Park
~33 km (20 mi.)
When you escape to New Brunswick's Appalachian Mountains, you connect more deeply with nature and your own place within it. But you also discover an intensely meaningful separation. Here, 400-million-year-old mountains invite you to find yourself above the fray of modern life. The Appalachian Mountain Range—a chain of ancient, eroded mountains that have created river valleys and gently rolling foothills—is the most mountainous region in New Brunswick.
Coming from the Chaleur region at the end of the Acadian Shores road trip, there are two ways to arrive at the Appalachian Outpost: By car, following the curved shoreline of Chaleur Bay until Sugarloaf Mountain stands tall in the distance, or for the more adventurous among us, by walking in the footsteps of ancient travellers on the Nepisiquit Mi'gmaq Trail, a 150-km portage route between Bathurst's Daly Point Nature Preserve and Mount Carleton Provincial Park.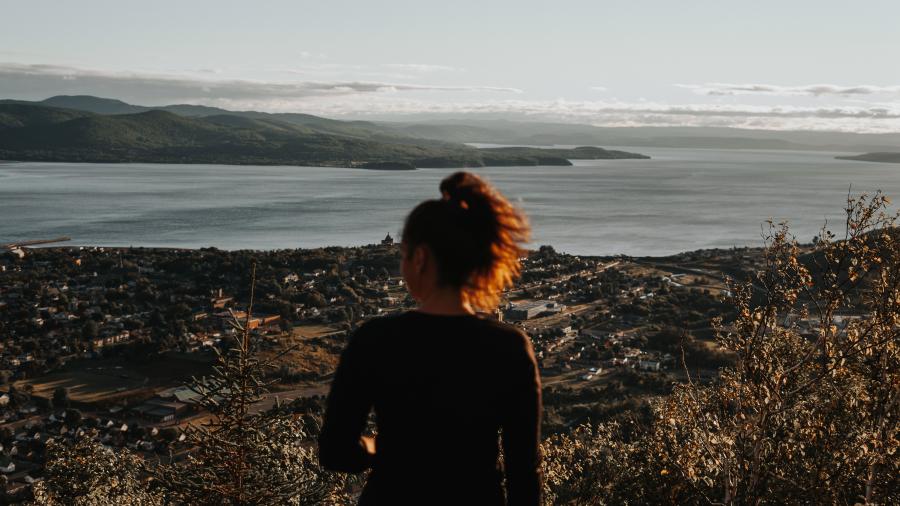 Regardless, ask any good Hobbit: if you're headed out on an adventure, you better pack enough food to cover second breakfast and elevenses. We recommend a stop in Dalhousie at the Restigouche Farmers' Market, where you can properly stock up for the adventure ahead. While in town, stop at the lovely Inch Arran lighthouse. Grab an ice cream at the dairy bar nearby and enjoy stunning views of the bay from the park.  
When you're ready to peel your eyes away from the horizon, pack up the car with local goodies and make way to the Northern city of Campbellton. Separated by bridge from Pointe-à-la-Croix, Quebec, with Sugarloaf Provincial Park in its backyard, Campbellton is both entry point to New Brunswick and base camp for many adventures—so you can always choose a hotel room over a tent if that's what you're after.
The waterfront trail is a great spot for a picnic or to watch the sunset. And Salmon Plaza—with its iconic Restigouche Sam, the 8.5-m (28-ft.) shiny, stainless steel sculpture of an Atlantic salmon—makes it onto everyone's camera roll. Wildlife enthusiasts with a thirst for knowledge will also enjoy the Restigouche River Experience Centre. Discover the secrets of the Restigouche River, known worldwide for its salmon fishing, and explore the legacy of the different nations that historically have called this region their home: the Mi'gmaq, the Acadians and the Scots.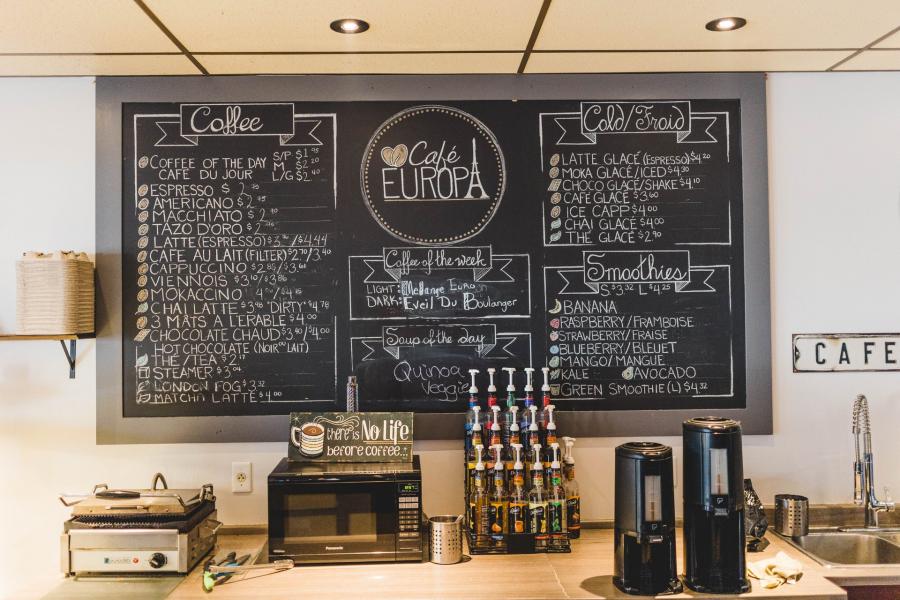 For a side of arts and culture on this northern New Brunswick road trip, make sure to save time for a visit at Restigouche Gallery, a museum, art gallery and boutique featuring the region's multicultural history and artists, and at Circolo Art & Culture, a lively creative space with art exhibitions, workshops and music.
Also if you're here on a Saturday, don't miss the weekly Sugarloaf Community Market, where local artisans and artists are happy to share their gifts and creations, and where you can stock up on fresh produce and home-made treats.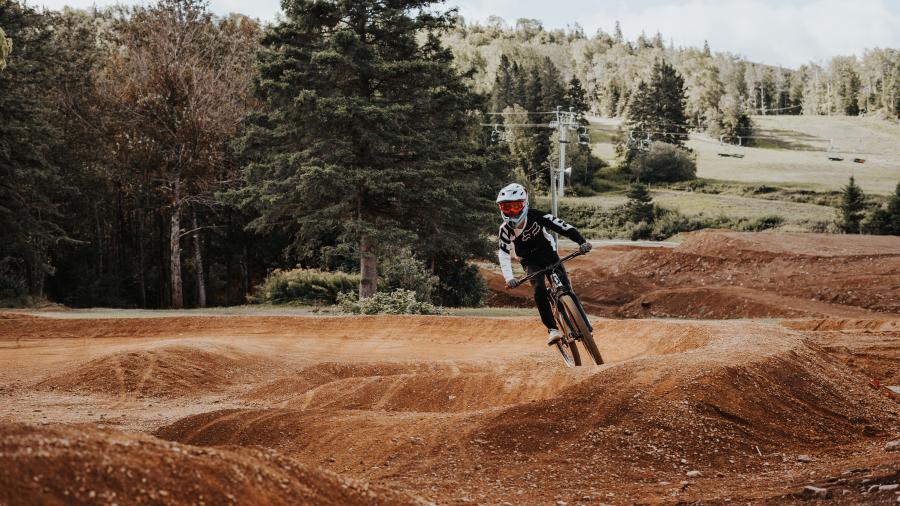 If you're craving some out-of-the-classroom wilderness, head to Sugarloaf Park where you'll find a bevy of hiking and mountain biking trails adjacent to a restaurant and a campground located at the base of the mountain. For those looking to tackle the trail system on two wheels, you'll be happy to hear that the bike park is lift-serviced -- no wonder Sam Bosence of Be Rad Adventure rates it so highly!
Whether you're spending the night in a yurt, your own tent or at a fully-serviced site: take a few days to fully appreciate the trails, the adjacent city and, of course, unwind by the campfire when it's all said and done.
 
Day 4:
Kedgwick and Saint-Quentin
~94 km (58 mi.)
After a few good days of enjoying this fun-filled northern New Brunswick provincial park, it's time to head to your next adventure. Hit the road towards Kedgwick and Saint-Quentin as you make your way towards the region's crown jewel: Mount Carleton, the highest peak in the Maritimes.
Up first is the Rural Community of Kedgwick, nestled in the heart of Appalachian-mountain country, with a history that dates back to the early 1900s when many French-Canadian families were drawn to the area by the county's rich forest and plentiful waters. Visit the Pioneers Tower to view a spectacular artistic display of the region's history. Today, the natural beauty provides an excellent setting to enjoy a variety of terrific outdoor experiences: fish or kayak the rivers, hike or bike the surrounding mountains, or take a leisurely walk around the lakes at the Rest Area in the centre of the village. Don't miss a chance to flow down the Kedgwick, Restigouche or Upsalquitch River - local outfitter GP Canoe Aventures will happily provide you with canoe rental and transportation services.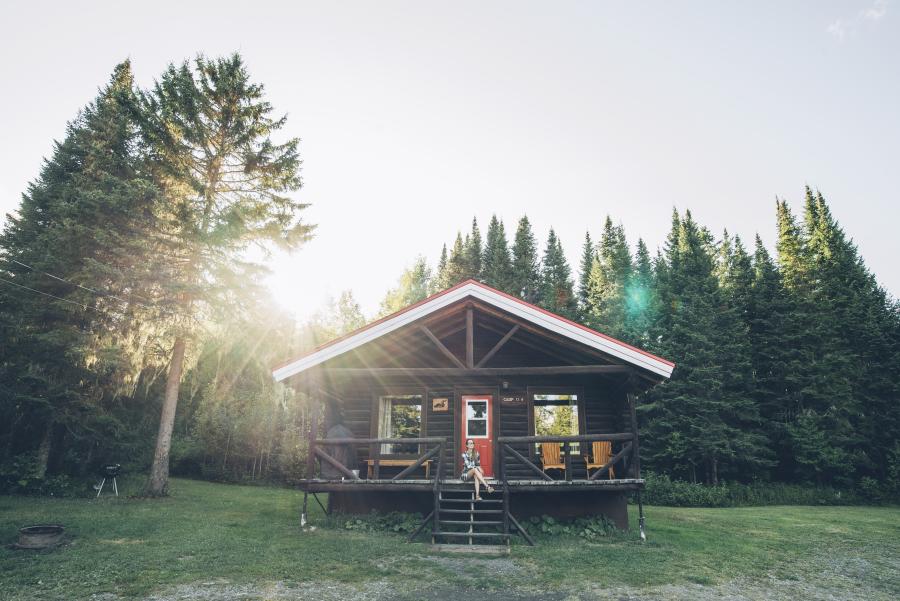 This is also where you'll find the perfectly remote-but-accessible Chalets Restigouche, featuring rustic cabin clusters and delicious home cooking in a gorgeous setting along the Restigouche River. It's great for couples, families, or large groups looking to get away from it all in the heart of nature. In other words, perfect for another night by the campfire if you ask us!
Saint-Quentin is the Maple Capital of Atlantic Canada. Get travel information, enjoy the displays or rent a bicycle at the beautiful Old Train Station Tourist Centre. Take a selfie at the giant maple leaf, follow the Steps in History self-guided tour or go for a round of golf. 
The Saint-Quentin Golf Club offers not just a competitive 9-hole round, but also a terrace bar, meals, and equipment rentals. The club's Busking Bar is a perfect spot for relaxation, live music nights, or just friendly meetups to enjoy a local beer. 
For a cosy overnight with all the amenities, head to Du Repos Inn in Saint-Quentin. The friendly owners can even arrange for fly-fishing lessons during your stay at this welcoming bed & breakfast. While in Saint Quentin be sure to stock up for your stay in the park - it's off to Mount Carleton you go!
Days 5 - 6:
Mount Carleton Provincial Park
~40 km (30 mi.)
Get an early start to your day as you head from Saint Quentin to Mount Carleton Provincial Park. The park invites you to embrace vertical distance from hectic everyday life. Here, you'll find 4 distinct peaks and some serious elevation for you to tackle: Mount Head (792 m), Mount Sagamook (777 m), Mount Bailey (564 m) and last but not least: Mount Carleton at a whopping 820 meters, making it the highest peak in the Maritimes.
Come nightfall, the designated Dark Sky Preserve showers you with a smattering of twinkling stars. You'll find over 42,000 acres of pristine wilderness waiting for its next explorer and more wild animal species than any other part of the province.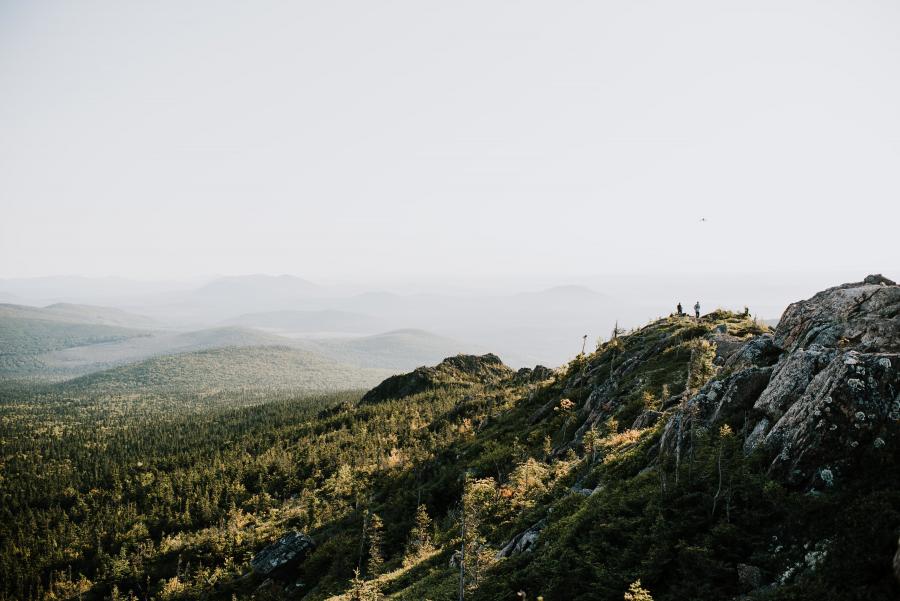 In this park, hiking is the name of the game. From the wheelchair-accessible Williams Falls trail to the challenging-but-rewarding Mount Bailey, there's an adventure with your name on it. It's also here that you'll connect with the Nepisiquit Mi'gmaq Trail, the ancient portage trail which began in Bathurst. The forest trail follows the flattest route between two lakes, making it one of the easiest in the park but also one of the most culturally significant.
At the new post-and-beam Mount Carleton Lodge, observe the Indigenous artist installation The Place We Gather, which highlights the cultural, historical and traditional significance of Sagamook Peak in the traditional territory of the Mi'gmaq and Wolastoqiyik people.
Birders rejoice! You'll be able to identify at least 100 different types of birds at different times of the year. Amateur botanists will also discover a number of rare plants such as the Alpine blueberry and Bigelow's sedge on the slopes of Mount Carleton itself.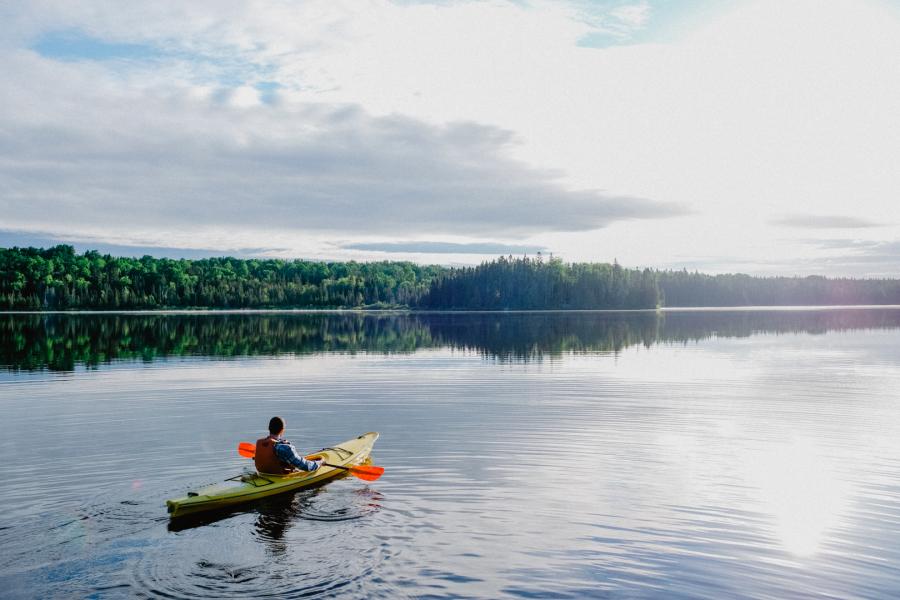 With lungs full of fresh air and a camera full of memories, settle in at one of the park's four campgrounds or two lakeside heritage cabin sites. Watch the sun sink over the horizon and recount tales around the campfire, nowhere else to be but here.
Festival watchlist: Events in this region are true to the Appalachian character and way of life. Campbellton's Salmon Festival (June 28 - July 3) and Bluegrass Festival (September 16-18), Dalhousie's Bon Ami Festival Get Together (July 28- August 6), and Saint-Quentin's Western Festival (July 11-16) are testament to long-standing traditions and bring together residents and visitors. 
Road Trip Eats
KEEP EXPLORING: Looking to continue your adventure? Make your way towards Plaster Rock to experience camping, golf, and paddling on the Tobique River at the edge of the Appalachians. From here you can connect with the Rides & Welcomes Road Trip, where you'll find even more trails, great camping spots, charming Francophone culture and République Provincial Park.
Plan Your Route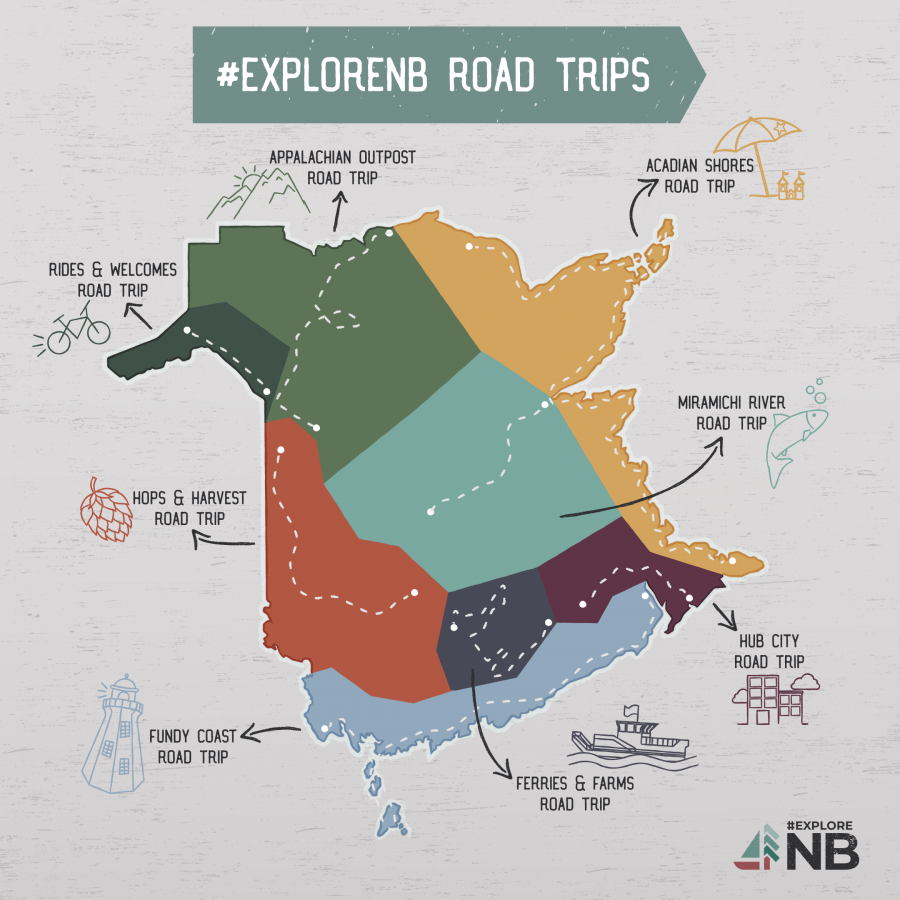 Acadian Shores • Appalachian Outpost • Ferries & Farms • Fundy Coast • Hops & Harvest • Hub City • Miramichi River • Rides & Welcomes