Here's a road trip that's tailor-made for the family adventurers, the avant-garde foodies and the intrepid urban explorers, with some great cultural experiences sprinkled in between.
4-5 days, 131 km (81 mi.)
This is an adventure for those looking for a perfect blend of city life, country roads and delicious eats. Best of all? It's the perfect gateway to the glorious Fundy Coast and Acadian Shores road trips. Read on and hit the road!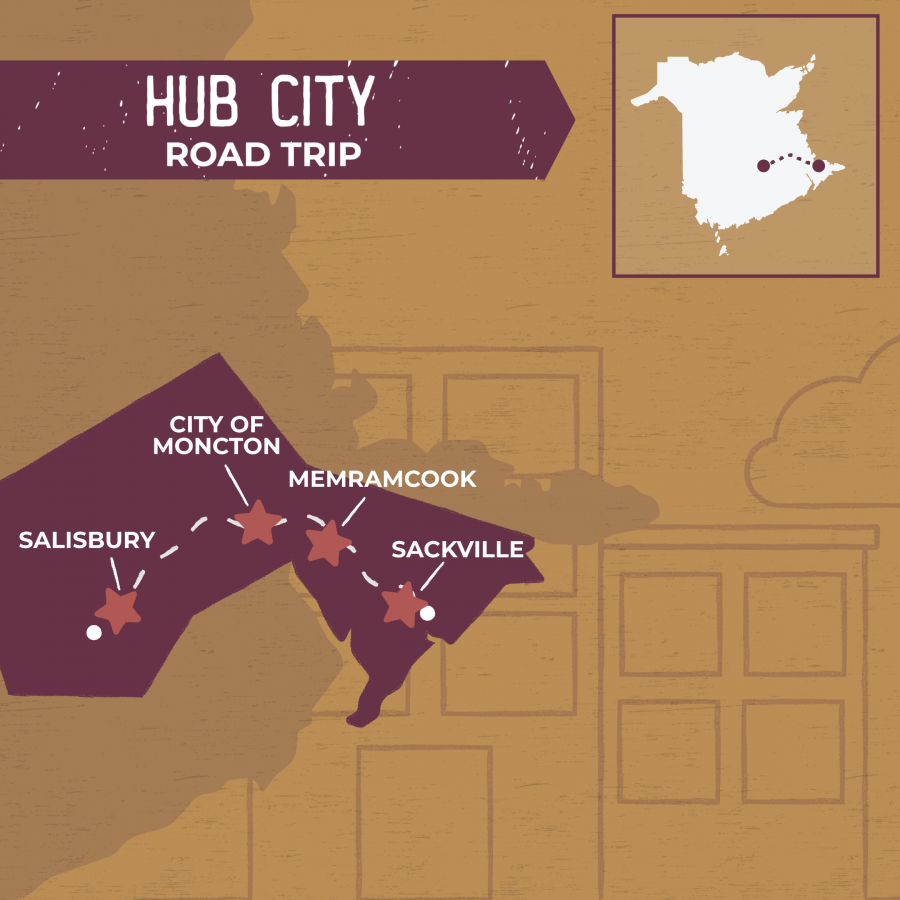 Days 1 - 3:
Destination Moncton-Dieppe
~75 km (47 mi.)
The perfect combination of urban amenities at nature's doorstep, Destination Moncton-Dieppe really is the hub of all things fun in the heart of the Maritimes. Just a hop, skip and a jump from the Fundy and Acadian coasts (two of New Brunswick's most iconic locations, The Hopewell Rocks and Parlee Beach are about 30 minutes in either direction), the "hub city" is about as perfectly positioned as it gets.
Tailor this road trip to meet your ideal vacation style - whether it's setting up home base in the city and taking day trips to the coast, or making it the jumping-off point for a road-tripping adventure. Either way, here's how to make the most of your time in Moncton and Dieppe.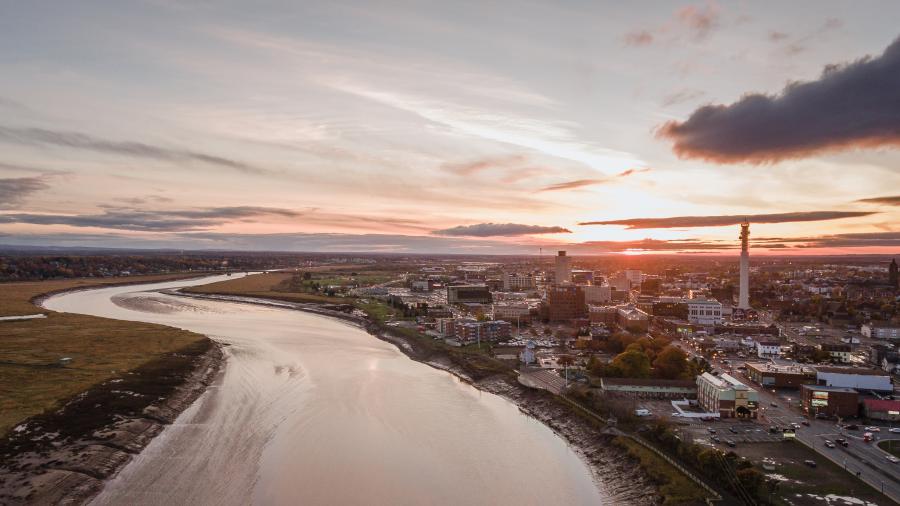 First up, grab your swimsuit and get ready to unwind. You're headed to Usva Spa for an outdoor relaxation experience inspired by a Nordic ritual dating back more than 2000 years. Perched on a hill overlooking the city, you'll get a view of Moncton sprawled out below as you settle into vacation mode.
We recommend booking ahead so you have plenty of time to explore downtown Moncton before a night on the town. This city has a phenomenal culinary scene, with more than a few tastebud-bending options to finish your day - ranging from modern Acadian to international. Check out a few favourites from Chef Rahil Rathod:
Day 2, here we come! Wake up to a fresh café mocha and a crêpe Bénédicte at the local gem that is Café Archibald, then head off to your day's jungle adventure: the Magnetic Hill Zoo. After all, if you've visited Moncton but didn't come face-to-face with a full-size Amur Tiger, does it even count?
This 40-acre park provides a friendly environment for visitors to connect with and learn about more than 70 indigenous and exotic species. Expertly cared for, the zoo's residents are divided between four distinct areas: the Americas, Africa, Asia and Discovery.
Stay for a while, but keep an eye on your watch as you won't want to miss the natural phenomenon that is the Tidal Bore - where the incredible force of the Bay of Fundy tides pushes the Petitcodiac River backwards. Best viewed from Bore Park in downtown Moncton, it also gives an excellent excuse for a little coffee break.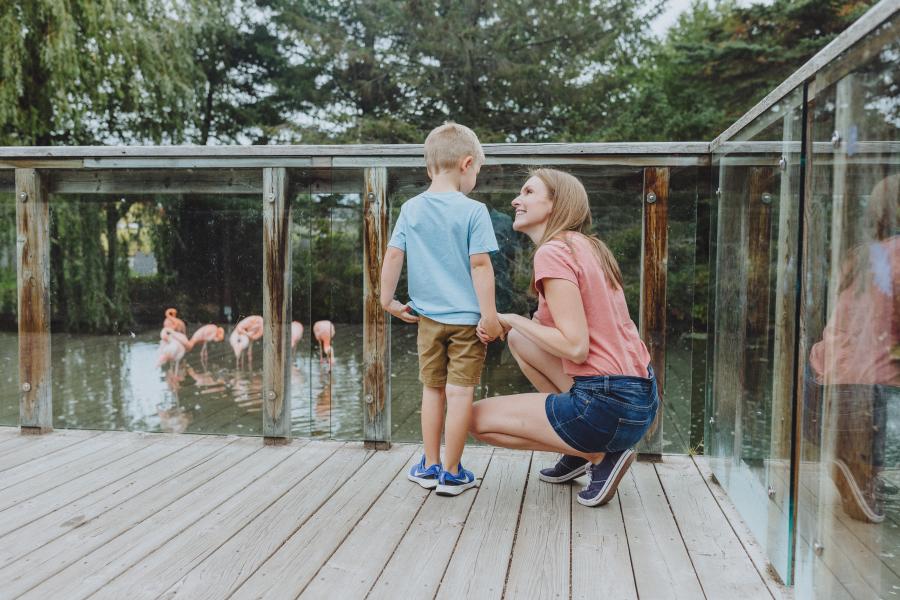 Next on your bucket list is Resurgo Place, a local state-of-the-art facility that houses the Moncton Museum and the Transportation Discovery Centre. While you could probably spend the entire day learning and discovering through its multiple exhibits, be sure to head out just in time for your reservation at Atelier Tony. This upscale and downright decadent Dieppe eatery will never fail to treat you to a fabulous meal.
Going from upscale dining to a 60 km/h dive-bomb through a waterslide aptly named "The Kamikaze" may seem like a strange pairing, but to us, that's what we'd call "a pretty good weekend." Good thing you packed your flip-flops and bathing suit because you're headed for some serious splashing fun at Magic Mountain. Cool off in the wave pool, fulfill your need for speed, or take it smooth & slow around the Lazy River. Perfect for all ages, this is an absolute must during the hot summer days.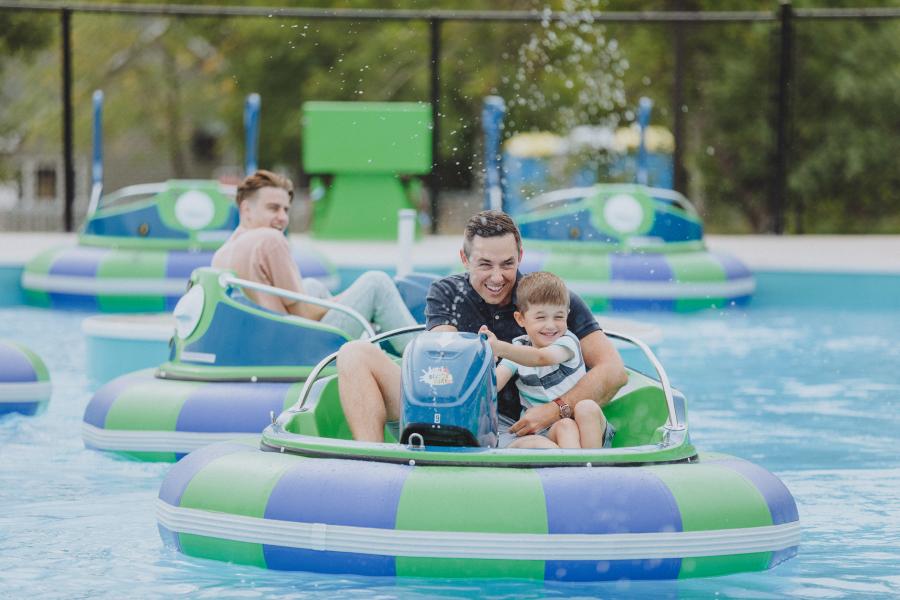 After you've dried off, it's time to head off to quieter pastures as you take a well-deserved stroll through Magnetic Hill Winery. Savour delicious award-winning wines and discover the rich history of this unique estate, take in a breathtaking view of Moncton, and even stay the night at one of the finest bed & breakfasts around.
It's one thing to grab a cup of joe, but it's a whole other thing to take on the Epoch Tasting Experience. The Epoch Chemistry Coffee House is a unique spot located on St. George St. in Moncton. Be delighted with freshly roasted coffee and reconnect with your +1 over a heated—we recommend no more than 96 degree Celsius—game of chess.
Next up, you're headed about 20 minutes outside of the city to Salisbury and the Green Pig Country Market. Beloved by locals and tourists alike, you'll find freshly-grown vegetables and baked goods in a friendly community atmosphere. There you can also experience the NB Sunflower Festival in August (perfect photo op), and  attempt to escape an epic corn maze between early September and Halloween.
Finish your Hub City experience with a short trip west of Salisbury to the Corn Hill Nursery. Have lunch at their Cedar Café, take a stroll through their impressive plant selection and be on the lookout for their informative workshops and seminars.
Festival watchlist: Moncton and Dieppe is where it's at! Celebrating our diverse culture at Mosaïq Multicultural Festival in September, Scottish feats of strenght at Greater Moncton Highland Games & Scottish Festival in June, Acadian Music at Acadie Rock Festival and the art of dance at the Atlantic Dance Festival (both in August).  Check out other festivals and events happening in the area.
Road Trip Eats
PLAN YOUR ROUTE: You're getting close to the Ferries & Farms Road Trip - it's about 30 minutes from Salisbury via NB-1 W. Keep heading in that direction for a river valley experience, or circle back to Moncton to continue the rest of the Hub City Road Trip.
Days 4 - 5:
Destination Southeast
~56 km (35 mi.)
The more rural regions around Moncton and its twin city of Dieppe offer a wonderful contrast to the area's central hub. With incredible historical and cultural significance - not to mention country roads that are a road tripper's delight - it's highly recommended to spend some time in the Cradle of Acadie and other surrounding areas.
Located at only 20 minutes from Dieppe via NB-106 E, Memramcook—also known as "the beautiful valley"—is one of those places you simply shouldn't skip on your trip through Southeast New Brunswick. The region features vast marshlands, Acadian dykes and aboiteaux, along with walking paths and orchards, and is a significant migration route for songbirds, ducks and herons.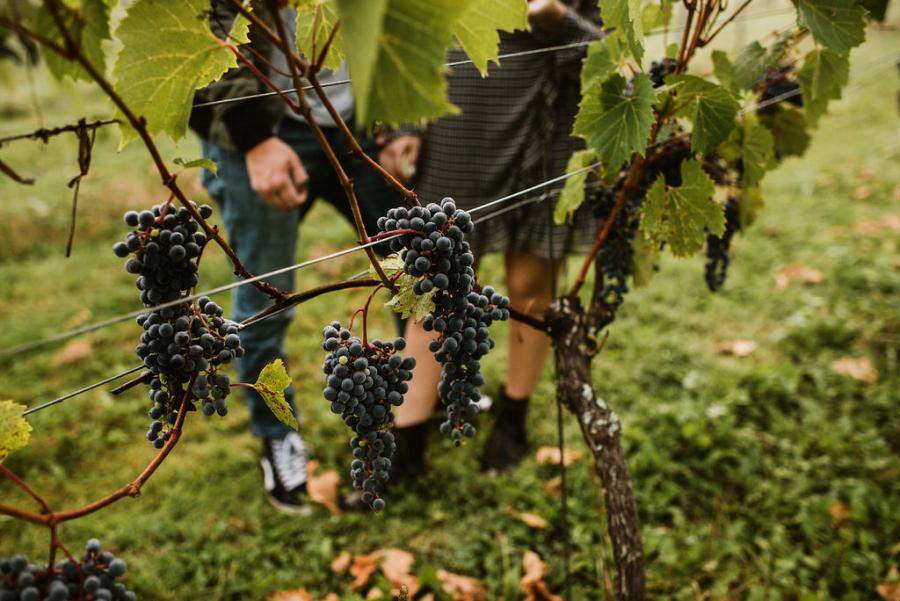 Here, you'll find a warm welcome and your next destination in the lush rolling hills of the Verger Belliveau Orchards. In the spring, the apple blossoms are in full bloom and in the fall, their Apple U-pick is a must for families and lovebirds.
A few minutes away is another equally delicious experience at Domaine Latitude 46 Estate Winery. Located on the banks of the Petitcodiac River, this 6-acre vineyard and cottage winery offers wine tastings, production tours and even lunch by the river.
On your way to Memramcook, find the Boudreau Covered Bridge on Gayton Road, the last of four that used to cross the Memramcook River. Recognized as a national historic site, it stands as a reminder of the past in this beautiful valley.
Learn about the Acadian cultural significance of the region at Monument-Lefebvre National Historic Site, where an interactive exhibit and local theatre productions will take you on the journey of the Acadian people from the time of the deportation (1755) to the present day.
It's a well-known fact that time travel will cause you to work up quite an appetite, so that's why you're on your way to your next destination: the sweet town of Sackville. It is home to Mount Allison University, many art galleries and the legendary Sappyfest festival. Sackville is also where you'll enjoy a slice of heaven by dropping in at Goya's Pizza for your next meal.
Take your time —and maybe even grab a slice for later — before you head to Sackville's crown jewel: the Sackville Waterfowl Park. This award-winning 55-acre park is within walking distance from downtown. It boasts an impressive 3.5 kilometres of trails and boardwalks where you'll enjoy a peaceful stroll through 200 species of plants and around 160 different species of birds. Admission is free and guided tours are also available.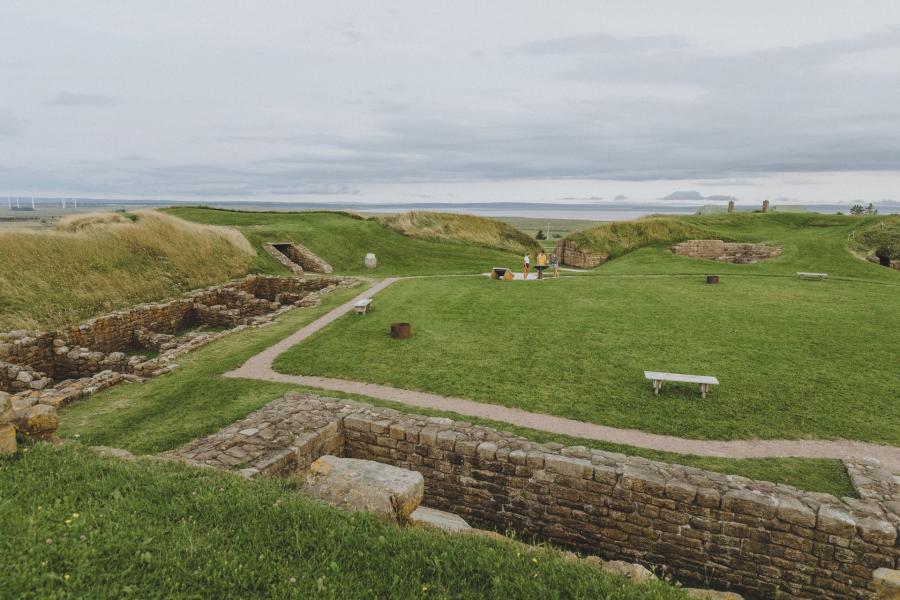 Last up on this summer-memory-in-the-making is another trip back in time, this time to the 18th century with a visit to Fort Beauséjour - Fort Cumberland National Historic Site. History buffs and culture lovers will enjoy patrolling the ruins of a star-shaped fort that was vital to the 18th century struggle between France and Britain over Acadie.
For your final stop on the Hub City Road Trip, take NB-16 E across the stretch of land that separates the Bay of Fundy from the Northumberland Strait. On Route 16 stop at Blue Roof Distillers in Malden, then find your way to Winegarden Estate in Baie Verte and toast to your journey with a crisp glass of German-style wine. Salut!
Road Trip Eats
🥪  Sample delish oysters and an eclectic menu at Ducks Aren't Real (formerly Black Duck Café)
☕ Enjoy a beverage surrounded by local art at Monument-Lefebvre Cultural Cafe
🍽️ Treat yourself to homemade delights at Wood Chef Bakery
KEEP EXPLORING: Looking to continue your adventure? From Baie Verte, follow the coastline north to continue along the beautiful Acadian Shores Road Trip. Sandy shores, starry nights, and plenty of cottages and camping by the sea awaits! From Moncton, you can continue onto the Fundy Coast Road Trip, where you'll discover the highest tides in the world, amazing seafood, and outdoor adventures for all.
Plan Your Route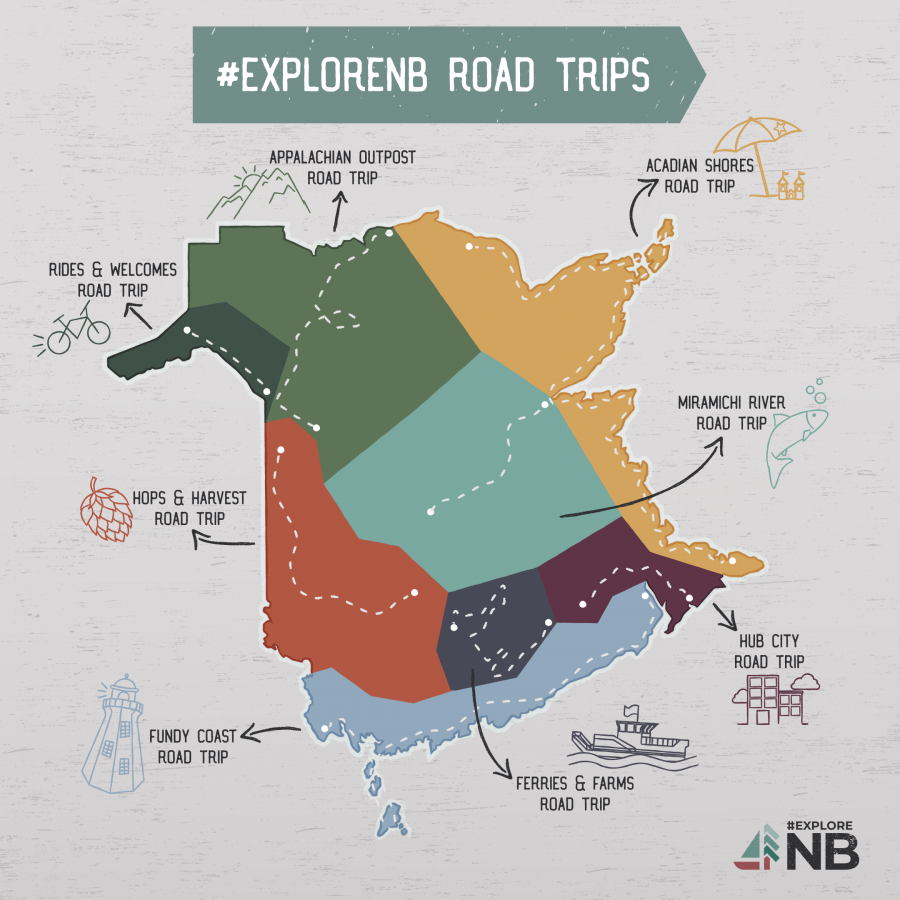 Acadian Shores • Appalachian Outpost • Ferries & Farms • Fundy Coast • Hops & Harvest • Hub City • Miramichi River • Rides & Welcomes