Up close and personal with creatures great and small
It's always thrilling for kids to see wild animals and ocean creatures up close and in "person". It's more than just the novelty of a living creature that's not a dog or cat (or squirrel!) It's a reminder that we are not alone—we are just one of the living beings that call earth home. And New Brunswick is the perfect place for the kids to have that experience.
The largest zoo in Atlantic Canada, Magnetic Hill Zoo is home to more than 70 indigenous and exotic species from all over the world. With guided tours, animal keeper talks, behind the scenes and educational programs, you and the kids will leave with a fuller understanding of how animals live. Located in Moncton.
Huntsman Fundy Discovery Aquarium
Ready to "feel" what it's like to be a sea creature? This aquarium features a large touch-pool with many living marine invertebrates like crabs, mollusks, sea stars, sea urchins, sea cucumbers, and anemones. Located in Saint Andrews.
New Brunswick Aquarium and Marine Centre
This aquarium is famous for hosting a rare blue lobster and the world's largest collection of coloured lobsters! You can also meet friendly seals, spend time at the touch tank, be part of fun educational programs, and check out an exhibit about the local fishing industry. Located in Shippagan.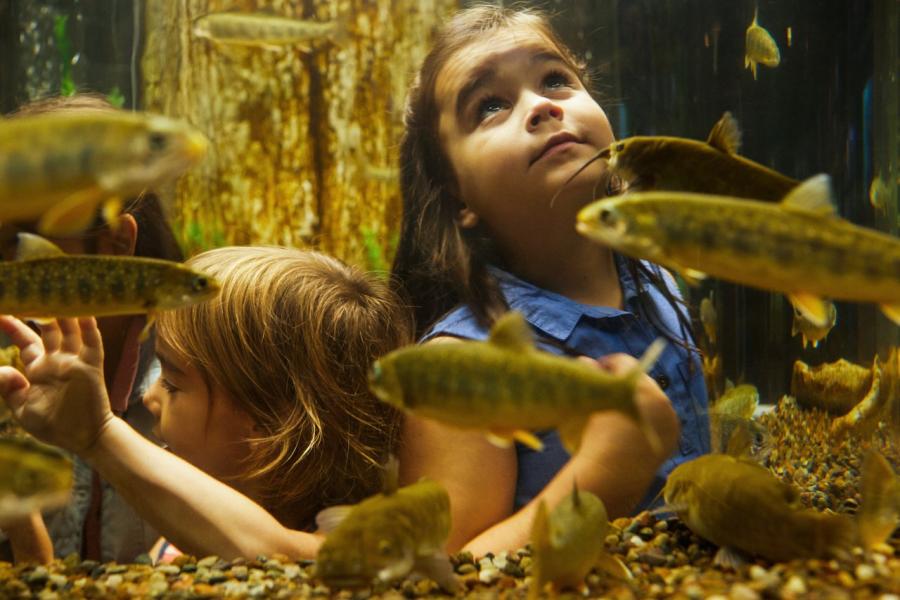 In this community museum along the Miramichi River, kids and grown-ups will learn all about the salmon and its importance in the region's culture. Their aquarium provides a summer home for salmon fry, parr, smolt, and — if you're lucky — one or two adult Atlantic salmon. Located in Doaktown.
This interpretative centre offers a unique and interactive experience related to the world of lobster and marine ecosystems, with a hatchery room where kids can see, touch, and (virtually) adopt baby lobsters. Located in Shediac, the Lobster Capital of the World.
Petting farms
Across the province you'll discover small community petting zoos or farms at countryside farmers' markets and fairs. Get up close and personal with llamas, goats, and sheep. Many petting zoos also have corn mazes, games, and wagon tours. A couple to watch for include the Country Pumpkin in Maugerville, Hunter Brothers in Florenceville, and Boyle Family Farm, near Magnetic Hill.