Acadian culture will sweep you off your feet.
Get ready to meet wonderful new people, and experience beautiful old traditions. This 750 km (466 mi.) excursion takes you into the heart of the rich, spirited, and historic Acadian culture. The very definition of joie de vivre, this coast is a celebration of sandy beaches, warm hospitality, and beautiful destinations—including the Bouctouche Dunes and Chaleur Bay. This trip into history calls to you with the irresistible treasures of the gorgeous Acadian Isles, the lively Acadian Peninsula, charming Bouctouche and Shediac, the cities of Moncton and Dieppe, and the Cradle of Acadie: Memramcook. Sample the fresh seafood, experience the living history, and bask in the sun. If you're looking for fun, you belong on the Acadian coast.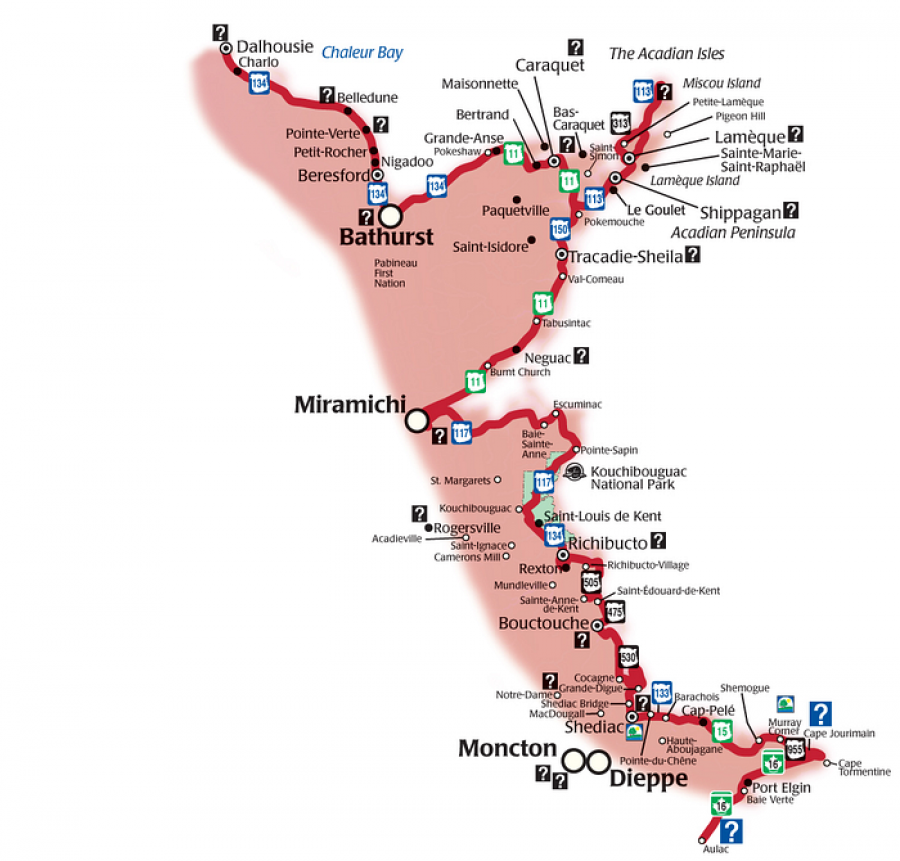 Click to enlarge
🚗 A ROAD TRIP ON THE ACADIAN COASTAL DRIVE 🚗
Arriving on route 15 from PEI/travelling route 2 to 15 from Nova Scotia
Day 1: Get to Shediac
Pick your downtown or beach-facing hotel, BnB or campsite and go park yourself at Parlee Beach, where all the action is (as well as good food at Euston Park, and Halo Donuts' famous ice cream sandwiches).
In Shediac, you can see baby lobsters at Homarus Eco-Centre, climb on Shediac's giant lobster or get on board with Shediac Bay Cruises for an interactive lobster adventure. When in town, Bistro Le Moque-Tortue is a must-visit. Grab a bite and play a board game before tucking in for the night.
Day 2: Bouctouche OR Kouchibouguac National Park
Want a bit of entertainment? Head to Le Pays de la Sagouine for a show and a trip into the colourful world of famed Acadian author Antonine Maillet. Change of pace? Stroll the 1-km boardwalk at the Bouctouche Dune, then head to Kouchibouguac National Park for some hiking, cycling or beach relaxation. Book a campsite or an Ôasis teardrop and stay the night.
Day 3: The Great Miramichi
Visit Metepenagiag Heritage Park to discover indigenous culture, and Beaubears Island for a fascinating trip into history. Head out for some fishing on the river, then spend the night in a treehouse at a fun family campground, or by the waterfront at the Rodd Miramichi River Resort. Enjoy a slower paced evening in town or lively music at an Irish pub.
Day 4 & 5: Acadian Peninsula
When on the Peninsula, stay in a historic inn such as Hôtel Château Albert, a vacation resort like Villégiature Deux-Rivières, a glamping dome like Cielo Glamping Maritime, or choose a seaside cottage or campground.
Visit the Village Historique Acadien near Caraquet for a full day of activities or discover sea creatures at the Aquarium and Marine Centre in Shippagan. Drive all the way to the tip of Miscou Island to climb up the historic lighthouse.
On Lamèque Island, meet nature interpreters and go birdwatching at Ecological Park of the Acadian Peninsula, visit the colourful interior of Sainte-Cécile Church at Petite-Rivière-de-l'Île and grab a coffee and a bite to eat at Café Aloha.
If you have more time on the Peninsula, make sure to enjoy the sandy beaches or bike part of the Véloroute (you've got 600 kilometres to choose from).
Day 6 & 7: Chaleur Region
Extend your stay and expand your adventures to Bathurst via scenic routes 11 and 134. The Chaleur region is a great place to take your time if you like nature, culture, beaches, golf and good eats. Make sure to check out Pabineau Falls, Youghall Beach, Daly Point Nature Reserve and the Nepisiguit Mi'gmaq Trail.