From asphalt to ocean floor to awestruck.
The tide may rise and fall. But your heart rate will stay elevated. This 460 km (286 mi.) drive leads you on a breathtaking voyage along the wild Bay of Fundy coastline. Home to the world's highest tides, Fundy is a true natural wonder. With whales breaching off the coast, fossil-filled mudflats to explore, and coastal islands to kayak around, this natural treasure will fill you with awe, no matter how you approach it. This must-do drive will also introduce you to the world-famous Hopewell Rocks, Fundy National Park, the spectacular Fundy Trail Parkway, the sea caves of St. Martins, the bustling city of Saint John and the resort town of St. Andrews by-the-Sea.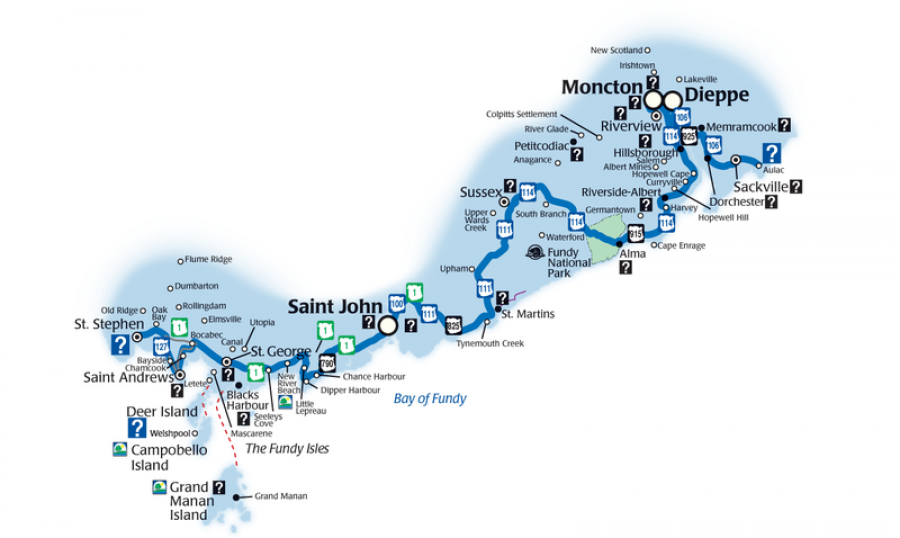 Click to enlarge
🚗 A ROAD TRIP ON THE FUNDY COASTAL DRIVE 🚗
Arriving from Nova Scotia or PEI on Route 2, 15 or 16
Day 1: Headed to Moncton
Check in to your hotel, and then head to Magic Mountain, the Magnetic Hill and Magnetic Hill Zoo for an afternoon of family fun. Consider USVA Nordik Spa for a relaxing time and Magnetic Hill Winery for wine tastings.
That evening, try the region's many tap rooms like Tide & Boar, Tire Shack, and Pumphouse in Moncton, Cavok in Dieppe, or Holy Whale in Riverview. After, have dinner at one of the area's top restaurants, including Güsto, Little Louis', Les Brumes du Coude, or Clos – to name a few.
Day 2: Headed to Fundy
The next morning, check out of your hotel and head to the Hopewell Rocks Provincial Park. Catch them at low tide and explore them on foot, or at high tides to kayak around them. On your way to Alma and Fundy National Park, stop for some rappelling or ziplining at Cape Enrage.
Day 3: St. Martins & Saint John
Drive the spectacular Fundy Trail Parkway, now accessible  from Sussex, St. Martins and Fundy National Park. Book a night at one of St. Martins' quiet inns and visit the sea caves at low tide. Want the big city vibes? Head to Saint John and enjoy dinner and a night in the port city.
Day 4: Beach Tripping
Keep a base in Saint John and head down to New River Beach for the morning. Back in the city, fill the afternoon with outdoor fun on the trails at Rockwood Park. Rainy day? Explore Saint John's art galleries, antique shops and museums.
Day 5: St. Andrews By The Sea
This New England-style resort seaside town oozes charm. Between whale-watching excursions and Ministers Island, you can spend the morning out and about. Grab lunch and explore the shops on Water Street, and then wander in Kingsbrae Garden or visit the Fundy Discovery Aquarium. Splurge with fine dining at the Rossmount Inn and a night at the Algonquin Resort.
Day 6: Chocolate for the road
Before you head toward Fredericton and the River Valley Scenic Drive or take the return trip along the Bay of Fundy, add a side trip to St. Stephen to visit the Chocolate Museum.