Some of the best vacations are all about living in the moment and taking it easy. If that's your style, the Ferries & Farms Road Trip is your perfect getaway.
3-4 days, 180 km (112 mi.)
Equally stunning in summer and fall, this is a leisurely journey for those who long for small-town charm, farm-to-table flavours, and local arts & culture. Hit the road and escape from the daily routine to something completely out of the ordinary, where rolling hills inspire tranquillity and the river decides your next memorable moment. Because sometimes, the journey IS the destination.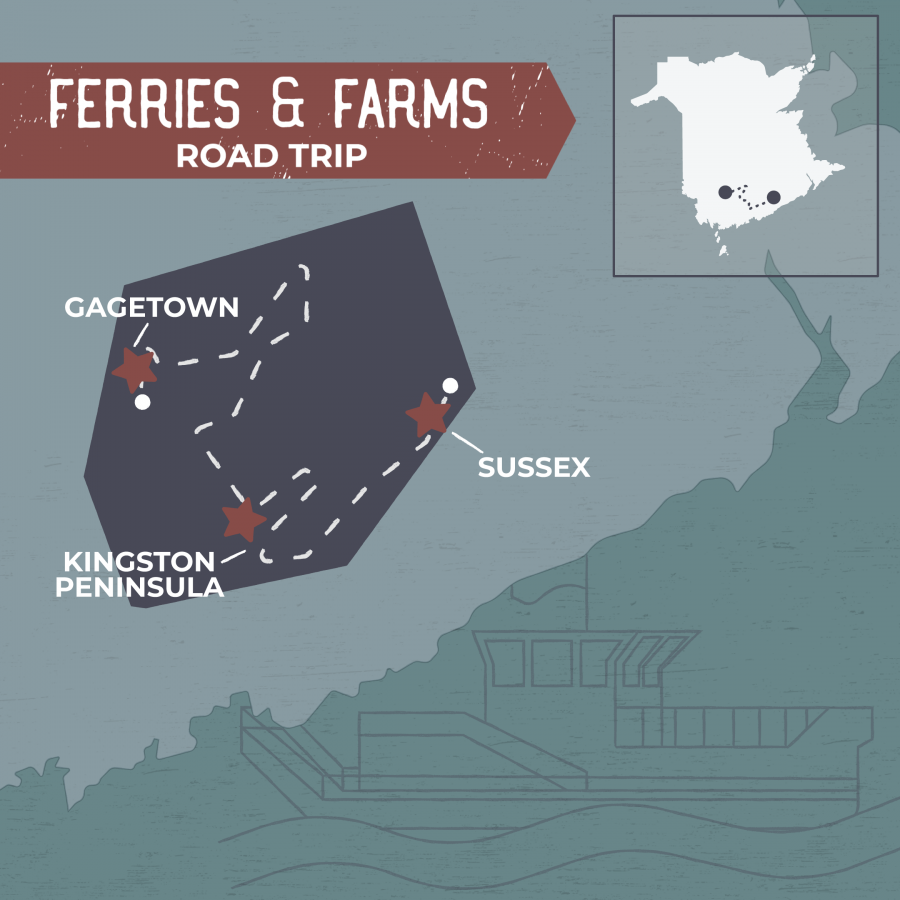 Days 1 - 2:
Town of Sussex
~20 km (12 mi.)
Your lower river valley journey starts off in the heart of southern New Brunswick: the town of Sussex. Nestled between the larger urban centres of Saint John, Fredericton, and Moncton, this charming agricultural community is the perfect location to continue your adventure from other road trips such as Fundy Coast, Hops & Harvest, or Hub City.
Sussex is many things: the Covered Bridge Capital of Atlantic Canada, the Mural Capital of Atlantic Canada, home of famed Sussex Golden Ginger Ale and Mrs. Dunsters Donuts, and host of Atlantic Canada's largest hot air balloon festival.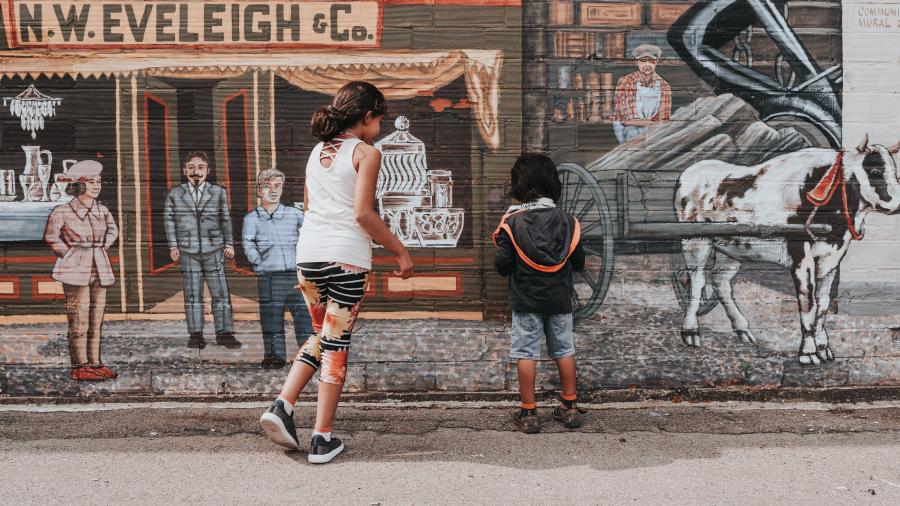 Here, discover 27 larger-than-life pieces at your own pace and see impressive murals crafted by world-renowned mural artists; these can be found throughout the beautiful downtown areas of Sussex and Sussex Corner, many of them within walking distance of each other.
As you take it slow and make your way across Sussex, be sure to stock up on freshly-roasted, small-batch artisan coffee at Piccadilly Coffee—or sample it at pretty much any coffee shop on Main Street!
If you're in the mood for something a little sweeter, stop by the Cobbler's Lane Fudge Factory. This passion project started in 2018 now ships its creations across the country, and for good reason. Grab a box for the road — after all, #fudgeisforsharing — and sample a cold treat at their ice cream parlour before you go.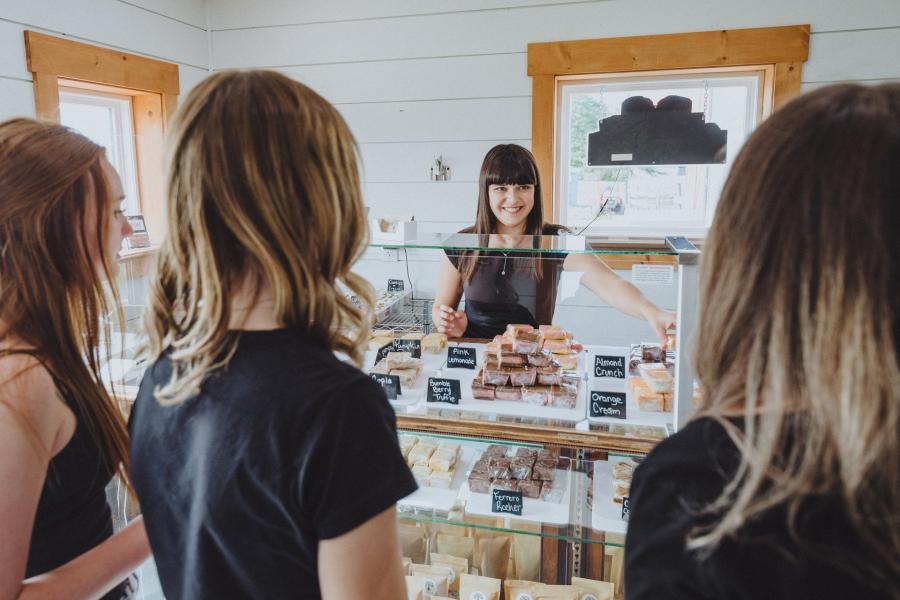 Looking to explore the countryside around Sussex? With Kings County being the covered bridge capital of Atlantic Canada, it's great fun to seek out some of the 15 covered bridges in the area. At least 3 of them cross the Kennebecasis river, including Plumweseep, which means "Salmon River" in the Wolastoqey language. To pay further homage to local craftsmanship, follow the Quilt Barn Tour to spot the quilt blocks painted on barns, shops and other historical stops along rural routes.
Finish your day by giving yourself and your tastebuds a real treat: supper at Gasthof Old Bavarian Restaurant. Here, authentic German cuisine combines with a genuine farm-to-table philosophy and a true love for the craft. The atmosphere will leave a lasting mark on this already unique memory, the service will warm your soul, and the amazing food will have you raving about it long after you leave.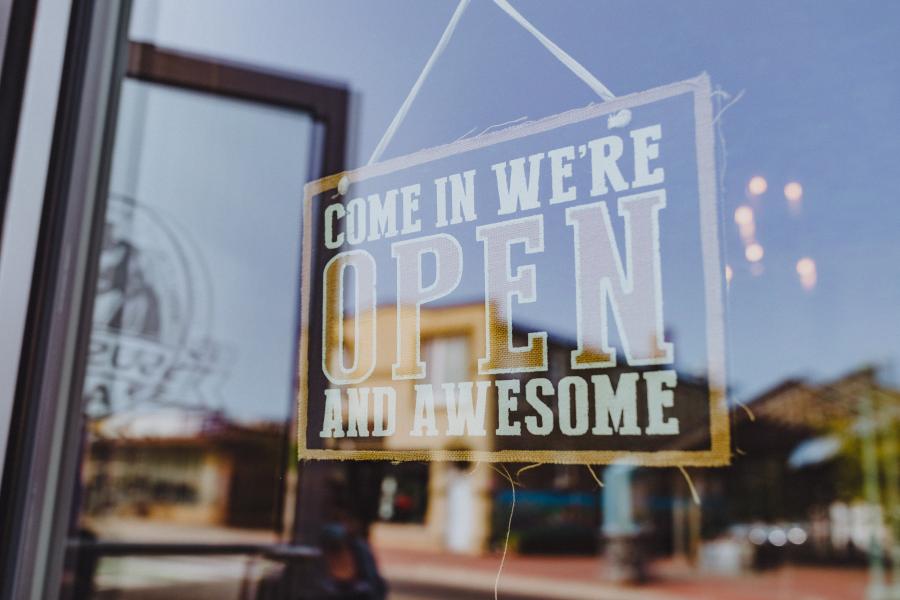 During your last day in Sussex, you'll definitely want to stock up on some road trip essentials at the Sussex Farmers Market. Take a relaxing stroll and let the aromas guide you: fresh baked goods, fresh produce from area farms, artisanal products like soap and honey, and home-cooked ethnic foods tantalize the senses. If you're looking for souvenirs, you'll also find sea glass, artisan jewelry and a wide variety of hand-crafted items to bring back to that special someone.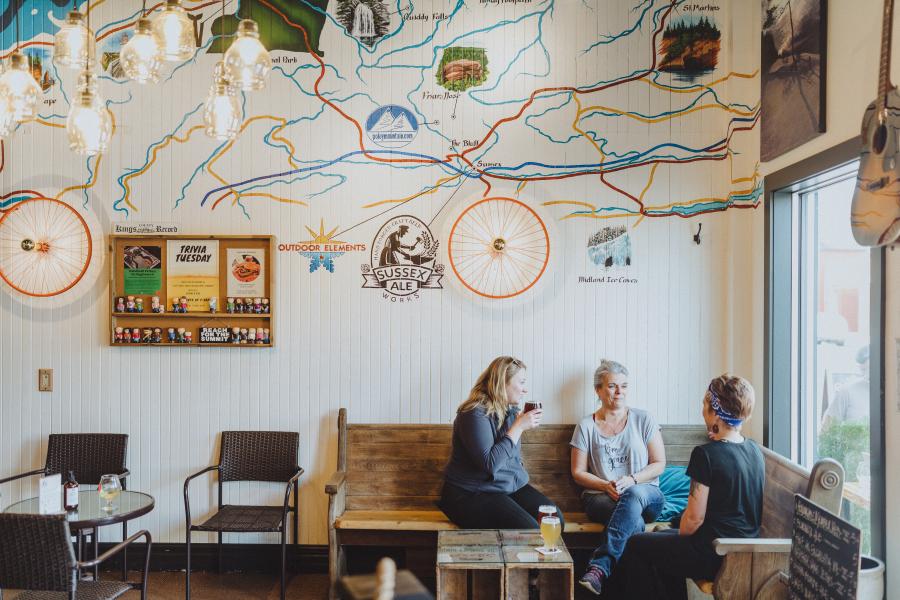 All this walking has no doubt made you thirsty, and that's why your next stop has to be at Sussex Ale Works. Let Alesmiths Rick & Sloane wrestle the yeast and the hops as you enjoy the delicious fruit of their labour. This small-batch brewery will regale you with carefully crafted Ales, like their priority-conscious Bros Before Gose, the seductive-yet-refreshing Sussexy Blonde Ale or the LBS Kölsch — this one named after their neighbouring Local Bike Shop.
It's the perfect place to finish the day; the road can wait until the morning, after all. Enjoy your last night in town with an old-fashioned experience at the Sussex Drive-In. Cosy up in your car for a film under the stars.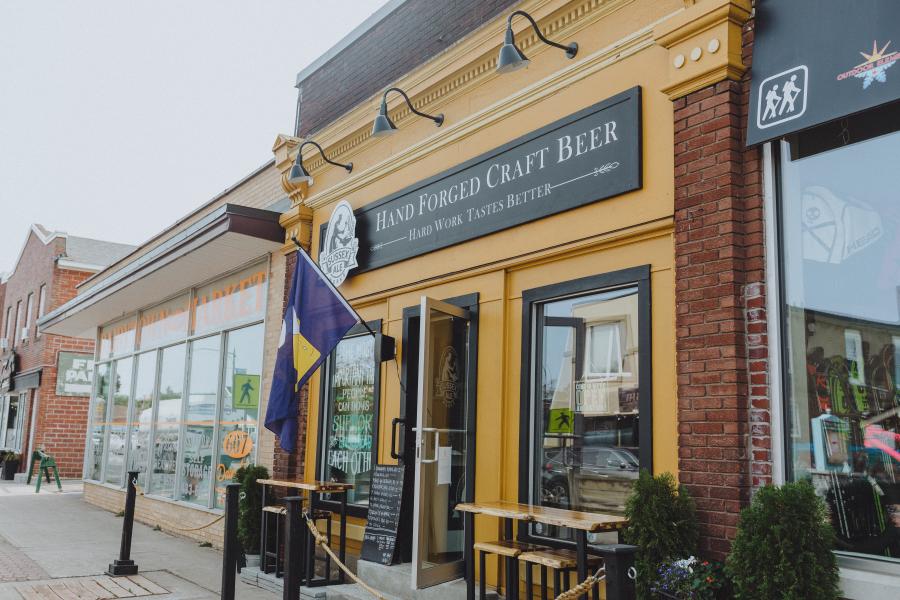 PLAN YOUR ROUTE: From here you can head southwest to connect with the western portion of the Fundy Coast Road Trip at Fundy Trail Parkway. You'll experience the world's highest tides, the lively city of Saint John, and the Fundy Isles. Or, continue on to head "upriver" and enjoy the rest of the Ferries & Farms route.
Days 3 - 4:
Kingston Peninsula and Lower River Valley
~160 km (99 mi.)
It's time to get back on the open road!
You're now headed to the lower Saint John River to explore the lovely riverside communities that criss-cross its banks. Here, the river meanders through rolling hills, along orchards and past wineries, through rural communities with marinas, historic sites, museums, art galleries, and across pastoral landscapes and cottage country. And what better way to travel along the way than by traditional cable ferry?
This is an explorer's dream, with paddling, boating, and touring being a popular way to explore the sights along the river's idyllic southern stretch. Got your binoculars? This is also a birdwatcher's paradise.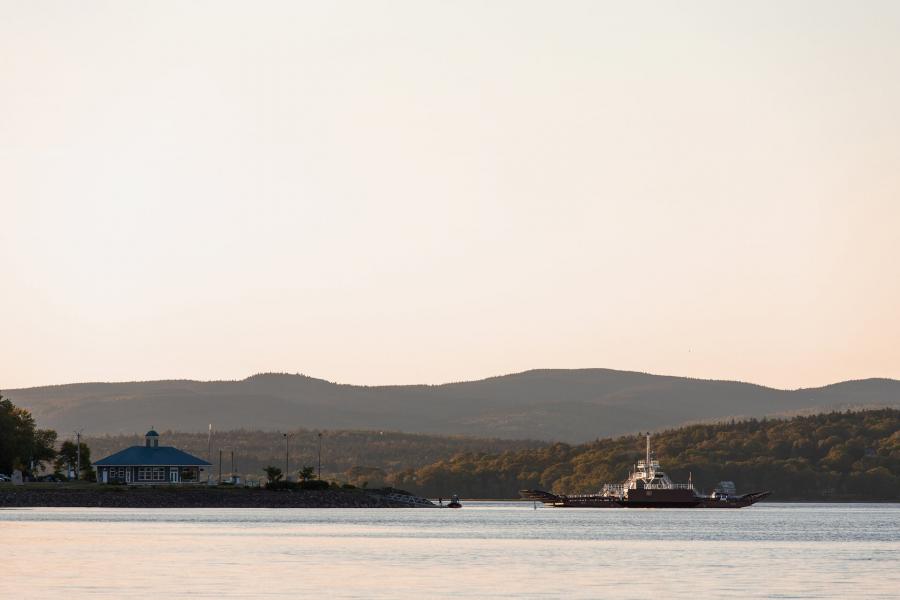 The first stop is Hampton, where you'll find a charming community full of stories and adventures. Take a self-guided walking tour of this charming town, and for a picturesque drive, follow Main Street from the Hampton Mall all the way through town past all the restaurants, markets, shops and cafes and across the Green Bridge to Kredl's market.
If you're in the mood to test your putting skills, head to Fire Fly Forest for a round of mini-golf, or go hit a few buckets at their driving range. It's the perfect campground to pitch your tent at if you want to extend your stay. While you're in tee-off mode, the nearby Hampton Golf Club has a beautiful & challenging 18 holes as well as Grass Roots Grill, a bar & grill with a view--it might be worth sticking around for an extra day!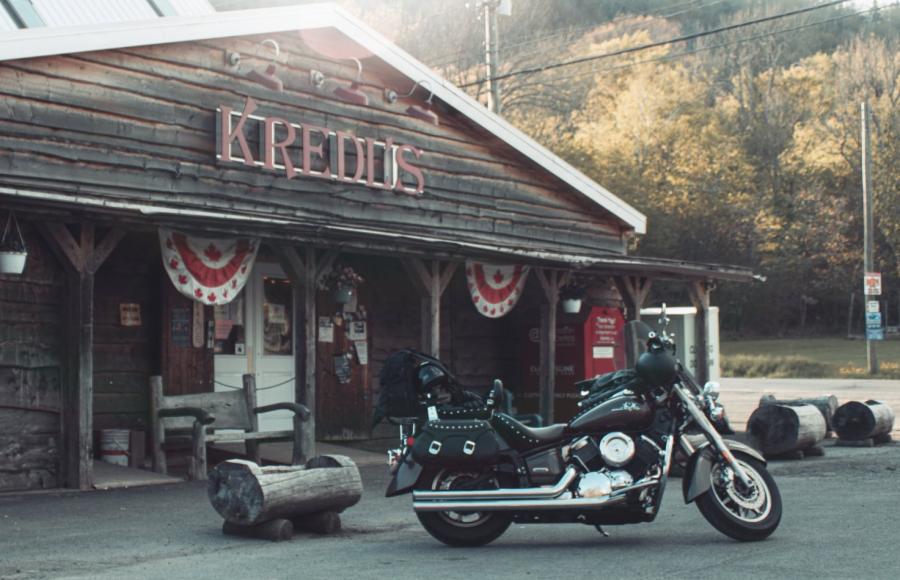 You're now only a hop, skip and a jump away from Kingston. Try to plan around being here on a Saturday, the Kingston Farmers Market -- rain or shine -- is worth the trip alone. With over 80 vendors and a plethora of made-in-NB offerings like fresh produce, salmon, grass-fed meats, and eat-in or take-out options, you're sure to find something worth writing home about.
After stocking up at the market, go for a leisurely drive around the scenic Kingston Peninsula and take in the views on the water as you go past historic churches, lighthouses and the Bayswater Covered Bridge at Milkish Inlet, built in 1920. The century-old bridge underwent a major restoration in 2021 and stands as sturdy as ever.
Stop for a picnic at the beach in Crystal Point, or on the many wharves along the way, and swing by Yip Cider to taste the ciders made from Mackay Orchard's delicious apples.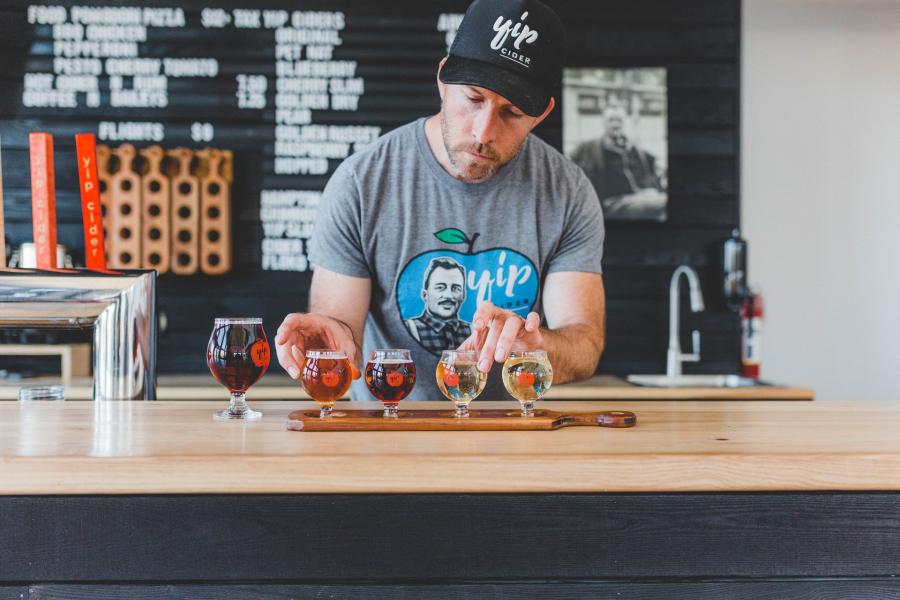 Kingston is also home to La Belle Cabane, a 100% Indigenous-owned nature retreat with private, self-guided thermal spa pods. You can also spend the night in one of their cozy off-grid cabins tucked in the forest.
Top off your Kingston Peninsula touring with a stay in your very own dome at Ridgeback Lodge, a dreamy glamping experience.
When the open road calls your name, head north from Kingston as you take in the scenery on your way to your next destination: Cambridge-Narrows.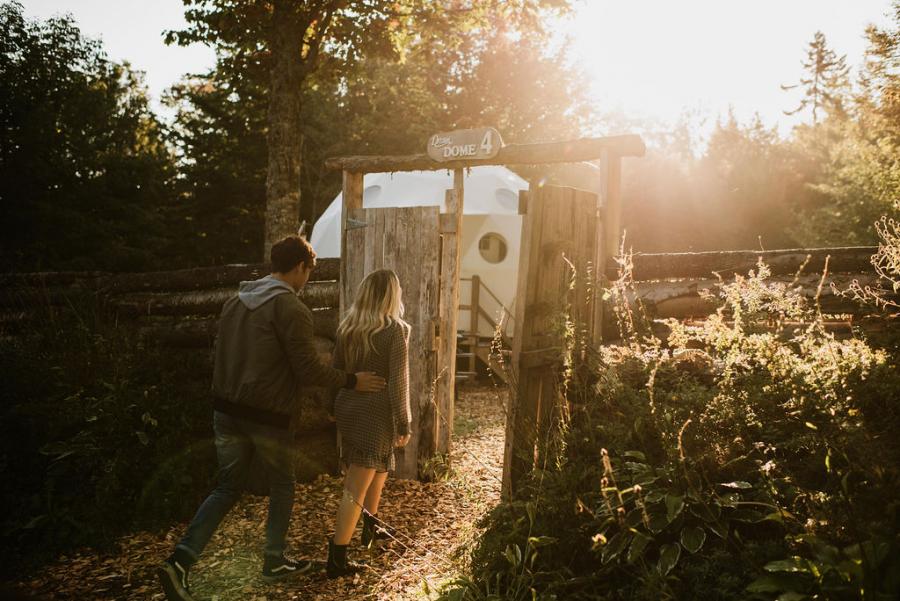 Originally founded as two settlements, "Cambridge" and "The Narrows", this cottage country village overlooks the picturesque Washademoak lake in South-Central New Brunswick. Stop for a picnic at the beautiful Pines Conservation Park, visit a local artist at Acacia Art Gallery, or explore further afield toward Lower Cambridge to find handcrafted flavours of reds, whites, rosés and sparkling wines at Mott's Landing Vineyard.
This portion of your road trip is also the perfect time to park your car on a ferry and enjoy this truly unique experience. Plan the road ahead with short river crossings such as the Evandale aboard the Robert J. Irwin (5 minutes) or the Belleisle Bay riding on the Belleisle Belle (7 minutes). It's the perfect occasion to unwind, take in the beauty of the fall colours around you, and even strike up a conversation with fellow travellers or friendly locals.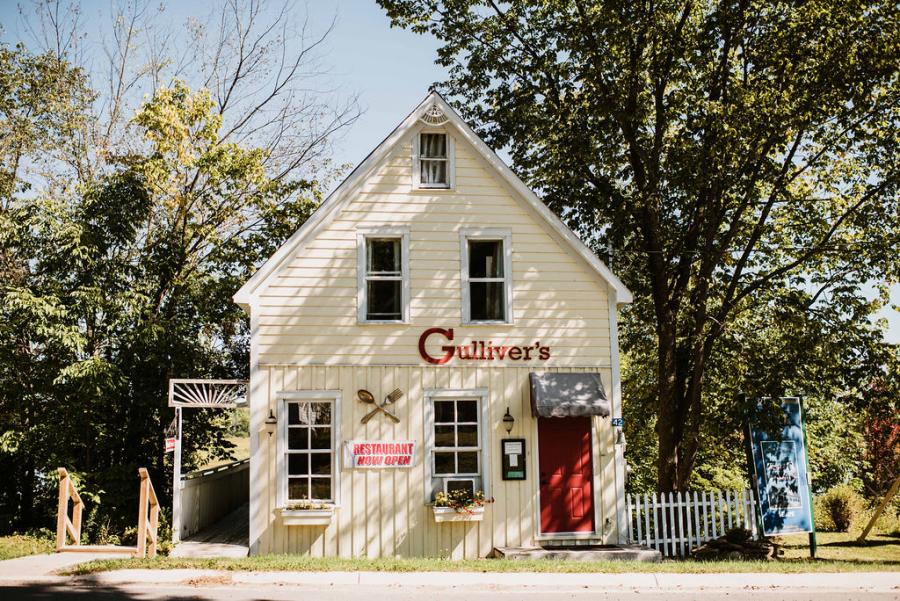 As you make your way to Gagetown, you can reflect on the adventure of the last few days. Drop-in at the Village of Gagetown Farmers Market for some locally grown produce and artisan goods, as well as a few great conversations. While at the market, you might spot Gagetown Distilling & Cidery with their unique ciders, spirits and beers. Be sure to also drop by their shop on Court House Road before the day is over to get a few tasty souvenirs.
The Gagetown area, like the rest of the Lower Saint John River Valley, is also known for its apple orchards. Visit Charlotte's Family Orchard & Farm Market and Hazen Cameron & Son Farm to pick your own apples and stock up on delicious harvest farm treats, jams and preserves.
Road Trip Eats
KEEP EXPLORING: Looking to continue your adventure? You're now ready to connect with the Hops & Harvest Road Trip in New Brunswick's capital city region. Discover the historic city of Fredericton, a lively craft brewing scene, and even more Saint John River adventures.
Plan Your Route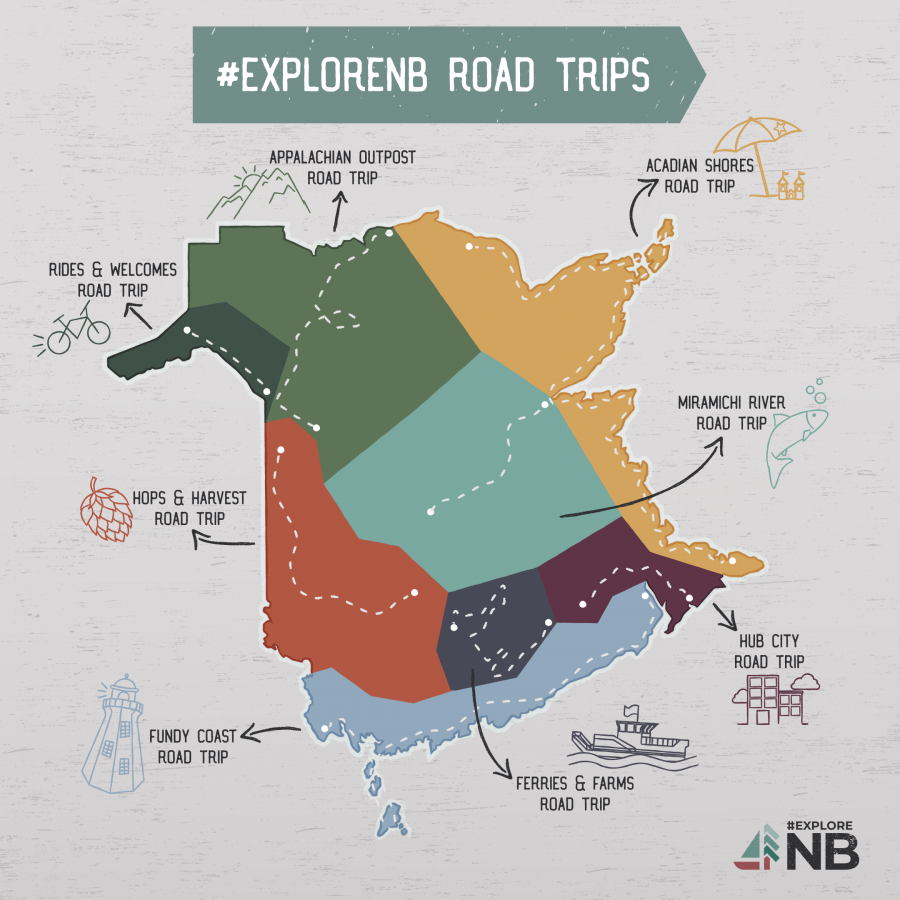 Acadian Shores • Appalachian Outpost • Ferries & Farms • Fundy Coast • Hops & Harvest • Hub City • Miramichi River • Rides & Welcomes