This is an adventure for those looking to discover the treasures of the capital city region and beyond: craft beer, country markets, and riverside discoveries.
4-5 days, 280 km (174 mi.)
From the capital city of Fredericton to historic riverside communities, you'll marvel at rich history and culture, indulge in local flavours, tunnel through the world's longest covered bridge, and enjoy the beauty of the Saint John River in the fall.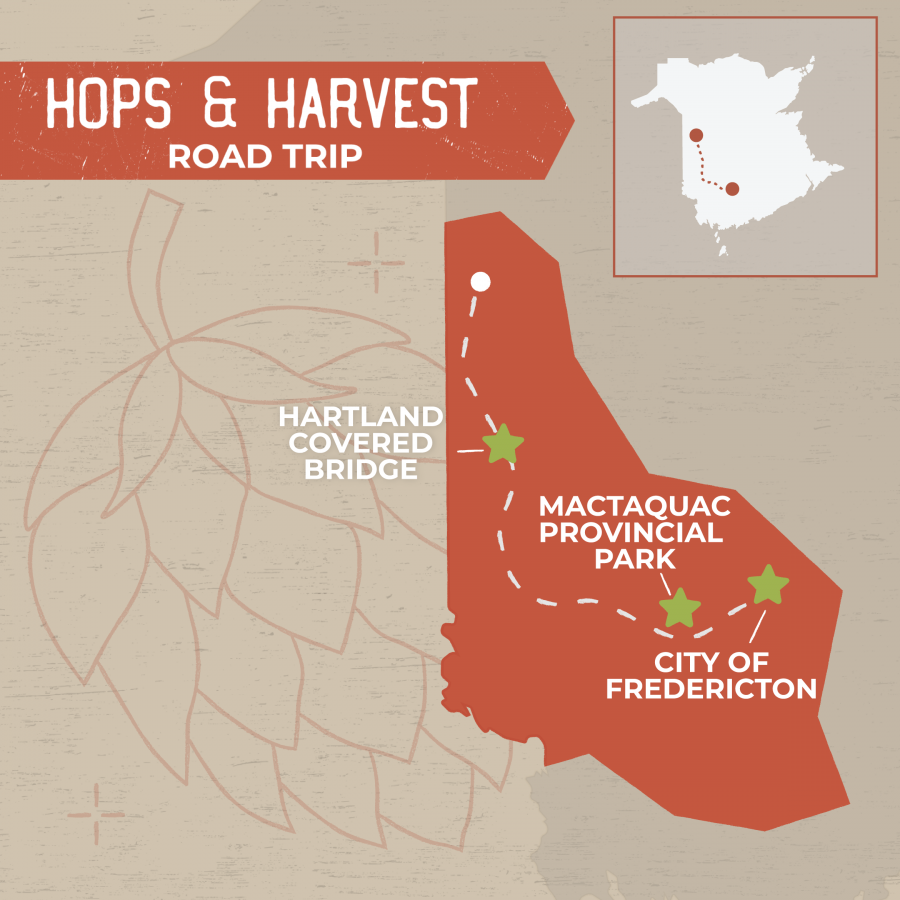 Days 1 - 3:
City of Fredericton
~80 km (50 mi.)
Your Hops & Harvest Road Trip begins in the urban heart of the Saint John River Valley: the City of Fredericton. Here, you'll relax with locals over a craft beer in a lively microbrewery, dive into rich history on display throughout the city, catch a show at a local gallery, and enjoy nature up and down the river.
If you're in the city on a Saturday morning, fuel up for your adventures just like the locals do - at the beloved Fredericton Boyce Farmers Market, a city staple in the heart of downtown. It's recognized as one of Canada's best farmers markets, and for good reason with its lively atmosphere and overflowing stalls of local goods. If you can't make it to the market, not to worry. Fredericton's got a great restaurant scene and strolling around the downtown core will provide you with plenty of options for a bite and a beverage.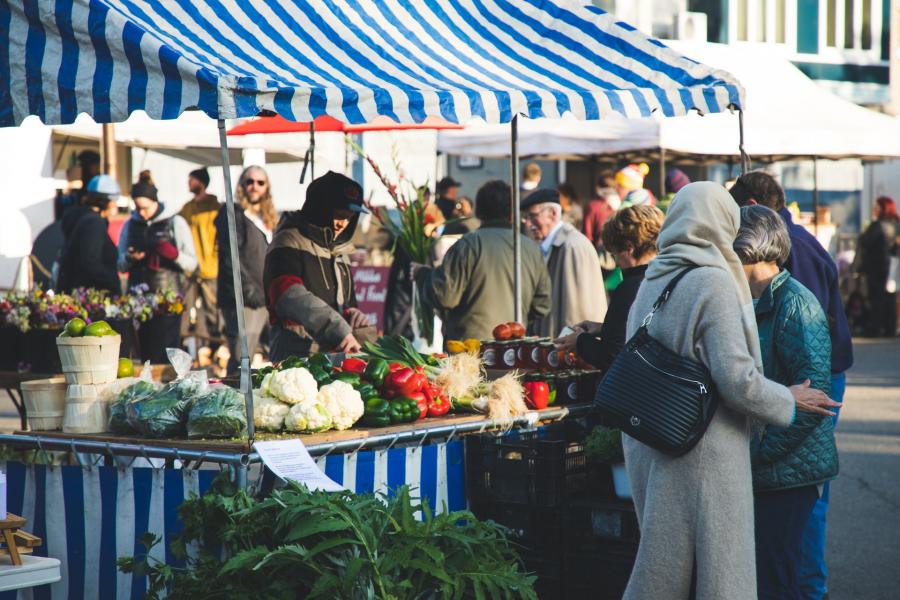 History lives loud here, which you'll notice as you explore the city's neighbourhoods. Museums, heritage sites, large old Victorian homes and the Historic Garrison District create a connection to bygone days that's very much a part of modern-day Fredericton. Don't miss a visit to Kings Landing just outside the city, where you can immerse yourself in the lifestyle of 19th-century New Brunswick.
You're never more than a few blocks away from nature in Fredericton, with its plentiful waterways and pristine parks. Hiking, biking, and paddling are all common pastimes (check out Second Nature Outdoors for bike and paddling rentals). Plus, beaches, golf courses, gardens and an extensive trail system combine to make Fredericton a very active, outdoor city.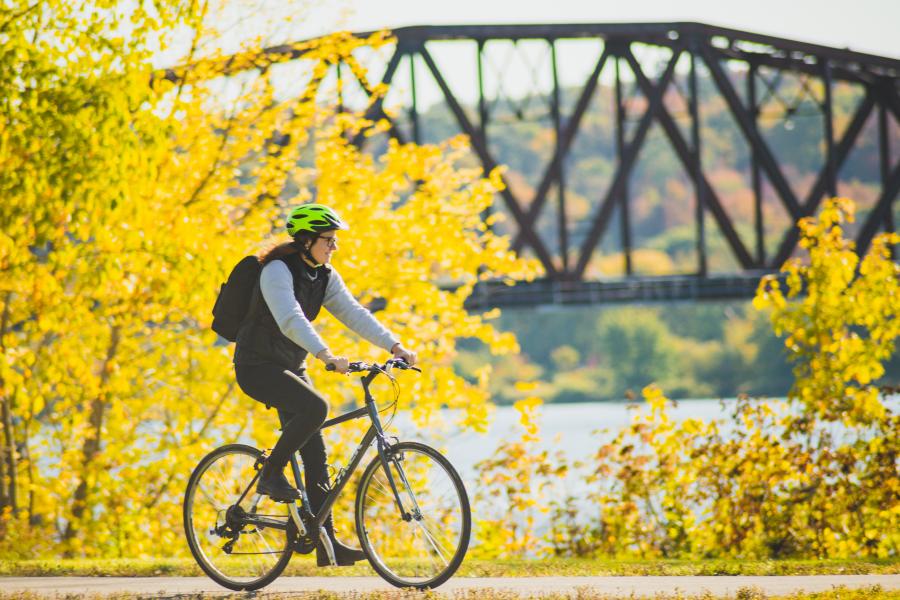 Speaking of trails, calling all craft beer lovers -- the Fredericton Taproom Trail will definitely be one of the highlights of your trip! This city is well-known for its craft brewing scene, and has earned the title of Atlantic Canada's Craft Brewing Capital. Many of the local taprooms are situated along Fredericton's trail system so it's easy to try them all. Be sure to grab a Taproom Trail Passport before you hit the trail!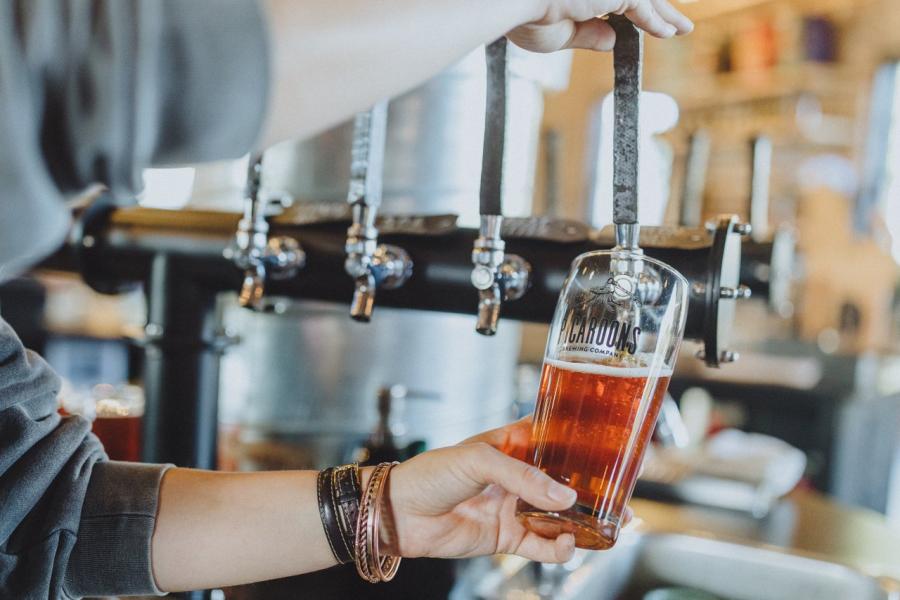 Looking to stretch your vacation dollars? Take advantage of Fredericton's awesome Stay & Play packages, each with their own special perks, and make the most of your time in the city.
Road Trip Eats
Days 4 - 5:
Mactaquac Provincial Park & Central River Valley
~200 km (124 mi.)
After spending a few days in the capital, it's time to hit the road! Pack up and travel about 30 minutes west along the river to find Mactaquac Provincial Park. Located on the banks of this wide and winding river, the park is chock-full of outdoor activities for every type of nature lover.
From walking paths and freshwater beaches to a golf course, TreeGo, and even houseboating, there's an adventure for all types here. For anyone looking to sleep under the stars, Mactaquac Provincial Park is the perfect place to park your RV or pitch your tent, too!
Once you've relaxed and recharged at the park, find NB-105 N and continue on to the town of Nackawic, which gets its name from the Maliseet word meaning "not in the direction it seems to be," alluding to the confluence of the Nackawic Stream and the Saint John River.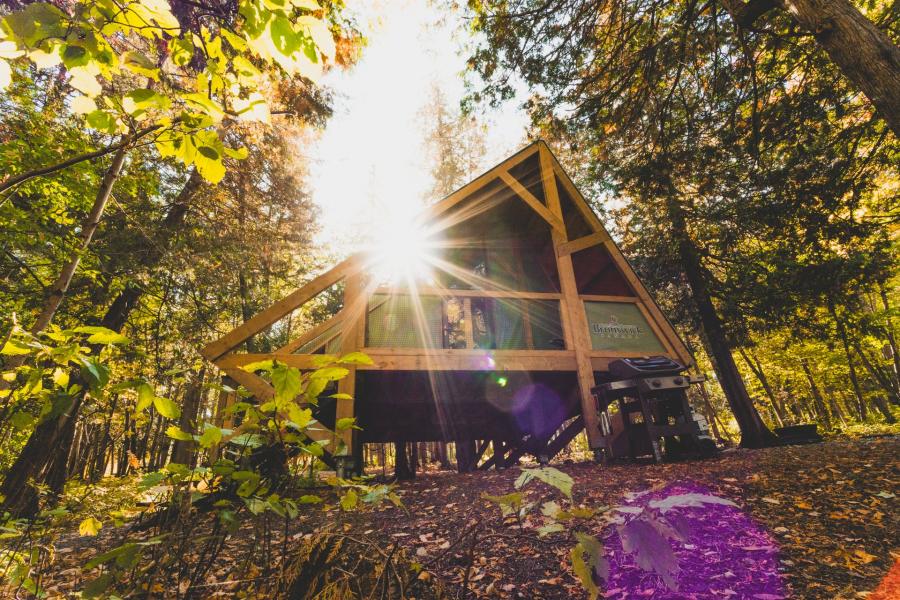 As an homage to its roots in the forestry industry, the town features an iconic photo spot: the world's largest axe! You'll definitely want to stop here for one of your (surely many) road trip Instagram stories.
Afterwards, hit up the Big Axe Brewery for some great beer, spectacular views, and warm East Coast hospitality. For a hyper-local terroir, the beer here is brewed onsite using ingredients from local farmers. The brewery hosts food trucks on weekends, as well as events such as live music in their tasting room saloon full of character. With a campground right across the street and other accommodations nearby, you can kick back and enjoy a few more cold ones...
Another 30 minutes upriver, you'll find yourself in Woodstock - New Brunswick's first town. If you're there on a Saturday morning, be sure to visit the Woodstock Farmers Market to pick up a coffee and some local treats from the lush farmlands that define this region. Enjoy your goodies then go for a walk in town to admire the architecture of local Victorian-era homes, and make sure to stop for a visit at the Andrew & Laura McCain Art Gallery.
In the mood to take in the fall colours and peaceful sounds of nature? Discover the waterfall at the end of the Maliseet Trail, only a 10 minute drive south of Woodstock, or explore the Meduxnekeag Nature Preserve, a great trail system that's a 10 minute drive West of Woodstock.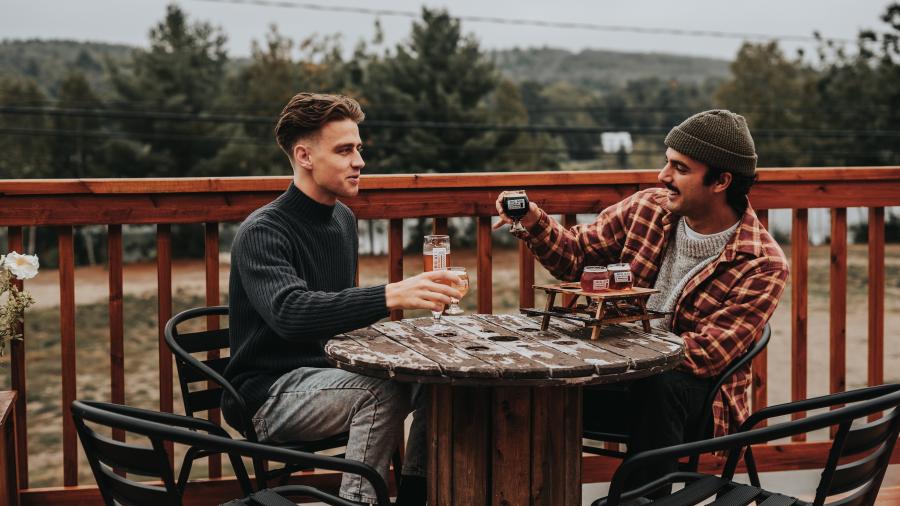 Up next on your winding riverside journey is Hartland, home of the famous Hartland Covered Bridge National Historic Site, which is in fact the world's longest covered bridge! Take a slow drive through this iconic landmark, or to really appreciate its length, park at the East shore end of the bridge to cross it by foot on the pedestrian walkway.
What's a road trip without road trip snacks? Here, you'll have the chance to pick up the ultimate treat right from the source - Covered Bridge Potato Chips factory. Take a tour to see for yourself how these delicious chips are made in the heart of New Brunswick's "potato belt." After a day of adventuring, head to Florenceville-Bristol and stay the night at the Shamrock Train Inn & Suites, where you can spend the night in one of their fully furnished and luxurious repurposed train cars!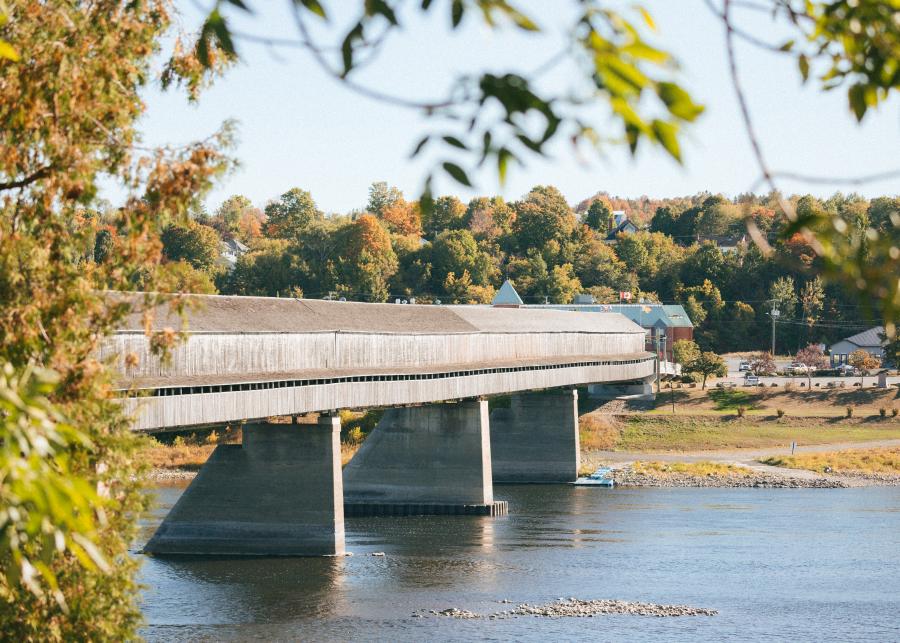 While you're in Florenceville-Bristol, also known as the French Fry Capital of the World (remember, this is the potato belt!), you can't miss a visit to the Potato World Museum. Take a guided tour to learn more about New Brunswick's agricultural history. Then, treat yourself to a delicious meal and some gourmet fresh fries at their Harvest Cafe. Florenceville-Bristol also has the ultimate fall experience at Hunter Brothers Farm. Their huge corn maze and Adventure farm with over 20 activities, including pedal carts, zip lines and wagon rides are a must-visit for a day of family fun.
Finally, head off to the last destination of this road trip, the charming village of Perth-Andover. While you're here, visit the Hillcrest Farmers Market for even more local goodies to bring home. Connect to a greener life by getting some fresh air on one of the many hiking trails.
When the sun sets, head over to the Castle Inn and spend your last night on the Hops & Harvest Road Trip in style.
 
Road Trip Eats
KEEP EXPLORING: From Perth-Andover, continue on to the Rides & Welcomes Road Trip via NB-105 N if you're looking for leisurely outdoor adventure and rich culture, or hop onto the Appalachian Outpost Road Trip via Plaster Rock if you want to reconnect with untouched nature in the heart of the mountains.
Plan Your Route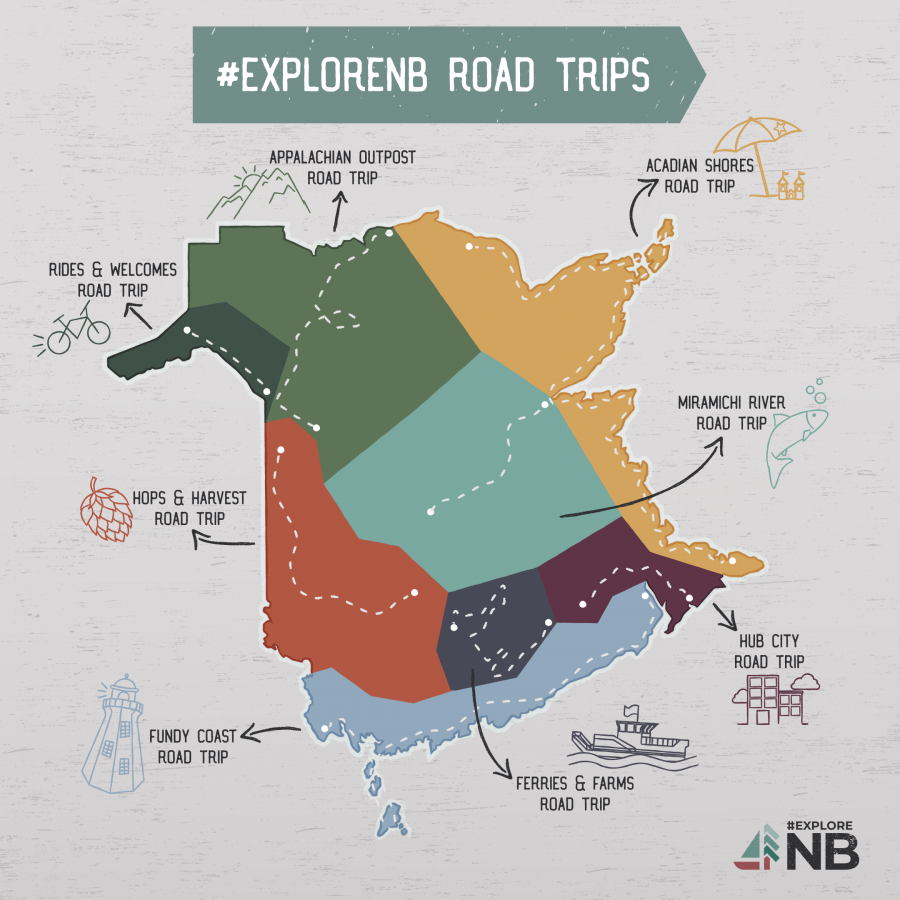 Acadian Shores • Appalachian Outpost • Ferries & Farms • Fundy Coast • Hops & Harvest • Hub City • Miramichi River • Rides & Welcomes