When it comes to covered bridges, we've got you well covered in New Brunswick. There are 131 of these historic wooden structures in Canada and 58 in New Brunswick – almost half the country's total!
New Brunswick's covered bridges are home to romantic stories of yesteryear when they were known as "kissing bridges." Back in the days of horse and wagon travel, young couples would stop in the privacy of these places to kiss.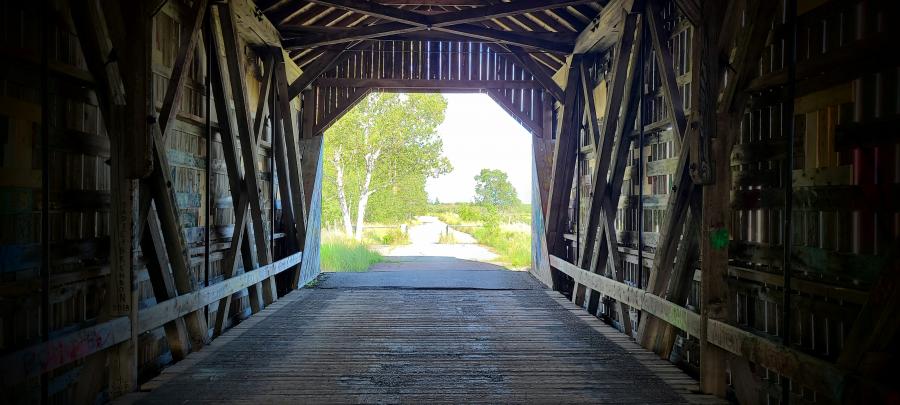 Every year, these picturesque symbols of the past are recognized during the Covered Bridges Days, on New Brunswick Day weekend.
We have covered bridges in all parts of the province. They're often located off the beaten path in picturesque settings and the journey to find them is part of the fun. Here are a few special covered bridges to visit while roadtripping in New Brunswick this summer and fall.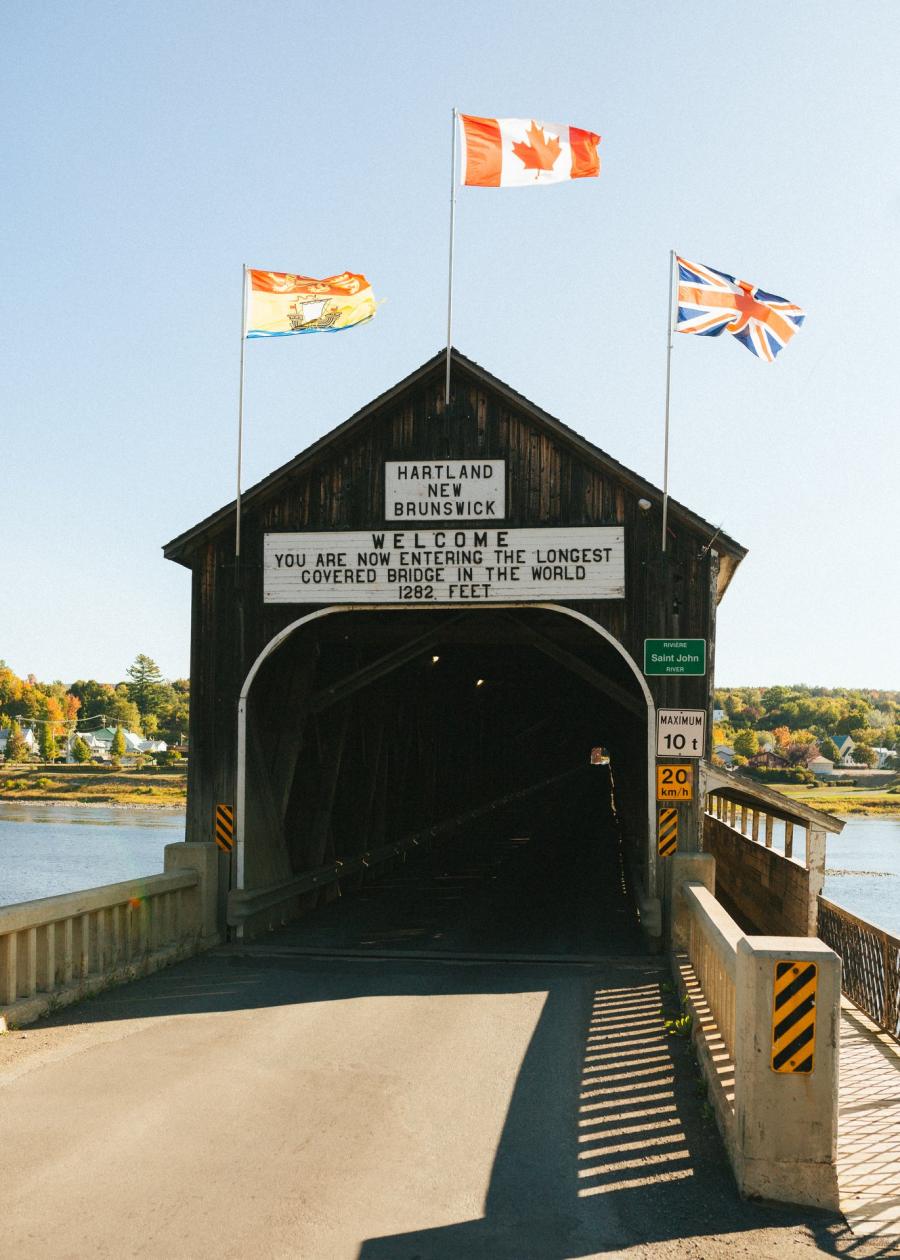 Hartland Covered Bridge
National Historic Site and Provincial Historic Site
Hartland
This bridge was originally uncovered when it was opened to traffic in 1901. After damage to the original structure during an ice jam in 1920, the bridge was completely rebuilt and covered. When it reopened in 1922, it was the longest covered bridge in the world at 390 metres (1,282 feet). Park at the Visitor Information Centre to stretch your legs, walk across the bridge on the walkway, and learn more about all this beautiful region has to offer.
Find this bridge on the Hops & Harvest Road Trip.
Green River No. 3 Covered Bridge (Boniface) 
Rivière-Verte
This bridge built in 1925 is still well used by the locals. You can drive on it, or paddle under it on the Green River (rent a canoe or a kayak from Kasakayak). While in the area, explore the trails at Mont Pointu, a 10-minute drive from the bridge, or drive south to Sainte-Anne-de-Madawaska to add Quisibis River No. 2 to your collection of covered bridge sightings.
Find those bridges on the Rides & Welcomes Road Trip.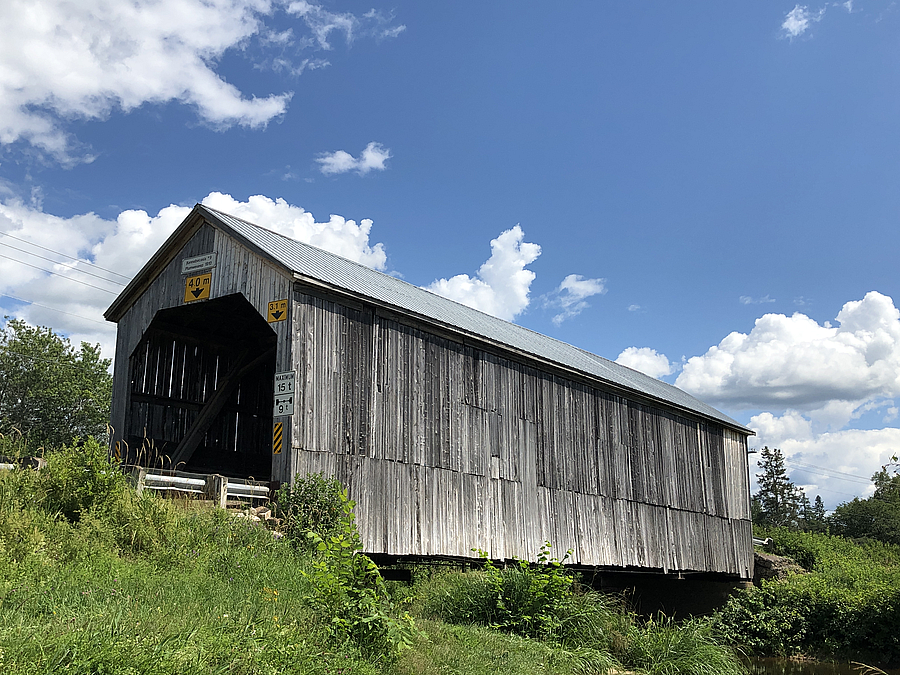 Kennebecasis River No. 9 (Plumweseep)
Sussex
Kings County is the covered bridge capital of Atlantic Canada with 15 of these structures. One of them is the Kennebecasis River No. 9 Covered Bridge, also known as the Plumweseep (meaning "Salmon River" in Wolastoqey language). Find a few of the other covered bridges in the area, then spend some time in the town of Sussex to check out the famous murals and grab a bite to eat.
Find this bridge on the Ferries & Farms Road Trip.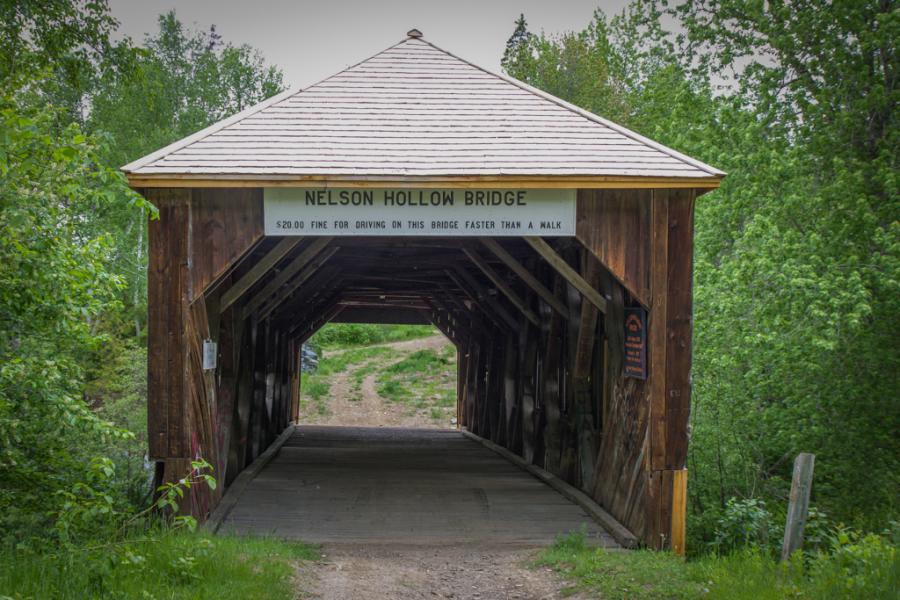 Mill Brook No. 0.5 Covered Bridge (Nelson Hollow)
Doaktown
The Mill Brook No. 0.5 Covered Bridge, which was opened for use in 1900, is New Brunswick's oldest covered bridge. It was lovingly restored in 1977 through the efforts of the Doaktown Historical Society. Notice its roof – the bridge is one of only two in the province that has a hip, or cottage roof with four sides. The bridge is closed to vehicular traffic, but is seasonally accessible to pedestrians.
Find this bridge on the Miramichi River Road Trip.
Sawmill Creek No. 0.5 Covered Bridge
Hopewell Hill
When a new wider road was built to handle increased traffic on Route 114, the Sawmill Creek No. 0.5 Covered Bridge was bypassed and left intact a few metres away. Although this bridge is retired from regular service, you can walk, bike or horseback ride across it as it connects the trails of the dyke land and rail corridor along the marsh out to Shepody Bay.
Find this bridge on the Fundy Coast Road Trip.
Memramcook River No. 4 Covered Bridge (Boudreau)
Memramcook
The Memramcook River No. 4 Covered Bridge, on Gayton Road, is the last of four covered bridges that used to cross the Memramcook River. Recognized as a national historic site, it stands as a reminder of the past in the beautiful Memramcook Valley, known for its orchards, vineyards and Acadian culture. 
Find this bridge on the Hub City Road Trip.
St. Martins Covered Bridges
Vaughan Creek (Irish River No. 1) and Hardscrabble No. 2 (Irish River No. 2)
St. Martins is the only place in the world where you can get two covered bridges and a lighthouse in the same photo. They are located in a bustling area of the village, with art shops, an ice cream parlour, a café, an outfitter offering guided sea kayaking and motorized boating tours, and five restaurants within one kilometre! The original Vaughan Creek Covered Bridge has been replaced by a brand new two-lane wooden covered bridge in September 2022—the only double-barreled covered bridge in New Brunswick. While in the area, don't miss the sea caves, just a few minutes down the road from the bridges. 
Find those bridges on the Fundy Coast Road Trip.
Bayswater (Milkish Inlet No. 1) Covered Bridge
Bayswater
The Bayswater Covered Bridge, built in 1920, underwent a complete restoration in 2021 and it can now carry loads up to 30 tons. It's a crucial link for residents traveling on Route 845, and a lovely sight for visitors touring the scenic Kingston Peninsula, in the Lower Saint John River Valley.
Find this bridge on the Ferries & Farms Road Trip.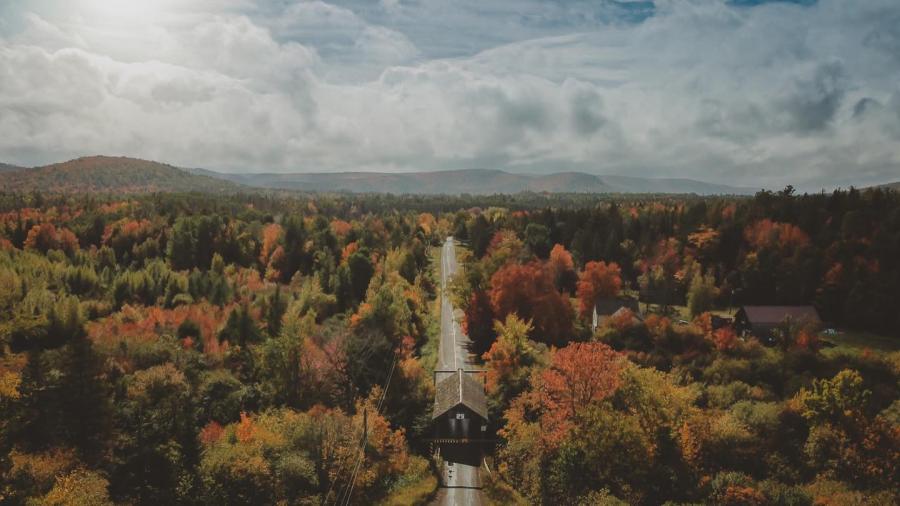 There were 340 covered bridges in New Brunswick in 1953 and now we're down to 58. These wooden structures are part of our culture and heritage, iconic symbols that are living records of the past.
When you're roadtripping this summer or fall, spice up your adventures even more by visiting some of New Brunswick's covered bridges.