Traveling is not just about what you do, but also where you stay. Looking for something off the beaten path or even a little quirky? Check out these themed cottages, rustic cabins, luxury camping sites and other unique New Brunswick spots to rest your head. These overnight options put the 'extra' in extraordinary.
Where would you like to spend the night?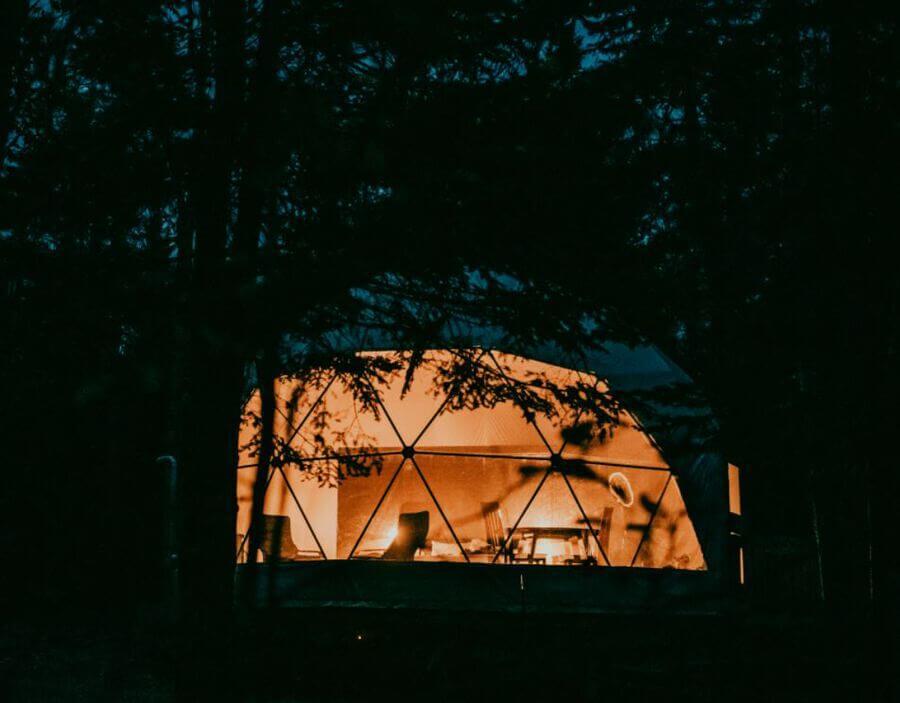 1. In a dome
Blend luxury camping and natural beauty in a geodesic dome with a full view of the starry night skies and pristine nature. From seaside havens to sun-dappled woodlands, you'll find your perfect glamping pod at many fantastic locations throughout the province.
Balsam Ridge Forest Domes (Portage Vale) / Bear Island Kingdome (Queensbury Parish) / Cielo Glamping Maritime (Haut-Shippagan) / Cove Dome Glamping (Moncton Parish) / Creekside RNR Glamping (Cocagne) / EKÖ Nature Glamping (Lac Baker) / Glamp Camp (Waterborough) / Lake View Glamping (Cumberland Bay) / OG Domes (Magaguadavic) / Quisibis Domes (Rivière-Verte) / Ridgeback Lodge (Kingston) / River Run Resort (Kingsclear) / Still Water Glamping (St. Stephen) / Tidal Retreat Glamping (Bayside) / Tides & Timber Glamping (Bayside) / Water's Edge Glamping (Lake George) / West River Camping (West River)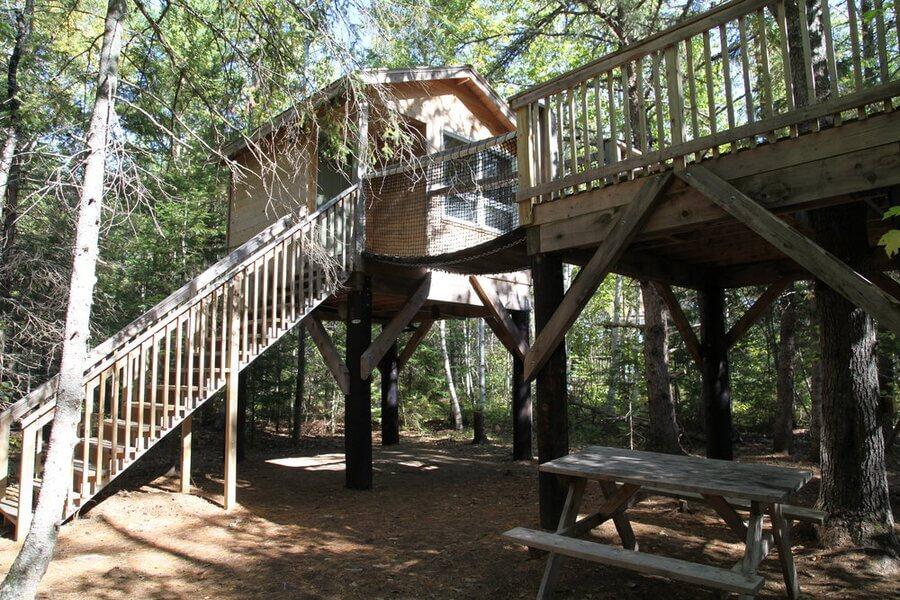 2. In a treehouse
Sleep with the birds in a treehouse perched up in the forest canopy. Double beds, bunk beds, with or without electricity, with a deck or even a suspension bridge, the treehouses vary in size and shape. And they're all equally adorable!
Miramichi Treehouse & Camping Adventures (Black River Bridge)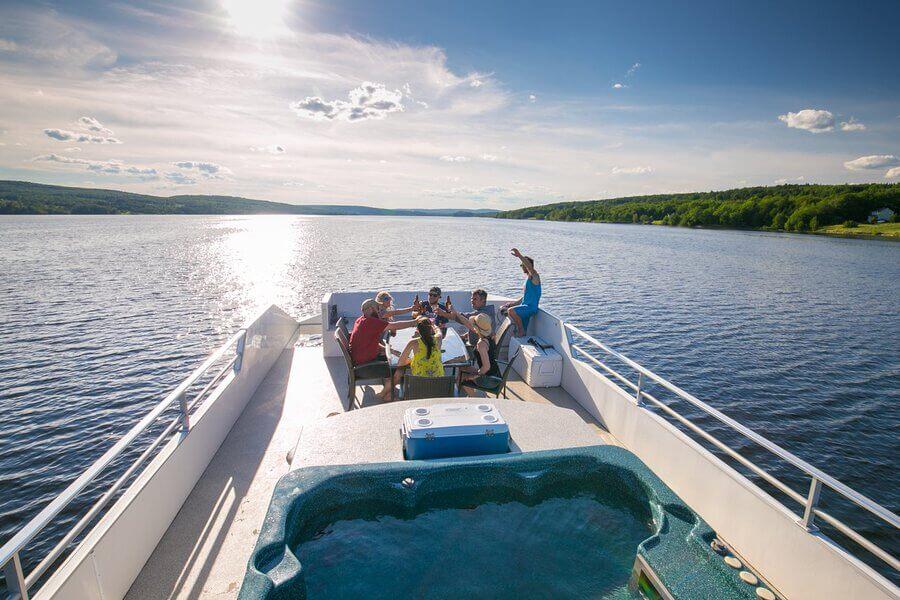 3. In a houseboat
Enjoy a dream vacation on a houseboat equipped with a full kitchen, BBQ, fireplace, hot tub, waterslide and more. Let your worries float away as you bask in the sun on the upper deck or splash in the refreshing waters of the beautiful Saint John River.
Lakeway Houseboat Vacations (Mactaquac)
4. On a train
Fulfill your romantic dreams of railway journeys and your sense of adventure by staying in an authentic train car at the historic Shogomoc Railway Site. The stylish suites have all the modern comforts, and the former railway is now a walking and cycling trail that you can use to explore the town of Florenceville-Bristol and its surroundings.
Shamrock Train Inn & Suites (Florenceville-Bristol)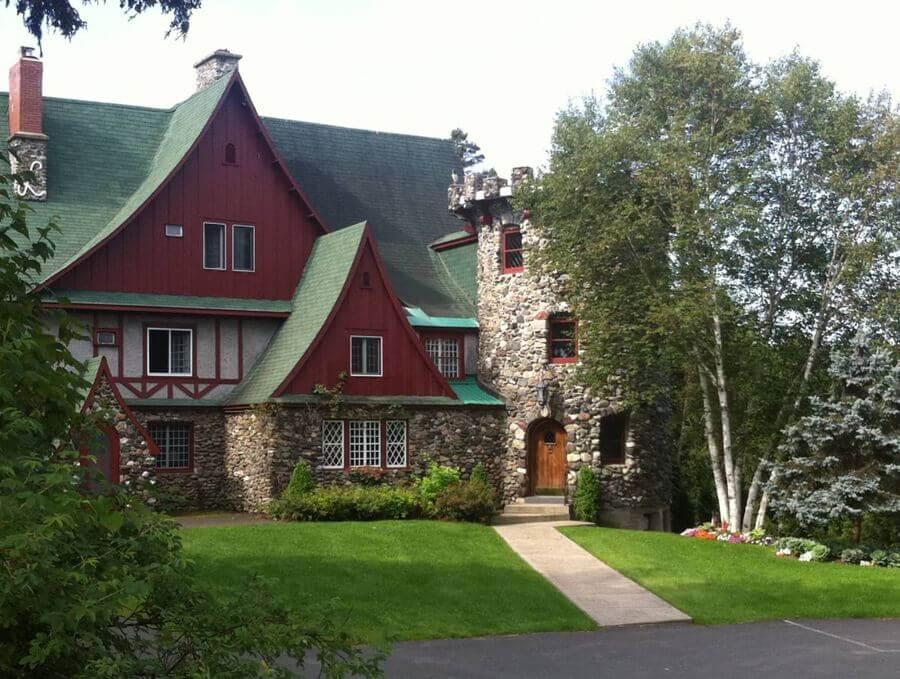 5. In a castle
Built in the 1930s, this majestic manor sits on a hilltop overlooking the picturesque Saint John River. You don't have to be royalty to enjoy the uniquely styled rooms and the fine dining, although you'll definitely feel like it.
The Castle Inn (Perth-Andover)
6. In a tipi
Take your appreciation of Indigenous culture to a new level with an overnight retreat in a tipi and an evening of storytelling by the campfire at Metepenagiag Heritage Park. Or plan a night backcountry in a tipi along the Nepisiguit Mi'gmaq Trail, a 150-km (93 mi.) ancient portage road between Mount Carleton and the Bay of Chaleur.
Metepenagiag Heritage Park (Red Bank) / Nepisiguit Mi'gmaq Trail (Bathurst – Mount Carleton Provincial Park)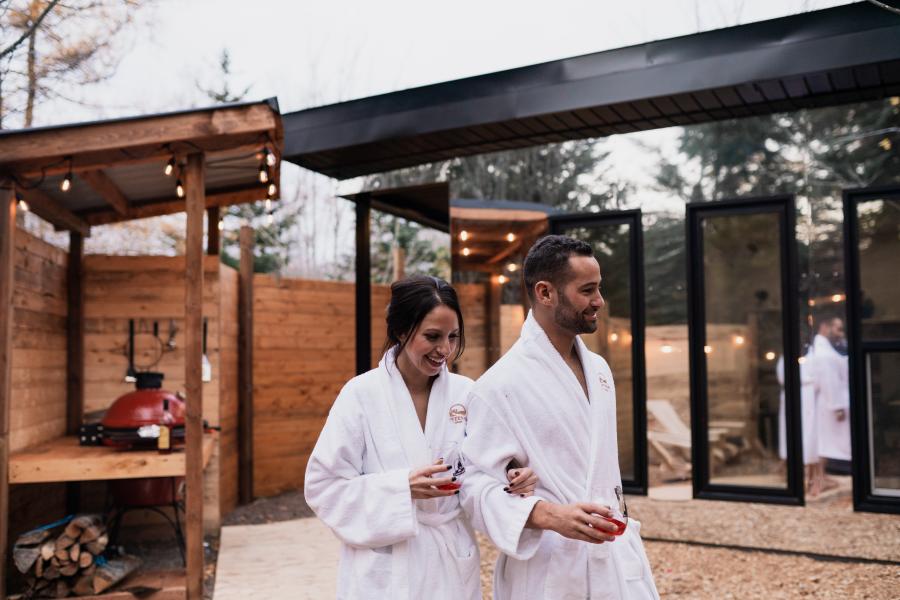 7. At a spa
When indulging in a pampering experience, have you ever wished the day would never end? Allow yourself more time to relax and recharge by spending the night at those dreamy nature spa retreats.
La Belle Cabane (Kingston) / Hope-Wellness Eco-Resort (Edgetts Landing) / Nattuary Nordic Spa Retreat (Gardner Creek) / Creekside RNR (Cocagne)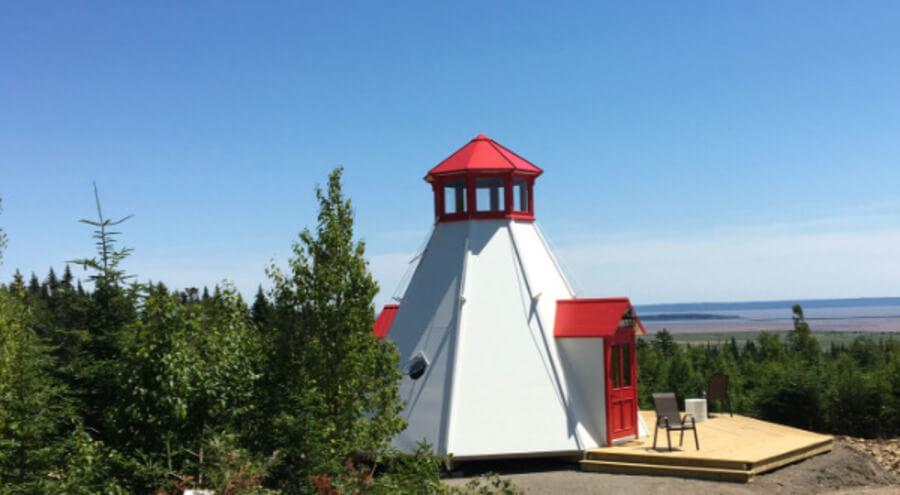 8. In a chuck wagon, a covered bridge or a lighthouse themed cabin
The glamping units at Broadleaf Ranch offer modern luxury and a breathtaking view of the Shepody marshlands and the Bay of Fundy. Perfect to kick back after a day of active fun at the ranch or on the nearby trails.
Broadleaf Ranch (Hopewell Hill)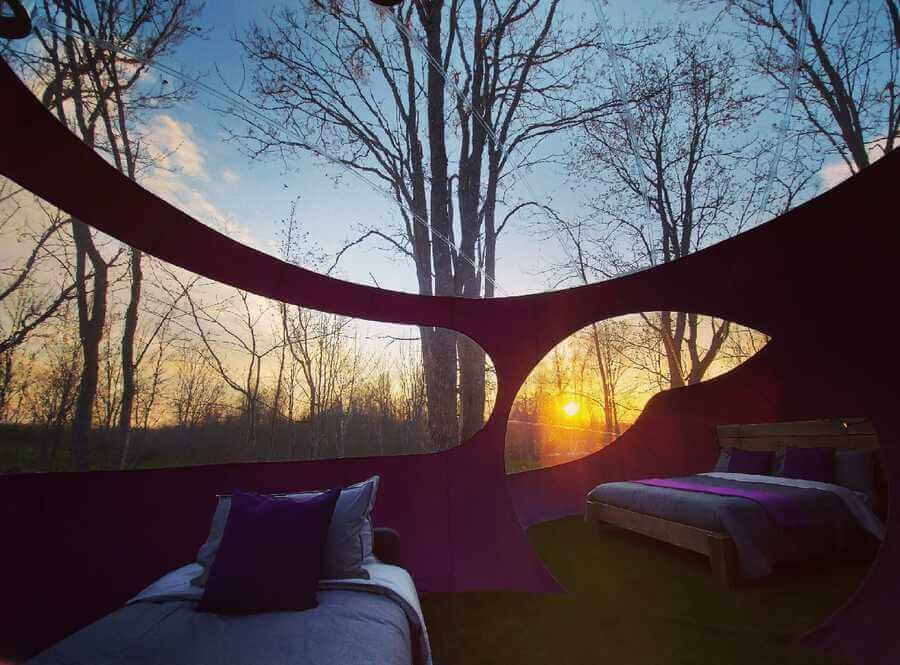 9. In a bubble
Huddle with your family or your sweetheart in your very own bubble at Maplebrook Retreat. The bubbles provide a luxurious space to unwind and recharge in the midst of nature, while the lodge, a short walk away, serves farm-to-table meals.
Maplebrook Retreat (Shediac Bridge)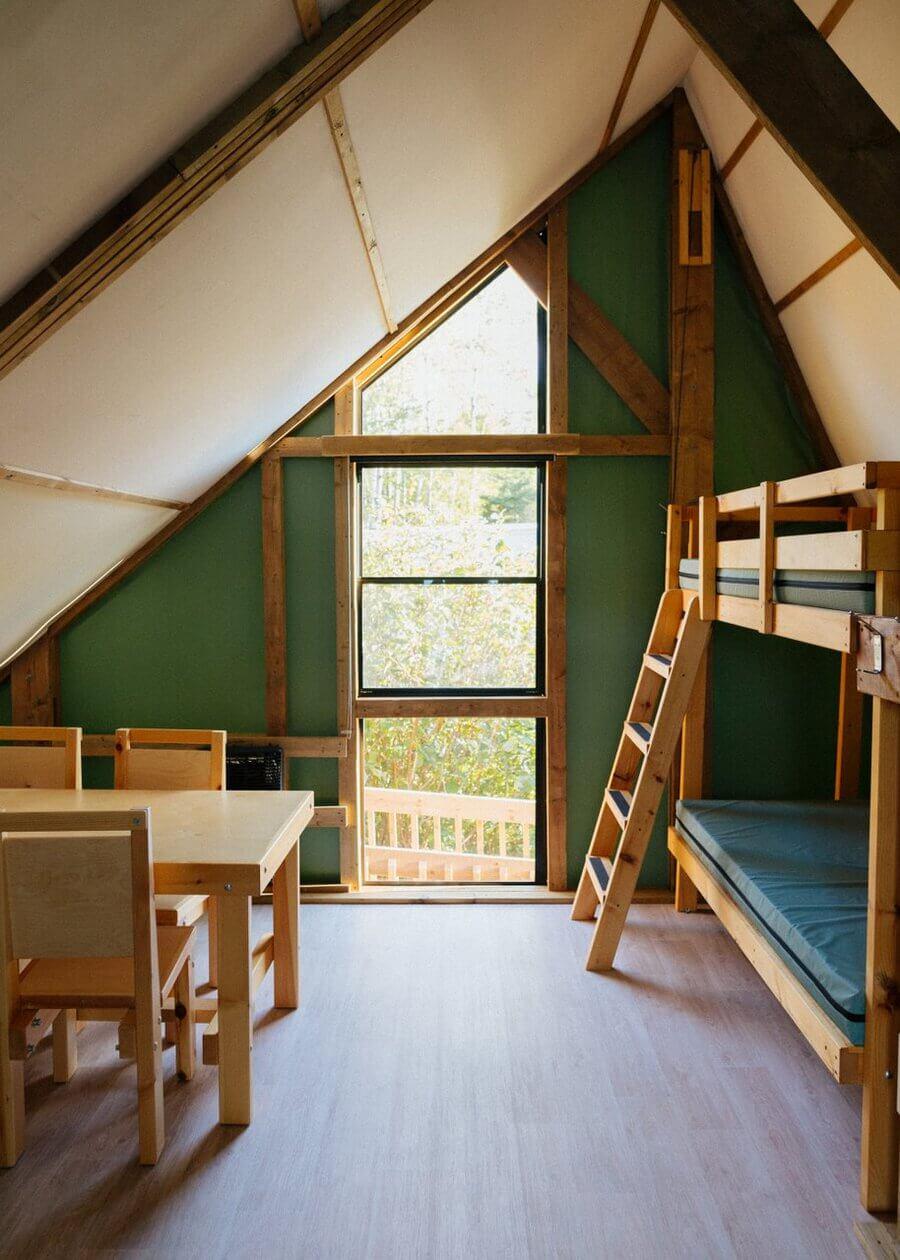 10. In a ch-A-let or an oTENTik
A cross between a tent and a cabin, the ch-A-lets and oTENTiks of New Brunswick's provincial and national parks let you experience camping without any of the setup or teardown – a little extra comfort, and more quality time to enjoy the great outdoors.
New Brunswick Provincial Parks / Fundy National Park / Kouchibouguac National Park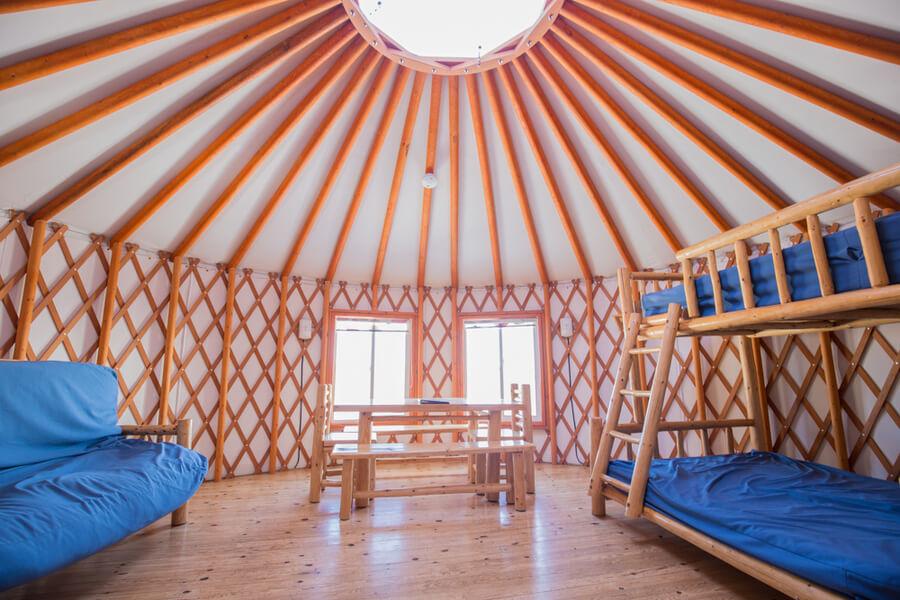 11. In a yurt
This traditional dwelling of Central Asian nomads is just right for a night of camping in the forest or on the seaside, with little luxuries and a dash of homelike comfort.
Fundy National Park / Beachfront Yurt (Botsford) / Forest Yurt (Long Point)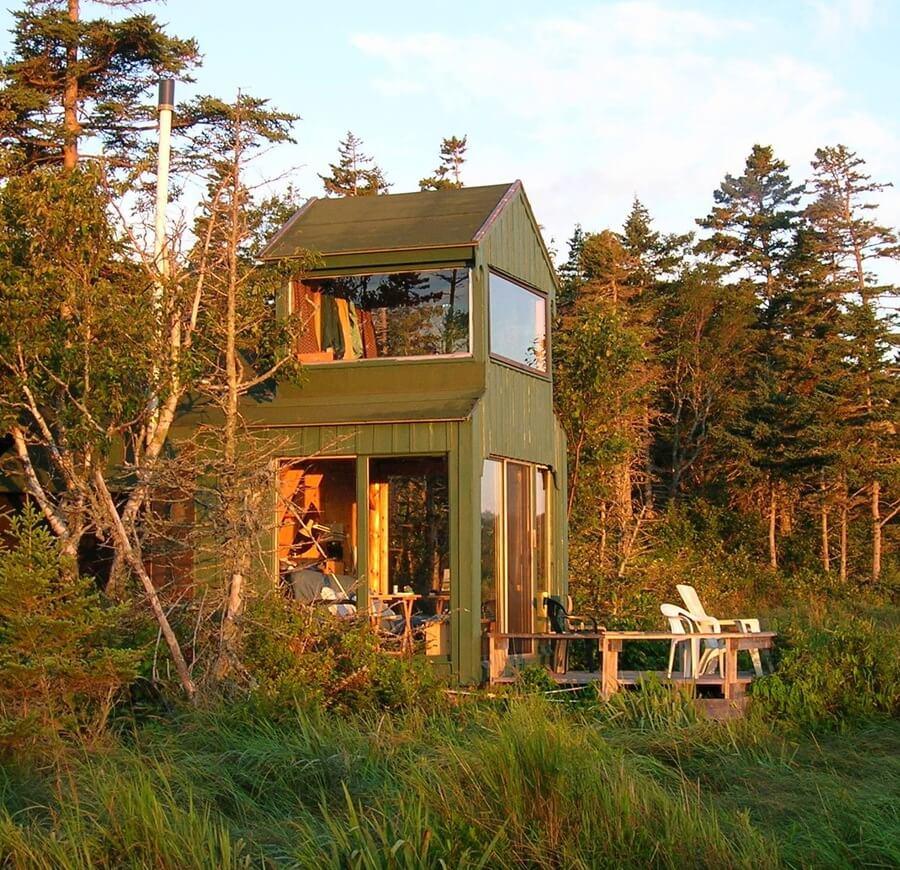 12. In an eco-friendly cottage on an island
Fern Alley, Bird House, Frog Hollow, Vintage Trailer... The fun mix of rustic luxury and cozy eco-friendly cottages on Grand Manan Island lets you get up close and personal with nature.
Castalia Marsh Retreat (Grand Manan)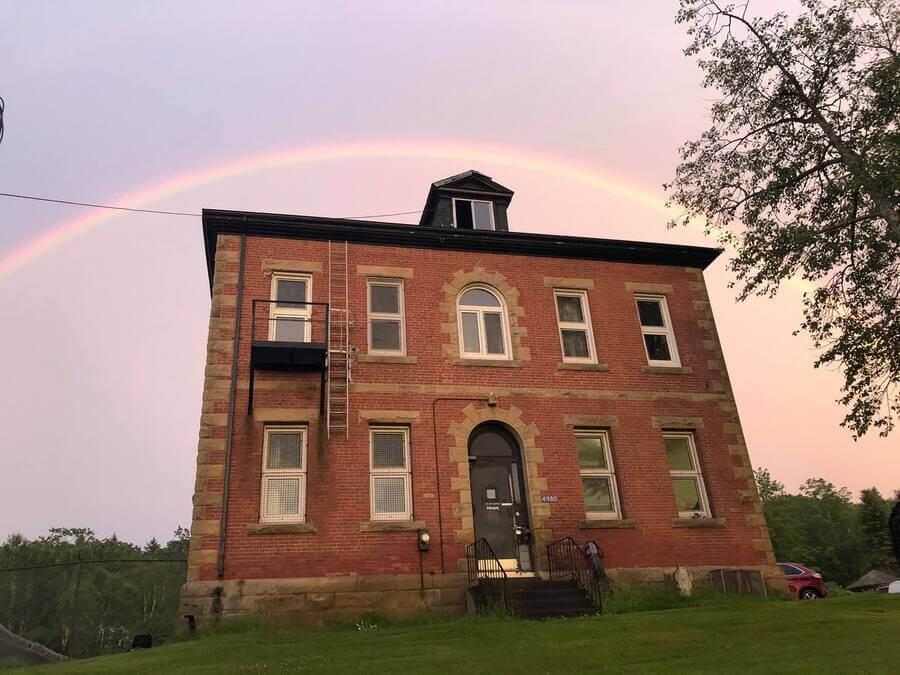 13. In a prison
New Brunswick's former Dorchester County Jail is a unique building with original cells and locks, jail doors, handcuffs and leg irons. Take a jail tour and spend the night in an (unlocked) cell. Indeed, a little spooky.
The Dorchester Jail Bed and Breakfast (Dorchester)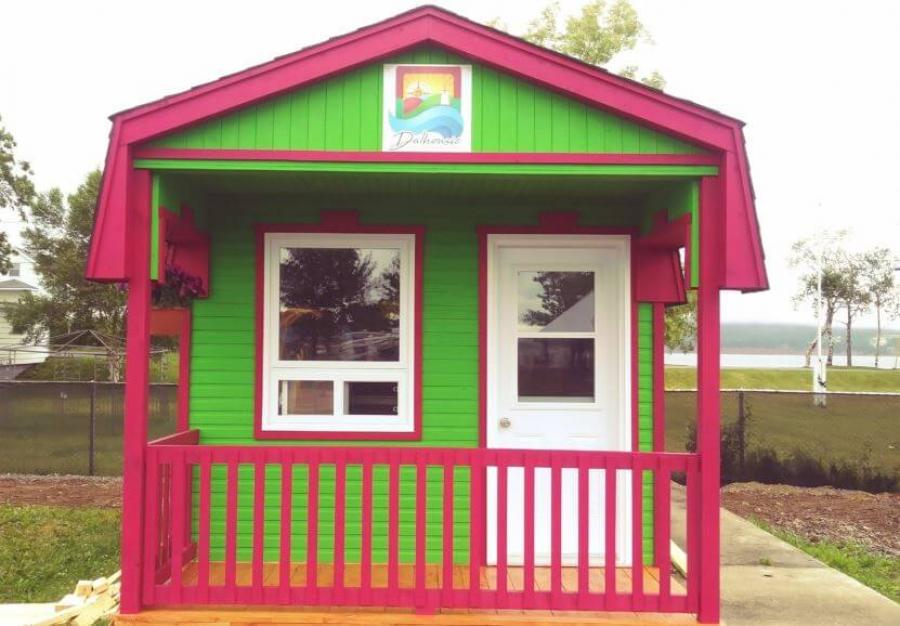 14. In a cute cabin
A vacation is the ultimate time to feel like a kid again. The storybook chalets with kitchenette at Auberge MicKy Inn (next to the New Brunswick Botanical Gardens and Petit-Témis cycling trail) and the colourful cabins of Inch Arran Campground (a few steps from the beach and the lighthouse) will help you do just that.
Auberge MicKy Inn (Saint-Jacques) / Inch Arran Campground (Dalhousie)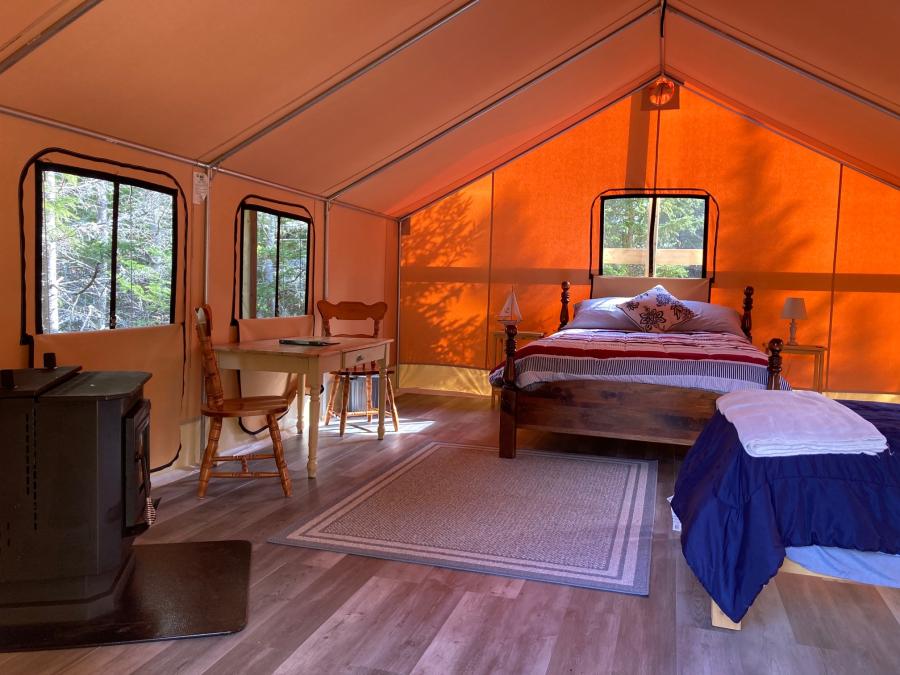 15. In a tent, but on a real bed
No air mattresses or sleeping bags needed at these glamping experiences where you can leave your camping gear at home and enjoy a queen-sized bed and hotel-quality linen in the shelter of a classic canvas tent. Feel as one with nature.
Glamping Bell, Safari and Explorer tents at Dominion Hill Country Inn (Digdeguash, near Saint Andrews)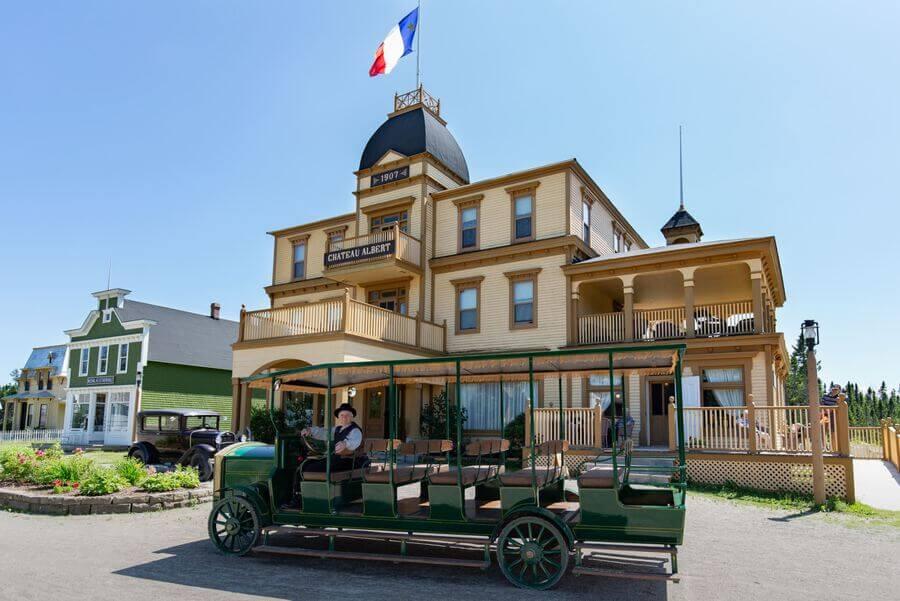 16. In the past
Take a journey back in time by spending the night at Château Albert, an elegant early 20th century-style hotel in the middle of the Village Historique Acadien. For a taste of New Brunswick's 18th-Century military past, camp under the stars within the walls of Fort Beauséjour - Fort Cumberland. If you like nature as much as history, follow the footsteps of past explorers and sportsmen in century-old Heritage Cabins at Mount Carleton Provincial Park. Wake up rested and climb to the highest peak in the Maritimes.
Hotel Chateau Albert (Village Historique Acadien, Bertrand) / Fort Beauséjour - Fort Cumberland National Historic Site (Aulac) / Heritage Cabins (Mount Carleton Provincial Park)