U-picks and orchards to guarantee you keep the doctor away this fall.
Who loves apple picking in the fall? 🙋
If you're looking for spots to go in New Brunswick, you're in luck. Due to the province's unique microclimates we just so happen to be one of the best spots to grow apples in Canada. And with tons of different varieties to choose from, you'll have no trouble picking a favourite for your baked desserts or your snacks. (Honeycrisp, anyone?)
The season typically kicks off in September, lasting through October. Some farms and orchards will include wagon rides, corn mazes, country shops with homemade jams and ciders and much more. So gather up the kids or call up a friend, and head on out to a local farm for a quintessential fall afternoon in the orchard.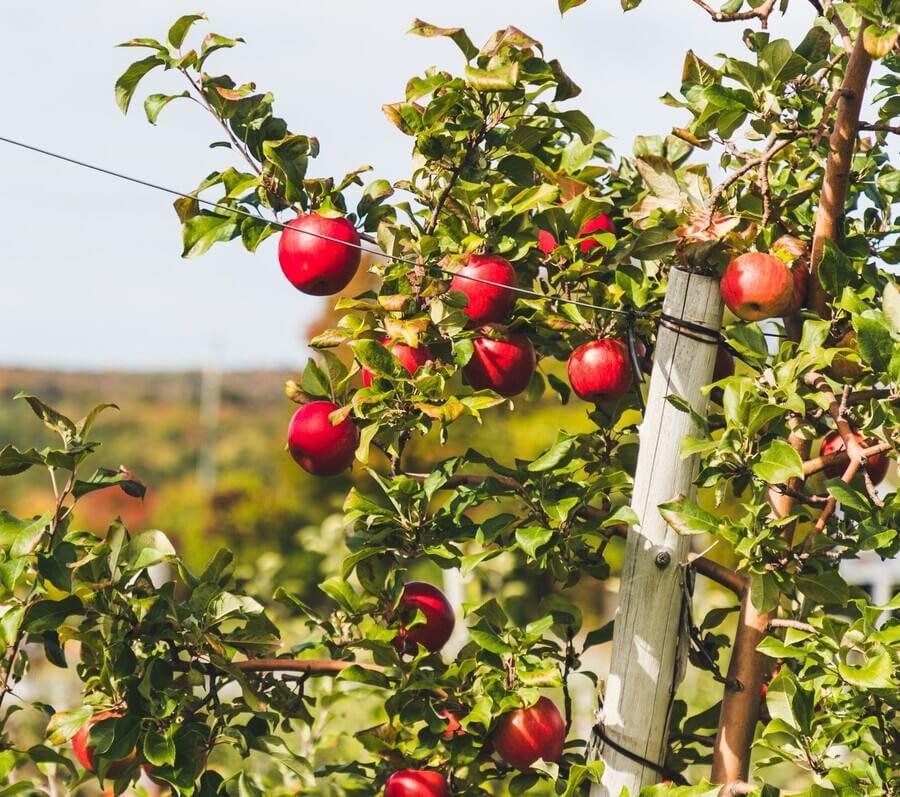 Where to pick:  Saint John River Valley
Dukeshire's Apples — Orchard Shade Farms
4204 Route 105, Northampton
Phone: 506-328-2012
Hours: Call ahead for hours
Details: You'll find apples for every taste bud at this fourth-generation farm. Pre-picked apples, apple pies and many other products available for purchase at the Apple House.
Sandow Farm
684 Tripp Settlement Road, Keswick Ridge
Phone: 506-363-2262
Hours: Daily from 11am to dusk (Sept. 24 - Oct. 9)
Details: All-natural spray-free orchard with delicious tree-ripened and frost-sweetened apples. Specialized in Sandow apples, a crisp, aromatic, and juicy variety with a sprightly flavour reminiscent of raspberries. Check their website for recipes ideas.
Johnny Appleseed U-Pick Orchards
146 Crocks Point Road, Keswick Ridge
Phone: 506-363-3500 or 506-470-1664
Hours: Daily, 10am to dusk
Details: A peaceful scenery with views of Mactaquac Dam surrounds this orchard operating a u-pick since 1954. On-site farmstand with picked apples, jams and jellies, cider and pumpkins. Bring a blanket and enjoy a picnic in the orchard. Open September through to mid-October; apple baskets for sale or bring your own containers.
River View Orchards
251 Route 616, Keswick
Phone: 506-238-7537
Hours: Monday-Saturday from 10am to 6pm, Sunday from 10 am to 5pm
Details: Keeping the apple-picking tradition alive with fun for the whole family. Farm, duck pond, shuttle to the fields with a tractor and wagon, and corn maze. Don't miss the fall fair at the orchard on September 17-18.
Doucette's Family Orchard
118 Carlisle Road, Douglas
Phone: 506-453-1582
Hours: Weekdays 1pm to 7pm; weekends 1pm to 5pm
Details: Fantastic views overlooking the Saint John River from Fredericton's north side. Eight varieties of apples to choose from, delicious pears (Bartlett and Clapp's Favorite) plus wagon rides on the weekend.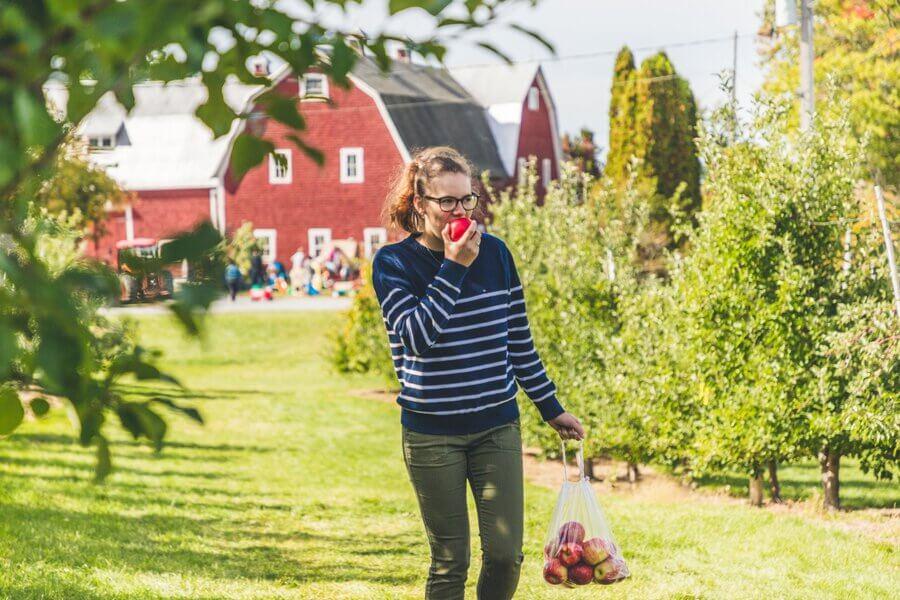 Everett Family Orchard
32 Everett Lane, Island View
Phone: 506-459-7406
Hours: Daily from 10am to 6pm
Details: Eight-generation farm with beautiful views of the Saint John/Wolastoq River Valley and the famous Keswick Islands. Pick a little wagon to carry your haul and stop visit the friendly resident horses. Pre-picked apples, local fall produce, jams/jellies and pickles available at the outlet. Find them on Facebook and Instagram for regular updates.
Fernhill Farm (Kelly's U-pick)
1670 Woodstock Rd., Fredericton
Phone: 506-450-4163
Hours: Daily, from 9am to 7pm
Details: Nestled for more than a century on a hill within Fredericton's city limits, Fernhill Farm produces a wide range of fresh vegetables, and a beautiful variety of apples in the fall. Visit them at the orchard during u-pick season, or at the Boyce Farmers Market, where they've been a steady presence since the market's opening day in 1951.
Hall's Apple Orchard
216 Gore Rd., Fredericton Junction
Phone: 506-368-1898
Hours: U-Pick and stand sales daily 10am until dusk at the orchard starting mid-September
Details: Enjoy a beautiful fall day picking MacIntosh, Spartan, Cortland and other varieties. Stock up on tasty jams and jellies from the Apple Lady. Squash and pumpkins available as well. Stop by on cider-making days and you might get a chance to throw some apples in the chopper, turn the crank or taste fresh cider.
Gilbert's Farm
419 Route 102, Burton
Phone: 506-357-8634
Hours: Daily from 10am to 5pm
Details: MacIntosh, Honeycrisps, Cortlands and many more varieties of snacking and cooking apples (u-pick or pre-picked). Bosc and Anjou pears, pumpkins, jams, pickles, apple butter, apple sauce, freshly baked cookies and the resident cows are also a hit at this riverside farm. Check out their daily morning updates on Facebook.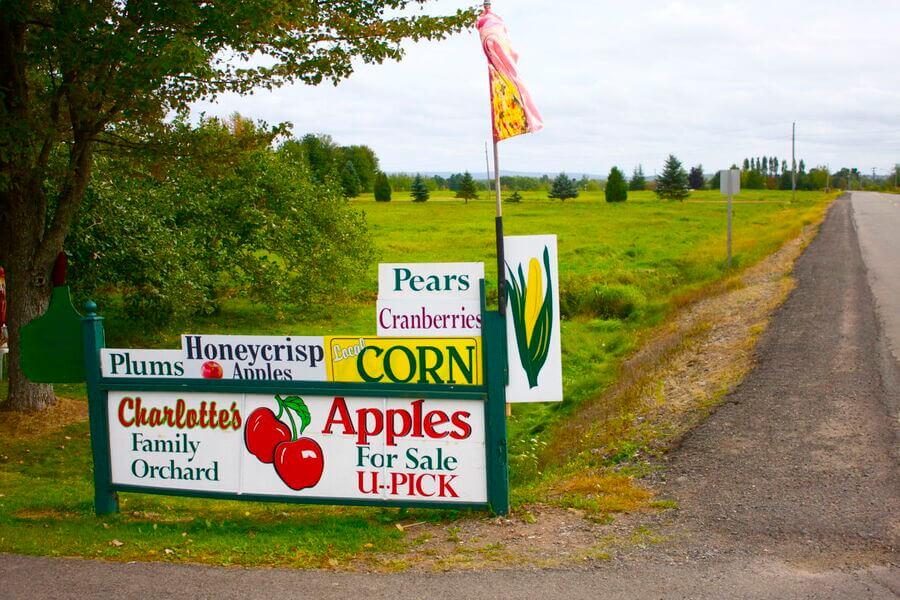 Charlotte's Family Orchard and Farm Market
2287 Route 102, Village of Gagetown
Phone: 506-488-2630
Hours: Daily from 10am to 7pm
Details: One of the first full time u-picks in New Brunswick (in operation since 1983), Charlotte's Family Orchard grows over 30 varieties of apples as well as pears and plums. The farm market on site features vegetables, jams, jellies, pickles, cider, honey, and many other local products. Check their Facebook page for updates in season.
Hazen Cameron and Son Farm
2260, Route 102, Village of Gagetown
Phone: 506-488-2895
Hours: Daily from 9am to 9pm
Details: Have fun picking apples or grab some at the farm's roadside market. Pumkins, plums, cider, apple pies, jelly, jam and pickles also available. Just an apple's throw from the charming village of Gagetown on the shore of the Saint John river.
Mackay Apple Orchard
3155 Route 845, Long Reach
Phone: 506-763-2636
Hours: Vary (check Facebook for updates)
Details: Set on the slopes of the Saint John River, this picturesque apple u-pick is the perfect location for a fun day with family and friends. Swing by Yip Cider, just 3 km down the road (3015 Route 845), to taste the ciders made from Mackay's delicious apples.
Bostwick's U-Pick Apples
36 Bostwick Road, Kingston
3469 Route 845, Long Reach
Phone: 506-763-2943
Hours: Weekdays by chance or by appointment; weekends and holidays from 9am to 5pm
Details: This family farm operating since 1783 overlooks the Saint John River on beautiful Kingston Peninsula. Enjoy a ferry ride on your way to pick a variety of apples, pumpkins, squash and gourds and get family photos taken at the annual fall display. Visit them on Facebook for up-to-date information on their activities.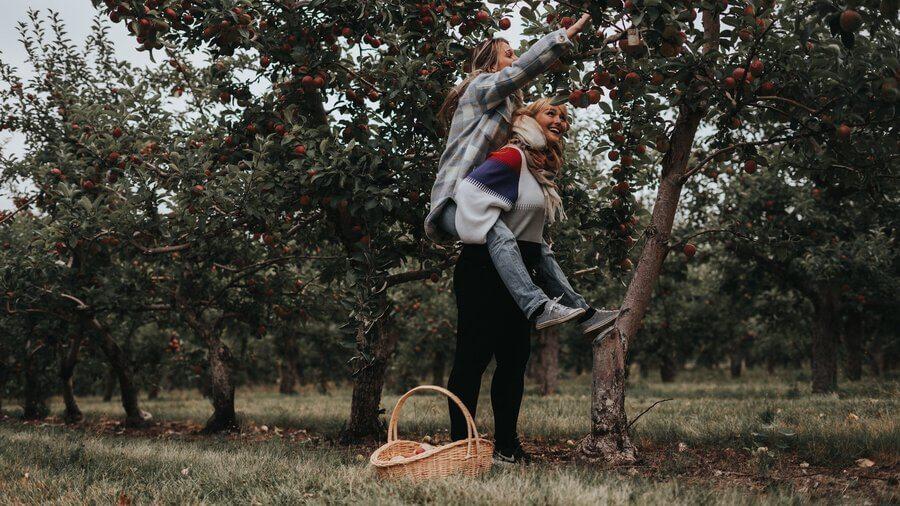 Where to pick:  Acadian Coast
Verger Belliveau Orchard
1209, Principale Street, Memramcook
Phone: 506-758-0295
Hours: Daily from 10am to 6pm until the end of October
Details: Tons of activities in addition to apple picking at this orchard well-known for its ciders. Tractor and wagon rides, food truck, local products market, and a licensed patio.
Uris Williams & Sons
875 Murray Road, Saint-Antoine
Phone: 506-525-2376
Hours: Daily from 9am to 5pm
Details: Over 20 acres of superior quality apples. Farm store with a variety of homemade goods, including honey and jam. Orchard tours.
La Fleur du Pommier
79 R. Goguen Road, Cocagne
Phone: 506-576-7946
Hours: Daily from 10am to 6pm
Details: Plenty of fresh products available on site in addition to apple picking. Fresh plums, apple juice, apple cider vinegar, apple jelly, honey, jam, fresh vegetables and more.
Verger Goguen
401 & 406 White Settlement Road, Cocagne
Phone: 506-531-7506
Hours: Weekends and holidays from 9am to 6pm; weekdays from 10am to 6pm
Details: Bring a picnic lunch and take advantage of the picnic tables in a beautiful apple orchard setting.
Ferme Marcel Goguen
475 chemin Cocagne Sud, Cocagne
Phone: 506-576-6307
Hours: Daily from 10am to 6pm
Details: Family farm in operation since the arrival of the first Acadians to the region in 1778. Apple orchards, pumpkins, squash, other farm products plus small livestock and a collection of local antiques. Dogs welcome (on leash).
Verger Haut Tilley Road
481 Tilley Road, Haut Tilley Road (near Saint-Isidore)
Phone: 506-399-1679
Hours: Tuesday to Friday from 11am to 6pm; Saturday and Sunday from 10am to 7pm
Details: A thousand apple trees and 15 varieties of apples, as well as wild blueberries, raspberries, blackberries, plums, grapes and farm-grown vegetables. You'll also find a great variety of plants (indoor and outdoor) at their greenhouse in Tracadie (451 Poirier Street).
Irishview Estate
2480 Route 115, Irishtown
Phone: 506-384-0294
Hours: Daily, 10am - 5pm (weather permitting), starting the third week of September
Details: New Brunswick's largest producer of Honeycrisp apples, this 80-acre orchard just outside of Moncton has over 140,000 high density dwarf apple trees consisting of 80% Honeycrisp, 10% Ambrosia and 10% Gala apples. Also check out their other treats like caramel popcorn, cotton candy and apple cider.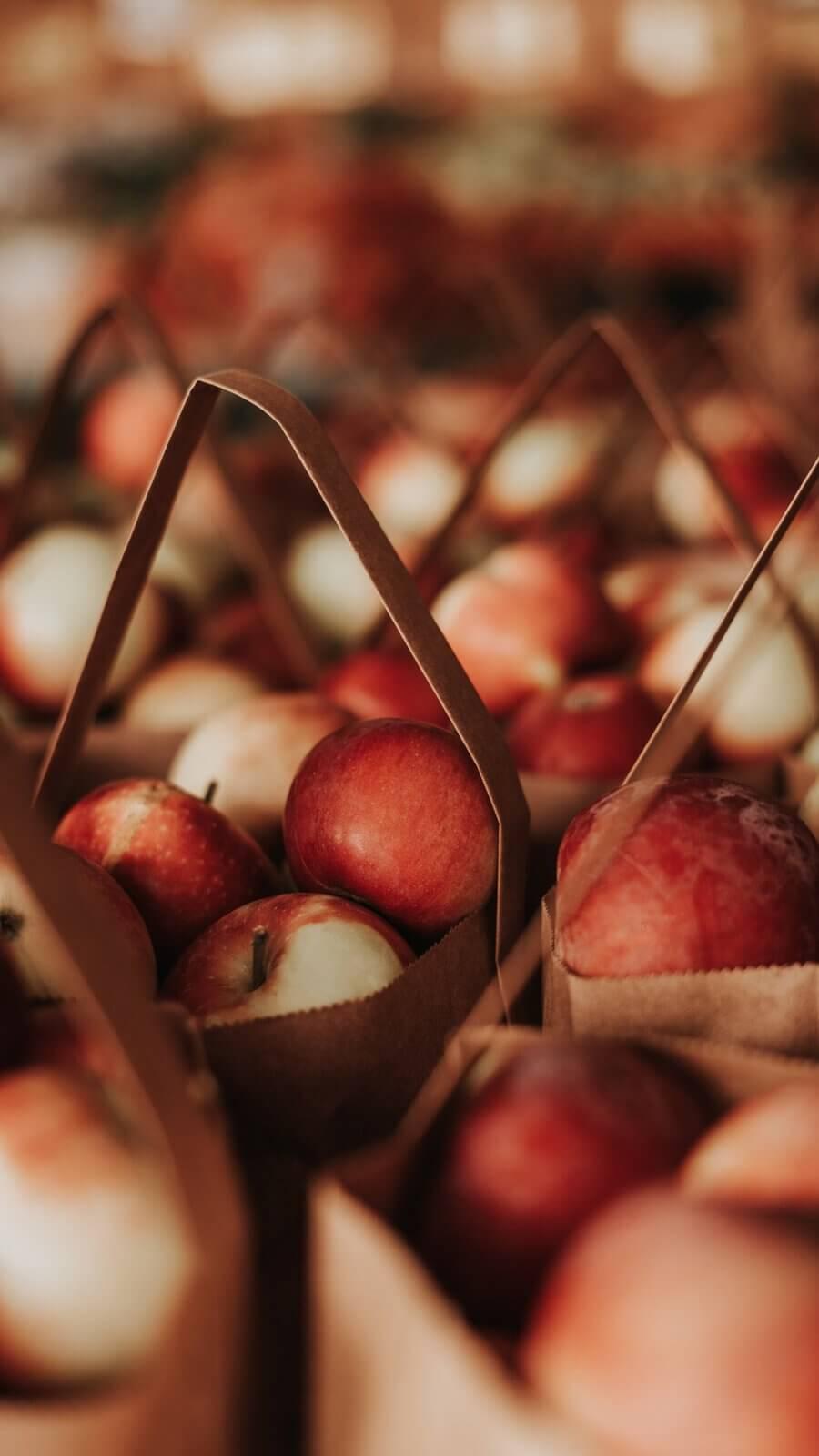 🍎🍎🍎
 
You like to see and learn where our food comes from? Take a road trip to visit farms and meet local producers around the province on New Brunswick's Open Farm Day, Sunday September 18.
To #buylocal year round, visit New Brunswick's farmers' markets and look for quality, made-in-NB products.
Happy Picking!
🍎🍎🍎