With excitement building over finally being able to travel again, we've pulled together a list of the must-visit nature getaways that NB has to offer this summer. From cabins, to glamping, to full beach house rentals - we've got it all. Each property is unique and comes fully loaded with beautiful New Brunswick nature in every corner. Where will you visit first?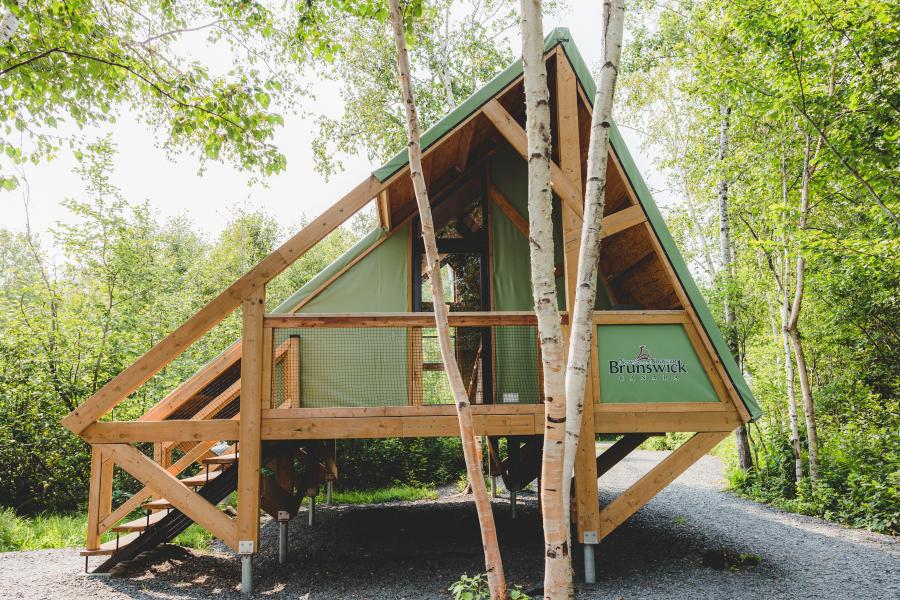 Provincial Parks
New Brunswick has 10 provincial parks ready to accept overnight visitors all summer. From immaculate mountaintop views at Mount Carleton to untapped nature at Anchorage, Mactaquac, North Lake and Republique to adventure at Sugarloaf to oceanside camping at New River, Parlee, Murray and Herring Cove - there's something for everyone. You're never more than 100km away from a provincial park anywhere in New Brunswick so it's always the perfect getaway. Provincial parks have traditional camping, Ch-A-Lets, heritage cabins and even nature accommodations for people looking to experience nature off the beaten path.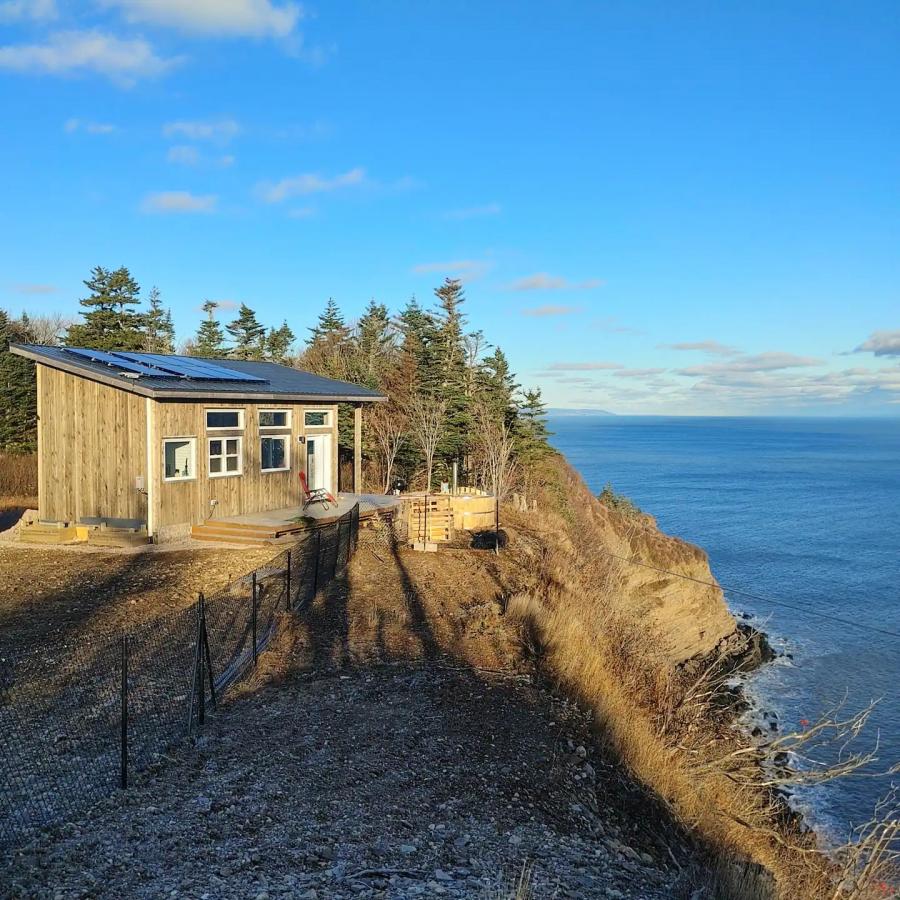 The Edge (Bay View)
Sometimes less really is more. This beautiful and modern tiny house keeps proves that sometimes keeping decor simple can say the most. With a deck and wood fired soaker tub overlooking the incredible cliffside views of the Bay of Fundy, there's no better place to relax and unwind. This 37-square-metre (400sqft) tiny home is located on 2 acres of private property so you can really disconnect and recharge.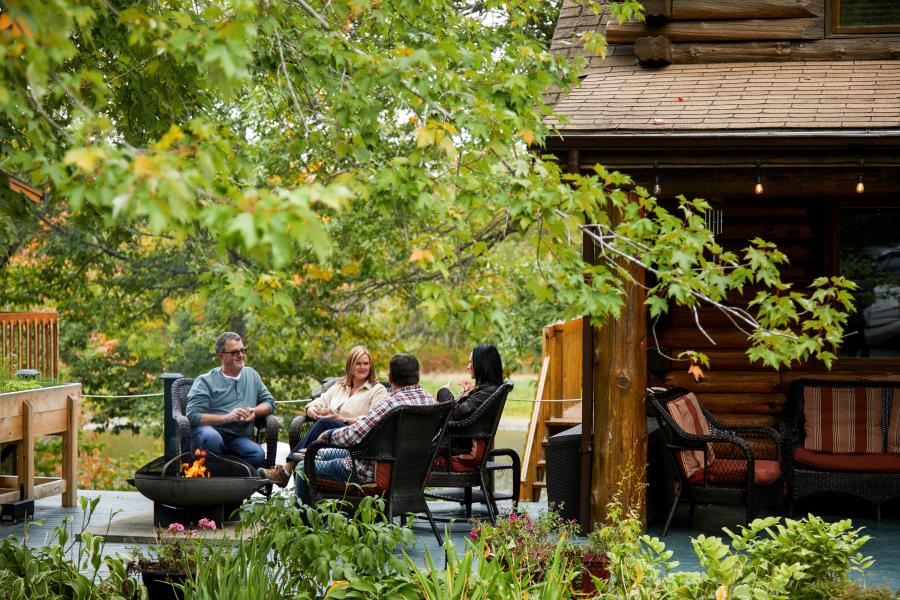 Fishing Lodge Getaways
If your ideal nature getaway includes refining your angling skills, cozying up along the river or a day filled with kayaking and tubing adventures - check out a lodge resort getaway. Perfect for people who prefer the pull of the river over the rush of the ocean.
Check out:
Adair's Wilderness Lodge | Wilson's Sporting Camps | Chalets Restigouche | Larry's Gulch | Loon Bay Lodge | Ledges Inn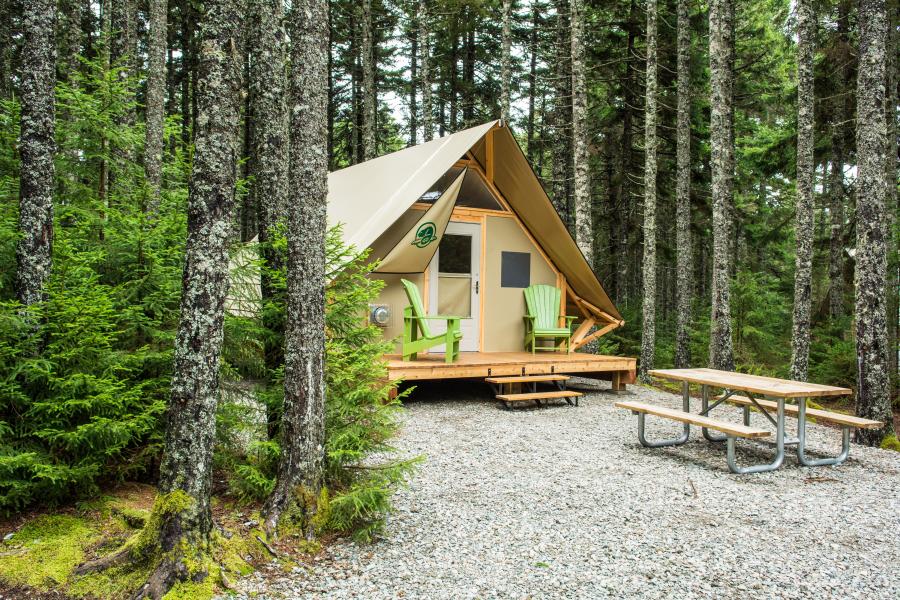 oTENTiks
Kouchibouguac National Park and Fundy National Park are home to the fan-favourite oTENTiks. A cross between a cabin and a tent, oTENTiks are the perfect match for people who want a nature getaway but still want to enjoy the comfort of sturdy walls, a roof and a bed. Suited up with a solar powered light, table, beds and a charcoal barbecue, oTENTiks are the perfect mix of roughing it and glamping.
Book an Otentik at Fundy 
Book an Otentik at Kouchibouguac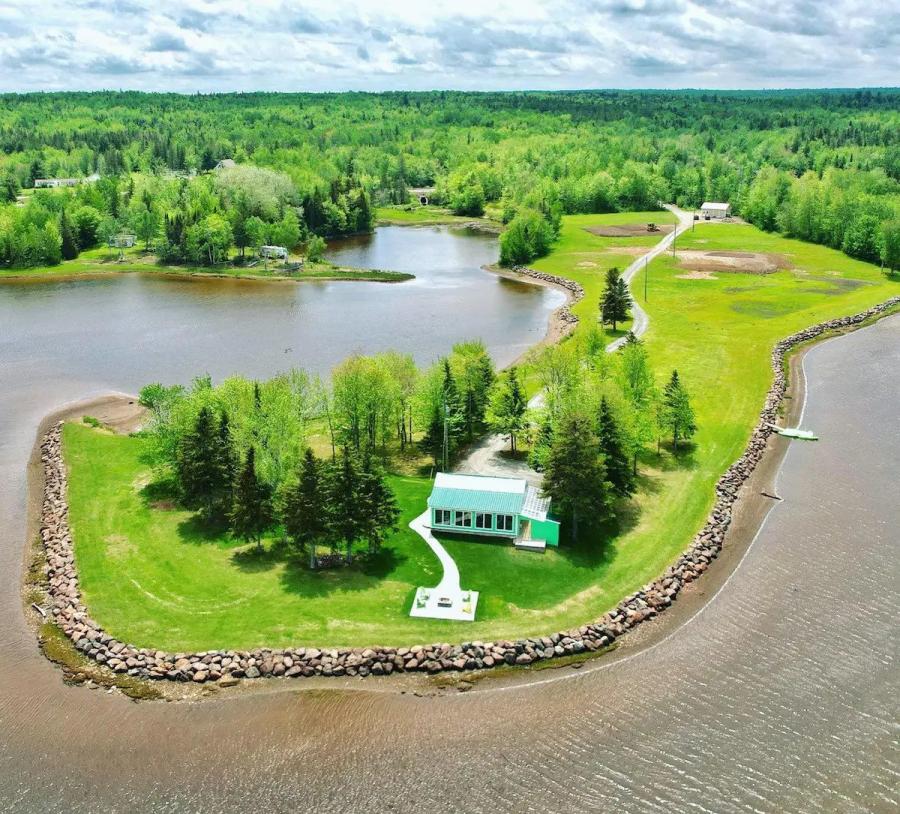 Fox River Chalet (Notre-Dame)
If panoramic, from every angle, waterfront views are your thing - this Air Bnb is for you. A newly built and beautifully decorated cottage sits on a 360 degree waterside view that comes jam packed with amenities like a firepit, hot tub and your own private dock with kayak use. Finding an elevated way to connect with nature has never been more glamorous.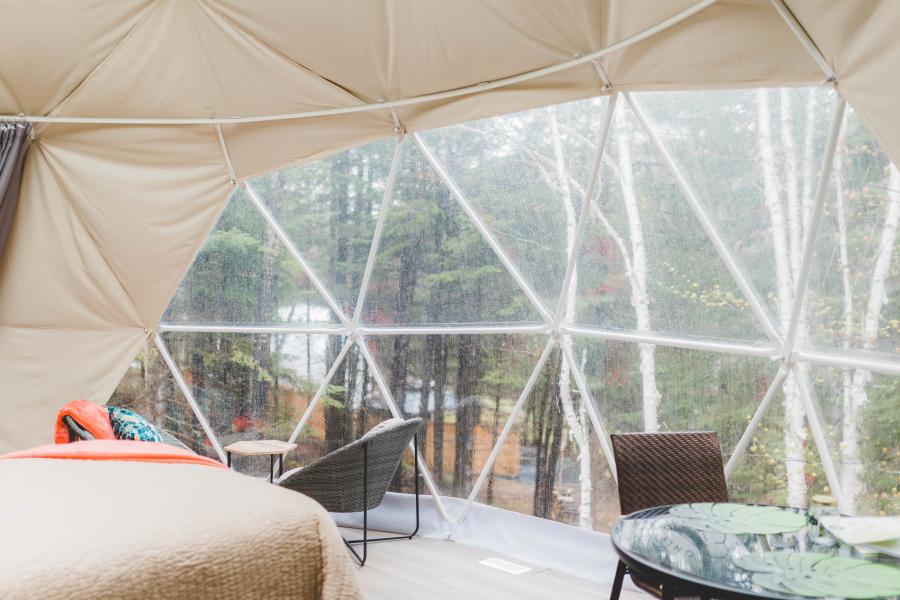 Dome Glamping
Imagine glamping in your very own geodesic dome complete with fireplace, beautiful interior and a wood-fired hot tub. Yep, it's as awesome as it sounds. Domes are ALL the rage right now - and for good reason. For people who want to enjoy nature on their own terms, fall asleep with a skylight view or just have an excuse to cozy away in a hot tub with a view, domes are the spot to do it in fashion.
Check out:
Cielo Glamping Maritime | Glamp Camp NB | Ridgeback Lodge | Quisibis Domes | EKÖ Nature Glamping | Creekside RNR | River Run Resort | Balsam Ridge Forest Domes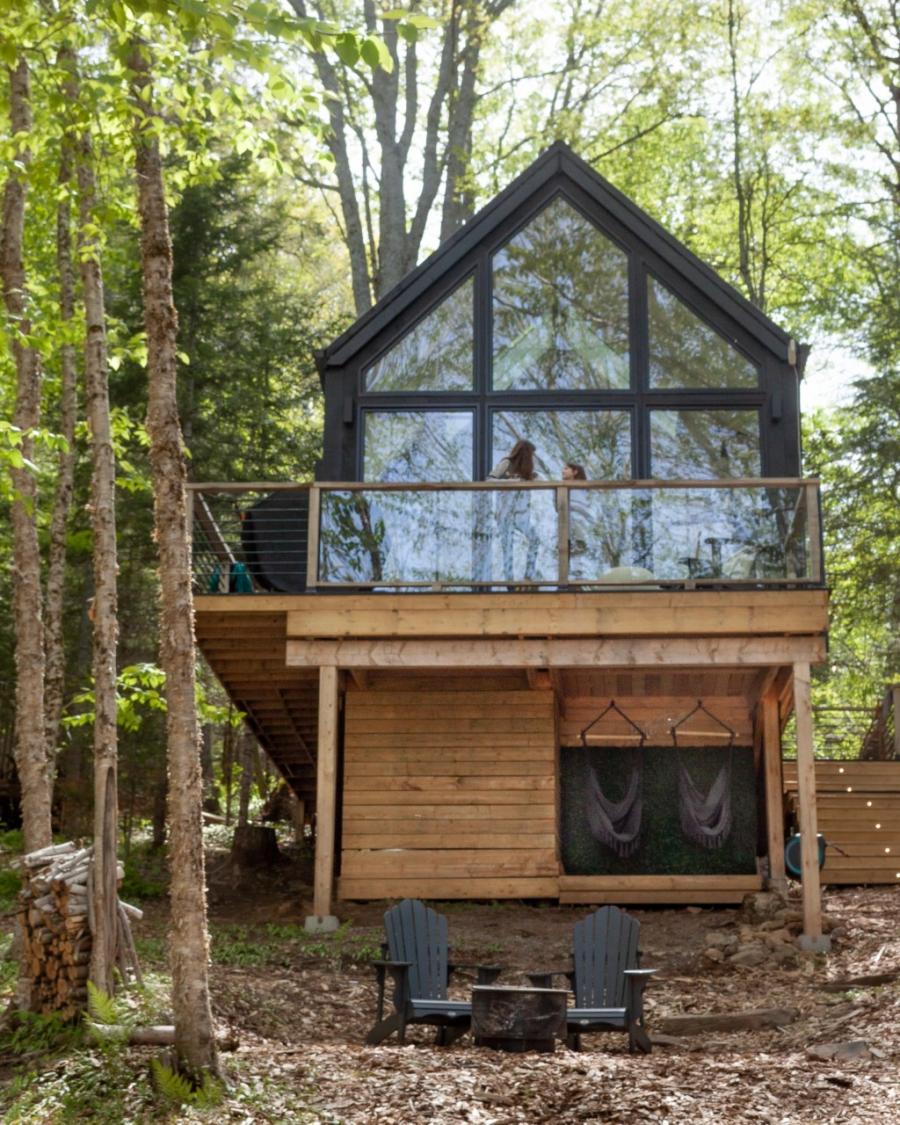 Lakefront Treetop Retreat (Hampstead Parish)
The ultimate romantic nature retreat. Picture this - a lakeside cabin with a sauna, hot tub, hammocks and even skylight ceilings for a show-stopping starlit slumber. If you love the idea of a nature retreat but are more drawn to beautiful decor and comfortable amenities, this Air Bnb checks all your boxes.
Stay in Your Childhood Dream House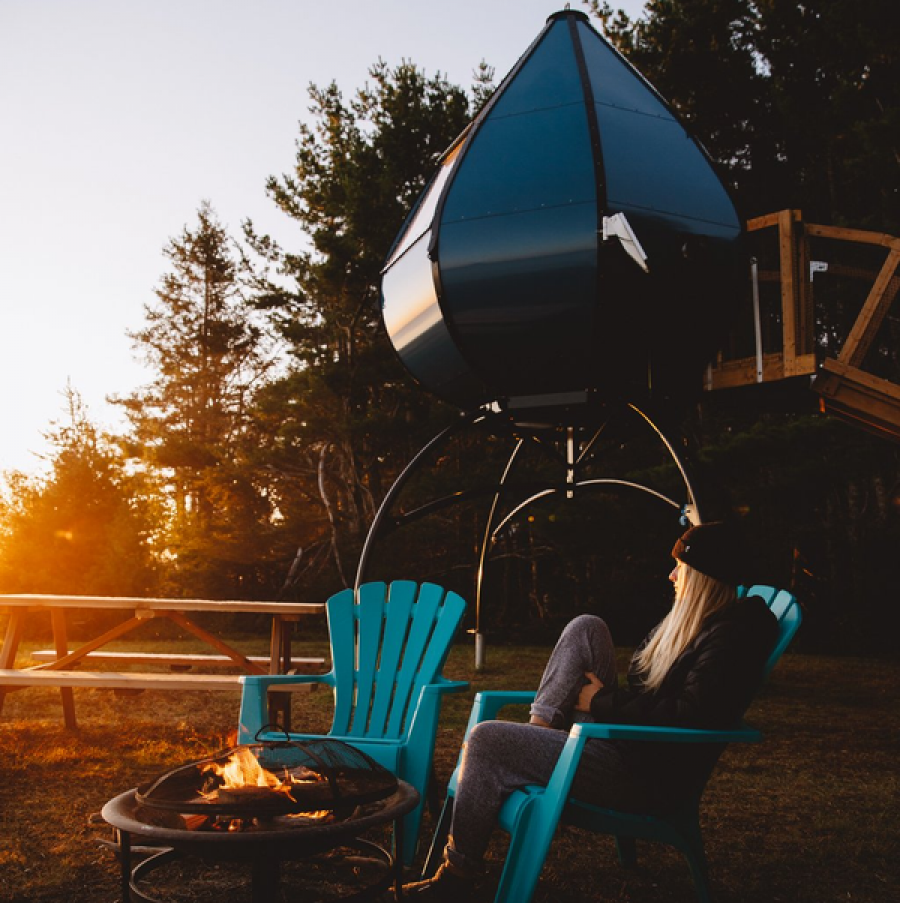 Ôasis Teardrops
Ôasis teardrops are the iconic blue teardrop accommodations in National Parks across Canada. Found at Fundy National Park, Ôasis teardrops are a lovechild between a treehouse and a tent. With beds on raised platforms and screened-in, closeable windows, the teardrops give you the option to enjoy panoramic views of nature or be treated to an element-proof nights sleep.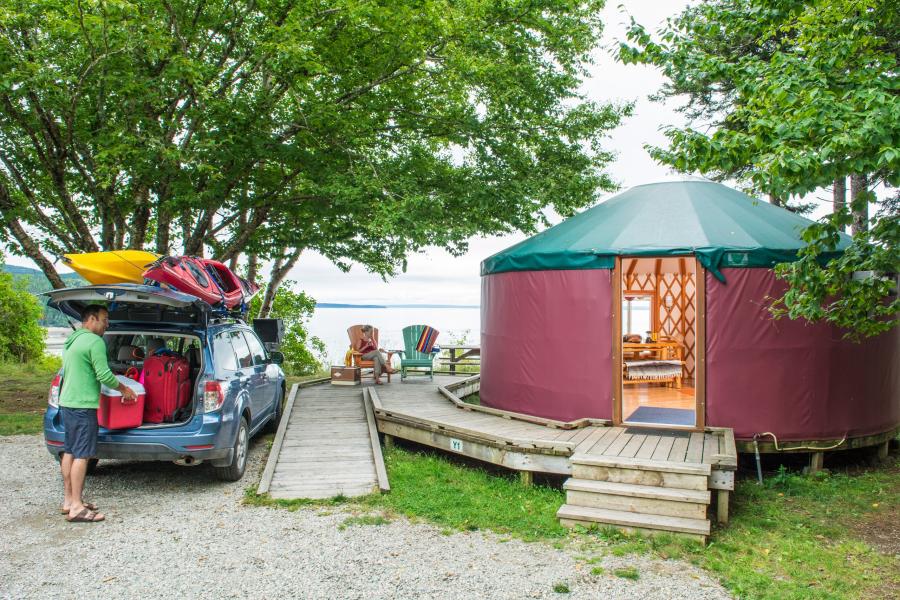 Yurts
Another amazing accommodation at our National Parks are Yurts. Originally from Central Asia, Yurts are circular-shaped structure offering some cover from the elements. Loaded with lattice walls, insulated roofs/walls and a stove - Yurts are amazing for all-season camping. With lots of windows and dome openings, yurts allows a beautiful cross breeze to stay cool in summer while enjoying the comfort of home away from home.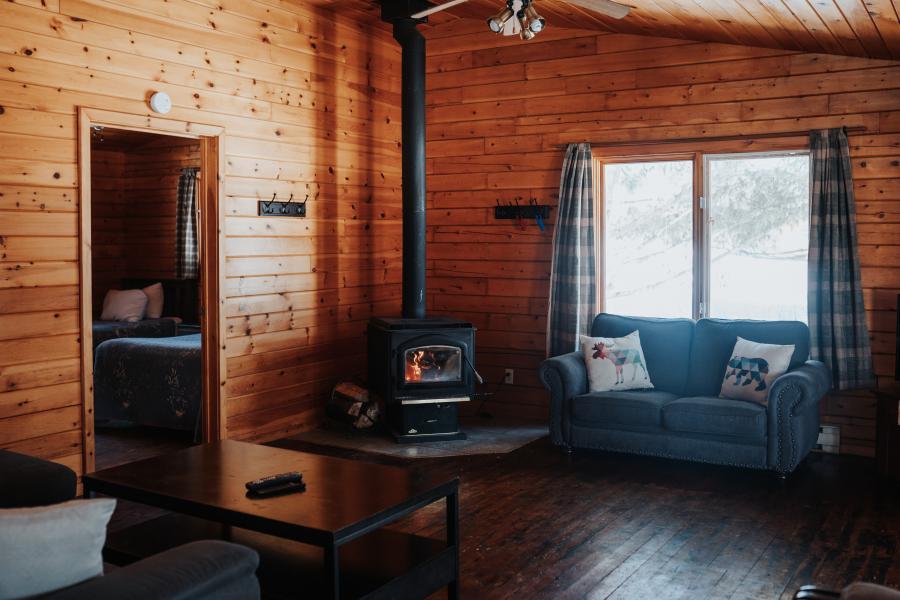 Storeytown Cottages
Located just outside of Doaktown on the Miramichi River, Storeytown Cottages are the perfect excuse for some r&r. All accommodations are pet friendly so you can bring along your furry friend for all of your riverside adventures. All of the cottages have access to hot tubs, making your next vacation the perfect mix of luxury and laid-back.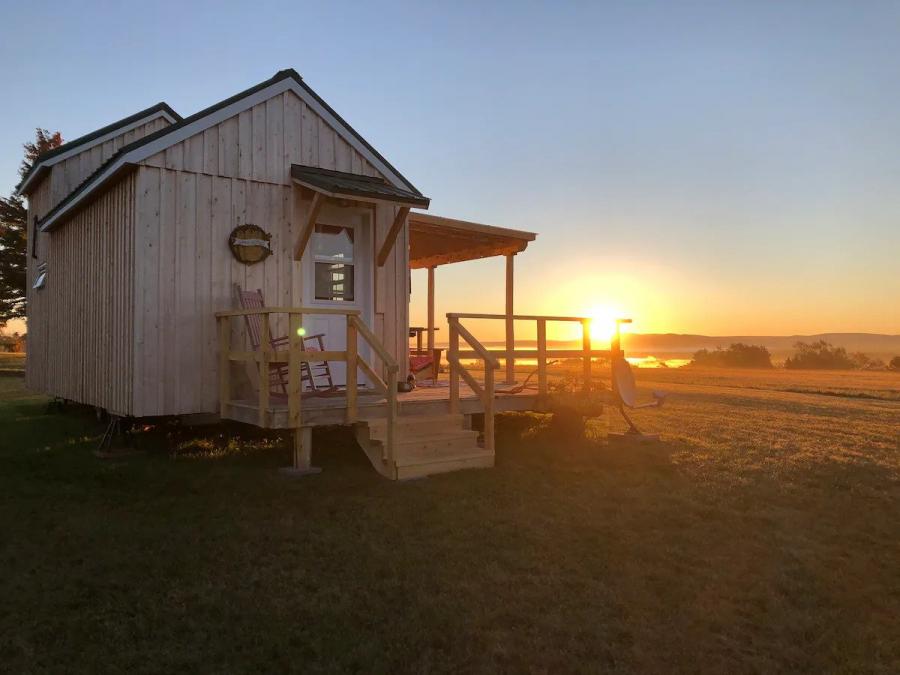 Sussex Tiny House
As seen during winter in our very own Take Me to Your Locals video, this tiny house is the perfect eclectic stay for people who want to be in nature overlooking the panoramic Sussex valley views while being only a few minutes away from town. Situated on 5 acres of private land, this stay is the #tinyliving inspo everyone didn't even know they needed.