If you have never explored New Brunswick's northeast corner, or it has been a while – and you want to rediscover it – this is the perfect time. The sea, the sand, and the sky's the limit, on the Acadian Peninsula!
I just returned from a 4-day trip and it was jam-packed with seaside adventures, good food and drink, Acadian culture, and joie de vivre in heaping measure.
All the way from Neguac to Caraquet, and all places between, my good friend and I set out on a whirlwind tour to take in as much as possible. Follow our 4-day itinerary to capture a good bite of the Acadian Peninsula.
Day 1
Day 1 began for us in Neguac, picking up a pre-ordered lunch at Chez Raymond before heading to Île-aux-foins Park for an oceanside picnic. Located on Hay Island, Île-aux-Foins Park is a haven for over 250+ species of local and migratory birds. Climb the observation tower for the best view. This wee island also boasts a floating wharf, hiking trails, a picturesque lighthouse, a beach, a playground, a changing room, and washrooms.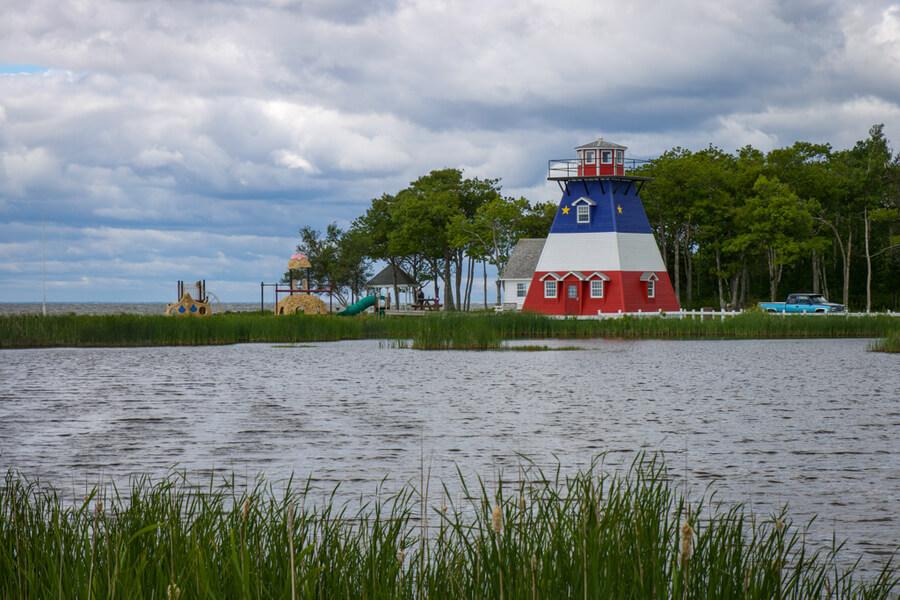 Val-Comeau Beach was our next destination for a leisurely, beachcombing walk.
In Tracadie-Sheila, we visited the Historical Museum of Tracadie, an eye-opener into Tracadie's leper colony, and the beginnings of French health care in the Maritimes.
Next, we checked into our Deux Rivières Resort cottage, then headed out again for a craft beer tasting at Brasseux d'la Côte. The Award-winning Classic Rosé, and the Radler - with its grapefruit aromas, were our favourite brews.
Our scrumptious dinner at Le Couvent Cuisine de Saison was the perfect ending to a perfect day. Every course was absolutely divine, as were our "La Religieuse" signature cocktails.
Day 2
Day 2 had us heading for Deux Îles, Mille Trésors (Two Islands, One Thousand Treasures). It all began in Lamèque with breakfast at Aloha Café, enjoyed on their sweet tropical-themed patio, complete with adult-sized swings.
The Acadian Peninsula Ecological Park was our first tourist destination of the day. We climbed the lookout tower, then explored the shoreline and forest via the footbridge, boardwalk and wooded paths. This Eco-Park is well worth a stop to discover the various birds, flora and fauna in their natural habitats, but do come prepared with extra water, sunscreen, and bug spray.
Sainte-Cécile Church, in Petite-Rivière-de-l'Île, was a delightful surprise on our day's journey. This 'Candy Church' as the locals refer to it, is a folk art masterpiece that needs to be seen to be believed. Call ahead to arrange a visit.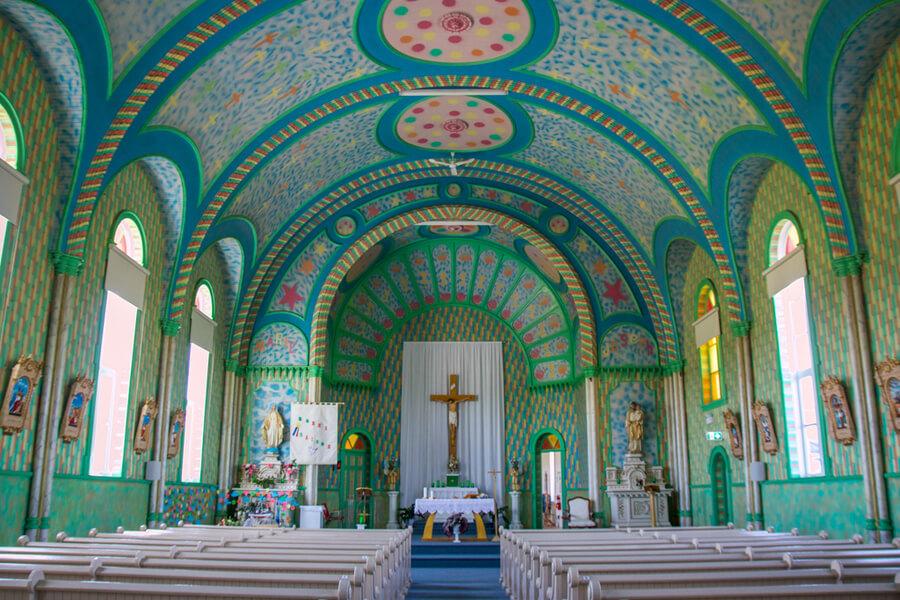 Stop for lunch at Terrasse à Steve. This Miscou Island restaurant is busy, and for good reason. The seafood is as fresh as it gets here, and you have a front row seat to watch the fishing boats come and go from the adjacent marina. The lobster rolls and lobster skewers are a great catch here too. Miscou Island's Lighthouse, beaches, peat bogs, and trails were on our next "to do" list. We even ventured back to catch sunset, and were treated to a family of foxes frolicking on the dunes.
In Shippagan, we visited the impressive New Brunswick Aquarium and Marine Centre. This is a fun, educational, interactive endeavour for any age.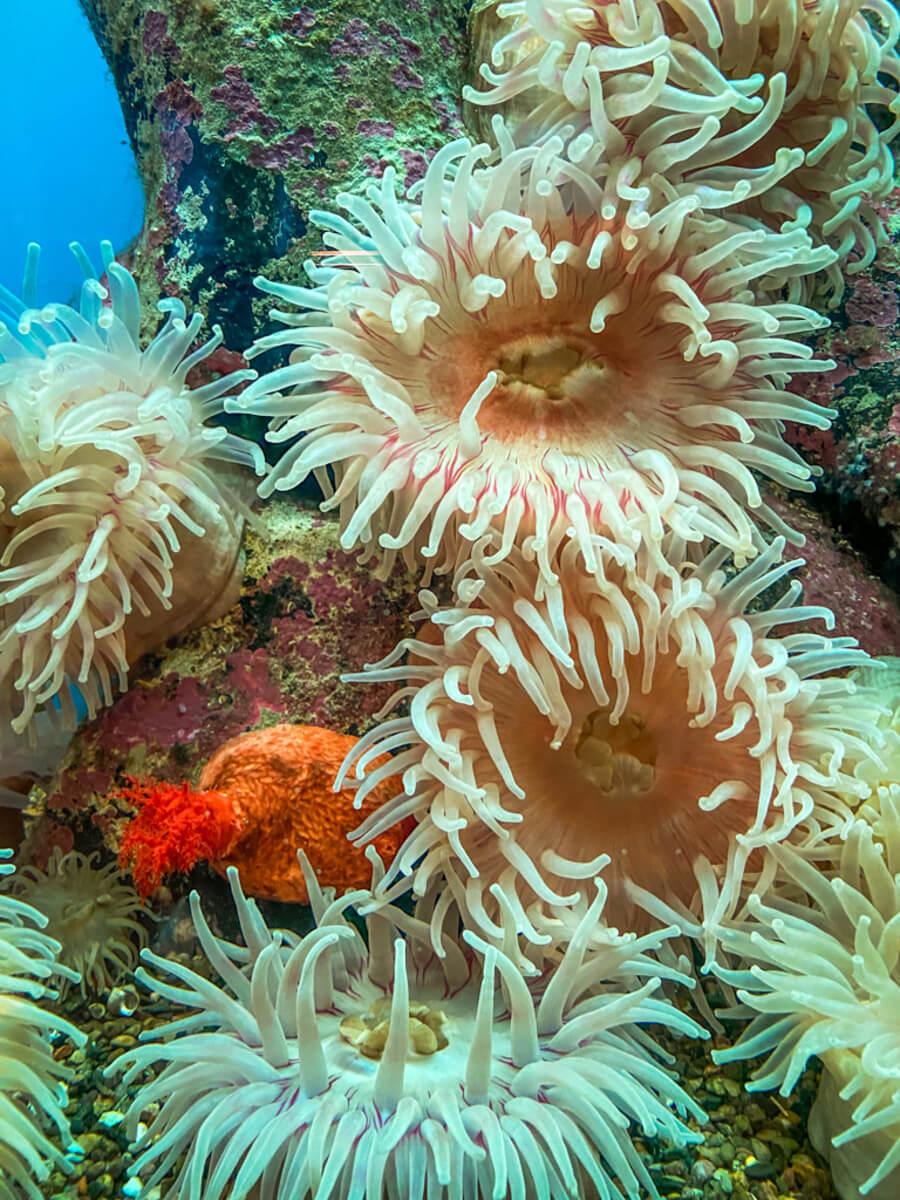 Les Chalets de la plage, in Bas-Caraquet, became our home away from home for the next two nights. We settled in for a breather, then headed out for an evening drink and build your own charcuterie board snack at the HUB at Cielo.
They have a wonderful selection of local foods like specialty cheeses from nearby Les Blancs d'Arcadie. Cielo's dome glamping sites could be viewed off in the distance.
Day 3
Day 3 started in Caraquet, with a decadent chocolate croissant at Grains de Folie and specialty coffees, where the owner/barista specializes in creating your likeness on a latte.
The Caraquet Saturday Market drew us in to browse the artisan and food stalls. Then we did a little boutique shopping at nearby Quai des artistes.
After a pop into the local Co-op, we enjoyed lunch back at our cottage then drove to Petit-Paquetville for a free facility tour, and spirits tasting at Fils du Roy Distillery.
In the evening, we savoured a 5-course, wine-paired French Cuisine tasting menu experience at Origines Cuisine Maritime, then we caught the sunset at Pokeshaw Rock.
Day 4
Day 4 started with tasty strawberry croissants and lattes at Café Maris Stella. Then we drove to Bertrand to the Acadian Historical Village. Give yourself 3-4 hours to explore as each villager has a fascinating story that gives you a glimpse into his or her unique 18th, 19th, or 20th Century Acadian Life.
Before leaving the area, we stopped one last time at the stunning cliffs at Grande-Anse and Pokeshaw Rock. We could see many folks enjoying Pokeshaw Island Beach from our lookout, but alas our time was coming to an end and home beckoned. Maybe next time… for we knew, this trip just was a taste of all there is to see and do on the Acadian Peninsula.