Winter is an amazing time to enjoy nature in New Brunswick. One of the simplest ways to get out and explore the great outdoor is with snowshoes. It can be magical when the sun is shining and the snow is sparkling. Even when the wind is howling it can feel like a true wilderness experience. After a fresh snow, the tracks left by the wildlife give a fascinating perspective on all the activity that happens in the woods – which isn't as obvious in the summer months.
Snowshoes were invented over 6,000 years ago by indigenous people who observed how some animals in winter climates had larger feet, which helped them stay up on the snow. Snowshoes have evolved a lot over the past few decades but they still have the same basic structure and function.
If you want to give snowshoeing a try, you may be asking where do I get snowshoes and where do I go. If you aren't sure you want to invest in a pair, there's good news. There are many places throughout the province where you can rent or borrow snowshoes to try. If you are looking for both snowshoe rentals and trails, there are many cross-country ski clubs and downhill ski clubs that have both snowshoes and snowshoeing trails available. Here are some that may be in your area. If you already have snowshoes you can also take advantage of these great trails.
Ski Clubs with Snowshoeing
1. MIRAMICHI CROSS COUNTRY SKI CLUB
Snowshoe trails: 6 trails (6 km total)
Fees: $5 rental + $10day pass
The Miramichi Cross Country Ski Club's snowshoe trails are progressive loops that travel through the woods behind the club, criss-crossing the ski trails. They also have over 30 km of ski trails and a new clubhouse. For more information on rates and routes check out their website.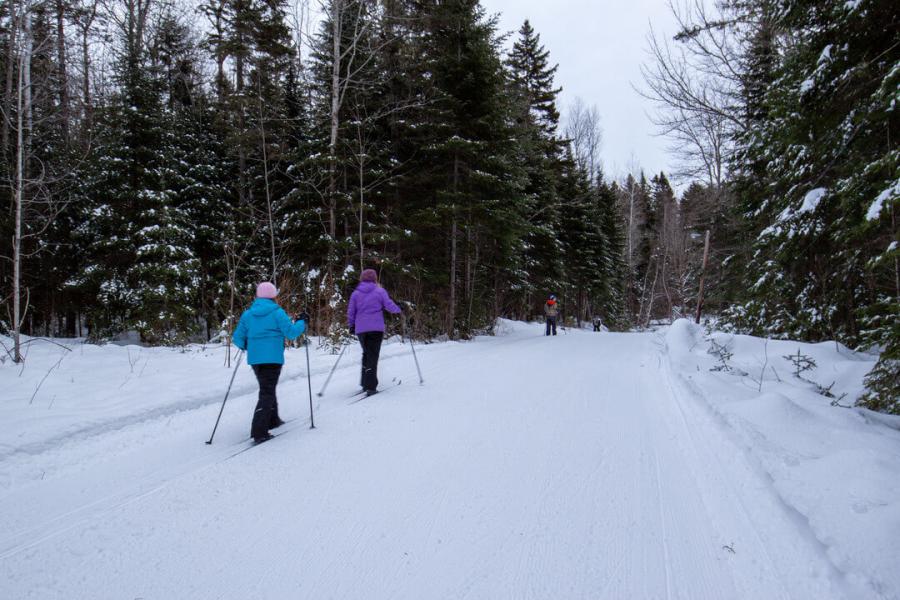 2. CENTRE DE PLEIN AIR LES ARPENTS DE NEIGE (Shippagan)
Snowshoe trail: 5 km loop trail
Fees: $4 rental + $5 day pass
The snowshoe trail at Centre de plein air in Shippagan travels through the woods and bogs on a point in the bay near Shippagan. They also have 8 km of cross-country ski trails, a walking trail, two skating rinks, two slides and a warming hut. For more information check out their Facebook page.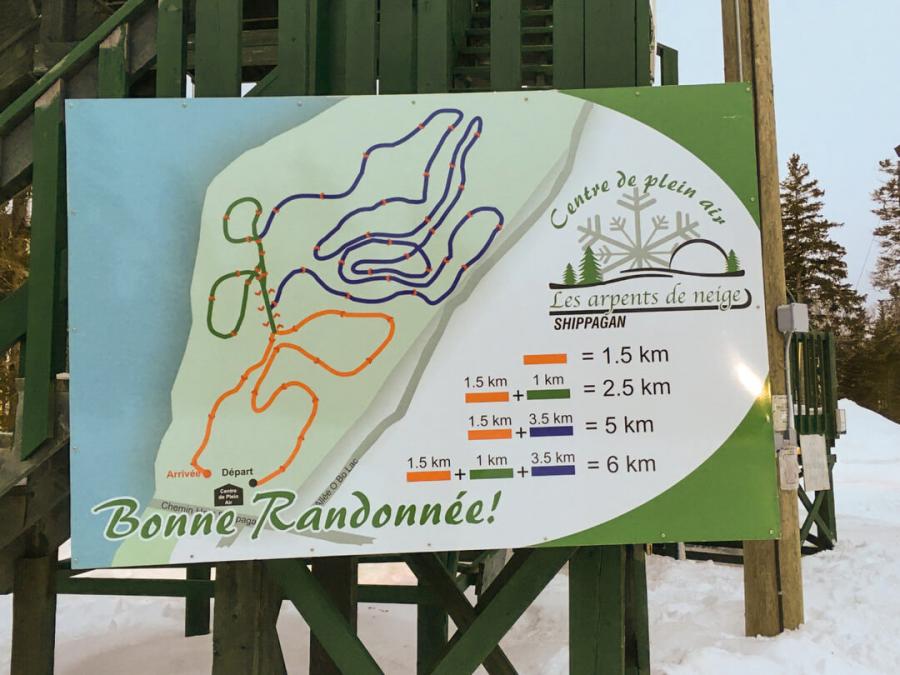 3. CLUB PLEIN AIR DE CARAQUET
Snowshoe trails: 3 loops (4.7 km total)
Fees: $7 rental + $6.50 day pass
Club plein air in Caraquet has several snowshoe trails that loop through the forest behind the club. They also have 12 km of cross-country ski trails, a skating rink and a 500-metre skating track that goes through the trees. Not only can you rent regular snowshoes, but also compact and lightweight snowshoes designed for runners – a great opportunity to try a new sport! For more information check out their website.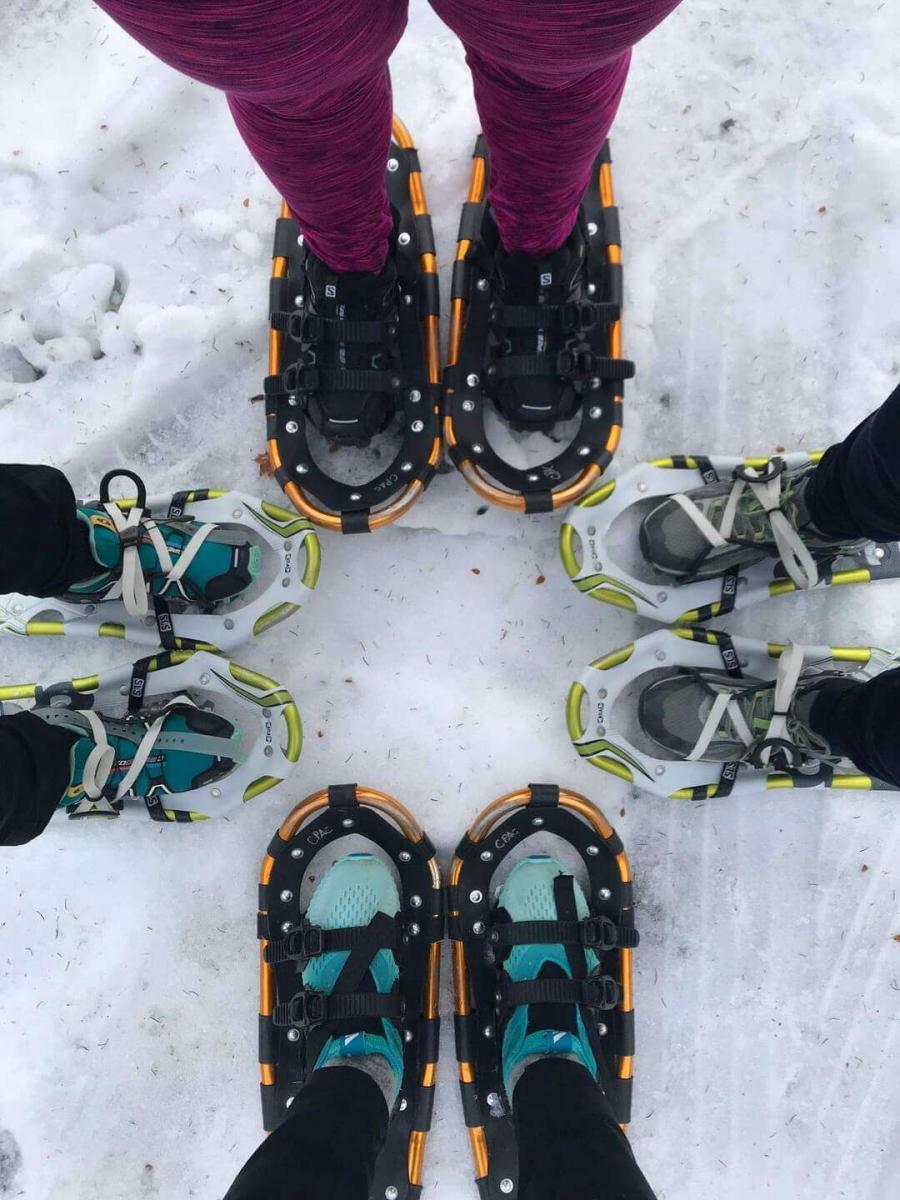 4. VALLEY OUTDOOR CENTRE (Centreville)
Snowshoe trails: 4 km
Fees: $7 day pass (rentals included)
The Valley Outdoor Centre in Centreville, near Florenceville-Bristol, is a winter destination for outdoor recreation. The snowshoe trails travel through forest and some of the groomed trails circle fields. For more information check out their website.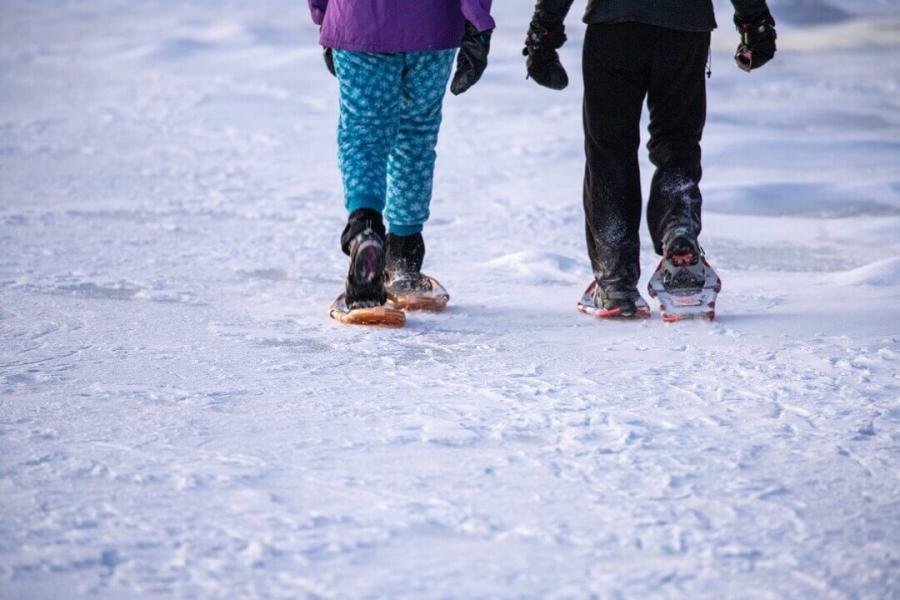 5. CRABBE MOUNTAIN (Central Hainesville, north of Fredericton)
Snowshoe trails: 3 sets of trails (over 30 km total)
Fees: $13 half day rental, $18 full day rental
Crabbe Mountain is one of several downhill ski destinations in the province but they also have snowshoe rentals and trails. There are three main groups of trails that travel through forest and fields and along old forest roads. They are 5, 8 and 20 km in length. If you explore the backcountry trails you may end up at the bottom of the ski hill. From here you can climb back up the ski hill to the lodge. For more information go to the Crabbe Mountain website.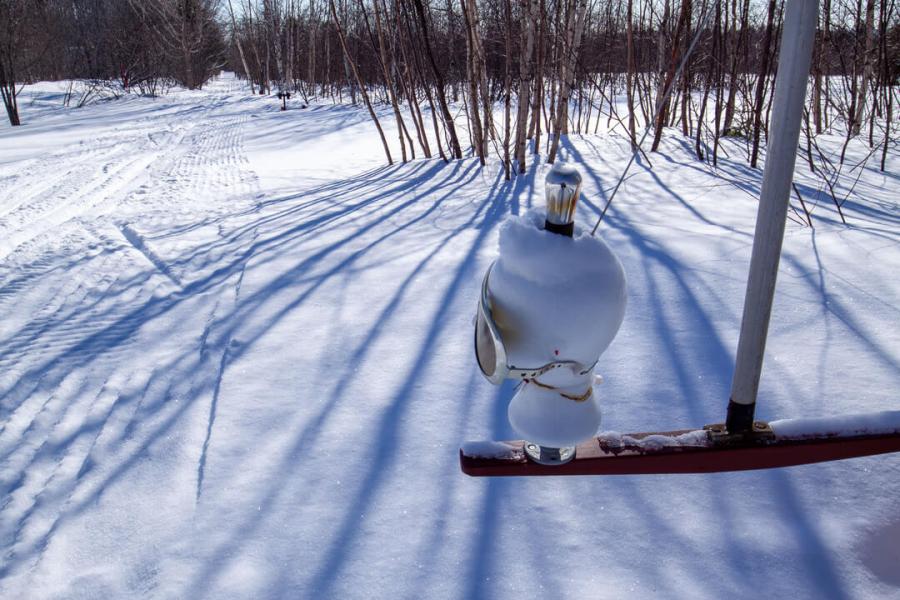 6. MOUNT FARLAGNE (Edmundston)
Snowshoe trails: 5 km loop
Fees: $10 rental for 3 hours, optional $5 lift ticket.
Mont Farlagne is another one of the downhill ski destinations in the province that also have snowshoe rentals and trails. The snowshoe trail climbs to the top of the mountain and back down, circling the ski hill.
If climbing the mountain seems like too much work you can catch the ski lift to the top of the mountain with a single use lift ticket. Then, after enjoying the views from the top, you can choose to descend the mountain on either side. For more information check out the Mont Farlagne website.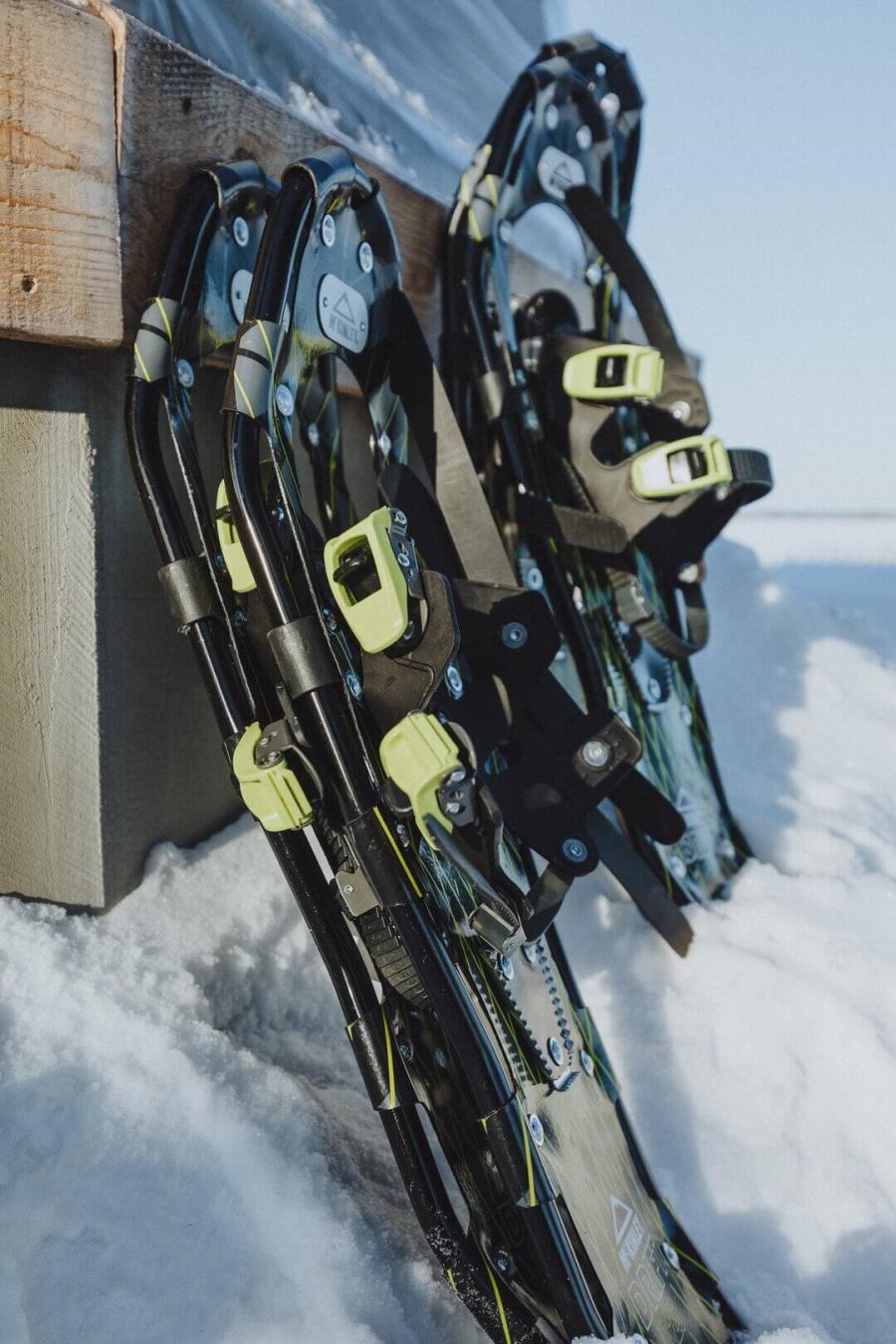 7. SUGARLOAF PROVINCIAL PARK (Les Montagnards Outdoors Club), Campbellton
Snowshoe trails: More than 15 km
Fees: $25 rental (includes the day pass to the park); $5 daily fee for accessing les Montagnards trails
Sugarloaf Provincial Park in Campbellton is the region's downhill ski destination. Les Montagnards Outdoors Club is a cross-country ski club at the top of the hill. Sugarloaf Provincial Park rents snowshoes at the main lodge. They can be used on the White Pine Trail that travels along a ridge at the base of Sugarloaf Mountain, or they can be used on the trails maintained by Les Montagnards for an additional $5. If you purchase a season pass to Les Montagnards ($60), snowshoes are available free of charge at the Montagnards' chalet. The Montagnards trails travel through the forest behind the mountain and circle historic Prichard Lake. Back in the early 1900s there was a farmhouse at one end of the lake that was used by fishermen who came to fish for trout while the salmon weren't running in the river. Now the site is marked by a single fenced in Prichard family grave. The trails also travel along the top of the ski hill offering views of Sugarloaf Mountain. For more information go to the Sugarloaf Provincial Park website.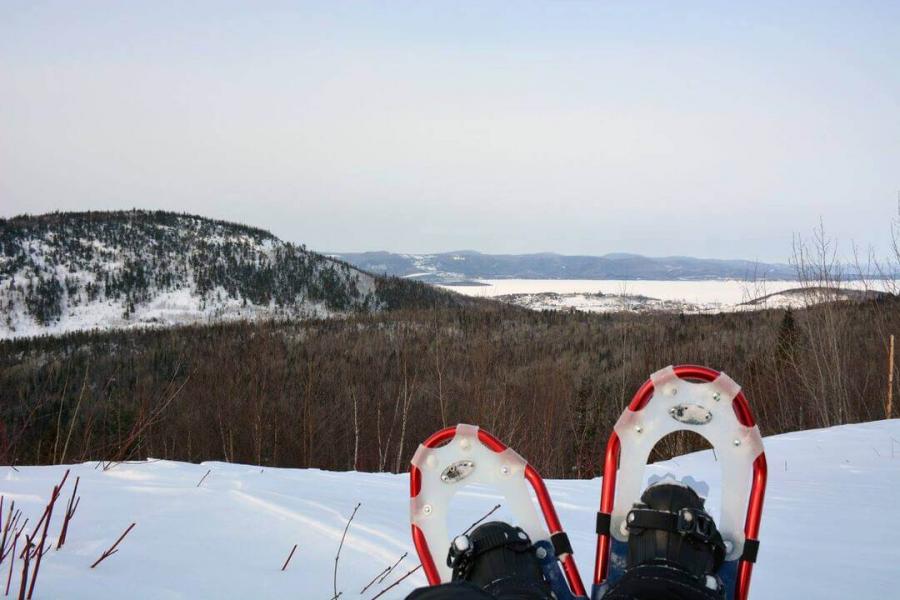 Parks with Snowshoeing
Many provincial and federal parks in New Brunswick are open year round and offer snowshoeing trails and rentals.
8. MOUNT CARLETON PROVINCIAL PARK (near Saint-Quentin)
Snowshoe trails: 7.7 km + park roads
Fees: free (first come, first serve)
In the past several years Mount Carleton Park has expanded their winter offering to include cross-country skiing and snowshoeing. Both are available free of charge and are first come, first serve. They have also just finished building an amazing lodge on the shores of Nictau Lake. You can snowshoe for 4 km across Nictau Lake, passing by ice fishing shacks at the base of Mount Sagamook, or get a different view of the mountain range from the lookout on top of Mount Bailey. The Mount Bailey trail is a 3.7 km steady climb. Make sure you give yourself lots of time. Days are short in the winter and even shorter in the mountains. To give you an idea, watch this video of our cold hike on Nictau Lake and up Mount Bailey. (Note that fatbikes are no longer available at the park.)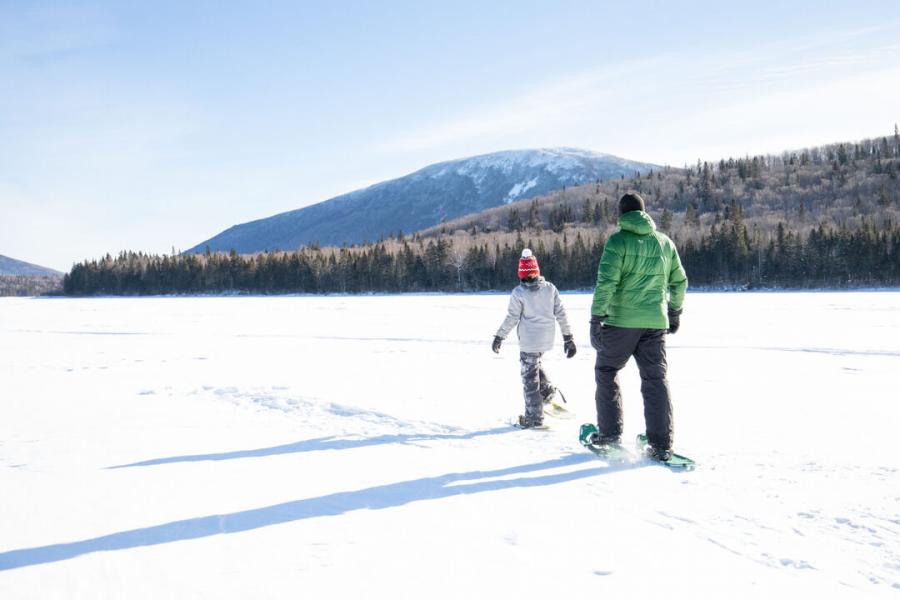 9. MACTAQUAC PROVINCIAL PARK (near Fredericton)
Snowshoe trails: over 6 km mixed
Fees: free (first come, first serve)
If you are in the Fredericton area and looking for a place to get out this winter check out Mactaquac Provincial Park. Mactaquac Park has snowshoes, skis, tubes and fat bikes available for rent in the golf course clubhouse, at the far right of the building. The park has about 6 km of groomed trails throughout the golf course and in the wood trails behind the Administration building on the west side of route 105. For a map of the trails check out Hiking NB's Mactaquac Provincial Park page.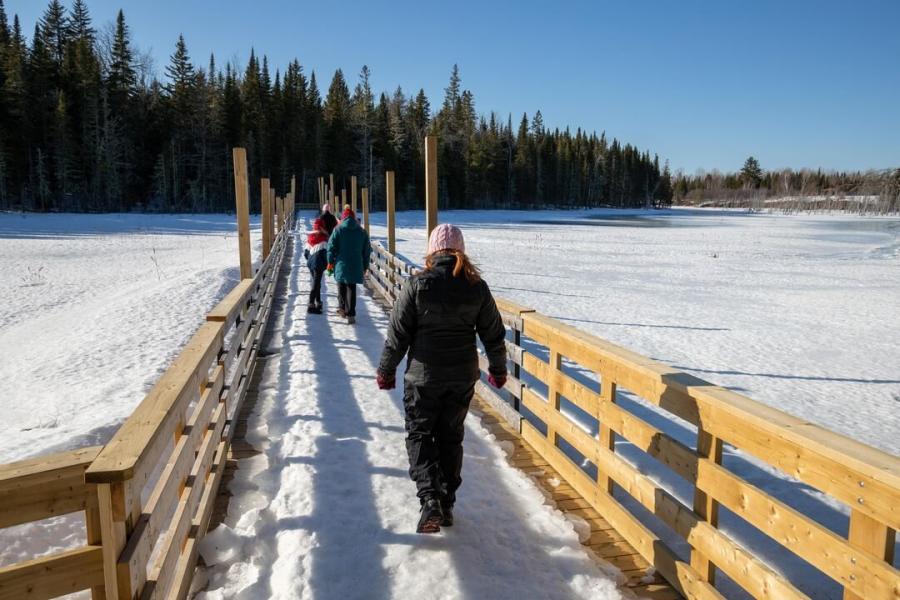 10. FUNDY NATIONAL PARK
Snowshoe trails: 23 km groomed + 24 km ungroomed
Fees: rentals are $10 for a half day, $15 for a full day, or $25 for a weekend + $8.50 day park pass
Another park that has expanded their winter offering in the past few years is Fundy National Park. Several years ago we had the chance to snowshoe into one of the rustic cabins that can be rented. At the time the cabins were uninsulated but we were prepared. The cabins are now insulated and they have additional winter camping options. It was amazing to go outside after dark to a winter wonderland with millions of stars overhead and the lights of Alma below.
The park has groomed trails for fat biking (23 km), skiing (18 km) and snowshoeing (23 km) at the Chignecto Pavillion across from the Chignecto Campground. There are also an additional 24 km of ungroomed trails and roads available for snowshoeing. If you want to try something different they also have Skishoes available to rent. As their name implies they are a cross between skis and snowshoes. They are ideal for any experience level. Snowshoes and skishoes can be rented at the Headquarters visitor centre. For more information go to the Fundy National Park in Winter page. For more information on some of the trails go to the Hiking NB page for Fundy National Park.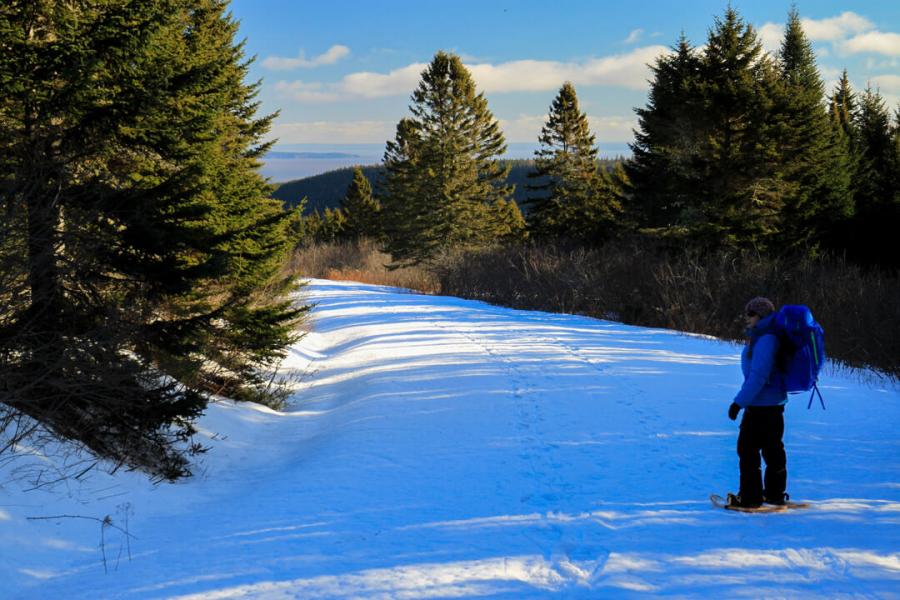 11. KOUCHIBOUGUAC NATIONAL PARK
Snowshoe trails: 3 trails (30 km total)
Fees: $6 for half day, $10 for full day rental + $8.50 daily park pass
Kouchibouguac National Park has been opened in the winter for as long as I can remember with their many kilometres of groomed cross-country ski trails. I remember going here as a kid with my scout group and sliding at the Patterson Shelter. Snowshoe rentals are available at the Pijeboogwek winter activity hub. They don't have a lot of snowshoes available to rent so make sure you call ahead and reserve. Skishoes are also available to rent at Kouchibouguac Park if you want to try something new.
The park has over 30 km of trails marked specifically for snowshoeing. From the Pijeboogwek winter activity hub there is a trail through the woods along the groomed ski trail. This trail accesses the Patterson Shelter and the Kouchibouguac River Trail. The Kouchibouguac River Trail follows the tidal river for over 11 km. It is also possible to access the middle of the River Trail via the footbridge that crosses the river. For more information check out the Kouchibouguac National Park Winter Activities page.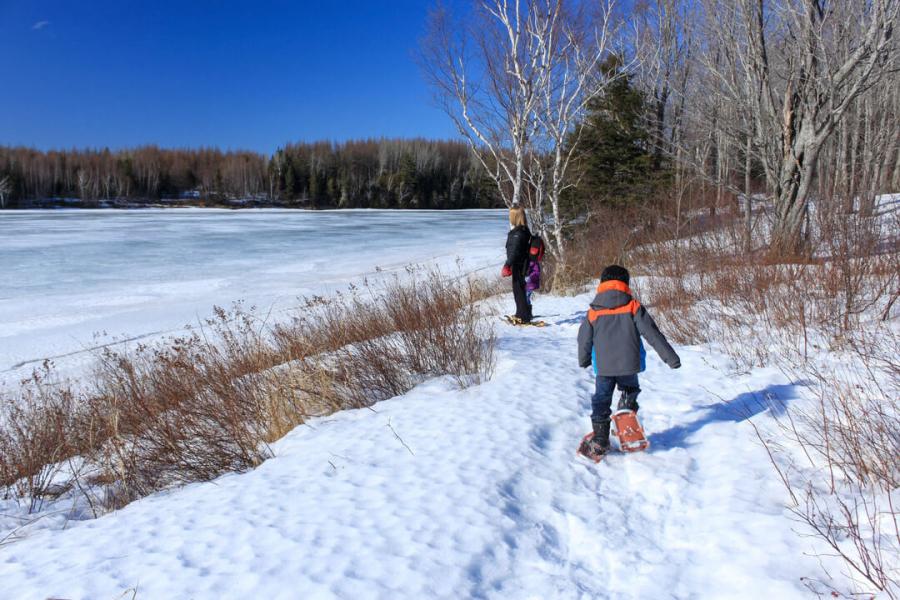 12. CENTENNIAL PARK AND MAPLETON PARK (Moncton)
Snowshoe trails: 1 trail (700 m) at Centennial Park; 8 trails (4 km total) at Mapleton Park
Fees: $10 for a 2-hour rental, $15 for 3 hours, $30 for 24 hours (plus HST)
If you are in Moncton, you can rent snowshoes at Centennial Park and Mapleton Park. Snowshoe rental allows you to explore trails beyond their maintained walking trails. Centennial Park has 2 km of trails dedicated to snowshoeing. It is a great way to try snowshoeing without ever leaving the city.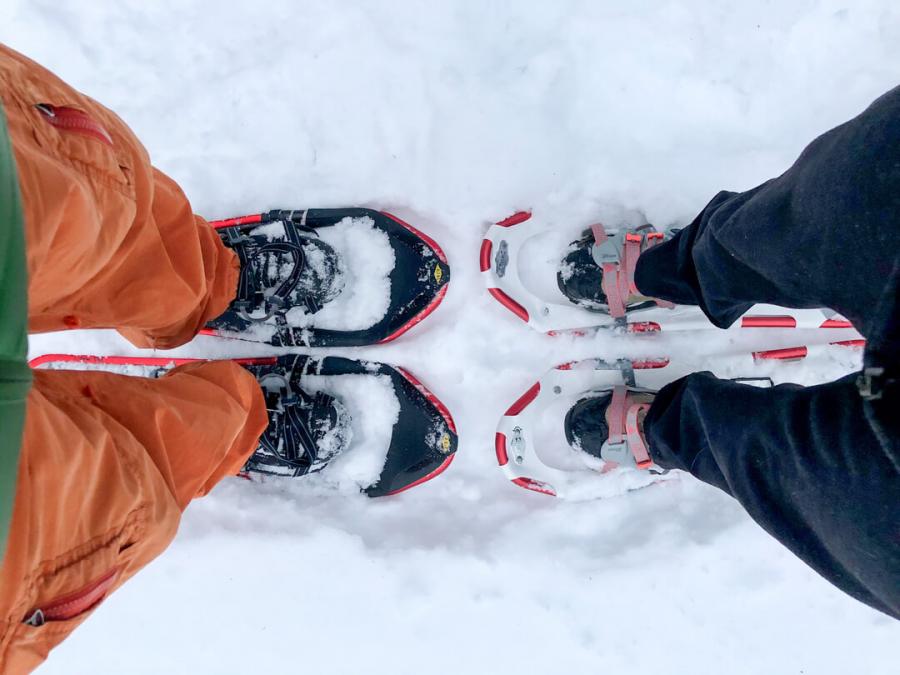 13. DALY POINT NATURE RESERVE (Bathurst)
Snowshoe trails: 8 trails (5 km total)
Fees: by donation
Daly Point Nature Reserve is one of our favourite places to snowshoe in the province, mostly due to their friendly birds. The park's trails travel through forest, fields and wetlands, and are usually well packed from snowshoe traffic. They provide views of Bathurst Bay and have many bird feeders where the friendly birds can be found. They also have a local fox named Todd who is frequently seen around the park. Snowshoes are available by donation to support the park. They are available between 10am and 3pm on Mondays, Tuesdays and Thursdays, and alternating Saturdays and Sundays. If you are planning to rent snowshoes, it would be best to send a message on Facebook to confirm their availability. They also have guided snowshoe outings and full moon walks a few times each month. Follow their Facebook page for details. For more information on the trails in the park go to the Hiking NB page for Daly Point.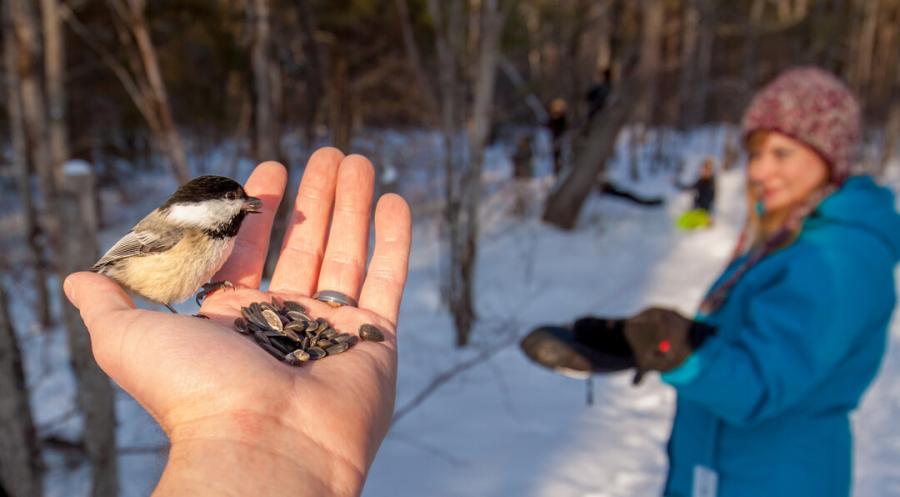 Other Locations to Snowshoe
If you want to make your trip a more memorable experience, and maybe stay for a day or two, you may also want to consider one of the following businesses that offer snowshoeing.
14. ELMHURST OUTDOORS (Kingston Peninsula)
Snowshoe trails: 8 trails (13.7 km total)
Fees: $12 rental + $12 trail pass ($10 each for kids under 12)
Elmhurst Outdoors offer many outdoor experiences including snowshoeing. You can explore the trails on your own or they have guided snowshoe hikes. They also have Moonlight Snowshoe Hikes throughout the season. If that's not enough of a challenge, you can try the Laughin' Louie 4-kilometre snowshoe challenge. For more information on their winter activities check out the Elmhurst Outdoors website.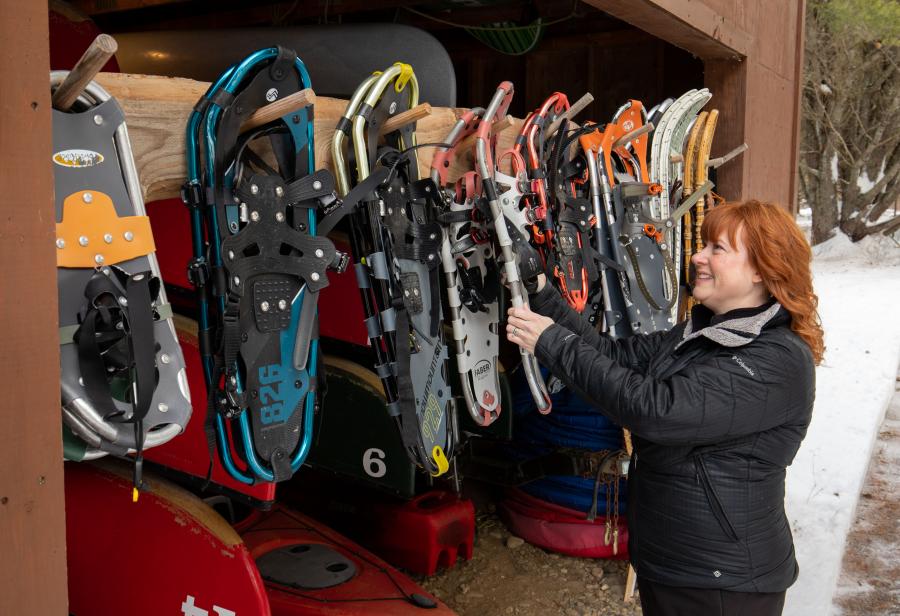 15. STOREYTOWN COTTAGES (Doaktown)
Snowshoe trails: 3 trails (6.5 km total)
Fees: $5 day pass (rentals included)
Storeytown Cottages are nestled on a hillside overlooking the Miramichi River just outside of the village of Doaktown. It is an amazing place to stay in both summer and winter. In the winter the hill down to the river becomes a sledding hill. They also have snowshoes that you can borrow free of charge if you are staying there. The snowshoes can be used on their three trails through the forest. The best part is that if you rent the right cabin you can return from the adventure and warm up in an outdoor hot tub. They have 5 cottages of various sizes and several kitchenette suites available.
Here's a map with all the suggested locations:
There are so many snowshoeing options in New Brunswick, even if you don't own your own snowshoes. If you wanted to venture beyond these suggested locations check out my Top Trails for Snowshoeing and Winter Hiking blog post. If you still needed to rent or borrow snowshoes check out this complete list of places that have them available. Did you know that there are even several libraries in the province where you can sign out snowshoes with your library card, just like signing out a book? You can also rent snowshoes at many of the outdoor equipment dealers in the province.
Now that you know where to get snowshoes and find trails I hope that you get out and enjoy winter in New Brunswick. It's way better than staying inside for several months and it may change your views about winter. There is so much to explore. Everything looks different in winter. Look for the magic of winter and you just might find it. You just may have one of the most memorable adventures of your life.