If you call New Brunswick home, you might know the versatile terrain of this Maritime province full of cliff sides, slab rock, river and stream crossings, loamy mixed Acadian forests, beach and sand. And the best way to experience it all? On two wheels!
New Brunswick is becoming a hot spot for outdoor adventures on the East Coast of Canada. These destinations are alongside welcoming small communities and bustling large cities that are full of local sites to explore. Whether you enjoy music, food, craft brews or history and sightseeing, they all have something different to offer. As Advocate for local initiative Mountain Bike Atlantic, we at Be Rad Adventures refer to mtbatlantic.com for inspiration for our road trips.
Mountain biking's popularity is on the rise, and New Brunswick is on track to become a must-do destination for this sport. Over the past few years, several locations in New Brunswick have brought in professional trail builders to help design and build mountain bike specific trails. This has inspired local groups to continue building and maintaining the trails in their communities. Overall, these groups have collectively developed a diverse variety of trails all over this province.

Here are the recommendations from the Be Rad Adventures team for a rad experience by mountain bike in New Brunswick!
The Appalachian Mountain range extends its reach well into our province. This mountain chain and the Laurentide ice sheet have created a versatile terrain full of dynamic coastlines, river valleys, cliff faces, and mossy forest floors. The trails carved through the Acadian forests and over the undulating bedrock offer a unique way to explore this province. New Brunswick is a hidden gem that offers so much in addition to the amazing seafood, music, and coastlines.
Did you know that the city of Edmundston has over 40 km (25 mi.) of single-track trails for all mountain bike levels and the locals are among the most welcoming community members we have met on our travels?! A quick conversation leads to recommendations to ride through the hardwood forest at Sentiers Madawaska Trails, and stop into Petit-Sault Brewers for the local experience.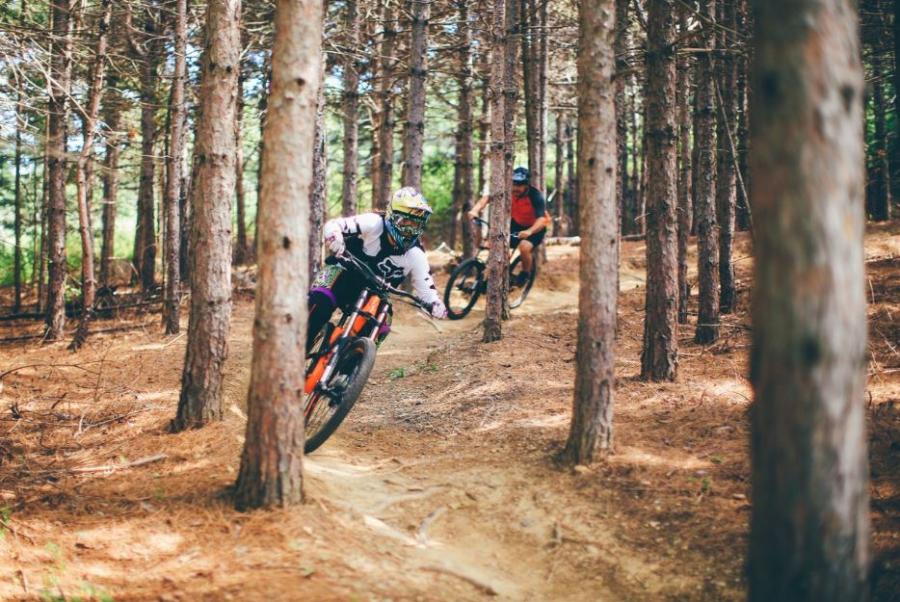 Looking for the thrill of going downhill? Sugarloaf Bike Park in Campbellton offers chair lift access to a variety of gravity driven flow and jump trails, perfect for getting the adrenaline flowing. With a new pumptrack, and expanding cross-country trail offerings, it is not surprising that this bike park is often rated as one of the best! Sugarloaf is a must ride and we recommend booking one of the ChAlets to stay slopeside and unwind after a full day of riding.
If you find yourself on the Acadian Coastal Drive, we recommend a stop in Bathurst at MFB Chaleur for some old school tech and on to Club plein air Caraquet for some flow before indulging in oysters and wine at Cielo.
Miramichi requires a stop at French Fort Cove and a post-ride stroll along the river. Further south, stop in Rotary Park in Dieppe to bike through the pumptrack before a stay in downtown Moncton. This bustling city has a huge variety of food, drink and nightlife. Fuel up with a cinnamon bun at the Cinnamon Soul Cafe before hitting the white gypsum trails in White Rock Recreation Area in Hillsborough. This trail network is gaining popularity due to the growing variety in trails for all levels of bikers. We recommend ending the day with Rocco's Cucina for pizza.
Fundy National Park along the beautiful Bay of Fundy has been a top destination for hiking in New Brunswick for many years and has recently been developed for mountain biking. The trails will make you work hard to get to the top but are undeniably worth the climb. The ocean views and pristine forest terrain are one of a kind and the seaside community of Alma at the end of the trail will be a welcomed sight after a good workout. One of our favourite post-ride snacks to enjoy after laps of White Tail is a sticky bun from Kelly's Bakery, followed by a locally crafted brew from the Holy Whale.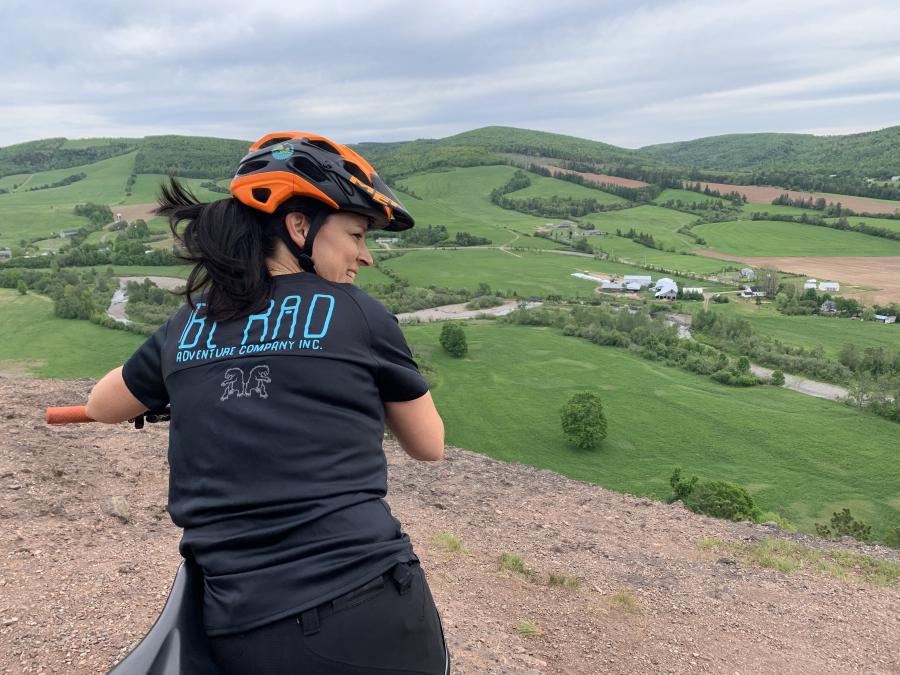 The trails in the small community of Sussex offer some stunning views. This picturesque valley of rolling hills and farmers fields makes this one of the best locations for a fall visit. The Sussex Bluff Trail will get your adrenaline pumping with the steep climb that ends with an epic landscape that will have you taking out your camera, for sure. After a stop at the Sussex Ale Works and Outdoor Elements for all your brew and gear needs, keep travelling on to Poley Mountain to experience New Brunswick's newest chairlift access downhill trails!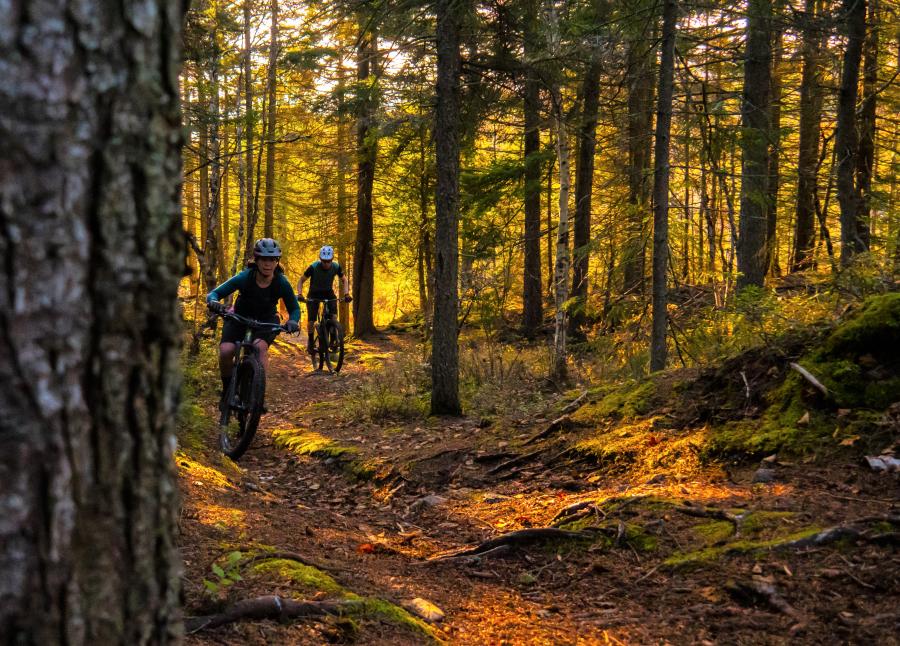 Want the challenge of technical trails with lots of rocks and roots? Rockwood Park in Saint John is home to old school cross country trails and new trails designed to develop specific skills. With over 40 km (25 mi.) of single-track trails for beginners and advanced riders alike and only a 5 minute drive from the port city of Saint John centre, this destination is a great way to blend biking and city exploring. Saint John is our local riding spot and one of our favourite hangouts after a ride in Rockwood is Picaroons-Pomodori Pizzeria located in the heart of uptown. You cannot go wrong with this classic combination of locally brewed beer flights, and woodfire-oven pizza in the same place! I mean, pizza and beer?! Such a logical combination. We are also big fans of the conveniently located Britt's Rockwood patio located at the Rockwood Park golf course. Our favourite radler is hands-down the local Pumphouse Crafty Radler, and Britt's has it on tap! There are many other great food and drink locations uptown that offer a huge variety of food, patios and beer from local craft breweries.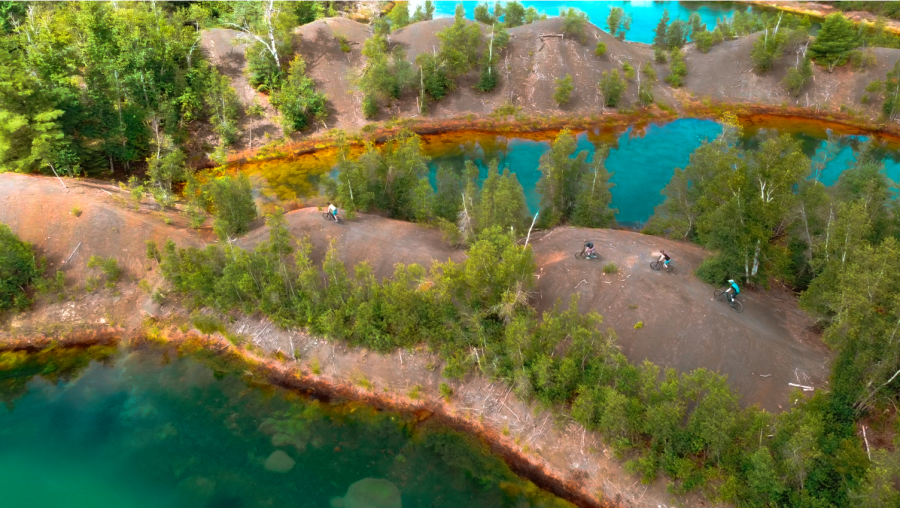 Are you an avid flow seeker? The Mountain Bike Minto trail network, just east of the city of Fredericton, is the destination for you! Built on an old coal mine, Minto is a flowy roller coaster with lots of fast, steep sections that will be sure to have you smiling the whole way through. Bonus is you get to ride between turquoise pools of water, perfect for a photo-op. It's a place that you need to experience with your own eyes! The Capital City also has a great selection of trails. 
Whether you are staycationing or thinking ahead to future adventures, keep these New Brunswick destinations in mind! Save the lobster roll and locally crafted beer for the après, and hop on your bike to explore this rad province in a unique way. See you on the trails!