New Brunswick is a year round destination known for our welcoming nature, scenic beauty and diverse outdoor activities. When the snow begins to fall, we transform into a winter wonderland with over 8,000 km (5,000 mi.) of groomed snowmobile trails waiting to be explored!
Experience the magic of winter in New Brunswick by hopping on a snowmobile and taking in an adrenaline-pumping adventure along our coastal and forest trails.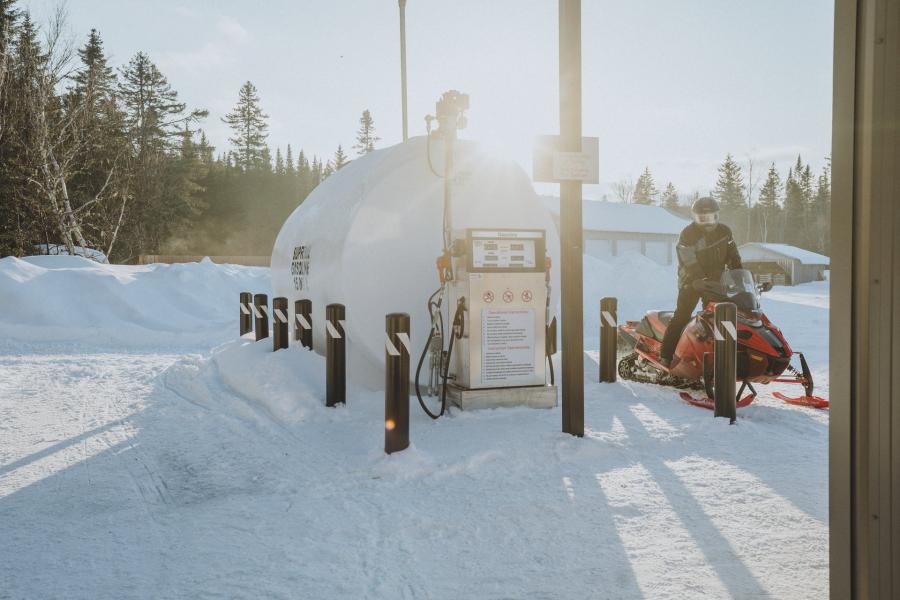 Where Can I Snowmobile in New Brunswick?
With so many trails to choose from, how do you decide where to go first?
Snowmobile NB, New Brunswick's snowmobile clubs federation, has an interactive live map with up-to-date information about all of the trails and their grooming status. 
Snowmobile NB has three Provincially designated Signature Trails offering something for everyone, whether you're a seasoned rider or a novice. 
The Northern Odyssey is also a great starting point for planning your snowmobile trip to New Brunswick, with plenty to explore on their website, including accommodations, trails, restaurants and more. 
New Brunswick's Signature Snowmobile Trails
The Historic Highlands
293 km (182 mi.)
Woodstock, Florenceville-Bristol, Juniper, Perth-Andover, Nackawic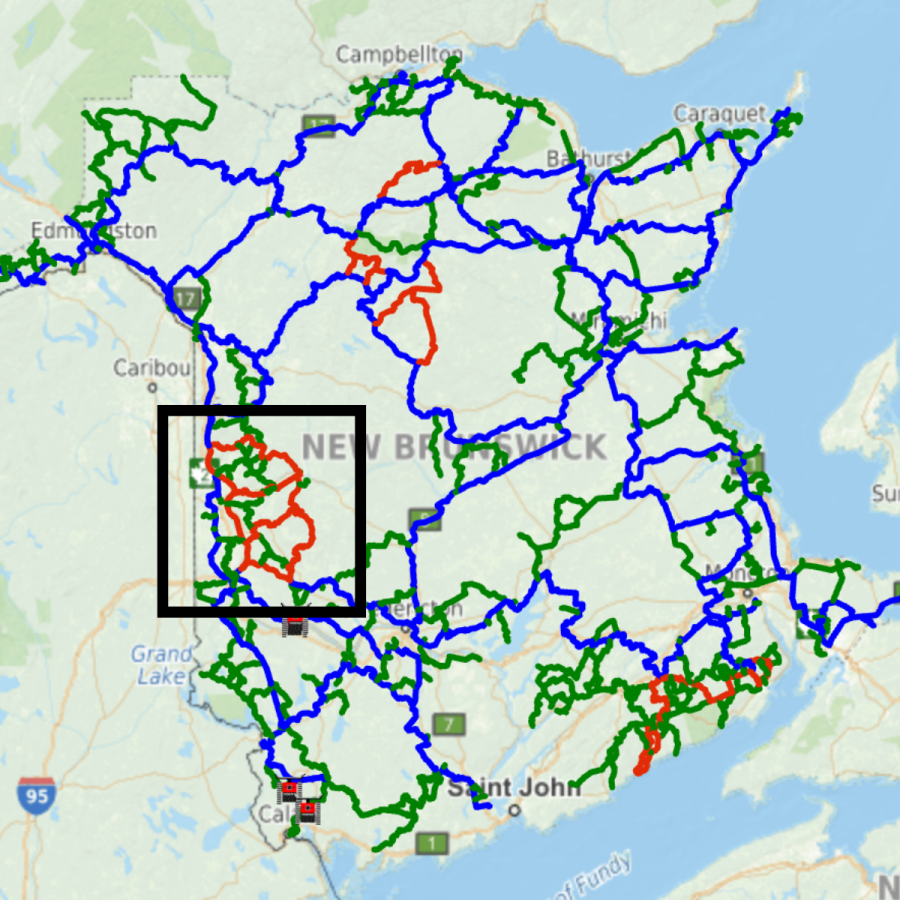 Located next to the border of Maine, The Historic Highlands blend adventure and cultural exploration in regions along the iconic St. John (Wolastoq) River.
What Makes it Stand Out?
Snow-covered valleys and dense forests are the perfect backdrop as riders explore this historic and culture-packed part of New Brunswick. Make sure to check out the longest covered bridge in the world, The Hartland Covered Bridge.
Accommodations With Trail Access
Amsterdam Inn (Florenceville-Bristol)
Best Western (Woodstock)
Grab a Bite
The Village Pour House (Juniper)
Knight's Inn (Woodstock)
The Christmas Mountains
450 km (279 mi.)
Bathurst, Saint-Quentin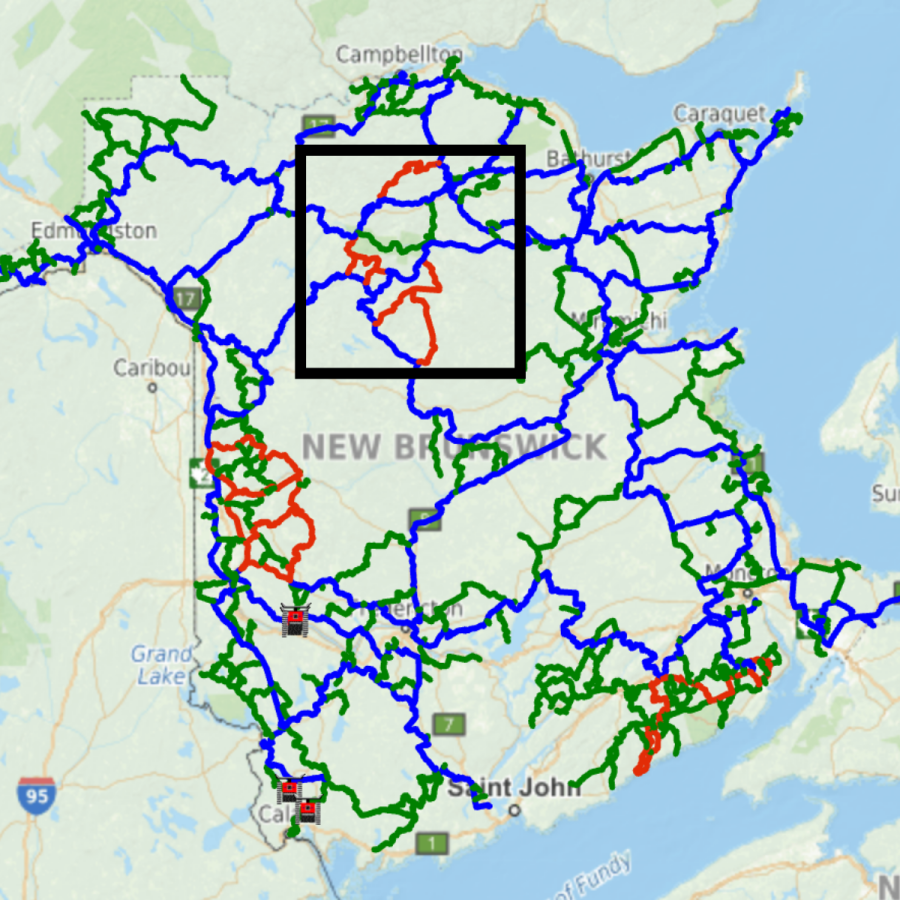 Named after New Brunswick's picturesque Christmas Mountains, these trails offer a unique blend of adventure and classic East Coast charm. 
What Makes it Stand Out?
Situated in the North of the province in the heart of the Appalachian Range, The Christmas Mountains are more isolated than other trail networks, and offer serenity with access to modern comforts with newly constructed lodges and fuel stations.
Accommodations With Trail Access
Mount Carleton Lodge (Mount Carleton Provincial Park)
Atlantic Host Hotel & Conference Centre (Bathurst)
Serpentine Lodge (Southesk)
Rogers Lake Lodge (Northesk Parish)
Danny's Hotel Suite Events Centre (Beresford)
Quality Inn & Suites (Bathurst)
Auberge Ressources Inn (Route 180)
Grab a Bite
Mount Carleton Cafe (Mount Carleton Provincial Park)
The Fundy Highlands
225 km (140 mi.)
Caledonia Mountain, Riverview, Sussex, Alma, Shepody, Fundy Trail Parkway, St. Martins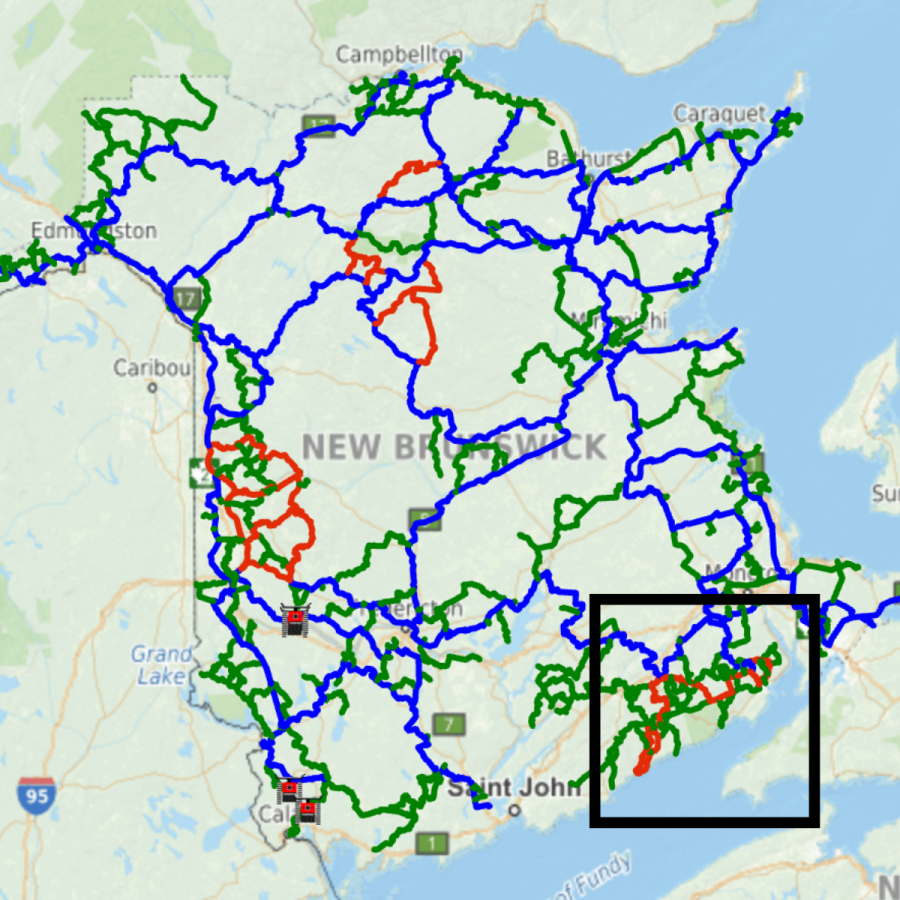 What Makes it Stand Out?
Find yourself snowmobiling beside the wintery expanse of the Bay of Fundy, with its towering cliffs and dramatic tides. The Fundy Highland Trails are scattered across the South-East of New Brunswick in the Fundy region - offering beautiful coastal views and unique natural landscapes found only in the Fundy Biosphere.
Accommodations With Trail Access
Adair's Wilderness Lodge (Shepody)
Broadleaf Guest Ranch (Hopewell Hill)
Cave View Cottages (St. Martins)
Sandstone Chalets on the Bay (St. Martins)
Tide Watcher's Cottage (St. Martins)
Grab a Bite
Hillsborough Golf Club (Hillsborough)
Broadleaf Guest Ranch Restaurant (Hopewell Hill)
Poley Mountain Resort (Sussex)
Old Molly's Bar (St. Martins)
Kolody's Perogies (St. Martins)
The Northern Odyssey
1,500 km (932 mi.) 
Edmundston, Restigouche, Chaleur, The Acadian Peninsula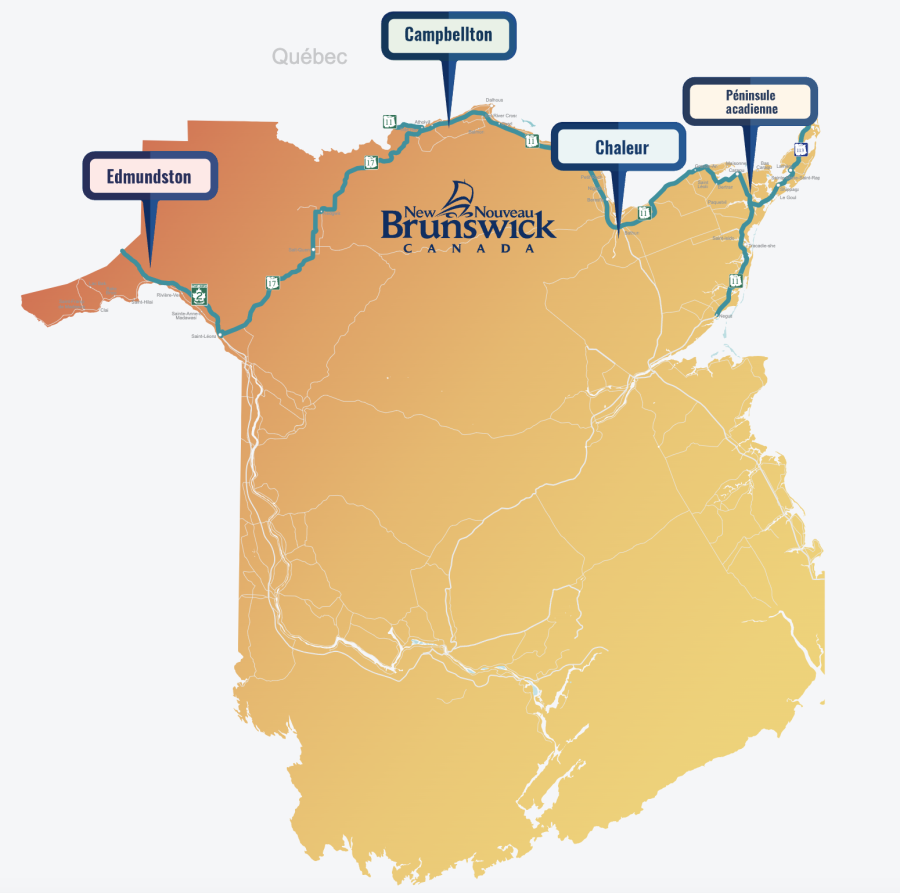 The Northern Odyssey is a network of trails that run through four major communities in Northern New Brunswick. Composed of over 1,500 km of trails in the Northernmost region of the province, this is a loop that absolutely cannot be missed.
What Makes it Stand Out?
Spanning from the stunning Bay of Chaleur, to the serene wilderness of the Restigouche region, the Northern Odyssey trails promise a thrilling adventure for snowmobilers. With a network of well-groomed paths, riders can expect a smooth experience as they traverse snow-covered forests, frozen rivers, and picturesque scenery.
Accommodations With Trail Access
Grey Rock Edmundston (Edmundston)
Dalhousie Island Lake Club (Dalhousie)
Tabusintac Chalets (Tabusintac)
Atlantic Host Hotel & Conference Centre (Bathurst)
Travelodge Edmundston (Edmundston)
Grab a Bite
Microbrewery SANFAR & Resort (Tide Head)
T Bar Restaurant (Atholville)
Smoke on the Water (Campbellton)
Chantal's Steakhouse (Edmundston)
Auberge de la Baie (Caraquet)
Plan Your New Brunswick Snowmobile Itinerary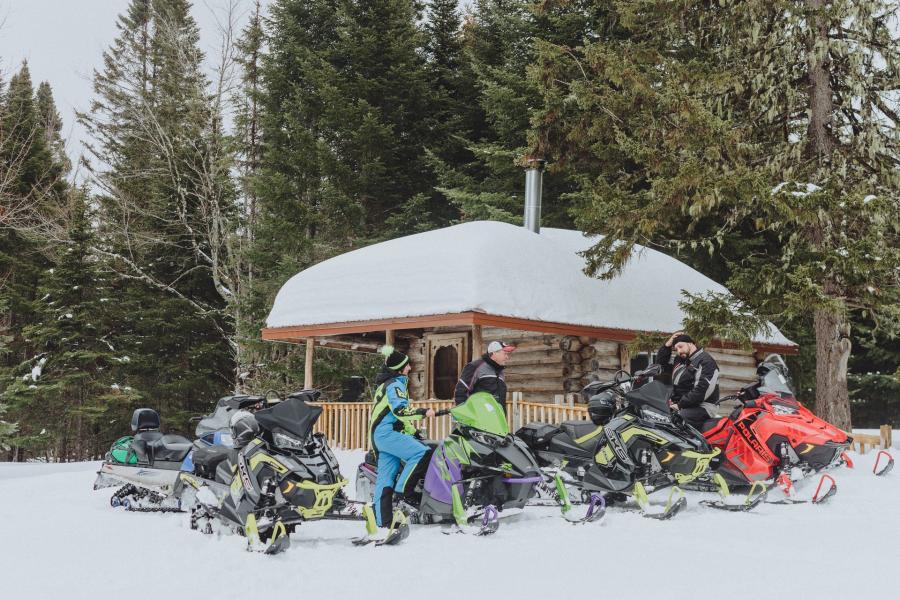 New Brunswick is an incredibly popular destination for snowmobiling and people from all over come just to experience our stand-out trails.
We recommend you plan and book your trip as early as possible to avoid missing out on our top accommodations. One of the best parts about the snowmobile trails in New Brunswick is that they aren't too crowded - so accommodations directly on the trail can be limited.
For even more trip planning ideas and resources, check out all of our snowmobile information here.