Mountain biking in the winter? Are you sure about that?
YES! Winter mountain biking might not be the first winter activity that you think of but there has been a surge in its popularity here in New Brunswick over the last couple of years. There is no longer a need to avoid your favourite local trails for half the year. Instead of maneuvering over roots and rocks, you will be gliding down icy paths and snow packed trails. It's a guaranteed cure for the winter blues!
You do not have to travel far in New Brunswick to find some excellent winter riding. Most of your favourite warm weather trail systems now see riders all year long. As winter riding becomes more popular, the trail communities are working on expanding and grooming their winter riding trails. Many of these local destinations are alongside warm and welcoming communities that are eager to host your winter getaways.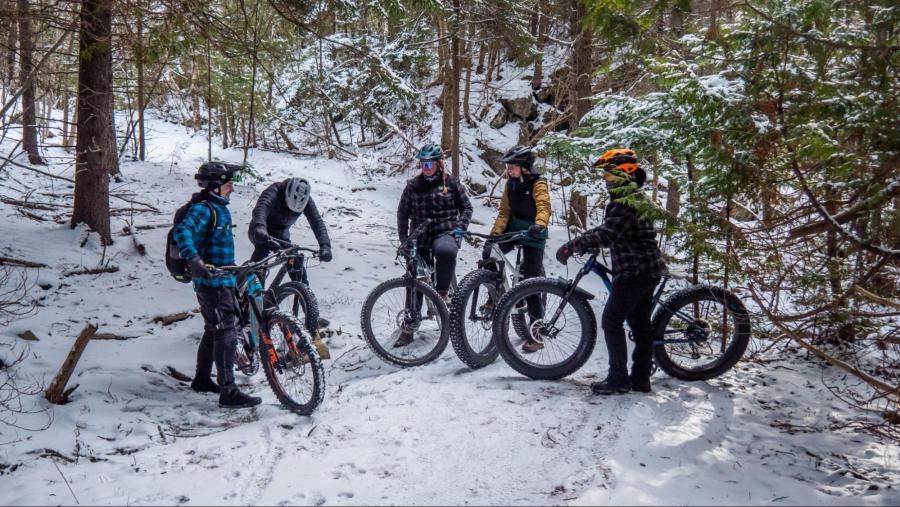 Depending on the type of trails you will be riding, your gear may change to best fit those conditions. Fat bikes ride on top of the snow, like having snowshoes on your tires, whereas studded tires are used for better traction on ice. You can also have the best of both with studded fat bike tires! 
We live in an area where snow and ice cover our trails for almost half a year so why not make the most of it! With the proper gear, mountain biking in the winter is as enjoyable as warm weather riding. You would be surprised at the control you have in the snow and ice with the correct equipment.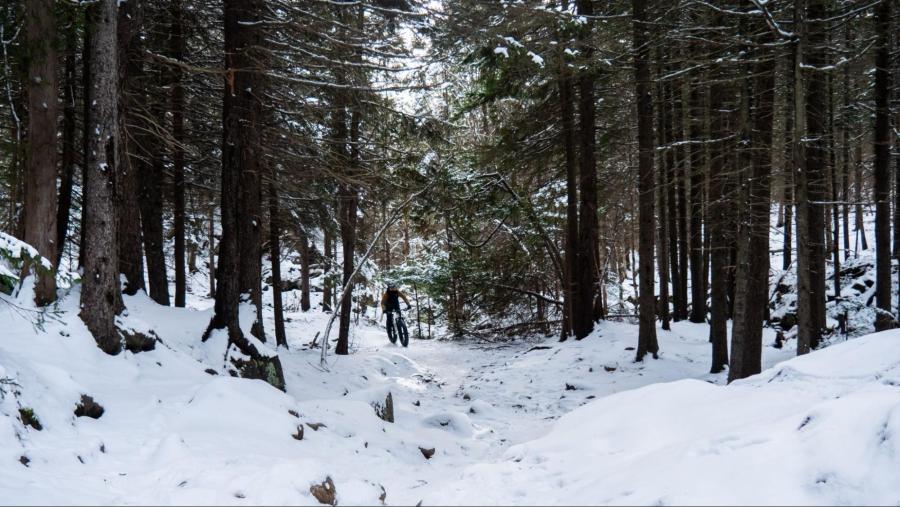 Here are some gear suggestions to get you started for winter riding:
• Fat bikes: Fat bikes have oversized tires that are excellent to ride in the snow. The frame is specifically designed for the wide tires and enables riders to stay on top of the snow.
• Studded tires: Studded tires give you extra grip on icy trails. Make sure to let some air pressure out to give your tires a wider area to grip the trail. These tires can be mounted on your "normal" summer mountain bike!
• Lights: Mounting lights onto your bike can be an easy way to extend your riding time into the evening hours, especially during the winter when daylight is limited. More lumens the better!
• Proper clothing: Layers layers layers! Proper attire is essential during winter riding. Make sure to wear many warm layers that can be removed as you warm up and added when you cool down. A lightweight but warm pair of biking gloves are also important!
• Flat pedals: You might want to consider trading in your clip-in pedals for your flats. Ice and snow can build up making it hard to clip in. 
New Brunswick's warm weather mountain bike trails are versatile across the province, and this is also true for winter riding. Here are some of our favourite winter riding locations!
Northern NB
Mont Farlagne is located in Edmundston, in northwestern New Brunswick, and has fat bike rentals in addition to skiing and snowshoeing. With intermediate and beginner trails and the option to use the lift up the mountain, there is something for everyone to enjoy.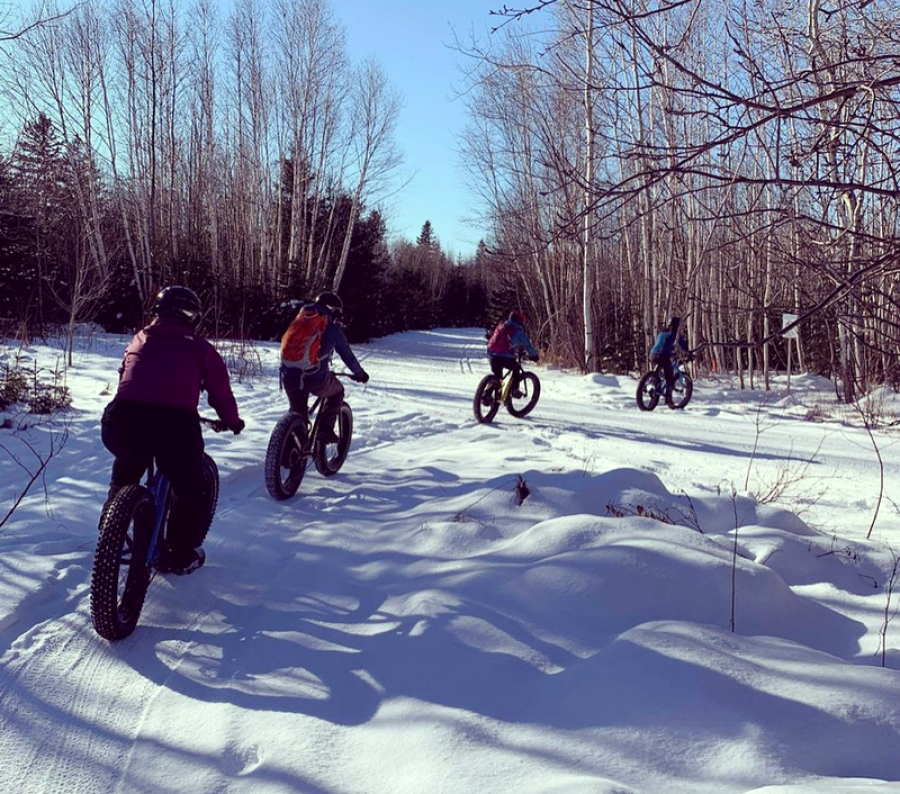 Mountain & Fat Bike Chaleur (MFB Chaleur) is located in Bathurst and is close to the local food and drink hubs. The trailhead starts at the "Fat Shack" where you can access outdoor tools and pick up your fat bike rental (book by calling the KC Irving Regional Centre at 548-0410 Monday-Friday between 8am and 4pm). There are 12 km of groomed trails for winter riding with plans to expand this year! Studs are nice but fat bikes are the preferred choice here. MFB Chaleur has beginner to advanced biking trails as well as cross-country ski and snowshoes trails, so there is something for everyone! We recommend trying 'The Roots' trail for a scenic ride through the snow-covered trees and try 'No Brakes' if you are looking for a rush.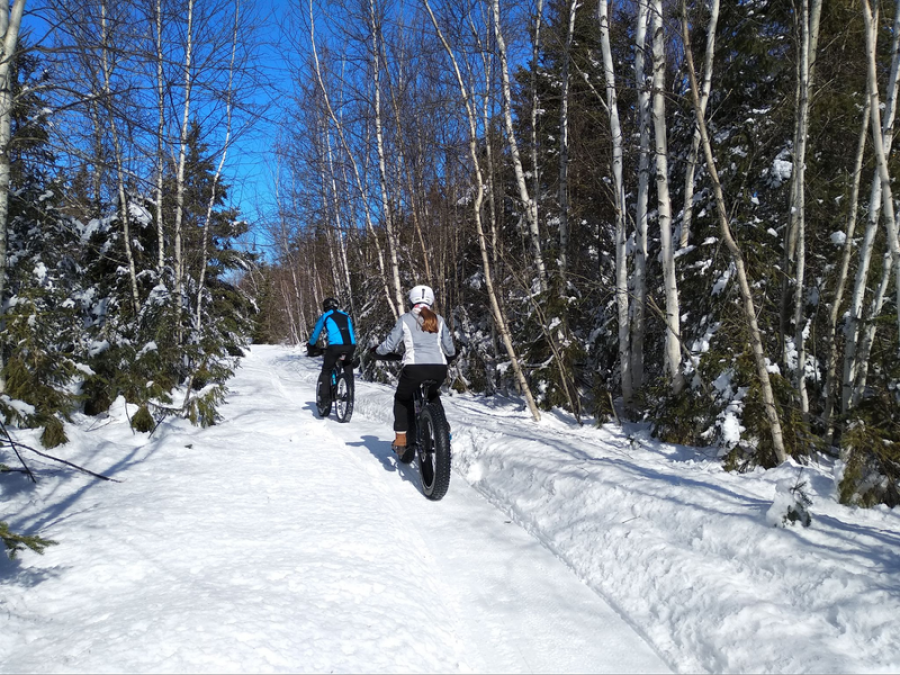 Club plein air de Caraquet has over 8 km of flowy, wooded trails for you to enjoy! These bike-only trails are beginner-friendly and regularly groomed by dedicated volunteers. Check out their website to find gear rental information and stay tuned for the upcoming arrival of 6 new fat bikes! This part of New Brunswick sees a lot of snow so leave your studs at home and jump on your fat bike. While in the area, check out the new 9-km fat bike trail at the Acadian Historical Village; it's perfect for beginners!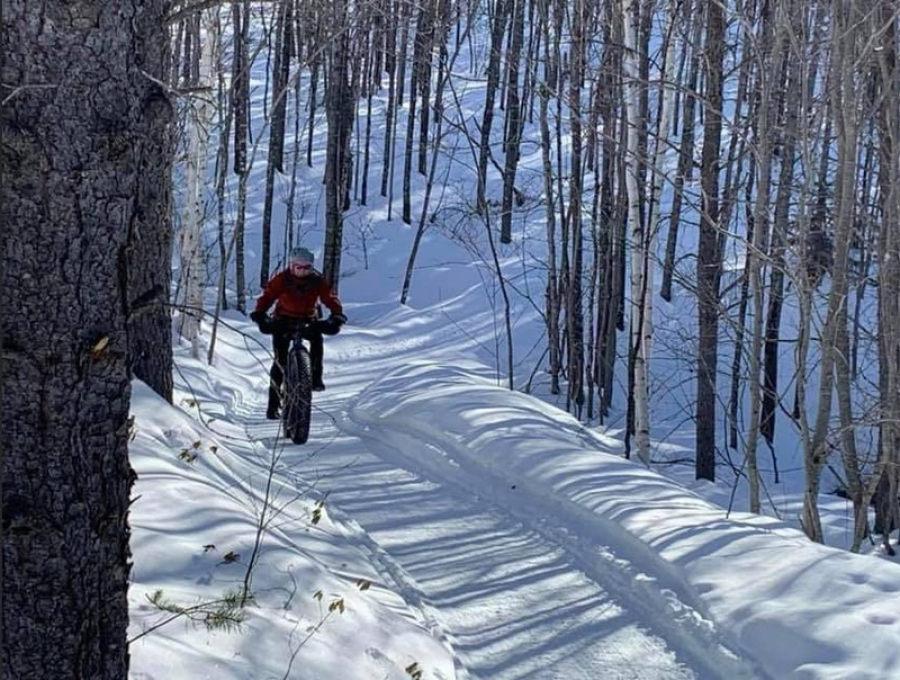 Bike Miramichi has an active group of volunteers that are working on extending their winter trail system. They currently have 16 km of groomed winter walking and fat bike trails for you to enjoy! For this area, fat bikes are recommended to coast through the snow. Leave your studs at home. 
Kouchibouguac National Park offers several kilometres of fat bike trails and has rentals available. A great place to try fat biking in Eastern NB!
Southern NB
The area surrounding Fredericton has multiple winter mountain biking options, many maintained by River Valley Cycling. On the Northside in Marysville, 35 km of groomed fat bike trails for all riding levels will give you lots to explore. West of Fredericton in Mactaquac Provincial Park you can rent fat bikes and enjoy the warm lodge. We recommend the Alex Creek and Beaver Pond loops to get you warmed up! West of the city as well but on the Southside, Woolastook Park has a mix of beginner and advanced trails offering an excellent riding experience in tall forests near the Saint John River (the spectacular view off Kelly's Creek lookout is worth the steep climb). If you head east from Fredericton, Deer Park in Oromocto has a nice and compact network of groomed trails for beginner riding.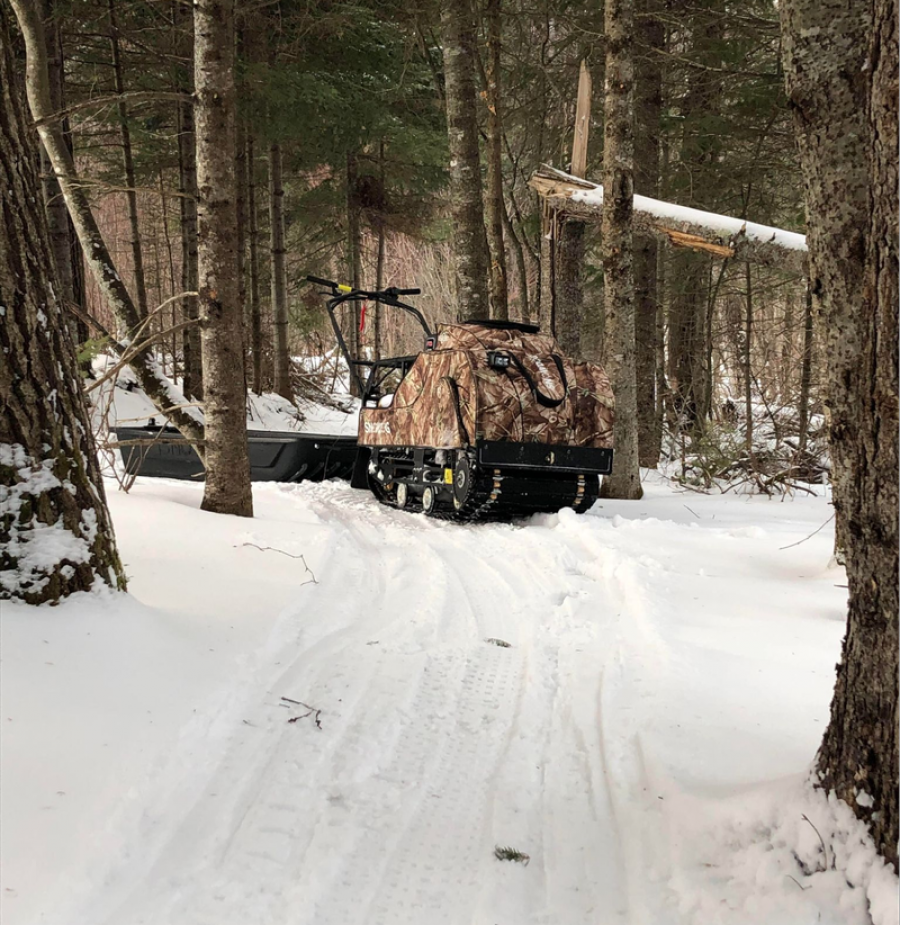 Becaguimec Trail Association is located in Hartland. Try the 'Winter Loop' for a groomed trail that is accessible for all riders. You'll get a lovely view of the Becaguimec Stream and the surrounding forest. Enjoy other trails by snowshoeing! 
The Sussex Area Trails Association is a developing area and has recently started grooming trails for winter riding. For a great beginner ride, start at Sullivan Park and take the 'Sussex Nature Trail' along the river. Another recommendation is the 'Riverside Loop' that heads out towards the river below the popular warm weather riding trails at the Bluff. For a local guide or trail update, call Outdoor Elements!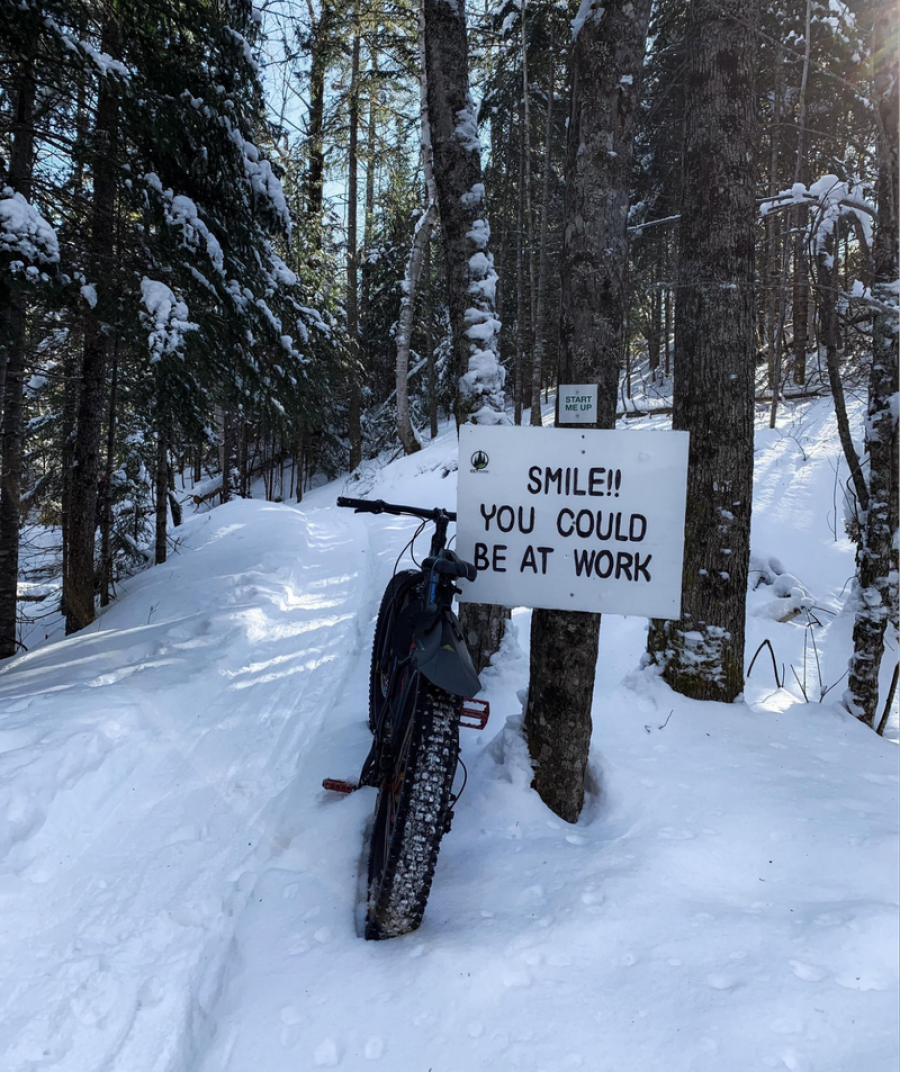 Codiac Cycling Trails is located in White Rock Recreation Park near Hillsborough (south of Riverview) and they have an active group of volunteers that groom trails all winter long. Bring your fat bike and enjoy over 10 km of groomed trails. Check out 'Dynamite' and the new winter trail 'Tad and Connie' for some fresh features.
Fundy National Park has over 20 km of groomed trails for fat biking at the Chignecto Recreation Area. Outdoor Elements is the park's official adventure outfitter and is located next to the trails. You can rent youth and adult fat bikes and snowshoes. They recommend reserving online as this sport is only getting more popular! The Chignecto Pavillion is near the parking lot and the trailhead and also has bathrooms, wood stove and a food prep area. A favourite fatbike loop with a mix of single and double track is 'Cygnus' to 'Blackhorse' to 'Maple Grove' and then return to the Pavilion via 'Orion'.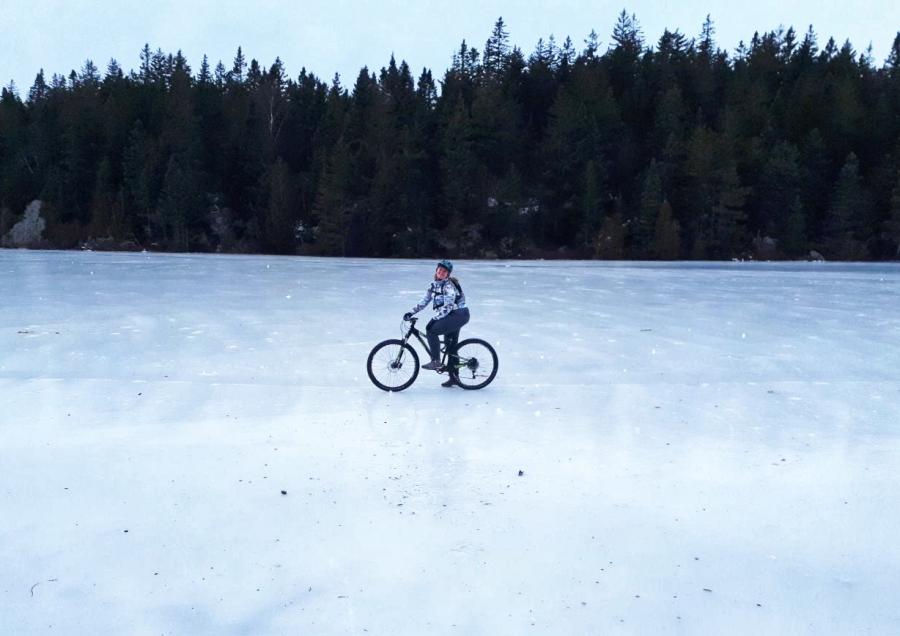 Saint John is our home base and we ride in Rockwood Park all year long. We are located on the Bay of Fundy so the winters here are mild and wet meaning there tends to be more ice than snow, making Rockwood Park a speedster's dream! The rocky and rooty terrain gets covered in snow and a layer of super fast ice. We recommend riding 'Moose Trek', 'Golf Trek' and 'Tour de Pants' with your studded tires.
For details on these areas and their trail systems, visit the Trailforks website (check the "Winter Trails" box under the "Layers" tab). If you want to have fun on two wheels this winter, consider investing in some winter riding gear or testing it out with a rental and taking a road trip around the province to visit some of these winter trail systems. You won't be disappointed!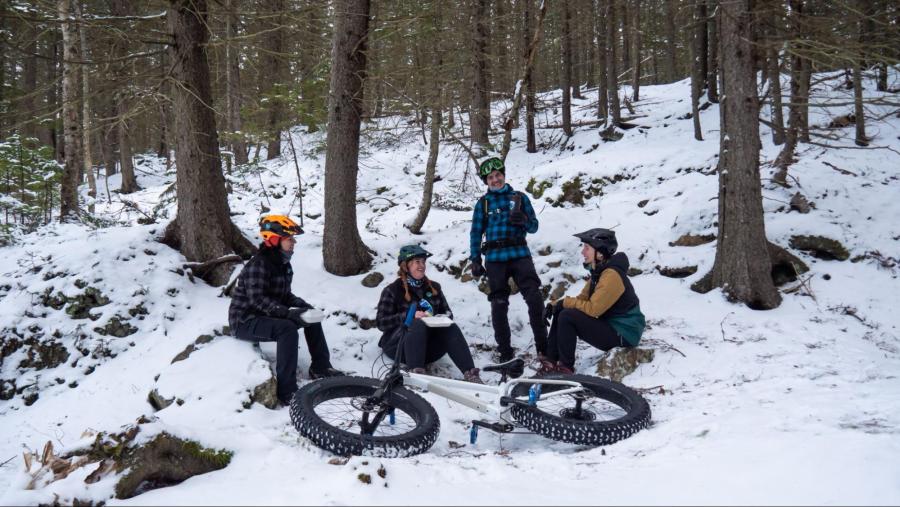 Winter Riding Experience
This winter, Be Rad Adventure Co. is offering you the opportunity to try winter biking with one of our certified Ride Leaders! Tours will include options for a trailside lunch and bike rentals. Follow along on our social channels or subscribe to our newsletter for news on the launch of this new winter program.