Day trip from Moncton. Ride by the world's highest tides from Moncton to Hopewell and through Fundy National Park.
* Please check recommended businesses mentioned in this blog are open prior to your trip
Today we're talking to Heather d'Entremont. Currently living in Moncton, Heather has been biking in NB for 8 years.
What is your favourite motorcycle day-trip loop in New Brunswick?
Hands-down, my favourite ride in New Brunswick is the Fundy loop.
The sheer beauty and nature of this ride, coupled with small-town hospitality, makes this ride a gem in New Brunswick. The route takes the rider through Hillsborough, Riverside-Albert and Alma, with antique shops, historical landmarks and roadside oddities (not to mention at least one covered bridge). There is something for everyone on this ride.
Route - Approx. 180 km (112 mi.)
About the route
A good place to start near Moncton/Dieppe/Riverview is Toys for Big Boys at 633 Salisbury Road in Moncton. This is the local Harley-Davidson and Honda dealership for the southeastern NB area. There is a gas station with premium handy right across the street.
Head towards Riverview on NB-114 S. The beauty of this ride is that 2/3 of it is on the same route – the 114. There are detours you can take off the route to catch more scenic areas (like Hopewell Rocks and Cape Enrage), but if you're not familiar with the area, it is a very simple and scenic ride.
It isn't until you're through Fundy National Park and in Penobsquis that you hop on NB-1 E to take you back into town. You can continue and take the Moncton exit, or hop onto the less-travelled old highway of NB-106 E to take the back road into Moncton (leading you back to Toys for Big Boys).
If following the map to the letter, you'll get about 180 km (112 mi.) out of this route (approx 2 hrs and 20 minutes). But there are so many fun detours: Hopewell Rocks Provincial Park, Crooked Creek Look-off, Holy Whale Brewery (a former church / current brewery, lobster rolls and cinnamon buns in Alma, and Cape Enrage. Not to mention the all trails, look-offs and swimming holes in Fundy National Park alone. Depending on what your pleasure is, this route could easily take a whole day to explore.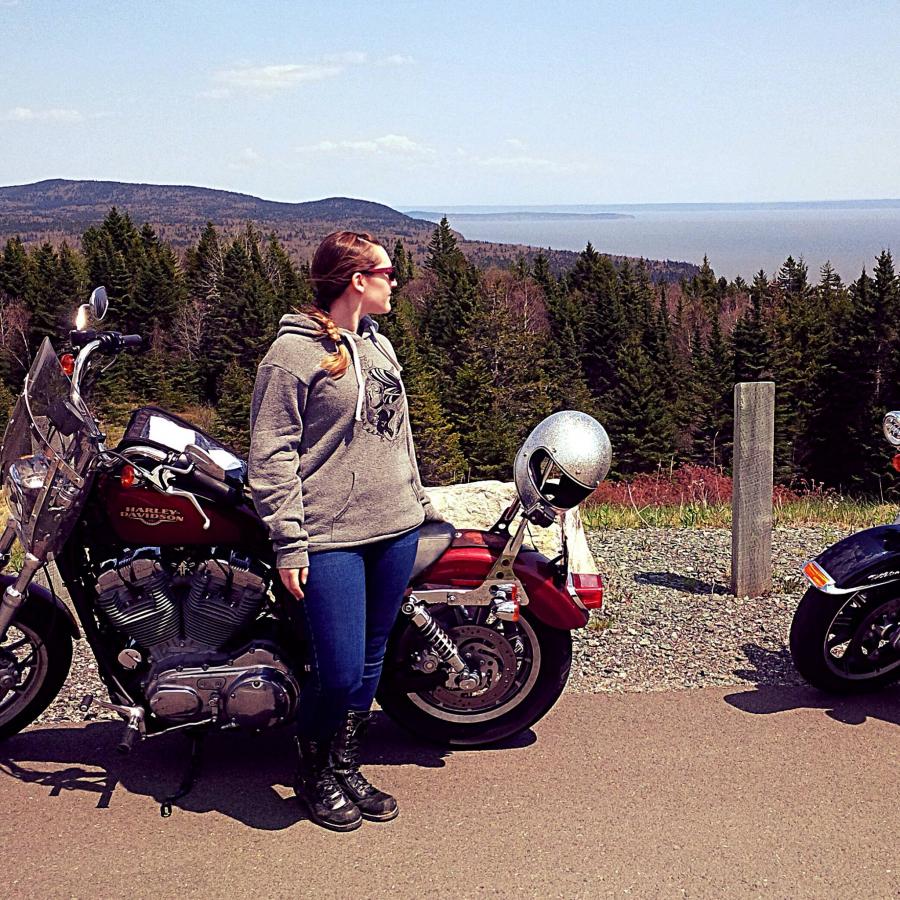 Tips for the trip
Aside from 'stop anywhere that piques your interest' (you won't be disappointed!), gas up where possible. I had a small fuel tank on my motorcycle and the stretch between Hillsborough and Alma may be too long for smaller tanks. I always bring a spare gas can with me in case I'm not able to find premium fuel.
Favourite part of the route
My absolute favourite viewpoint is the main look-off within Fundy National Park. It is accessible within a few minutes' ride after entering to the park. There is plenty of parking space, a viewing platform, and the quintessential Parks Canada red Adirondack chairs for relaxing.
This ride follows the coastline alone the Bay of Fundy for the first half – with amazing water views and reddish cliffs. My favourite part of the ride is the straightaway that is downhill, just outside of Hillsborough. It offers a glimpse of the Bay of Fundy, with small farms and roadside vegetable stands dotting the side of the road.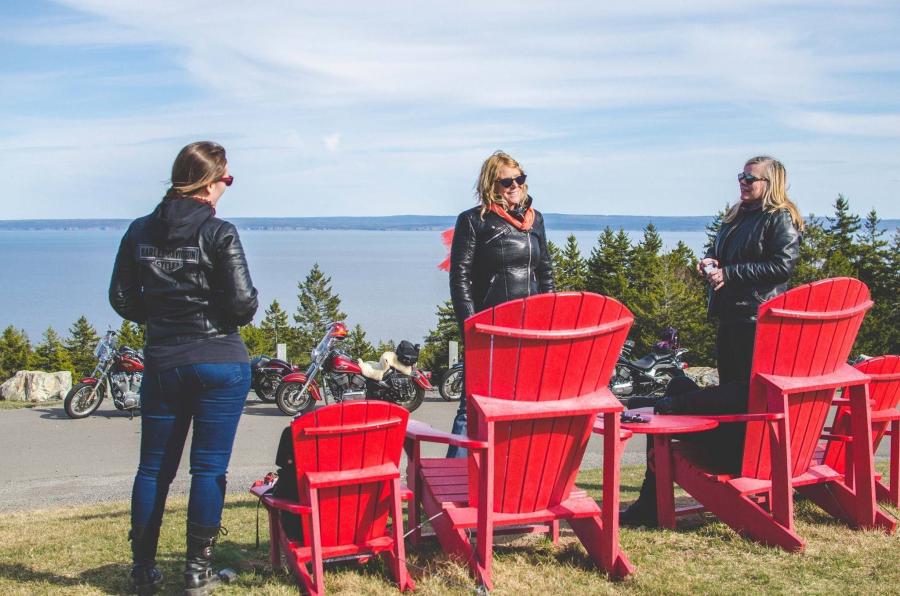 Looking forward to more adventures
My 'moto bucket list' includes St. Andrews by-the-Sea! I am absolutely charmed by this town – the architecture of the buildings (the Algonquin Resort, anyone?), the summer shops and the Huntsman Marine Science Centre – it is a beautiful piece of New Brunswick that I'm looking forward to exploring on two wheels during my #staycation this summer!