When winter adventure plans start to form, the idea of tucking away into a snowy cabin, next to the most famous chain of mountains in North America's East Coast, amongst towering trees, with an abundance of activities just outside our door . . . well, that sounds like the makings of a memorable family getaway.
The Restigouche region, which hugs New Brunswick's northern border, checks all of the boxes. The breathtaking and diverse landscape is home to close-knit, culturally rich and inviting communities just waiting to welcome families. It's also a snowmobilers' paradise right in the centre of the Northern Odyssey, a 1,500-km trail network that connects the entire North of New Brunswick, from Edmundston to the Acadian Peninsula.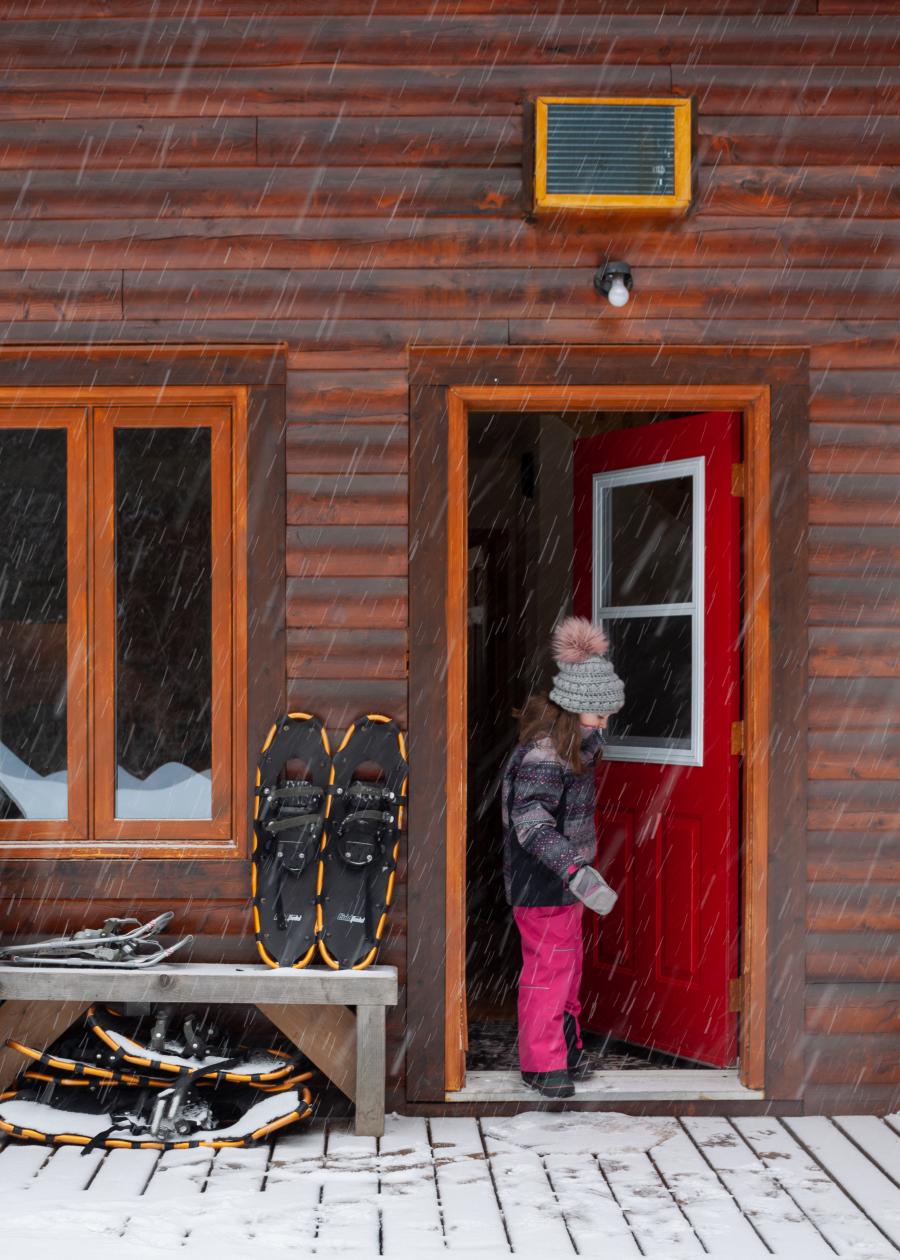 We made our way to our "home-away-from-home" for the next few days at Les Chalets Restigouche in Kedgwick. A large wooden arch and immense trees greeted us, setting the tone for the warm welcome we were about to receive.
The owners, Sébastien and Geneviève, were quick to get us settled and ensure we had everything we needed. Our cabin, The Skeena, offered the perfect rustic log cabin feel while also supplying all the amenities of home. With a fully equipped kitchen, woodstove, BBQ, satellite TV, bedroom and loft space for the kids, we were more than comfortable during our stay. As an added touch, meal kits are available for in-cabin cooking. There's also a convenience store with soups, sandwiches, beer and coffee for take-out or that you can warm up and eat in the dining room on site.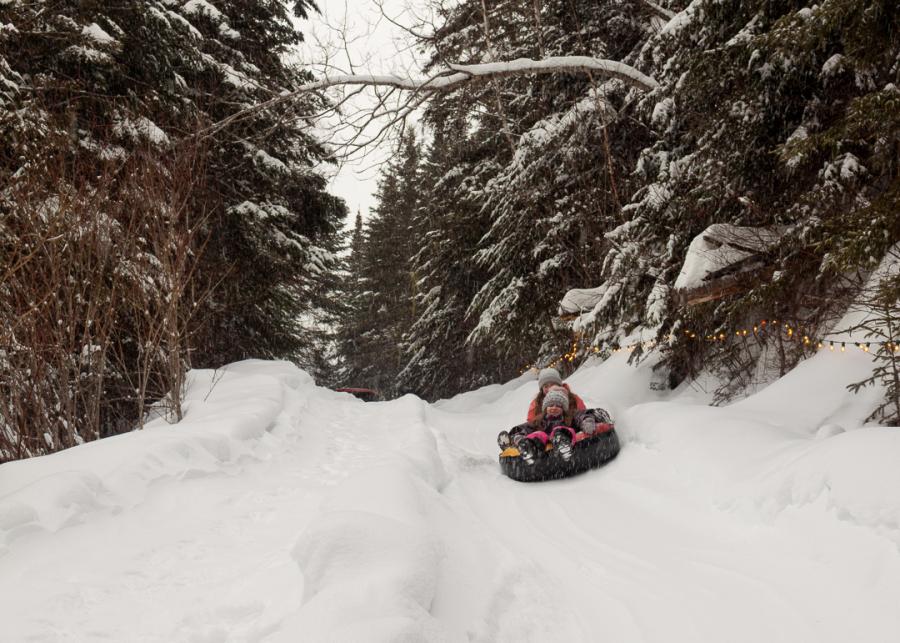 During our stay we had access to snowshoes, sleds, toboggans and tubes . . . and we enjoyed them all. In fact, a groomed snowshoe trail was just steps away from our cabin. The fairy-themed path contained several playful decorations which kept our daughters' attentions piqued. We loved having the chance to spot so many different species of birds and identify a myriad of animal tracks. Our hosts shared that, in the winter the area is home to deer, moose, fox, rabbits and even lynx.
Tucked behind the main lodge you will find a perfect tubing hill nestled in the forest. The sliding path is illuminated with twinkle lights at night and was an absolute dream to experience. There's nothing like the smooth, yet surprisingly fast, ride that winter-tubing offers. What a thrill for the whole family!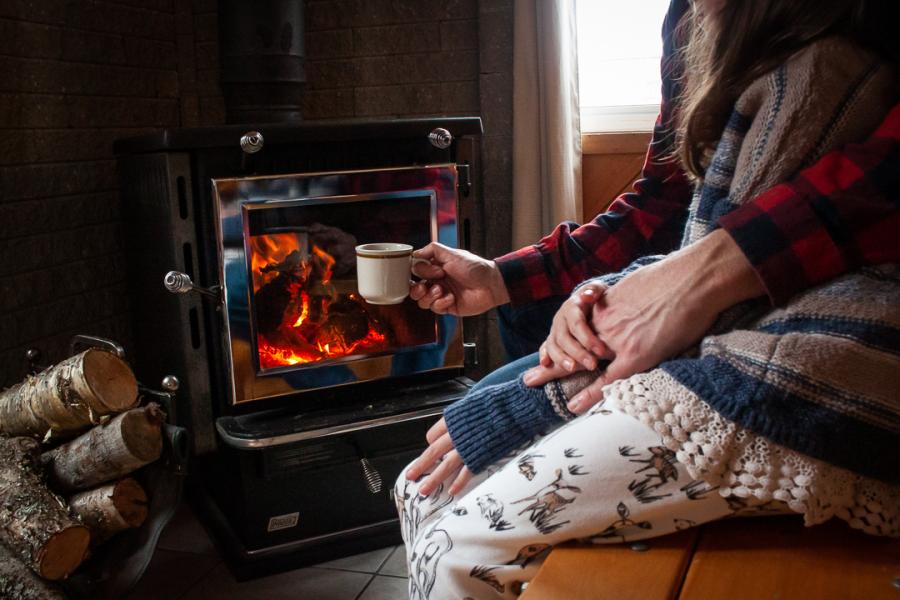 If you're feeling like taking a day trip, Kedgwick is the perfect base to explore from. Travel north to Sugarloaf Provincial Park, which includes Sugarloaf Mountain itself, as well as a ridge of the Appalachian Mountains, Prichard Lake, Smith Lake and acres of untouched forested wilderness. The park offers skiing, snowshoeing, fat biking, sledding, hiking, snowmobiling and ice skating (equipment rentals available). It is also home to 13 downhill ski trails, a snowboard terrain park, groomed cross-country trails, a sliding hill, a lit skating pond and cozy restaurant. There's something for every family members' skills and ability.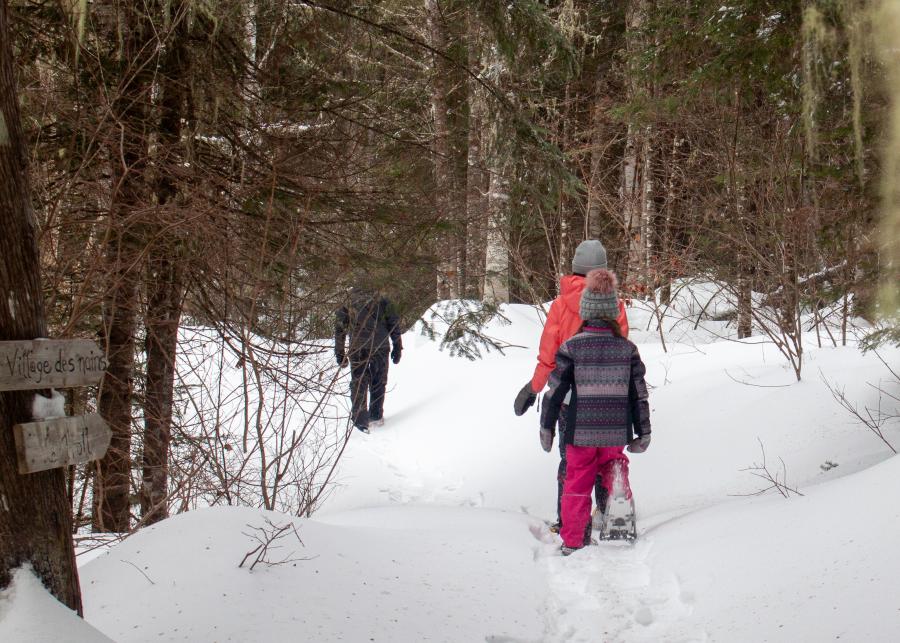 You can also travel south to Saint-Quentin and spend an afternoon exploring the cross-country ski, snowshoe and fat bike trails at Club Husky. As you drive on the main road, you will also notice a few interesting sites. First of all, a giant maple leaf monument reminds us that Saint-Quentin is Atlantic Canada's Maple Capital. The Tourist Information Centre is a charming replica of the original train station built in 1920, and the Roy Heritage Home has been transformed into a reproduction of a classic 1920s general store.
From Saint-Quentin you can also head East into the heart of Mount Carleton Provincial Park, home to the Maritimes' highest mountain. The park offers beautifully groomed trails for cross-country skiing and snowshoeing. This area is also popular for ice fishing, so be sure to bring your licence and equipment. Notably, the area has been designated as a Dark Sky Preserve by the Royal Astronomical Society of Canada. Ensure your family takes a moment and looks up at that stunning night sky.
The entire Restigouche area is filled with countless beautiful communities to explore in all seasons. The rugged natural beauty contrasts with the warmth of its people, leaving a lasting impression on everyone who visits. Be sure to add a visit to Restigouche to your winter bucket list this year!
 
Follow our family's adventures at www.reachinghappy.com and on Instagram at @reaching_happy