The perfect spots where you can ski, snowshoe, or snowmobile right from your front door.
Embrace the chilly season with a stay at one of these quintessentially Canadian winter getaways.
Your next vacation feels like a lifetime away? Fight the doldrums with a stay at one of these dreamy winter getaways. You can cross-country ski, snowshoe, or snowmobile right from your front door from these locations, so you really feel like you're tackling the season head-on.
Not a snow lover? We're betting a few nights at one of these spots will change your mind...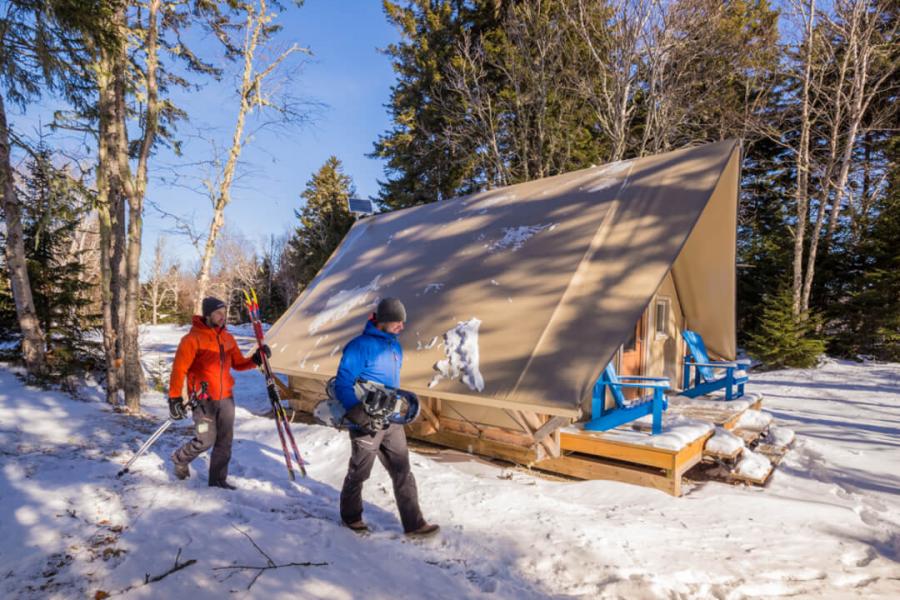 WINTER SHELTERS AT FUNDY NATIONAL PARK
Best for: Nature lovers who don't want to wait till summer for their park fix.
Fundy National Park has groomed snowshoe, cross-country ski, and fat bike trails throughout the season. This is a great way to explore the beauty of the park under winter's snowy blanket. Plan on staying the night because there are a few different cozy options. Fundy has 3 nicely secluded rustic cabins, along with winterized oTENTiks and yurts in Headquarters Campground. They all have heating so your toes will be nice and toasty after a day of exploring. If you prefer to sleep a little closer to nature, bring your tent for winter camping.
Learn more:
Fundy National Park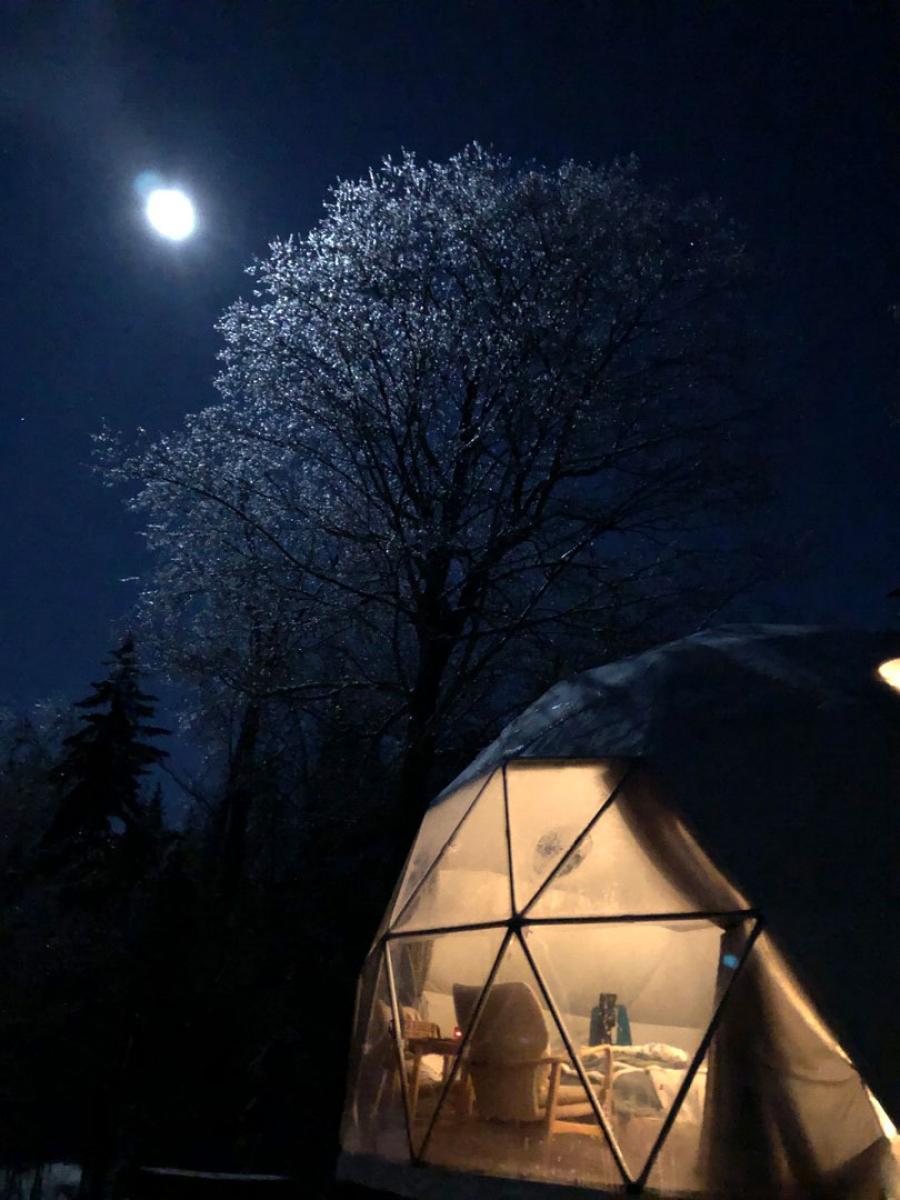 GLAMPING IN A DOME
Best for: Ditching conventional accommodations for a night under the stars.
Imagine glamping in your very own geodesic dome complete with fireplace, and Scandi-chic interior. Yep, it's as awesome as it sounds. A snowy landscape provides all the more reason to snuggle beneath the stars, but don't plan on hibernating too long - snowshoe and hiking trails for guests wind through some of those pristine properties. Some also offer snowshoe rentals, and even fine local treats to enjoy in your dome. A wood-fired hot tub to warm up in at the end of the day doesn't sound so bad either!
Learn more:
EKÖ Nature Glamping / Ridgeback Lodge / Glamp Camp / Creekside RNR Glamping / Cielo Glamping Maritime / River Run Resort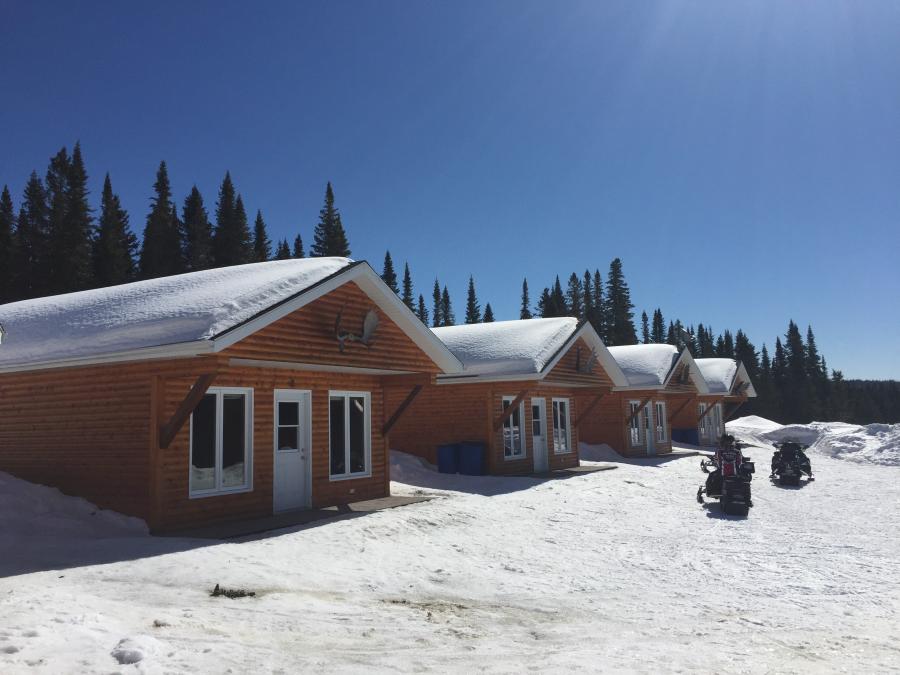 SNOWMOBILE-FRIENDLY LODGES
Best for: Anyone who loves pulling up to their doorstep by snowmobile.
These lodges are well-known among the snowmobilers who frequent New Brunswick's Northern Odyssey and  various snowmobile trails. The accommodations are as sled-friendly as it gets and you're pretty much guaranteed a good time. Lodge restaurants welcome riders from near and far, and a jovial atmosphere is standard. Did we mention they're also located right on the trails? If you were born to ride, these are for you.
Learn more:
Moose Valley Sporting Lodge / Wilson's Four Season Resort / Adair's Wilderness Lodge / Halcomb Moose Barn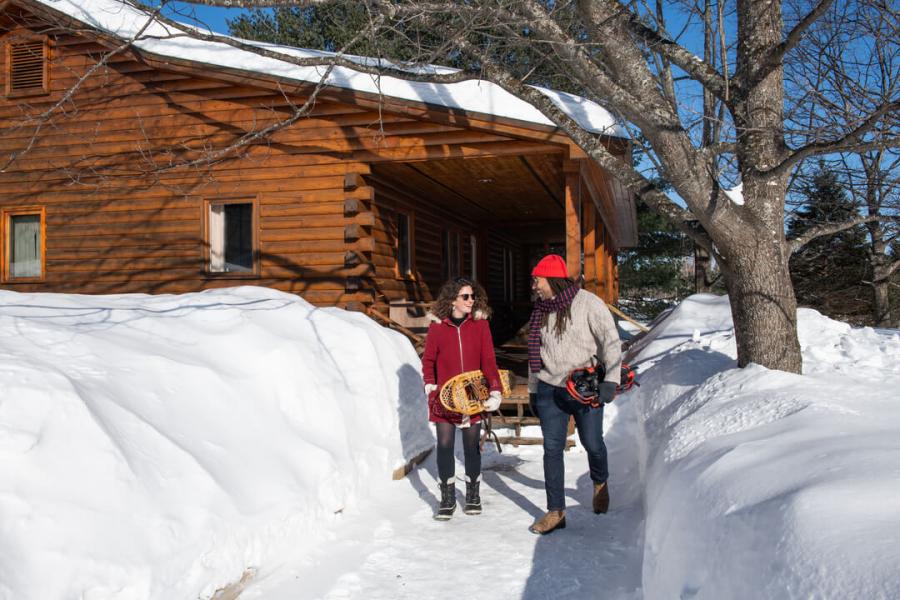 COZY CABINS ON THE MIRAMICHI RIVER
Best for: Outdoor enthusiasts who are looking to disconnect
It's no secret that the Miramichi river is known (even internationally!) as a go-to destination to take in the great outdoors. There is much more to do than go fishing though! During the winter months, this place turns into a winter wonderland, with cozy cabins nestled all along the river banks. It doesn't get more authentic than log cabins, wood stoves and access to the trails with the winter classics like sliding, skating, snowshoeing and more. Some even offer unique excursions that bring you up close and personal with local wildlife, or "in the woods" cabins accessible only by skis, snowshoes or hiking. If you are looking to go off the beaten path, these options will not disappoint.
Learn more:
Storeytown Cottages / Country Haven Lodge / Pond's Nature Resort / Red Rock Lodges / Ledges Inn / Red Bank Lodge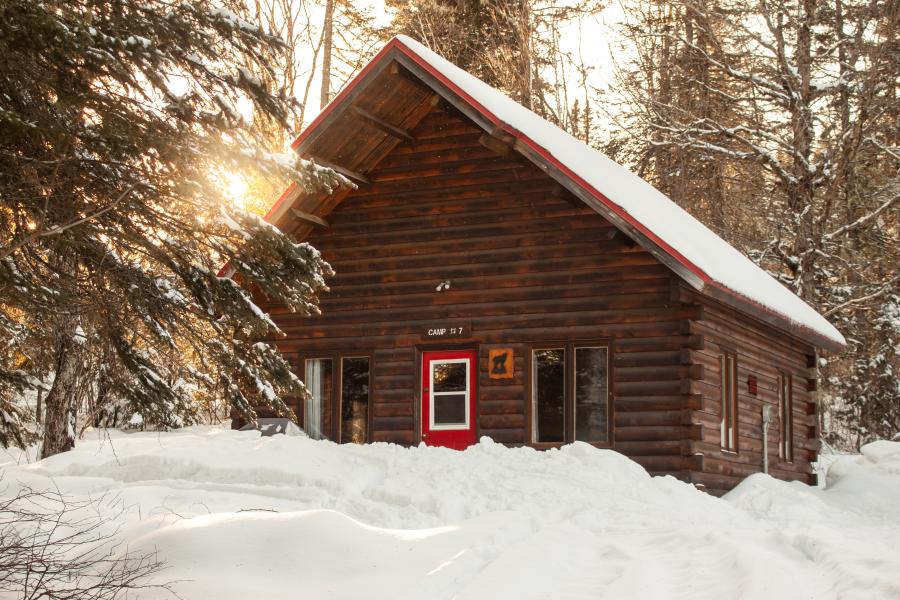 CHALETS in the mountains
Best for: An authentic winter getaway for the entire family
Located in Kedgwick, Chalets Restigouche is an ideal spot to spend quality time with friends or family and take in the beautiful surroundings. With one and two-storey cottage options, you can accommodate groups of up to 20. Tubes for sliding and snowshoes are available on site, and can be included with your stay with one of their winter packages. If you're busy having too much outdoor fun, you can even order pre-made home cooked meals such as lasagna, soup or a breakfast box to bring to your cabin. Your next Appalachian winter adventure starts here.
Learn more:
Chalets Restigouche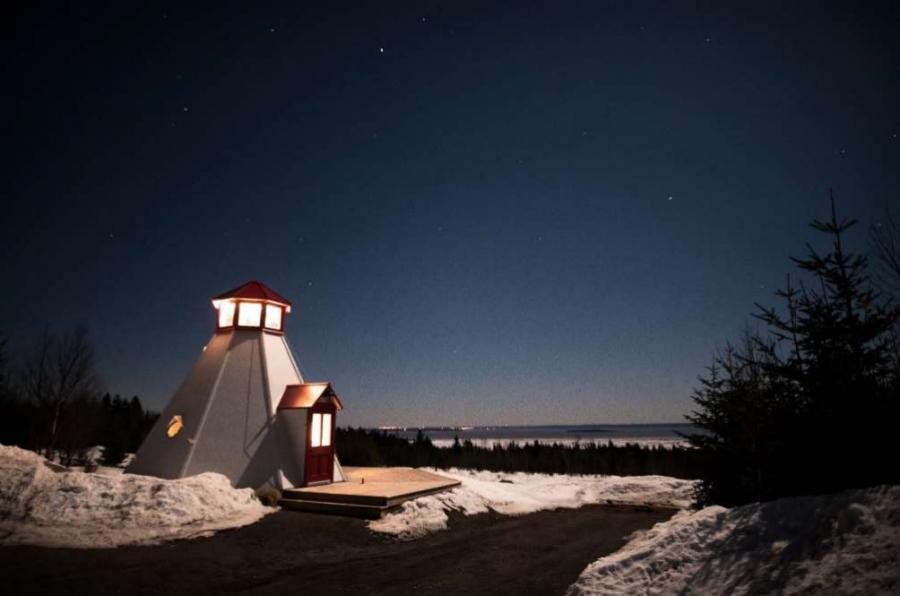 RANCH NATURE GETAWAY
Best for: Active people looking for a unique winter stay
Broadleaf Ranch is a fantastic destination for an overnight stay and all kinds of winter fun with family and friends. Choose between the lighthouse, the covered bridge or the chuck wagon perched on top of the cliff with breathtaking views on the Shepody Marshlands, or a cabin closer to the main lodge, and enjoy sleigh rides, horseback trail rides, skating on the pond, sliding on the hill, snowshoeing, cross-country skiing, and direct access to snowmobile trails. For a large group, the luxury Mountain Chalet nestled in the woodlands, with a panoramic view of Caledonia Mountain, is a dream retreat.
Learn more:
Broadleaf Ranch