Kaitlyn Pendleton, a native and resident of Deer Island, takes you on a tour of Grand Manan, the largest of New Brunswick's Bay of Fundy Isles.
In my opinion, there is no beauty that comes close to coastal beauty, something that the Bay of Fundy does not lack. We may have had fog all weekend, but we were still able to make the most of it and have a great time exploring all that Grand Manan Island has to offer!
Friday started with our 9:30am ferry ride on the Grand Manan Adventure. The ferry is equipped with everything you need. Comfortable seating (we were able to snag a booth with a window for optimal views) and a kitchen where we ordered our breakfast from. After eating we made our way to the deck at the top of the boat to watch as we approached Swallowtail Lighthouse, a sure sign we were close to Grand Manan.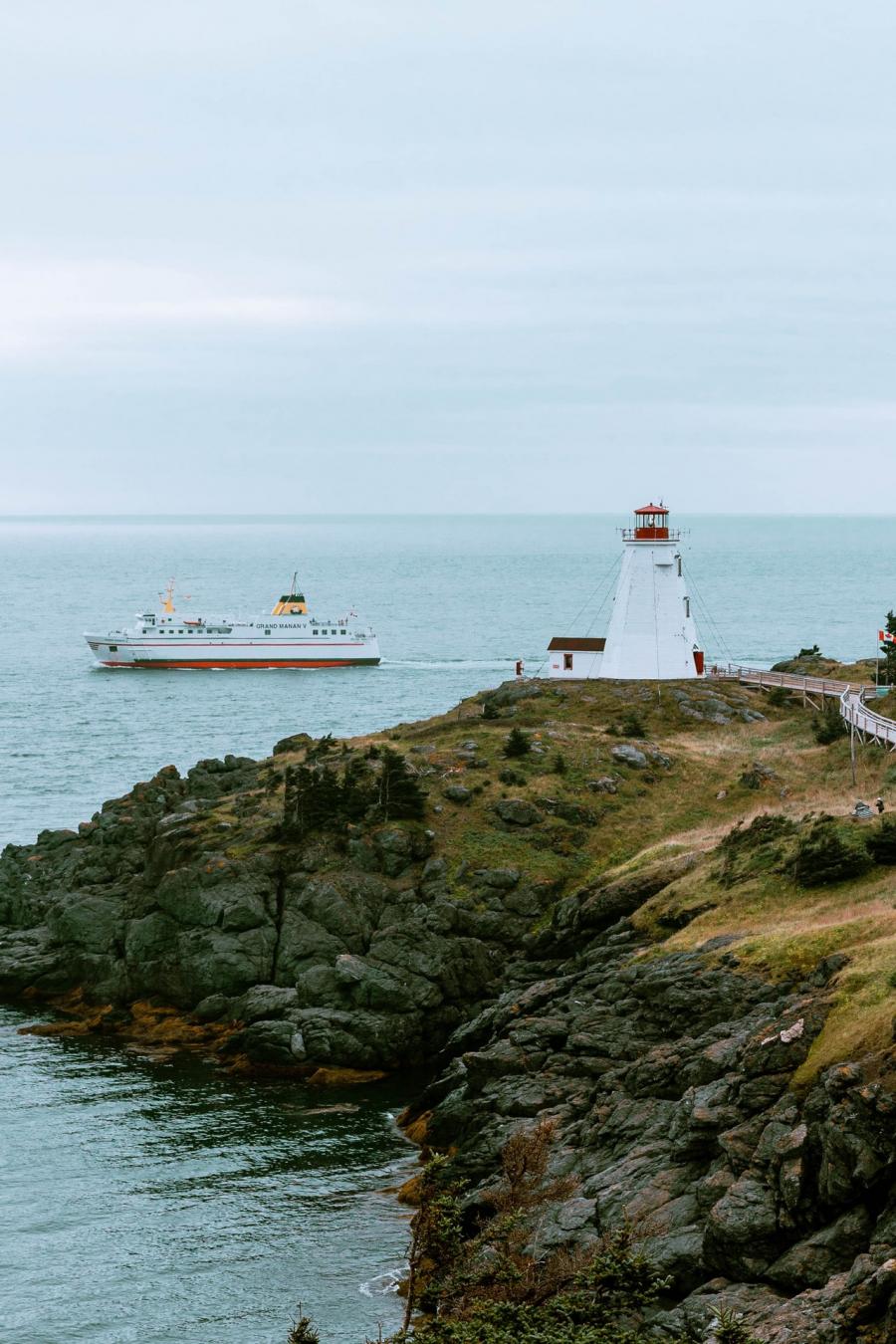 When driving off the ferry we noticed an adorable treat booth. Of course we had to stop! As soon as we saw they had mini donuts our decision was made. We tried both the powdered sugar and white sugar. They did not disappoint. Since we had nothing booked for the day, we decided to enjoy our donuts while working our way to the southern end of the island to see the cliffs, exploring different roads and stopping to admire the many picturesque views.
We were a little unsure if the cliffs would be worth it in the fog but wow, I'm glad we decided to check them out. The fog added such an eerie beauty you wouldn't get on a clear day. After taking in the beauty of the cliffs we made our way to our accommodation, stopping for food at Isla Cocina. Isla Cocina is a food truck offering authentic Mexican food and island fare (burgers, fish & chips). I went with the pulled chicken tacos, it was delicious and made with fresh ingredients.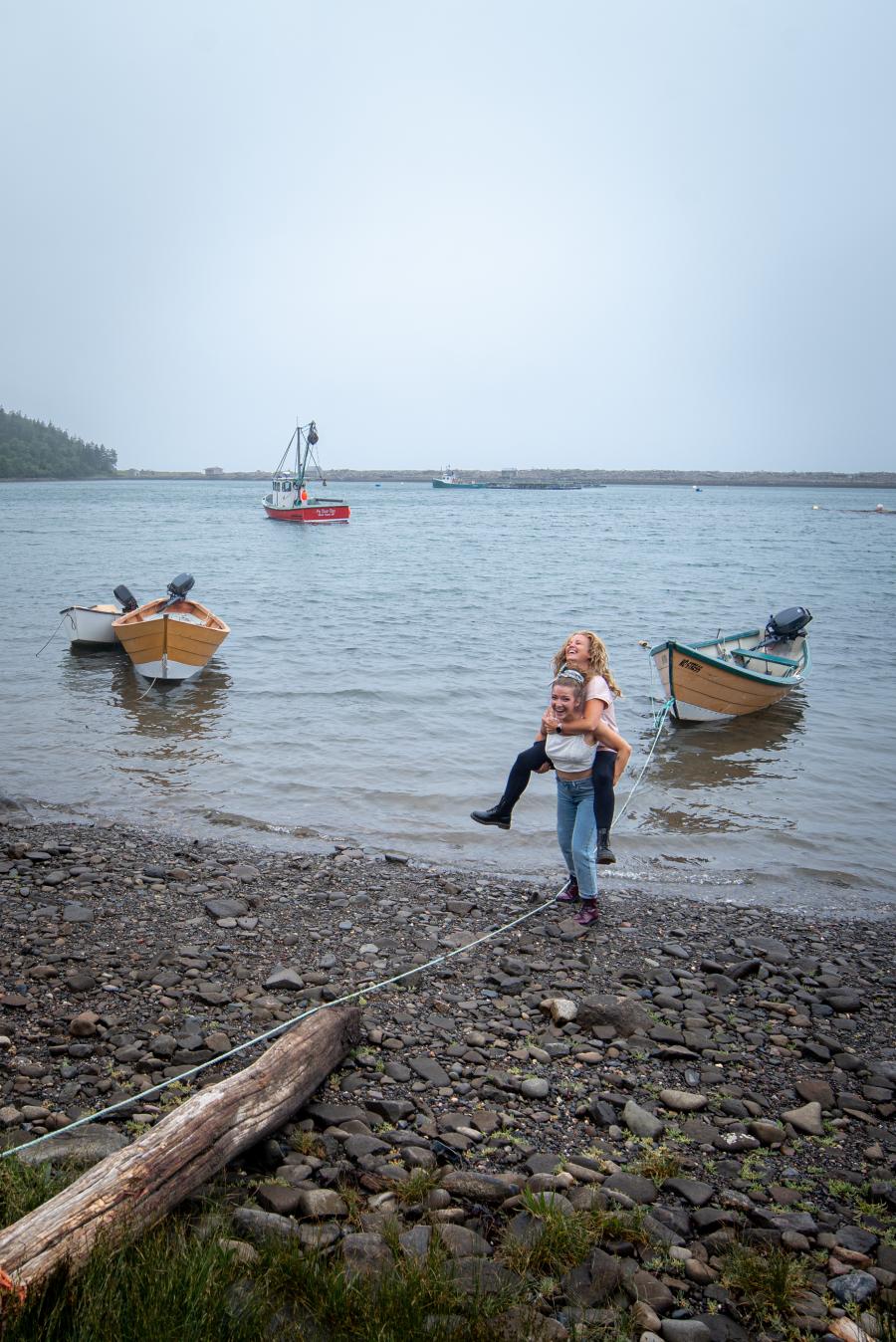 Our accommodation for the weekend was Compass Rose Heritage Inn. We had the pleasure of staying in the Garden Room which featured an ocean view, a private garden area and modern amenities. The inn itself is charming and welcoming, you instantly feel at home there. The owners are friendly, attentive and knowledgeable on the area.
We got ourselves supper from The Old Well House Café, which is conveniently located down the street from the inn. The Old Well House has lots of history. The building was the first store on Grand Manan when it opened in 1832. It rained throughout the evening but we were more than happy to have a couple of drinks and watch a movie while staying cozy and warm in our room at the inn.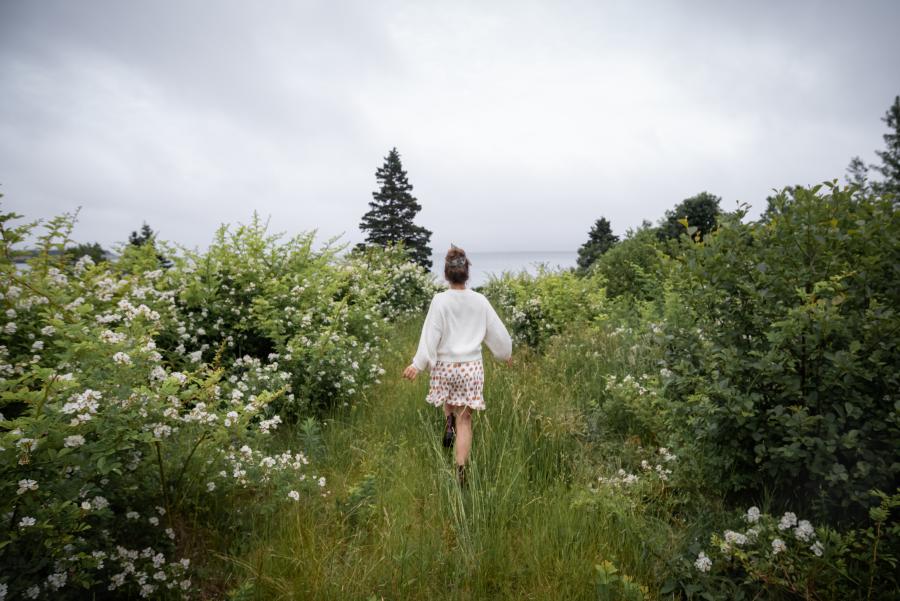 Saturday morning we sat in the inn's rustic dining room to enjoy a wonderful breakfast consisting of blueberry pancakes and French press coffee.
Our first stop of the day was the farmer's market. It's such a great place to find yourself local goodies from island-themed crafts, homemade jams and jellies, hand-crafted earrings. We grabbed lunch from Isla Cocina again (who was a vendor at the market) and headed to check out the Grand Manan Art Gallery. The gallery is filled with stunning and intriguing work, I would recommend adding it to your Grand Manan visit.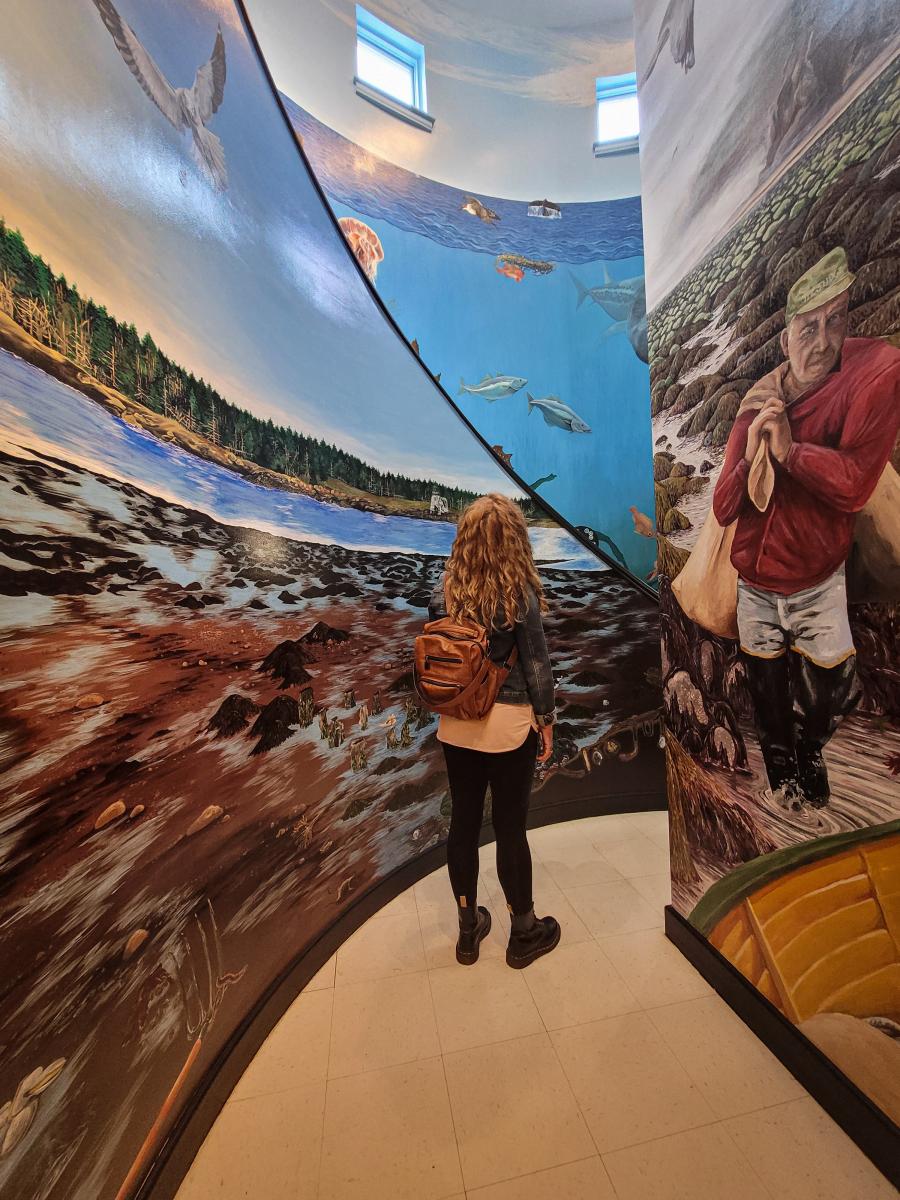 Our next stop was the Grand Manan Museum. The museum is informative about maritime heritage, well stocked with artifacts (my favourites being items from a shipwreck and a dive suit from the early 1900s). It also has a gift shop with local crafts. A must-see!
Dark Harbour is also worth a visit! Here you can see a quaint cove with colourful dory boats and a few cottages that are only accessible by car at low tide. During high tide a boat is needed to get to them!
If you're a fan of dulse you can stop on your way to Dark Harbour, where a man sells dulse out of his shed using the trust system. Just leave your money, write what you got and enjoy your nutrient rich marine treat!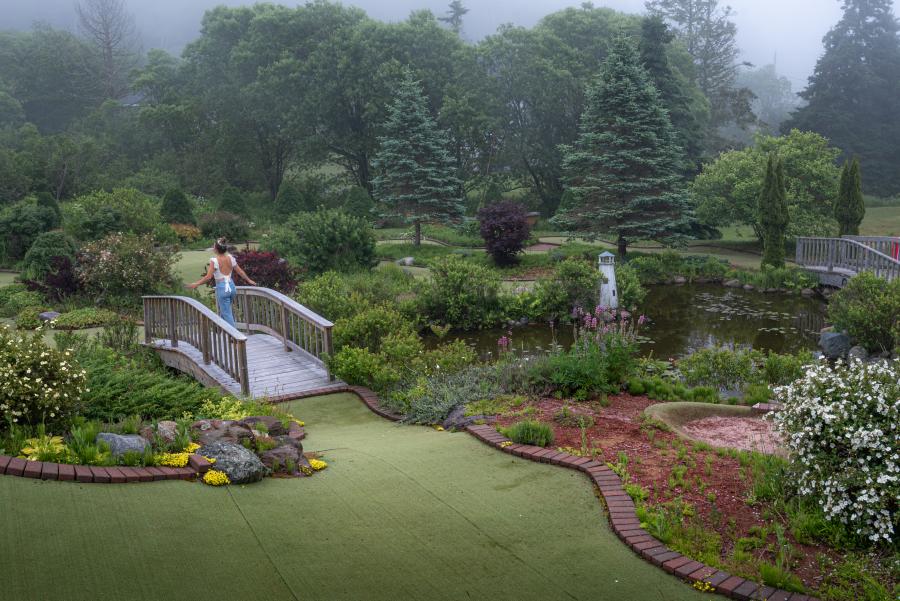 We were told by a local there was a 18-hole mini golf course if we were looking for something to do. We decided to have a game before supper that evening. Brookside Golf Course, located in Seal Cove, was absolutely adorable, decorated with a couple of bridges and a mini waterfall. It was so much fun to feel like a kid again!
For supper we stopped at Newton's Mercantile & Café. The decor there is stunning, the baked goods are to die for and the coffee is on the list of the best I've ever had!
Our last day on Grand Manan we enjoyed another breakfast at the Inn and headed to Swallowtail lighthouse. Everywhere you look from this area you will see stunning views. I was most excited to make our way to the top of the lighthouse to see the views from even higher up, with strong winds mixed with fog as we watched the mist whip past the land.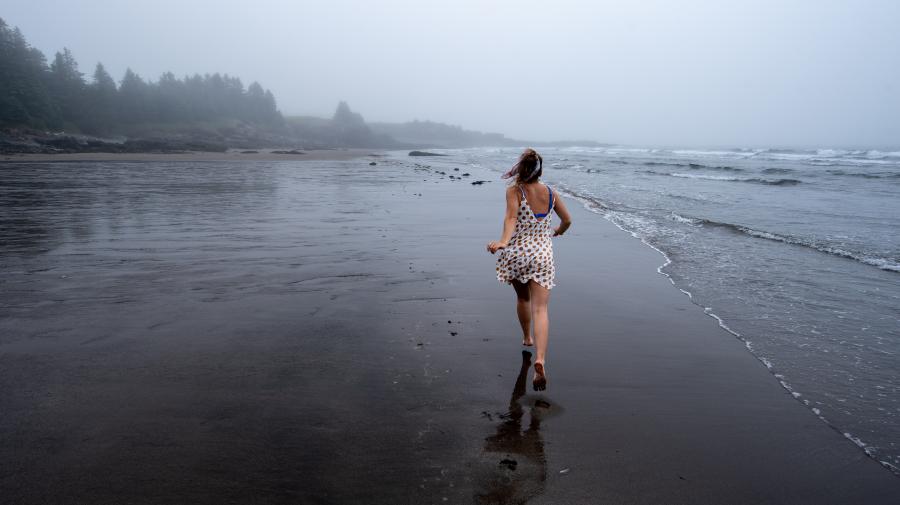 After taking in the views from the lighthouse and exploring the surrounding area we wanted to get in one more beach visit. We made our way to Deep Cove Beach. The strong winds created waves that were too good to resist. With childlike excitement I ran into the ocean for a freezing cold ocean dip that got the adrenaline pumping. After getting dried off it was time to say goodbye to Grand Manan and make our way back to the ferry, but first stopping for one last caramel latte from The Old Well House Café to warm up after my swim.
Thinking back on my weekend on Grand Manan Island, the two things that stand out to me most about is the otherworldly views along with the friendliness and warmth of every single person I talked to. Who wouldn't want to make that part of their summer bucket list?
Getting there:
Blacks Harbour – Grand Manan Island Ferry ($)
Spending the night:
Grand Manan Island Accommodations