Making new memories next to the Bay of Fundy
"Where the forest meets the ocean", that's how we've always described the area of New Brunswick where we are raising our daughters. Tucked majestically between those dense cliff-side forests and the cool ocean waters, lies the City of Saint John, Canada's first incorporated city. During the winter months, you can weave your way through its snowy streets, lanes and alleys, finding an eclectic mix of stunning 19th century architecture, unique shops, cozy cafes, inspiring galleries, parks, museums and restos. This city's heart is the downtown which sits perched at such a height next to the bay that it's called the "Uptown". The powerful Bay of Fundy lies always in view, its icy waters rising and falling up to 16 metres (52 feet) at every tide change. The perfect vantage point to begin your family's winter adventures.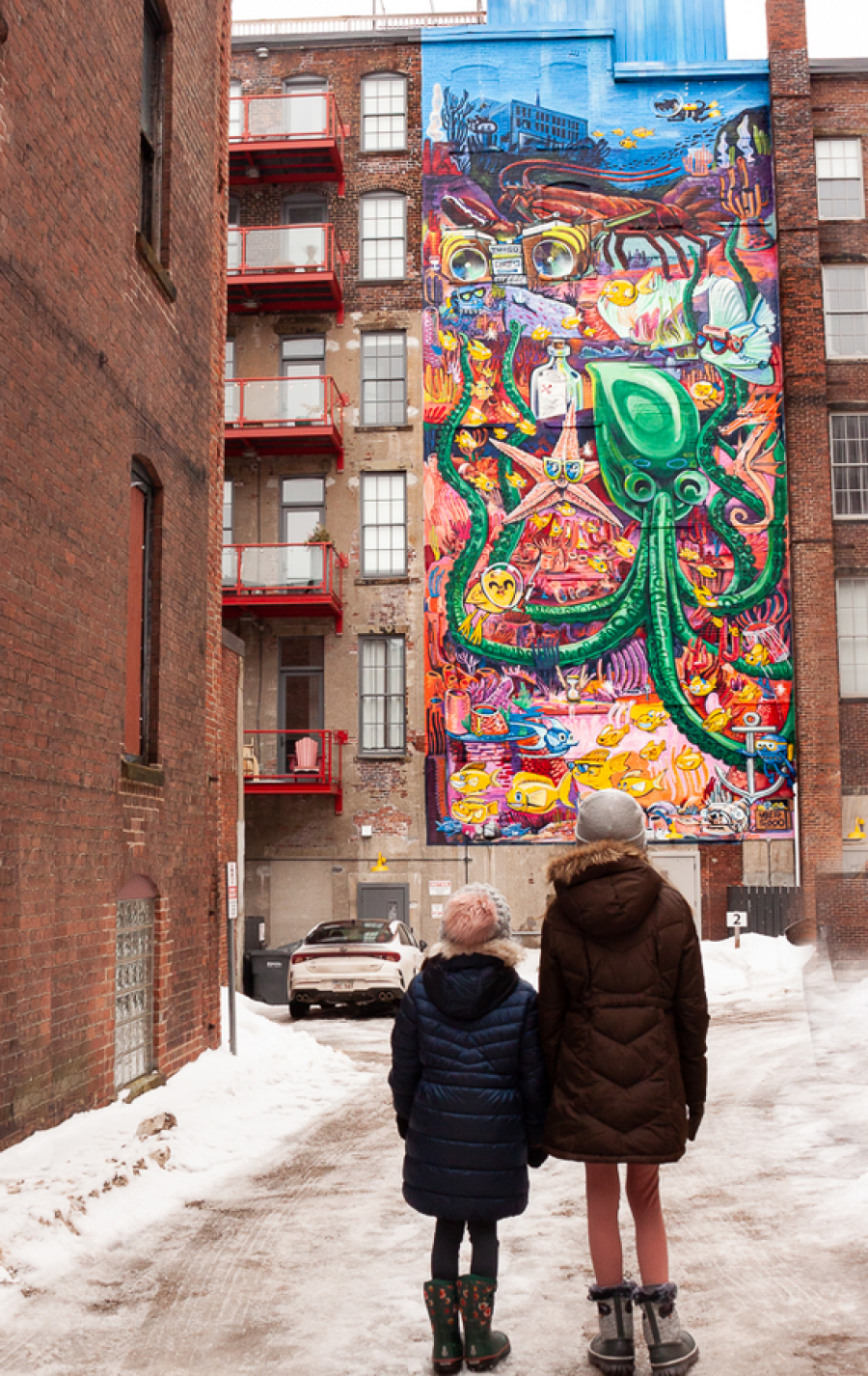 As you spend time strolling the Uptown core, there is so much for everyone to take in. The colourful storefronts and window displays are a feast for little eyes. Prince William and Germain Street are favourite stretches of stunning architecture to admire. You will also discover many impressive murals in your travels. Our family's favourite is "See Stories" by Allan Ryan, a 24 metre (80 feet) tall, underwater themed mural located on Grannan Street. These neighbourhoods are like magnets for artists and creatives alike. It's hard to walk a block without stumbling upon an art gallery or maker's studio. Handworks Gallery, Trinity Galleries, Spicer Merrifield Gallery, Paris Crew, Jones Gallery and the Saint John Arts Centre are wonderful spots to inspire budding artists.
If your kids have some spending money in their little pockets, be sure to pop in to Paddington Station, a delightful children's clothing and toy boutique. Their shelves are packed with beautiful games and puzzles, adorable plush animals and colourful wooden toys. Catapult Coffee & Studio, The Art Warehouse and Java Moose are all perfect spots to grab a hot drink to wrap your cold fingers around. Another favourite pick-me-up is a stop at Freak Lunchbox. This colourful candy shop is truthfully a favourite with all of us. We love rediscovering classic childhood favourites and also exploring new-to-us treats from all over the world.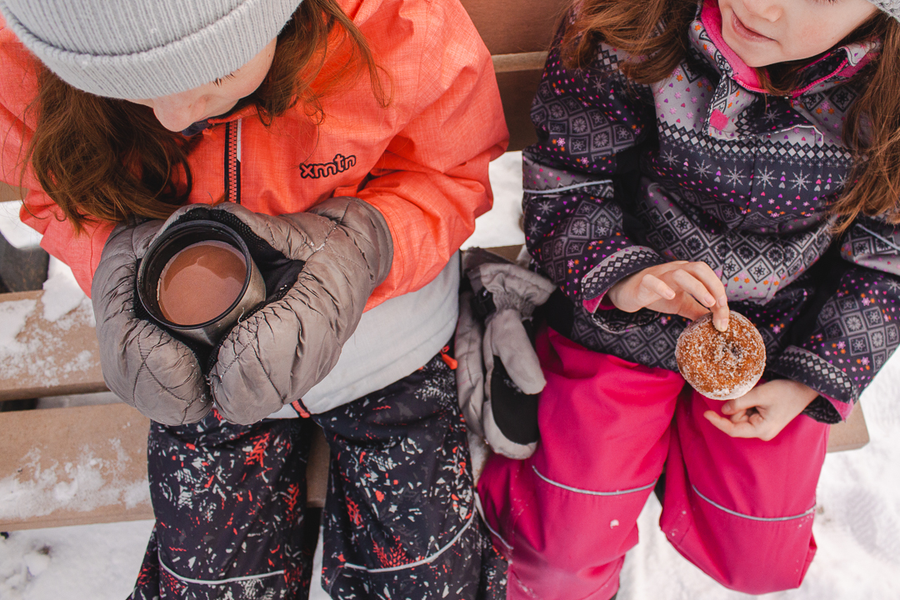 A visit to the area would not be complete without an hour or two spent at the vibrant Saint John City Market. The oldest continuing farmer's market in Canada immediately draws your eye up to its unique boat hull inspired ceiling. Friendly vendors line the red wooden stalls, selling fresh produce, ground coffee, freshly squeezed juices, hand-thrown pottery, natural soaps, knit sweaters and everything in between. You will always find a treasure to bring home or a gift for a loved one. The Market is also home to some of the area's most unique dining experiences: seafood, Korean, wraps and sandwiches, curries, stuffed naan bread, homemade chips, tacos and salads…or just a really great slice of pepperoni pizza.
With your bodies warmed and bellies full, why not stretch your legs with a stroll to see the King Edward VII Memorial Bandstand and the Imperial Theatre along King's Square or enjoy views of the Bay of Fundy along the cranberry trails of Harbour Passage. If you need an escape from the wintery weather, tuck into Brunswick Square Shopping Centre and explore the elaborate enclosed pedway system which connects the uptown core. Stop in to the Canada Games Aquatic Centre, which offers pools of various sizes and temperatures, as well as slides, diving boards and a swinging rope. Take in a hockey game at TD Station and cheer on our talented Saint John Sea Dogs.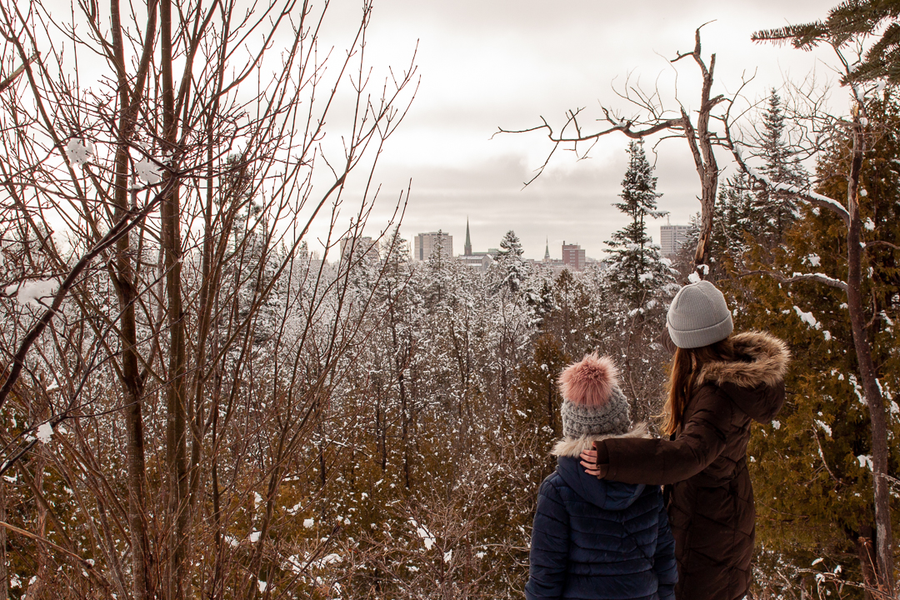 As the land stretches out from the Uptown area, you will find a unique mix of neighborhoods, shopping hubs and nature parks. Rockwood Park, which boasts over 2,200 acres of trails, lakes and walking paths, holds a central location in the city making it accessible to all. The perfect place to lace up for outdoor skating, ice fishing, snowshoeing, fat biking, cross-country skiing or simply taking a leisurely walk and enjoying the abundant wildlife. Be sure to drop by the conveniently located Inside Out Nature Centre on Lily Lake if you need rentals.
If you are looking for outdoor adventures along the rugged Bay of Fundy, Irving Nature Park is a wonderful option. This Eco-park's long sandy beach is the perfect winter terrain for a seaside walk. The area also offers countless wooded trails and stunning lookouts to take in bird or seal watching.
If you prefer to burn off energy indoors, the Oasis Trampoline Park is always a hit. With play areas designated for all ages and abilities, this lively spot is fun for the whole family. The dodge ball and ninja courses are top favourites with our kids. Fit Rocks Climbing Gym, Breakout Escape Rooms, Bowlarama Bowling Lanes and Vegas Family Entertainment Centre are other great options to help you escape the elements on a blustery day.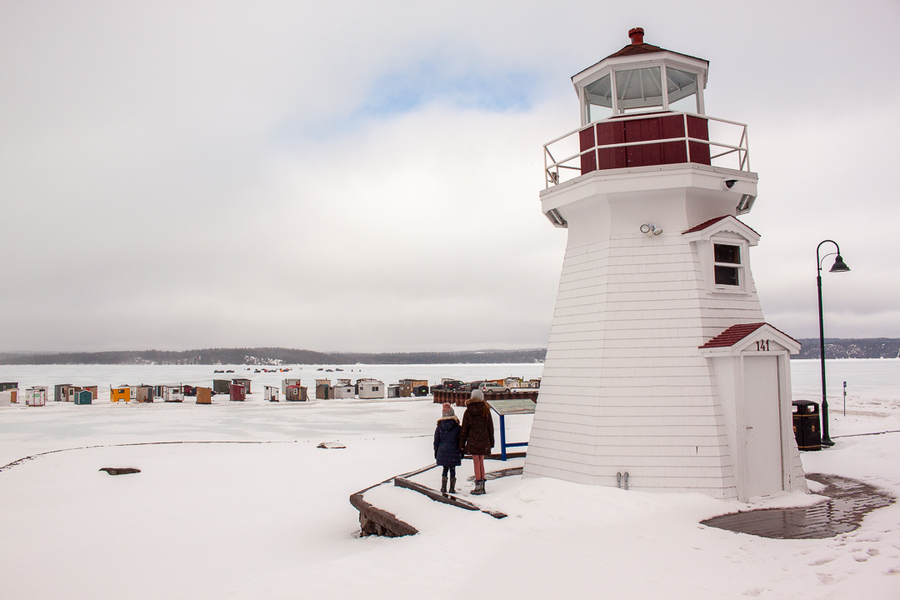 Just outside of the city limits the chance for adventure continues. Along the stunning Kennebecasis River you will find colourful fishing shacks huddle together creating their own little winter community. Don't worry, all are welcome, ice fishing shacks are available to rent from The Shacks. What a unique experience to tuck away with a wood stove and all the equipment needed to ice fish at the beautiful Renforth Wharf in Rothesay. The area is also home to two beautiful maintained outdoor skating rinks in Rothesay Commons and Quispamsis Arts & Culture Park.
Truly, Saint John and its surrounding "towns by the bay" are just begging to be explored by families this winter. Whether you love bundling up and embracing the cooler temps or you would prefer a roof over your head and a warm drink in hand, there is something for everyone. What new memory will your family make this season?
Follow our family's adventures at www.reachinghappy.com and on Instagram at @reaching_happy