Discover over 1500 historic sites.
History lives in the present. The events, ideas, and peoples of the past have shaped what our lives look like today. When you explore New Brunswick's historic sites—our town squares, buildings, churches, fortifications, lighthouses, railway stations—you immerse yourself in tales that continue to be told. Through architecture and landscape, the stories of New Brunswick's people and cultures come alive for you to experience.
Indigenous peoples have first inhabited the region for thousands of years, a story told by many artifacts found across the province. Samuel de Champlain began to explore what would become New Brunswick in the early 1600s, and French pioneers followed. After the area was ceded to Great Britain in 1710, these pioneers—Acadians—were forced out. Some were deported to various American colonies, England, and the Caribbean; others ended their long journey in Quebec, elsewhere in Canada, and in France. Many came back to the Maritimes after the war. In 1783, the face of New Brunswick shifted again as thousands of Loyalists escaped here from a newly independent United States. Scottish and Irish settlers began to settle in New Brunswick in the early 1800s.
All this history lives on in sites across the province. Fort Beauséjour in Aulac, Boishébert National Historic Site in Miramichi and Place Fort Latour in Saint John are a few that remind us of French and British rivalries. Loyalist House and Carleton-Martello Tower in Saint John speak to the Loyalists' struggles. The Van Horne Estate, on Ministers Island near Saint Andrews, is unique in that it is only accessible at low tide, and is a testament to historic architecture and period innovations. Hundreds of other sites—Fredericton City Hall, Free Meeting House in Moncton, Sainte-Famille Academy in Tracadie, Petit Sault Blockhouse in Edmundston and the McAdam Railway Station, to name just a few—offer a glimpse of New Brunswick's history.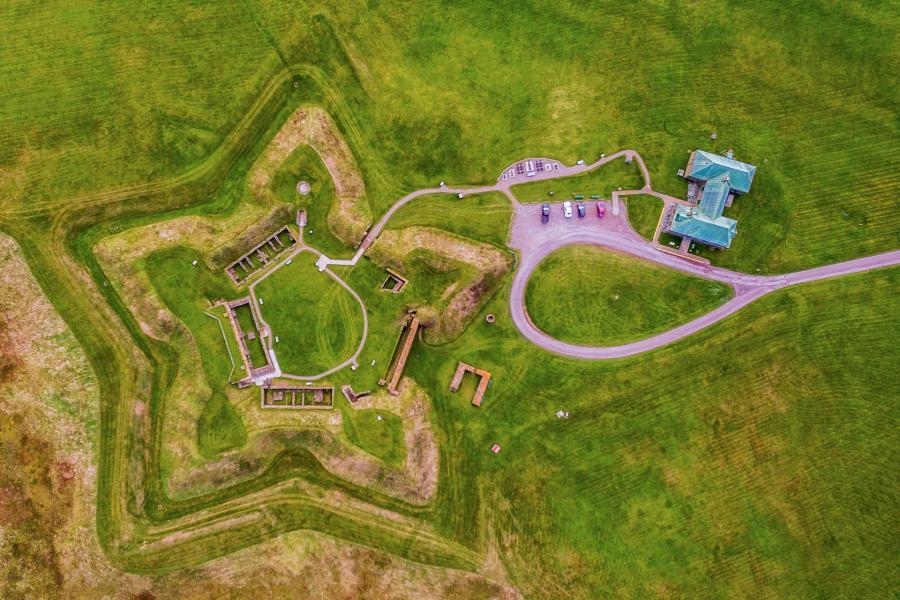 Jump into the past at a living history museum. You may find yourself spinning yarn at Kings Landing Historical Settlement, or sharing a traditional meal at Village Historique Acadien. Stop by Monument-Lefebvre National Historic Site to follow the Acadian journey, or Metepenagiag Heritage Park for a peek into ancient Mi'gmaq traditions. Heritage and walking tours highlight the architecture of our urban landscapes and tell fascinating tales about the history of our towns and villages. 
No matter where in the province your travels take you, they'll always reveal a part of our story.