If you type "RV campgrounds in New Brunswick" into Google Search, a whole assortment of pins will pop up on your map. Many fall on the coasts, or along one side or the other of the Saint John River, flowing all the way from Yogi Bear's Jellystone Park in Woodstock to Century Farm Family Campground along the Bay of Fundy.
For even more options, add "Provincial Parks" to the end of your Google Search terms and all new pins will emerge. Along lakes, woods, oceanfront and beaches across the province, you will find an abundance of campgrounds to choose from for your family RV camping adventures this summer.
So with all of these options in mind, how do you choose which sites to visit? We're here to help you narrow it down by taking a look at 10 RV campgrounds in New Brunswick our family is travelling to this summer.
* Be sure to double check campground activities before booking to see whether COVID-19 has impacted the services they offer.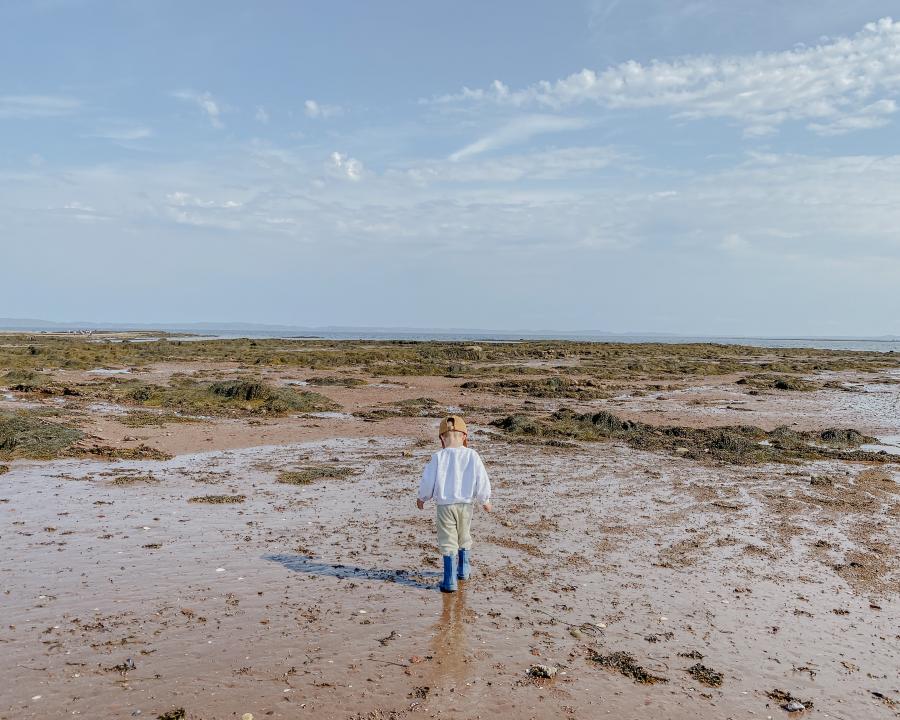 1. Kiwanis Oceanfront Camping in Saint Andrews
We chose Kiwanis Oceanfront Camping because of its beautiful views of the ocean and proximity to downtown Saint Andrews (just a 10-15 minute walk).
For families, there is a playground in the centre of the campground and when the tide goes out there is a rocky beach to play at just across the road from the oceanfront campsites.
We love to walk through downtown Saint Andrews and pop into all of their local shops, but our favourite family activity is visiting the Huntsman Fundy Discovery Aquarium. The Centre features diverse aquariums, touch tanks, a semi-outdoor tank home to some playful seals that you can watch from an above-water deck. After your tour of the aquarium, you can head out back and take a walk along the beach if the tide is out.
If you're able to get away for a date night on your family vacation (we can dream, right?), our favourite restaurant is The Chandler Room Wine Bar and Kitchen in the Treadwell Inn. The food is top-notch quality and you can enjoy it sitting out back on their patio and take in their beautiful sea views.
2. Gagnon Beach in Grand-Barachois
Gagnon Beach offers oceanfront camping along the Northumberland Strait. The campground features a warm, private sandy beach, multiple playgrounds, a heated pool, basketball, volleyball, beach yoga classes, horseshoe pits, and many more family-friendly activities.
Nearby you can find a Jumbo Jumper Jumping Air-Pillow for the kids. The seaside town of Shediac is also close by, where you can find the World's Largest Lobster or baby lobsters at Homarus Centre, as well as a variety of restaurants serving fresh, locally caught seafood. Or you could take in a day trip to see the famous Hopewell Rocks.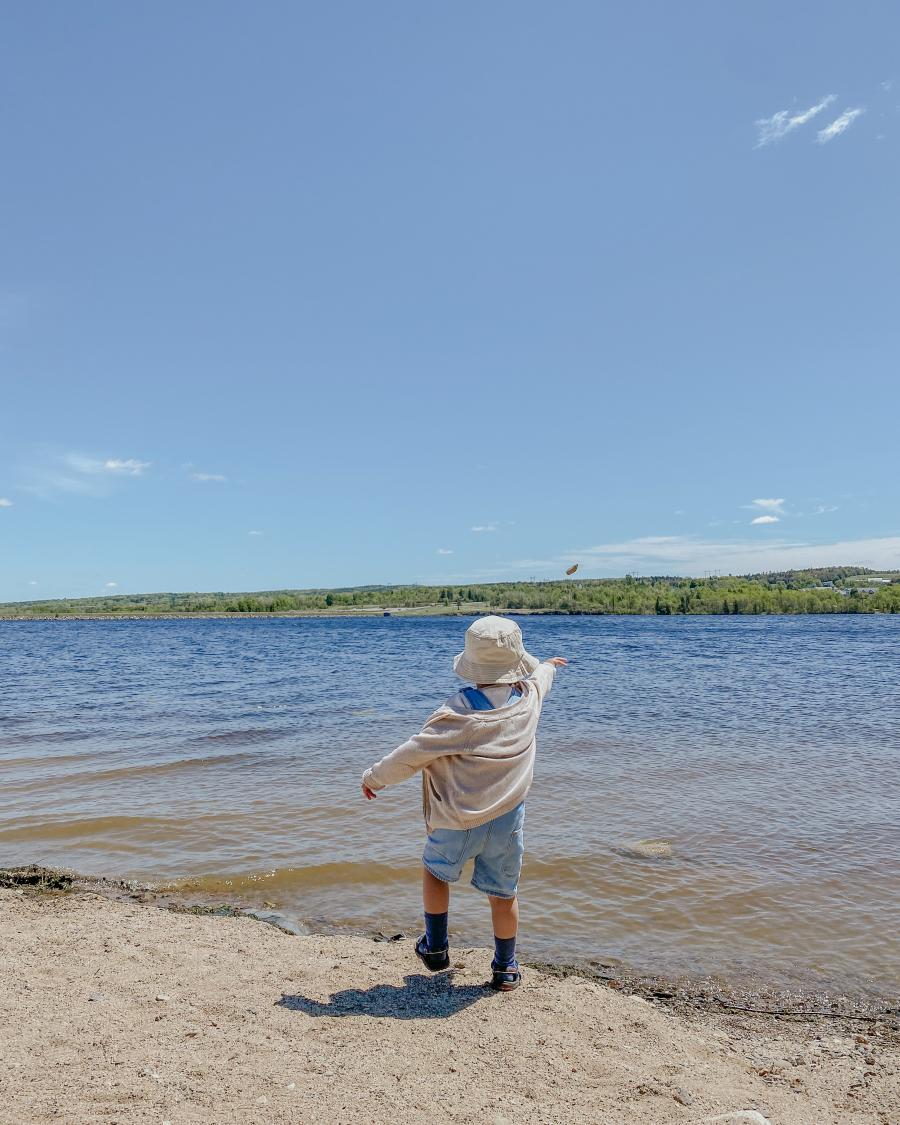 3. Mactaquac Provincial Park on the Saint John River
Mactaquac Provincial Park is a great destination if you're looking to mix outdoor adventures with some urban exploring, as it is only a 25-minute drive West of Fredericton.
The park itself is a broad woodland along the Saint John River. There are endless activities for your family, including a sandy beach, playgrounds, lots of walking and hiking trails. The TreeGo Aerial Adventure is also a must.
If you're looking to explore the area just outside of the park, the Mactaquac dam is just down the road where you can watch the water rushing through the gates, and if you're lucky there might even be a food truck parked there for lunch.
Also close by is Skinny's Scoop. This is a fun spot to stop with the kids for lunch or ice cream (I recommend Worms n' Dirt and the cheeseburgers are surprisingly delicious). There's also a small petting zoo at Skinny's with a variety of small animals, like goats and chickens.
If you go explore Fredericton, park downtown along the Saint John River and walk (or bike) across the Bill-Thorpe walking bridge (the "old train bridge") to Picaroons Roundhouse. This is a great spot to stop with the kids for lunch - they have a sprawling green space along the river, a big patio and lots of picnic benches. Grab lunch while you're there at 540 North, and maybe an ice cream for dessert at the Queen Street Creamery truck if you happen to catch them parked out back.
4. Escuminac Beach and Family Park on the Miramichi Bay
We chose Escuminac Beach and Family Park because of its beautiful private beach on the Miramichi Bay (just a two-minute walk from the campground), which features sand dunes, a boardwalk, a playground, a picnic area and a canteen.
Other things to do in the area include taking a walk along the Escuminac Wharf to visit O'Neil's Fish Market and taking a family bike ride along the Lighthouse Walking Trail.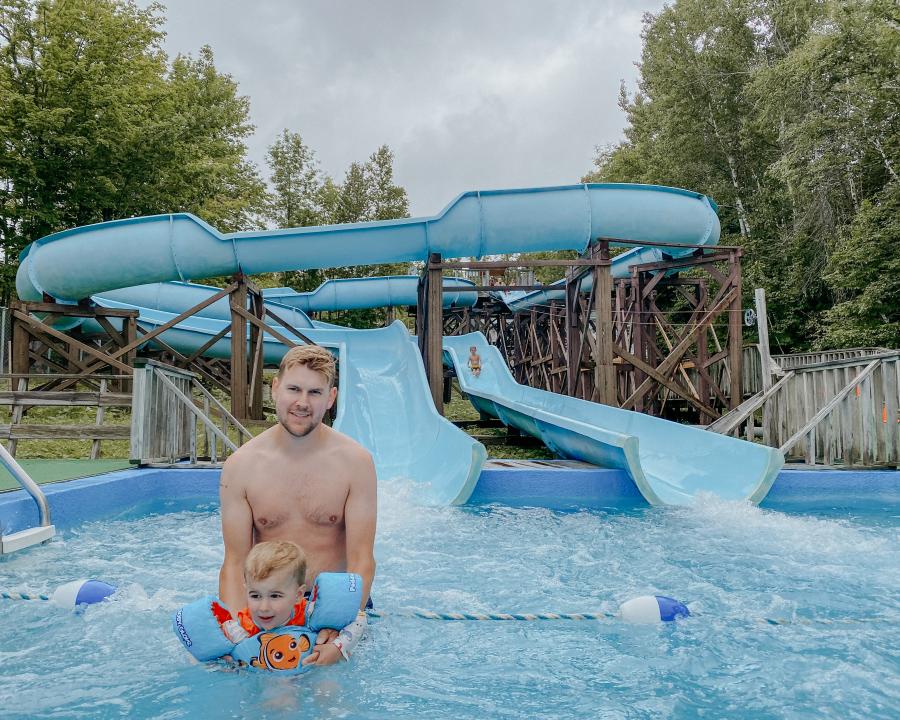 5. Yogi Bear's Jellystone Park in Woodstock
If you haven't gathered it from the name, Jellystone Park's speciality is kids. The park features a variety of attractions - two giant water slides, a splash pad, wading pool, heated pool, a jumping pillow, playground, beach volleyball, basketball, and an 18-hole miniature golf course, and that's not even everything.
At Jellystone you can expect daily planned activities for kids of all ages, and if your visit coincides, you may get to meet Boo Boo, Cindy Bear and Ranger Smith. Plan a stay around one of their fun themed weekends throughout the summer.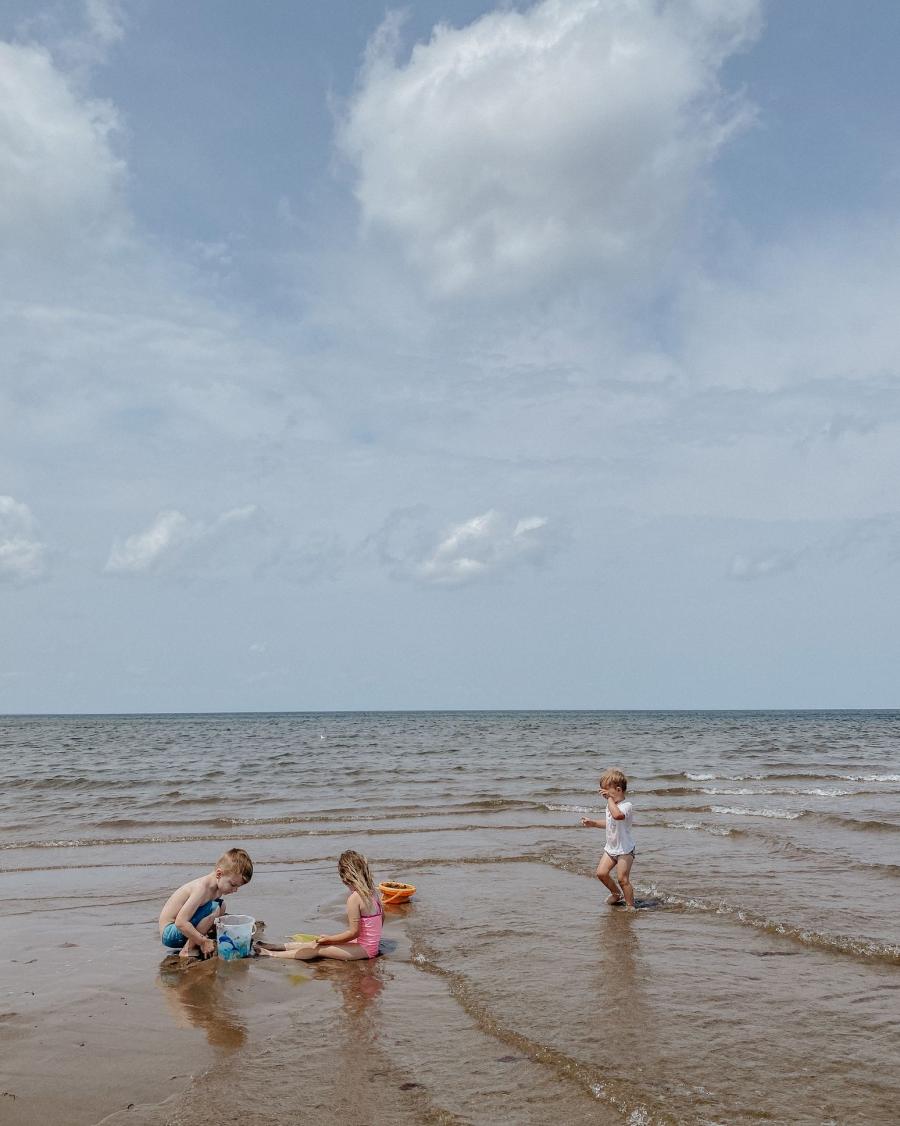 6. Murray Beach Provincial Park on the Northumberland Strait
Murray Beach Provincial Park is along the Acadian Coastal Drive, sitting on the Northumberland Strait. The campground rests on the seaside and Murray Beach is just a walk away. The beach is sandy and features warm salt water, a picnic area and playground. If you're looking for a bit more adventure, attractions include sea kayaking or the Perimeter Trail, which winds through forest and has cliff-top views of the ocean.
Other attractions in the area include farmers' markets, covered bridges, lighthouses, views of the Confederation Bridge, and the Cape Jourimain Nature Centre where you can explore the exhibit halls, various nature trails, observation tower, and take in some birdwatching. Fort Beauséjour - Fort Cumberland National Historic Site is a 30-minute drive from Murray Beach. It's a great visit with the kids, who can dress up like "gate guards" and patrol the ruins of the 18th-century star-shaped fort.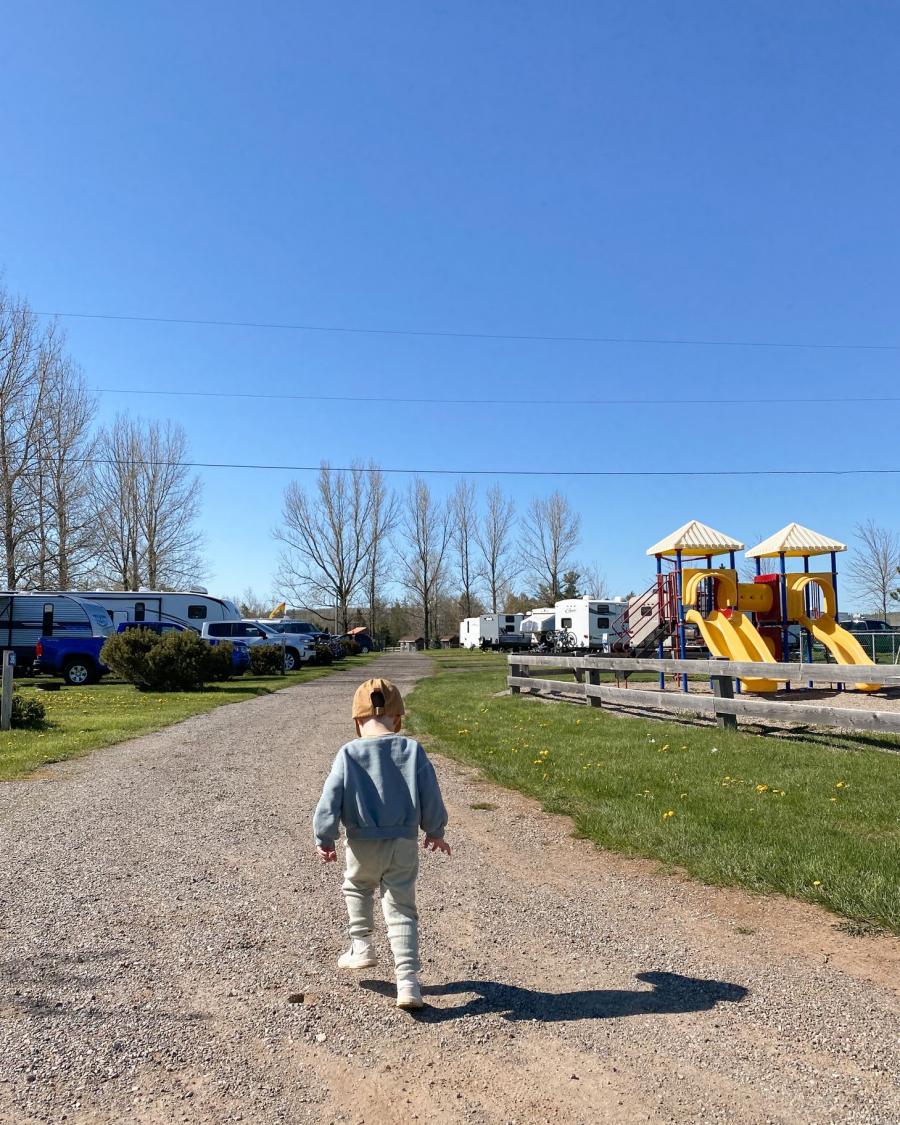 7. Sussex KOA
We picked the Sussex KOA campground because of its location, all of the on-site family activities, and to give us an excuse to visit some of our favourite spots in Sussex.
If you didn't get a chance to book a campsite at Fundy National Park this summer, but still want to take in all that the park has to offer, KOA is a great spot to stay as it's only a 30-minute drive away from the Park.
If you want to stick around the campground, your family will find lots to do – there are two pools, a kiddie pool, a splash pad, three playgrounds, a jumping pillow, a nature trail along the Kennebecasis River (bring your canoe!), a basketball court, etc. Another great perk is that it's right next to the Sussex Drive-In, which features movies every weekend.
While you're staying in the Sussex area, you have to visit the Old Bavarian Restaurant, which serves authentic German cuisine in their traditional Bavarian restaurant (make sure to book a reservation in advance!).
Another great spot to visit (about a 25-minute drive from the campground) is Corn Hill Nursery, where you can explore the nursery, take in the beautiful views and then have a glass of wine and a wood-fired pizza at the Cedar Cafe.
8. Sandy Beach Campground in Cap-Pelé
Another must-visit beach campground is Sandy Beach in Cap-Pelé, located about 30 minutes East of Moncton on the Northumberland Strait.
The campground itself sits along the beach, separated by beautiful sand dunes. The sand is soft and the beach is sprawling, making for a comfortable spot to set up for the day. We also love to watch the sun go down there at night.
If you can tear yourself away from the soft warm sand, there is also a playground (with a toddler-friendly zone), which is located in the centre of the campground.
Just down the road is Marina Aboiteau, which is perfect for a walk down the wharf to take a look at the docked boats. While you're there, you can stop at Quai Aboiteau Seafood Paradise for lunch and sit up on their rooftop patio to enjoy the views. They have tons of seafood options, but I recommend grabbing a platter so that you don't have to choose, and it's plenty big to share with the family.
If you're looking to head into Moncton for the day, our favourite family-friendly activity is walking the Magnetic Hill Zoo. It features over 400 animals, including zebras, flamingos, lots of monkeys, and my son's favourite - camels.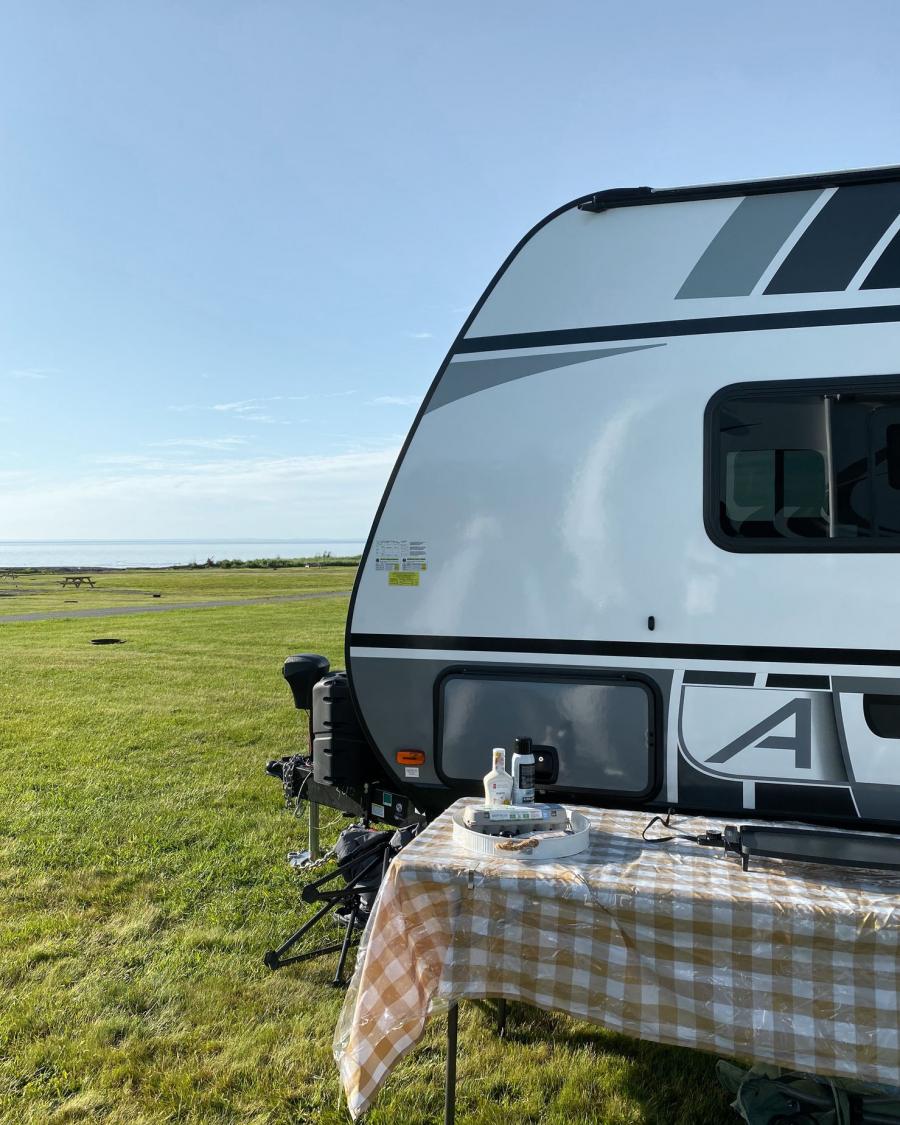 9. Century Farm Family Campground in St. Martins
Century Farm Family Campground sits along the Bay of Fundy in Saint Martins and offers spectacular views of the tides. From the campground you have access to the beach, where you can walk the ocean floor at low tide. There is also a playground for the kids, and nearby are the St. Martins Sea Caves, which are visible from the campground. After you walk the sea caves, grab a delicious bowl of seafood chowder or hot fried clams at one of the beach-front restaurants.
Century Farm is the perfect spot to stay if you're looking for some adventure. The campground is only a 10-minute drive to the entrance of the Fundy Trail Parkway, which offers various lookout spots, beaches, bridges, footpaths and waterfalls – the suspension bridge was our favorite stop!
10. Kouchibouguac National Park
Kouchibouguac offers two campgrounds for RV campers - South Kouchibouguac and Côte-à-Fabien. South Kouchibouguac offers wooded or open campsites along the Kouchibouguac River with access to sandy beaches, bike trails, and two playgrounds.
Côte-à-Fabien is located along the Kouchibouguac Lagoon, close to the Loggiecroft fishing wharf, Osprey hiking trail, and the Park's network of biking trails.
There are endless things for you to do at the park, including, the Voyageur Canoe adventure to visit the grey seal colony along protected ocean waters, the interpretive Mi'gmaq Wigwam, and biking along 60 km of trails (family-friendly trails included). For activities geared specifically for younger kids, be sure to ask for the Club Parka booklet when you arrive at the park, or download it before visiting.
Choose to take the Acadian Coastal Drive on your way to Kouchibouguac National Park for the best views!
___
Have fun and be safe camping with your family this summer!
To follow along on our family's RV camping adventure this summer, follow me on Instagram @jennnmills.