We've asked two kayaking experts about their favourite paddling spots in New Brunswick and their tips for the best kayaking adventures in the province.
Adam Constantine and Peter Lavigne are passionate about kayaking. They are guides at River Bay Adventures, an outdoor adventure company providing tours on local waterways around Saint John, New Brunswick.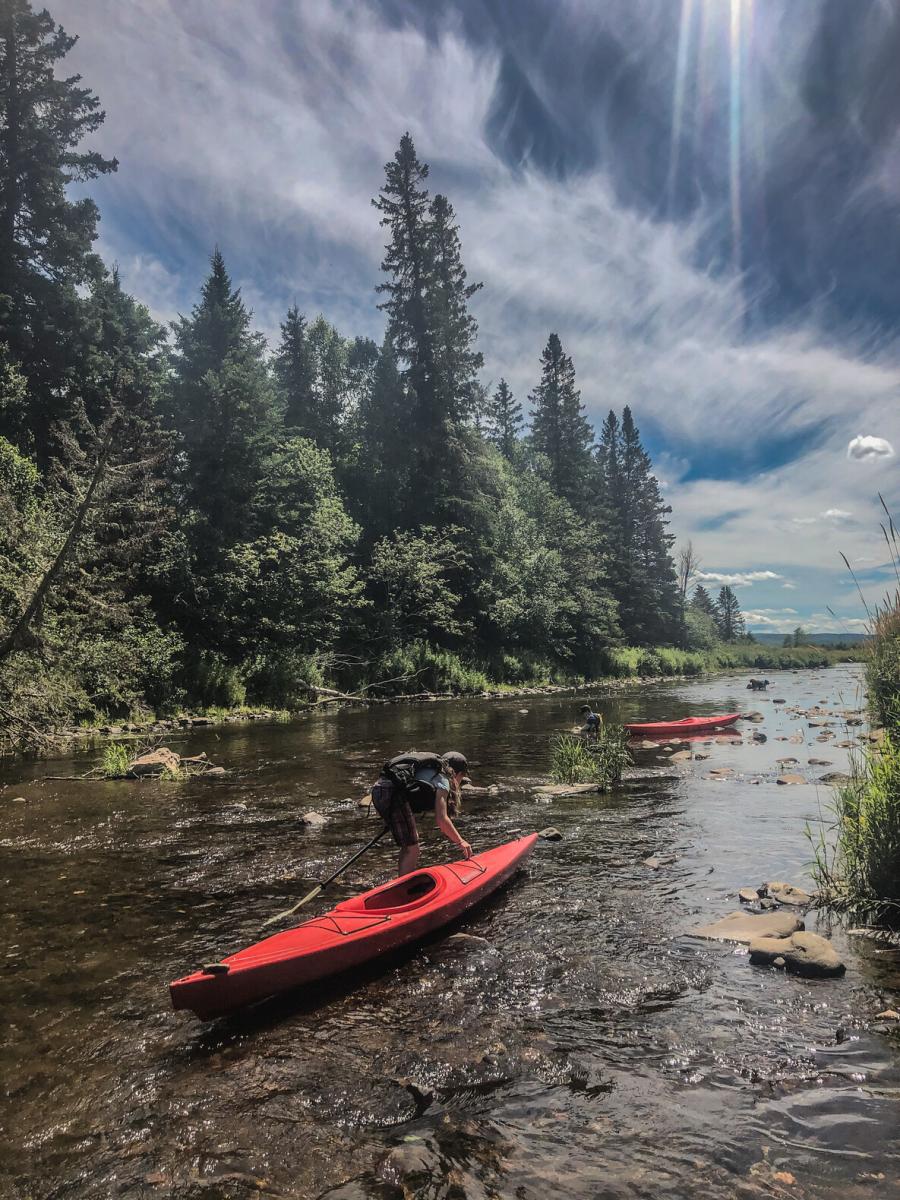 1. Who do you paddle with?
Adam:
Paddling for me is all-encompassing. The majority of the paddling I do is with my good friend Peter Lavigne, we explore up and down the coast usually looking for surf and lively conditions. The Bay of Fundy offers up a good mix for those looking for a bit of excitement but can also offer some pristine calm waters. It's all about choosing the right day for what you're looking for. As my kids are getting older and are at a mix of different ages, I get them out as much as I can too. With my youngest girls we stick to the rivers, streams, and ponds. With my two oldest we will go wherever the weather and tides let us. The beauty of New Brunswick is there are always options for whatever your pleasure. Paddling is a great way to meet new people who have a love for the outdoors. You can always find somewhere new and exciting or calm to explore. There's rarely a day on the water that doesn't allow you to have a laugh, or that stop and stare factor of just how beautiful our province really is.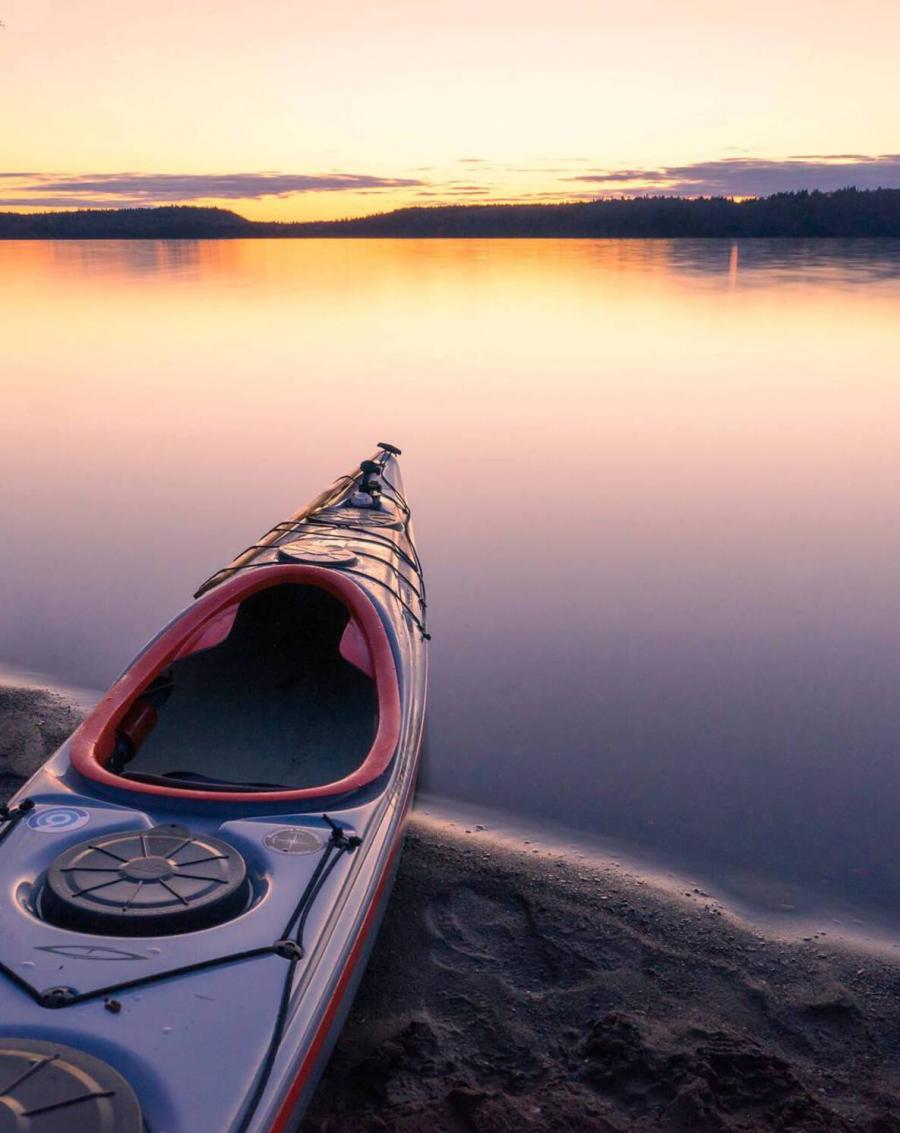 2. What's your favourite destination in NB for a short day paddling trip?
Adam:
I would have to say between Gardener Creek and Tynemouth Creek, west of St. Martins, is one of my favourites stretches of coast to go for a morning, afternoon, or evening. You can tuck into Black River at the right point of the tide. Often times you can see eagles fishing up here. Or you can choose to just skirt along the coastline and take in just how easy it is to feel small next to such big coastal features. You can literally hit the water for an hour and feel instantly recharged after taking in all the sights. As you paddle along you can feel like you're on Mars by times with the massive amounts of Sandstone, then all of sudden be paddling next to giant granite formations with so much detail in the rock you'd swear it was a sculpture of some sort from a fancy museum. It's hard to pick just one place as we have so many, but this is a great stretch to explore.
Peter:
I have recently rediscovered a lake I've truly enjoyed paddling as an alternative to the Bay of Fundy for shorter paddles, especially near sunset. It's called Loch Lomond Lake and it's on Saint John's East side, just past the airport. It is a beautiful lake with an easy launch site at the easternmost end called Baxter Corner Beach. From here, you can paddle the open body of water or make your way into Second Lake for a more sheltered paddling experience. Wildlife sightings are common in this area and the sunsets can be second to none. Fishing is also popular at this lake system.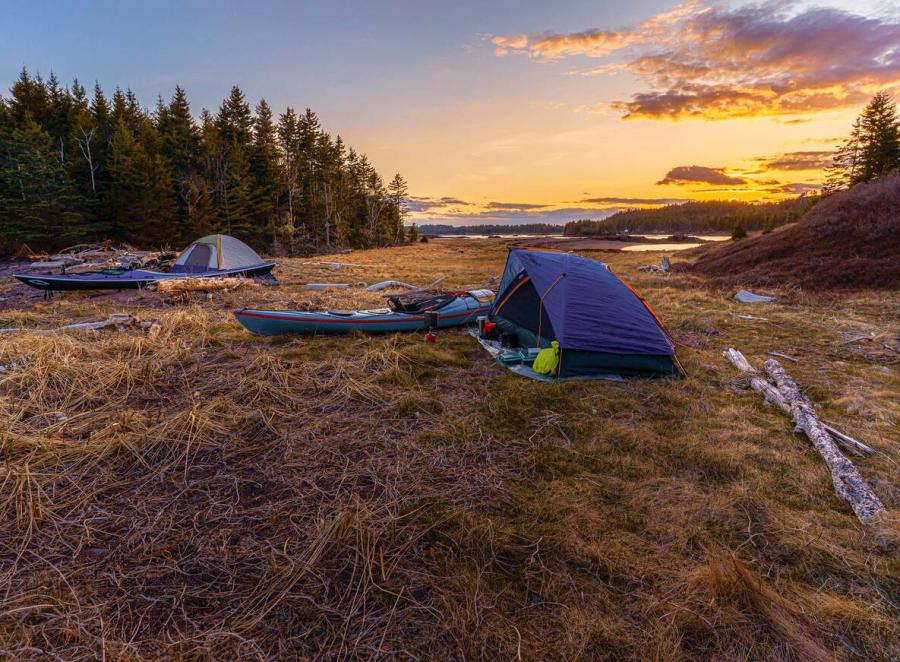 3. What's your favourite destination in NB for a multi-day expedition?
Adam:
New Brunswick is pretty blessed with awesome water ways. In the Bay of Fundy, for example, options are endless, with an ever-changing seascape and the highest tides in the world. With a 6-15 metre (20–50 feet) tide cycle, new things can be revealed or hidden, giving you a new perspective and appreciation with each visit.
The West Isles is a place I return to for multi-day adventures and island hopping. Specifically Deer Island, which offers something for everyone. It is not a place one just decides to go to without doing some due diligence. Checking marine and land forecasts and tides is key to a good day on the water. With large tides comes current. When I first started adventuring in and around Deer Island I went with experienced paddlers, not out of fear but out of learning about the area and how to stay safe while exploring. Something I would recommend no matter your destination in New Brunswick.
The nature that can be observed is amazing. Eagles soaring overhead, whales at the right time of year, seals and porpoises and a tonne of sea birds doing their thing. When you add a little camping into the mix, it's a huge win! With an endless canopy of stars along the coast it's pretty hard not to fall in love with this area, and easy to see why we truly live in the picture province.
Peter:
In my opinion, the Fundy Isles, between Deer Island and Campolbello Island, are an ideal destination for multi-day kayaking. Paddlers possessing the knowledge, skills and equipment for kayaking on the Bay of Fundy will find this archipelago of small islands extremely interesting and rewarding. Aquatic wildlife sightings, from harbour and grey seals, to porpoises, dolphins, and even several species of whales, are always a possibility. The chain of islands offer countless potential camping sites, where kayakers can set up camp and take in all they have to offer. I've been kayaking around these islands for over 20 years and still get excited to paddle, explore and camp here every time.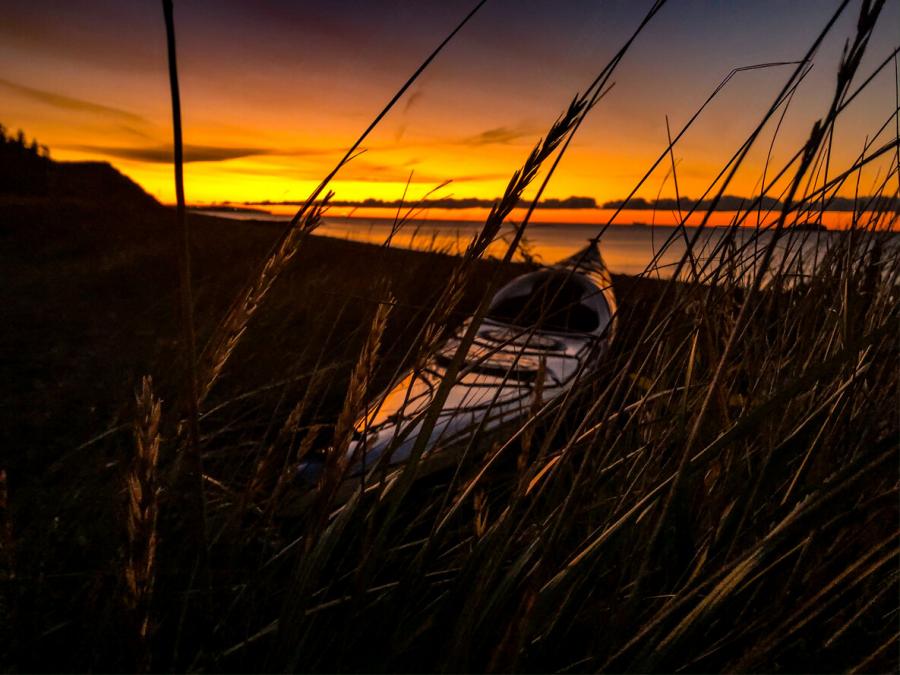 4. Is there a provincial or national park in New Brunswick that stands out for paddling activities?
Adam:
The one that stands out the most for me personally is Fundy National Park. It has something for every skill level. If you have kids you can hit Bennett Lake with your family. If you don't have your own kayak or canoe you can rent one. It's a big enough lake that you can get your fill of exploring in. With little islands in the middle of the lake, you can really lead a most excellent adventure with your kids. For the more adventurous folks, the Bay of Fundy is right here as well. For folks that don't own kayaks you can go with the local outfitter out of Alma and they will lead you on a great trip and ensure you feel safe. Or if you have your own gear you can choose from multiple beaches and explore the coast yourself. My favourite place to launch from is by Hueston Brook, at the Point Wolfe covered bridge. Very much a planned adventure with the tides and a more challenging launch site. If you've ever walked the beach at Point Wolfe at low tide, you have seen the high-sided cliffs in this cove. It's a totally different experience paddling here. You don't even have to leave the cove! Always check the tides and marine forecast when paddling the Bay of Fundy as the weather can change in an instant and having a safe and fun day is always best.
Peter:
I find Kouchibouguac National Park to be a great destination for kayaking and paddling in general. As amazing as Fundy National Park is for sea kayaking, Kouchibouguac offers warmer waters than the Bay of Fundy, with much easier launch sites. Tides are far less of an issue and paddlers are able to launch in a sheltered lagoon. From here, we can explore estuaries in warm calm waters. Sandy beaches along the dunes are also very close by to explore and enjoy. Camping and family friendly hiking and biking trails are also within the park.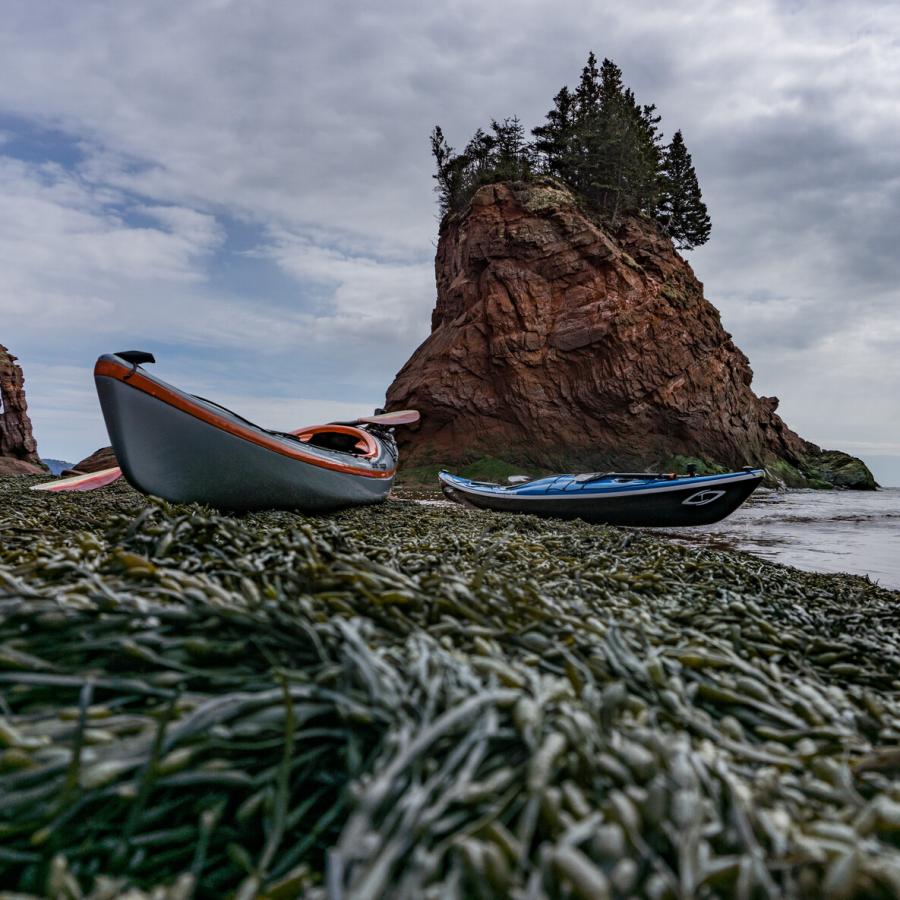 5. Which paddling destination is on your wish list to go to next?
Adam:
I would like to check out Heron Island, on the Chaleur Bay. It has warmer tidal waters and nice sand bars, and could offer a chance to explore some French and Indigenous heritage. With multiple vantage points for capturing glassy water sunrise and sunsets, it has made my must-see list. Another must for me is Miscou Island, on the North-easterly Tip of New Brunswick. The colourful peat moss bogs offer some really neat nature photography. From what I hear, if you're into bird photography you can find some neat little fellas in this little ecosystem. Potentially this summer Northern NB will be receiving a visit from me. Fingers crossed!