New Brunswick Chefs & Restauranteurs Interview Series
We've asked New Brunswick's chefs and restaurateurs what they love to prepare in-house, where they shop for ingredients and which takeout dishes have been getting them through the pandemic.
Today we're talking with Alex Haun, award-winning chef of The Garden Café & Savour in the Garden at Kingsbrae Garden in Saint Andrews.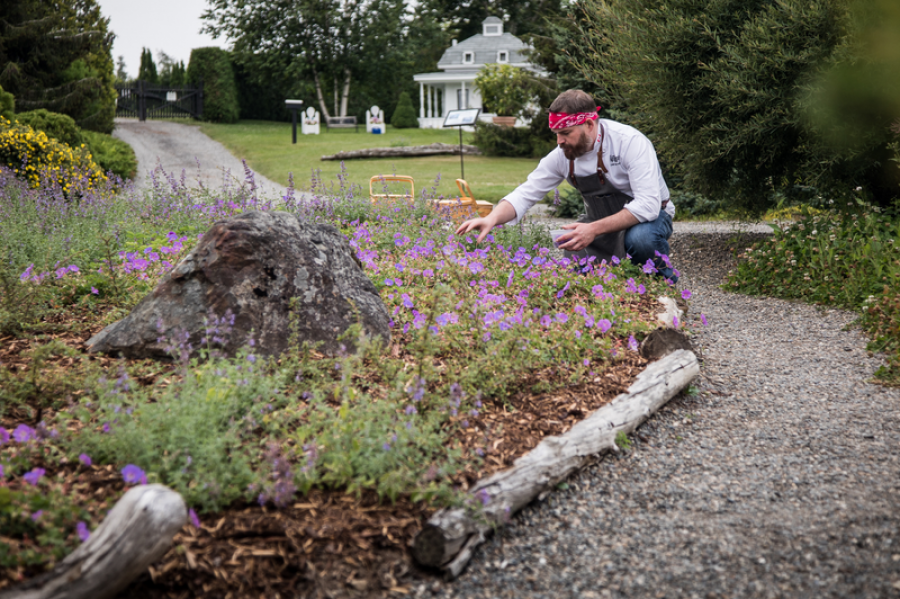 ALEX HAUN
The Garden Café & Savour in the Garden, Kingsbrae Garden, Saint Andrews
@chefalexhaun
@chefhaun

Tell us about your restaurants. Favourite item on the menu? Best pairings with local beverages? Anything we should know about the ingredients?
At Kingsbrae Garden, our culinary team creates artistically-inspired plates utilizing the freshest garden ingredients and products from all over New Brunswick. The menus are always changing but we do keep a few classics on all season long. Both the Garden Café and Savour in the Garden share an elegant, turn-of-the-century style. Our beer selection is ever changing with all six taps dedicated to New Brunswick beer. Our cocktails feature garden fruits and herbs to entice and excite the senses. 
Tell us something no one would know about you or your restaurant.
I first started working as a dishwasher at Kingsbrae when I was 13. I always knew I wanted to be a chef and it's amazing that my career ended up back here where it all started. Kingsbrae Garden is such an amazing place, and I am so fortunate to spend each day here.
When you're cooking for yourself, where do you like to grab your ingredients?
Stewarts Village Market in Pennfield for my butchery needs (ask for Kyle), North Market for seafood in Saint John (ask for Liam), and Bantry Bay Farm for vegetables (ask for Mike).
Where is your fave place to get take-out (that's not your own spot)?
Saint Andrews doesn't have take out but if we are looking to have a night out we are headed to Rossmount Inn or The Chandler Room.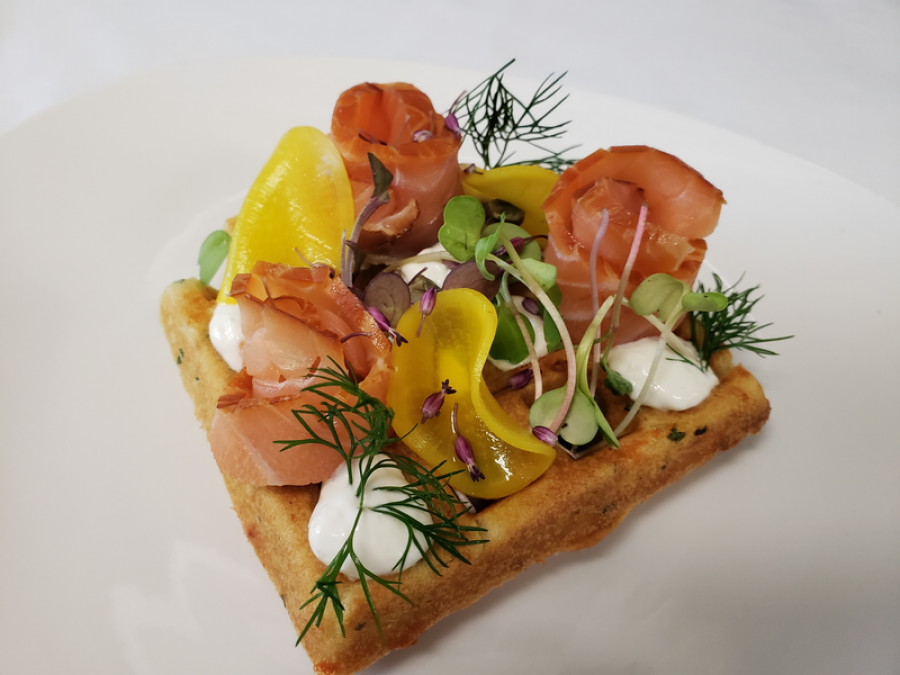 What's your go-to item on that menu? How do you like to enjoy the dish?
Menus at both of these restaurants are seasonal and ever changing so I go for the recommendation from the chef.
What's your fave New Brunswick comfort food? Is there a recipe you cook that makes you feel like home?
Tourtière!! It's great anytime of year but traditionally we always have one Christmas Day.

Alex Haun's Tourtière Recipe
White Tail Deer Tourtière
Ingredients
1 tbsp. (15 ml) vegetable oil
1.5 lb (907 g) ground deer
½ lb (227 g) ground pork
1-½ cups (375 mL) beef stock
1 onion, finely diced
3 cloves garlic, minced
¼ cup (60 ml) red wine
1 tsp. (5 ml) salt
½ tsp. (3 ml) cinnamon
½ tsp. (3 ml) pepper
1 tbsp. (15 ml) fresh thyme 
¼ tsp. (1 ml) cloves
¼ tsp. (1 ml) cinnamon
¼ tsp. (1 ml) ground dry ginger
¼ tsp. (1 ml) nutmeg
¼ tsp. (1 ml) all spice
½ cup (125 ml) chopped fresh parsley
¼ fresh thyme leaves 
1 egg yolk
1 tbsp. (15 ml) cream
1 recipe of favourite pie dough or short dough
Filling: In a large pan sauté onion and garlic until translucent. Add red wine and reduce until the pan is almost dry.
Add stock, deer and pork. Cook on medium heat stirring occasionally until the meat is fully cooked. Add spices and herbs and cool in the fridge overnight. 
On lightly floured work surface, divide dough in half, roll out 1 dough to ½ cm thickness to fit into 9 in. (23 cm) pie plate. Trim to fit, leaving .8 in. (2 cm) overhang. Scrape filling into pie shell, pressing down lightly to pack. Whisk egg yolk with cream and brush the edge of the pastry.
Roll out remaining pastry .2 in. (½ cm) thickness, fit pastry over filling. Trim to fit. Brush some of the remaining egg mixture over pastry. Cut a small triangle to vent. 
Bake at 375 °F (200°C) for 45-60 minutes
Hungry for more? Visit our Food & Drink page!