By Julie Aubé et Katrine Noël
We were having a drink at our favourite restaurant, Brumes du Coude (Moncton, NB) when we started reminiscing our Acadian dream weekend in the Acadian Peninsula. We had a blast! Let us tell you about it. 
We made it to Caraquet on the night of August 13th, just in time for the Festival Acadien. The event itself is worth the trip, it spans on about two weeks of live shows, art exhibits, family gatherings, colourful parades and all that good Acadian stuff! It's so cool to drive through the region and see the thoughtfully decorated houses and lawns. You can really tell the festival has been around for almost 60 years. 
After a night of playing music with friends, eating too much Dixie Lee fried chicken (Caraquet has the best, prove us wrong!) and slinging back a few Alpines, we needed a hearty breakfast to start our day. We drove past half a dozen yard sales and two marinas heading down to Bas-Caraquet to the Café Maris Stella. This place is huge. Whether you want to swing on a wicker chair in the sunroom or feel the breeze on the second storey patio, we suggest this café for their locally roasted coffee and decadent Eggs Benedicts.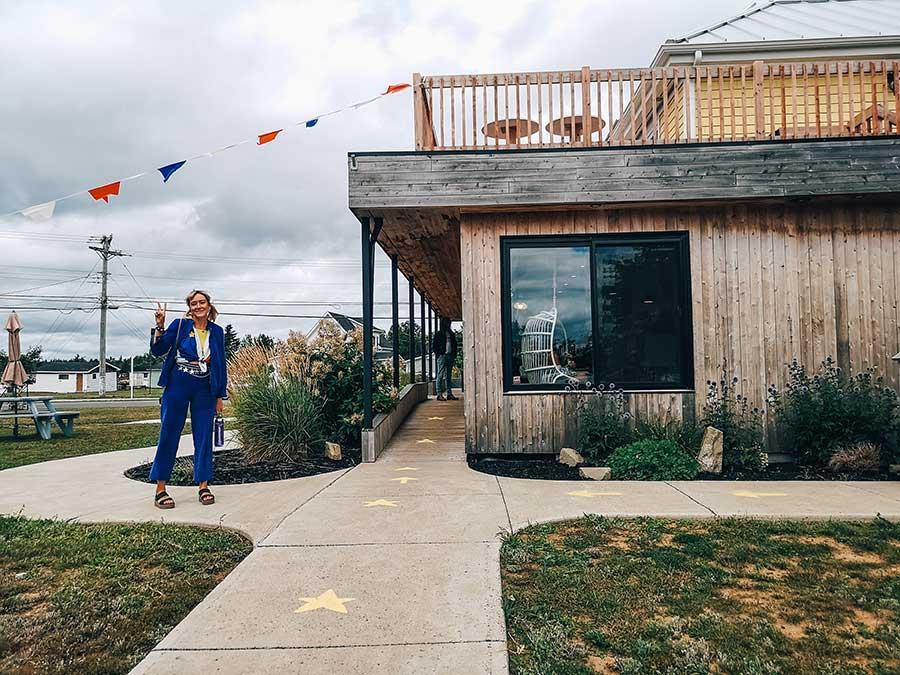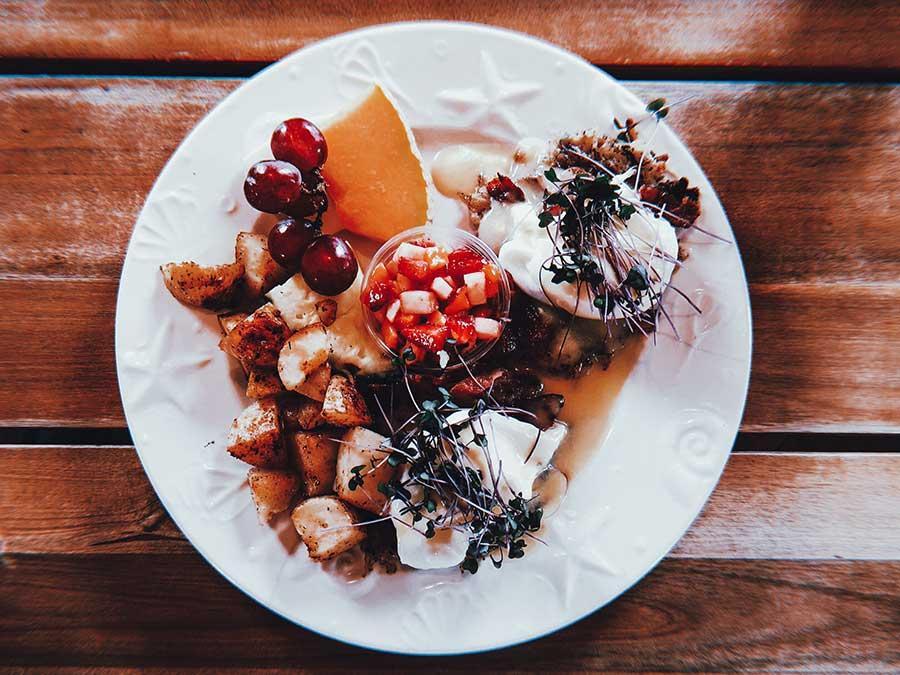 We tend to avoid the so-called "tourist traps". But on some occasions, we all need to be reminded that these institutions are still around for a reason. The Village historique acadien located in Bertrand is exactly the wholesome fun you didn't know you needed! We loved learning about the 1700 and 1800s through preserved general stores, hotels, barns, and various family homes. We saw a man making cedar shingles, another forging nails, some women tending to farms and fields and so many more skills that are lost on us now. If we had kids, we would sign them up in their unique summer day camps. Heck, we wish we could go! After half a day of frolicking, we sat down at their Bistro for a very tasty 21st century Poke Bowl and the best traditional sugar pie we've ever had. Don't tell Nana!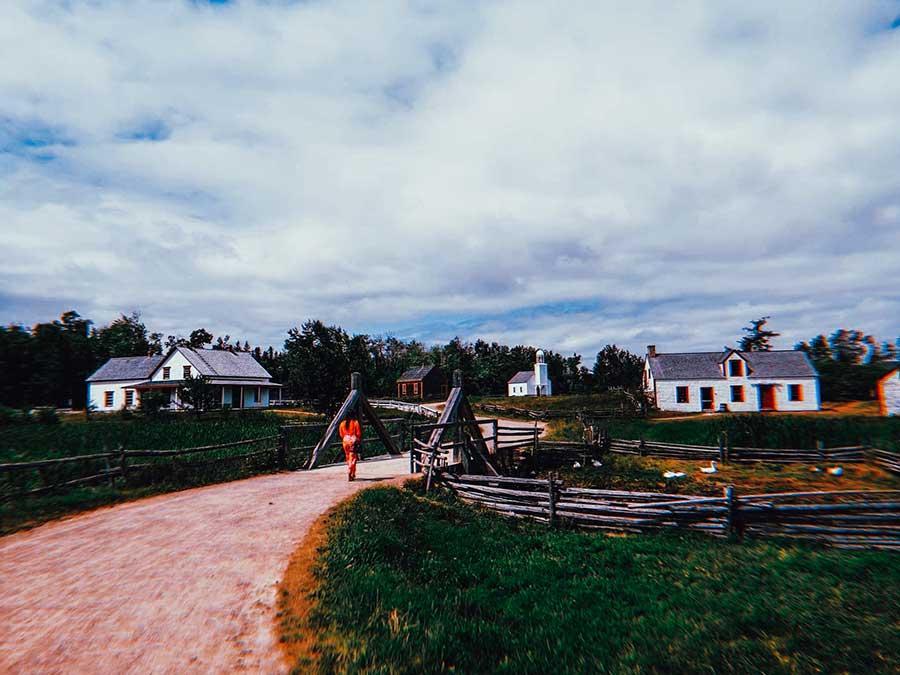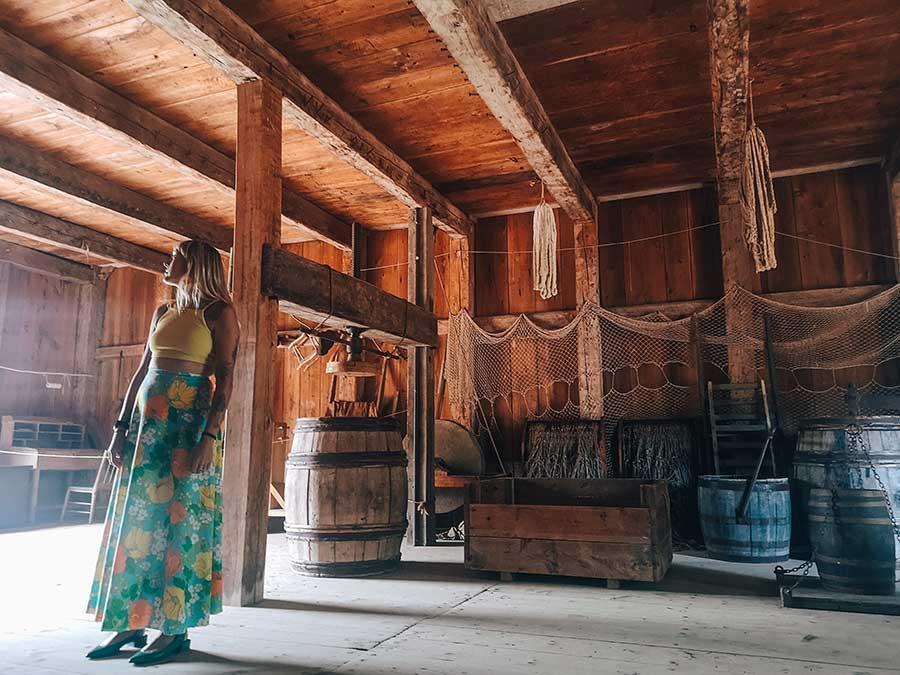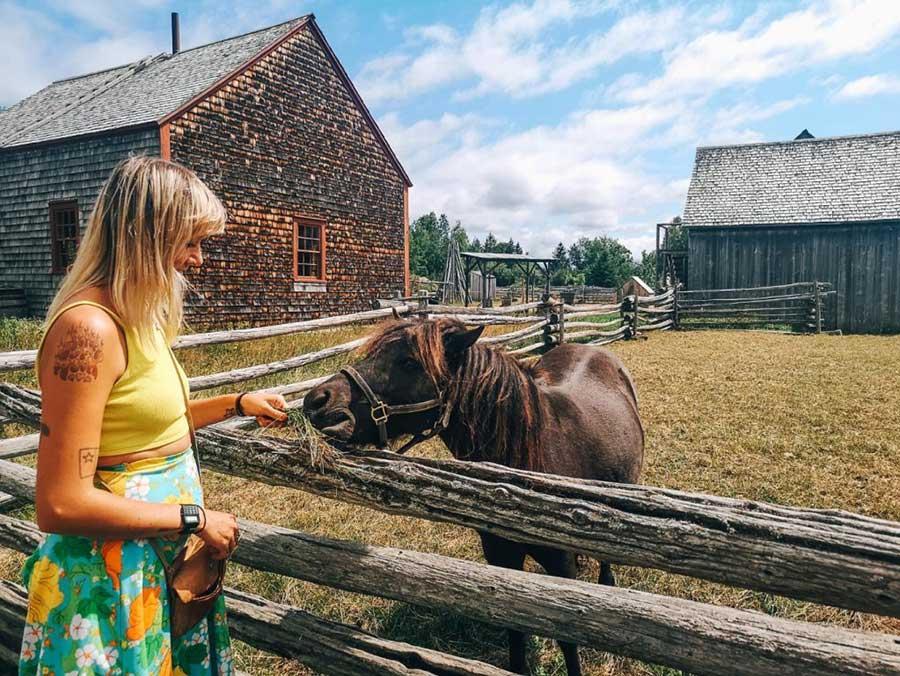 All that fun made us thirsty! We made our way to Petit-Paquetville to visit the Fils Du Roy Distillery. We've been enjoying their award winning "Gin Thuya" since their early beginnings. It's a full-on family operation, you feel right at home while they show you their pride and joy. Barrels aging, copper stills, bags of barley and oats fill the space while you're being guided through and explained the process of making beer, whiskey, vodka, gin, rum and specialty liquors. The tour ends by a thorough tasting experience. You'll leave with all your questions answered and a new or deepened appreciation of our local brew masters and distillers. Later that night, we walked the boardwalk between our hotel and the little shops and restaurants. We retired early to our patio and enjoyed a nightcap of the products we bought earlier that day.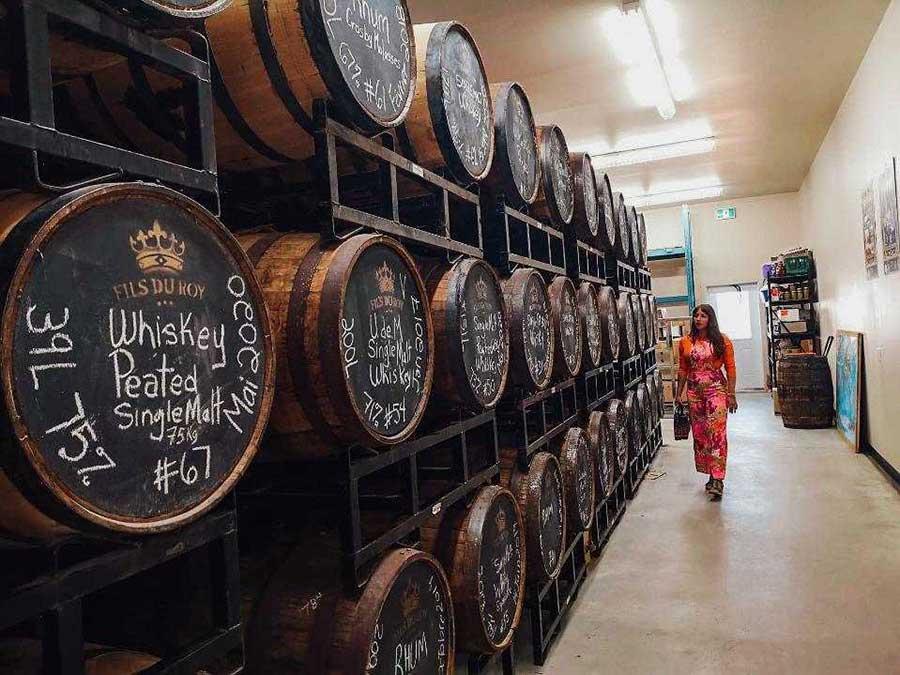 August 15, c'est le 15 août!
For us, this day always starts the same. Excited like Christmas morning, we listen to our favourite Acadian bands and try on a million different red, white, blue and yellow outfit combinations. It's a sight to see! We met up with family and friends to begin the long-awaited washer toss tournament. As the young and the less-young compete under the sunny skies, we knew this moment would be part of "The good old days". Katrine and I even won against Yves and Abel, the undefeated uncle duo. They have their toss down to a science.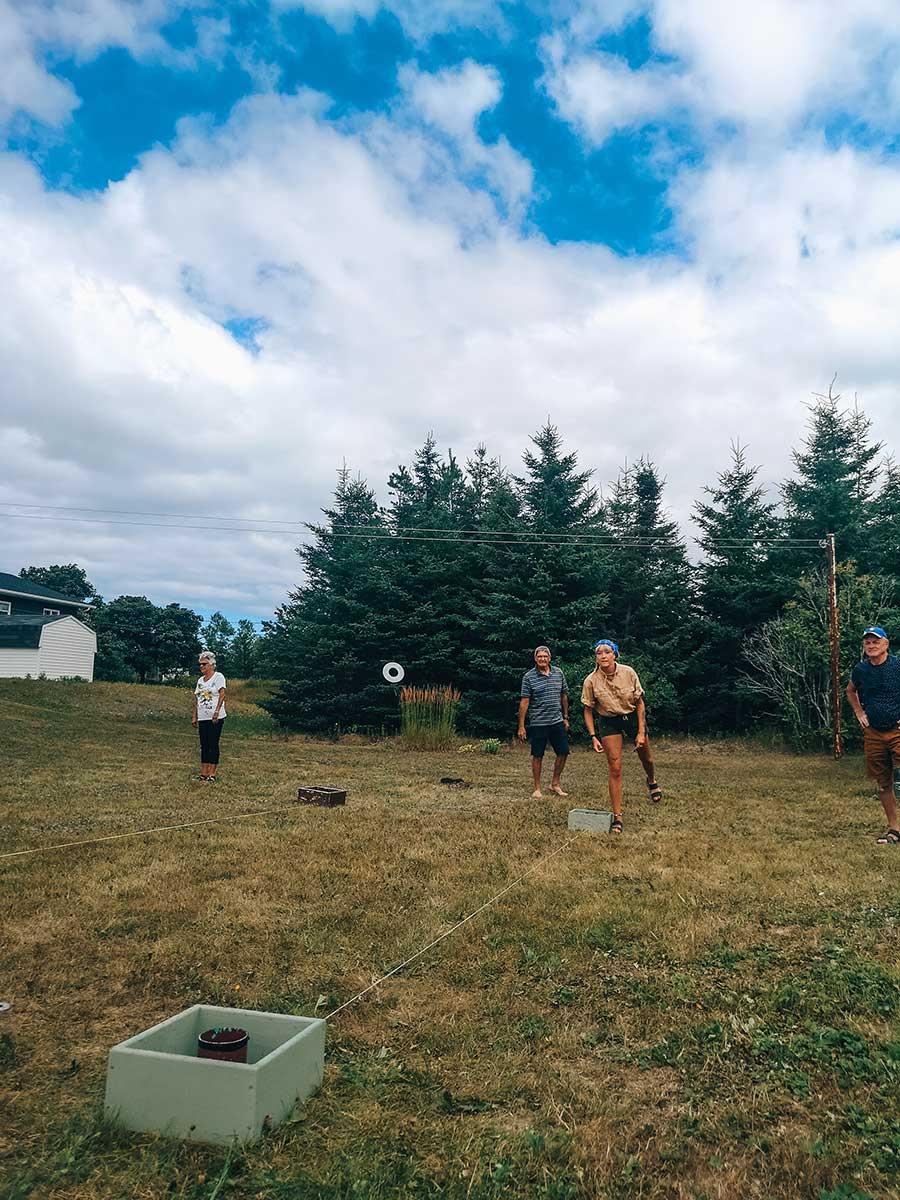 As the region is known for their fruitful fishing industry, we can't resist having seafood at least once a day while we're there! Caraquet's Maribel family restaurant was the perfect place for a down-to earth lunchtime crab or shrimp club sandwich with a side poutine. While you're there, there is a "stuck in the 80s" adorable ice cream parlour to the left. We suggest getting a soft serve in a waffle cone on your way out! 
We hopped in the car for a scenic ride heading north east to the islands of Lamèque and Miscou. It's a short way out from Caraquet (about 1 hour) but we must've stopped 5 times along the route! Our highlights were: walking through the imposing Peat Bog Boardwalk, the famous candy-coloured church in Petite-Rivière-de-l'Île and the kitschy tropical seafood joint, La terrasse à Steve. Finally, we made it to what the locals call "the edge of the world"; the beautiful Miscou lighthouse. The Acadians have a saying "voir Miscou et mourir", it roughly translates to "I've seen Miscou, so now I can die peacefully". Does it live up to the hype? You'll have to see for yourself! It's not just about the lighthouse, it's about the intimate concerts they host inside, the endless beaches, the seclusion and rich history of the place, of course!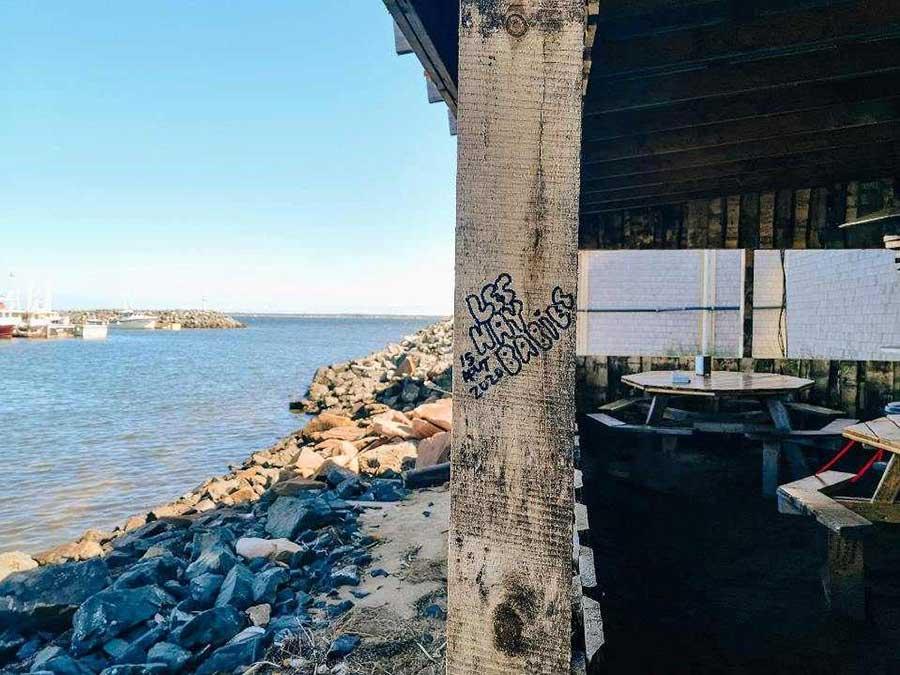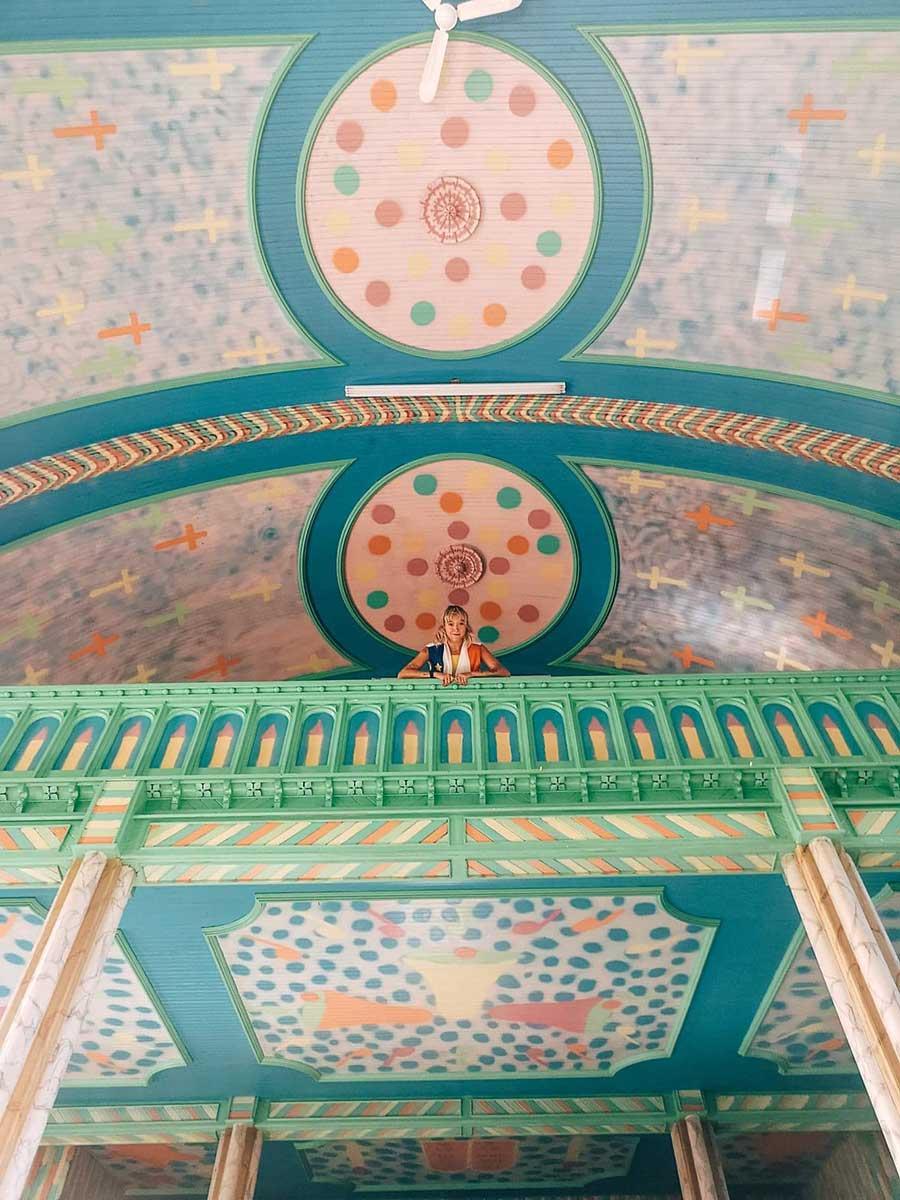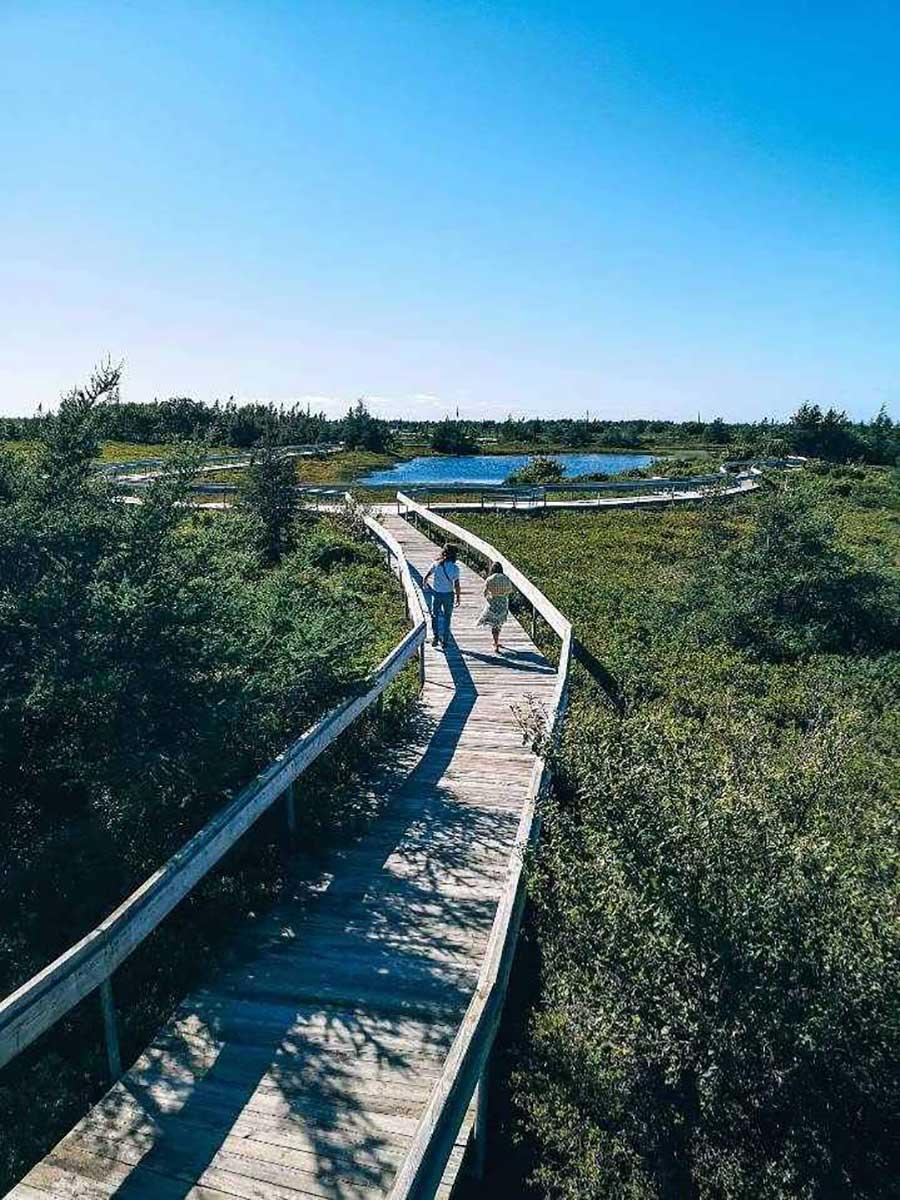 After a few hours of rest back in Caraquet, we were ready to conclude this eventful weekend with a toast! Off we went to our favourite hang-out on the waterfront boardwalk, La Brokerie! It's a cheery spot for a drink on the wharf both day and night, with string lights glowing all around their sprawling patio. When the ocean breeze gets too chilly you can always find a comfy spot inside to sip on your mojito. As we had planned to sit back and cheers to our fun weekend and another Acadian day coming to an end, we ran into some friends, which is no surprise when you're in a bar in New Brunswick … What more can you ask for!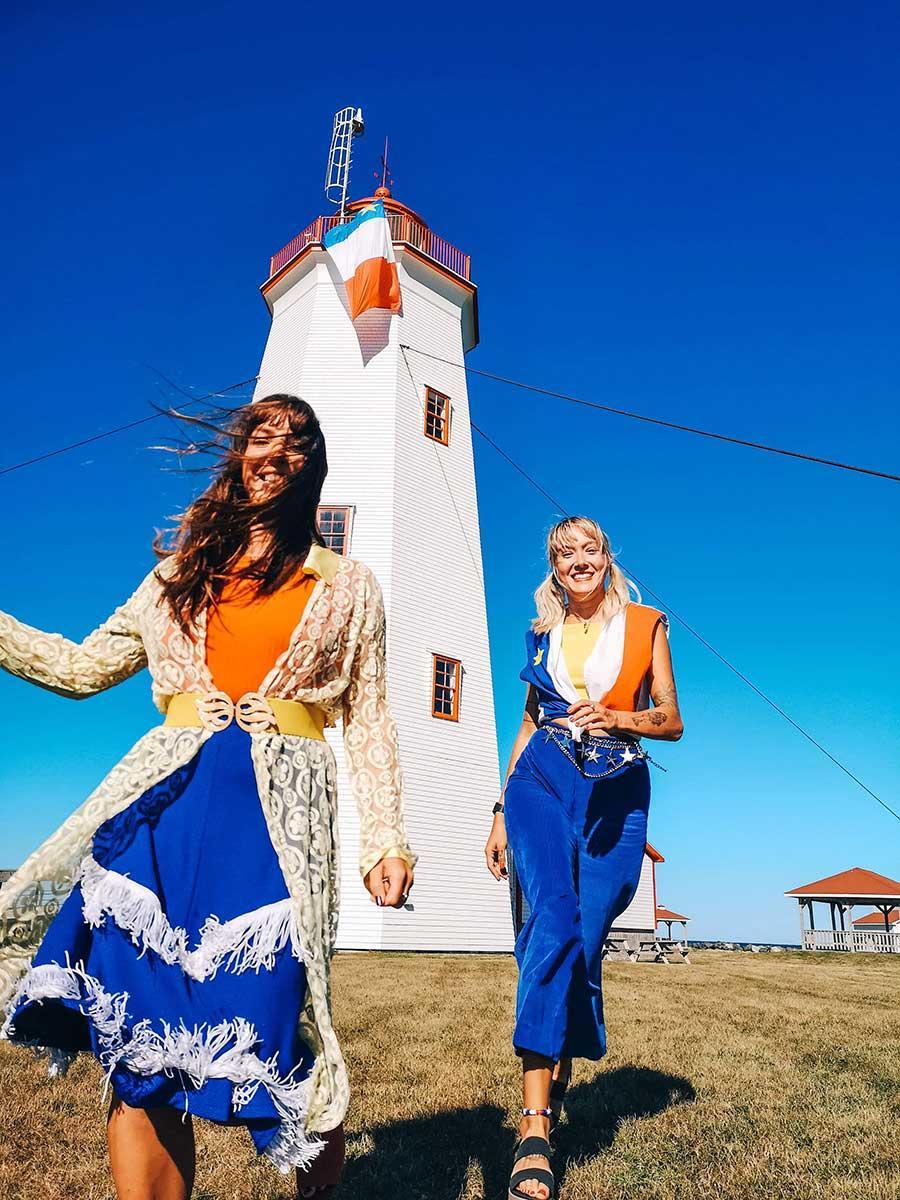 Julie Aubé and Katrine Noël are 2/3 of New Brunswick's Acadian girl band "Les Hay Babies". They've spent the last 8 years playing all over the map! These gals can be often recognized for their funky retro style on and off stage. Besides keeping busy with their music careers, these BFFs run an online vintage store – Ok My Dear Vintage. Most recently, Kat and Julie have used their passion for fashion to do costume designs for plays and concerts. Whether they're on tour or hunting for treasures of the past, they're mostly just having fun scheming up their next big plan.