Hiking NB bloggers James and Vicki Donald share their favourite spots for family hikes.
Kids love to explore the great outdoors. What simpler way to do this than by going for a hike? It allows these curious explorers to be immersed in the world around them. They could experience birds landing in their hands, coastal lookouts frequented by whales, or winding boardwalks that give way to the beach. It's enough to make kids want to get off the couch and forget about their screens, and can be just as much fun for parents. All you need to do is remember what it's like to be a kid again!
To point you in the right direction, here are our trail recommendations for family hikes:
1. DALY POINT NATURE RESERVE, BATHURST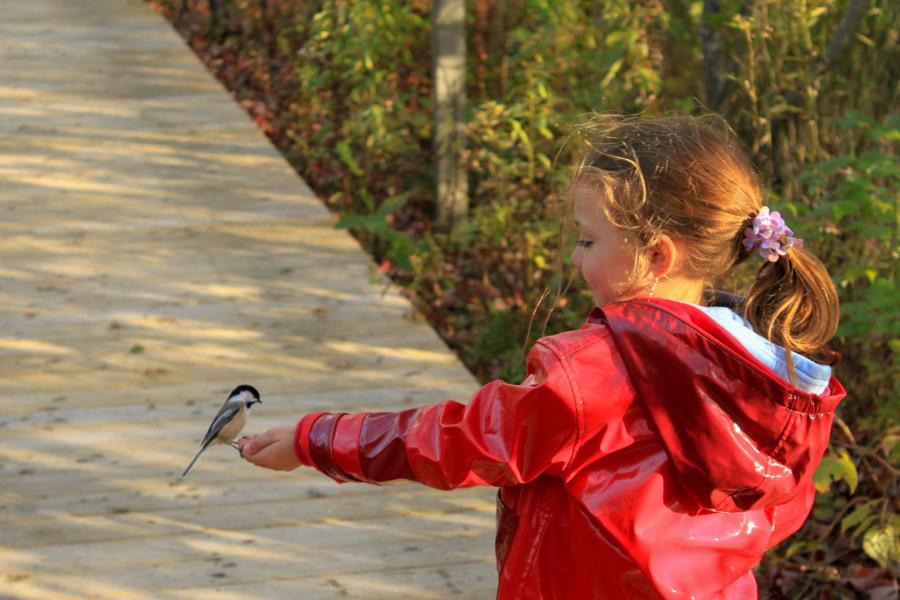 Distance: 2 km (1.2 mi.) return
Difficulty: Easy
Features: The friendliest birds you'll ever meet
Having small birds land in your hand is one of our kids' favourite things to do. Our preferred place to do this is at Daly Point Nature Reserve in Bathurst. Walk down one of the trails towards the saltwater marsh, put a few sunflower seeds in the palm of your hand and hold it out. Then wait. Soon you will have small chickadees and nuthatches landing on your fingers and plucking the seeds from your palm. It is a bit scary at first, as those tiny claws grab on, but once the kids get used to it they will have a hard time keeping from giggling with excitement as the birds land.
More info:
Daly Point Nature Reserve
Trail map and details
2. KINNIE BROOK TRAIL, FUNDY NATIONAL PARK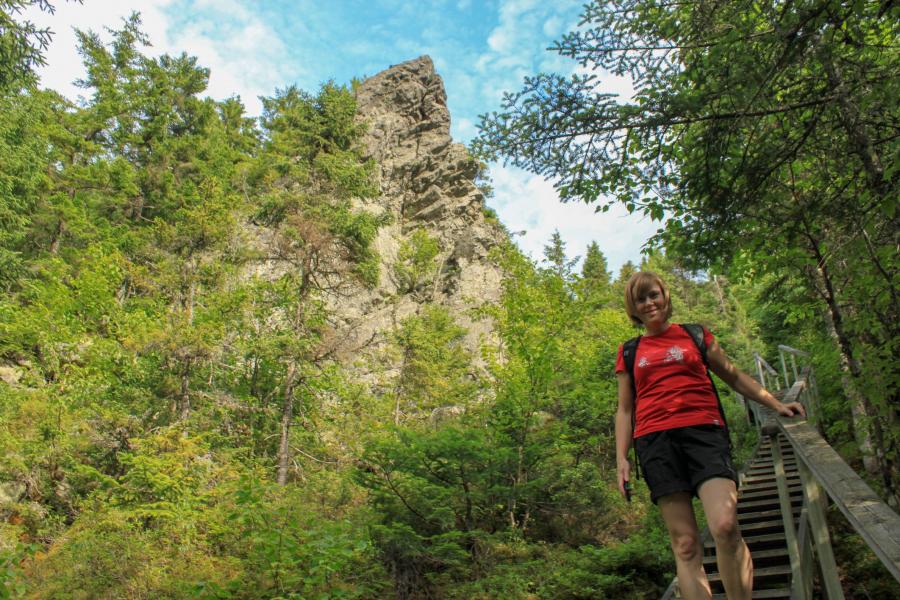 Distance: 2.4 km (1.5 mi.) return
Difficulty: Moderate
Features: rocky spires, disappearing stream
After a short walk through the woods, you start a long descent down into a lush green valley on the longest staircase you have ever seen. The kids will be amazed as they look up at the towering rock spires next to the boardwalk. Once you reach the bottom of the stairs, you may find a brook or you may not. The brook is always running but sometimes it travels underground! A lookout platform and interpretive signs will tell you all about it as you look up through the deep valley. The trail can also be accessed from Chignecto campground so it's a great option while camping.
More info:
Kinnie Brook Trail, Fundy National Park 
Trail map and details
3. HOLE-IN-THE-WALL TRAIL, GRAND MANAN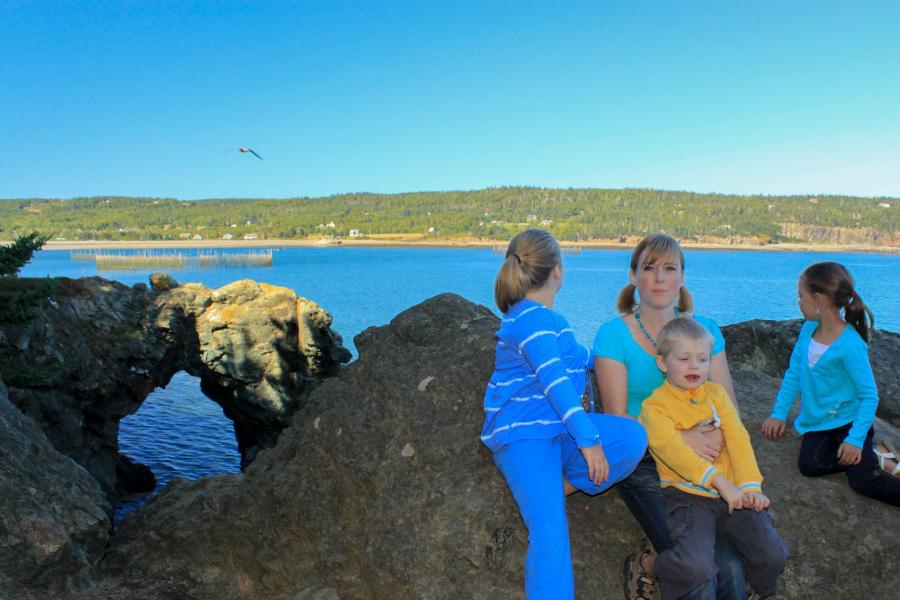 Distance: 600 metres (.4 mi.) return
Difficulty: Moderate with exposed cliffs
Features: Scavenger hunt and large rock arch
Taking the ferry across to Grand Manan Island is always exciting for kids. It's even more exciting when they get to go on a scavenger hunt when they get there. At North Head Campground and Park (formerly Hole-in-the-Wall campground), not far from the ferry, you can pick up a Discovery Trail map after paying a small fee. The kids can check off the checklist on their discovery map as they find objects along the trail. After a short hike through the woods you will come out to the cliff tops overlooking the Bay of Fundy. From here you may see whales near Whale Cove. If your family is up for more adventure, travel along the cliff tops for a short distance to the Hole-in-the-Wall rock formation. This large rock arch that juts out into the bay is a spectacular sight.
If you came to the island for camping then you may want to consider staying at North Head Campground and Park.
More info:
North Head Campground & Park
Trail map and details
4. WHITE RAPIDS ADVENTURE TRAIL, FREDERICTON JUNCTION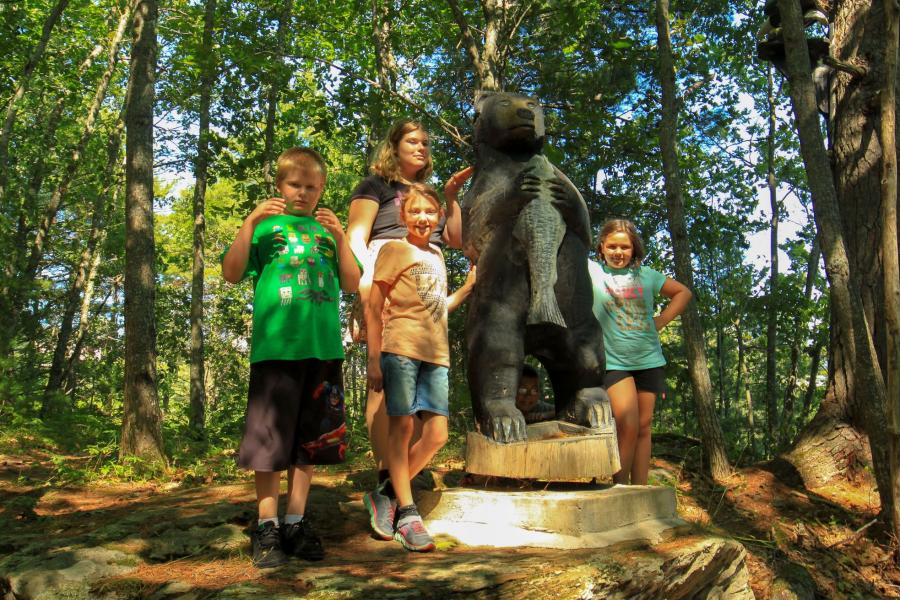 Distance: 500 metres (.3 mi.) loop
Difficulty: Easy
Features: Large wooden statues and a museum
You'll be welcomed to this park by a large wooden statue of a bear! Enter the woods next to the Currie House Museum and find a large wooden salmon, faces carved into large stumps and a large 1.5-metre (5-foot) hand. There is even a large rock face that is 2.5 metres (8 feet) high and similar to the stone faces on Easter Island. On a hot day wade into the river on the flat rock. Don't forget to stop into the museum to discover even more interesting things.
More info:
White Rapids Adventure Trail
Trail map and details
5. KIRKPATRICK FAMILY TRAIL, WIRRAL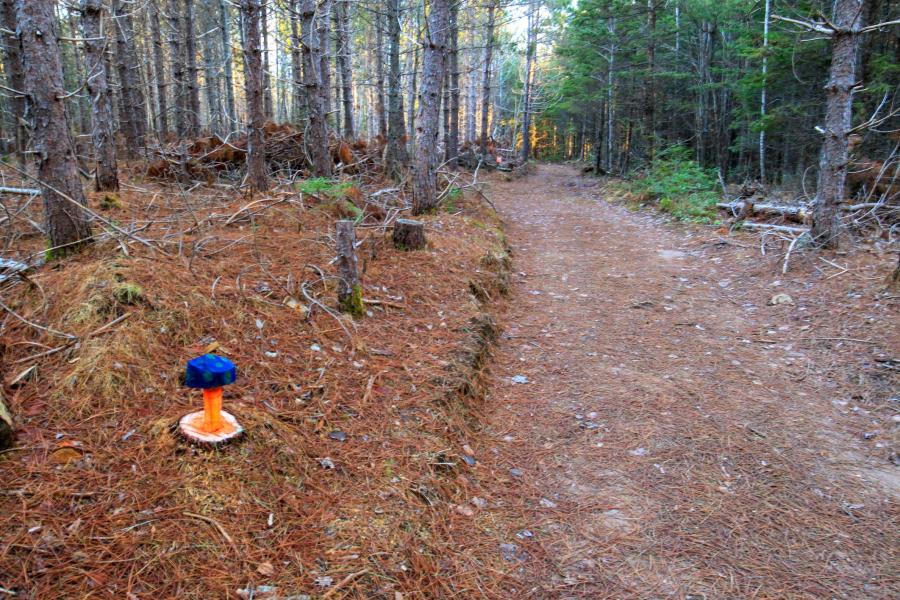 Distance: 2 km (1.2. mi.) return
Difficulty: Easy
Features: Small wooden statues and large waterfall
When the kids start this walk, they will soon notice that this trail is different. Colourful stumps carved into little statues and painted in bright colours dot the trail. These mushrooms and minions are a kind of Easter egg hunt. At the end of the hunt is a large lookout platform that overlooks the very large and impressive South Branch Oromocto Falls. Read about the history of a local log driver on the trail's interpretive panels.
More info:
Trail map and details
6. SQUIRREL TRAIL AND CHILDREN'S FOREST, IRVING NATURE PARK, SAINT JOHN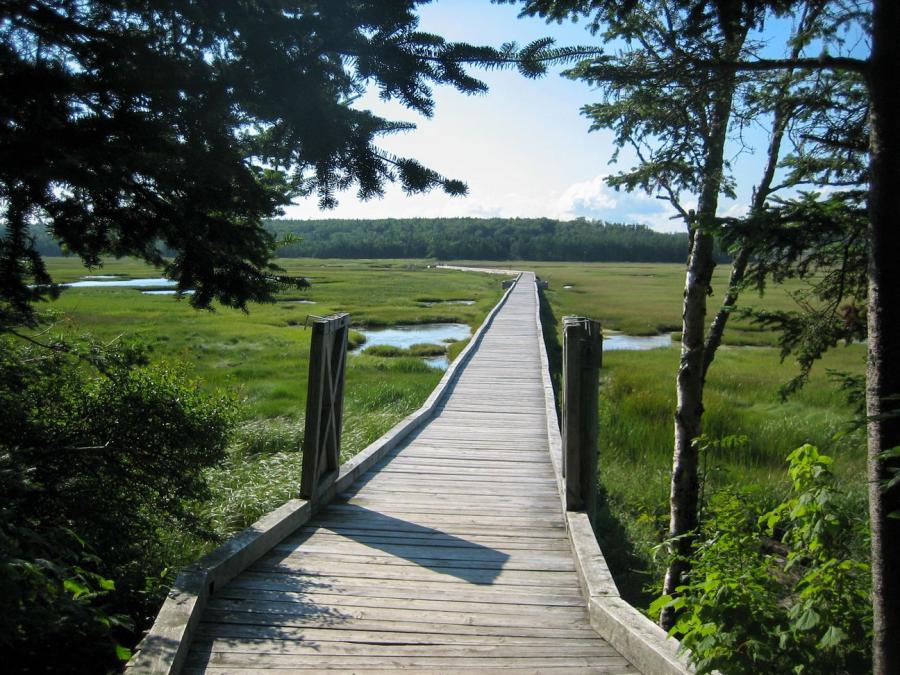 Distance: 2 km (1.2 mi.) loop
Difficulty: Easy
Features: Cedar Maze, porcupines, boardwalk
What can be more fun than a giant maze? Whether it's built out of corn, carved out of snow or more permanently made with cedar hedges like the two mazes of the Children's Forest at Irving Nature Park in Saint John, kids have a blast trying to find their way out. The hedges are massive, and there's also a playground in the area.
First take your kids on a short hike along the Squirrel Trail at the end of Sand Cove Road. This 2 km (1.2 mi.) loop starts by taking you along coastal cliff tops overlooking Manawoganish Island. Next, a short section of trail through the woods takes you to a large lookout platform overlooking the mudflats. Make sure to notice signs of the large porcupine population by looking for trees that are stripped of their bark. Young bark is a porcupine's favourite food. You might even see a porcupine like we did on our last visit! After the lookout platforms, continue on the trail down the hill to the edge of the mudflats at Saints Rest Marsh. Turn right and you will soon come to a long boardwalk that takes you out into the middle of the mudflats.
I would suggest telling the kids about the mazes as you get back to the car after the short hike. The kids may enjoy the hike so much that you will have to come back and visit the mazes another day.
More info:
Irving Nature Park
Trails map and details
7. KELLYS BEACH BOARDWALK, KOUCHIBOUGUAC NATIONAL PARK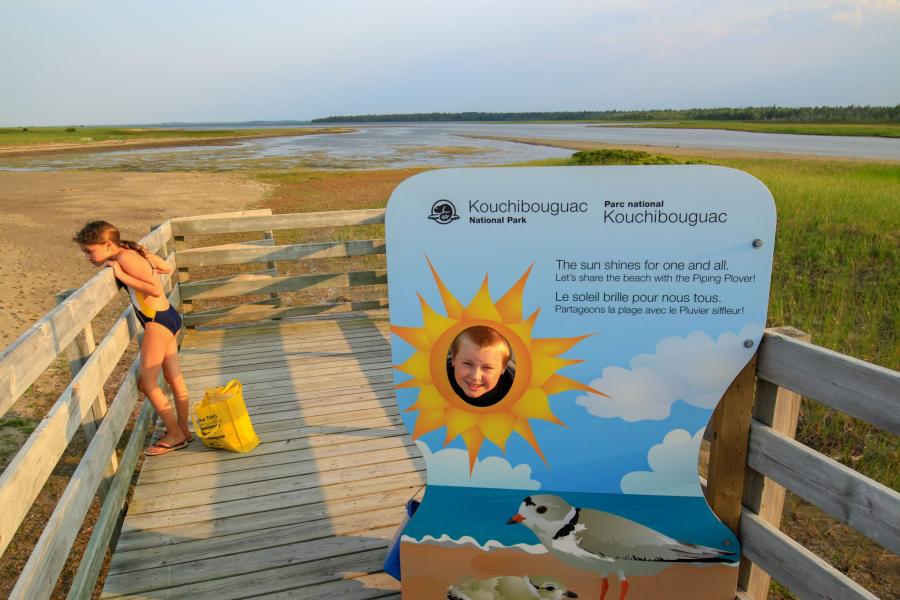 Distance: 1 km (.6) one way
Difficulty: Easy
Features: beach and birds
Kids love the beach. My son used to love it so much that we had to keep him from eating the sand. What better way to get there than by taking a walk on a boardwalk across some saltwater lagoons where you are sure to see many different types of shorebirds? At Kouchibouguac National Park, there are many different habitats to explore on the way to the main beach. At the beach, the kids (and grownups) can swim in the warmest coastal waters in Canada. Don't forget to build a sandcastle (my specialty is sand turtles!).
If you want to take a longer walk continue right at the beach and hike some of this six kilometre dune. A seal colony hangs out at the end of the dunes so watch the water.  You may see a seal or two bobbing in the waves.
More info:
Kelly's Beach Boardwalk, Kouchibouguac National Park
Trail map and details
8. FRENCH FORT COVE TRAIL, MIRAMICHI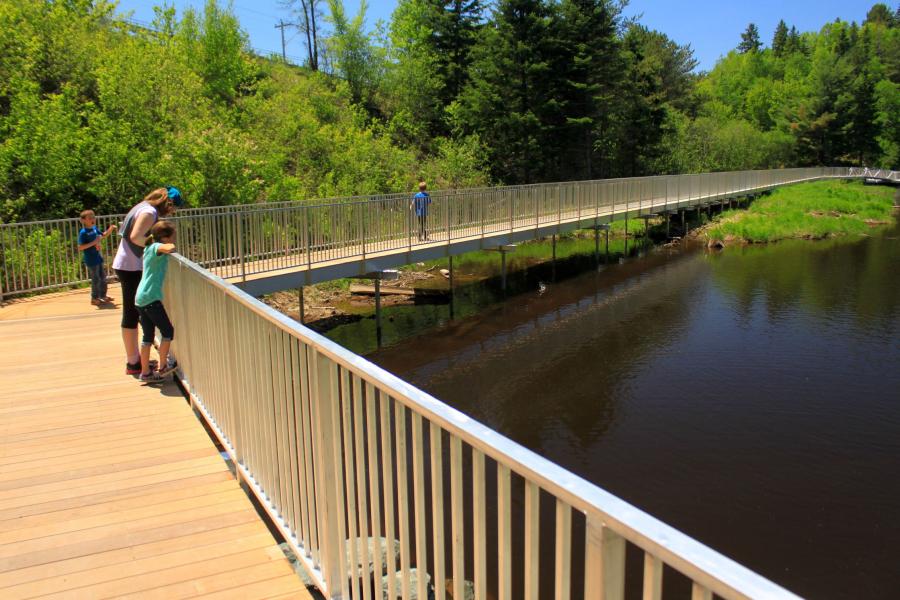 Distance: 3.8 km (2.7 mi.) loop
Difficulty: Moderate
Features: Playground, covered bridge, boardwalk
French Fort Cove is a park in the middle of the city of Miramichi. The Cove Trail circles a lake formed at the mouth of the French Fort Cove valley. As you cross the long boardwalk, look for signs of beaver. They try to block the outlet culvert near the start of the boardwalk and often play near the other end. You may just hear a large splash as they smash their tail on the water to warn their friends of your approach. If so, wait for a few minutes and the beaver is sure to pop his head up out of the water and swim around keeping an eye on you.
Continue up and down the small hills along the side of the cove. If you and your kids are adventurous, you may want to try the zip line that criss-crosses the cove. At the back of the cove you will descend a long hill that ends at a small covered bridge. Take a break on the benches inside the bridge and watch the stream flow into the lake. Climb the long hill and you will soon come to the parking area next to the playground.
More info:
French Fort Cove Nature Park
Trails map and details
9. FALL BROOK FALLS TRAIL, HOLTVILLE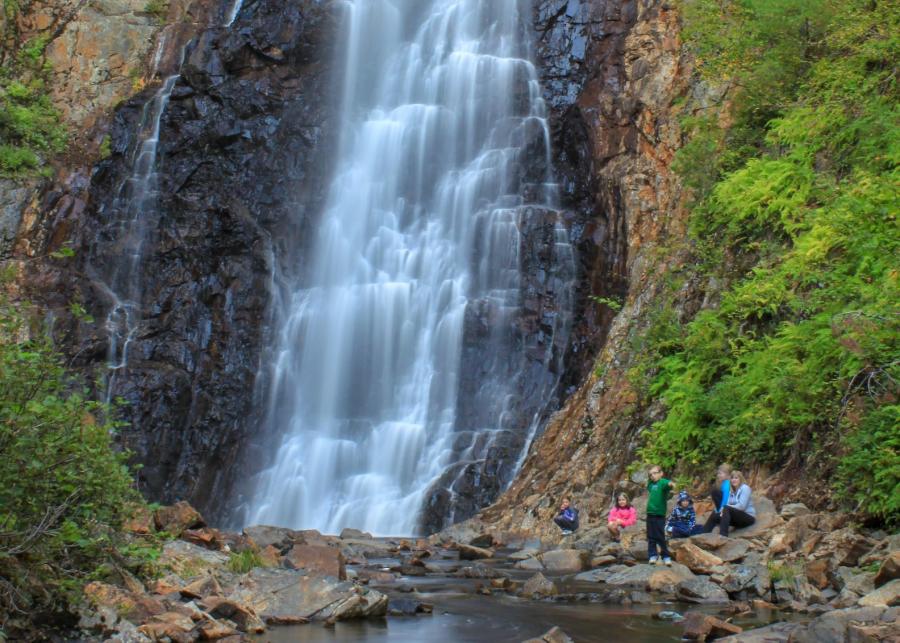 Distance: 2.8 km (1.7 mi.) return
Difficulty: Moderate
Features: largest waterfall in the province
Tell the kids you are going to visit the largest waterfall in the province. After a $10 entrance fee, and 13 km (8 mi.) drive on a gravel road, park and start to descend a steep road down to the Miramichi River. At the bottom, check out the shore of the river before entering the trail on the right. After a short hike up through the valley, you will be able to see this impressive 30-metre (98-foot) waterfall from a distance. Make sure you take pictures here because once you get close you won't be able to fit it all in the frame. Continue on the trail and you will soon come out near a large pool at the bottom. Look up, wayyy up. If you and your kids are daring, bring your bathing suits and take a swim. There is no better feeling than standing under such a large waterfall but be careful because water that falls this far sometimes hurts.
More info:
Trail map and details
10. JOHNSON MILLS BIRD SANCTUARY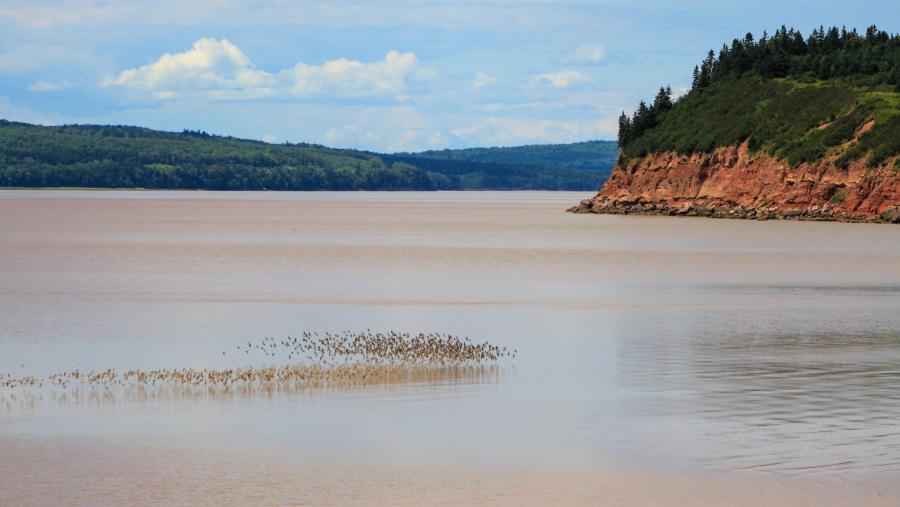 Distance: 3.8 km (1.9 mi.) return
Difficulty: Easy
Features: up to 50,000 birds dancing across the sky
It's a mesmerizing sight for all ages. One of nature's great wonders. Thousands of tiny sandpipers flying in a cloud and the whole cloud turning on a dime. These birds stop on the beach at Johnson Mills every summer on their migration south. At low tide the mudflats are alive as the birds run around, eating mud shrimps. High tide forces them into a tiny sliver of beach. This is when they take flight in large swarms and fill the air with the strange sound of thousands of tiny flapping wings.
Before you hit the trail make sure you stop in at the interpretive centre to find out more about the birds. Interpretive signs tell you about the habitat and activities of the birds. The staff lets visitors use their binoculars to watch the birds and can tell you where the flocks are hanging out, the size of the flocks, and even if the Peregrine Falcon has been out hunting.
More info:
Johnson's Mills Shorebird Reserve and Interpretive Centre
Trail map and details
11. NEW BRUNSWICK BOTANICAL GARDEN, EDMUNDSTON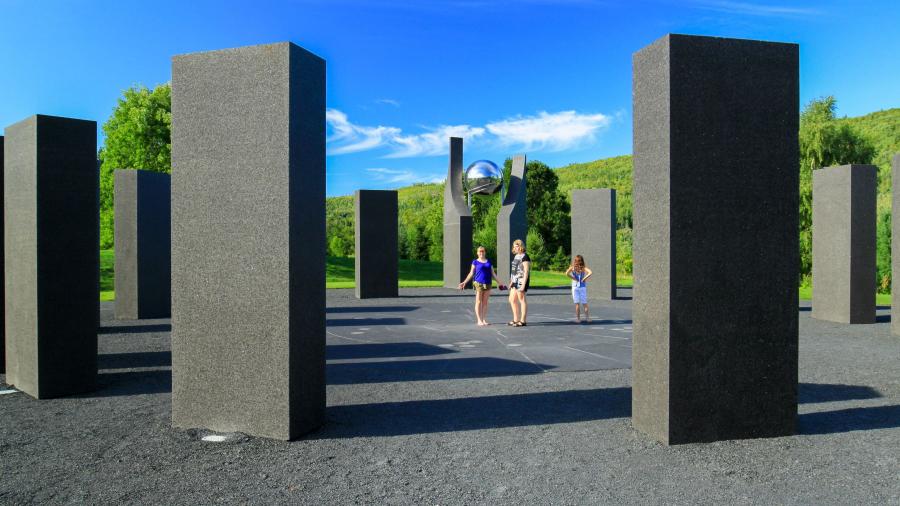 Distance: 1.5 km (.6 mi.)
Difficulty: Easy
Features: botanical gardens
Not your typical place to take a hike but an amazing place to take kids for a walk to keep them interested. Start the kids off at the new insect exhibit. The kids will be fascinated as they discover stick insects, leaf insects and twig insects of the phasmid order. If you get the kids to leave the insectarium, you will first be greeted in the gardens with a small waterfall and pond.
Paths will take you through different types of gardens and if you loop around you can even climb to the top of the waterfall. A hedge that has been shaped like a swan will point you towards a larger pond with an overhanging gazebo.
Along the back of the gardens you will pass by strange statues that look like they are from an alien world. Soon after passing a workshop you will come to Khronos, a circle of large, black granite towers with a large silver sphere as the focal point. On the way back to the entrance you will walk past a strange, twisted cottage that looks like it belongs in a theme park.
The New Brunswick Botanical Gardens has something for everyone so no one will get bored on this walk.
More info:
New Brunswick Botanical Garden
Trail map and details
12. KINGSBRAE GARDEN, SAINT ANDREWS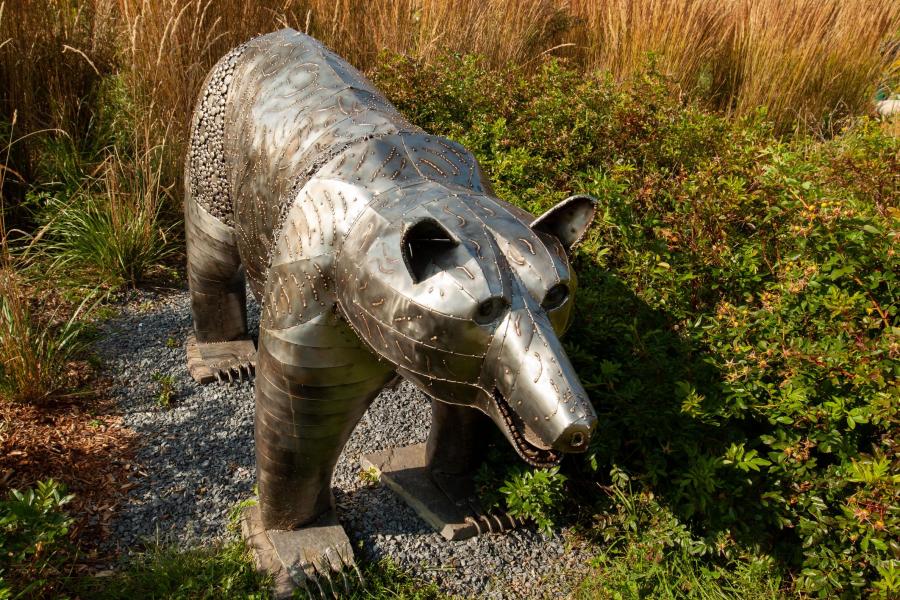 Distance: 2.3 km (1.24 mi.)
Difficulty: Easy
Features: botanical gardens and petting zoo
Pass by a rainbow display of pots as you enter the gardens. A small hole in the hedge gives you a glimpse of what's to come. Once in the gardens you can get lost in different types of gardens in every direction. Each have many strange and colourful plants and flowers. Explore the Sculpture Garden to find giant statues poking up out of the plants and bushes. My favourite was the life-sized steel bear.
Continue to the back of the gardens and you will find the Children's Fantasy Garden. Here you will find small castles and other play structures to explore. When the kids get bored with the Fantasy Garden they can make their way to the petting zoo next door where they will find llamas and baby goats. There is even a woods trail behind the petting zoo but be careful. Fire ants also like hiking on this trail. If you decide to risk it just keep moving.
There is so much to explore that you could easily keep the kids interested for the whole day. You will be surprised by how many kilometres you walk as you explore.
More info:
Kingsbrae Garden
Trail map and details
13. MOUNT BAILEY, MOUNT CARLETON PROVINCIAL PARK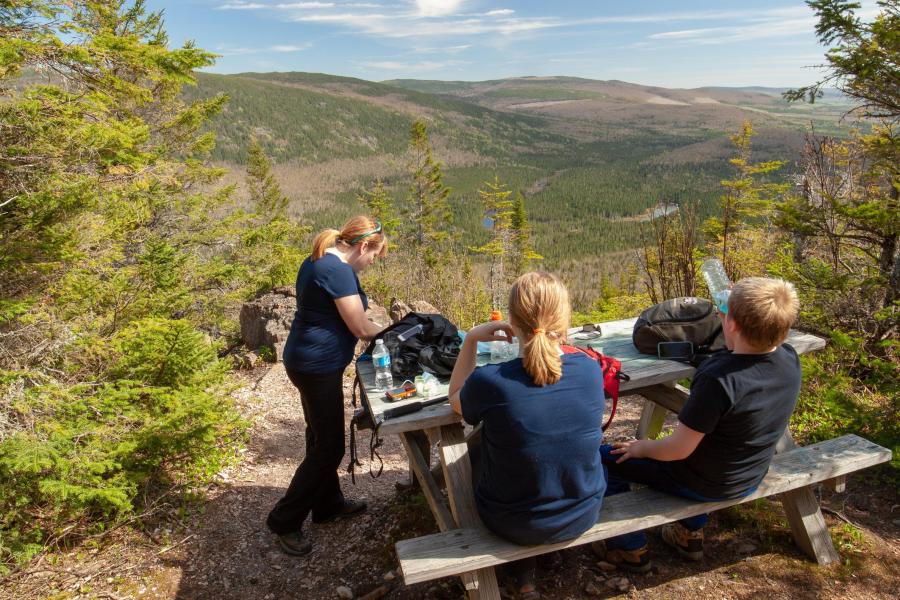 Distance: 5.6 km (3.5 mi.) return (western trail only)
Difficulty: Strenuous
Features: stunted birch forest and mountain views
If your kids are getting older and looking for bigger adventure then you may want to test their skills at mountain climbing. The perfect place is Mount Carleton Provincial Park, which has the highest peak in the Maritimes. The ideal mountain to get the kids started is Mount Bailey. A steady walk up through a beautiful hardwood forest takes you up to the peak.
Just before the last trail junction there is a lookout that provides views across Bald Mountain Brook Valley to Mount Sagamook on the left and Mount Carleton peak on the right. After the trail junction, the stunted birch forest always reminds me of some type of hobbit forest out of Lord of the Rings. At the peak there is a picnic table. Make sure you bring lots of water and snacks to keep everyone's energy up.
If you are feeling really adventurous take the loop out towards Bald Mountain Brook back and explore the rocky cliffs. These cliffs provide some of the best views in the park but be careful because they are high and a bit treacherous.
Kids also love to camp so make sure you stay a night or two at the beautiful Armstrong Brook Campground near Nictau Lake.
More info:
Mount Carleton Provincial Park
Trail map and details
Kids love to explore the world around them and there are endless things to discover on a hike. Beachcombing, playing in the water, learning about critters and plants, geocaching and having picnics are just a few of the possibilities. Get them up off the couch and away from their screens and you will build in them an appreciation for the world around them. They will be healthier and happier. They will remember that adventure for a long time. And all those benefits also apply to the grown-ups that take them.
We hope to see you on the trail!
🚶 🚶 🚶