Get your fill of all the gastronomie that the Peninsula has to offer
It's a tough job, but someone has to do it! Eating and drinking your way around the Acadian Peninsula while touring this magnificent region is an absolute delight, and a gig I welcomed wholeheartedly. My friend Julie joined me on my New Brunswick Storyteller excursion, and together we took one for the team and truly indulged.
We explored the Acadian Peninsula beginning in Neguac at Chez Raymond. There is a great eat-in restaurant here, but for those like us that might be ready for some outdoor time after a long drive, go for the take-out option. Then head to Île-aux-Foins Park for an oceanside picnic. The Cobb Salad is king here and comes with a slice of garlic toast.
In Tracadie-Sheila, head to Brasseux d'la Côte—"The Brewers from the Coast" for a craft beer tasting. We are not beer connoisseurs just two gals that enjoy a lite patio beer, and the Award-winning Classic Rosé, and the Radler—with its grapefruit aromas, were our favourite brews. There's something for everyone here and La Classic and Jabberwock are also very popular.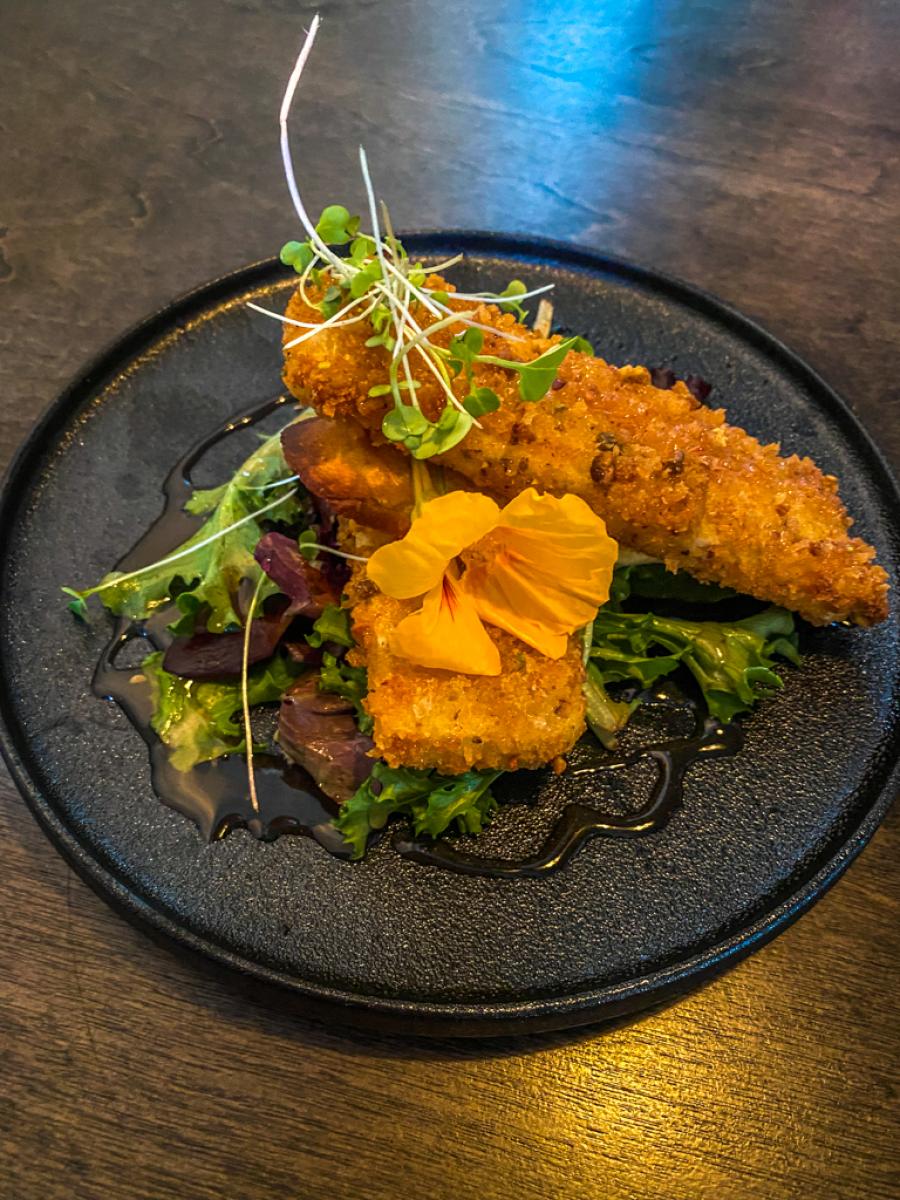 Le Couvent Cuisine de Saison, a brand new restaurant to the Acadian Peninsula, was a homerun with us. Every course was divine, starting with our "La Religieuse" signature cocktails. The menu is in French only, but was graciously translated. We shared a couple appetizers including the "Brie en croûte de pistache"—a delicious panko and pistachio-encrusted Brie with a honey and lavender sauce, and the "Arancinis"—breaded and deep-fried risotto balls with wild mushrooms and fresh house hummus topped with bruschetta. The melt-in-your-mouth "Short Rib Braisé" was our entrée selection. Our dessert selection was the Triple Chocolate Mousse—(really a cake) and one to share as it is a very rich generous slice.
While venturing to Deux Îles, Mille Trésors (Two Islands, one thousand treasures) the next morning, we made a stop in Lamèque at Aloha Café. Grab a breakfast croissant and a latte and head for their sweet tropical-themed patio, complete with adult-sized swings. Don't forget to play for a bit.
On Miscou Island you will find Terrasse à Steve restaurant (open during the summer months). It is busy here, often with long line ups, and for good reason. The seafood is as fresh as it gets, and you have a front row seat to watch the comings and goings of local fishing boats. The lobster rolls and skewers were the catch of the day here. Also, the lobster spaghetti did pique our interest when it was being served at a nearby table.
Cielo, in Shippagan, is well known for its dome glamping, but they also have a wonderful HUB – a delightful local products bar that is open to the public. They offer a fresh 'build your own appetizers' alternative with self-serve refrigerators where you hand-pick your own locally-sourced specialty foods (deli meat, cheeses, chocolates, etc.), then you simply settle into a waterfront patio seat, and within a few minutes your selection turns into an artistic, delectable charcuterie board. We thoroughly enjoyed this change of pace for an evening between our finer dining experiences.
Grains de Folie in Caraquet, is the place to go for breakfast and specialty coffees, where the owner/barista specializes in creating your likeness on a latte. This large café offers a full breakfast option, as well as a good selection of pastries. We heard the decadent chocolate croissants calling our names loud and clear here.
The Caraquet Saturday Market drew us in next. There are plenty of food offerings here with our favourites being an array of maple products produced by George of Riordon Maple, and the creative and delicious garden-inspired edible goods including sugared pansy molasses cookies created by Le Jardin d'Eden de l'Acadie.
Do stop into the Les Blancs d'Arcadie and select some cheeses, then pop into the local Co-op for crackers, fruit and additional selections from their well-stocked delicatessen to make your own picnic lunch for a take-away option while in the region too.
In Petit-Paquetville, partake in a free facility tour and spirits tasting at Distillerie Fils du Roy. This is a distillery with passion. Brewmaster Sebastien and his wife Rosa will educate you on the distilling process, and their famous internationally-renowned spirits. My favourites were the award-winning Gin Thuya—a London Dry Gin, and the Courailleuse —Absinthe, and Julie loved the Souverain Blue—a Blueberry Liqueur. Let's be honest, their other cranberry liqueur, as well as the vodka, whiskey, and brandy all are highly rated too, so definitely go for a tasting.
Origines Cuisine Maritime offers an exceptional 5-course, wine-paired French Cuisine tasting menu experience that has dedicated return customers driving 3 hours up and back in a day to experience this fine dining pleasure. Be sure to make a reservation. Menus change weekly, ensuring a unique opportunity each visit. Take a moment, and eat with your eyes first, then savour each and every course, which is carefully paired with select wines by a discerning sommelier. This is a culinary adventure that you will not soon forget.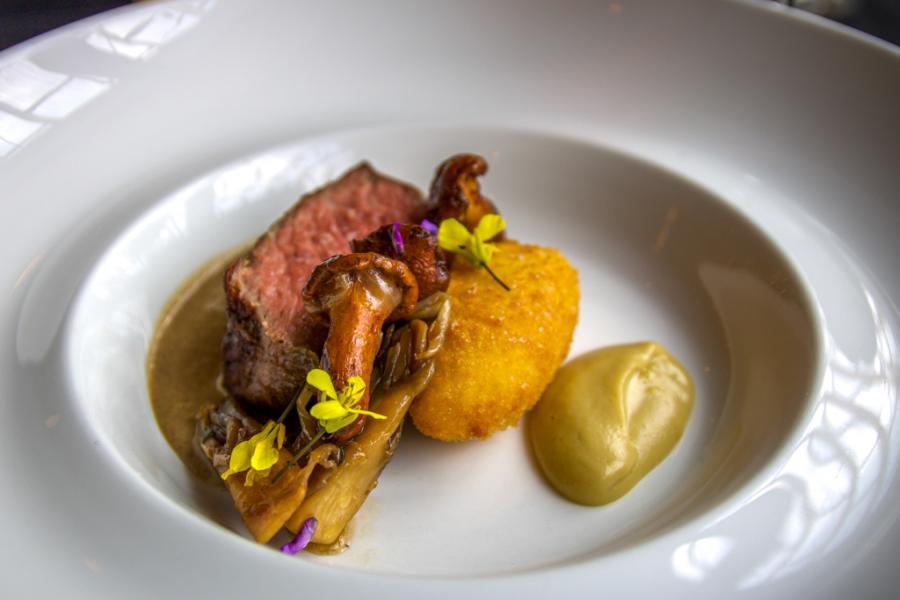 Our last day began at Café Maris Stella for tasty strawberry croissants and lattes. This is another popular location so get here early before the morning rush. There are lots of seating options inside and a rooftop patio too. It is a charming spot and the food is great so make sure to visit.
Lastly, it is not a trip to the Acadian Peninsula until you sample a traditional, authentic Acadian meal of chicken fricot, followed by a slice of sugar pie. There's no better place to enjoy it than the Acadian Historical Village in Bertrand to complete your stay. Call ahead to ensure dining is open on-site, as there still may be some restrictions.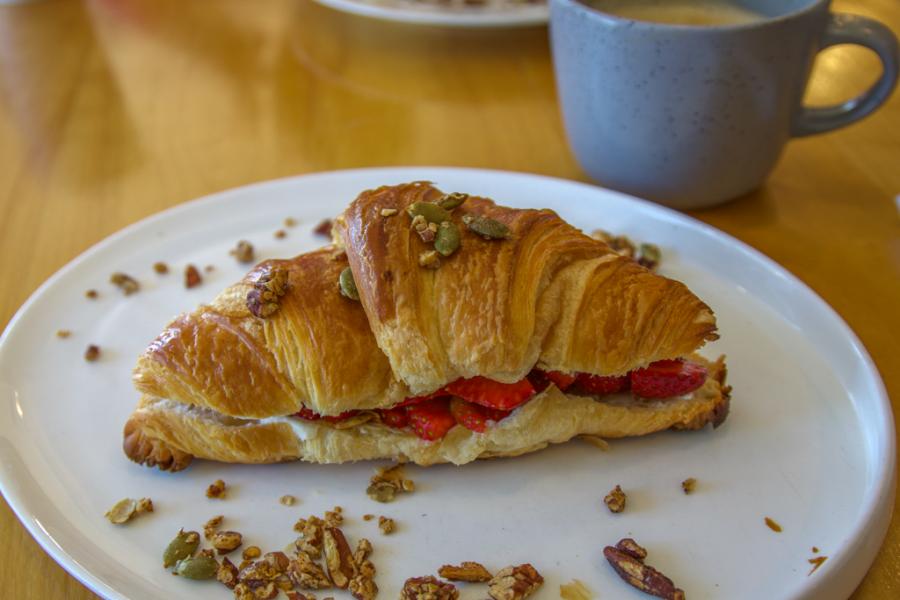 These are a few of the food and drink adventures we enjoyed on the Acadian Peninsula. We hope you get an opportunity to enjoy some of them too. The one thing they all had in common - besides great food, was a warm welcome, and a joie de vivre attitude. You instantly find yourself feeling "at home," then wondering how soon can you return.
🍽️ 🍽️ 🍽️
Want more ideas for good eats in the area? Follow chef Gene Cormier as he enjoys 5 meals around the northern shores of the Acadian Peninsula.