If I told you that New Brunswick has chefs who competed and won "Chopped Canada," or with their own Netflix show, or own a restaurant that's been featured in the Top 100 Restaurants in Canada, you may think I'm crazy. Not only is this all true, but they all have recipes or books where you can learn how to make some of their most delicious dishes.
These are my must-have cookbooks (three in English, one in French) for any NB foodie. These books showcase recipes and chefs from each corner of the province and dishes that use local New Brunswick products. From traditional Acadian dishes to ramen bowls, these books have it all.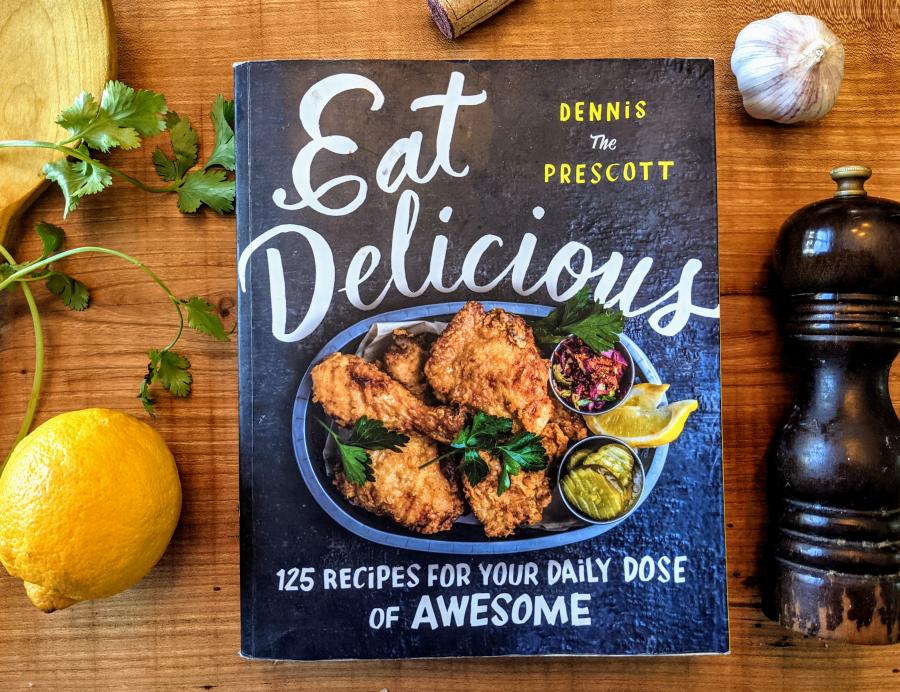 Eat Delicious by Dennis Prescott
Dennis, a native to Riverview NB, has made a name for himself in the culinary world through his tantalizing food posts on Instagram. With over half a million followers, Dennis The Prescott has become a huge food influencer in Canada. If you don't know him, that's ok because you can find him on the hit show "Restaurants on the Edge" on Netflix. Although he could choose to live anywhere in the world, he'd tell you "why would I leave the best province, anywhere I need to go is just a plane ride away."
Prior to his Netflix debut, Dennis wrote the cookbook "Eat Delicious," which occupied the top spot on Amazon for quite some time. I love this book not only because it was written by someone locally but also because the recipes inside are just so darn delicious! The book covers every type of comfort food you can imagine, from east coast favourites to Asian-inspired dishes, to desserts that will make your mouth water. Here are some of the must tries:
Garlic Fingers: As far as New Brunswick comfort food goes, it doesn't get better than this. This recipe will taste just like your favourite pizza spot. I was also amazed at how easy it was to make the coveted donair sauce.
 
Lemon-Garlic Butter- Poached Lobster Rolls: Nothing screams Summer in New Brunswick like lobster rolls! This is a perfect recipe to enjoy during lobster season. I am not a fan of celery in my lobster roll (personal preference) and this one doesn't call for any but could be easily added.
 
Butter Chicken: I was on the hunt for the longest time to find the best butter chicken recipe and when I tried this one, the search was over! This bowl of yumminess has that authentic taste a butter chicken recipe should have, with the fresh zest of lemon to keep your tastebuds happy. Plus, he calls for maple syrup in it, you can't get more "New Brunswick" than that!
Find this one at Chapters, Amazon or at harpercollins.ca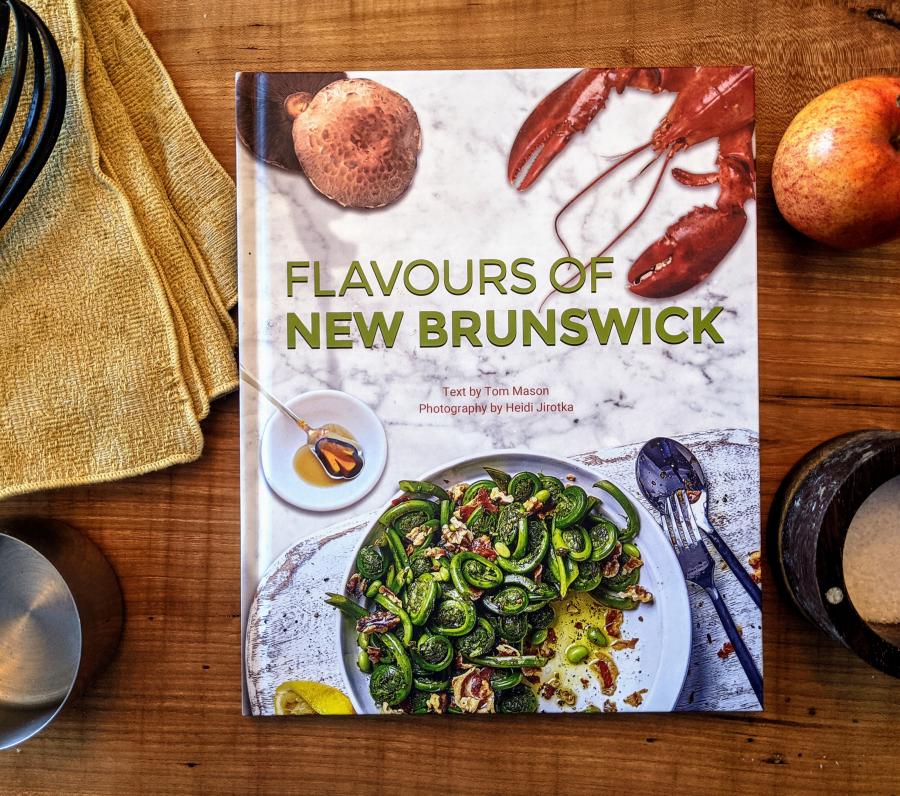 Flavours of New Brunswick by Tom Mason (photography by Heidi Jirotka)
This book is a compilation of recipes from some of the top chefs in our province. You will find chefs from each corner of the province showcasing some of their favourite recipes. There are so many talented chefs around New Brunswick and many of them are featured in this book! Here are a few examples: Marc Surette not only cooked for Wayne Gretzky, but also for the Queen Elizabeth II herself. Then there's Matt Pennell, who built his career in a Michelin-Star restaurant, participated on the popular TV show Chopped Canada, and has been Golden Plate winner for NB at Canada's Great Kitchen Party. Or how about Ben Cormier and Jonathan Morrison from Origines Cuisine Maritime, who were listed as having one of the top 100 best restaurants in Canada… and the list goes on and on!
This is one of my faves when I'm looking for inspiration and want to cook something a little fancier than your regular Tuesday night chicken and broccoli. Each recipe highlights parts of our beautiful province, from the seafood to veggies like fiddleheads that are mostly only found here. Then you have Alex Haun from Savour in the Garden who has acres and acres of gardens to inspire him daily. Here are some of my faves:
Euston Park's Chef Gene Cormier's Coffee-Rubbed Steak Tacos: Take your Taco Tuesday to the next level with this recipe! I know you may be thinking coffee? It totally works and you will never make steak tacos any other way.
 
Italian By Night's Chef Michelle Hooton Tagliatelle d'Amalfi: This one brings me right back to Italy every time! It has all the flavours like lemon and butter with an added nuttiness that brings it all together.
 
Claudine's Eatery's Caesar Three ways: This Instagram-worthy drink / meal will have all your friends talking when you serve it. Not only is it a fantastic drink, it's topped with maple bacon and deep-fried pickle. You have to see it to believe it!
Find this one at Chapters or through Macintyre Purcell Publishing Inc.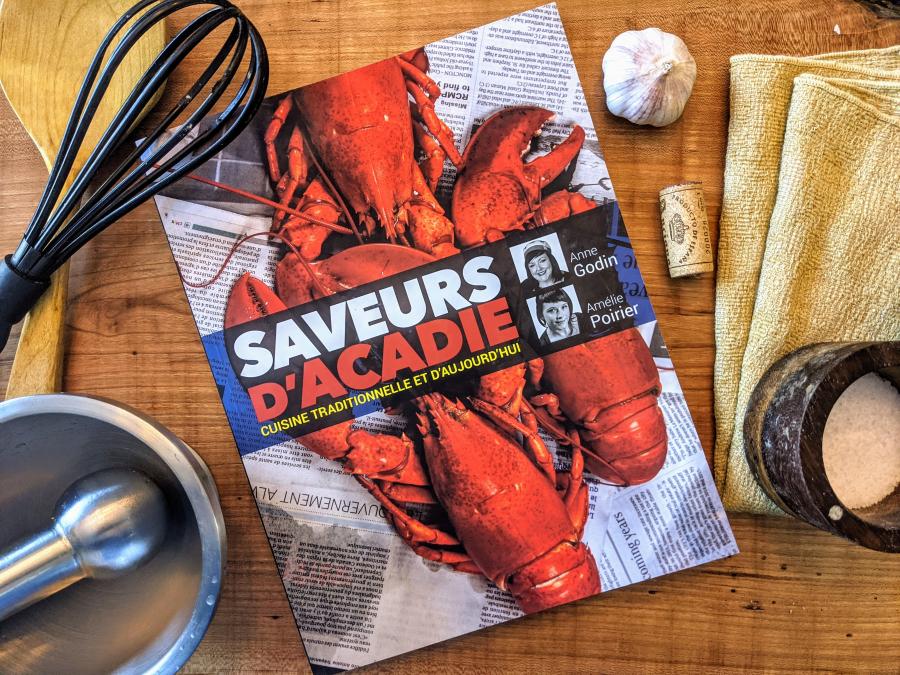 Saveurs d'Acadie by Anne Godin and Amélie Poirier
You don't have to be Acadian to love this book… however if you are and you are craving your grandmother's cooking, this book is meant for you! Anne Godin, originally from the Acadian Peninsula, created this book to help preserve some of the traditional recipes from New Brunswick. Prior to the 2020 pandemic, Anne was actually scheduled to go to France to discuss Acadian food with chefs across the country who are very interested in the Acadian cuisine. You will find all the Acadian favourites in here like fricot, ploye pancakes, pets de soeur and râpure.
I pull this one out when I'm looking for some authentic — you guessed it — Acadian Food. The recipes are all very easy to follow with simple step by steps. In addition to the traditional recipes, it includes salads, seafood, pasta and desserts that will keep you coming back!
Here are some of my faves:
Fricot: There's something about a fricot on a cold winter night that will warm your soul. This recipe is spot on!
 
Pets de soeur: Growing up, we would have this around the house all the time. The recipe brings me right back!
 
Ploye: A Saturday morning tradition with the kids is making these delicious buckwheat pancakes with some New Brunswick made maple syrup
Find this one at Librairie acadienne or online.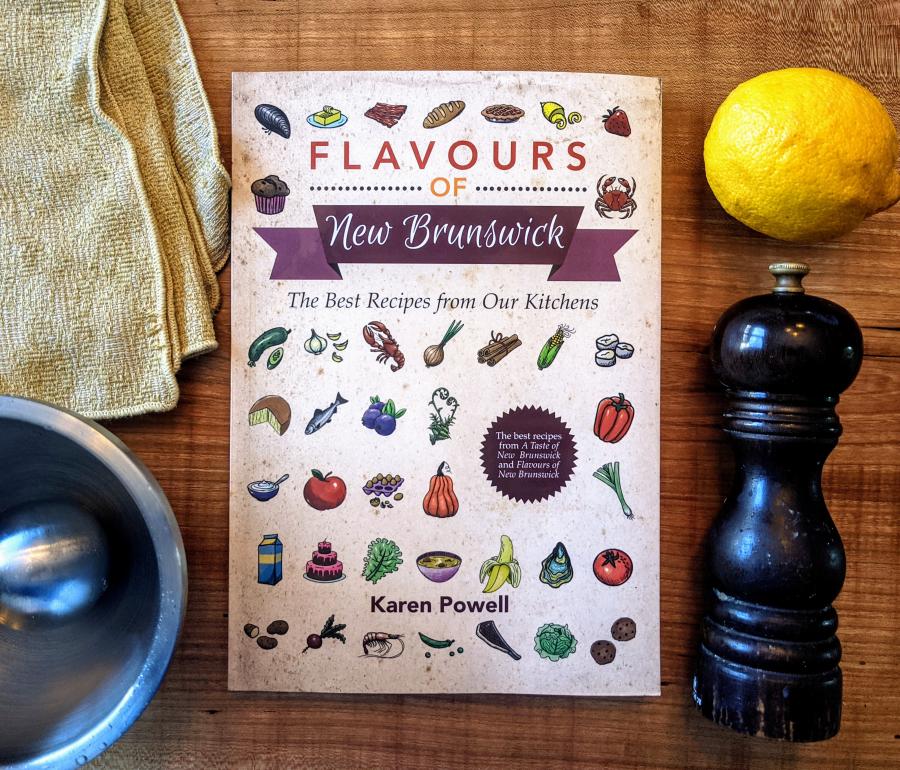 Flavours of New Brunswick: The Best Recipes from Our Kitchens by Karen Powell
Written by Saint John native Karen Powell, this book is actually a 'best of' two of her cookbooks that came out early in the 2000's. These 2 books combined sold over 15,000 copies. There are almost 200 recipes to pick from: desserts, sides, SO MANY seafood and some staple recipes for everyday cooking. You will find plenty that use New Brunswick local foods like maple syrup, mussels, salmon and fiddleheads. This one is new to my collection and I'm still working through it.
Here are a few that I can't wait to try:
Maple Mussel Cream Pie: So many flavours in this one I can only imagine the sweet and savoury taste of the maple and mussels.
 
Tequila Lime Salmon: YESSSS! This one will be on the menu this summer for sure! Perfect for those warm summer days.
 
Rhubarb Blackberry Chutney: I love rhubarb and I love a good chutney. I can see cooking this with some falafels or potato latkes.
Pick up at Chapters or find through Nimbus Publishing
 
One reason I'm so passionate about food is not only because we live in a province rich in local ingredients that, in my opinion, are some of the best in the world, but also to celebrate the unique and inspiring talent of our New Brunswick chefs. They have chosen to live in New Brunswick, often showcasing very local ingredients and it's an honour to cook some of these recipes to share with family and friends. I hope you enjoy making them as much as I did.