Last week's forecast… a Good Time!
The rain couldn't put a damper our first full week on the road! We visited so many great places and met people from all over the world.
June 5 - 11
Day 1 - Sussex & Kings Landing
Quaint and Colourful Sussex
We spent the afternoon keeping dry inside AX: The Arts & Culture Centre of Sussex. We enjoyed the works of local artist Peter Powning, whose exhibit brought in visitors from Ontario, Ukraine and Québec. The centre shares its space with a lovely eatery, Knocks Café (the aromas were divine)!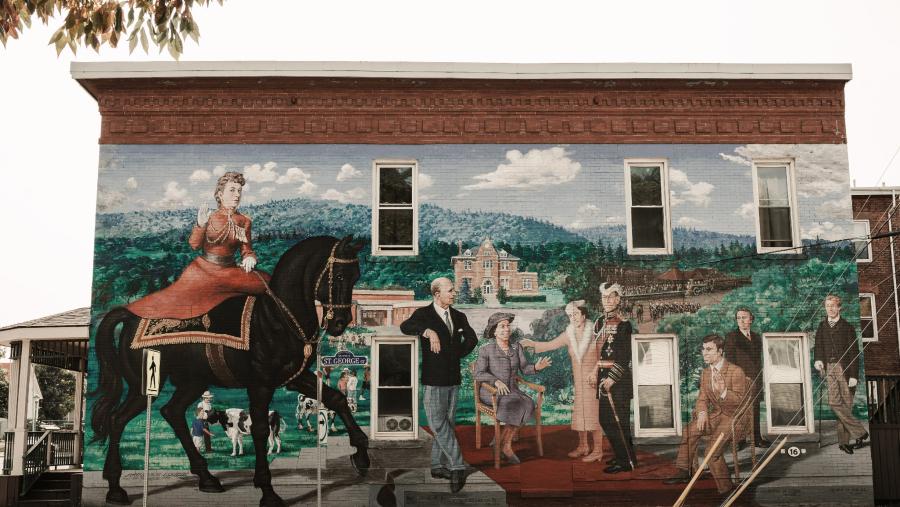 Afterwards, we took a stroll down Main Street to explore and hand out some #ExploreNB items - kids love the stickers! The area ticked all of our boxes. We went on an amazing tour to learn more about some of the 27 murals throughout Sussex. Then we hit up another restaurant, Route 66, for a delicious meal (we recommend the Chicken & Feta Chapati).
Kings Landing - 2023 Opening Day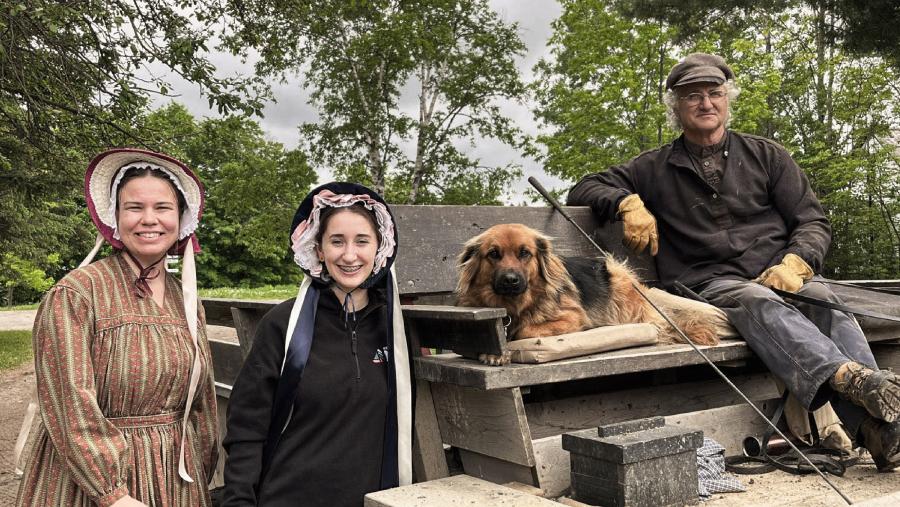 Kings Landing is as close to time travel as it gets! We visited for opening day and took a wagon ride through the village, an open-air museum of restored 19th century buildings from the Saint John River Valley. Our guide, Chelsey, told us the history of the land and time period, and what life was like living in the 19th century. We even got to ride along with our new friend Finnegan the dog!
Day 2 - Shediac, St. Martins & Fundy Trail Parkway
Shediac - Home of the World's Largest Lobster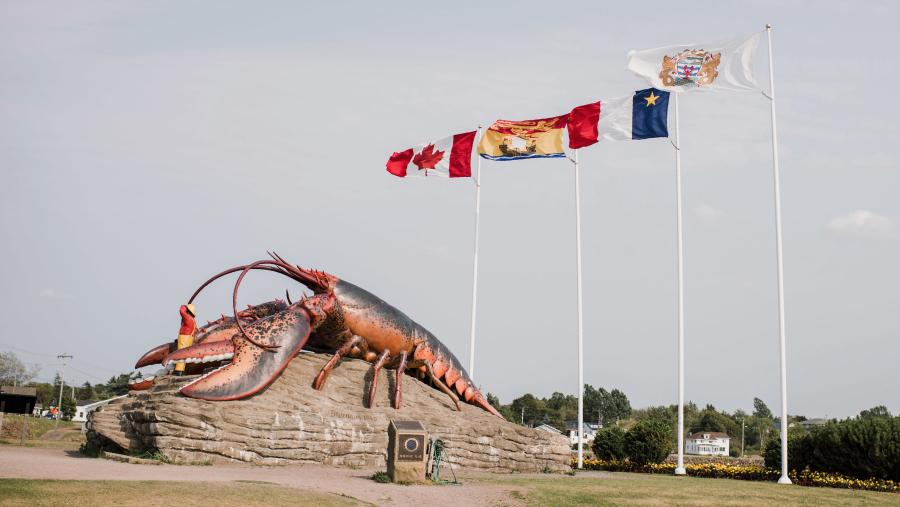 In Shediac we got to learn everything about the life of a lobster as we toured the new state-of-the-art Homarus Centre! The welcoming staff were proud to tell us all about their new interpretive centre, and where to find the best seafood in town. During our visit, there were three buses full of kids that came through. Our lobster tattoos and maple lollipops were a hit! We set up at Adorable Chocolat for the afternoon, and indulged in mocha lattes with artisan chocolate (a MUST try)!
St. Martins - Picturesque & Friendly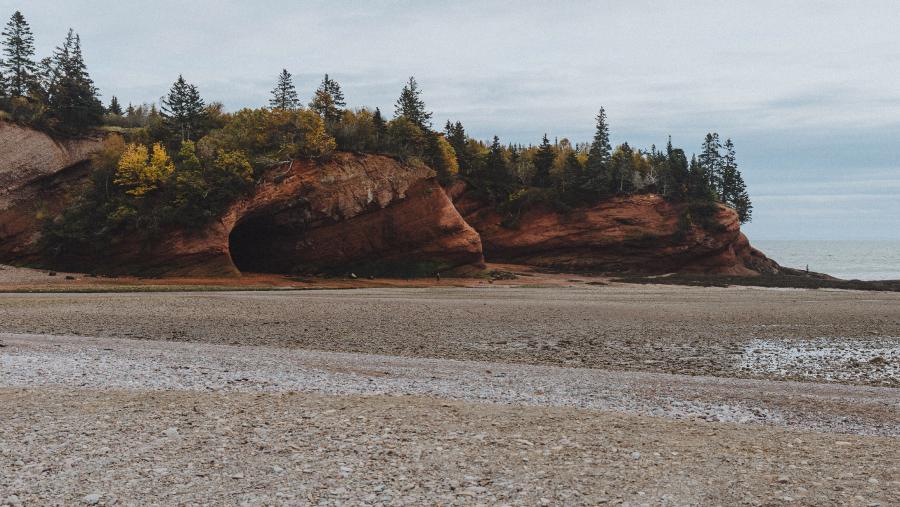 St. Martins is quite the hot spot; we met visitors from all over Canada and the United States! We chatted about New Brunswick while exploring the sea caves and visited a local craft shop "Once Upon a Tide". The owners Angela and Thomas were lovely to chat with! On our way to the next adventure, we stopped for lunch at the Shipyard Café for coffee and treats. The locals recommended the blueberry scone, and it was delicious!
Fundy Trail Parkway - Scenic and Accessible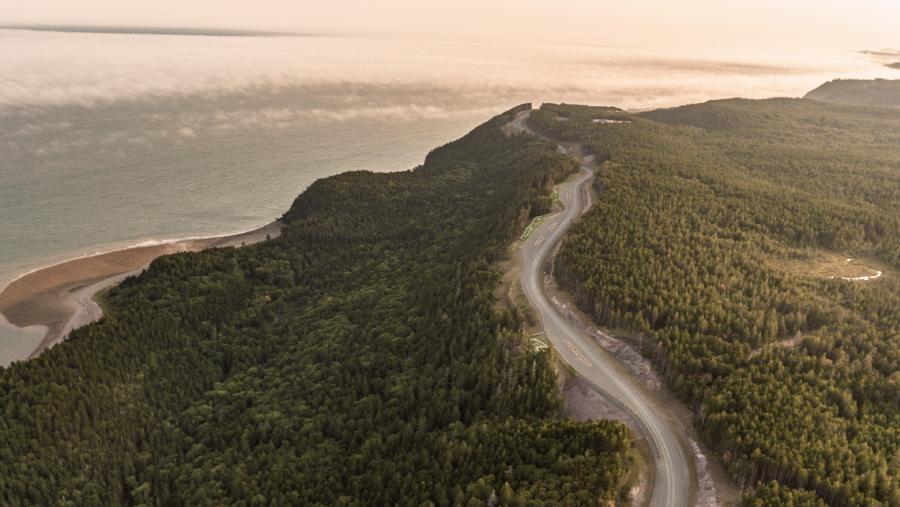 We drove from the St. Martins side of the Fundy Trail Parkway all the way to Long Beach and chatted with visitors about how stunning New Brunswick is! On our way out we made a pit stop at the Fundy Trail Parkway Interpretive Centre. The knowledgeable staff taught us about the impressive amount of moth species in the area (our favourite was the pink and yellow Rosy Maple Moth). We couldn't leave the park without crossing the suspension footbridge, and of course stopping for lobster rolls and ice cream at the St. Martins Ice Cream Parlour!
Day 3 - Rothesay, Quispamsis & Bathurst
Rothesay and Quispamsis - Greater Saint John Region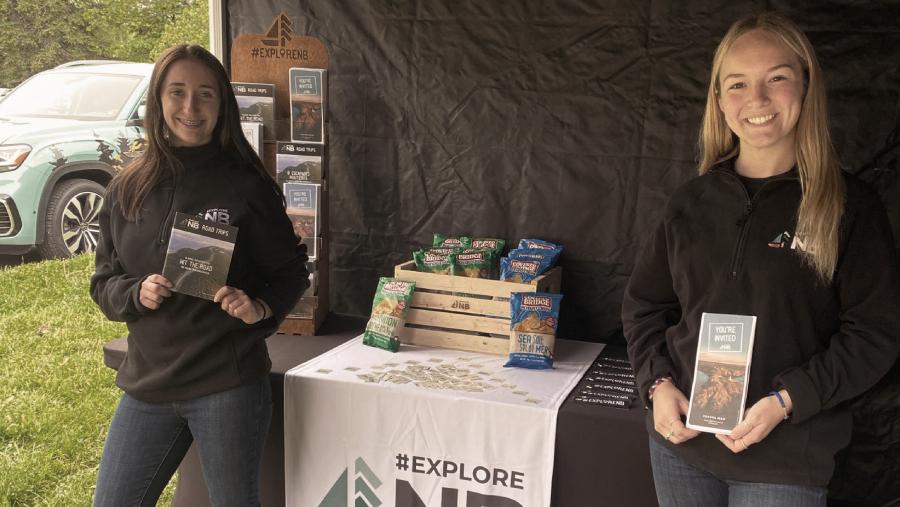 Even before leaving the hotel, we had tourists from Québec excited to meet us and enter our contest. What a great start to a busy day! We visited Rothesay Common, Renforth Wharf, Meenan's Cove Beach and the Quispamsis QPlex. We handed out plenty of stickers and tattoos to the kids, and some unique #ExploreNB swag to locals and visitors. Of course, we had to get our caffeine fix, and Garden Grove café in Rothesay was perfect! On our way out of Saint John, we stopped at the Reversing Falls Rapids, 'walked the plank' for the best view, and got a tour of the area and restaurant.
Bathurst - Reconnecting with a friendly community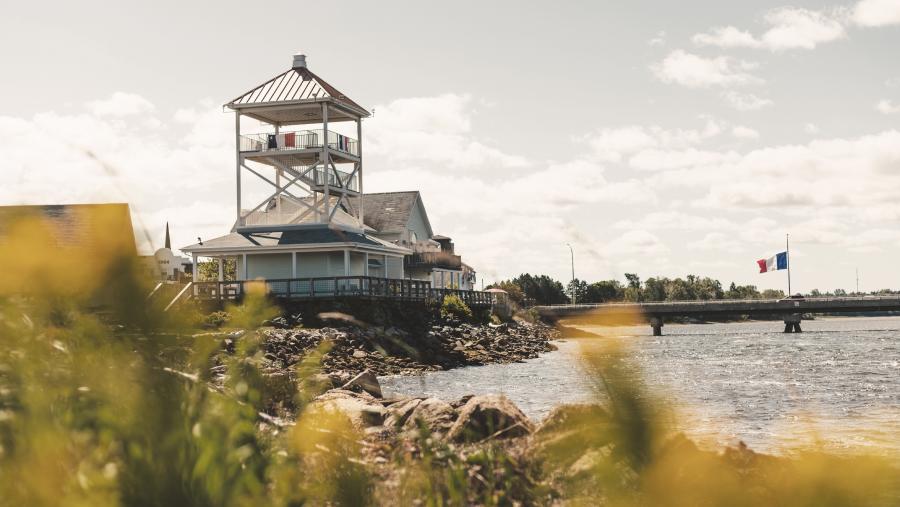 We set up at the Promenade Waterfront, an outdoor pavilion surrounded by a cluster of unique shops that we were happy to explore! We met lots of kids on day trips and high schoolers on their last day of school (we even got to sign their shirts with a big #ExploreNB). Having been up here in Bathurst a month ago on our first tour, we met some familiar faces and lots of new ones! We showed visitors where we were headed and where we were from on our map.
Day 4 - Campbellton, Kings Landing and Ribfest
Campbellton - Rivers & Mountains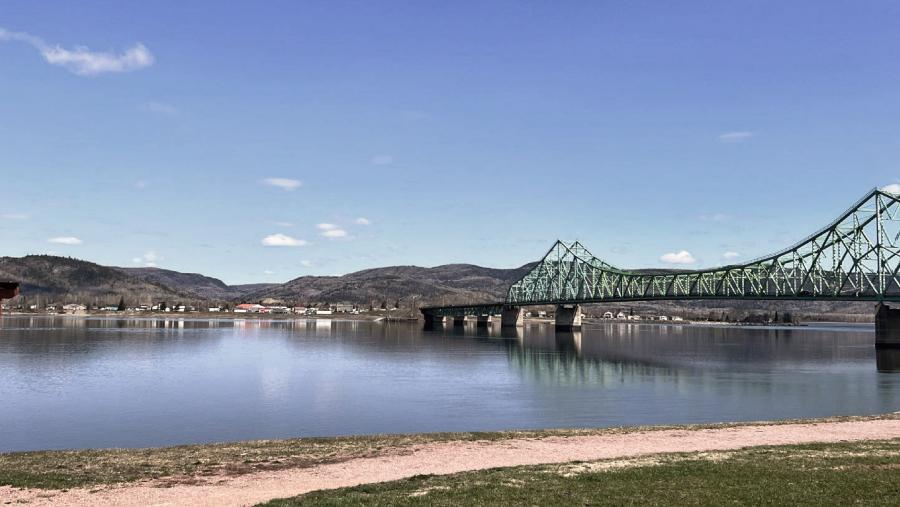 We set up at the Restigouche Experience Centre next to the beautiful Restigouche River in Campbellton. We met plenty of visitors and locals who heard about us on social media (be sure to keep an eye on our #ExploreNB channels)! After the Experience Centre, we took a tour of Sugarloaf Provincial Park. This park offers activities for everyone - biking, hiking, skiing, walking or simply taking a trip up the ski lift for an incredible view (we took the lift down and got some funny looks). We handed out lots of goodies to park users, and chatted with many visitors.
Kings Landing & Freddy Beach Ribfest - Flavours of Different Eras
We headed out to Kings Landing in the morning and got to taste lots of treats throughout the day (warm cinnamon buns from the oven was our favourite)! We got to try embroidery, enjoyed a history lesson and even had some musical entertainment with Mike Bravener playing folk music as we walked around the village. We headed straight to the Freddy Beach Ribfest in Fredericton afterwards, where we handed out more goodies. Lots of people recognized us from Instagram! It's great to know that so many folks are following and joining us.
Day 5 - Grand Falls - Scenic and Unforgettable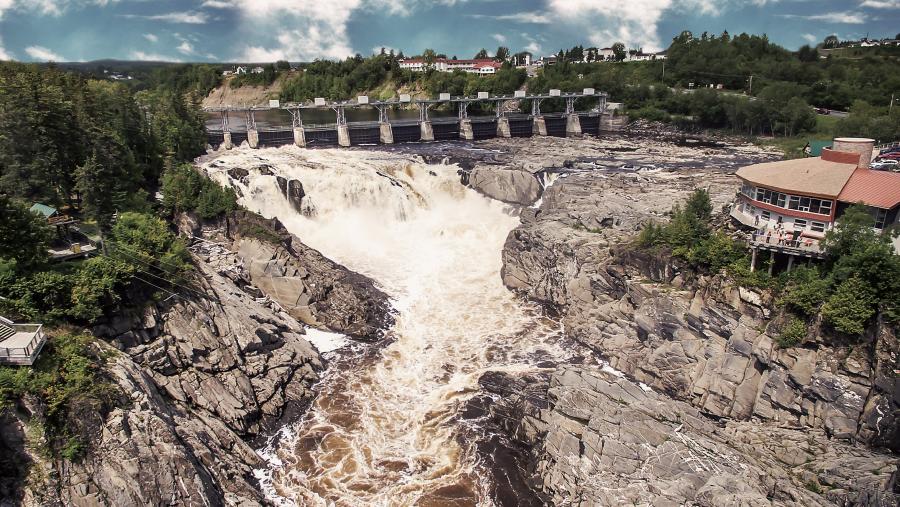 We drove from Campbellton to Grand Falls across the Appalachian Mountains range and the scenery was absolutely stunning! The landscape was untouched and pristine. We set up at the Malabeam Centre when we arrived, and the staff members were so helpful and knowledgeable! We got to zipline across the Grand Falls Gorge with Zip Zag. What an exhilarating and memorable experience. We highly recommend trying it out when you're in the area!
Week 1 Highlights
We had an incredible first week! Here are our highlights:
Making connections with people from all over the world
A young girl in Shediac giving Becca a hug and thanking her for the lobster toss game
Cat and Janelle (from Adorable Chocolat) geeking out over linguistics
Thomas and Angela from "Once Upon a Tide" in St. Martins
A couple from Ontario in St. Martins that were so happy to be visiting NB
Our tour guide at Sugarloaf (thanks Patrice!) and going DOWN the ski lift
Mike Bravener at Kings Landing and running into old teachers
The zipline over Grand Falls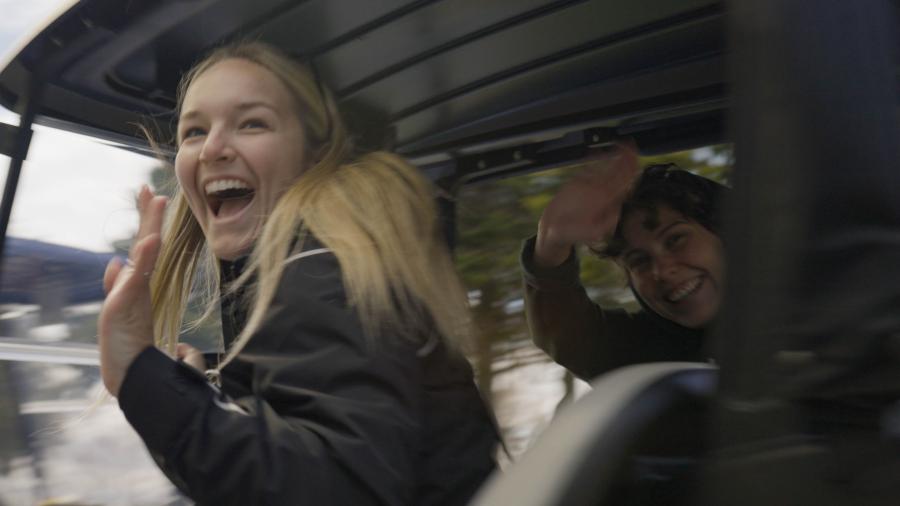 Come Along for the Ride
Our summer adventures throughout New Brunswick are one of the many reasons you should come check out explorenb.ca. Visit the #ExploreNB Street Team page weekly to enter for a chance to WIN* an #ExploreNB Adventure Pack. That's right; we're giving away a different prize pack each and every week!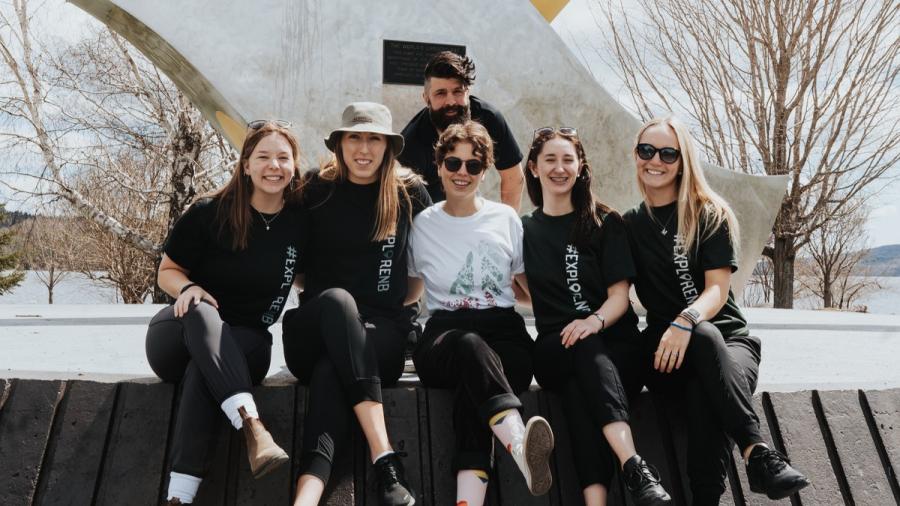 Let's #ExploreNB Together
Pack your bags, buckle up, and join us as we hit the road together! We'd love to chat and show you around.
*NO PURCHASE NECESSARY. Subject to Official Rules at www.ExploreNB.ca. Open to legal residents of Canada who are the age of majority in their province/territory at the time of entry. Contest closes at 11:59:59 a.m. Atlantic Daylight Time (ADT) on September 5, 2023. There is a limit of one entry per Weekly Entry Period. During the Contest Period there are 13 Weekly Entry Periods. Each Weekly Entry Period commence on a Tuesday at 12:00:00 p.m. ADT and ends on the following Tuesday at 11:59:59 a.m. ADT except for the first week where the Weekly Entry Period commences on Monday, June 5, 2023 at 12:00:00 p.m. ADT and ends on Tuesday, June 13, 2023 at 11:59:59 a.m. ADT. A total of 13 Weekly Prizes are available to be won during the Contest Period with one Weekly Prize awarded per Weekly Entry Period. The Approximate Retail Value (ARV) of a Weekly Prize ranges from $225.00 CDN to $1,900.00 CDN. See Official Rules for which applicable Weekly Prize is available to be won and its corresponding ARV. Odds of winning a Weekly Prize depends on the total number of eligible entries received during the applicable Weekly Entry Period. Correct answer to a mathematical skill-testing question and completion and return of the Sponsor Declaration and Release Form is required. Prizes may not be exactly as shown.