Smiles for Miles on Week 2!
June 12 - 18
Day 1 - Acadian Village & Moncton
Finding Inspiration in the Acadian Peninsula
We spent the day in the Village Historique Acadien, a charming living history museum displaying the homes and day-to-day lives of Acadian families living between 1770-1949. When we arrived, we were greeted by Mylène, and her enthusiastic energy was just the boost we needed after a long drive! We love the concept of history being set up as a public attraction, especially to inspire people of all ages to explore to learn more about the past.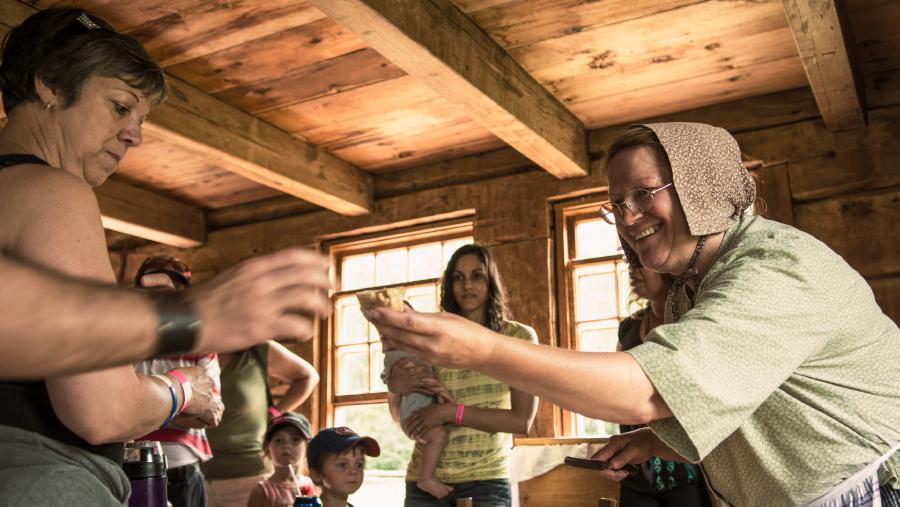 Embracing Scottish Heritage in Moncton
We travelled to Moncton for the raising of the Scottish flag, a symbol of the beginning of the Greater Moncton Highland Games & Scottish Festival! The organizers and the Deputy Mayor wore kilts and other traditional attire to the event, and a bagpiper played traditional Celtic music as the flag was being raised.
After the ceremony, we popped into Pomodori Pizzeria for lunch to grab their wood-fired pizza, and it was delicious!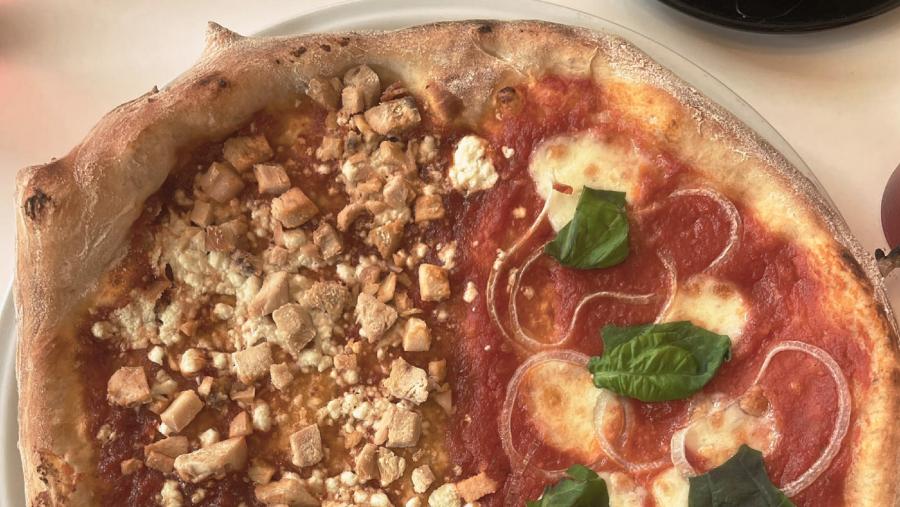 Day 2 – Miscou Island and Perth-Andover
Miscou, an Island with a View
We woke up in Caraquet and headed out towards Miscou Island for the day! We stopped to enjoy the Interpretive Peat Bog Boardwalk winding through the vast peat bogs that make up almost half the land area. In the fall, the peat turns bright red, attracting visitors from all over. After our hike we headed over to the Miscou Island lighthouse for a scenic view of Chaleur Bay. On our way back home, we popped into Aquarium NB to check out the seals and the other sea creatures that live in the Bay.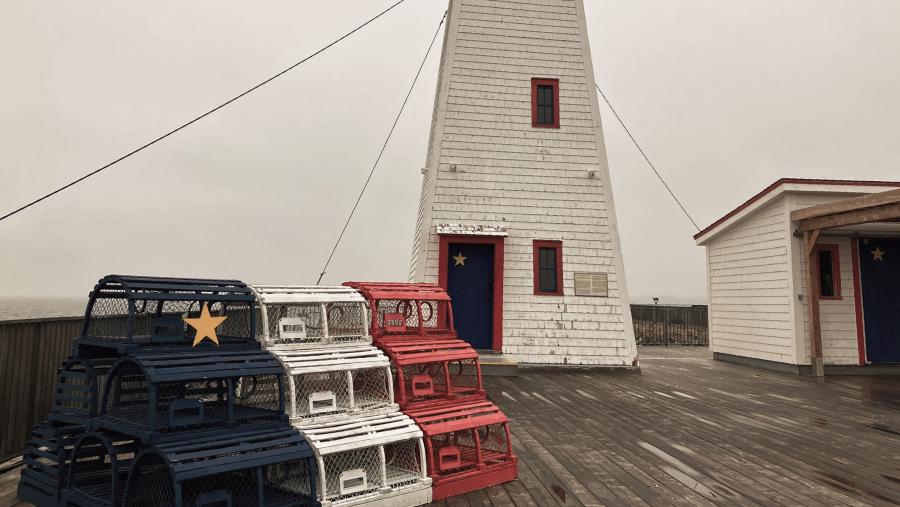 Perth-Andover, Home of New Brunswick's Biggest Tree
We were pleasantly surprised to visit a big tree in Perth-Andover that takes 17 people to wrap their arms around! Besides this giant tree, we found beautiful walking trails, friendly locals, and the Perth-Andover marina that doubles as an adventure centre that rents out kayaks, bikes, and other recreational equipment.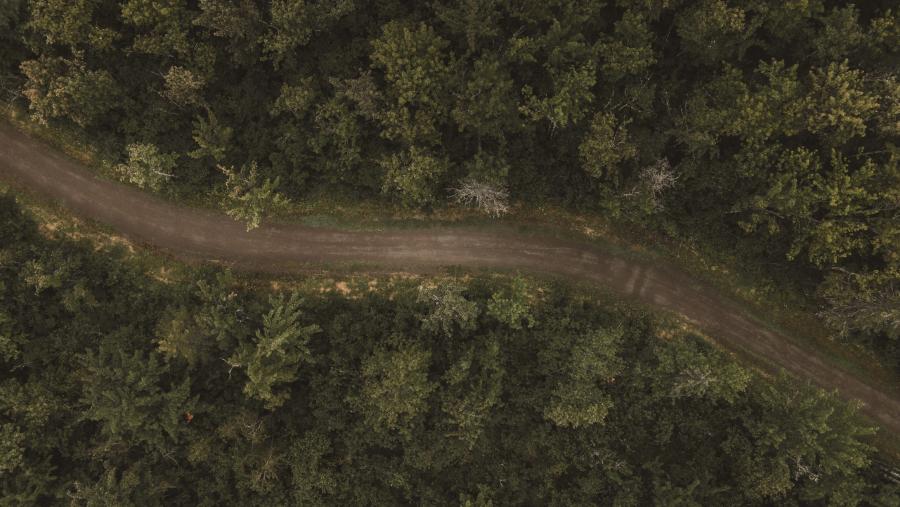 Day 3 – Edmundston & Nackawic
Exploring Gardens & Golf Courses in Edmundston
We spent two days in Edmundston to check out everything the region has to offer! Our first stop was the New Brunswick Botanical Garden where the photo opportunities are endless! Besides the beautiful landscapes, we were able to enjoy the sounds of waterfalls, birds, and streams during our visit. We especially loved getting to see all of the mosaïculture structures. During our visit, some visitors approached us with questions and we offered them a map, #ExploreNB Road Trips brochure, and some swag! We ended the day at the Edmundston Fraser Golf Club, which is rated one of Atlantic Canada's top courses! The 20th annual Edmundston Regional Hospital Foundation tournament was taking place, and we got to participate in a putting contest. Afterwards, we got a tour of the clubhouse, home of Ateepic microbrewery.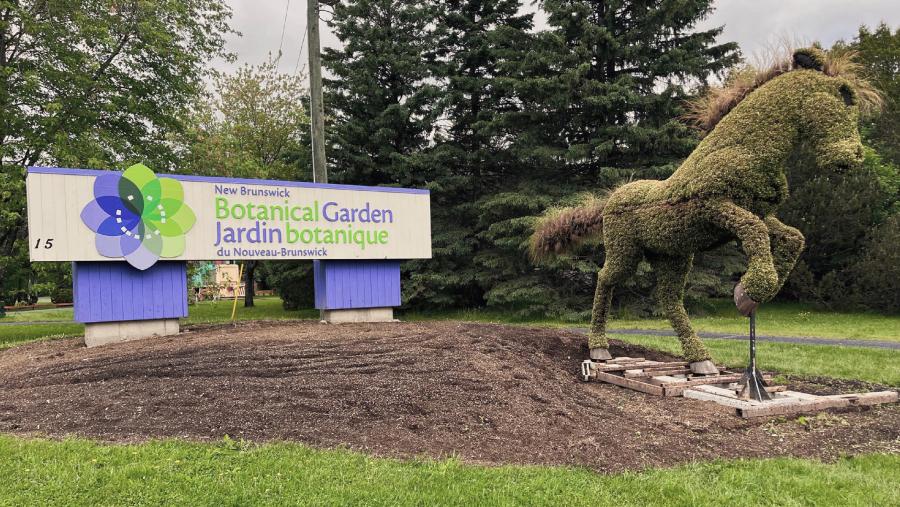 Riverside Life in Destination Nackawic!
We arrived in Destination Nackawic and headed down to the Big Axe Marina, a popular destination for locals and visitors. The marina is full service and offers docking space, a boat washing station, fuel station and boat launch. We learned that kayaks, paddleboards and hydrobikes are now available for rent! We loved to see a few brave kids swimming in the river! We even hooked up the marina staff with a new #ExploreNB decal for their window. They're looking forward to a busy summer once school is out.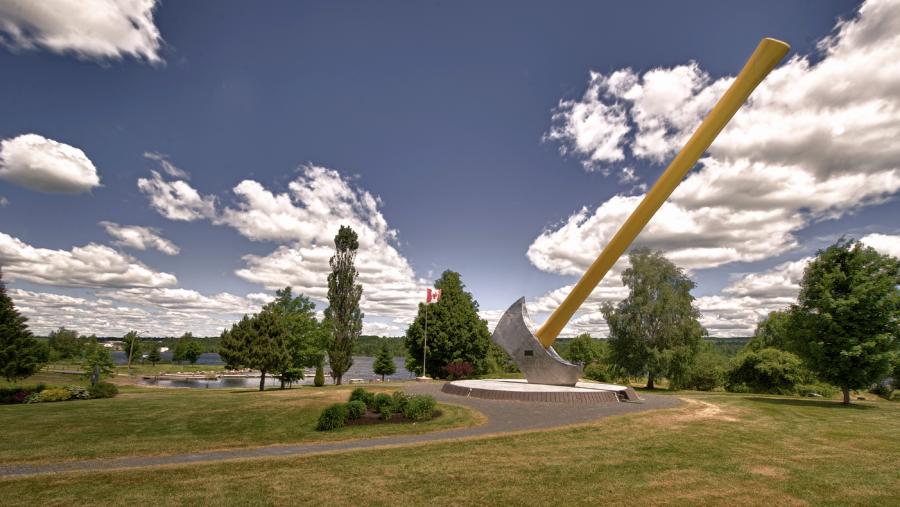 Day 4 – Edmundston (cont'd) & St. Mary's First Nation Powwow
On our second day in Edmundston, we visited their local market. They've officially moved outdoors for the summer! The vendors offer local produce, homemade crafts, baked goods and lots more. Throughout the day, we visited the Bernard-Valcourt footbridge and stopped at the Visitor Information Centre located in an old CP railway station. We set up for the afternoon on day 2 of the Edmundston Jazz & Blues Festival. We were happy to hear amazing music and meet lots of friendly folks. We had a ton of participants in our lobster toss game, and gave away lots of awesome prizes! Supper that night was at L'Écluse - Halte Gourmande, which has a gorgeous view of the footbridge and a wonderful atmosphere.
Celebrating Culture at the Sitansisk (St. Mary's First Nation) Annual Powwow
We spent Saturday afternoon at the Sitansisk (St. Mary's First Nation) Annual Powwow! We had so much fun watching the dancers, listening to the drumming and being surrounded by delicious food! Many local vendors were selling handmade crafts and other goods. We left with some new treasures!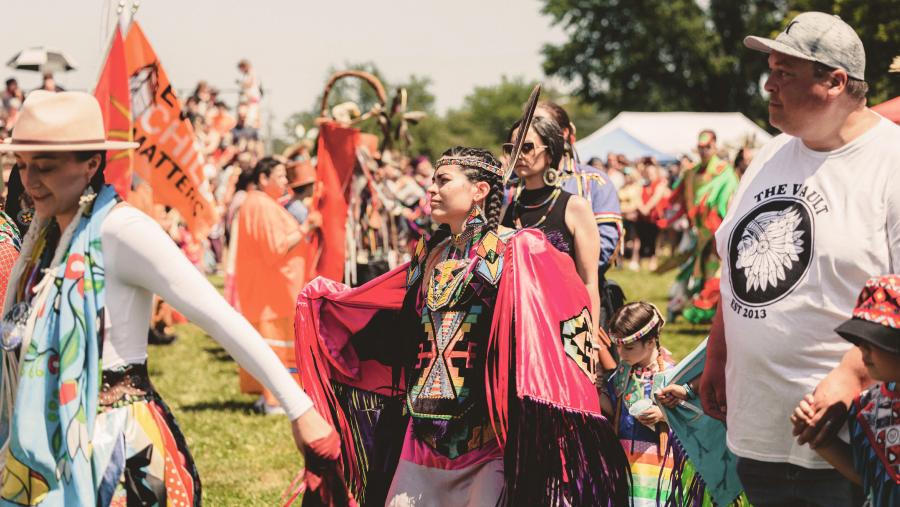 Day 5 – Hartland & Saint John
Hartland, Home of the World's Longest Covered Bridge est. 1921
Did you know that the Hartland Covered Bridge is one of Canada's National Historic sites? When we got to the town, there was a bus of visitors from Ontario at the bridge and we were so excited to tell them all about our province! This was their last stop, so we gave them lots of information for their next visit to the East Coast, and of course, a little #ExploreNB souvenir to take home with them. To finish off a busy and wonderful week, we visited the Covered Bridge Potato Chips factory for a self-guided tour. We got to sample hot, freshly made potato chips with an assortment of seasonings from cotton candy to loaded hamburger (lobster and jalapeño were our favourites).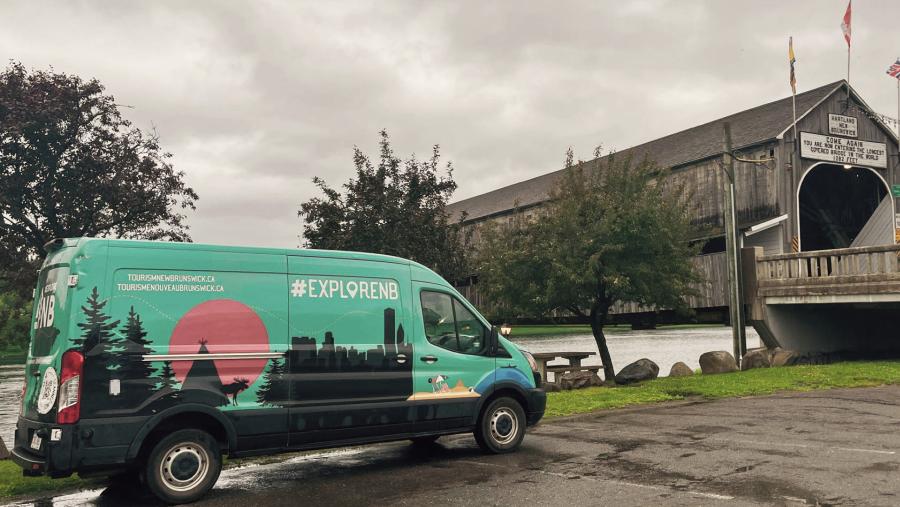 Cheering for the Port City Fog in Saint John
We took a trip to Saint John to cheer on the New Brunswick teams in the Maritime Women's Basketball Association's Legacy Cup Championship at TD Station. We got to see one of our fellow #ExploreNB Street Team member, Katie, play for the Fredericton Freeze! We had a lobster toss competition and the winner received an #ExploreNB prize with a t-shirt, ball cap, provincial park pass, backpack and other goodies! We loved watching how excited the crowd was to cheer on the home team in the finals against Halifax.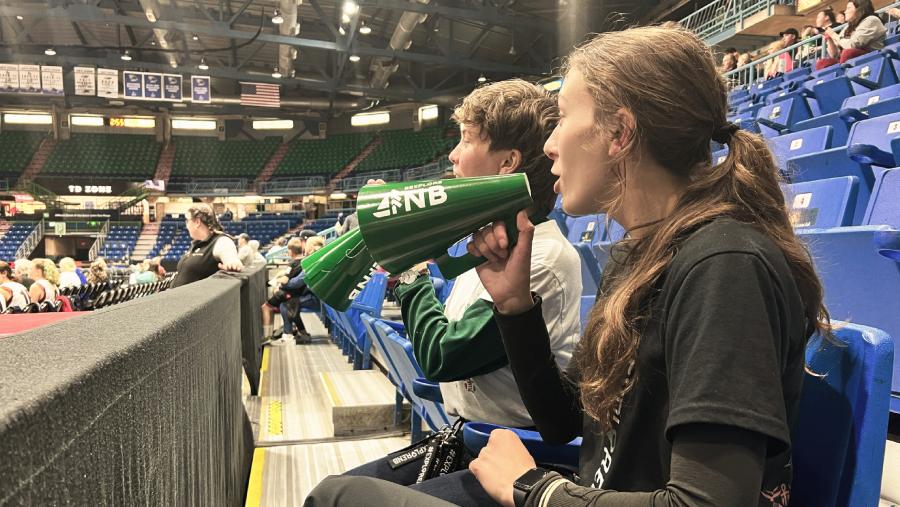 Week 2 Highlights
Recommending destinations for visitors based on our own personal experiences (sending a couple from the Acadian Village to Bathurst)
Listening to the bagpiper at the Moncton Highland Games ceremony
The view from the Miscou lighthouse
The 'Big Tree' in Perth-Andover
The Jazz & Blues Festival in Edmundston
The dancers at the St. Mary's First Nation Powwow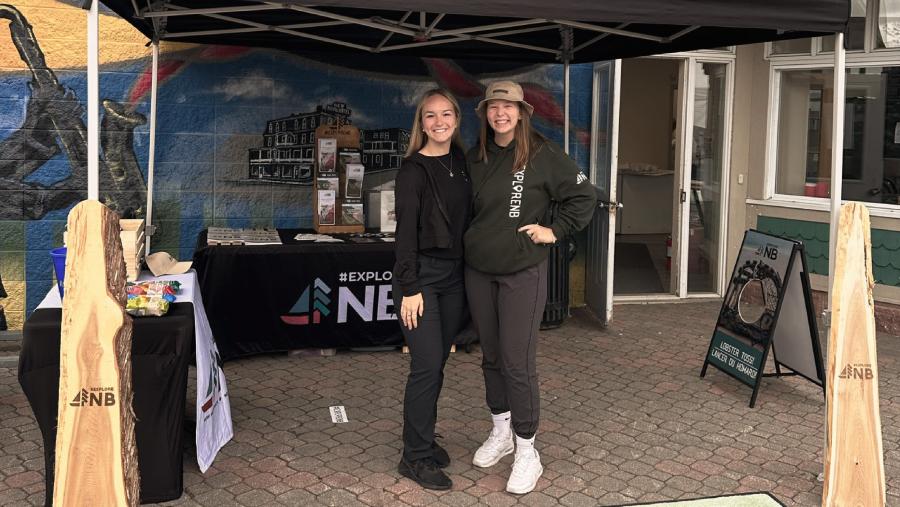 Come Along for the Ride
Our summer adventures throughout New Brunswick are one of the many reasons you should come check out explorenb.ca. Visit the #ExploreNB Street Team page weekly to enter for a chance to WIN* an #ExploreNB Adventure Pack. That's right; we're giving away a different prize pack each and every week!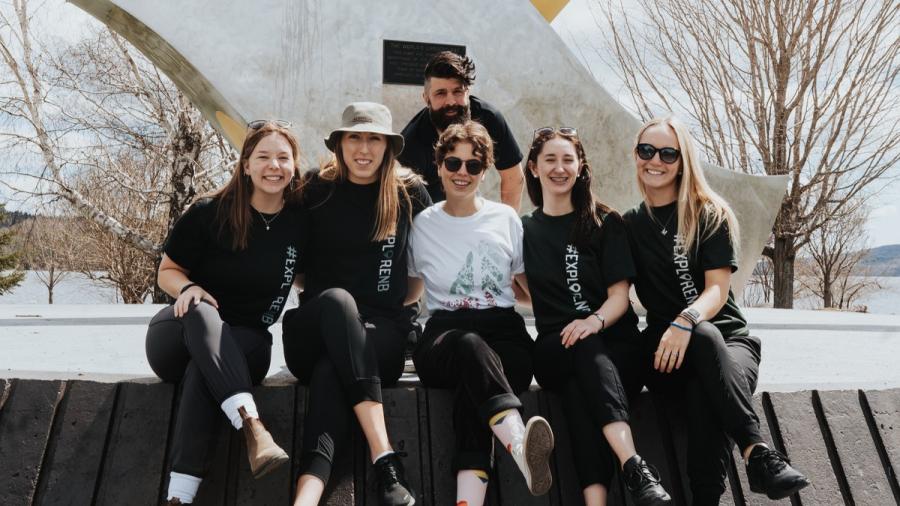 Let's #ExploreNB Together
Pack your bags, buckle up, and join us as we hit the road together! We'd love to chat and show you around.
*NO PURCHASE NECESSARY. Subject to Official Rules at www.ExploreNB.ca. Open to legal residents of Canada who are the age of majority in their province/territory at the time of entry. Contest closes at 11:59:59 a.m. Atlantic Daylight Time (ADT) on September 5, 2023. There is a limit of one entry per Weekly Entry Period. During the Contest Period there are 13 Weekly Entry Periods. Each Weekly Entry Period commence on a Tuesday at 12:00:00 p.m. ADT and ends on the following Tuesday at 11:59:59 a.m. ADT except for the first week where the Weekly Entry Period commences on Monday, June 5, 2023 at 12:00:00 p.m. ADT and ends on Tuesday, June 13, 2023 at 11:59:59 a.m. ADT. A total of 13 Weekly Prizes are available to be won during the Contest Period with one Weekly Prize awarded per Weekly Entry Period. The Approximate Retail Value (ARV) of a Weekly Prize ranges from $225.00 CDN to $1,900.00 CDN. See Official Rules for which applicable Weekly Prize is available to be won and its corresponding ARV. Odds of winning a Weekly Prize depends on the total number of eligible entries received during the applicable Weekly Entry Period. Correct answer to a mathematical skill-testing question and completion and return of the Sponsor Declaration and Release Form is required. Prizes may not be exactly as shown.