Week 3… #ExploreNB Was Here!
June 19 - 25
Day 1 - Moncton, Fort Beauséjour and Mount Carleton
The first day of summer in Moncton
We kicked off the official first day of summer in Centennial Park and the sunshine finally showed up for the occasion! We met lots of families enjoying the park and the lobster toss was a big hit. After we packed up, we hopped into the splash pad for a refreshing cool down.
Exploring history at Fort Beauséjour
There's so much to see, do and learn at Fort Beauséjour – Fort Cumberland National Historic Site! We explored the museum and underground barracks and casemates and learned so much all thanks to our dedicated and passionate tour guides. Street team tip: ask one of the guides to accompany you during your visit to the museum — there are so many stories behind each item!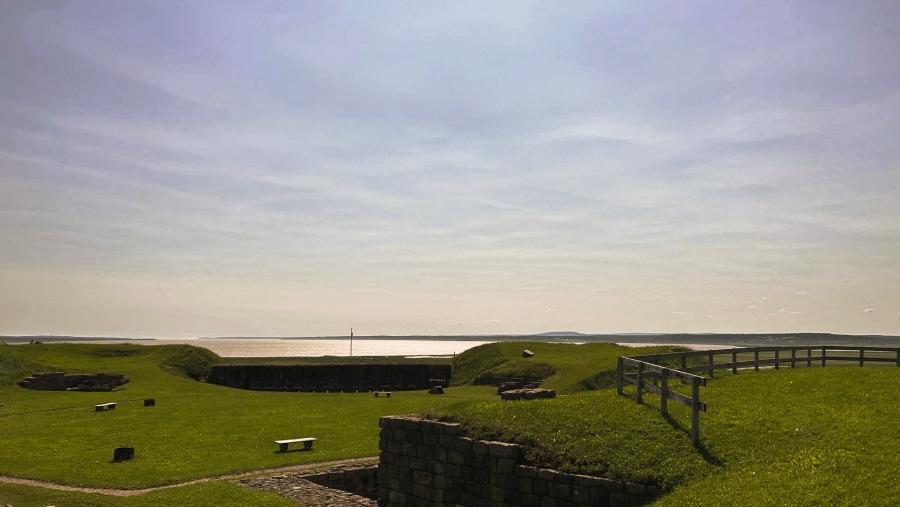 Exploring off the beaten path at Mount Carleton
The drive to Mount Carleton Provincial Park had us in awe! Summer is now underway; the birds are chirping, butterflies are plentiful and all the dandelion fuzz floating around looked otherworldly. We arrived at The Lodge where we met two staff members, Ginette and Hélène, and they served us delicious coffees sweetened with local maple syrup (their specialty!). We got to speak to some folks after their hike and we met a gentleman who had taken some lovely photos of the mountains. We got our picture taken and placed on "The Generations of Mount Carleton" memory wall inside the lodge… #ExploreNB was here!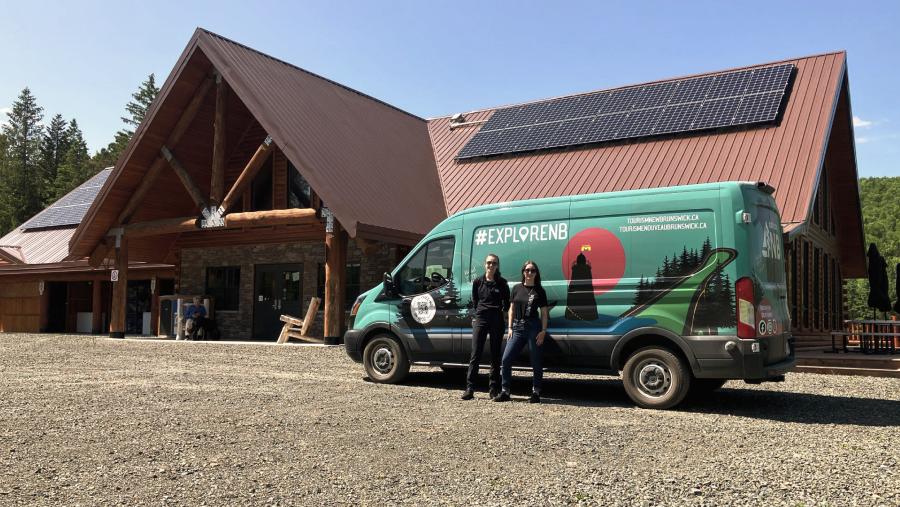 Day 2 – Sackville and Woodstock
Feeling the spirit of NB in Sackville
The conversations we had with the locals in Bill Johnstone Memorial Park were all a great start to the day! We went for lunch at Aida's Cafe in Sackville's downtown and everything was delicious (especially the macaroons). We headed over to Trueman Blueberry Farms in Aulac where we tried the best handmade ice cream we've ever had! The farm also has a U-Pick, a bakery, fresh honey and all kinds of fun activities for families! We recommend taking a few hours and taking the time to discover everything there is to offer here. They even host live music events!
Woodstock, a heritage moment
Our first stop was the L.P. Fisher Public Library & Thompson Centre to pick up a tour guide brochure. From there, we went on a self-guided heritage walking tour and learned about the history of Woodstock. There are so many beautiful Victorian-era heritage homes here! On our walk we popped into the Woodstock Farm & Craft Market, celebrating its 50th anniversary this year. We watched some kayakers paddling on the Wolastoq (Saint John) River, then hit up the Hilltop Market. The outdoor vendors were selling local flowers, plants and veggies and indoors we found baked goods. Everyone seemed to be carrying out fresh bread…mmm!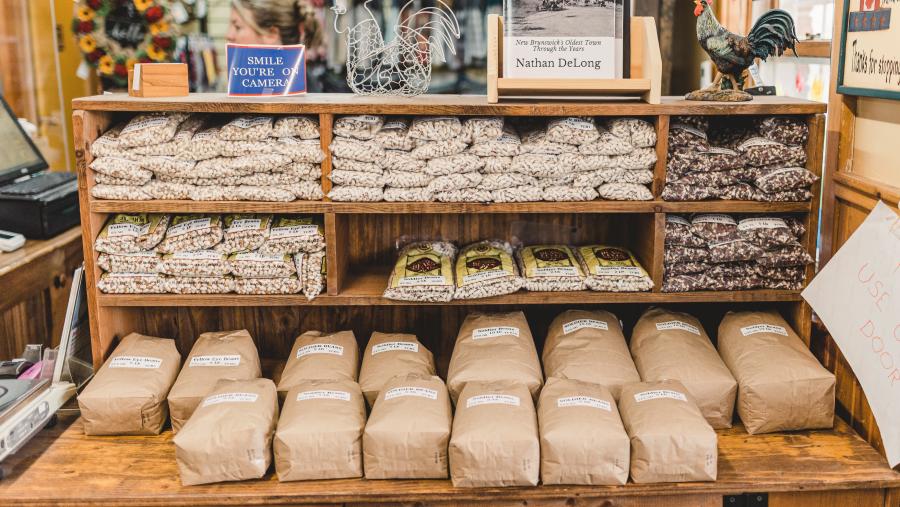 Day 3 – Hampton, Petit-Rocher and Charlo
Hampton, a Hallmark town
When heading out, we were so excited to see one of our #ExploreNB Street Team billboards on the highway! We started our day at Kredl's Corner Market, a local one-stop shop for everything from groceries to gardening. They also have a takeout restaurant where we indulged in a Kredl's Cookhouse poutine made with real cheese curds. After lunch, we made our way to Fire Fly Forest Recreational Area to show off our mini golf and driving range skills. If you want to stay a night or two, they even have a campground and RV parking. For supper we headed over to Hampton Brewing Co. We recommend going when Ciao Bella's pizza truck is there from Thursday-Sunday. We finished the day at the Hampton Town Square and Visitor Information Centre and met lots of great folks, kids and even the Hampton Tourism staff.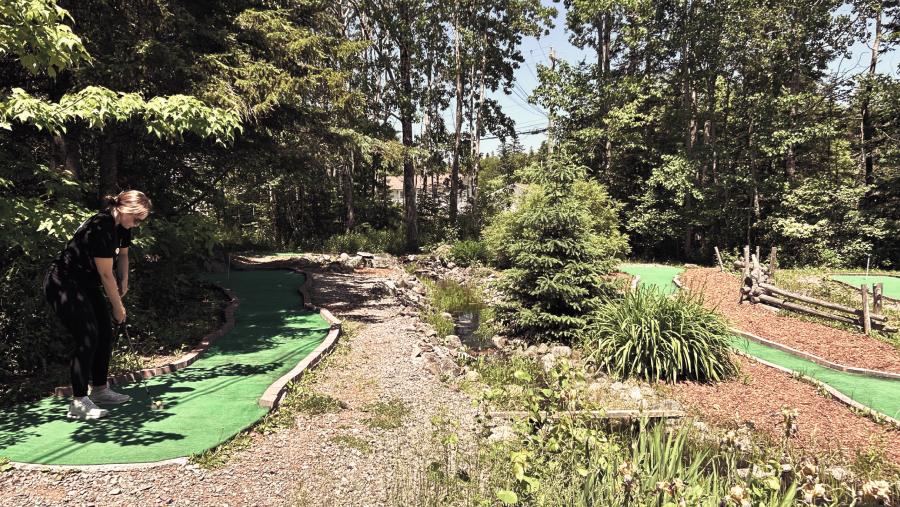 Road tripping along Chaleur Bay
We started the day off with poutines for lunch at Quai next to the Petit-Rocher wharf. We were impressed to learn that the restaurant is built from shipping containers! If you're a lobster lover, pop by for their popular lobster poutine! Next stop was Charlo Beach where we were able to give some colouring books to kids at the playground. It was a very hot day and looked like a great place to cool off! After the beach we headed over to the Charlo Honeyhouse to meet with bee expert Antoine Leclair to learn about the importance of bees. They have products available like soaps, lip balms, candles, beeswax wraps and so much more.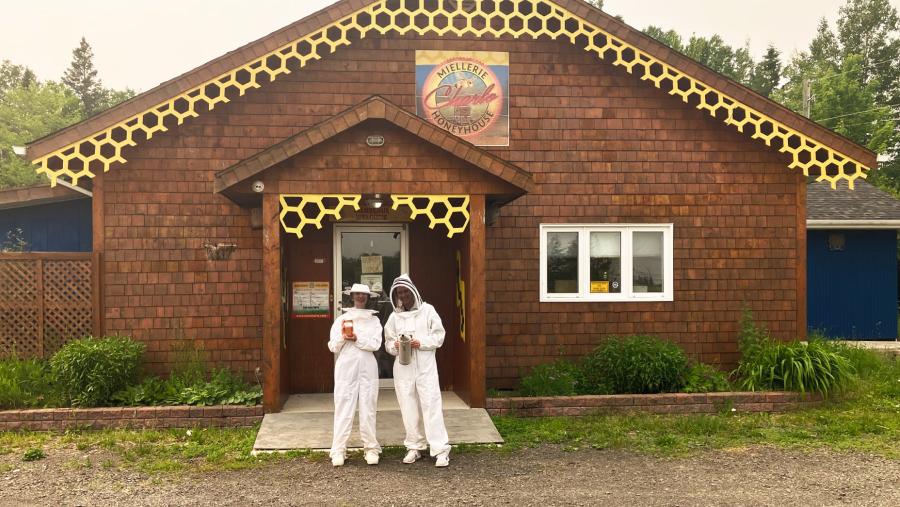 Day 4 – Kingston Market and Campbellton Salmon Festival
Local love for Kingston Farmers Market
We've heard a lot about this market, so we were happy to finally set up here for the day! This market just celebrated its 25th anniversary. We handed out more maps and road trip brochures than we ever have so far and had great conversations with both locals and visitors. We spent some time checking out the market and enjoyed a lemonade from Tall Tom's lemonade, an oven-baked pizza from Stoked Artisan Pizza and homemade peanut butter cups from April's Creations. It was all so delicious!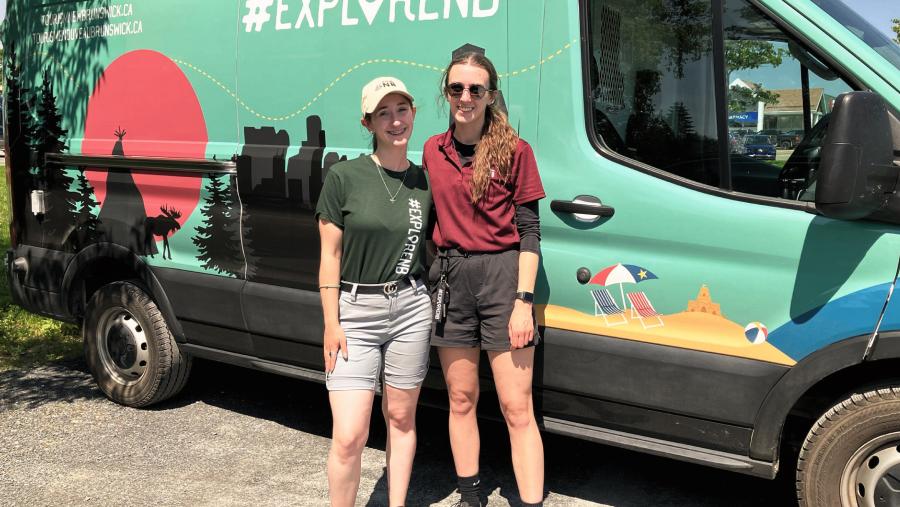 Celebrating community in Campbellton
The 50th annual Salmon Festival (one of New Brunswick's longest running festivals) runs for 9 days! There was so much going on for all ages including live music, face painting, and a magic show. Kamylle got the #ExploreNB logo painted on her face! So many people recognized us from social media, we're glad people are following along!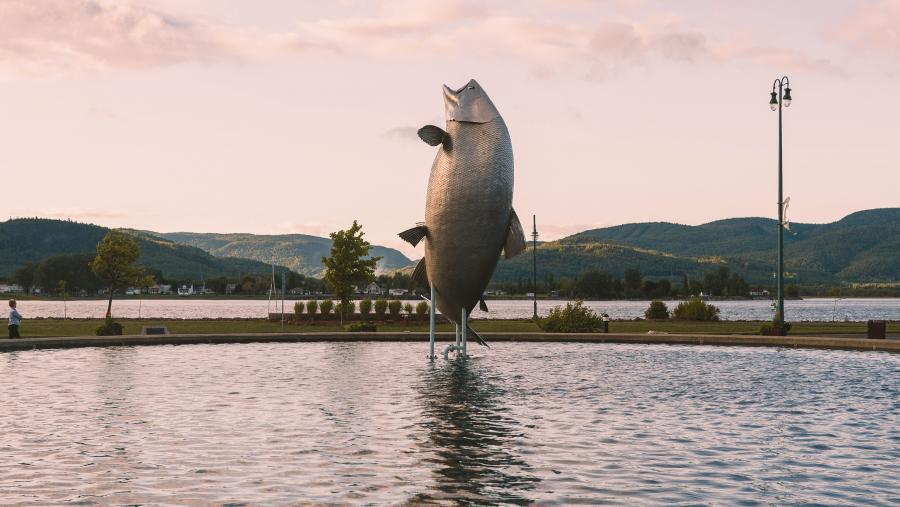 Day 5 – Grand Bay-Westfield and Miramichi
Spreading the NB love in Grand Bay-Westfield
We set up at the Brundage Point River Centre where we had a beautiful view of the bay and the ferry (now decked out with a fresh #ExploreNB logo)! We had great conversations with locals and visitors who came from as far away as British Columbia! We finished the day at the Blueberry Hill Trailhead.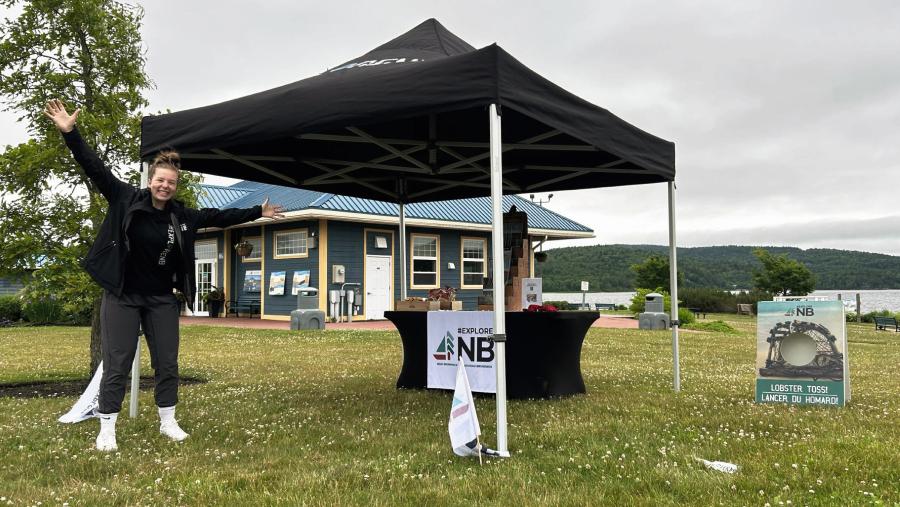 Exploring and ziplining in Miramichi
We started our day with breakfast at the Rodd Miramichi River then headed over to Creative Grounds Café. We played some board games while we had our coffee and delicious cinnamon buns. We learned that you can pay it forward by purchasing a chip which gets added to the wall to be used by those who may not be able to pay. Did we mention they serve coffee for free on Sundays? Next we headed over to Middle Island, a Provincial Heritage Place with strong links to the immigration history of the Irish in New Brunswick. We took a relaxing and peaceful walk along the river, and learned that occasionally, the island hosts a market and live music. They also have a museum with local artifacts found over the years in the area. After our island visit, we headed over to Ritchie Wharf Park, a quaint riverside boardwalk lined with shops and places to sit and enjoy the view. We ended the day ziplining over French Fort Cove…it was a blast!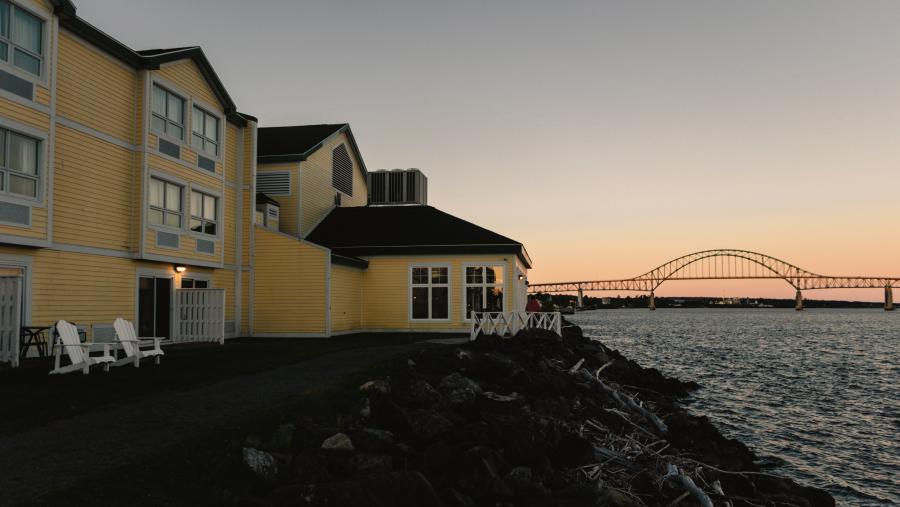 Week 3 Highlights
Chris, our guide at Fort Beauséjour
The maple-sweetened coffee at Mount Carleton Provincial Park
Spreading the #ExploreNB love in the towns we live in
Meeting the Mayor in Campbellton
The walking tour in Woodstock
Meeting 4 golden retrievers at one time
Running into people we've already met, but at a different location
Meeting Seb the cat in Grand Bay
The whole day in Miramichi
Come Along for the Ride
Our summer adventures throughout New Brunswick are one of the many reasons you should come check out explorenb.ca. Visit the #ExploreNB Street Team page weekly to enter for a chance to WIN* an #ExploreNB Adventure Pack. That's right; we're giving away a different prize pack each and every week!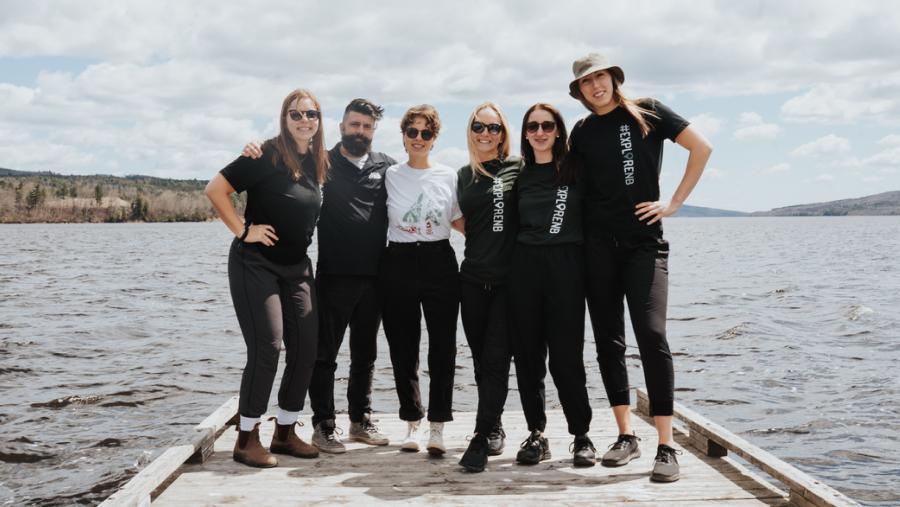 Let's #ExploreNB Together
Pack your bags, buckle up, and join us as we hit the road together! We'd love to chat and show you around.
*NO PURCHASE NECESSARY. Subject to Official Rules at www.ExploreNB.ca. Open to legal residents of Canada who are the age of majority in their province/territory at the time of entry. Contest closes at 11:59:59 a.m. Atlantic Daylight Time (ADT) on September 5, 2023. There is a limit of one entry per Weekly Entry Period. During the Contest Period there are 13 Weekly Entry Periods. Each Weekly Entry Period commence on a Tuesday at 12:00:00 p.m. ADT and ends on the following Tuesday at 11:59:59 a.m. ADT except for the first week where the Weekly Entry Period commences on Monday, June 5, 2023 at 12:00:00 p.m. ADT and ends on Tuesday, June 13, 2023 at 11:59:59 a.m. ADT. A total of 13 Weekly Prizes are available to be won during the Contest Period with one Weekly Prize awarded per Weekly Entry Period. The Approximate Retail Value (ARV) of a Weekly Prize ranges from $225.00 CDN to $1,900.00 CDN. See Official Rules for which applicable Weekly Prize is available to be won and its corresponding ARV. Odds of winning a Weekly Prize depends on the total number of eligible entries received during the applicable Weekly Entry Period. Correct answer to a mathematical skill-testing question and completion and return of the Sponsor Declaration and Release Form is required. Prizes may not be exactly as shown.