Week 4: School's out - let's #ExploreNB!
June 26 - July 2
Day 1 - Kouchibouguac and Grand Manan
Lagoon life in Kouchibouguac National Park
Kouchibouguac National Park is an incredible area brimming with life! They have so much happening in the summer, from fun activities to educational programs. We participated in the Lagoon Life aquatic exploration program with some enthusiastic kids, and met visitors from as far away as Mexico and the UK. We were most excited about "critter dipping" and catching hermit crabs and shrimp! Afterwards, we had some fun on the beach and made an octopus out of beachwood and other treasures. We then took in some of the beautiful scenery from the boardwalk.
Enjoying the view on Grand Manan Island
We got off the ferry and headed for a delicious coffee and a snack from Newton's Mercantile & Café, where we chatted with some folks from the mainland who were excited to get some road trip information. We headed to the Grand Manan Museum to learn about the island's history and geological formation. We enjoyed the artifacts from various shipwrecks and exhibits about life on Grand Manan. After the museum, we spent some time in The Anchorage Provincial Park. We were intrigued by the banquet hall on the property, a restored original building from 1918. We saw lots of bunnies (Becca even hand-fed one), a bird sanctuary, and a black sand beach. We headed to our last destination of the day, the Swallowtail Lighthouse, to catch some stunning views of the Bay of Fundy and check out the rock formations. There were plenty of coastal trails to explore that made us feel like we were on the edge of the world! After this fantastic adventure, we enjoyed a scenic dinner at the Compass Rose Inn before catching the ferry. Everything was delicious!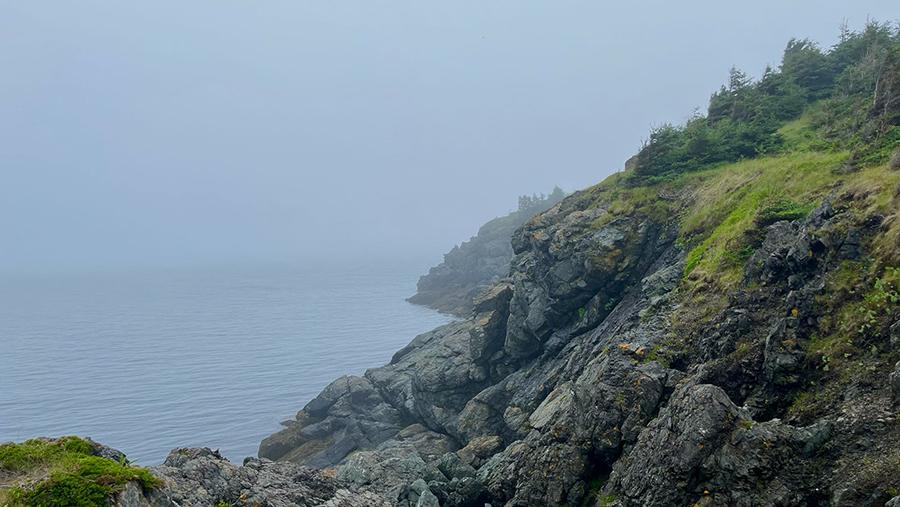 Day 2 – Jeux de l'Acadie and Saint Andrews
Celebrating Acadian pride at Les Jeux de l'Acadie
We had a great day in Memramcook volunteering, cheering for the athletes, and chatting with friendly people who were excited for the weekend! We loved hearing all the different dialects of French. We learned that these games are not just a sporting event but a way for Acadians to gather and celebrate their pride and heritage.
Exploring marine life and gardens in Saint Andrews
We started our day at the Market Square farmers market that happens every Thursday from 8:30am-1pm. There was an amazing variety of lunch items, produce, flowers and handmade crafts. We hit up Honeybeans Coffee, Tea and Treats on Water Street to get some iced lattes. Next, we popped into McGuire Chocolate Company, and it smelled amazing. During our stop at Candy by the C, we found treats we hadn't seen in years. Next we headed to Kingsbrae Garden. Make sure you give yourself a good two hours, as there's so much to see, including a sculpture garden and animals! What an incredible variety of plants and flowers. We also visited the Fundy Discovery Aquarium & Huntsman Marine Science Centre, where we learned about the Bay of Fundy marine life, visited the interpretive tank (we were able to touch different sea species!), and attended the daily Seal Talk (11am and 4pm) where Snorkel the Seal performed some cool tricks! We finished a great day with a phenomenal seafood meal from the Clam Digger in Chamcook.
Day 3 – Cape Jourimain, Murray Beach Provincial Park, McAdam Railway Station and Harvey
Exploring nature in Cape Jourimain and Murray Corner
Cape Jourimain is a beautiful and protected National Wildlife Area where the Confederation Bridge connects to New Brunswick. We spent the morning exploring the trails and museum with our guide, Patrick, and even went underneath the bridge! We met some locals who recognized our #ExploreNB logo and sent them off with treats for their trip. Next, we made our way to the beautiful Murray Beach Provincial Park. Located along the shores of the Northumberland Strait, the park has stunning views, warm water, and shoreline as far as the eye can see! We chatted with some frequent campers, and gave some #ExploreNB goodies to the staff and visitors.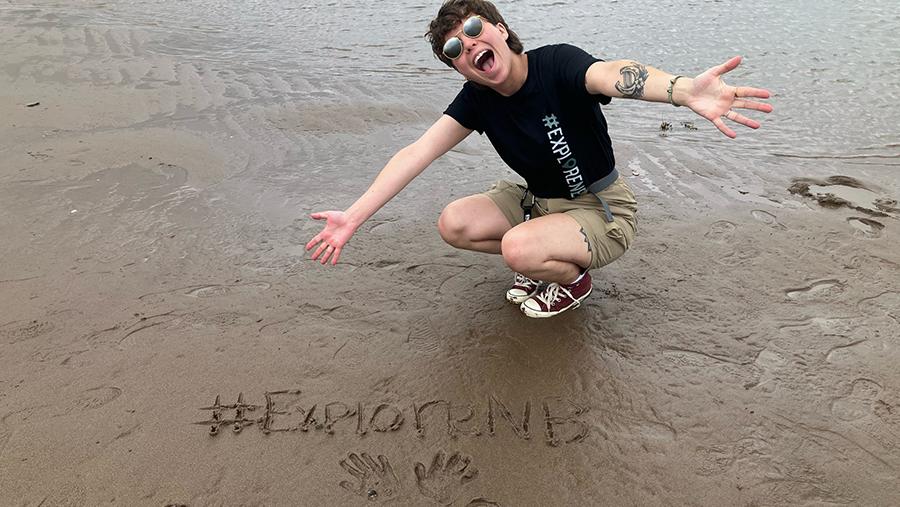 Railway History and Good Eats in McAdam and Harvey
We can't say enough about the McAdam Railway Station tour! Our guide, Boyd, was a great storyteller and made us feel like we stepped back in time. This impressive building was a Canadian Pacific Railway station in the 1900s and is now a National and Provincial Historic Site. There is so much to see inside, including a hotel and even a jail! After our exciting tour, we made it to Entity 59 Smokehouse in Harvey for some great food and atmosphere. We couldn't leave the area without stopping at Harvey's Ice Cream Shack for a treat.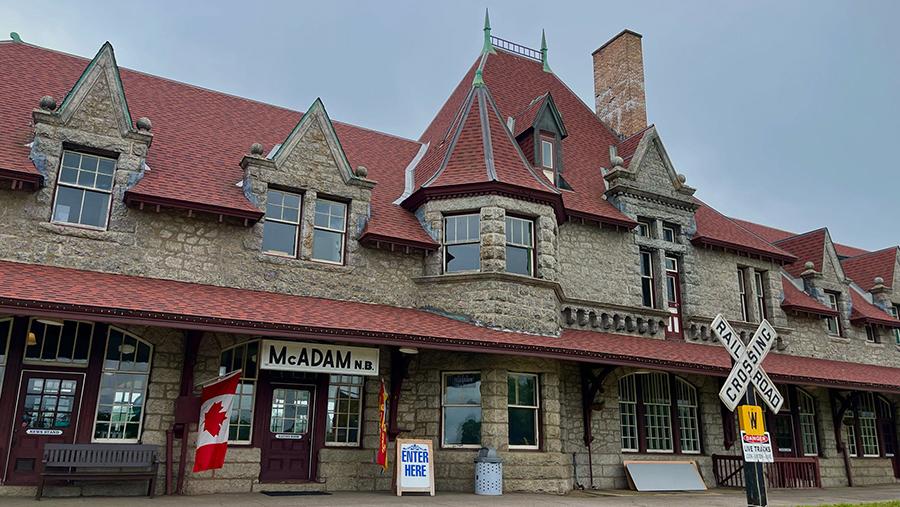 Day 4 – Canada Day in Saint John and Edmundston
Sharing our adventures in the Saint John Area 506 Container Village
This place is so neat! The village is located in Uptown Saint John by the waterfront, and is made up of 60+ customized shipping containers-turned-vendor-stalls. There are so many amazing local shops selling everything from artisan goods to delicious food. We met over 200 people on Saturday! We talked to a lot of New Brunswickers who are interested in exploring their own province, and we were able to share our experience so far this summer and how much there is to see! We met newcomers to the province who are loving it here, and want to explore more. The booth next to us had face painting and the artist was amazing. She must have painted more than 200 faces!
Meeting friendly visitors at the Edmundston Market
We were lucky to have a booth at the local market that runs from 8:30am-1pm on Saturdays. With Canada Day happening, the market was very busy, and there were so many vendors. We met lots of folks from the province of Québec and the Edmundston Region. We had a great turnout at the booth and were glad to offer our help to people planning their summer vacations and deck them out in #ExploreNB swag.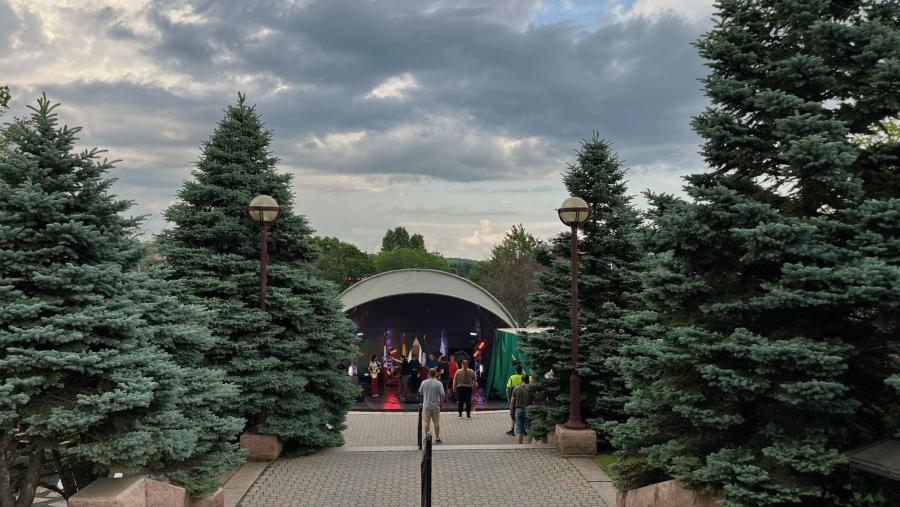 Day 5 – Oromocto and Grand Falls
Hangin' with the kids in Oromocto's Hazen Park
We had a great time attending Kids Day during Oromocto's Pioneer Days. We got to cheer on participants in a fishing derby and frog jumping race! People arrived with buckets of frogs for the race as it was BYOF (bring your own frog). Everyone got a prize, whether it was a little trophy, coupons for McDonalds fries or a new fishing rod. Our maple lollipops were a hit! After we left, we popped into a little lemonade stand at a roadside yard sale. So cute!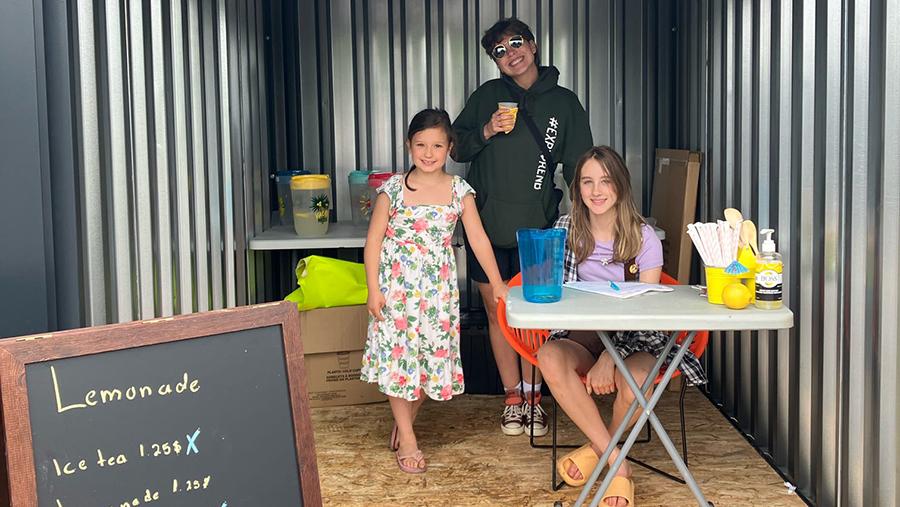 Feeling starstruck at the Grand Falls Gorge
How often do you run into a famous New Brunswicker? We felt lucky to have met Ron Turcotte, famous racehorse jockey and rider of Secretariat, at the Malabeam Tourist Information Centre. After our amazing interaction (and gifting Ron with a bag of #ExploreNB goodies), we went for a walk to the Gorge. We walked down a 401-step staircase and stopped at a few lookout points before reaching the bottom, where we were treated with simply 'gorge'ous views. After we climbed back up, we hit up La Rochelle Centre to check out all the amazing local products made by Grand Falls artisans.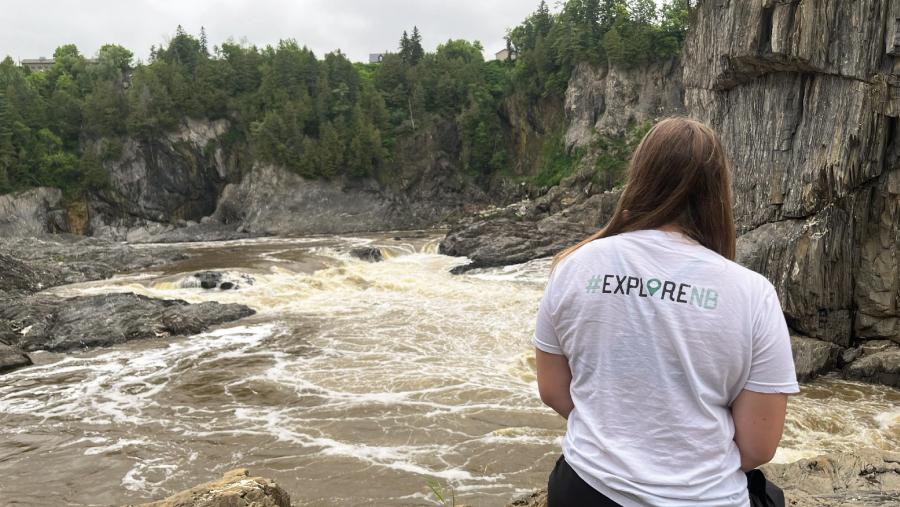 Week 4 Highlights
Reconnecting with visitors we met at the Miramichi Striper Cup in May
Critter dipping at Kouchibouguac National Park
Swallowtail Lighthouse in Grand Manan
The Seal Talk at the Fundy Discovery Aquarium
Skipping rocks and adding to the Inukshuk in Murray Corner
The McAdam Railway Station tour
Visitors at the Area 506 Container Village and all of the puppy love
Meeting Ron Turcotte in Grand Falls
Come Along for the Ride
Our summer adventures throughout New Brunswick are one of the many reasons you should come check out explorenb.ca. Visit the #ExploreNB Street Team page weekly to enter for a chance to WIN* an #ExploreNB Adventure Pack. That's right; we're giving away a different prize pack each and every week!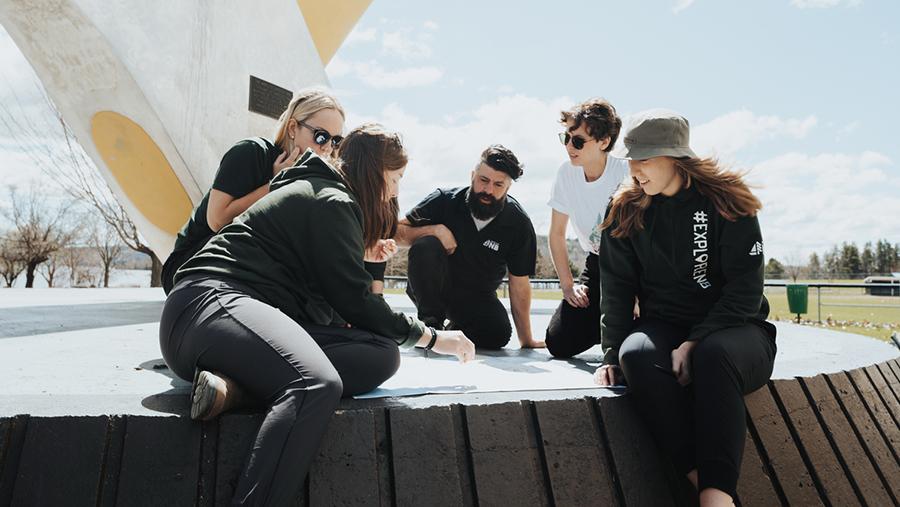 Let's #ExploreNB Together
Pack your bags, buckle up, and join us as we hit the road together! We'd love to chat and show you around.
*NO PURCHASE NECESSARY. Subject to Official Rules at www.ExploreNB.ca. Open to legal residents of Canada who are the age of majority in their province/territory at the time of entry. Contest closes at 11:59:59 a.m. Atlantic Daylight Time (ADT) on September 5, 2023. There is a limit of one entry per Weekly Entry Period. During the Contest Period there are 13 Weekly Entry Periods. Each Weekly Entry Period commence on a Tuesday at 12:00:00 p.m. ADT and ends on the following Tuesday at 11:59:59 a.m. ADT except for the first week where the Weekly Entry Period commences on Monday, June 5, 2023 at 12:00:00 p.m. ADT and ends on Tuesday, June 13, 2023 at 11:59:59 a.m. ADT. A total of 13 Weekly Prizes are available to be won during the Contest Period with one Weekly Prize awarded per Weekly Entry Period. The Approximate Retail Value (ARV) of a Weekly Prize ranges from $225.00 CDN to $1,900.00 CDN. See Official Rules for which applicable Weekly Prize is available to be won and its corresponding ARV. Odds of winning a Weekly Prize depends on the total number of eligible entries received during the applicable Weekly Entry Period. Correct answer to a mathematical skill-testing question and completion and return of the Sponsor Declaration and Release Form is required. Prizes may not be exactly as shown.