From beaches to treetops – it's week 5!
July 3 - 9
Day 1 - Bathurst & Kouchibouguac
Bathurst NB - Cottage Country!
We set up at the Promenade Waterfront gazebo on a sunny afternoon and met so many cottage-goers and campers visiting the area! Bathurst is located on the beautiful Chaleur Bay, a prime spot for summer beach rentals. Down the street from the Promenade is Cruze Bathurst where you can rent hydrobikes and kayaks! We walked around to the different shops, including a French bakery, a restaurant on the water, a cute consignment shop, a local artisan shop and Monty's Pretzelria, a pretzel shop offering some seriously delicious soft pretzels.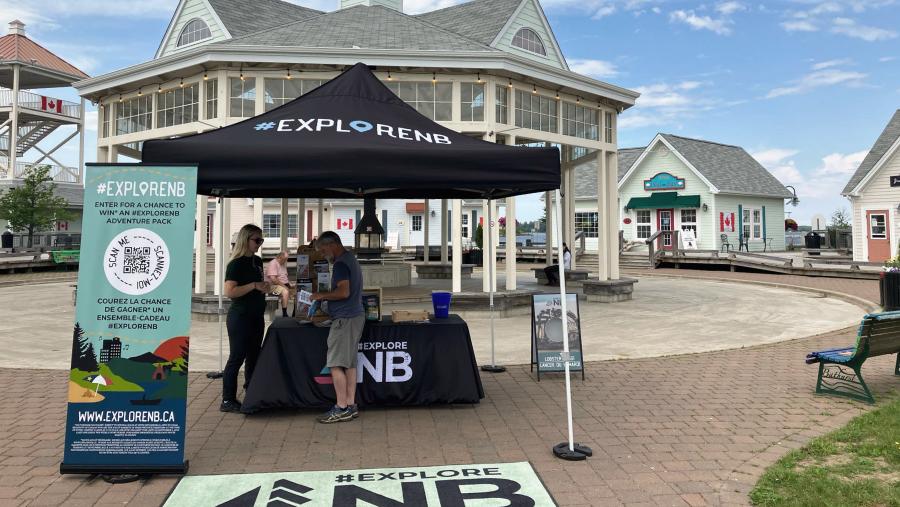 'Xperiencing' Kouchibouguac National Park
It's summer vacation season, and our parks are packed with visitors from all over! After setting up at the Visitor Information Centre, we visited Kellys Beach which has some of Canada's warmest saltwater beaches and beautiful sand dunes. Next, we headed over to Ryans Rental Centre and rented a kayak and paddle board for an hour. They also have canoes and fat bikes.
Our fun adventure on the water tired us out, so we made our way to our accommodations for the night – Xperience Kouchibouguac! We stayed in the Private Nature Cottage and it was the perfect spot for a relaxing getaway. We finished this great day with s'mores and hot dogs over the campfire.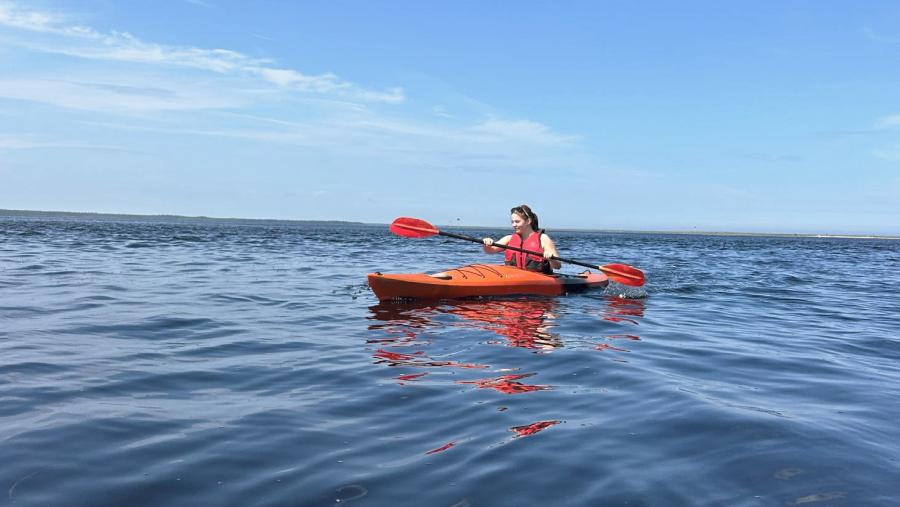 Day 2 – Mount Carleton Provincial Park, Cap-Lumière, Aboiteau Beach and Moncton
Enjoying the view on top of Mount Carleton
We arrived at Mount Carleton Provincial Park to hike the highest peak in the Maritimes 820 m (2,690 ft)! There are multiple hikes you can do here, but we chose the Mount Carleton trail. We made sure to pack lots of snacks and cold water (it was a scorcher!) and hit the trails. There were streams running along the path making it so peaceful. The incline is gradual until you reach the peak where you can choose to take a more technical route or a sheltered trail. We chose the technical route, and when we arrived at the top, the views were incredible! On a clear day, you can see over 10 million trees. We met two people on the trail, Nicole and Rachel, and we sent them off with some #ExploreNB merch to bring on their hike. After going back down, we visited the lodge to say hello to the workers and refill our water bottles.
Tip: You can refill your bottles at the lodge before and after your hike and they have coffee, sandwiches, ice cream and much more!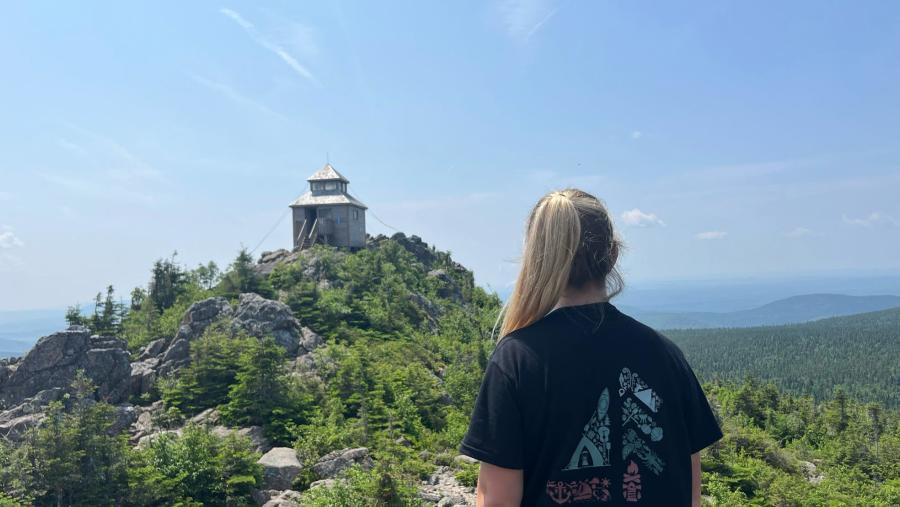 Cruising along the coast to Moncton
We set out bright and early to Cap-Lumière, a small Acadian community on the shores of the Northumberland Strait with campgrounds and beautiful sand dune beaches. You can normally see Prince Edward Island in the distance, but it was a foggy day.
Next, we visited Aboiteau Beach and set up on the stage inside the main building. There are many amenities here including an outdoor patio where you can relax and enjoy a meal from À la Dune restaurant or a cold brew from CAVOK (Cav-Oh-Kay) microbrewery! We checked out the beautiful sandy beach and hung out in the swinging chairs on the patio. After all the excitement from our beach day, we headed to our hotel, CANVAS Moncton for the night. This hotel is so unique, complete with a rooftop bar!
Fun Fact: CAV-Oh-Kay is an aviation acronym of ceiling (or clouds) and visibility [are] OK.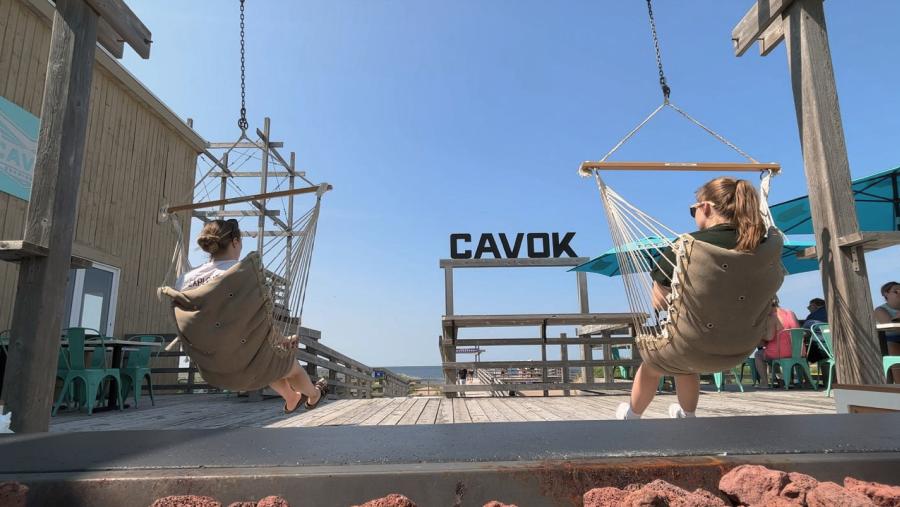 Day 3 – Saint-Quentin, Kedgwick & Moncton
Saint-Quentin, the gateway to Mount Carleton
We spent the morning at the Old Train Station Tourist Centre in charming Saint-Quentin. This train station is actually a replica, as the original (completed in 1920) was demolished in 1983. Next, we went to Le Parc du Centenaire to set up. Our first visitor was a dog that left with a new #ExploreNB bandana! The park has a huge maple leaf. Did you know Saint-Quentin is the maple syrup capital of Atlantic Canada?
Next we visited beautiful Kedgwick to check out the Pioneer Tower and the 11-metre (37-feet) tall family tree! Each of the 8000+ colourful leaves on the tree were handmade by local artisans. To finish the day we chatted with some friendly locals and gave them an #ExploreNB sticker for their side-by-side ATV.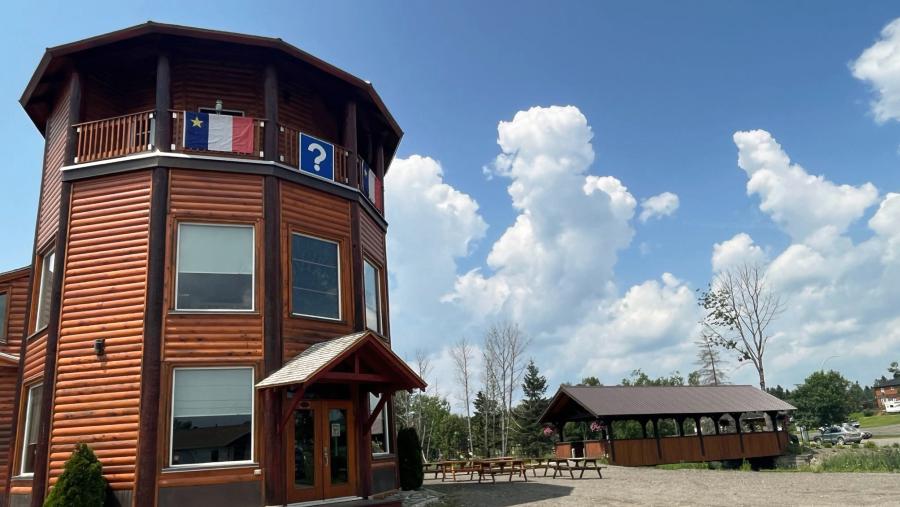 Going international at the Atlantic Nationals
We spent a hot and sunny day at the Atlantic Nationals Car Show in Downtown Moncton. We met people from Europe, the United States and all over Canada. This show is one of the largest in Canada with over a thousand registered antique cars! All the participants were so interesting to talk to. They love being a part of the car show community! We met lots of road trippers looking for information, and we were happy to help.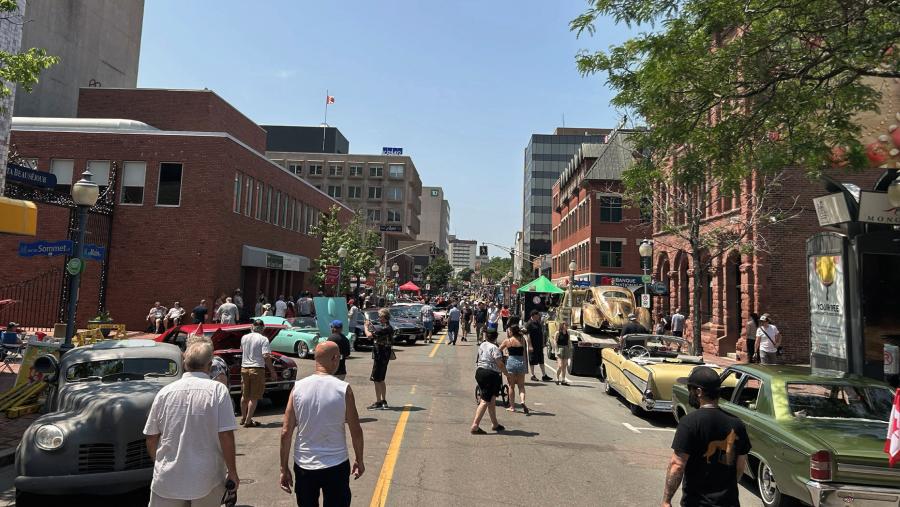 Day 4 – Petit-Rocher, Pabineau First Nation and Saint John
A day of celebrations in Petit-Rocher and Pabineau
We started the day bright and early at the finish line of Festival des Rameurs, where rowers race from Bonaventure, Québec, across the Chaleur Bay to finish at the Petit-Rocher wharf. We watched the rowers arrive at the finish line, and everyone was cheering them on! Afterwards, everyone heads to a celebration with food vendors, music and even a petting zoo.
After the festival, we made our way to the annual Pabineau First Nation Powwow for the opening ceremony. We visited all the vendors and watched the celebrations. To finish off our day, we stopped to visit the beautiful Pabineau Falls.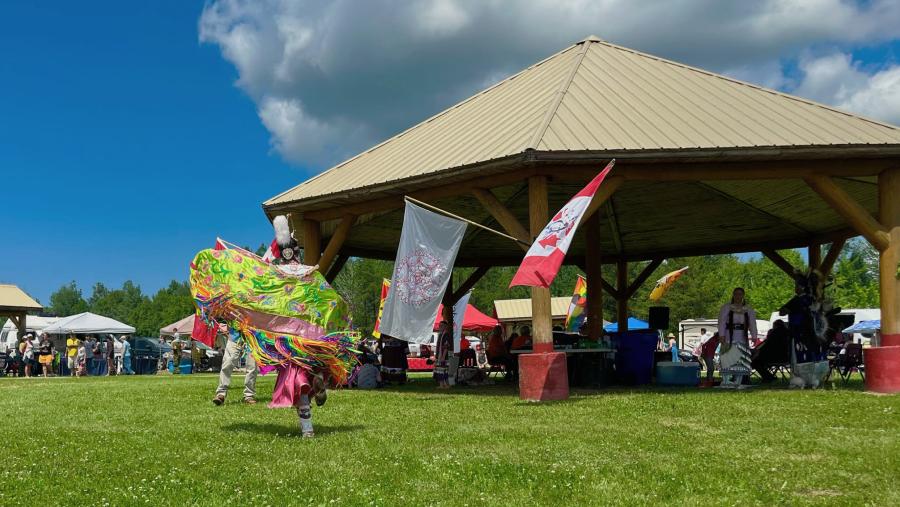 Outdoor adventuring in Saint John
What an exciting day down by the Bay! We started out at Timbertop Adventures in Dominion Park for an aerial adventure featuring tree-top ziplining and obstacle courses. The difficulty level ranges from yellow for younger kids and triple black diamond for thrill seekers! We tested our limits all the way to the first black diamond course, then finished with "The Flying Squirrel" free fall jump.
After Timbertop, we made our way to the RAD Race at Rockwood. This was the first annual Enduro bike race (a style of racing where the overall race time is the sum of multiple timed stages), and they had a great turnout! We met many biking enthusiasts of all ages, and we stayed for the prizes at the end. Becca even participated in the kiddie relay bike race and had to be pushed over the finish line when her bike got stuck!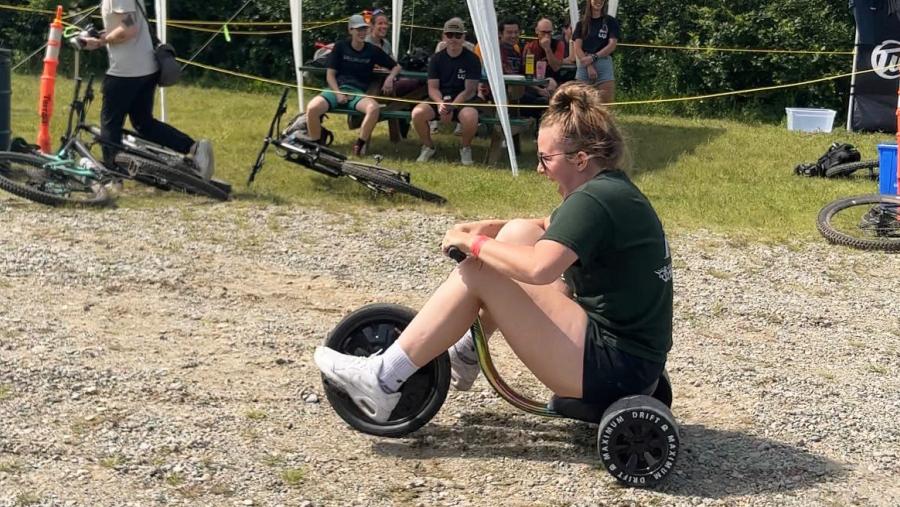 Day 5 – Beaubears Island and New River Beach
Spending the day on historical Beaubears Island
When we first arrived at the interpretive centre, we were greeted with friendly and helpful staff. The centre has information about the island's history including the ways of life of the Mi'kmaq people and life on the Miramichi River. Visitors can choose the option of a guided or self-guided tour, and we chose the guided tour. After a short boat ride (with a hilarious boat captain), we arrived on the island. We learned so much from our tour guide, Kate! After the 45 minute tour, we checked out the walking trails and got to see "The Tickle" (where the two rivers meet).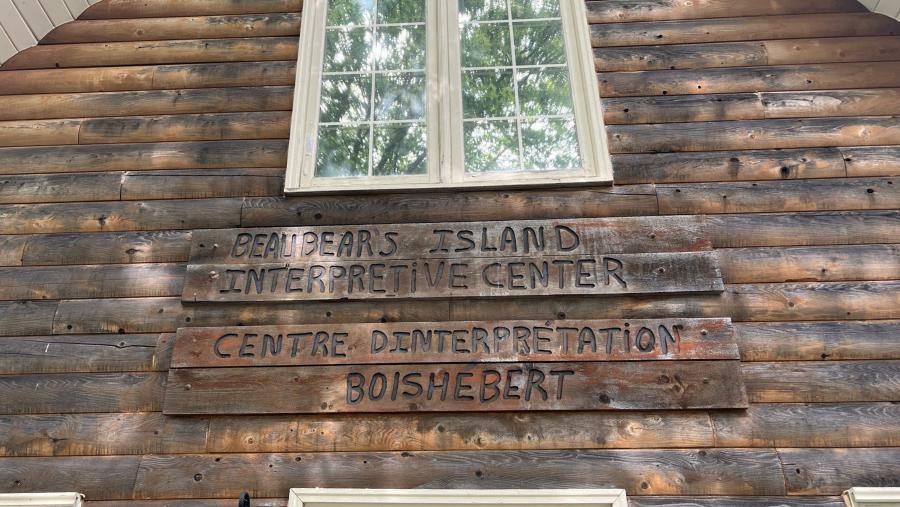 Fun in the sun at New River Beach
It was a beautiful day for the Sand Sculpture Competition at New River Beach. There were over 12,000 people on site for the event! We talked to so many people today from all over, but mostly New Brunswickers having a beach day. The lobster toss was a huge hit, and we had consistent lineups of 10-20 people wanting to play! We had so many people at our booth, it was great to chat with everyone.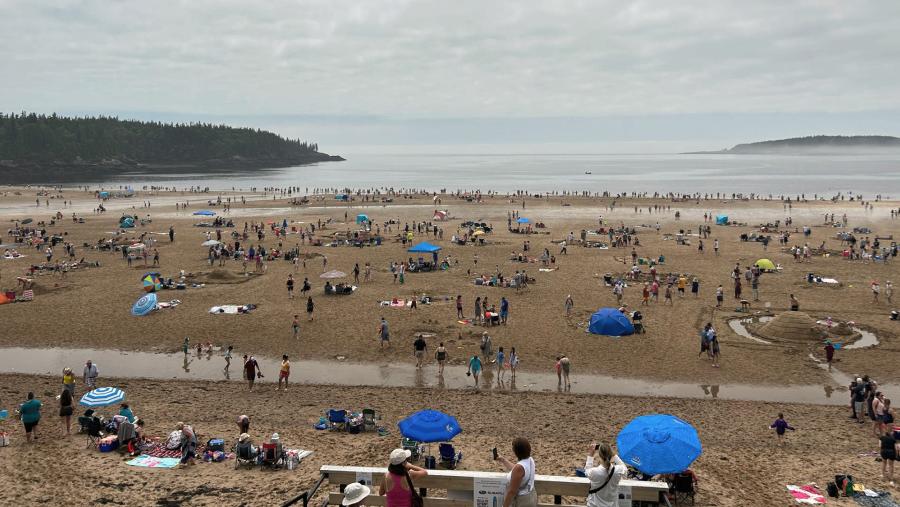 Week 5 Highlights
Spending time on the water in Kouchibouguac (and s'mores!)
The view from the summit of Mount Carleton
The beaches along the way
Timbertop Ziplining and Becca participating in the kiddie bike race in Saint John
Swimming at New River Beach on a hot day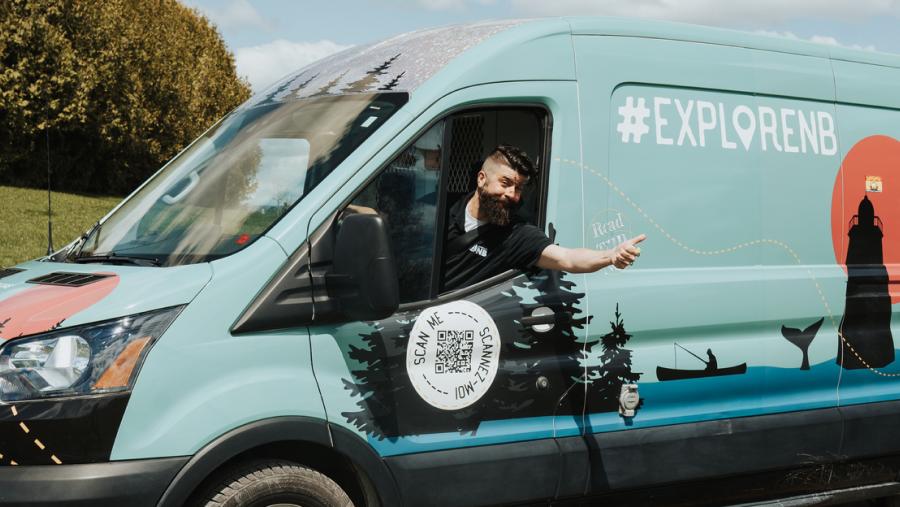 Come Along for the Ride
Our summer adventures throughout New Brunswick are one of the many reasons you should come check out explorenb.ca. Visit the #ExploreNB Street Team page weekly to enter for a chance to WIN* an #ExploreNB Adventure Pack. That's right; we're giving away a different prize pack each and every week!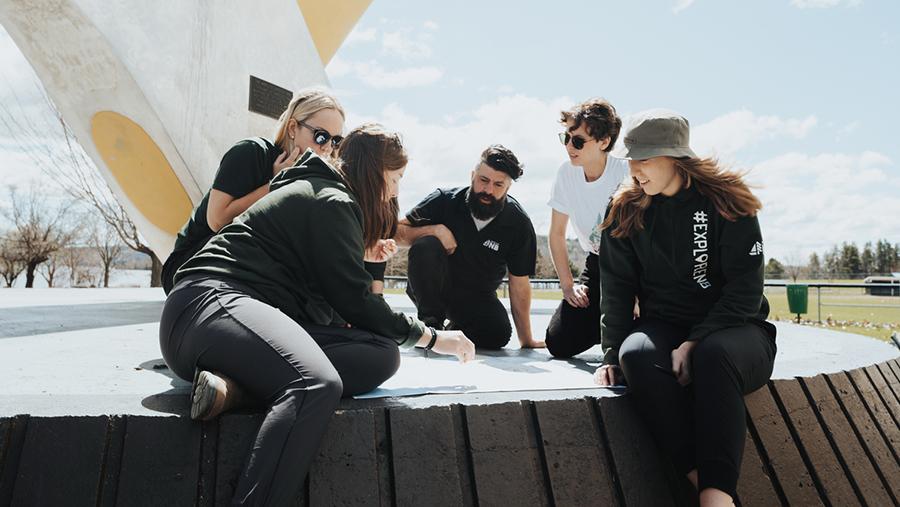 Let's #ExploreNB Together
Pack your bags, buckle up, and join us as we hit the road together! We'd love to chat and show you around.
*NO PURCHASE NECESSARY. Subject to Official Rules at www.ExploreNB.ca. Open to legal residents of Canada who are the age of majority in their province/territory at the time of entry. Contest closes at 11:59:59 a.m. Atlantic Daylight Time (ADT) on September 5, 2023. There is a limit of one entry per Weekly Entry Period. During the Contest Period there are 13 Weekly Entry Periods. Each Weekly Entry Period commence on a Tuesday at 12:00:00 p.m. ADT and ends on the following Tuesday at 11:59:59 a.m. ADT except for the first week where the Weekly Entry Period commences on Monday, June 5, 2023 at 12:00:00 p.m. ADT and ends on Tuesday, June 13, 2023 at 11:59:59 a.m. ADT. A total of 13 Weekly Prizes are available to be won during the Contest Period with one Weekly Prize awarded per Weekly Entry Period. The Approximate Retail Value (ARV) of a Weekly Prize ranges from $225.00 CDN to $1,900.00 CDN. See Official Rules for which applicable Weekly Prize is available to be won and its corresponding ARV. Odds of winning a Weekly Prize depends on the total number of eligible entries received during the applicable Weekly Entry Period. Correct answer to a mathematical skill-testing question and completion and return of the Sponsor Declaration and Release Form is required. Prizes may not be exactly as shown.