Famous landmarks, national heritage sites, rodeos, and good eats – it's week 6!
July 10 - 16
The road to Florenceville-Bristol
We started our week by hitting the road to Florenceville-Bristol and made a few stops along the way. First, we grabbed some ice cream at Queen Street Creamery (a real ice cream truck) in Fredericton. The watermelon sorbet was a refreshing treat on a hot summer day.
Next we stopped by the New Brunswick College of Craft and Design (NBCCD) barracks to visit their artists in residence, Alison and Rob, and added #ExploreNB to the huge collaborative canvas!
Before getting to our destination, we had another road trip stop in Woodstock at Yogi Bear's Campground (Jellystone Park). The waterpark was filled with families enjoying the summer weather on the waterslides! While we were there we treated ourselves to another ice cream. It was the biggest 'small' size we've ever seen!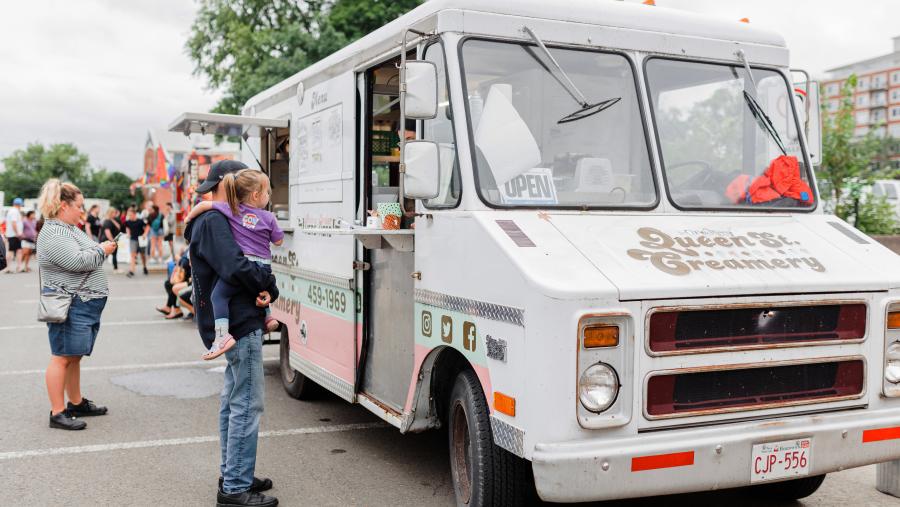 Day 1 - Florenceville-Bristol and St. Martins
Florenceville-Bristol, the French Fry Capital of the World
Our first stop of the day was Noah's Ark Café. After enjoying a delicious strawberry lemonade iced tea, we arrived at Potato World for the National French Fry Day celebration! Shout-out to all the phenomenal staff and volunteers at this event! Vendors were set up with everything from antiques to potato soap, and we snagged a potato stress ball from New Brunswick Food & Beverage. The day was a great success. We especially enjoyed all of the delicious french fries!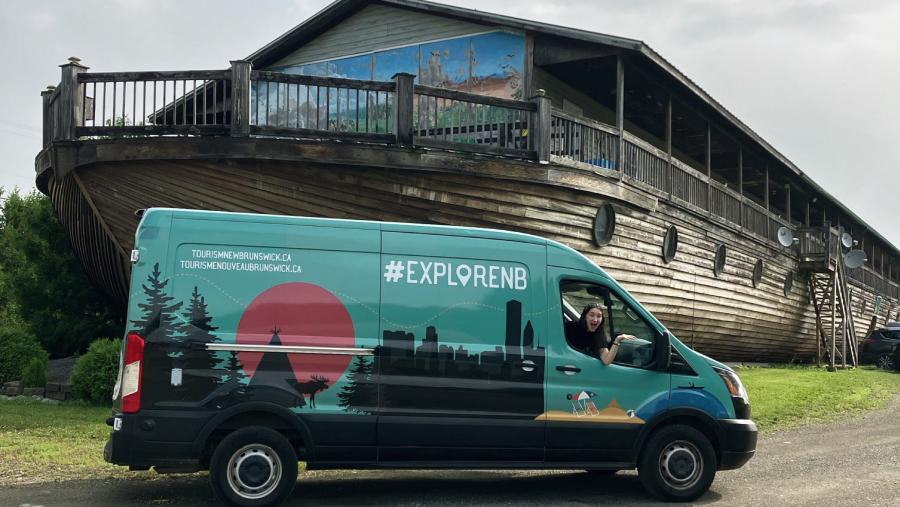 Waking up on the right side of the bed in St. Martins
We headed out to the Quaco Museum after a great stay at Beach Street Inn. The museum was full of artifacts about the history of shipbuilding in the area. Next, we popped into some of the wharf shops and grabbed a tasty treat from Octopus Ice Cream. We walked across the two-lane covered bridge and headed over to the stunning sea caves to set up. We met so many visitors from Ontario and Québec! The shop owner at Once Upon a Tide recommended we search for sea glass, and we found so many treasures. To finish a great day, we had a fantastic meal at Periwinkles, the restaurant at Beach Street Inn.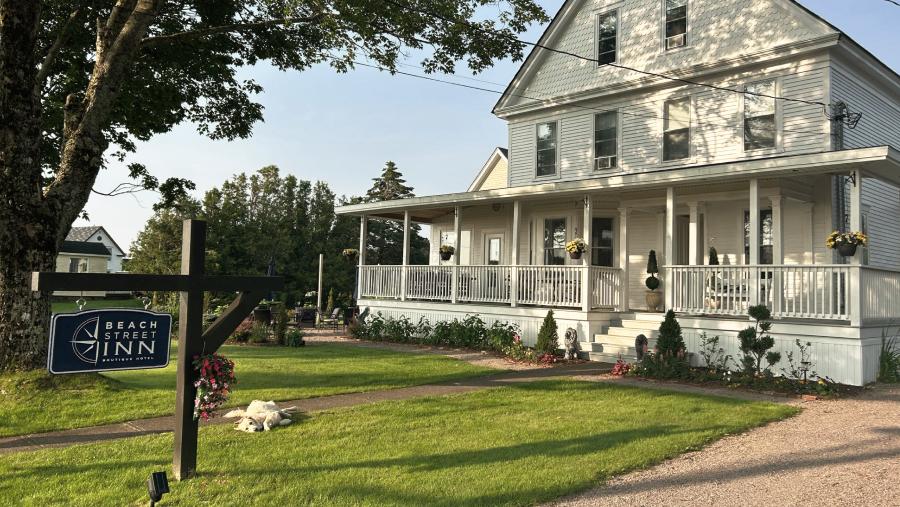 Day 2 – Mactaquac Provincial Park, Saint Andrews & Ministers Island
Mactaquac, pristine wilderness minutes away from the city
We arrived in Mactaquac Provincial Park with a locally sourced picnic to share with beachgoers! Everyone enjoyed the CocoLemon lemonade, Covered Bridge Potato Chips and maple lollies. Next, we headed over to York Centennial Park to help the NB Parks crew set up for the Kids Adventure Games. We met some locals on the trails, and Pat and Eli, a father-son volunteer team from Maine. We were reminded today why people love New Brunswick so much. The pristine wilderness and beaches are so accessible and close to the city!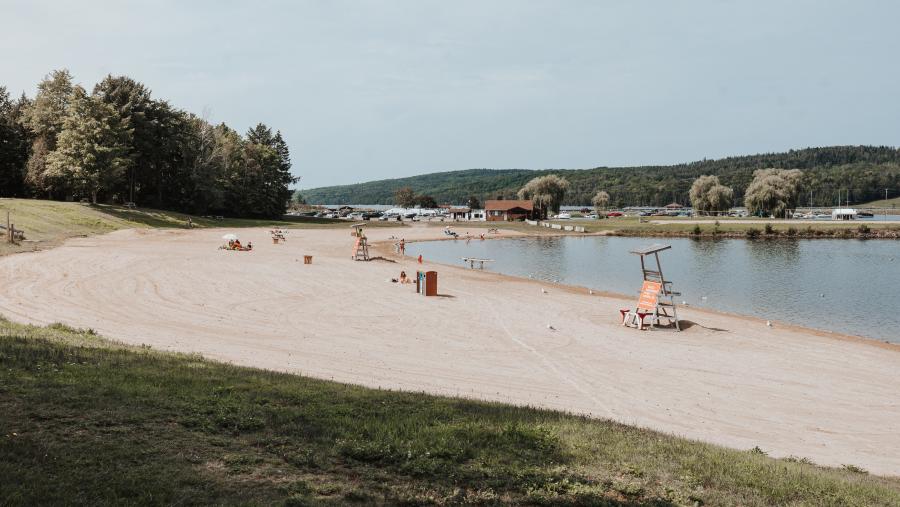 Driving on the ocean floor in Saint Andrews
We arrived in Saint Andrews to check out the downtown and do some antique shopping! All of the shop owners were so friendly, and each shop had its own charm. Afterwards, we headed over to Ministers Island, a National Historic Site of Canada and former summer camp of the Peskotomuhkatiyik (Passamaquoddy) First Nation. To access the island, you wait until low tide and then cross over on the ocean floor. So cool! Once we arrived, we set up in front of Covenhoven, the 50-room mansion built in 1891 by Sir William Van Horne. We met lots of visitors from Québec and Alberta, and of course lots of New Brunswickers!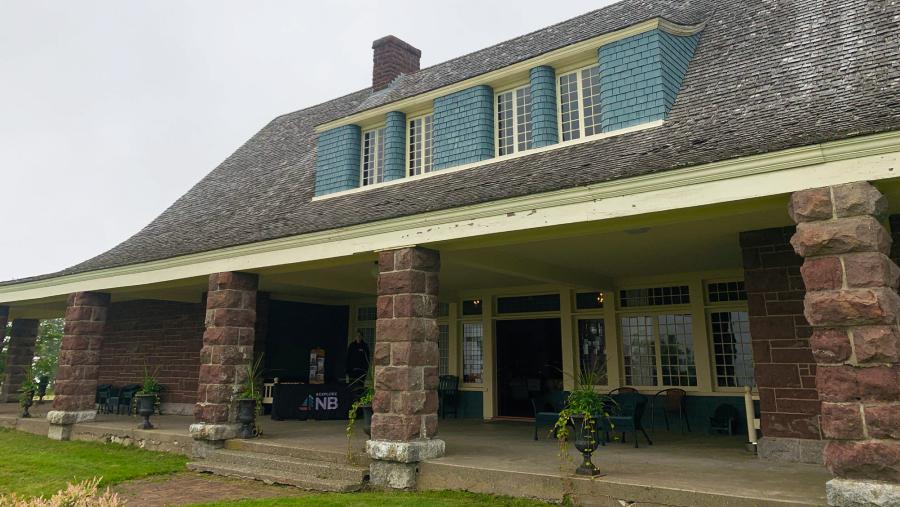 Day 3 – Moncton and Saint-Quentin
Sun and summer vibes in Moncton, NB!
We started the day setting up at the International Buskers Festival in Moncton! There were so many awesome performers, and lots of vendors and artisans at the event. We chatted with locals and people that had recently moved back to the area. We met a visitor that was interested in our road trips, but doesn't have a vehicle. We were able to direct him to Maritime Bus and give him a list of sites to see! It was a hot day, so we stopped at a shaved ice booth to cool down.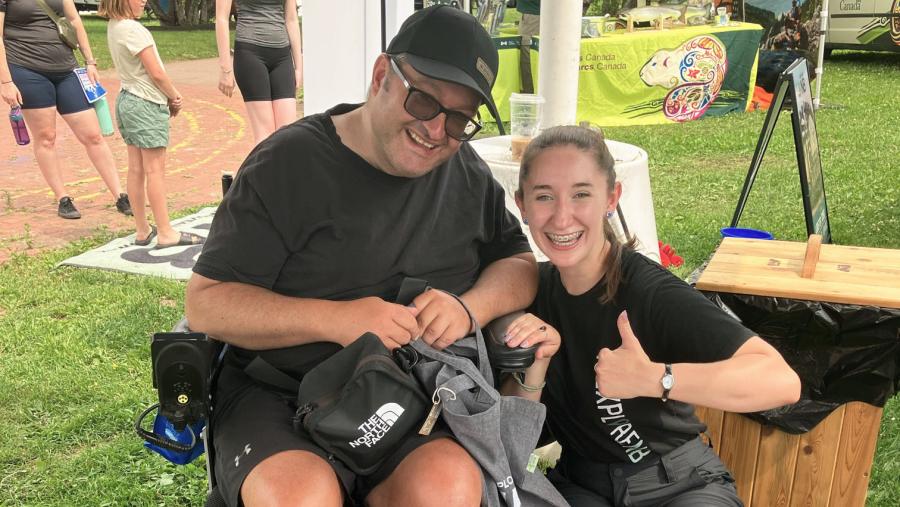 Saint-Quentin, home of the only Western festival in New Brunswick!
We arrived in Saint-Quentin for the Festival Western, and the rain didn't stop us from having a great time! We started off the day by watching some bull riding. Everyone had so much fun! We handed out lots of maple lollies (Saint-Quentin is the maple capital of Atlantic Canada) and saw the rodeo up close. After the festival, we headed towards Grand Falls and saw a huge rainbow. It was a great day!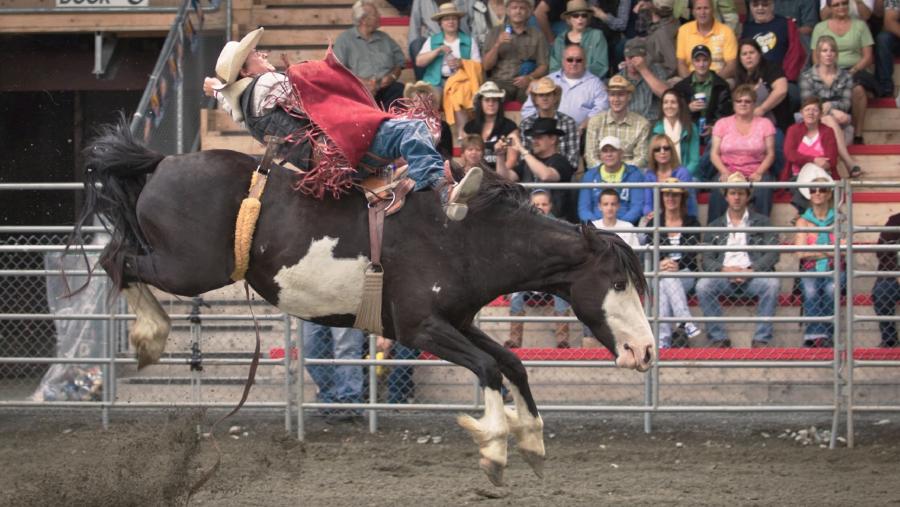 Day 4 – Minto and Hartland
Finding the fun in Minto!
We set up for Music & Magic in the Park (which was moved to the arena because of the weather) and had a great afternoon chatting with local folks and watching the kids enjoy the bouncy castles. After the event, we headed to Michael's Catering food truck. The crispy shrimp were delicious! Next, we made our way to the Minto Museum and Information Centre to rent some bikes. Minto has an incredible mountain biking trail system and we were so excited to check it out! Thanks to Jaxon for getting us set up, and thanks to the folks for the recommendation– we had a blast!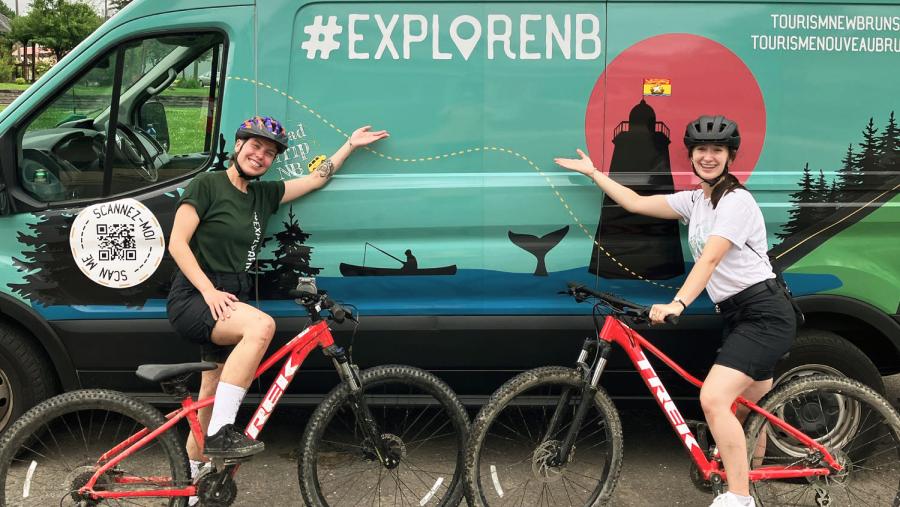 Hartland, home of the world's longest covered bridge!
We set up at the bridge in the late morning and got to chat with so many people from Ontario. Everyone we spoke to was on a road trip vacation and this famous covered bridge was on their agenda! On our way home, we couldn't resist driving across it ourselves.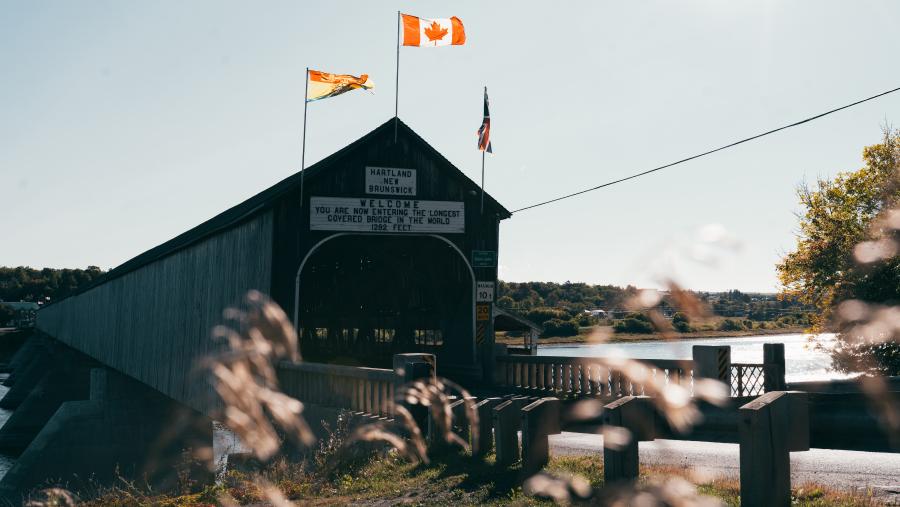 Week 6 Highlights
The people we met at French Fry Day
Noah's Ark Café
Meeting Oliver, the resident dog at Beach Street Inn in St. Martins
Setting up for the Kids Adventure Games in Mactaquac
The Polaroid we snagged from Josh the artist in downtown Moncton
Driving on the ocean floor to Ministers Island
Watching the bull riding at Festival Western
Biking in Minto
Meeting so many people that love New Brunswick!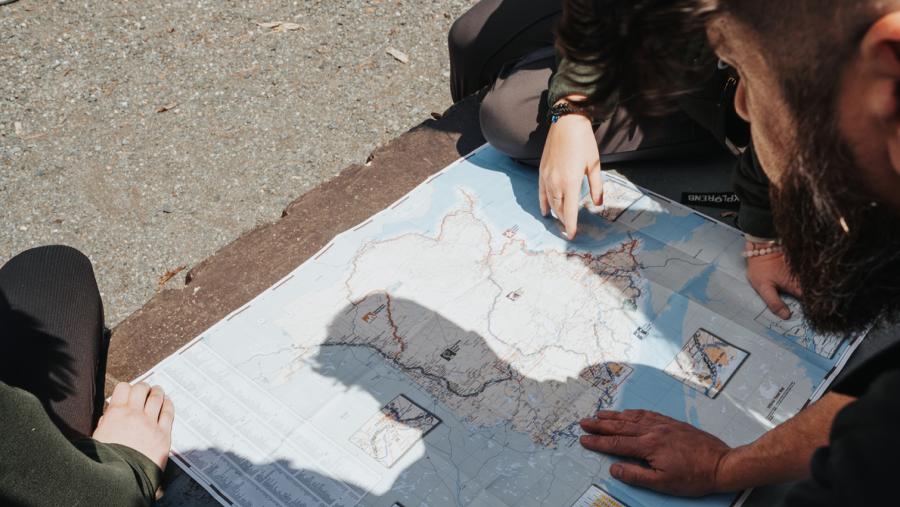 Come Along for the Ride
Our summer adventures throughout New Brunswick are one of the many reasons you should come check out explorenb.ca. Visit the #ExploreNB Street Team page weekly to enter for a chance to WIN* an #ExploreNB Adventure Pack. That's right; we're giving away a different prize pack each and every week!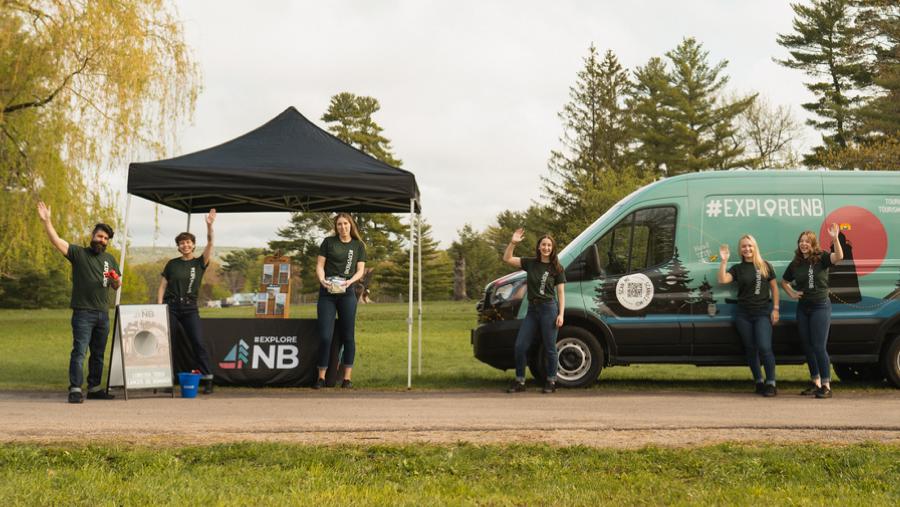 Let's #ExploreNB Together
Pack your bags, buckle up, and join us as we hit the road together! We'd love to chat and show you around.
*NO PURCHASE NECESSARY. Subject to Official Rules at www.ExploreNB.ca. Open to legal residents of Canada who are the age of majority in their province/territory at the time of entry. Contest closes at 11:59:59 a.m. Atlantic Daylight Time (ADT) on September 5, 2023. There is a limit of one entry per Weekly Entry Period. During the Contest Period there are 13 Weekly Entry Periods. Each Weekly Entry Period commence on a Tuesday at 12:00:00 p.m. ADT and ends on the following Tuesday at 11:59:59 a.m. ADT except for the first week where the Weekly Entry Period commences on Monday, June 5, 2023 at 12:00:00 p.m. ADT and ends on Tuesday, June 13, 2023 at 11:59:59 a.m. ADT. A total of 13 Weekly Prizes are available to be won during the Contest Period with one Weekly Prize awarded per Weekly Entry Period. The Approximate Retail Value (ARV) of a Weekly Prize ranges from $225.00 CDN to $1,900.00 CDN. See Official Rules for which applicable Weekly Prize is available to be won and its corresponding ARV. Odds of winning a Weekly Prize depends on the total number of eligible entries received during the applicable Weekly Entry Period. Correct answer to a mathematical skill-testing question and completion and return of the Sponsor Declaration and Release Form is required. Prizes may not be exactly as shown.