Beaches, Buskers and more Beautiful Adventures - Welcome to Week 7!
July 17 - 23
Day 1 - Bathurst Hospitality Days
Busking around Bathurst
We headed up to Bathurst for the "Buskers Give Us Wings" event during the Bathurst Hospitality Days celebrations. Spectators could grab a basket of chicken wings from inside the pub Au Bootlegger or Classic Burger, and head out to the street (closed to vehicle traffic) to watch the show. The performers of the day were Victor Rubilar from Argentina (he holds 5 Guinness World Records) and Street Circus, a Canadian acrobatic duo. The crowd was energetic and the kids were amazed at the performances! We gifted the buskers some #ExploreNB merch to represent our little province on their world travels.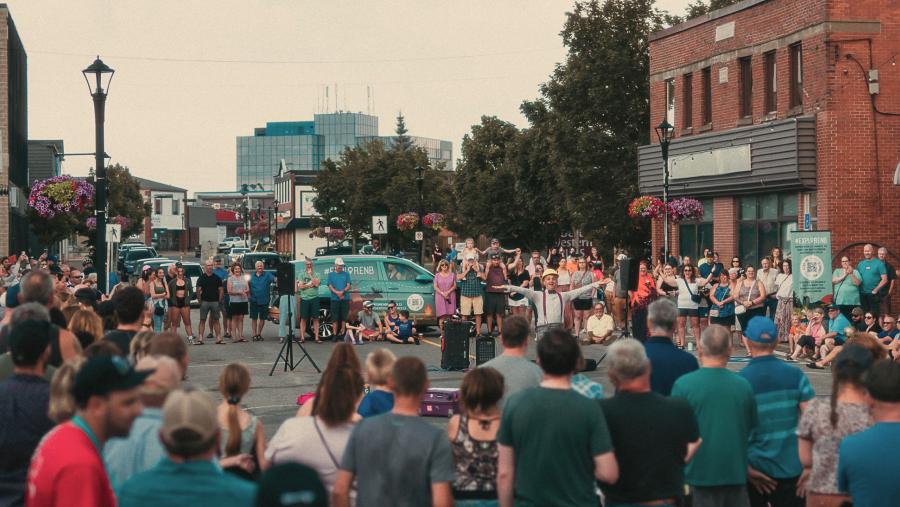 Day 2 – Aboiteau Beach, Murray Beach, and Bouctouche
Kicking off the week on the beach!
We set up for a quiet morning inside the entrance at Aboiteau Beach, and before long, families started rolling in ready for a day at the beach! We climbed up the lookout tower to get a better view, as locals secured their spots for the day. We spoke to a few visitors from Ontario and Québec who had run into the street team in other parts of the province throughout the week. Our favourite part of the day was chatting with a cool little guy in a flamingo bathing suit that shared his snacks with us. We sent him off with lots of goodies!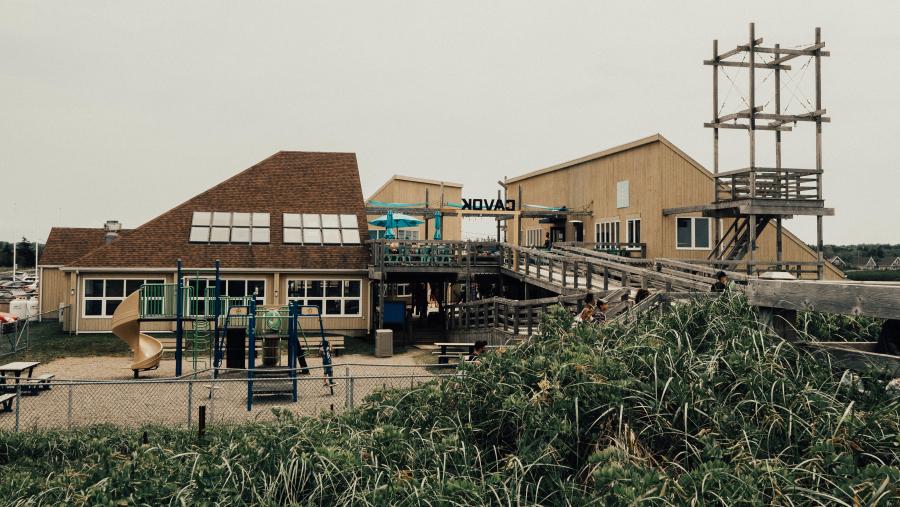 We then made our way out to Murray Beach for the afternoon, and Cat practised some yoga before jumping in for a refreshing swim! The sandbars here were so far out, we couldn't hear anyone back on shore. We walked all the way to the other side of the beach and collected rocks, shells and petrified wood. It was a great beach day!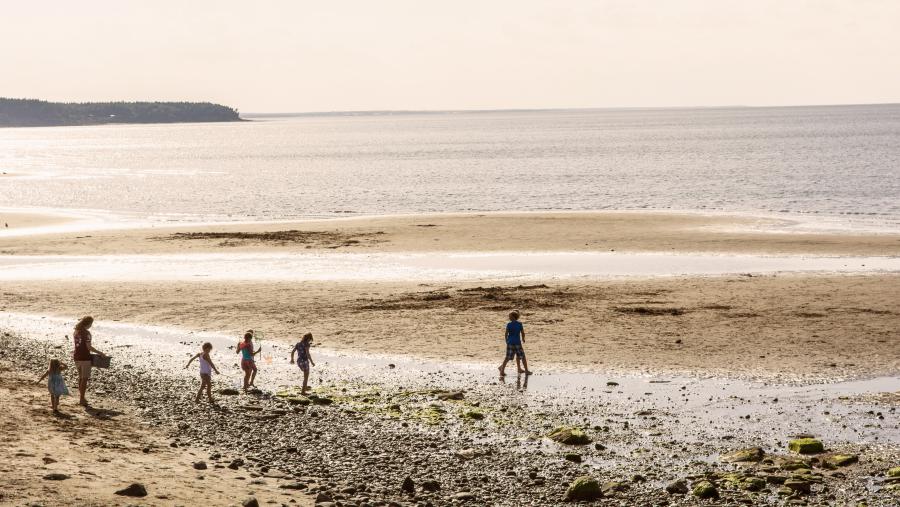 Discover Bouctouche and Pays de la Sagouine
Our day started with a lovely walk along the Bouctouche Dunes boardwalk which stretches over 800 metres along the beach. During our walk, we bumped into visitors from Ontario, Québec, and Alberta. Being halfway through their trip, they were looking for recommendations on where to go next. How lovely that we are able to share all of the wonderful places we've been discovering with those who are visiting from out of province! We finished our time at the dunes by chatting with the staff from the interpretation centre. What a peaceful way to spend the morning.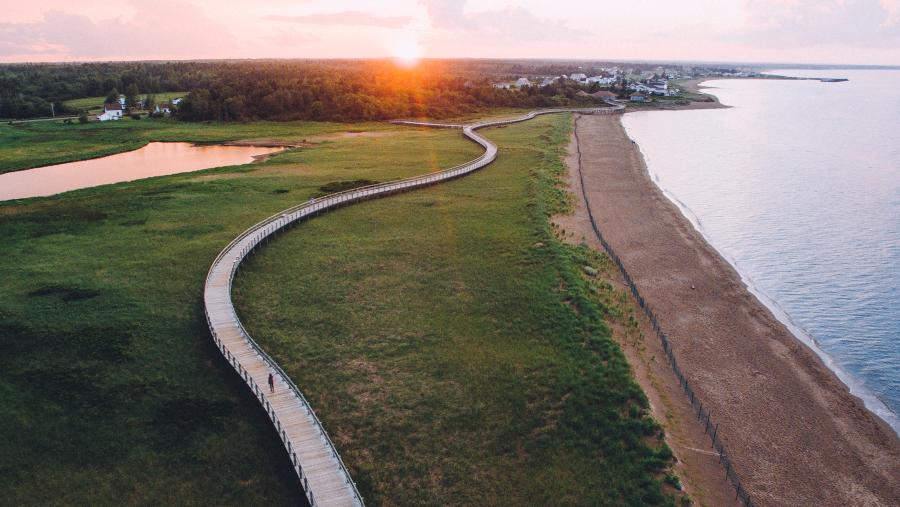 In the afternoon, we stopped by Le Pays de la Sagouine to brush up on Acadian history and culture. This place is the perfect destination for any family looking for a full day adventure! With comedy shows, guided tours, incredible scenery and enough live history to make you feel like you went back in time, we were in awe of what we were witnessing. The actors are engaging, hilarious, and know how to make a crowd dance to the beat of old Acadian songs!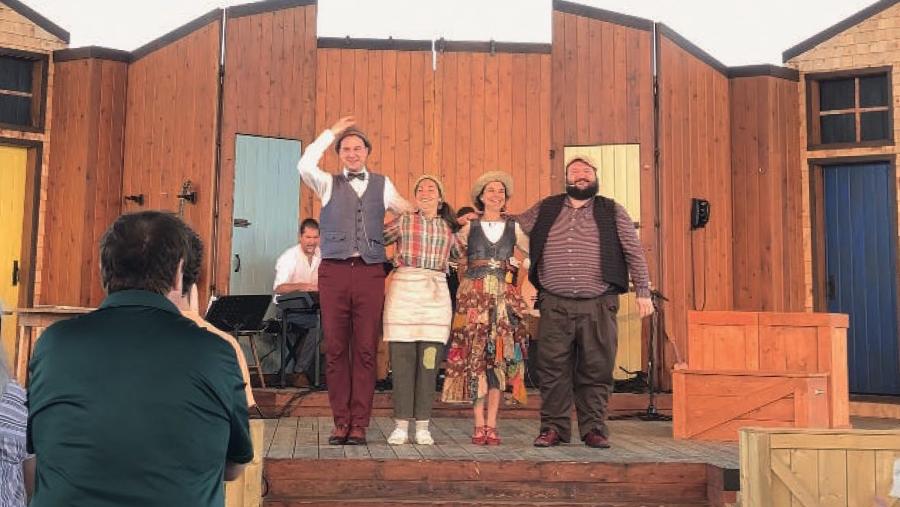 Day 3 – Rexton, Cap-Pelé, and Sussex
A Llama-zing day in Rexton and Cap-Pelé!
Alpacas and llamas on New Brunswick beaches? You heard that right! We were given the incredible opportunity to stop by Llama-zing Adventures in Cap-Pelé for a walk with our two new alpaca friends, Doug and Kevin. Upon arrival, we were matched with a four-legged friend based on personality and temperament (Cat and Doug even had matching haircuts!). Not only were the views on the beach incredible, but the energy of the alpacas was the perfect start to our day! After our walk, we chatted with the rest of our group composed of both locals and visitors. We handed out some goodies, and struck a pose with the group in front of the #ExploreNB Cruiser! Finally, Josée, the owner, took us back to the farm where we learned about their work and how well-cared for these goofy creatures are. This is such a special and unique place that we are so lucky to have in New Brunswick!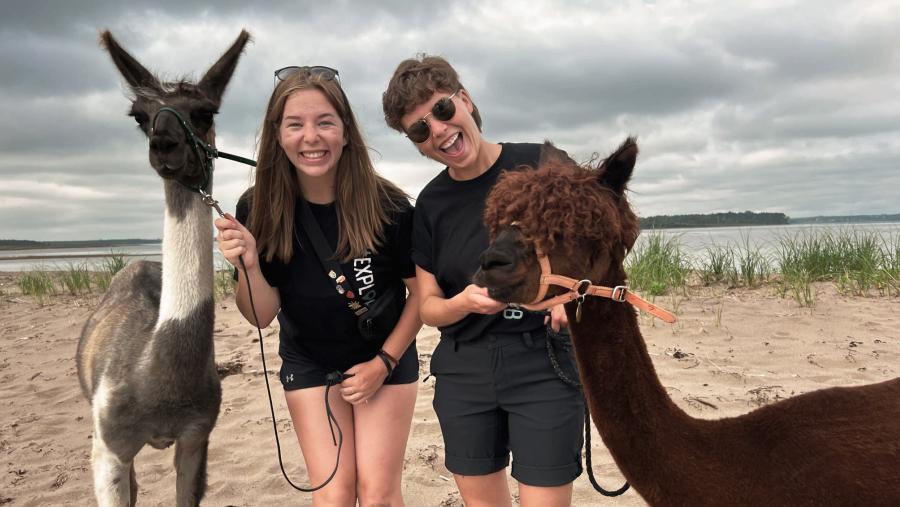 After our morning adventures, we stopped in Rexton to visit the Richibucto River Wine Estate. We met with brothers Derek and Jason who gave us a tour of the winery and taught us about the experimental varieties of grapes, defoliation of the vine plants and the hard work that goes into winemaking. This family-owned property is looked after with remarkable love and care. Before heading out, we met with Rob and Maureen who made the trip to the wine estate to meet with us and support a local business! We love New Brunswickers and the pride they take in this place.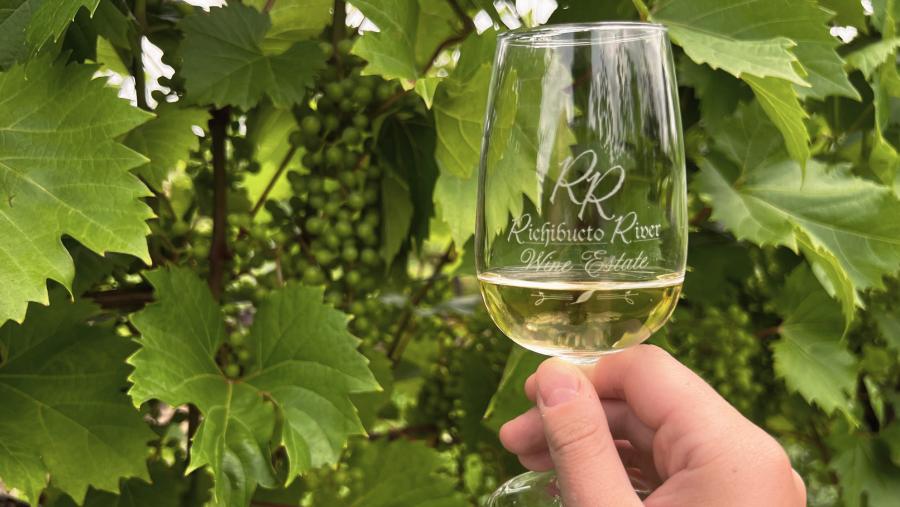 Fun at the first annual Sussex Fundy Fest
Our first stop of the day was at Café Archibald in Moncton, where we fueled up for a busy day in Sussex. The crepes were delightful! With full bellies, we made our way to Sussex where we had to stop by all of our favourite spots. We went strawberry picking and refueled with fudge and coffee at Cobbler's Lane Fudge Factory. In the afternoon, we made our way to the first annual Sussex Fundy Fest where we set up near the stage and food vendors. We chatted with both locals and visitors alike, handed out some glow bracelets, and played lots of lobster toss.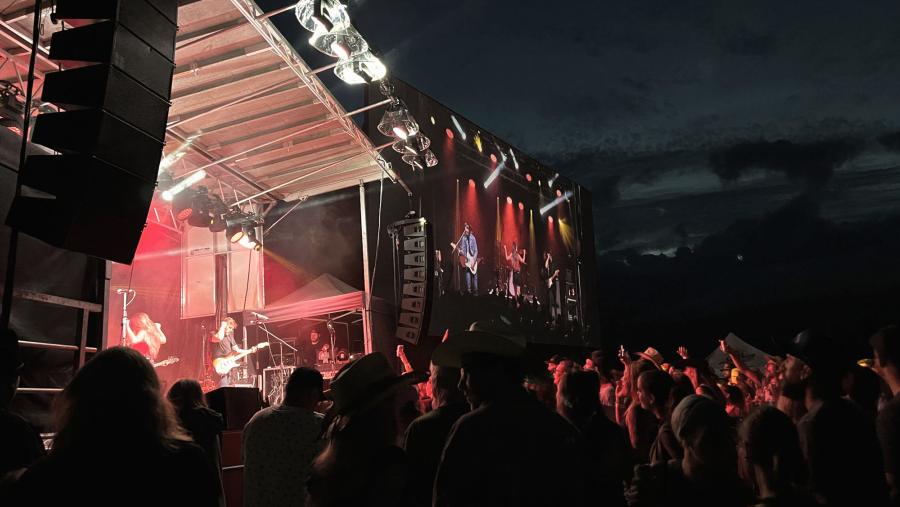 Day 4 – Miramichi and St. Martins
Feeling the luck of the Irish in Miramichi!
We rolled into a city decorated in green, white and orange as the "Chi" showed us their Irish Pride. The Irish Festival is a yearly celebration taking place in Miramichi, Canada's Irish Capital. This festival's jam-packed schedule included a parade, games, cultural performances, traditional Irish food, and even a foam party! We met locals, as well as visitors from all over Canada who made their way to Miramichi to celebrate. It was lovely to see people of all backgrounds come together through this festival. We couldn't help but stop by the vendor village to discover local products and initiatives. We had a chance to chat with World Reality Education (a high school group who raises money to provide clothing to Ugandan orphans) and The Sweet Soaperie (their products smell incredible!). Later that evening, we swung by the Waterford Green for the Irish Festival Pub where we watched performances by the talented The Stanfields and Raglan Road. We met more New Brunswickers (who happened to be from Cat's neck of the woods!) and enjoyed the show.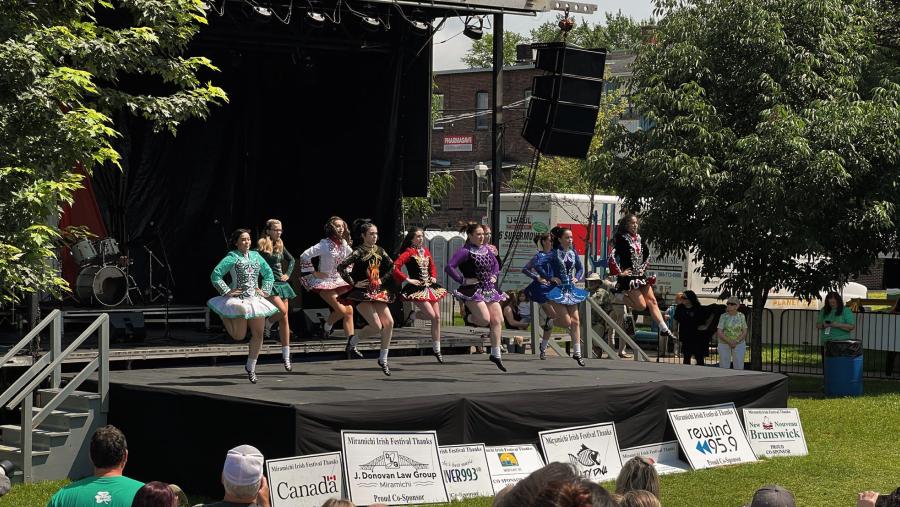 Parading the streets of St. Martins
In honour of St. Martins Old Home Week, we attended the parade. This was our first time being in a parade float and what an experience it was! We handed some #ExploreNB tattoos and stickers to the crowd and gave out colouring books to the little ones after the ceremony. The floats were so creative! From Lego characters to stuffed animals in a giant claw machine, the people of St. Martins showed up to celebrate. Our day in St. Martins wouldn't be complete without a stop at Octopus Ice Cream. We highly recommend it for anyone looking for a refreshing treat!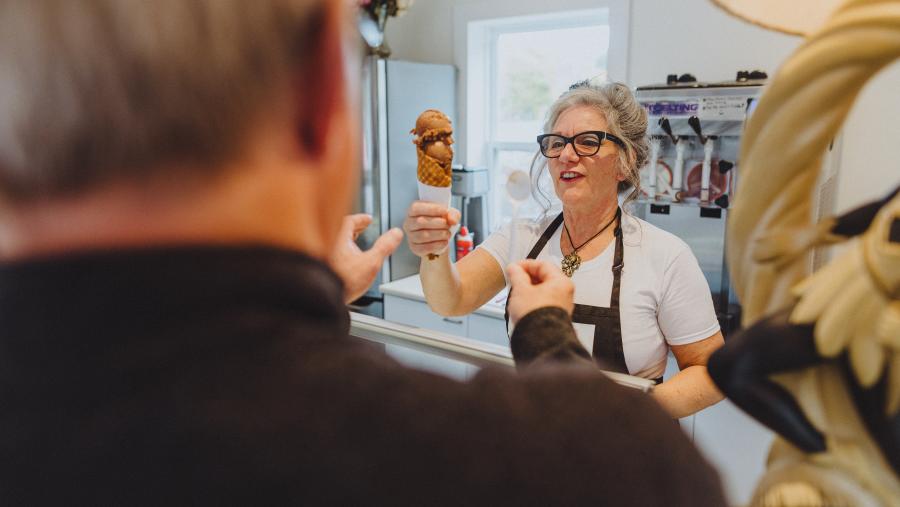 Day 5 – Fredericton and Shediac
Bikes and bass lines in Fredericton
The sun was shining and the crowds were out to enjoy a beautiful afternoon in the capital city! We started the afternoon with bike rentals from Second Nature Outdoors. Conveniently located on the southside riverfront trails, they also rent paddle boards, canoes and kayaks. We hopped on our bikes and rode across the Bill Thorpe Walking Bridge to the Picaroons Roundhouse for a quick bite to eat in the shade. This is the perfect place to spend an afternoon by the river with delicious beverages and a great seasonal menu. After our adventure, we made our way to the Waterloo Stage at the Sweltering Songs music festival. This weekend-long festival showcases artists from all over. We got to watch performances from David Williams, Isaac & Blewett, and Nico Paulo. It was a beautiful day to take in some talent and chat with attendees in between sets.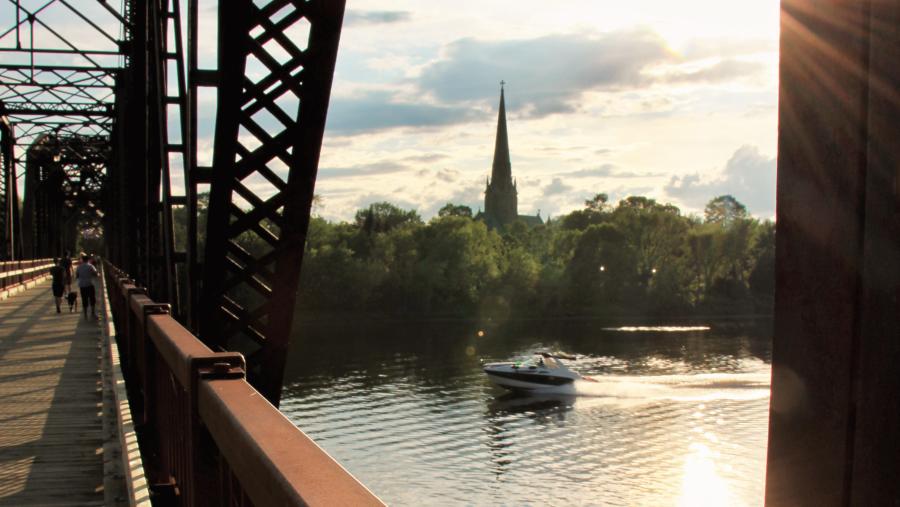 Another day, another beautiful NB Beach!
We love ending our week on a gorgeous New Brunswick Beach. We spent part of the morning and afternoon at Parlee Beach Provincial Park, one of Canada's warmest saltwater beaches. We met many beach goers and had a chance to chat with and make recommendations to visitors from Quebec, Ontario, and Fredericton. We couldn't leave without grabbing lunch at the Euston Park Patio (we picked the lobster roll and the Cheetos dusted corn). Did you know that Parlee Beach Provincial Park is accessible? A mobi-mat from the boardwalk to the water and the new comfort station offers a male, female and gender-neutral washroom with accessible features. Be sure to check it out!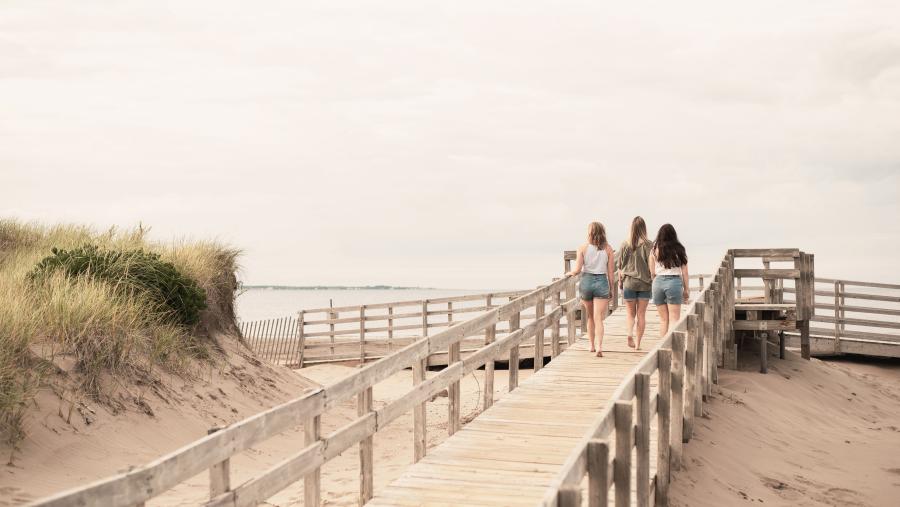 Week 7 Highlights
Meeting the buskers at Bathurst Hospitality Days
Our beach days at Aboiteau, Murray and Parlee Beach
Meeting visitors from the United States who travelled all the way to Bouctouche to familiarize themselves with Acadian culture
Meeting Rob and Maureen at Richibucto River Wine Estate
Raglan Road playing one of Cat's favourite songs, Zombie by the Cranberries, at the Irish Festival Pub
Kamylle and Riley participating in their first parade in St. Martins
Our stop at Once Upon a Tide by the St. Martins sea caves
Taking in the Wolastoq (Saint John) River from the Bill Thorpe Walking Bridge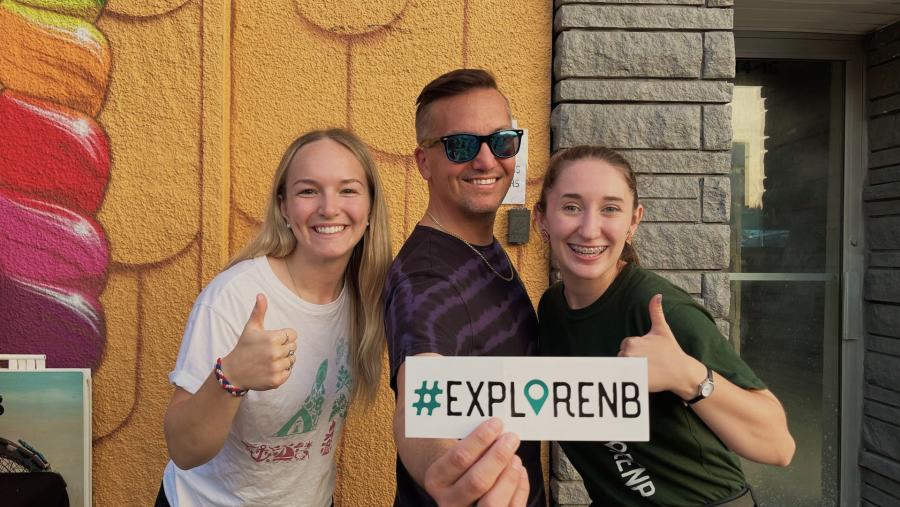 Come Along for the Ride
Our summer adventures throughout New Brunswick are one of the many reasons you should come check out explorenb.ca. Visit the #ExploreNB Street Team page weekly to enter for a chance to WIN* an #ExploreNB Adventure Pack. That's right; we're giving away a different prize pack each and every week!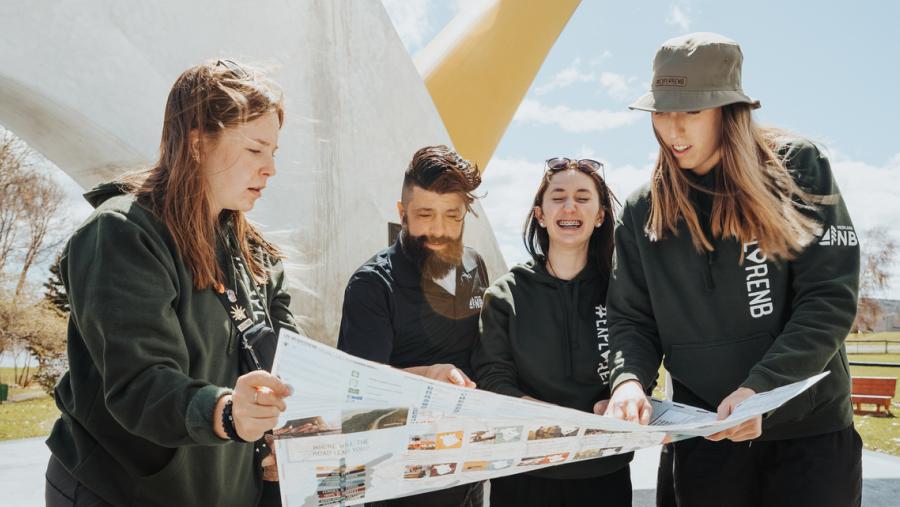 Let's #ExploreNB Together
Pack your bags, buckle up, and join us as we hit the road together! We'd love to chat and show you around.
*NO PURCHASE NECESSARY. Subject to Official Rules at www.ExploreNB.ca. Open to legal residents of Canada who are the age of majority in their province/territory at the time of entry. Contest closes at 11:59:59 a.m. Atlantic Daylight Time (ADT) on September 5, 2023. There is a limit of one entry per Weekly Entry Period. During the Contest Period there are 13 Weekly Entry Periods. Each Weekly Entry Period commence on a Tuesday at 12:00:00 p.m. ADT and ends on the following Tuesday at 11:59:59 a.m. ADT except for the first week where the Weekly Entry Period commences on Monday, June 5, 2023 at 12:00:00 p.m. ADT and ends on Tuesday, June 13, 2023 at 11:59:59 a.m. ADT. A total of 13 Weekly Prizes are available to be won during the Contest Period with one Weekly Prize awarded per Weekly Entry Period. The Approximate Retail Value (ARV) of a Weekly Prize ranges from $225.00 CDN to $1,900.00 CDN. See Official Rules for which applicable Weekly Prize is available to be won and its corresponding ARV. Odds of winning a Weekly Prize depends on the total number of eligible entries received during the applicable Weekly Entry Period. Correct answer to a mathematical skill-testing question and completion and return of the Sponsor Declaration and Release Form is required. Prizes may not be exactly as shown.