New Brunswick is home to 5,500km (3417mi.) of coastline just begging to be explored, with the southern coast along The Bay of Fundy being world renowned for its whale watching experiences.
When you're out along the waters of The Bay of Fundy, there's always a chance you could run into one of the 12 species of whales hanging out in the waters of New Brunswick. Make it your mission to spot one of these incredible creatures by following the tips below!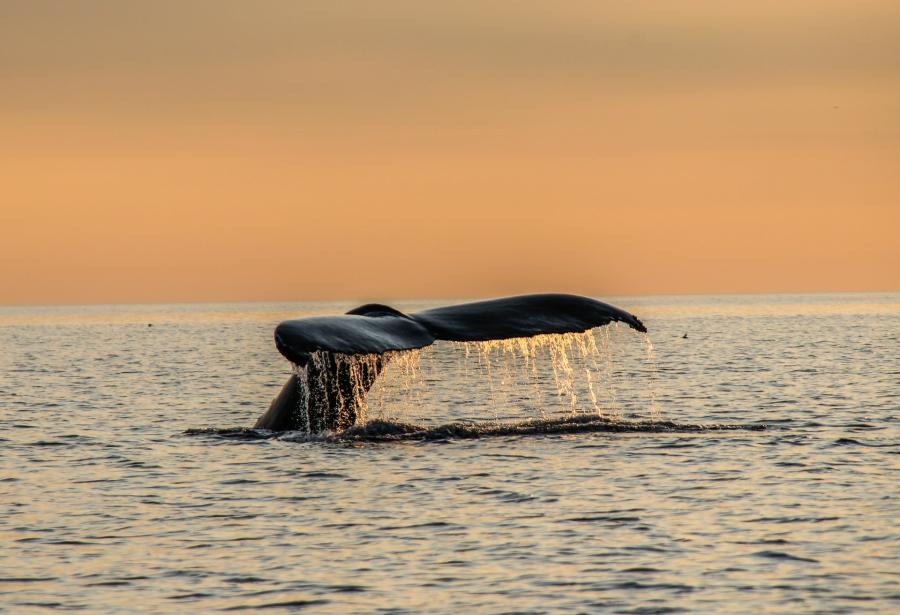 When's the best time of year to whale watch in New Brunswick?
The tour operators of New Brunswick will all tell you that the best month of the year to go whale watching is in August, with July and September coming in second.
The whale watching season in New Brunswick runs from the end of May until early October, but there's overall less success in May, June and October than the other months.
If you're looking for a specific type of whale, The Bay of Fundy website has an in-depth look at which whale species are most likely to be spotted during different times of the season.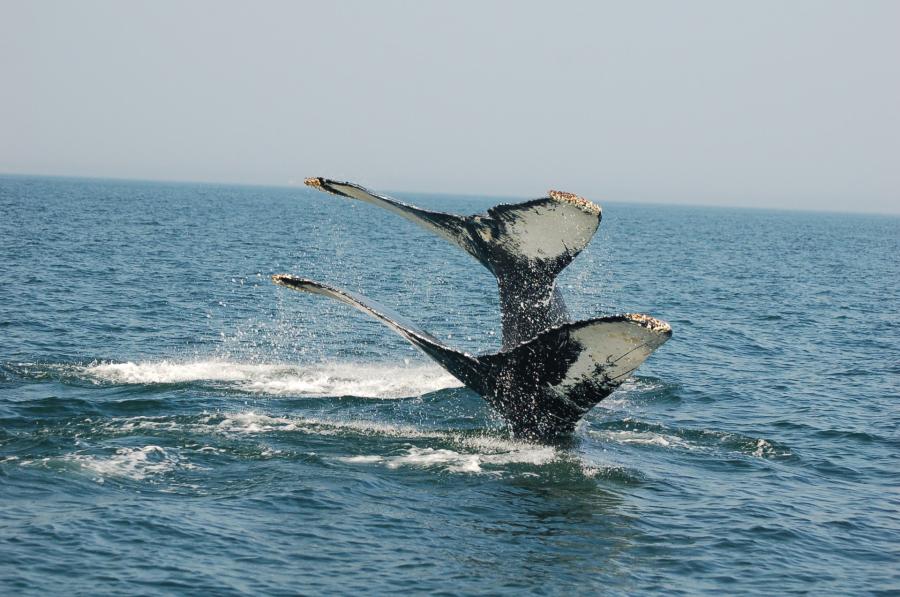 What species of whales are in the Bay of Fundy?
The Bay of Fundy is home to up to 12 species of whales during summer months.
The most common species of whales in The Bay of Fundy are Minke Whales, Humpback Whales, Finback Whales and the most endangered whale in the world - The North Atlantic Right Whale.
Learn more about New Brunswick whales.
The Best Places to Whale Watch in New Brunswick

Saint Andrews

Saint Andrews is an easy drive from Saint John and does not require a ferry to access, making it the most accessible of the whale watching destinations in New Brunswick.
If you're interested in whale watching but have lots of other activities planned for your day, Saint Andrews is a great option to dip your toes into the experience.
Although destinations that require a ferry allow for more time to whale watch, Saint Andrews is perfect for families with young children or people on a tight schedule.
Accommodations
The Algonquin
Inn on Frederick
The Montague Rose
Rossmount Inn
Must-Try Dining
The Chandler Room
Char + Chowder
The Rossmount Inn Restaurant
Europa Inn & Restaurant
Other Activities
Kingsbrae Garden
Ministers Island
Huntsman Fundy Discovery Aquarium
Chamcook Mountain Hiking
TOUR OPERATORS
Fundy Tide Runners
Island Quest Marine
Quoddy Link Marine
Jolly Breeze
Grand Manan
Grand Manan is the first of two Fundy Isles offering whale watching tours. To get to Grand Manan, you need to book a ferry with Coastal Transport.
Taking a ferry is a whale watching opportunity in and of itself - the ferry deck is accessible to the passengers and is a great way to whale watch or enjoy the fresh air before even getting to the destination.
Ferry tickets start at $13/person and can accommodate vehicles or passengers travelling by foot. Check their rates for the most up to date information.
Accommodations
Compass Rose
Inn at Whale Cove Cottages
North Head Campground
Anchorage Provincial Park
Restaurants
Post Office Pizza
Compass Rose
The Harbour Grille
Things to Do
Swallowtail Lighthouse
Anchorage Provincial Park
Southwest Head Lighthouse
Birdwatching
Grand Manan Whale and Seabird Research Station
TOUR OPERATORS
Lambert Family Adventures
Sea Watch Tours
Campobello

Going from mainland New Brunswick to Campobello provides two different opportunities to whale watch on the ferry excursions. Going from L'Etete to Deer Island, and then Deer Island to Campobello, are two relaxing breaks from driving to keep an eye out for whales and other wildlife on the way to your final destination.
Campobello Island is the second of the Fundy Isles accessible exclusively by ferry. Starting from mainland New Brunswick, catch the ferry in L'Etete to Deer Island. This ferry is free but make sure to check the schedule.
From Deer Island, catch the East Coast Ferries Ltd. ferry to Campobello. Check the ferry schedule here.
Accommodations
Campobello Whale Watch Motel
Herring Cove Provincial Park
Pollock Cove Seaside Retreat
Restaurants
The Porch at Friar's Bay
The Pier Waterfront
Things to Do
Head Harbour Lighthouse
Herring Cove Provincial Park Hiking
Roosevelt Campobello International Park
Campobello Sightseeing Tours
TOUR OPERATORS
Captain Riddle's Sea Going Adventures
Island Cruises Whale Watching
So you've decided that you want to make your way to New Brunswick for the whale watching trip of a lifetime - you've booked with a tour operator and are trying to learn about everything you should do to make your trip the very best it can be.
We've compiled all of our most helpful tips to make your whale watching bucket-list trip everything you've ever dreamed of.
Don't forget to check out the Fundy Coast Road Trip for more ideas on how to explore the region like a local.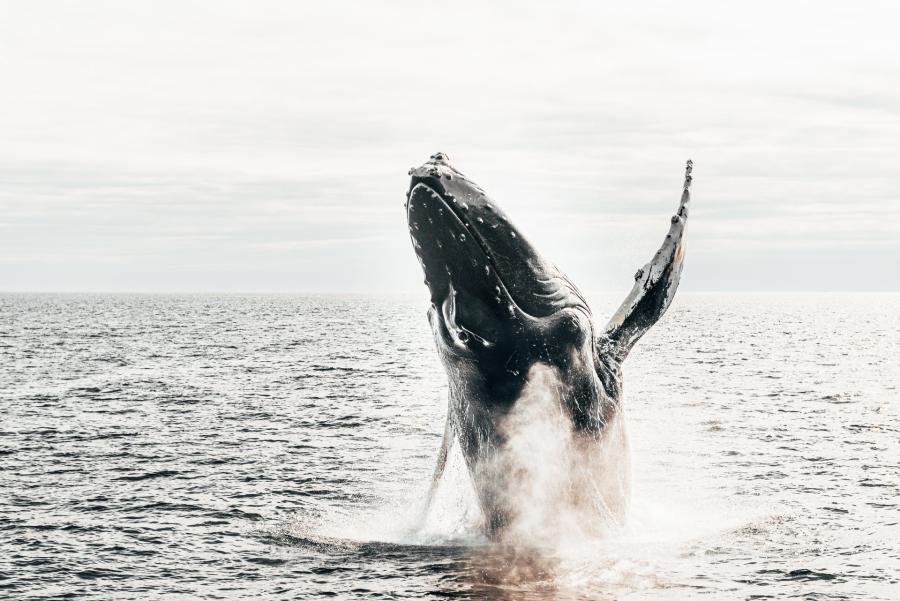 General Safety
It's important to remember that while your safest bet to see a whale up close is always through the guidance of a reputable operator - you're still responsible for your own safety. Wear a life-jacket, be responsible on board, and always follow the advice of your tour guides and operators.
Sighting Expectations
Even the best guides can't change the fact that whales are wild animals. It's important to remember the unpredictable nature of whale sightings.
Most tour guides have a success-rate in the high 90% range - but check with your operator about what to expect and their individual policies before your trip.
Clothing & Footwear
The weather along The Bay of Fundy changes rapidly and it's best to dress in layers. Make sure you bring waterproof gear both for you and for any of your belongings that aren't waterproof.
If you're on a tour that has you on the ship deck, it's highly recommended to bring sturdy and high-grip shoes as boat surfaces can become quite slippery.
Valuables
When possible, it's best to leave valuables back on shore. If you're someone who wouldn't dream of going to a whale-watching excursion without a phone or camera to catch the action - make sure that you have a camera strap or some other way to keep your gear secured.
If you do get a great shot, don't forget to tag @destinationnb and use the #ExploreNB hashtag for a chance to be featured on our social channels.