Alex and his dog Paul are now just past the 1000-day mark, on a journey to hike at least 10 km (6 mi.) a day (consecutively) in New Brunswick (August 1, 2018 – April 27 2021). What started as a way to get out and about with his dog, turned into a goal for 100 days, and then 1000 days. We asked Alex to share a bit about his journey to hike New Brunswick, and what he's learned along the way.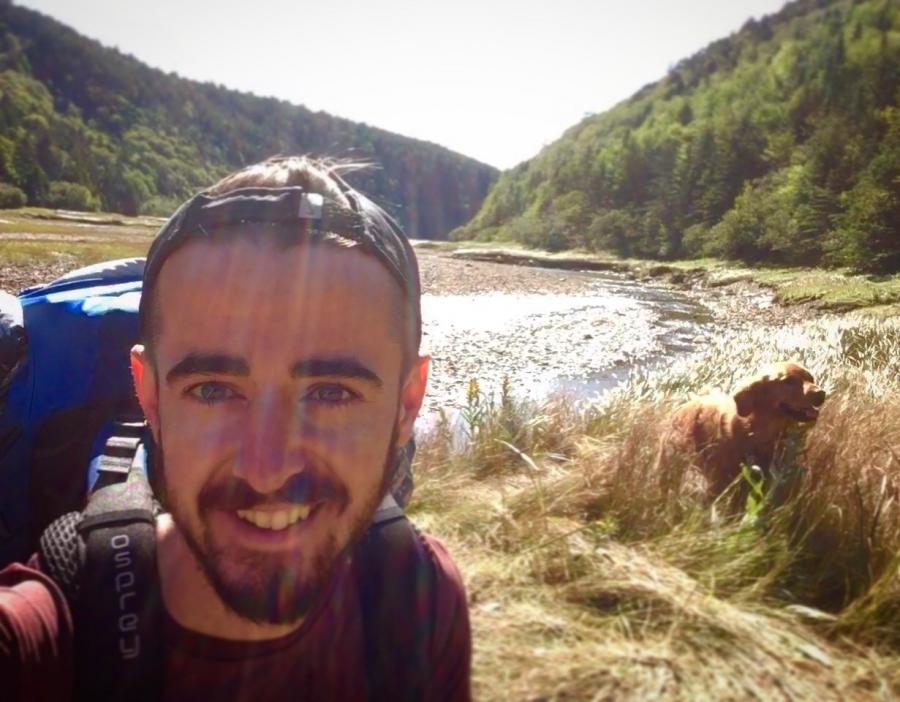 What prompted you to start walking 10 km a day?
I needed excitement, I needed adventure, I needed to break up the daily routine. I wanted to step away from the normal and set a challenging goal for myself. Hiking a minimum of 10 km (6 mi.) a day with my dog Paul – winter through fall, every season, all-weather, every up and down, every single day. I thought it would be impossible at first, but here we are. 15,000 km (9321 mi.) later and almost 3 years consecutively, we're still hiking every day together.
What's your fave spot to go hiking in NB?
This is a tricky question. It's like asking what your favourite food is. It depends on my mood, the weather and the season I suppose. My go-to power hike is Split Rock Trail in Lorneville. Stunning oceanside cliffs, epic views around every cove's corner, challenging terrain, primitive trail conditions. I would say it's a "moderate to advanced" trail. Best to pack a picnic and eat at the lighthouse before walking back. One of the most stunning ocean views I've found on any hike.
Do you have a favourite place to go during each season?
Springtime is all about beaches for me. While the rest of the deep woods are thawing from the winter's ice, the ocean shoreline begins its thaw early. New River Beach, Duck Pond Beach and Mispec Beach are some of my favourites.
Come summer, you'll find me at the Fundy Trail. I'm an avid season pass holder and go at least 4 times a month. Hiking to Seely Beach is my favourite day hike.
Hiking Third Vault falls in Fundy National Park is my Autumn default. You see every shade fall has to offer during the 8 km (5 mi.) hike and a beautiful 16 metres (52 feet) waterfall to crease the adventure.
Winter hiking and snowshoeing is best at Spy Glass Hill in Rothesay NB. It is a heavily utilized trail and takes but a few hours for deep snow to get perfectly compressed into pristine snow packed trails. You can walk along a frozen waterfall and hike up to the best view in town.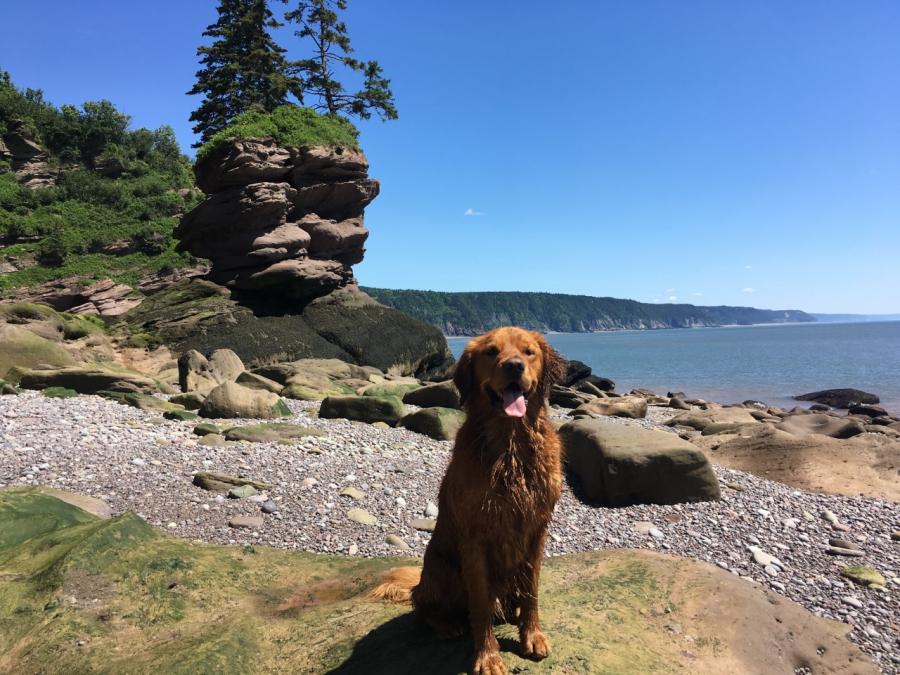 What have you learned about NB on your journey?
I've learned that NB has some of the best foraging conditions on the planet. A plethora of prized and world renowned wild mushrooms grow in abundance here. We also have wild ramps, fiddleheads, dulse, sea beans, wild berries and lots of edible wild plants and herbs. I highly recommend picking up a foraging book, or finding a local group to share info with. It turns your epic hikes into a wild food scavenger hunt.
Describe amazing New Brunswickers you've met during your adventures
As a dog owner, the other "dog moms and dads" have been amazingly friendly. Sharing favourite hiking spots, trading our secret trails, discussing grooming, trading treats, making new friends. It's been a pleasure to meet so many great people who are out enjoying the beauty that New Brunswick has to offer.
Where in NB have you found the most challenging or rewarding terrain?
Tackling the daunting Fundy Footpath was such an accomplishment for me. I set off with just my dog and a mindset of dedication and perseverance. That was by far the most challenging hike I've ever done. The trail has 3000 m (9842 ft.) of elevation, I had a 25 kg (55 lb) backpack, it was 3 days and 71 km (44 mi.) of the most intense trail conditions imaginable. It's hard to describe being halfway through the footpath. It's a blissful peace you won't find anywhere else. Utter zen with nothing but the sound of nature. Almost like how the world is intended on being heard.
Follow Alex and Paul's hiking adventures on Instagram: @alexmayberry16.