If you're anything like me, you know all too well the look on your dog's face when you walk out the door without them. Whether it's going to work, the grocery store and especially when leaving for your next family vacation, those puppy dog eyes can break your heart every time.
Hold up though, I may not be able to help with work or the grocery store, but do I have the perfect place to visit and explore, fur babies included! It's located on the picturesque Acadian Coast of beautiful New Brunswick. More specifically, the town of Shediac and Kouchibouguac National Park.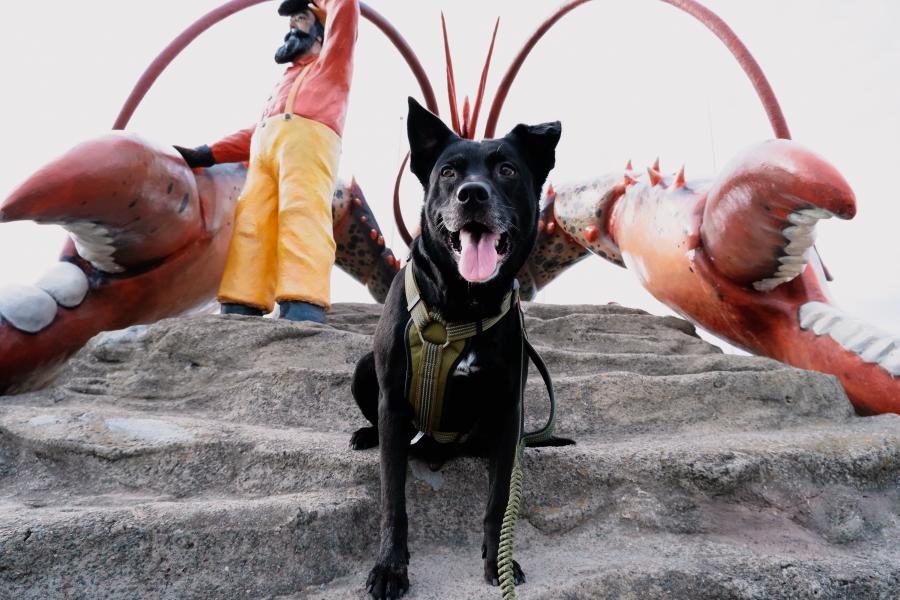 Heading out from Saint John in the early morning, we arrived just before 8 a.m. in Shediac, knowing exactly what our first stop was going to be. A dog-friendly trail that came highly recommended by the locals, the Old Train Bridge Trail is located just before where Riverside Drive and Alleluia Street meet. The trail can only be described as majestic. It leads to the remnants of an old train bridge. But even more stunning is the large portion of trail completely engulfed in foliage. The trail itself is only a few minutes walk in each direction and is perfect for dogs and people of all ages. Just be sure to bring your camera … and your bug spray.
Next stop, Parlee Beach Provincial Park, home to the warmest salt water north of the Carolinas. Although dogs are not permitted on the beach or boardwalk, they are allowed to explore the rest of the park, including the paths along the sand dunes. We were fortunate enough to have a very amazing park employee guide us to the top of the sand dunes. There we were able to take in all the breathtaking views the beach has to offer. So don't forget your camera. As with all provincial parks, there is a small entry fee.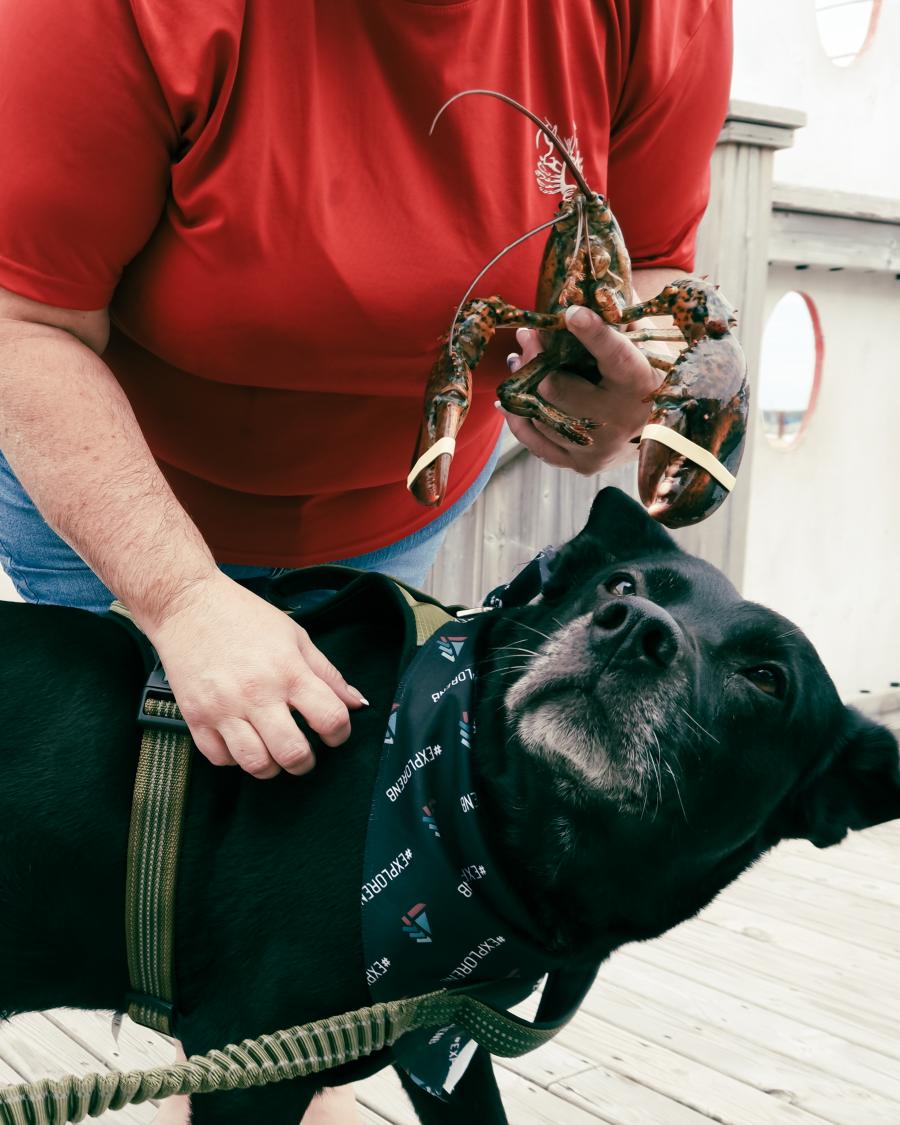 It was now 11 a.m. and we were off to Pointe-du-Chêne Wharf. In July and August, you can tour the Homarus Centre for only a few dollars and learn all about what Shediac is famous for, lobster! (Note: In July 2022 Homarus Centre has moved to the site of the big lobster in Shediac at 229 Main Street – book a guided tour and check out their new location and touch tank!) 
When we arrived, Max was greeted with a fresh bowl of water and a very welcoming belly rub and we all were greeted with some good ol' fashioned Acadian hospitality. Our tour guide, Shawna, was amazing. She delivered a 1-hour tour in an educational yet humorous way which we loved! At the end of the tour, Max got to meet an actual lobster face to face! The encounter went so well, the once nameless lobster is now known as "Max the Lobster" and was released back into the water at the end of tourist season. This is a must stop when visiting Shediac, and when you do, inquire about how you can adopt a lobster.
Visiting with a dog can be tricky, but guided walking tours are a great way to see the sights with your four-legged companion. For only $54 per person ($0 for dogs) we took a 3-hour historic /foodie walking tour of Shediac. Hosted by Viva Shediac, this was definitely the best bang for our buck! Put aside for a moment that it's a pet friendly tour and put aside all that amazing, local cuisine you get to taste along the way, it is the endless knowledge and heartfelt passion these two have for their hometown that makes this tour so awesome. The story of the crazy cat lady was our favourite… take the tour to find out more.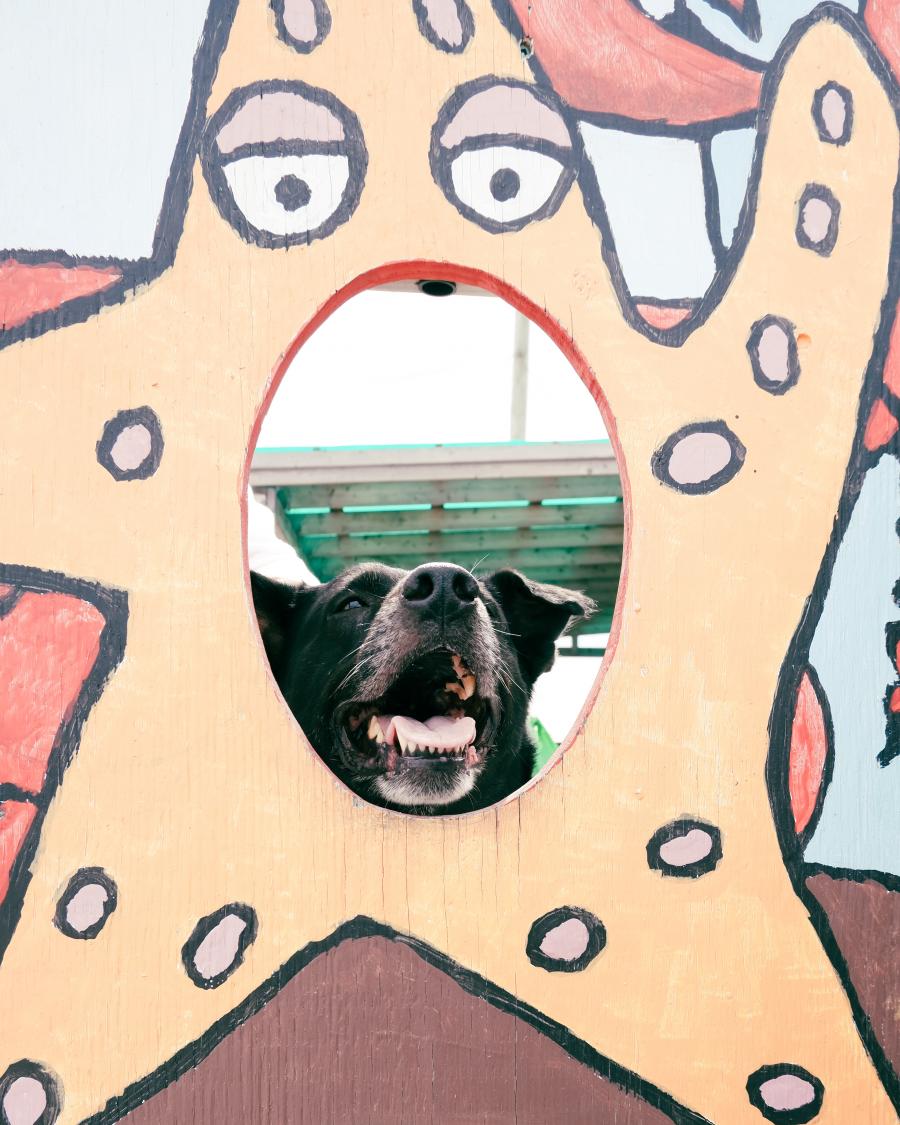 Now onto the food, ohhhhh the food. All four of these spots offer pet friendly patios, complete with a fresh bowl of water and a little head scratch. Our first stop was La Gare where we had the lobster dip. With the perfect amount of cream cheese added to its dip, it's definitely one of the best lobster dips I've ever had. Next we headed to Kuro Sushi to try the tempura shrimp. I'm not a fan of shrimp, so maybe it's the warm welcome we received, or the way they made sure Max was well hydrated, or the eye-catching dinnerware, or maybe it was just dang good shrimp because I enjoyed every bite.
By this point though, my waistline was saying no but the rest of me was still saying yes as we walked toward Adorable Chocolat. I only need to say one thing… lavender flavoured chocolate.
Next was a restaurant I won't soon forget, Le Moque-Tortue. As soon as we arrived, Max was greeted with some Acadian love (head scratches with a French accent). Then we were asked if Max would prefer a table on the wood patio or would he prefer a table on the softer grass? I WAS SOLD and Max chose the grass.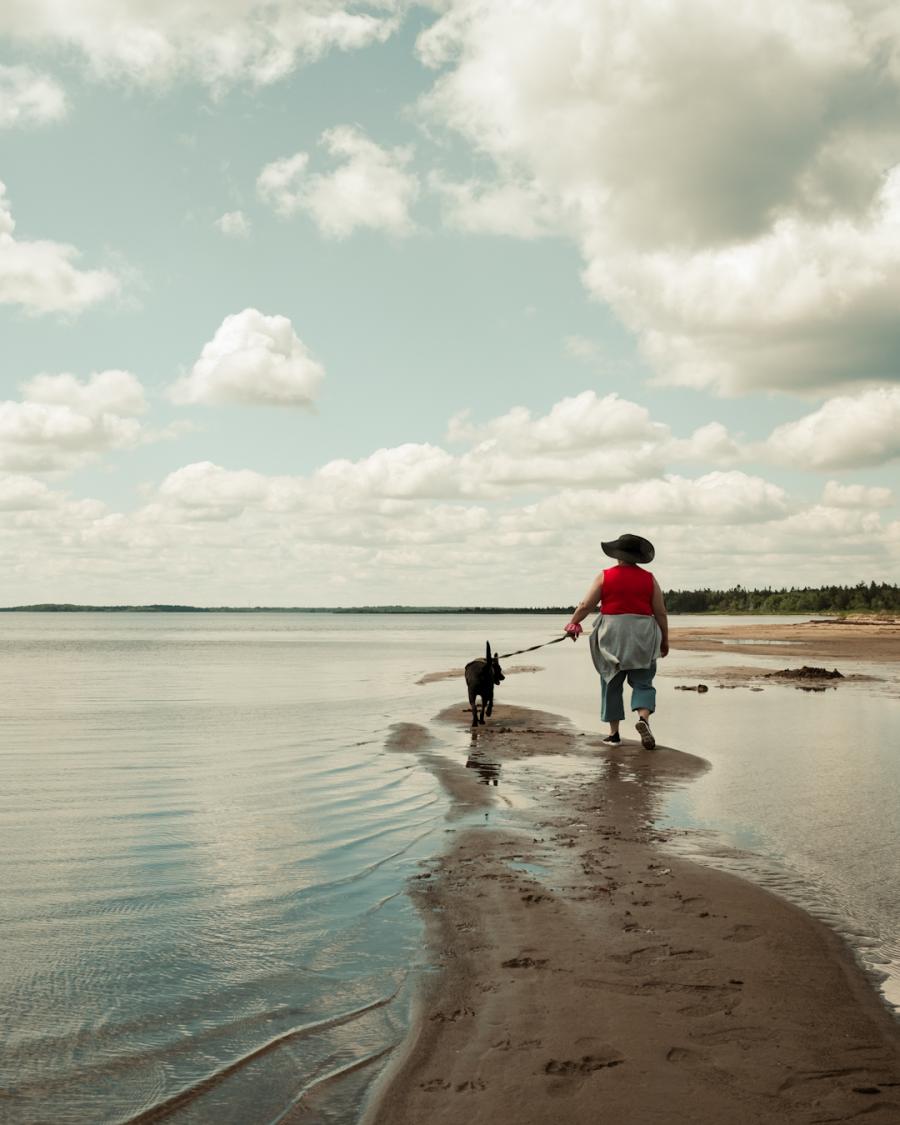 4 p.m., back on the highway and headed for Kouchibouguac National Park. Max and I were super excited to start exploring some trails before sunset. Grandma on the other hand, couldn't wait to do a little relaxing at the cottage we had booked for the weekend.
Séjour Kouchibouguac offers pet friendly accommodations I'll definitely be returning to. These well-appointed cottages are everything you'll need for your home away from home, while visiting Kouchibouguac National Park. Literally a few steps from Kouchibouguac's trails, you could not ask for a better location.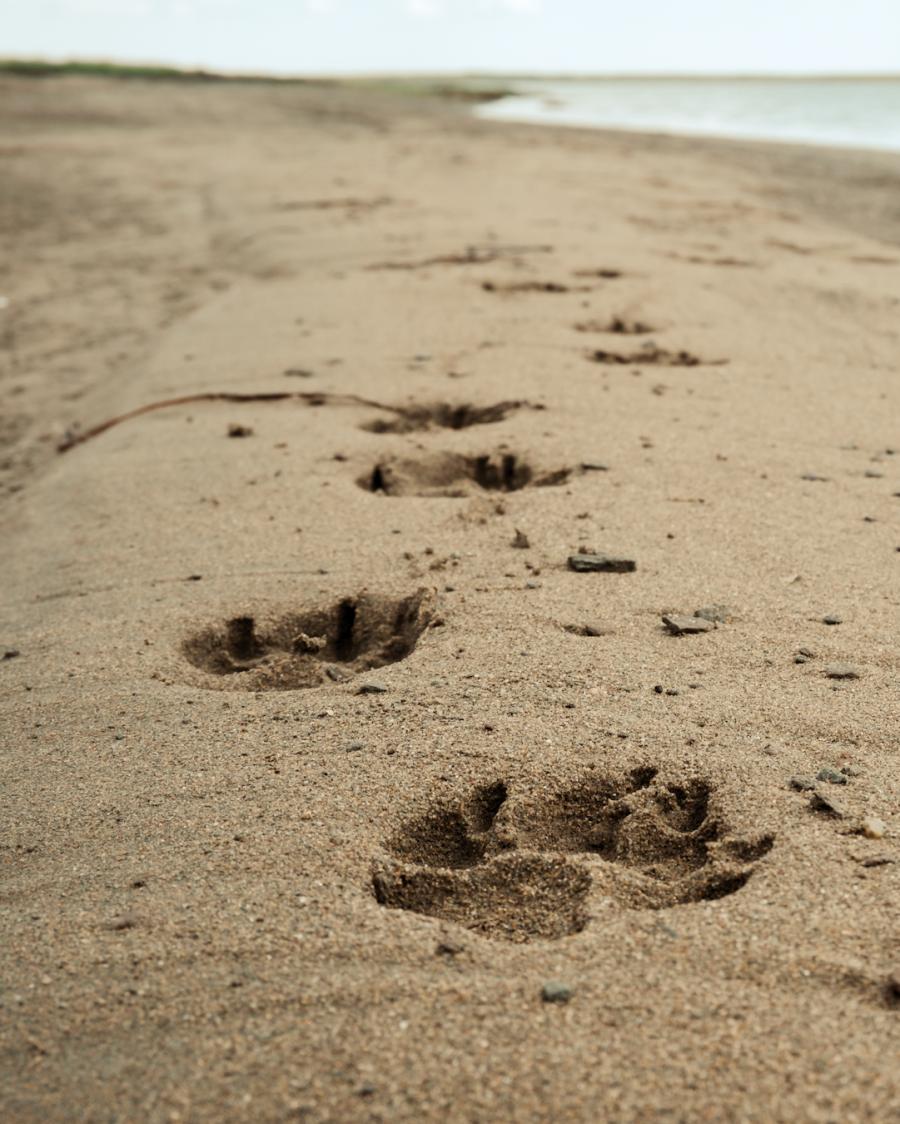 Now let's talk trails! Max is 8 years old and I'm no spring chicken either. So when it comes to trails, the less intense the better. Kouchibouguac National Park offers just that and then some. From Patterson Trail to Bog Trail, from 15 minutes to a few hours and everything in between, Kouchibouguac has endless possibilities when hiking with your pet. The 3 trails I was able to explore with Max were: Patterson, Pijeboogwek and Bog Trail. All three trails are a mix of gravel and boardwalk and were the perfect trails for a couple old fellas like us.
Now to the final part of our two day, pet friendly vacation. Callander's Beach, or as the locals call it, "the dog-friendly beach". This beach is gorgeous, and it was Max's favourite spot paws down! Thank you Kouchibouguac National Park for realizing that our pets are family too and love a good beach day just as much as any human.