Celebrating Acadie, community, and culture - It's our last week of #ExploreNB summer adventures!
august 12-20
August 12 - Cambridge-Narrows
We took the Gagetown ferry then drove to the scenic Village of Cambridge-Narrows for the annual Life at the Lakes festival. After a delicious community breakfast at the Municipal Building, we made our way to the Anthony Flower House Museum to learn about the history of the Flower family in the area. Next, we headed to a nearby family-owned farm, where we chatted with some turkeys (if you gobble at them, they gobble back)!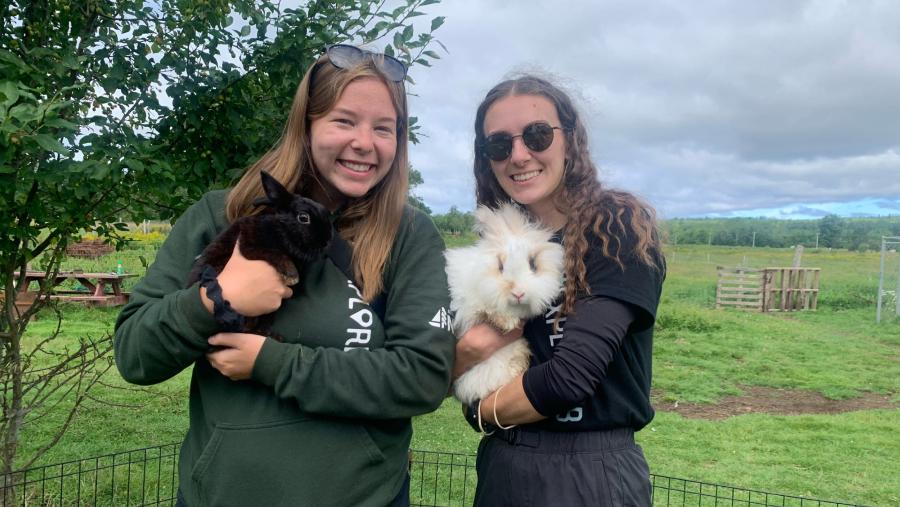 After the farm, we headed to Pines Conservation Park where there was a car show and a market. After browsing all the local artisan goods, we made our way to Norwood on the Washademoak, a bed and breakfast hosting artisans at work. There, we met local artists and got to watch a blacksmith at work. We even got to play with clay on a pottery wheel with Maru Pottery! Our final stop before heading home was at Motts Landing Vineyard and Winery, a local business with a long history (and great wine)!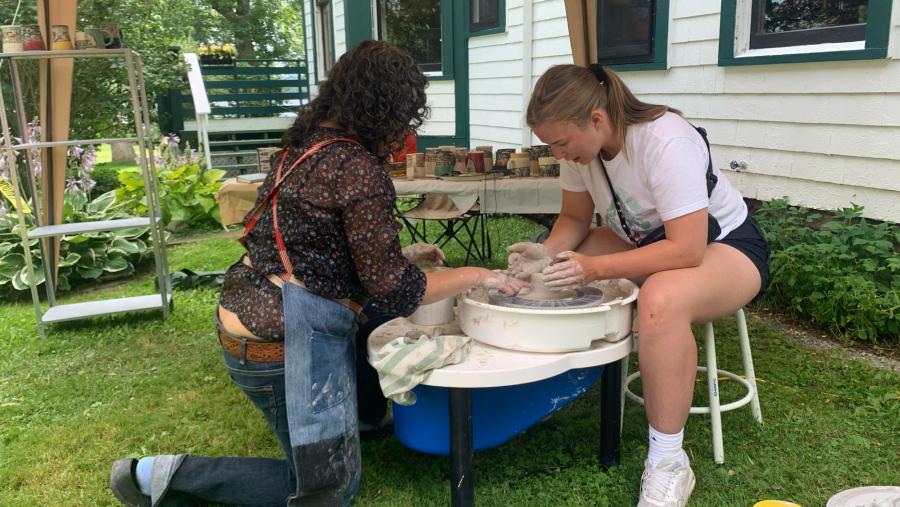 August 14 - Shediac
What better way to enjoy a summer day in Shediac than by playing our famous lobster toss by the World's Largest Lobster?! It was great to see some visitors we had met earlier in the week – we love seeing familiar faces! Then we headed out on the water with Shediac Bay Cruises to learn about the region's islands and their history. It was wonderful to see this area from a different perspective!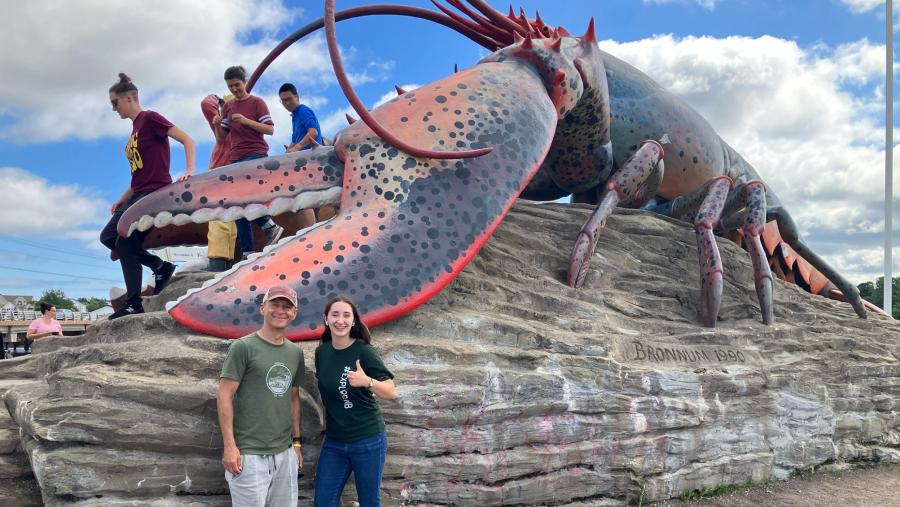 August 15 - Acadian Day in Caraquet and Bouctouche
Celebrating 15 août in the Acadian Peninsula!
We had a fantastic time at the Acadian Day celebrations in Caraquet! We got dressed up in fun costumes and handed out sunglasses, Acadian flags, #ExploreNB pins and lemonade samples to a huge crowd of people. For some of us, it was our first time participating in the Tintamarre, and we learned so much about this vibrant tradition.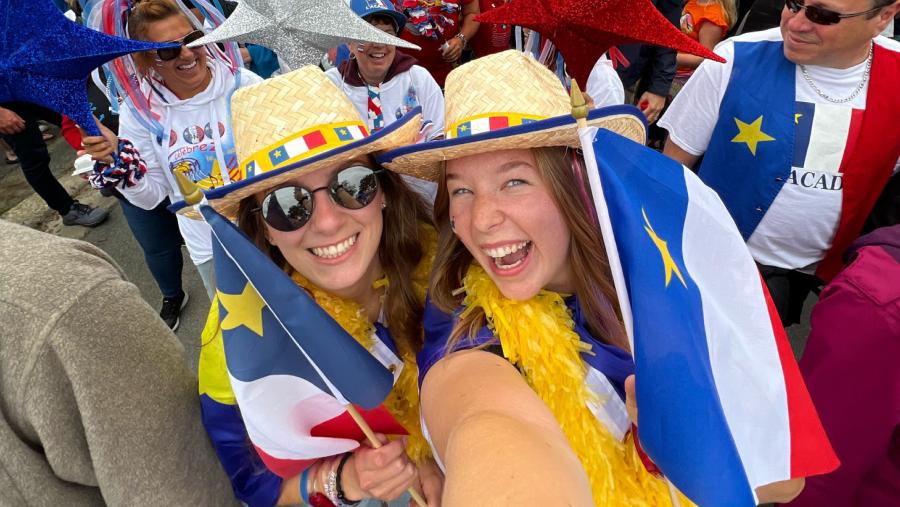 Meanwhile, further South, another celebration!
We started out our morning in Saint-Louis-de-Kent by watching the raising of the world's largest Acadian flag! We handed out some little flags and #ExploreNB pins. Next, we headed to Bouctouche to set up and watched as everyone sang along with Zachary Richard – it was a beautiful moment! There were at least 3000 people sharing their pride for Acadian culture at this event.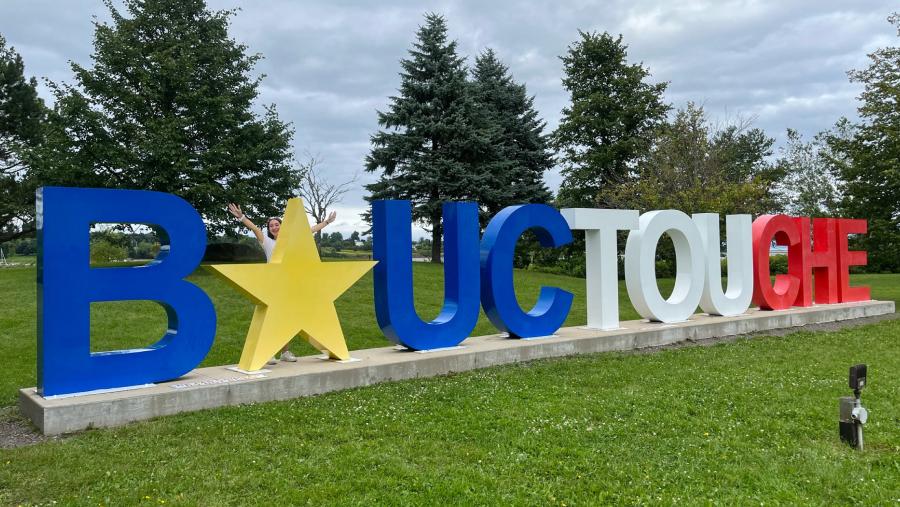 August 17 - Harvey and St. Stephen
Exploring Harvey, home of the big fiddle!
We had a great morning in Harvey, where our first stop was the W.W.E. Smith Country Store, a general store that has been serving the town since 1869! They sell a little bit of everything, from books to local meat. We chatted with Jodi and Winston who have been working there for many years. Afterwards, we walked along the Harvey lakeside trail and admired the view. We then popped into Big Fiddle Still, a prohibition-themed distillery with lots of unique features, including a jail cell bathroom! On our way out of town, we stopped at Briggs & Little, a locally sourced yarn mill and shop.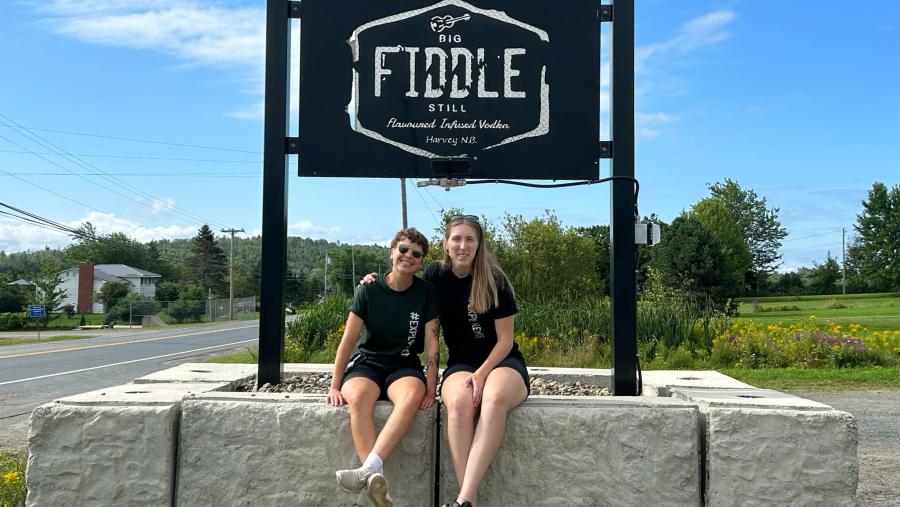 For the second half of the day, we arrived in St. Stephen and had a picnic lunch by the water. We chatted with some folks, and visited the Visitor Information Centre and their friendly staff. Next, we headed over to the Ganong Chocolate Museum where we got to taste delicious chocolate and learn about the history of Ganong Chocolate. After our tasty tour, we walked down Main Street and visited some local shops and boutiques including Spree Style and Element506, where we got to make our own bracelets! We ended the day with dinner at the 5 Kings Restaurant and Brewhouse – it was so good!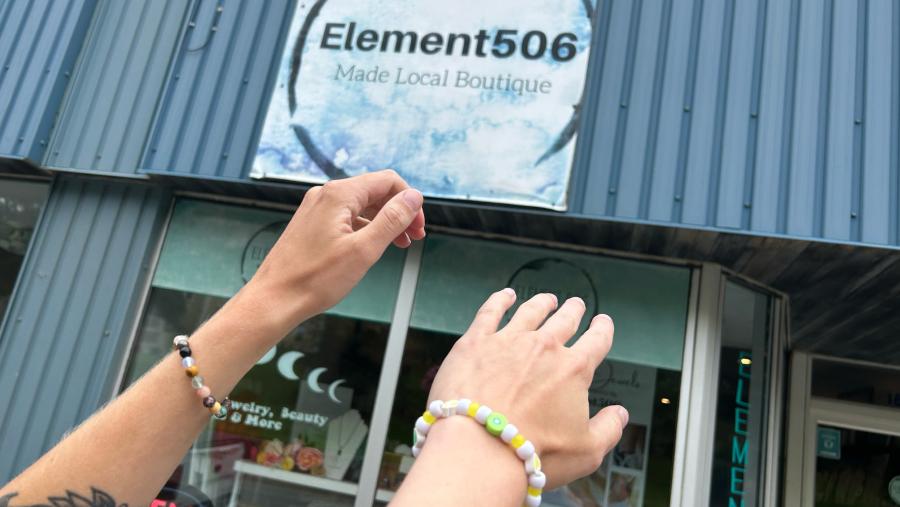 August 18 - Potato World and Grand Falls
Learning about the history of the potato industry in Florenceville!
We spent half of the day touring Potato World in Florenceville, a museum that offers such a unique experience! We got to learn about the development of farming technology over the years, and tried to lift a very heavy barrel of potatoes with a pulley. We ended the tour with a delicious poutine at their restaurant!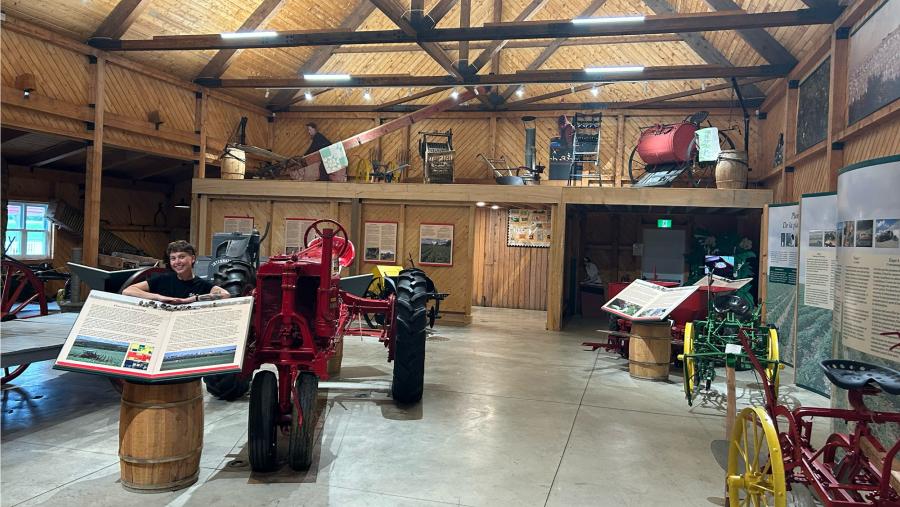 As we headed towards Grand Falls, we had to stop at Exit 88 to test out the go karts. Between Cat and Katie, Cat definitely won! Once we arrived downtown, we explored Broadway Boulevard, which has many shops and restaurants. We chatted with many of the store owners, and Jessie from the Back Alley Bike Shop made our day! It's a great spot to rent e-bikes, kayaks and stand-up paddle boards. Next, we admired beautiful local art at Acanthus Gallery and tried their rock painting activity – we couldn't resist painting ours with an #ExploreNB theme.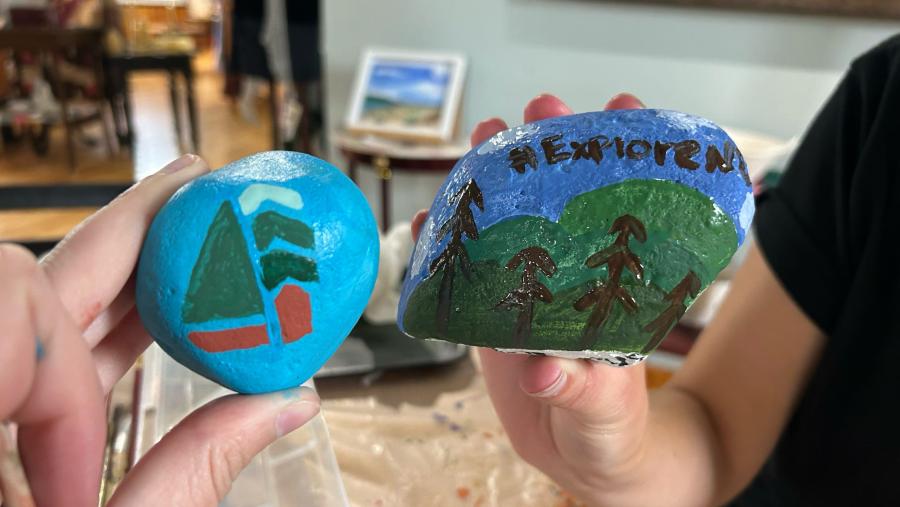 August 19 - Grand Falls (cont'd), Edmundston, Saint-Léonard and Nackawic
One day, three great towns!
We started the day exploring downtown Edmundston and chatting with some local business owners. Next, we headed to Saint-Léonard to check out the Rendez-vous des artistes, a gathering of over one hundred artists from near and far. It was so awesome listening to their stories and checking out their art. We headed back to Grand Falls and stopped at Grand Falls Brewing Co., then headed to the Grand Falls Museum to learn about the history of the area.
Celebrating summer in Nackawic!
We arrived in Nackawic for Festival on the Bend and our visit was off to a great start as we stepped in to participate in their parade! We handed out #ExploreNB swag to the spectators as we made our way down the street. After the parade, we set up at the arena with other vendors and local businesses, and spoke to many people that were excited to see us! There was live music, dancing, and entertainment, which we checked out before heading back home.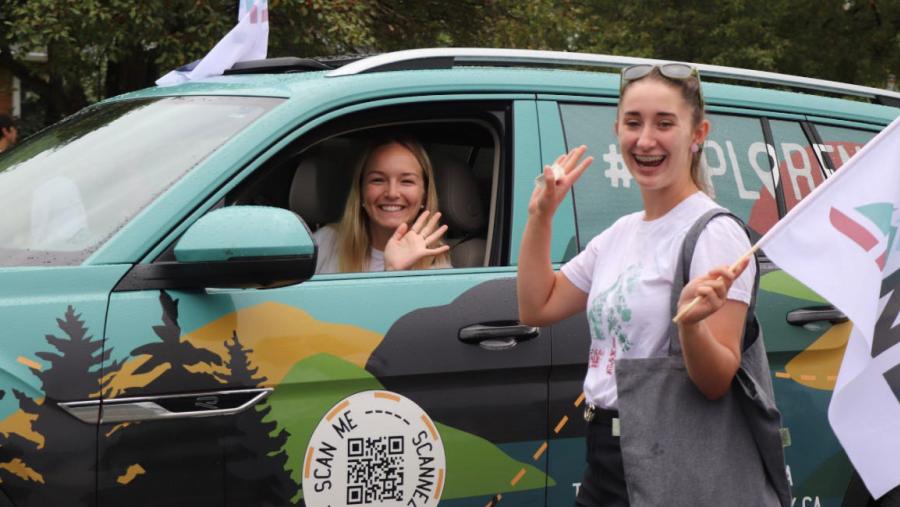 August 20 - Hartland and Kings Landing
Exploring the home of the World's Longest Covered Bridge
We arrived in Hartland and headed to Moonshine Creek, the local distillery famous for the Chicken Bones Liqueur they created (if you're a New Brunswicker - you know)! Next, we headed over to the Hartland Covered Bridge and met some visitors from Québec who loved the keychains we were handing out. We finished the day at Covered Bridge Potato Chips, where we got to choose our own seasoning to sprinkle on our freshly made chips! They had every seasoning you can think of, including s'mores and cotton candy.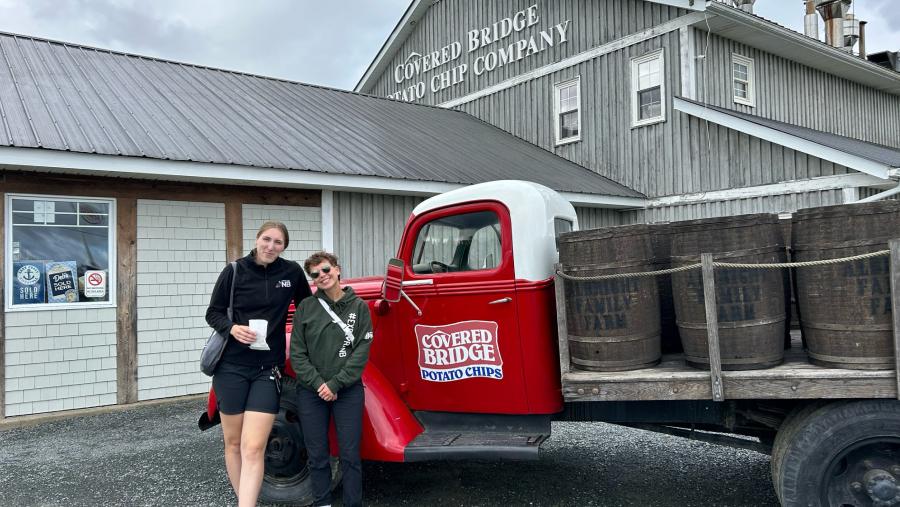 Learning about ancient medicine at Kings Landing
We arrived at Kings Landing for the Miraculous Medical Marvels event. When we arrived, Kamylle was offered to wear a character outfit of the day! She chose a replica dress from 1835. We got a coffee at the Axe & Plough, then hopped on a horse and wagon ride to check out the village. After buying some candy at H.C. Grant General Store, we headed to the theatre to listen to the hymn singing. It was beautiful! Each house was offering a unique experience surrounding ancient medicine and remedies, and it was really interesting. Before we left, we stopped by the basket weaving workshop and watched participants use grape vines to weave baskets.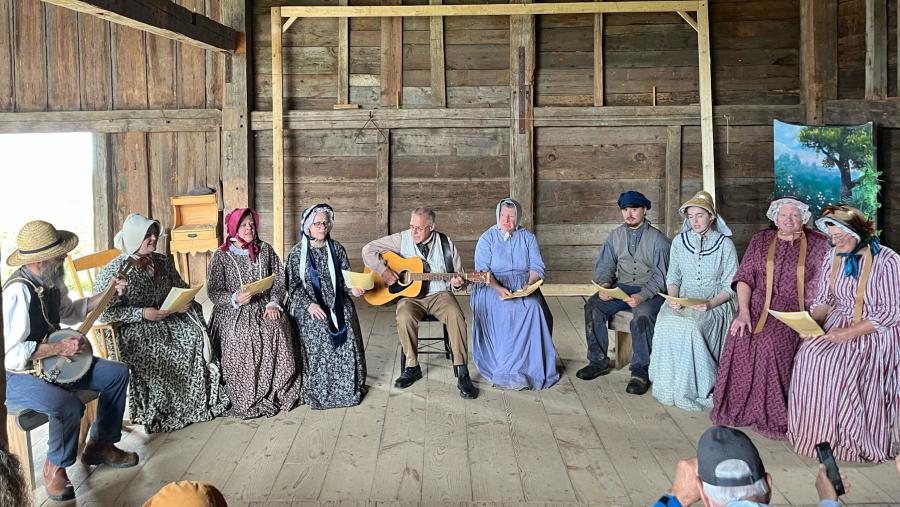 Week 11 Highlights
Shediac Bay Cruise!
Our outfits for the Acadian Day celebrations in Caraquet
Trying traditional Acadian food for the first time at Le P'tit Coin Acadien (pet de soeur, fricot, and poutine râpée)
Llamazing Adventures at Festival on the Bend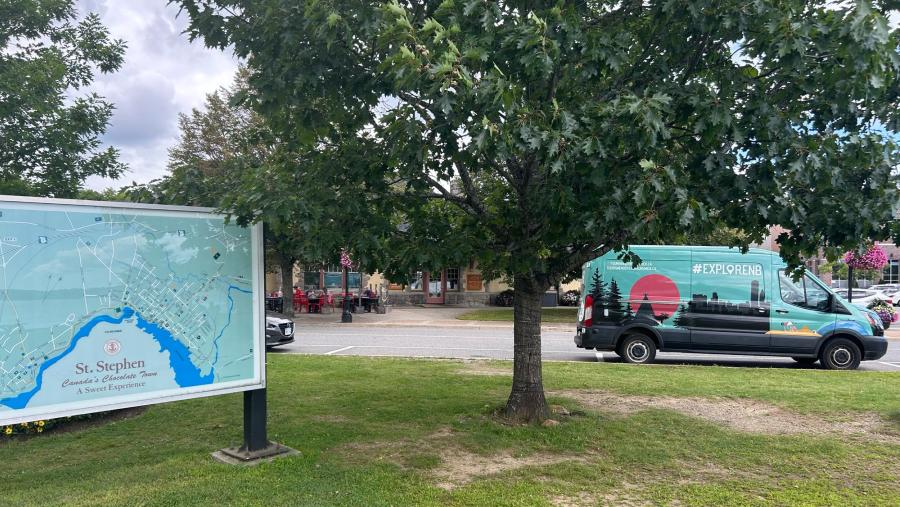 Come Along for the Ride
Our summer adventures throughout New Brunswick have been one of the many reasons to check out explorenb.ca. Visit the #ExploreNB Street Team page weekly to enter for a chance to WIN* an #ExploreNB Adventure Pack. We've been giving away a different prize pack each and every week (the contest will be closing at 12PM AST on September 5, 2023).
Let's #ExploreNB Together
Thank you for packing your bags, buckling up, and joining us as we hit the road together this summer! We've loved chatting with you and showing you around.
*NO PURCHASE NECESSARY. Subject to Official Rules at www.ExploreNB.ca. Open to legal residents of Canada who are the age of majority in their province/territory at the time of entry. Contest closes at 11:59:59 a.m. Atlantic Daylight Time (ADT) on September 5, 2023. There is a limit of one entry per Weekly Entry Period. During the Contest Period there are 13 Weekly Entry Periods. Each Weekly Entry Period commence on a Tuesday at 12:00:00 p.m. ADT and ends on the following Tuesday at 11:59:59 a.m. ADT except for the first week where the Weekly Entry Period commences on Monday, June 5, 2023 at 12:00:00 p.m. ADT and ends on Tuesday, June 13, 2023 at 11:59:59 a.m. ADT. A total of 13 Weekly Prizes are available to be won during the Contest Period with one Weekly Prize awarded per Weekly Entry Period. The Approximate Retail Value (ARV) of a Weekly Prize ranges from $225.00 CDN to $1,900.00 CDN. See Official Rules for which applicable Weekly Prize is available to be won and its corresponding ARV. Odds of winning a Weekly Prize depends on the total number of eligible entries received during the applicable Weekly Entry Period. Correct answer to a mathematical skill-testing question and completion and return of the Sponsor Declaration and Release Form is required. Prizes may not be exactly as shown.